20 Industrial Lighting Over Kitchen Table
Give your kitchen an industrial touch with lightings like the ones in the kitchens below.
Have you noticed that in most kitchen spaces that we feature in here has at least one or two lighting fixture above the kitchen bar or lavatory? Well, aside from aesthetics, this is in fact something that a kitchen really needs because of how much work is done in there that it needs tons of lighting more than anywhere in the house. You can choose from a lot of lighting fixtures readily available to us in the market – maybe a stunning chandelier or a simple yet classy pendant lamp. All these are made more available to us than before.
With that in mind, let me show you a couple of kitchen spaces that might interest you because of the design and interior staging done with them. Of course, most of these spaces were made for paying clients and not just for show. Let us go ahead and take a tour with this list of 20 Industrial Lighting Over Kitchen Table.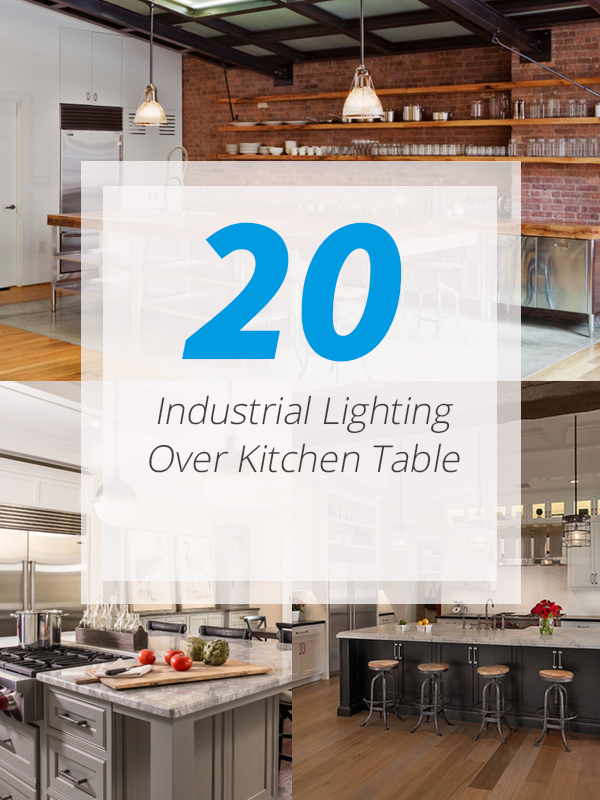 1. Brookhaven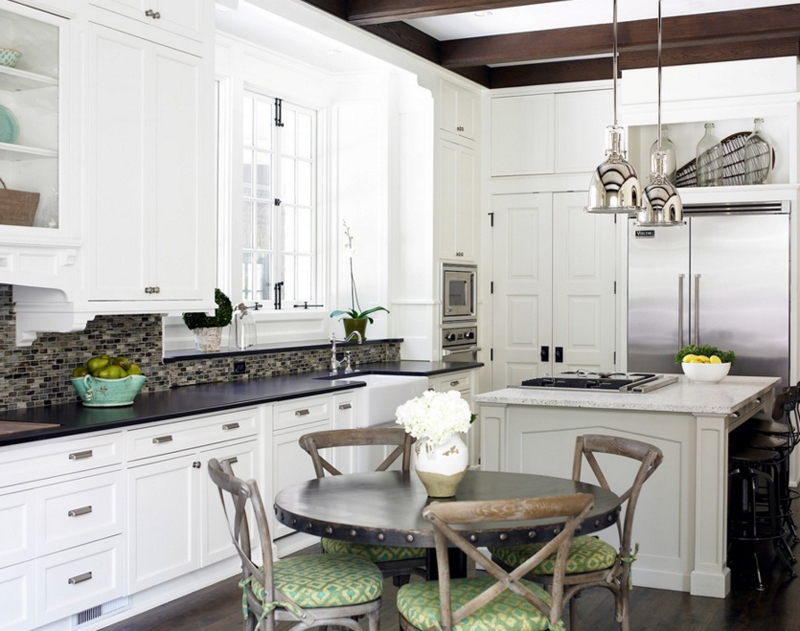 A white and black theme is one common choice for the kitchen because you can readily see how functional and beautiful one kitchen is depending on its cleanliness. Also, the use of dark-colored granite slabs or tiles for easier maintenance. In here, we see two large drum industrial pendant lamps above the kitchen island, pretty sweet, right?
2. Buena Vista Residence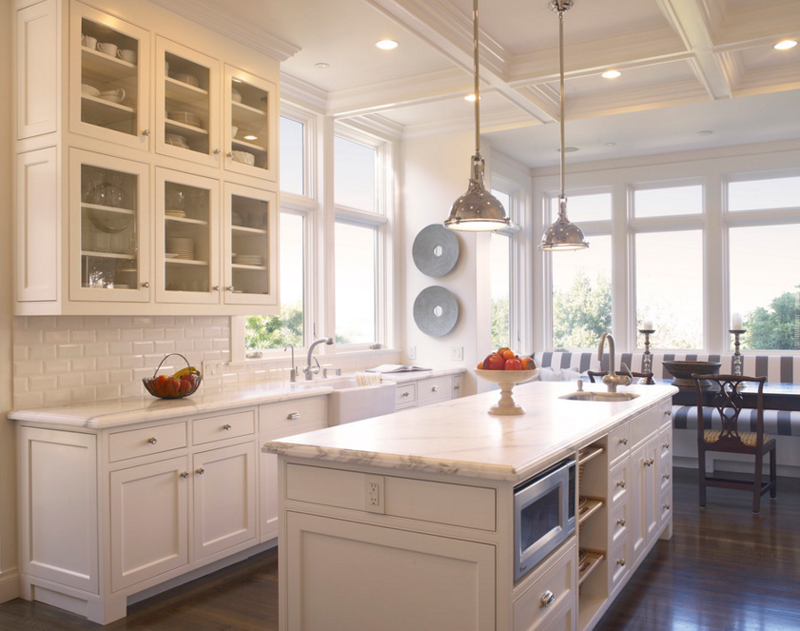 Two large drum industrial lamps light this beautiful Buena Vista home. The white granite used as the kitchen countertop is gorgeous! The neatness of this space is in fact fascinating because it looks like this place was never used or will never be used because of how pretty it is.
3. Camelia Court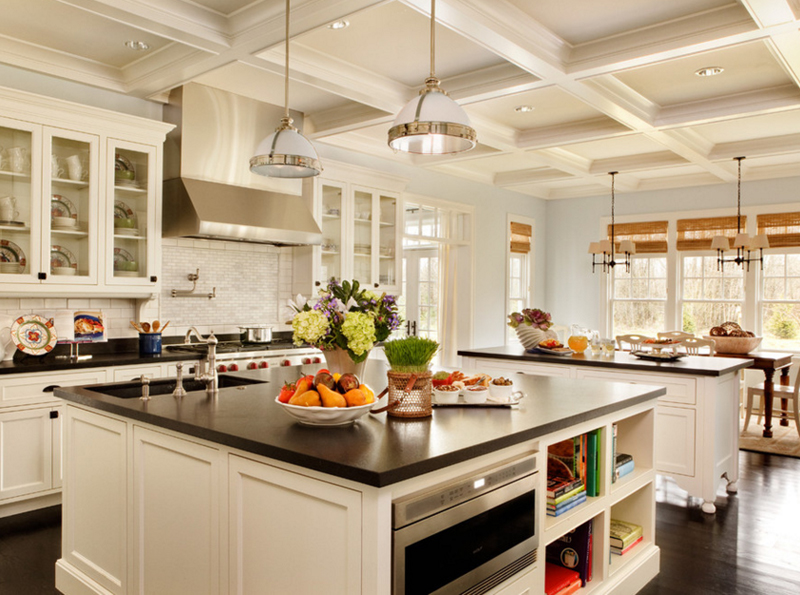 I have seen a couple of Garrison Hullinger project homes and they are just stunning! This large kitchen is divine with all the details you see inside those white cabinets, the large square kitchen island and the other kitchen bar – this is just one awesome kitchen with an awesome pendant light duos!
4. EGR Classic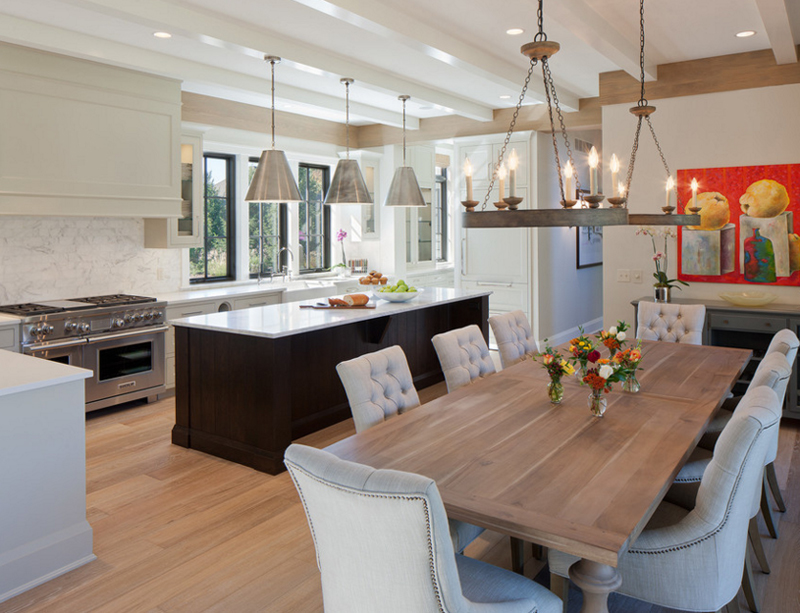 I am blown away with the stunning chandelier in the middle of the dining room table and not to mention the beautiful lamps by the kitchen island. The colors, design and motif of these lamps are just beyond words. Do you agree with me?
5. Eureka Street House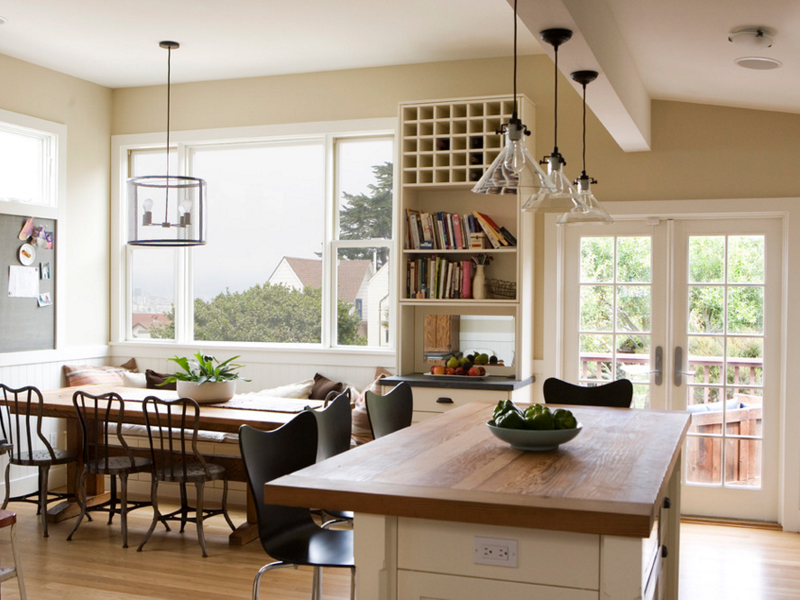 This is one common design when you think of an industrial lamp – we think of drum-like pendants which is either made of metal or stainless steel and of course glass – as seen in this kitchen space. If you like the one above the kitchen bar, I think that you'd like the one above the dining table too!
6. Franklin Street Loft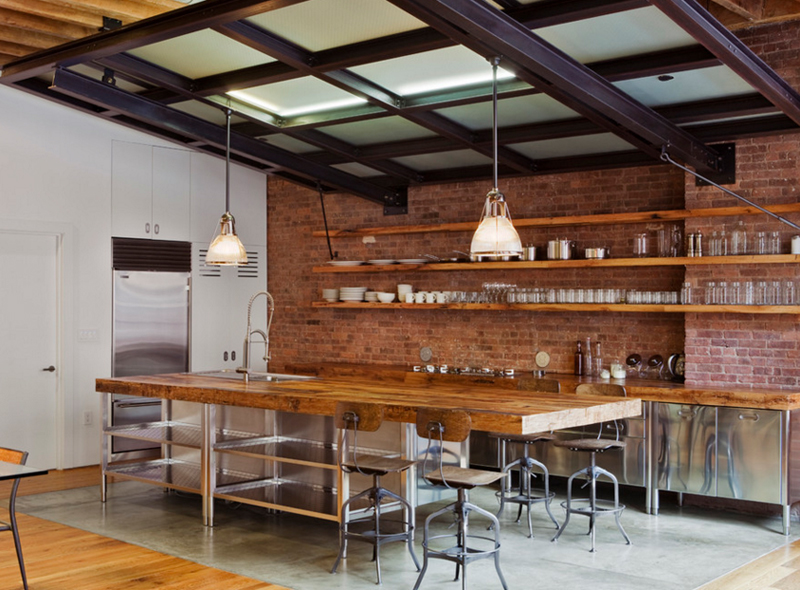 I suppose that the large glass lamps in here are modified halogen lamps because I think it would be too much light if these were indeed halogens. Looking at this kitchen loft, we see tons of wood and bricks, but we also see tons of glasses on the shelves too, so I guess that this space is balanced with a hint of Zen.
7. Heritage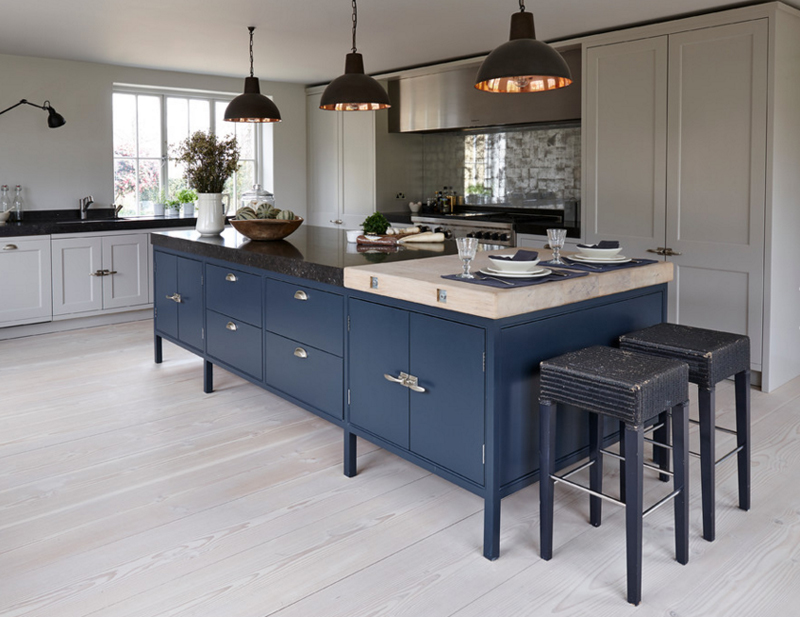 I love the color of this trio. The drum industrial lamps in this Heritage home surely stands out because of the minimal use of black in this space that they just basically showed their beauty. It matches with the black marble counter top that shines with it. The use of blue cabinetry for the island is not often used that this too is an added charm in here.
8. Luthervillle Family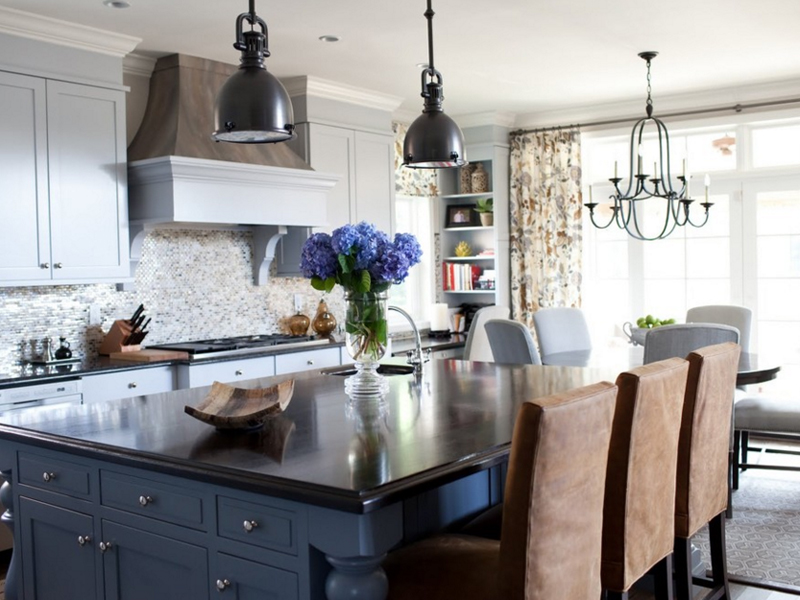 Another black drum industrial pendants are paired in here with the other rustic/vintage-inspired chandelier by the dining table. I like the fact this space is small but all the needed functions is made available with even an extra hint of seating added to the kitchen island to maximize the space.
9. Marine Loft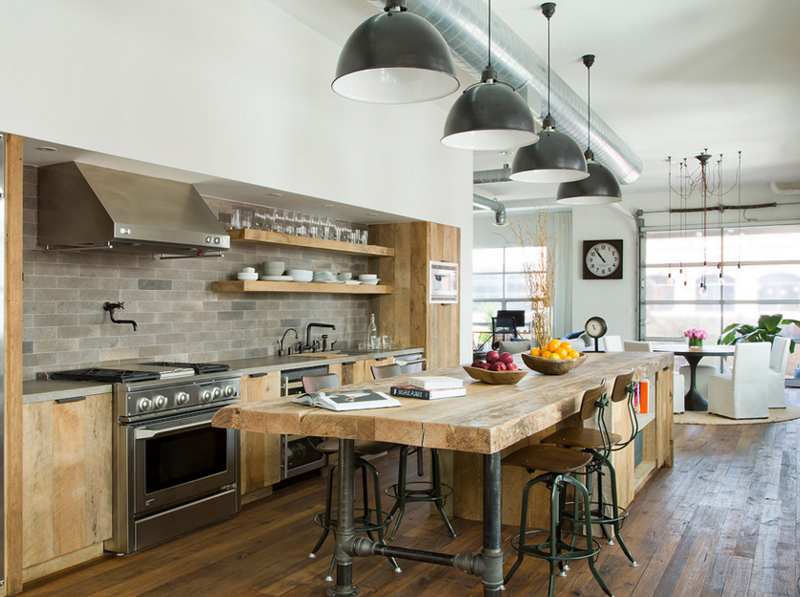 This Marine loft sure is stunning! All the wood used in here was definitely put to good use as seen on the lovely flooring, the counters, cabinets and kitchen bar. A bit of exposed ceiling added drama to this already beautiful space. The large drum pendants even complement the bar because of its massiveness.
10. Modern Shingle Style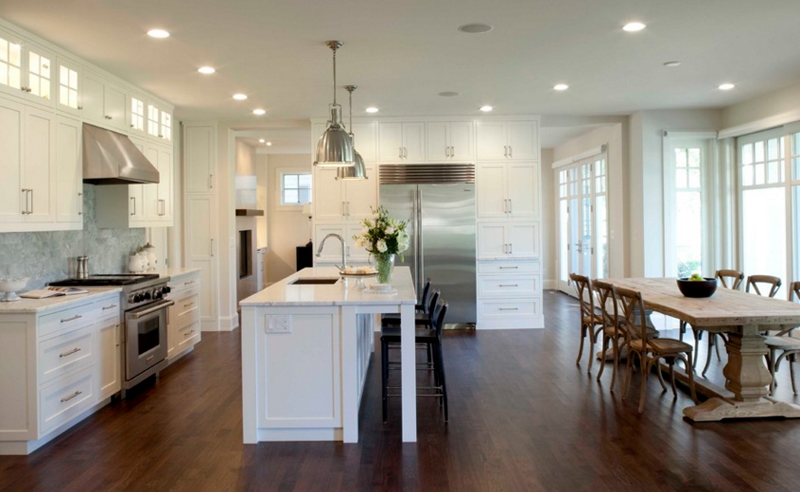 Notice how much space is available in this modern shingle styled home? It sure looks like that the walkways were well thought of; foot traffic is smooth and will definitely not be a problem if this space will be crowded with family and friends who would visit during holidays.
11. Ansley Park Transitional Kitchen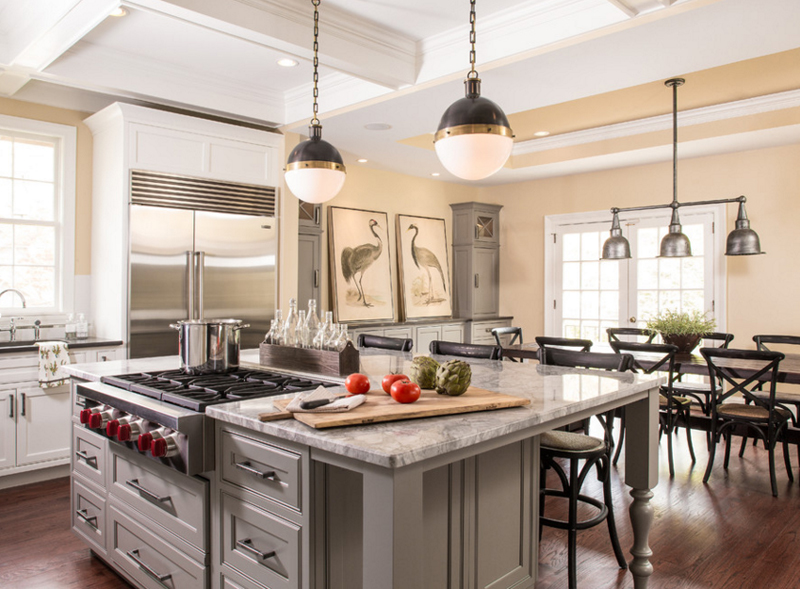 Imagine crystal balls? The lamps above the kitchen counter and bar sure looks like one – even a bit of the head of a deodorant you get in your local grocery store. Notice the lamp by the dining table though because they too are pretty cool and very industrial too.
12. Balnarring Beach House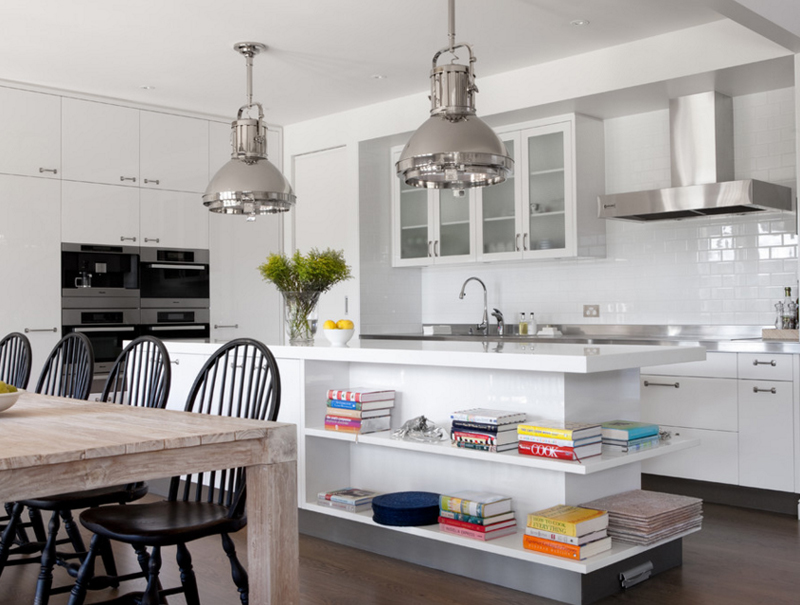 Have you ever seen those lamps used in large stadiums or stages where concerts are being held? These industrial lamps look just that – ideal for large space lighting; these ones look fashionable too – their shiny finish complements well with the beautiful and new kitchen in this Balnarring beach house.
13. Bovina House
I know that the lights in this kitchen counter are small – but I wanted for you guys to see that industrial lamps comes in small packages too, just like the ones in this Bovina home. Although this may be categorized as eclectic fixture wherein you just basically hang the bulbs above the table or counter, it still looks great, functional and refreshing in industrial-inspired spaces.
14. Classical Kitchen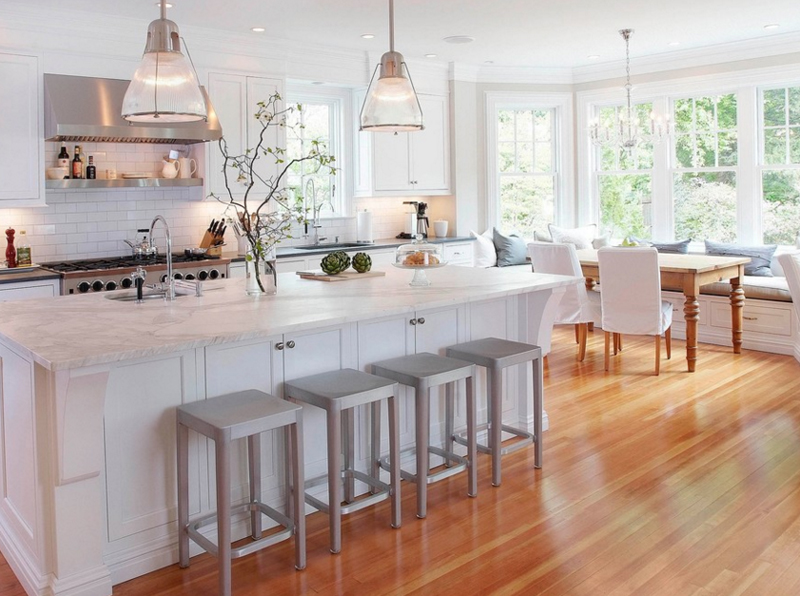 This lighting fixture in here is a bit of a treat because of its new and modern look. It adds beauty to this already beautiful kitchen-dining space. As much as the design and archetype of this space is classical-contemporary, the use of industrial lighting can also be considered especially because it matches the stainless steel appliances in the kitchen.
15. First Coast Home on the Third Coast
The name of this home is bit interesting. It seems as though the colors may somehow be sad and boring but how it makes you feel is just superb. The space is indeed something that you see in those black and white movies that surely will intrigue you. It feels like it has too much stories to tell you when you actually enter there.
16. Modified Telluride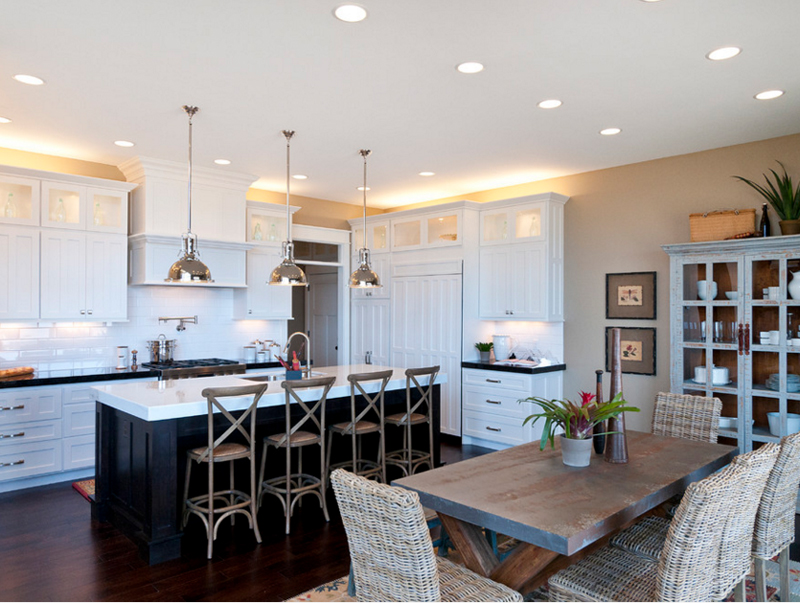 The shiny-shimmery-splendid look of the pendant lights in this lovely kitchen is your typical industrial-type pendant light but the way that it actually shines makes a whole lot of difference. Aside from it complementing the appliances, you just know that you can never go wrong with a stainless steel pendant light.
17. Needham Kitchen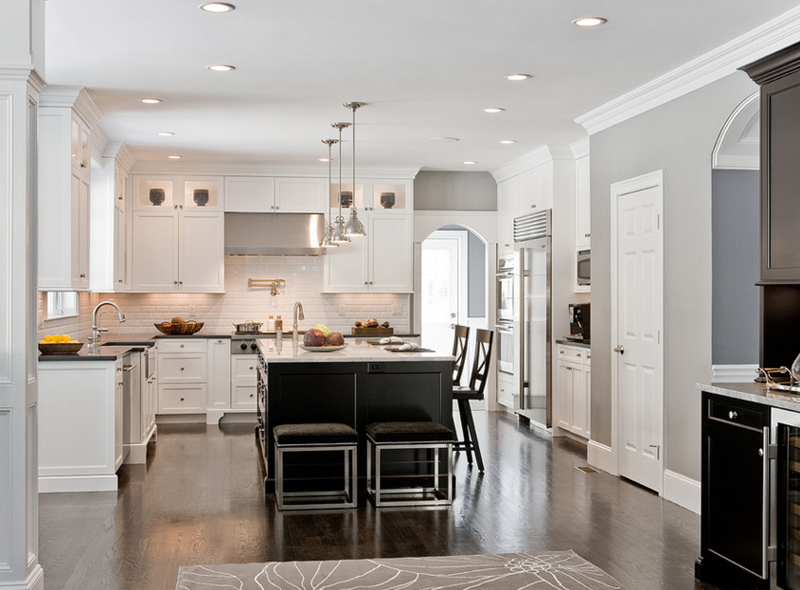 Oh I'm just sad that we can't see the lamps real clearly from this point of view – but like the pendant lamps before this, they are small versions of them – stainless steel, drum-like and fashionable. I love the black cabinetry for the kitchen island though.
18. Park Place at Silverleaf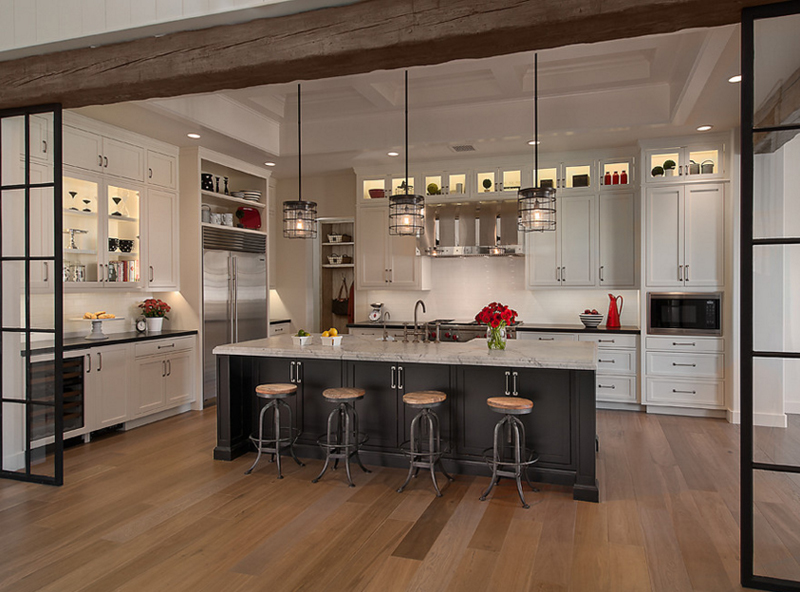 Caged cylindrical pendant lamps are seen in this beautiful Park Place. The cute but not-really-too-unusual lighting fixtures are pretty much a neat fixation you can enjoy while you're in this kitchen. Their novelty is sweet and rather appealing to people like me who enjoys lamps and lighting fixtures more than the appliances, really.
19. Sheridan Rd. Highland Park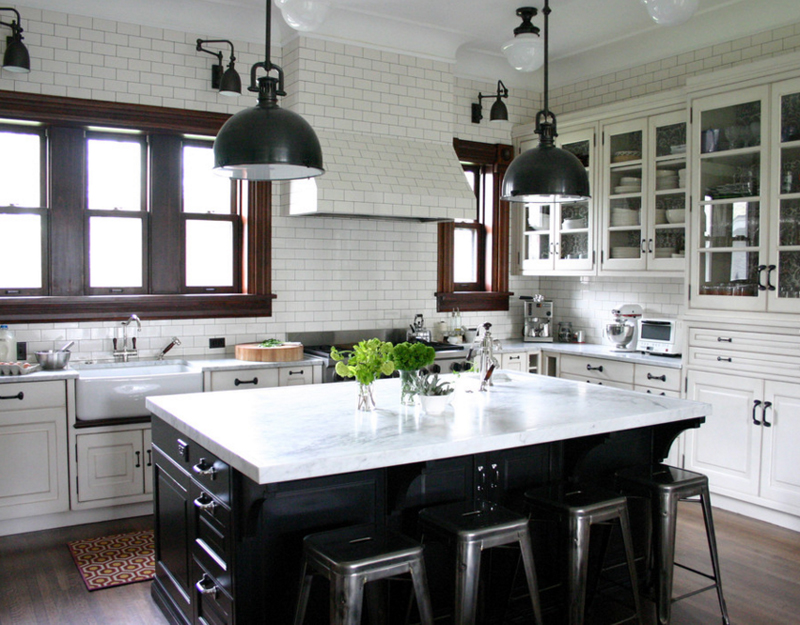 Highland Park is one of the names a bit familiar to me because of the wonderful pictures I see when I hear their name. It does not necessarily have to be the same place but the name just reminds me of lovely home interiors and outdoor spaces. The drum-like pendant lights in here are neat and matches with those small ones on the background. What do you think about the matchy-matchy lights in interiors?
20. Stockett Drive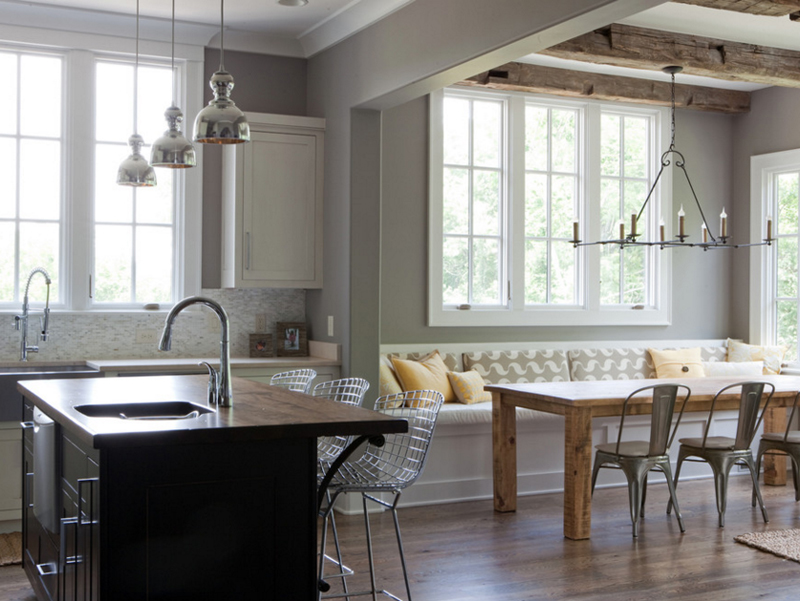 Last but definitely not the least is this charming kitchen in Stockett Drive. We see a portion of the kitchen – the kitchen countertop/bar and a part of the dining area – the dining table and chairs and long bench. I have always been fascinated with benches used in dining rooms, I think that this year would be a great time to get one!
Personal projects or otherwise, I like the thought of creating lists that I actually like, love and sometimes need. I remember one friend of mine asking me to create a list about a specific archetype for her home remodel and I surely obliged. It's like helping her pick the best dress to wear to prom or something; the feeling is just sweet. This list of 20 Industrial Lighting Over Kitchen Table, just like the 25 Unique Lighting Over Kitchen Tables is one of the many lists in here that I enjoyed doing and collecting. Hope you liked this list like I do. More to come in Home Design Lover!