20 Charming Ways of Adding Bookshelves in the Kitchen
If you are a bookworm, for sure you would also love to have a bookshelf even in the kitchen!
Bookworm or not, having additional shelves in your house is something we both need and want. Never mind if we'd actually use it as bookshelves or not, but this additional shelves or cabinets would definitely help us in our day to day lives. Whether we place things in there for show or for function, we all know that we'd surely appreciate these little cubbies.
Below is a short list of ways wherein we can use shelves both for books or decorations in the kitchen. In the midst of collecting these photos, I actually realized how much space could have been added to the ones that we already have at home because of the ways the designers or decorators and even home owners used the spaces in the kitchen (like the kitchen island); something not all kitchens actually utilize. Do check out the 20 Charming Ways of Adding Bookshelves in the Kitchen in today's list.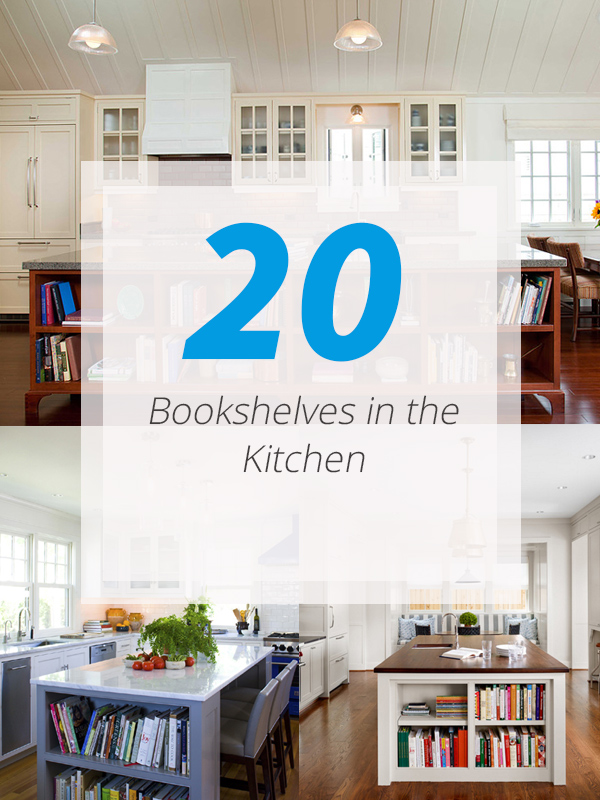 1. Cozy Cottage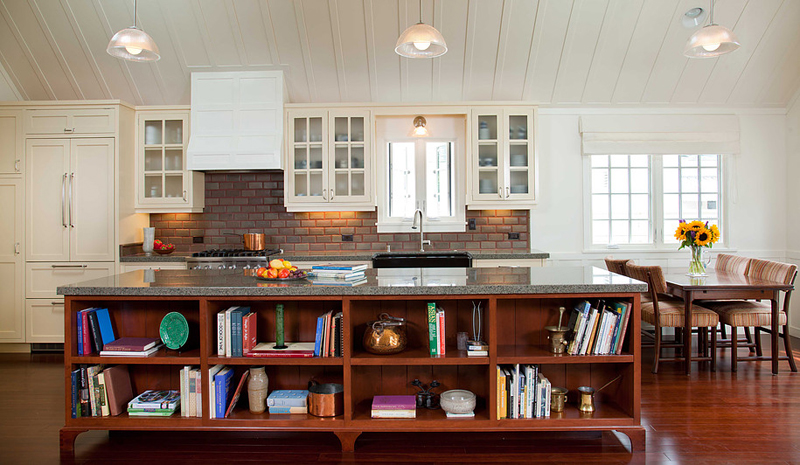 First on this list is a multi-functional kitchen island. It is both a kitchen island and a bar and because the designer thought they could really use the additional storage – adding shelves in the island itself as a bookshelf and as a display area. You can add your recipe books in shelves like this one.
2. Duboce Park Industrial Modern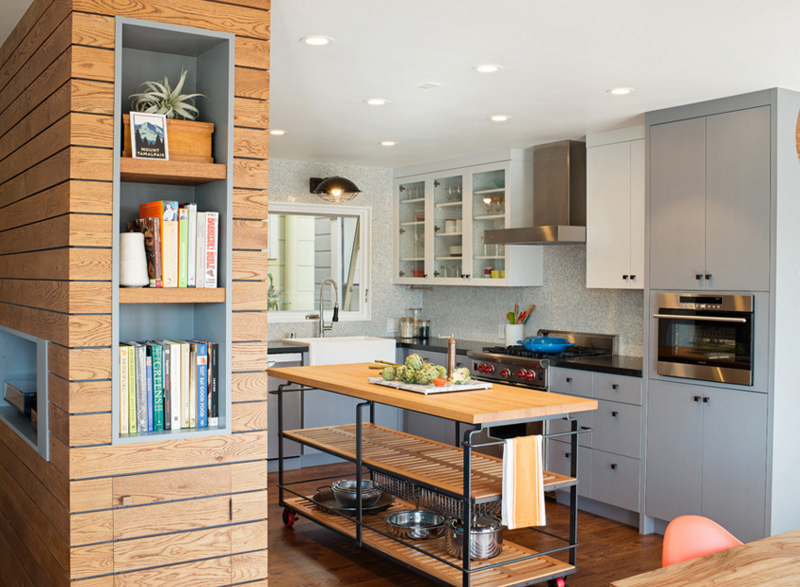 From this angle we see that this bookshelf is a location where a fireplace could have been placed. The kitchen in this photo is not too big a kitchen we usually see in contemporary kitchens but it sure has everything that a cook or mother would need in everyday cooking. I like how the small kitchen island complements with the bookshelf which I do not know whether is wood or concrete designed to look like wood.
3. Hilltop Flat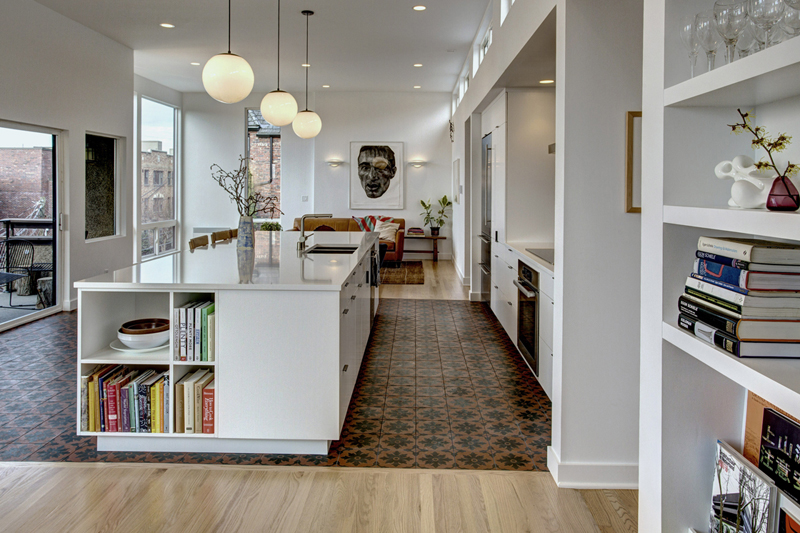 Here is another example of a kitchen island somehow made with a built-in shelf with it. Although we can't see if the other side of this island is a shelf too, we know though that this island sure is multi-functional and a nice place to keep those cook books and some bowls as well.
4. Library House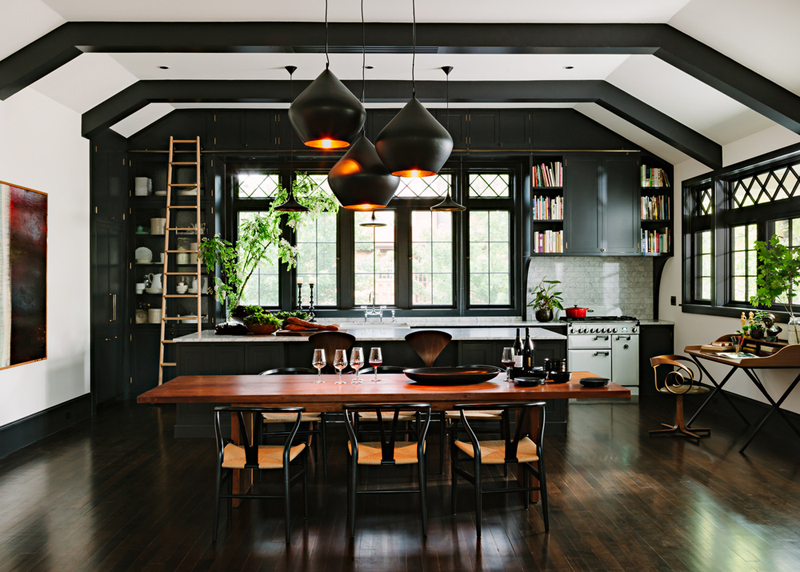 Seeing this kitchen/dining space gave an idea as to what to actually do if you have high ceiling and tons of space. It's great knowing that in a large home like this one, traffic was considered and it makes me think that home belongs to a big family who values space over things.
5. London Farmhouse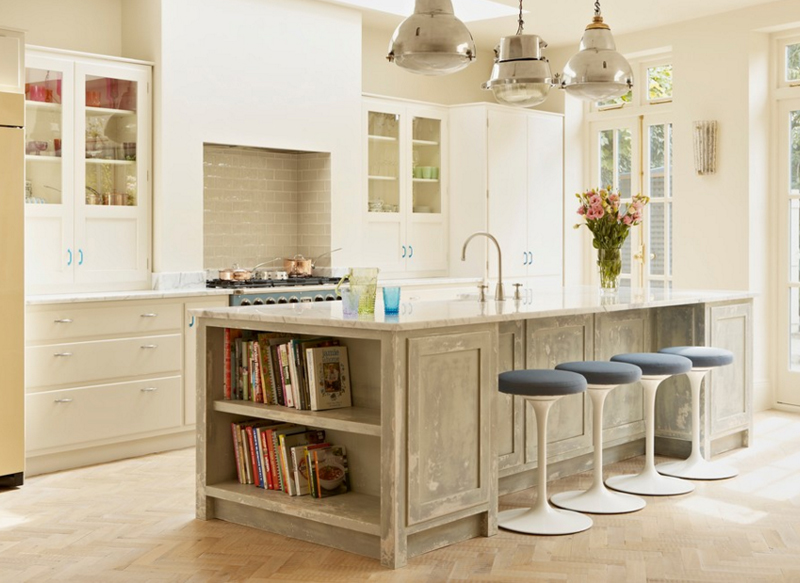 A farmhouse kitchen like this one sure looks heavenly as much as it is a combination of sorts. We see a shabby kitchen island, large, industrial pendant lights, contemporary stools and traditional flooring. This kitchen sure is not too spacious but it sure has enough space for traffic and books.
6. Lunt Ave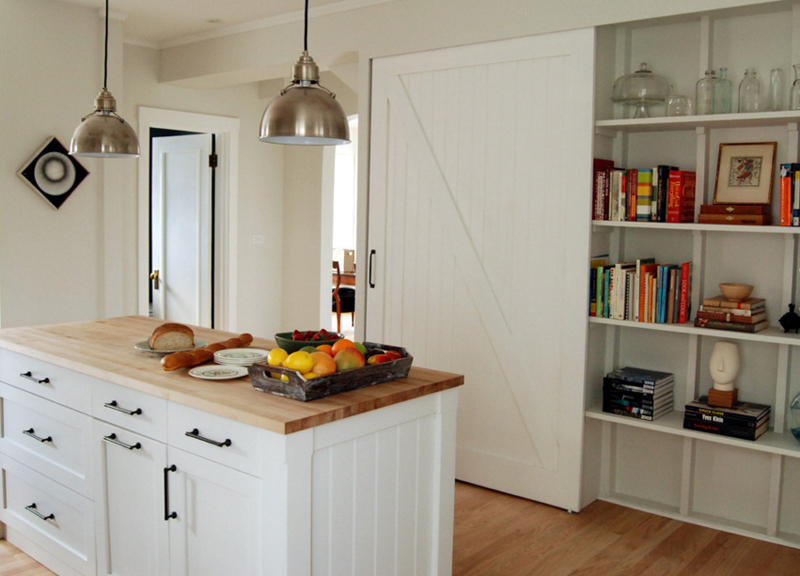 I have seen this kitchen in a couple of angles and I have picked this shot because I wanted you guys to see the sliding door that keeps the shelves; it's nice that this photo also allows us to see the things that we can put in shelves like this one. One can actually opt to show off the things inside it or at the same time keep them all for themselves.
7. Portland Mid-Century Modern
I like the color combination of kitchen space. The black and white combo for a kitchen is a never-dying partnership that in whatever generation, people would still surely love them altogether. This kitchen for example showcases what one can do with the island – a space for storage and a space to actually hang out.
8. Bishopston Remodel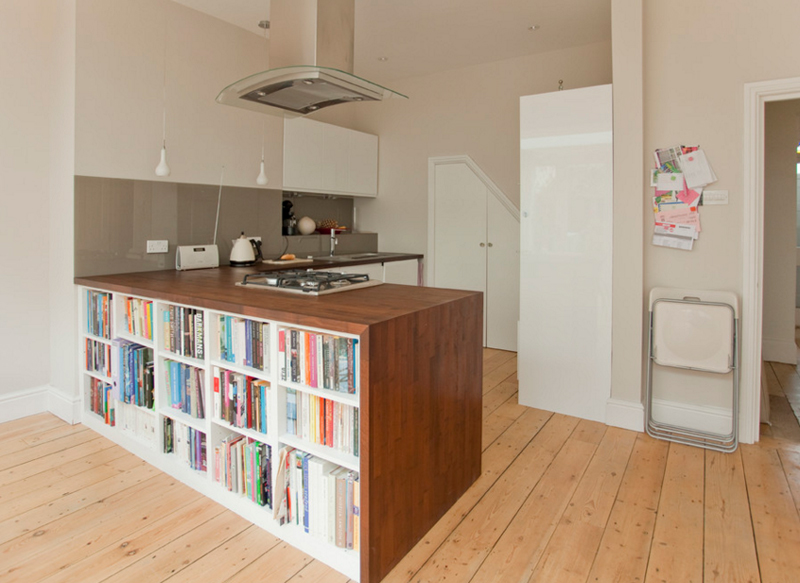 I can't be certain if this kitchen is already done; when I say done, meaning, the home owner or decorator is already done with the set up or staging of this space. I think it actually looks okay and all that, but I guess it needs a little bit more stuff on the walls or seating to make it look and feel more comfortable than awkward.
9. Shepherd & Yang Residence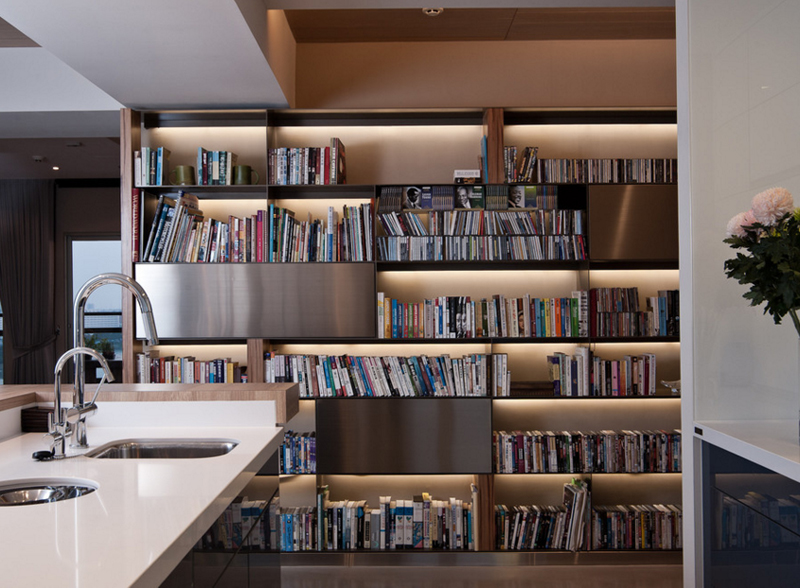 A bookshelf just beside the kitchen can both be an accent wall or a divider. In whichever case, I think that it's one way of customizing accent walls and making sure that they actually look great and at the same time is functional and neat. I love the fact that this bookshelf has tons of books in it too.
10. Sterling Apartment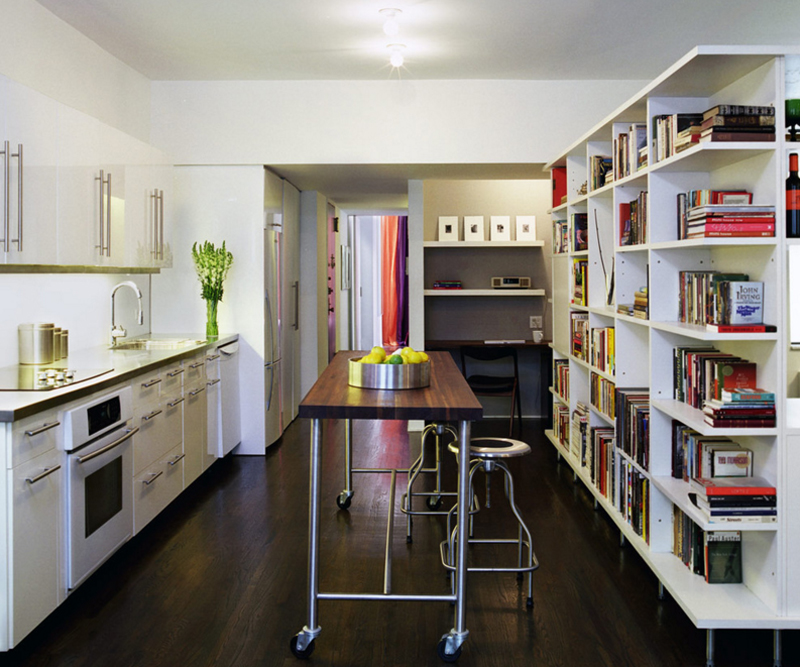 Another kitchen with a large collection of books seen on display. Like the photo before this, this bookshelf serves as a divider for the kitchen and most probably the dining space. I like how its color match the wall and cabinets by the kitchen counters and how the color of the island and the floor complement it.
11. TED Addition & Alteration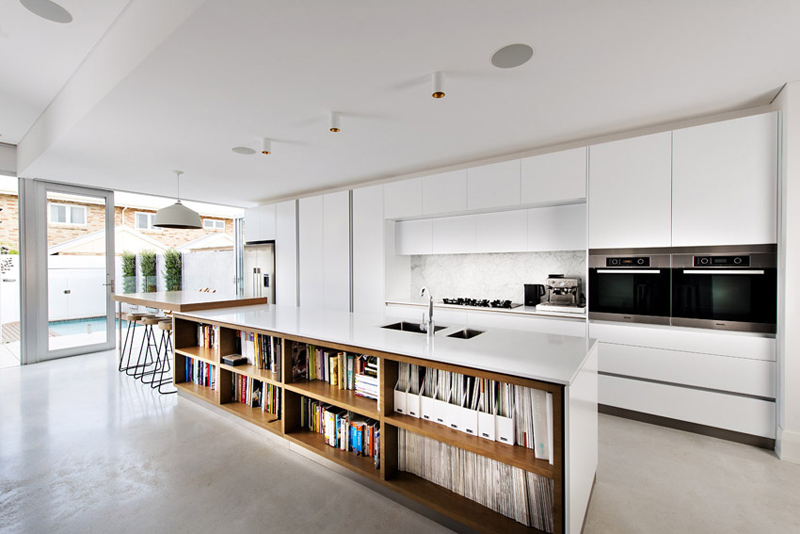 This sure is one large, white kitchen! I know that white is basically a primary choice for the kitchen and kitchens sure is great in white (for cleanliness issues and for lighting too); but I think it's just too much for me – I hope that there was a bit more contrasts in here to make it more awesome as it already actually is.
12. The White House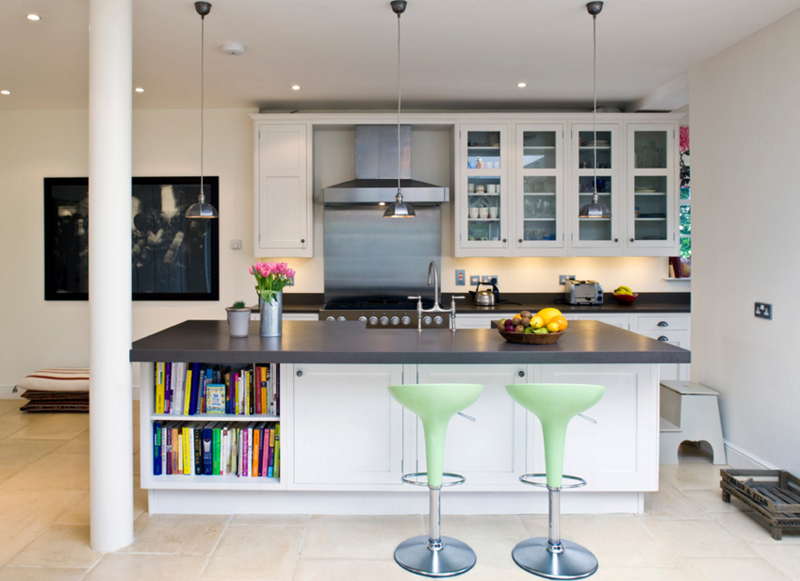 This house it called The White House, but I do appreciate the fact that this kitchen has a bit more color to it than the one before this. The light green kitchen stools, the black countertop and the black thing on the wall; I can't say for certain if that is a painting, a mirror or a hole in the wall that lets you see something on the other side.
13. Admiral Converse House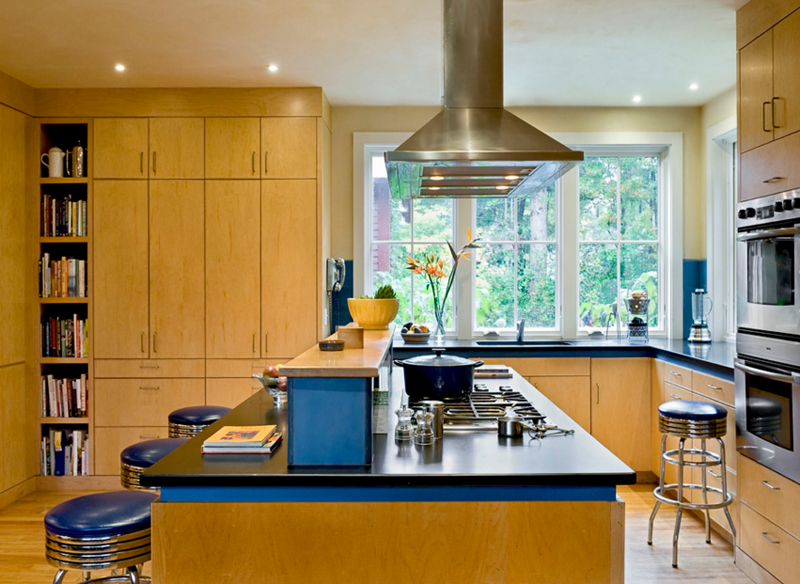 We see a bit of the bookshelf in this kitchen photo. I love the fact that this kitchen has tons of cabinets and the idea of having some cabinets with doors with it, allows home owners to keep things hidden while maintaining its accessibility to everyone in the house. The cabinets in here could be storage spaces for chinaware and kitchen needs – whether edible or not.
14. Albion Residence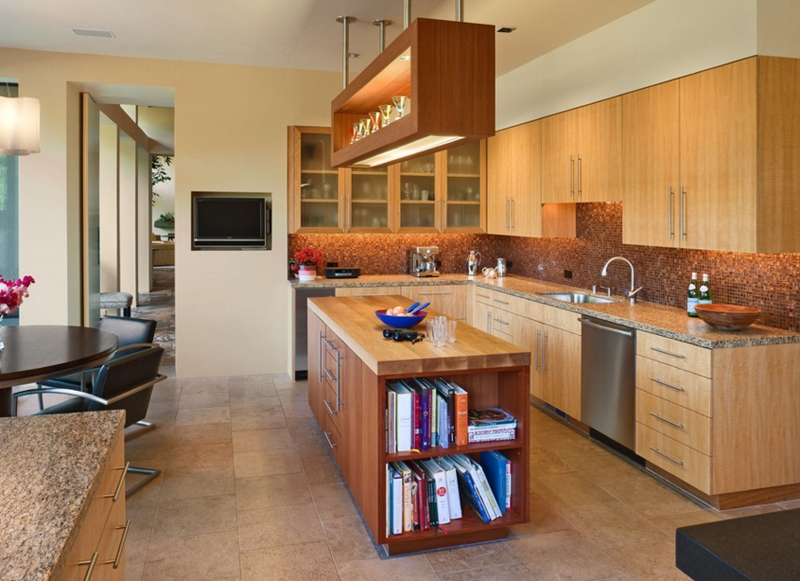 A stunning wooden-inspired kitchen from Ana Williamson Architect. The hues of the wood is just fascinating and beautiful and the fact that this kitchen has tons of storage, I know the owner of this home is quite amused themselves as I am with it; downside for me it the high shelf that keeps their crystals – it seems too high, or well, it might just be me.
15. Ashland Residence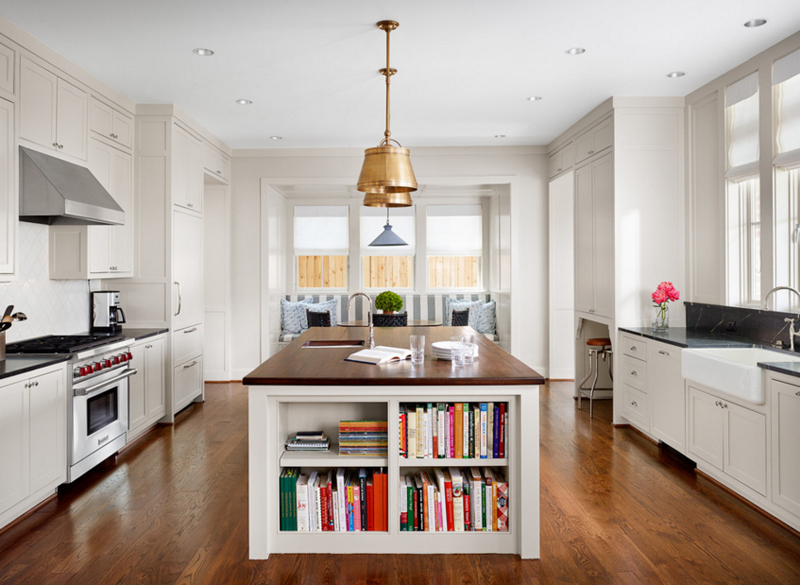 The way the kitchen island is used in here might be similar to the others we already seen above, but it sure doesn't hurt one bit to see more inspiration photos like this one every now and then. Notice how pretty these bronze lamp above the kitchen island.
16. Back Bay House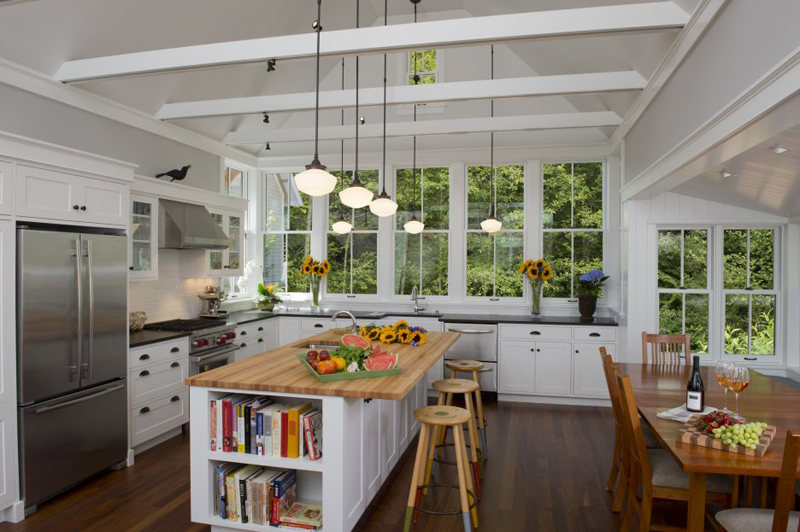 Living in a place with tons of trees and shrubs and all that just like this home we see in this photo? It sure looks awesome right? I might not be living in a similar place, but I know that I'd love seeing tons of greens every time I'm cooking or eating my meals because it sure helps our eyes to rest.
17. Living Small in Austin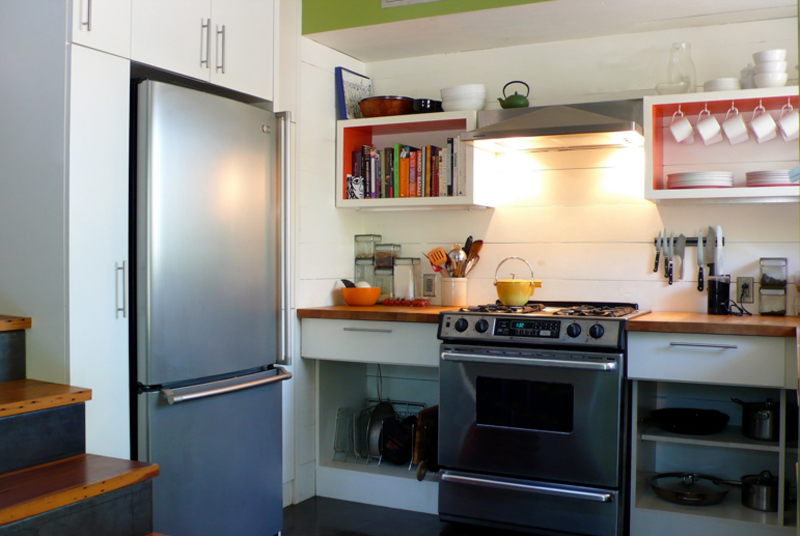 We see in this photo that even when in a small kitchen or any space for that matter, additional storage or shelves will definitely go a long way. Especially that this kitchen is small, making one cabinet serve as a bookshelf is surely a nice way to make sure that those cook books are close and handy.
18. Modern Ranch Kitchen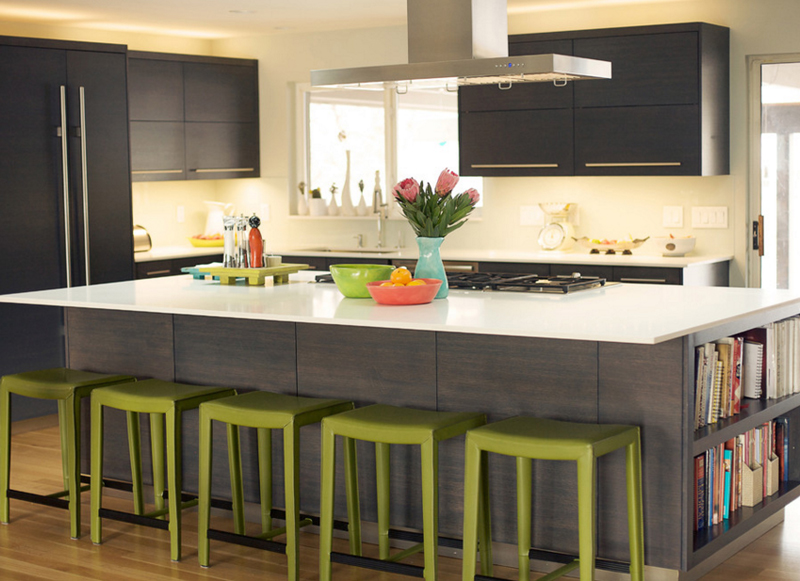 Avocado green stools against a stunning grey kitchen island – this space is surely a treat – not only for the eyes but for the soul as well. When I mean soul, I think if you are inside this kitchen space – you'd feel comfortable and cozy – a few of the things that we look for in spaces that we want to call home.
19. River Road House Kitchen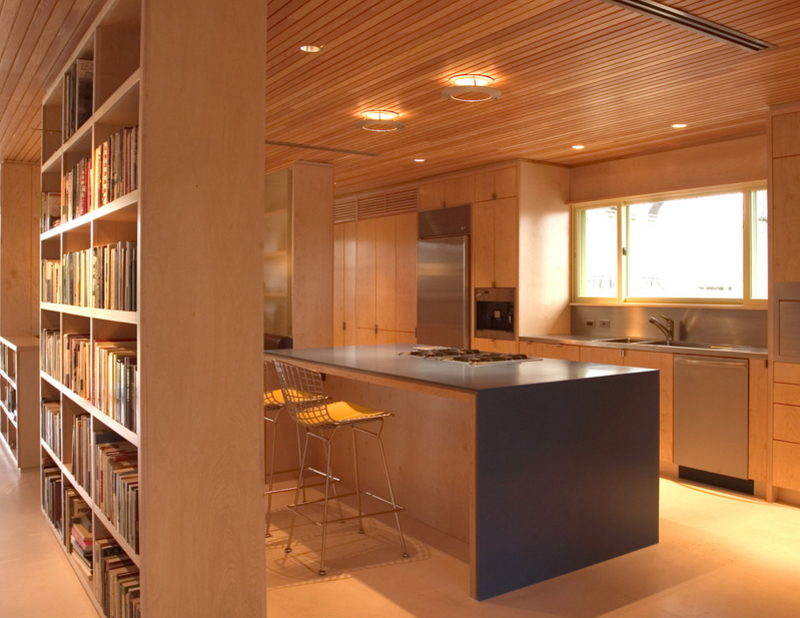 I wanted to really add this photo in this list because of the cool way that the designer (or client) used bookshelves as dividers for spaces inside the house. If you are one voracious reader and pretty much is a collector, you will surely have tons of books to showcase or show off and you'll have tons of space to display those trinkets you do not want to keep in boxes found in the basement.
20. The Passage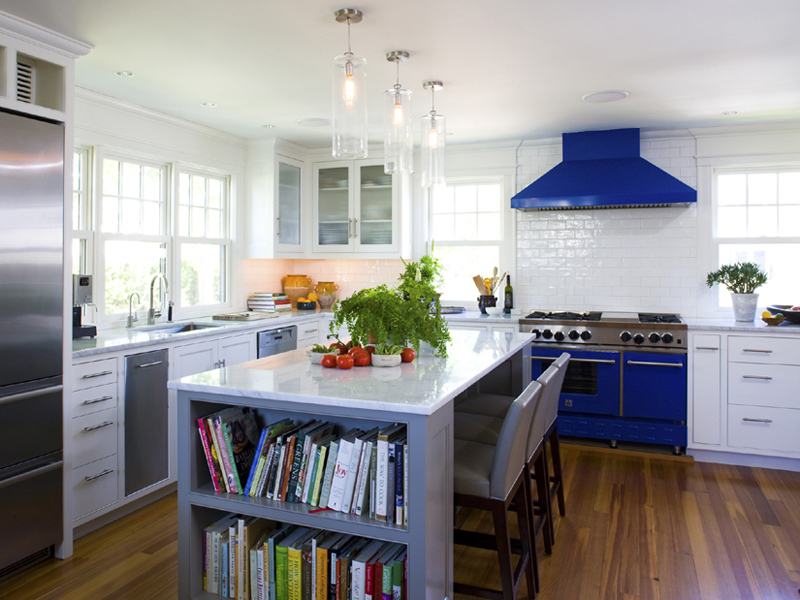 Feel free to love spaces like this one – small, cozy and homey. Liveable spaces need not to be large or whatnot to make you feel home. The idea of having a place to live life and enjoy the simple joys in life will surely be a great a place to stay. Imperfect but perfect.
In a time where tiny homes are encouraged or basically done, additional shelving or multi-functional spaces or furniture is something we can invest in. It may have additional costs, but in the long run, we would definitely enjoy the joys of additional cubby holes or shelves at home – in the kitchen or even in the bedroom. Another list we have here in Home Design Lover – are bookshelves in other areas of the house. Check it out and tell us you actually love it!