20 Astounding Kitchen Cupboards Design
In an open-plan space with few walls to work with, it may seem counter intuitive to give up an entire wall for storage; but it can be well worth it. Wall-size cabinets installed in the kitchen that can hold everything from dishes and linens to pantry goods is one investment you can do both for yourself and your kitchen's sanity.
Today, we will be showing you how smart it is to have cupboards in your kitchen – whether they are modular or not, whether they are large or small. No amount of storage is enough especially for a growing family, literal or otherwise. With that being said, here are the 20 Astounding Kitchen Cupboards!
1. Australia Contemporary Kitchen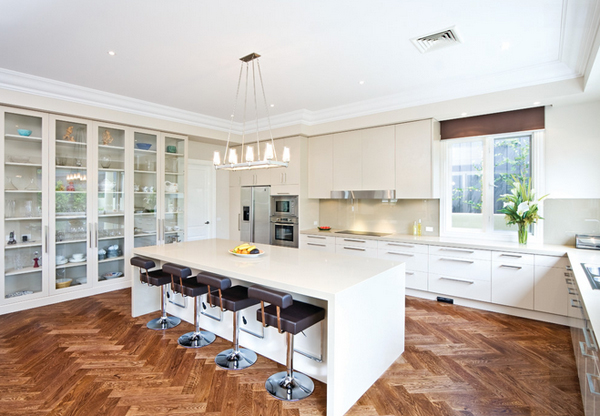 The beautiful glass cupboard on the left side is fascinating and rather classy for this lovely kitchen.
2. Brisbane Samford Kitchen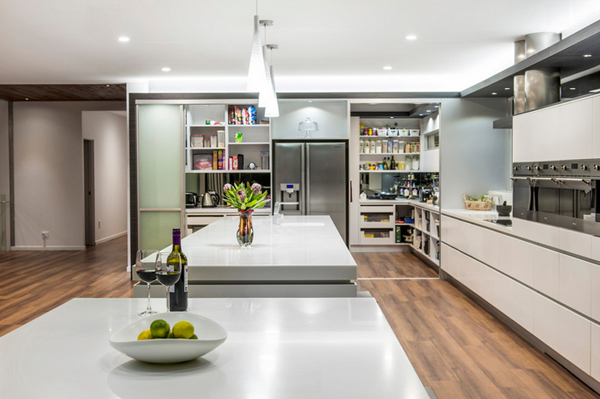 You might wipe over your benches and cook top very often, and wash the dishes after every meal, but that doesn't mean your kitchen needs cleaning that frequently. A good cleaning once over every week or month will do, which makes it the perfect chore to tackle when you're in the mood to procrastinate.
3. Canada Modern Kitchen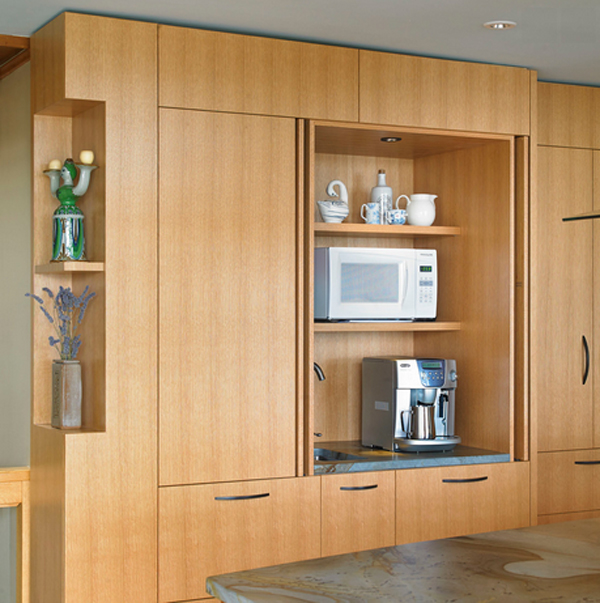 Many people want their coffee center to be hidden; an appliance cabinet with a countertop and retractable doors tends to work best. Make sure to connect the retractable door function to a shut-off switch that disconnects the power from the appliances inside the cabinet – you don't want to risk appliances or timers malfunctioning behind closed doors.
4. Contemporary Condo Kitchen Conversion – Chicago, IL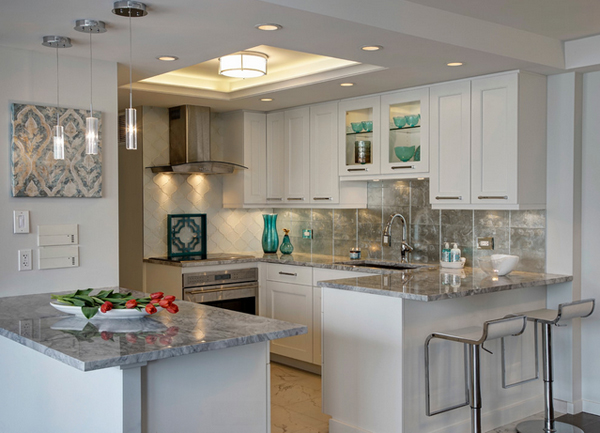 Metallic backsplash is cool because it gives a sophisticated look, but it may be better if we have less of it. Like the tile backsplash behind stovetop.
5. Guildford Residence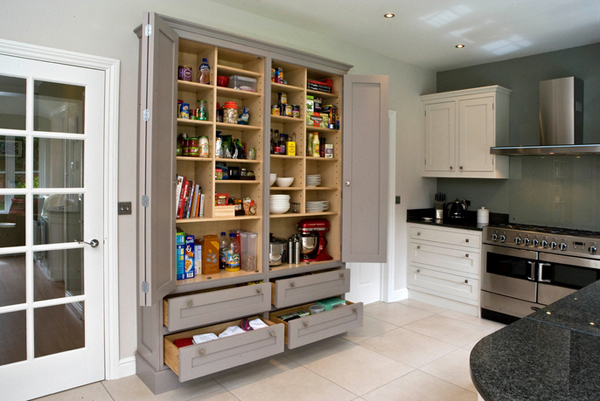 This granite was Bon Accord, and these slabs had a very subtle sparkle, not something you always see with this material, always worth visiting the granite importer to choose your slabs.
6. Harvard Square, Cambridge Massachusetts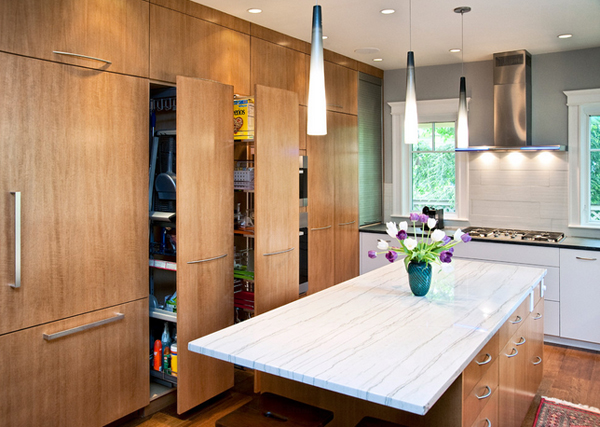 I like the rounded handles like the one in the upper left side. And I love the fact that there are a lot of storage in this space.
7. Hood River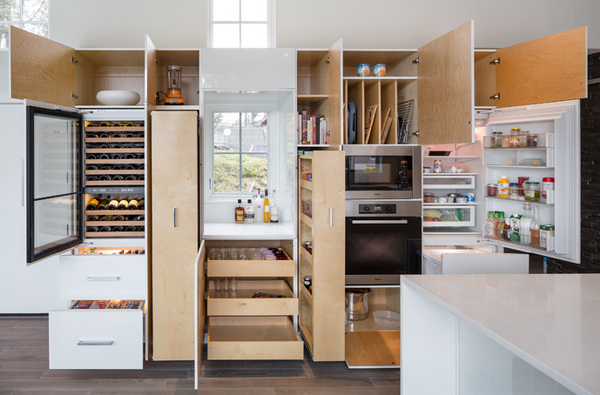 Functional kitchen wall with lots of different possibilities, totally love this Portland kitchen.
8. Lake Simcoe Residence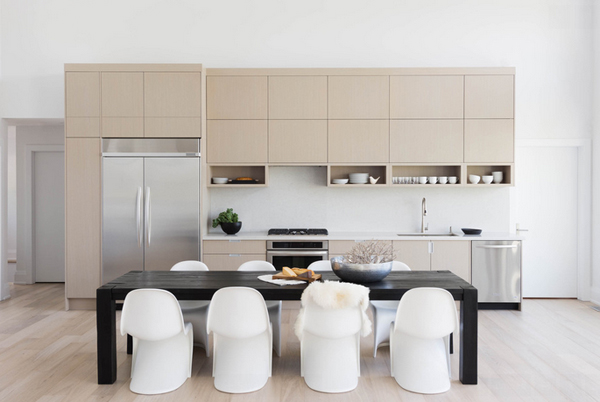 The homeowners wanted just one wall of cabinetry. "The open shelves were born of necessity," the designer says. "They wanted an easy place for the kids to grab and put away their cups and plates." As a bonus, the objects on the shelves add visual interest.
9. Lakeside Contemporary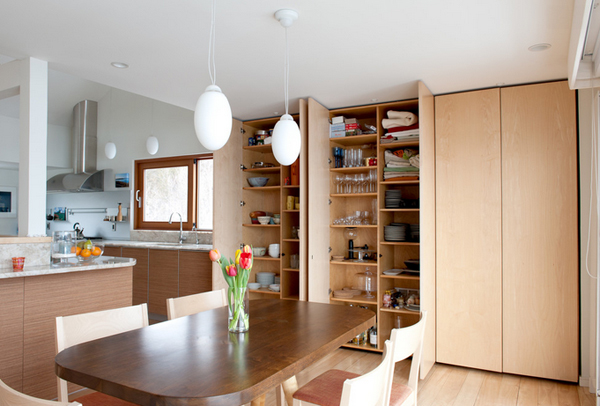 A series of tall built-in pantries fitted with sleek Poggenpohl doors is a quiet backdrop that doesn't distract from the dining experience here. The lack of hardware on the doors echoes the clean lines that the rest of the house celebrates.
10. Linden Ave Home Renovation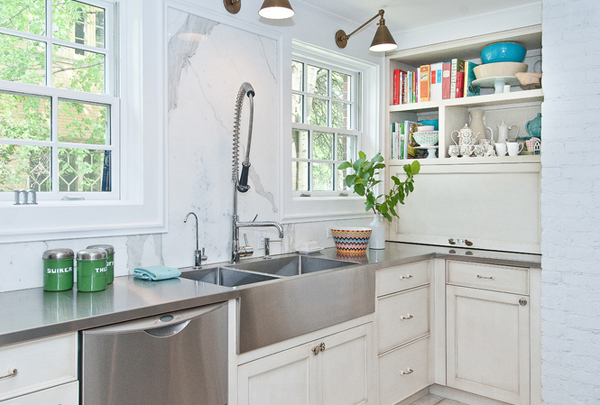 Chicago kitchen in white with great appliances and cute cupboards on the side.
11. London Contemporary Kitchen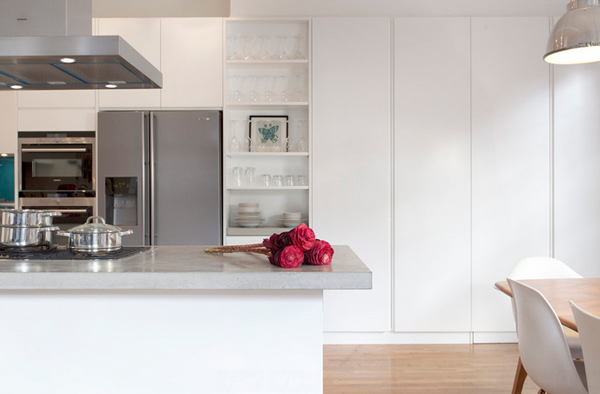 I don't know about you, but this wall of cabinets is just heaven!
12. Magnificent Larder Kitchen
Larder cupboard designed by Giles Slater for Figura. A large pantry cupboard within the wall with generous bi-fold doors revealing marble and oak shelving. A workstation and ample storage area for food and appliances.
13. North Bondi Project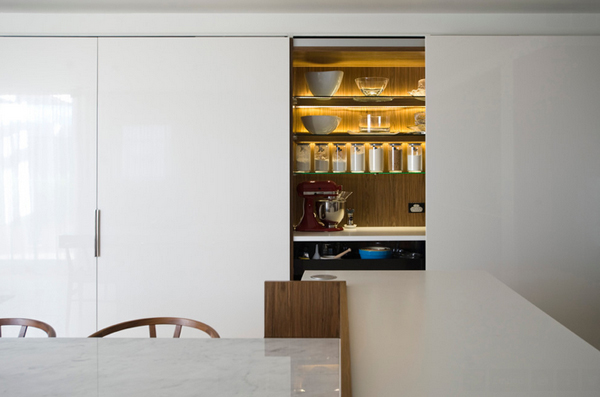 A second appliance cabinet holds breakfast products and tea and coffee fixings, and hides the entrance to the scullery. The cabinets "solved a number of issues, as all can be easily opened when required and closed when visitors come over," says Genner.
14. Ski House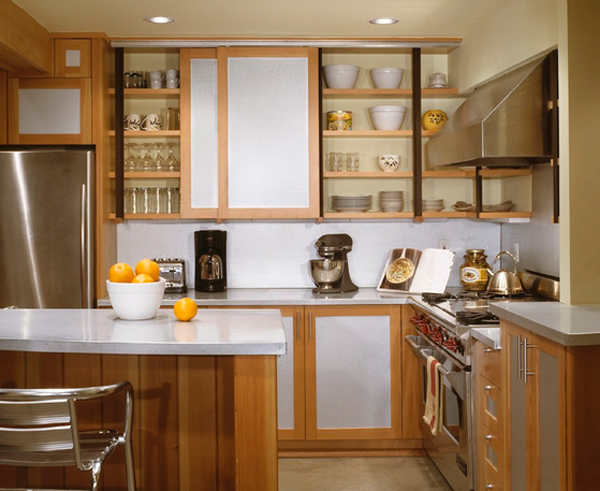 Durable, tough and affordable, galvanized metal sheeting has rustic good looks that would be equally at home in an industrial space or a modern farmhouse.
15. Stunning Contemporary Townhouse in Toronto's Annex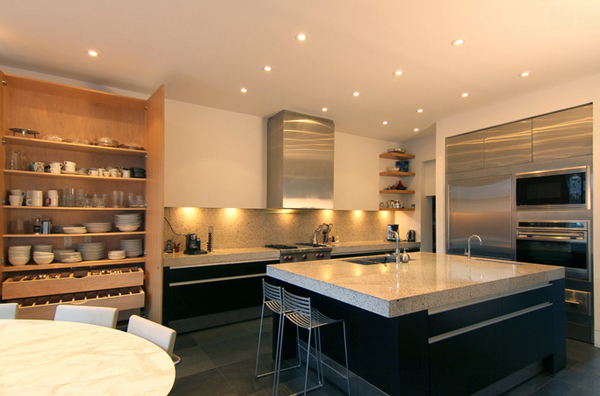 The kitchen features an oversize island with thick granite countertops. The hood is custom fabricated in stainless steel, as is the built-in unit above the Sub-Zero fridge. Cutlery, dishes and glassware are neatly organized in a custom cabinet with built-in storage trays.
16. Sydney Traditional Kitchen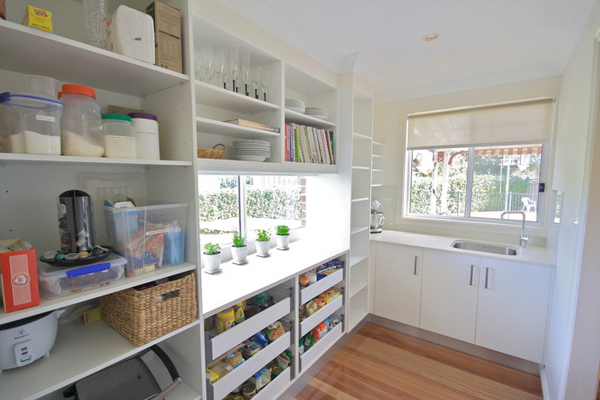 I just like how much one space is wider when it actually is smaller because of the lighter paint – love the openings in this Sydney kitchen too.
17. The Home of Tessa & Martin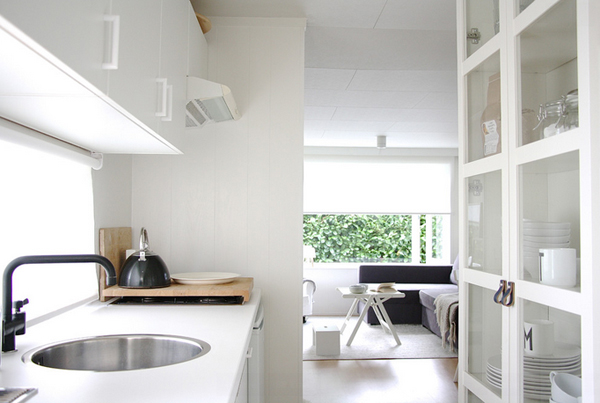 They added this glass Ikea cabinet to store additional dishes. Weerdenburg swapped out the stock knobs with leather handles that she designed.
18. United States Contemporary Kitchen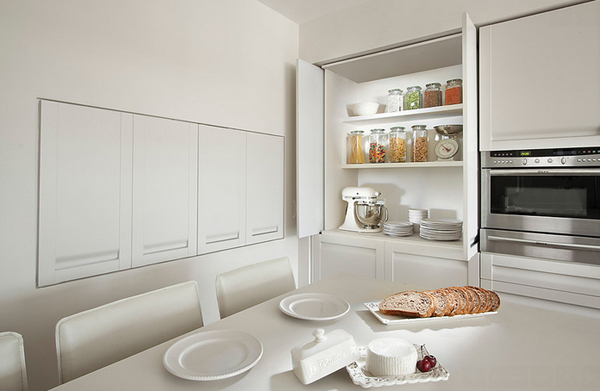 Or, consider adding recessed shelves. You'll have room for all your kitchen essentials and score a clean-lined, contemporary look.
19. Urbo Bespoke Kitchens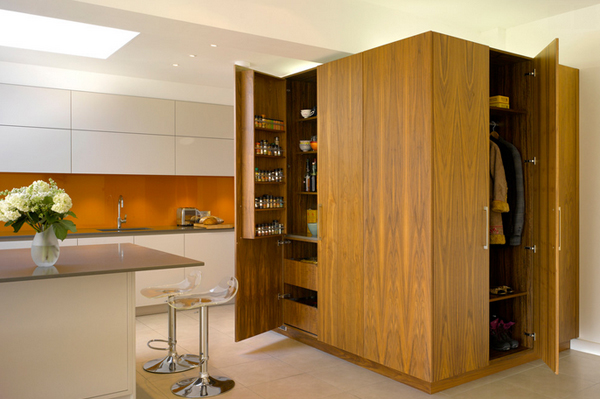 Bespoke storage cabinet in vertical Walnut random veneer by Roundhouse. Roundhouse matt lacquer Urbo handle less bespoke kitchen. Bespoke color-blocked glass backsplash.
20. Yorkshire and the Humber Kitchen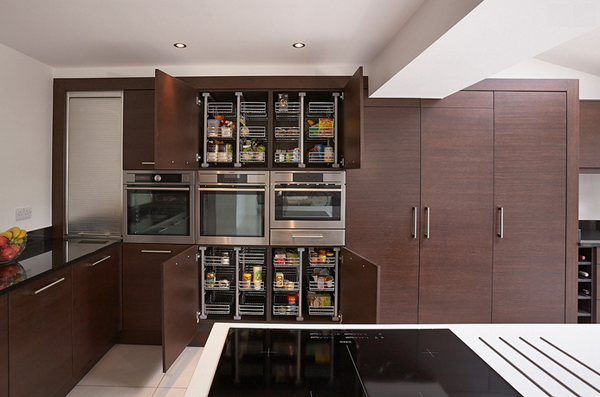 Organizers, long closet doors, appliances off the ground – what more can you ask for?
This list sure proves to be a useful one because we are able to see applicable choices we can make for our homes. Some of the cupboards are actually modular which you can just purchase in your local home depot, or something you can ask your designer or contractor be added in your space – whether this is one large cupboard or small ones.