20 Astounding Grey Kitchen Designs
When a kitchen is painted black, white or grey – it usually indicates or shows sleekness, sophistication and class. For homeowners who prefer contemporary to modern design, these colors are favorite choices!
Adding bits of color especially in the kitchen is kind of cool too. But today, we will be showing you 20 Astounding Grey Kitchen Designs that will give us a touch of warmth which is definitely essential in terms designing and even planning spaces.
Grey is an understated color but as we have said above, it is definitely sophisticated.
The main goal of each designer for the next photos is to make sure that using the color grey to paint the each space will not create a cold and sterile-looking kitchen. Who would want that right? But adding tidbits of color or unique material in the kitchen that can bring a doze of warmth and character creates a rich space everyone ought to love. Here we go.
Beechwood Manor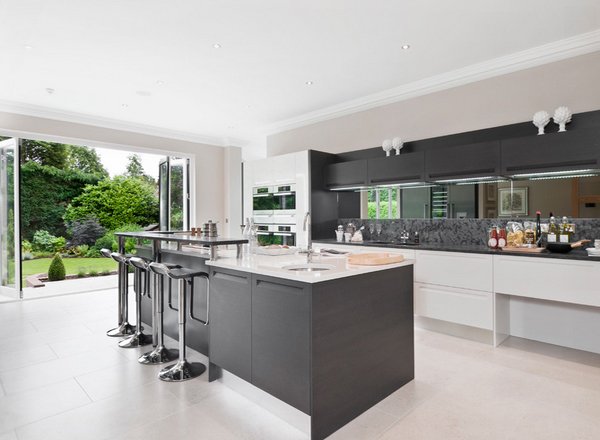 We like the design touches which are charcoal, white and silver/nickel. Also, the mirror backsplash is awesome! Not to mention the big glass doors.
Belvedere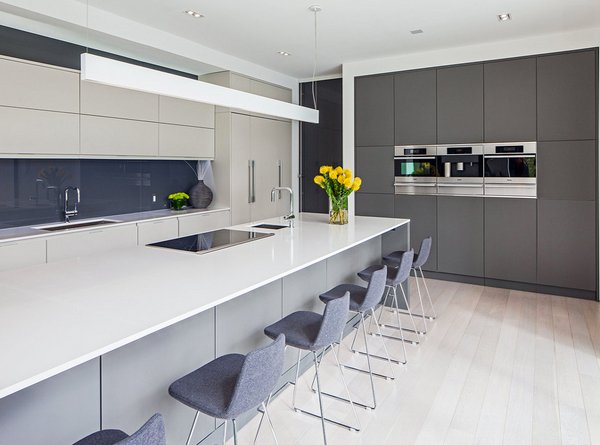 Notice the glass backsplash that contrast well with the cabinets and the stunning bar stools that complement the kitchen bar. These are the few things that remind us how much everything in this kitchen works with each other.
Brookfield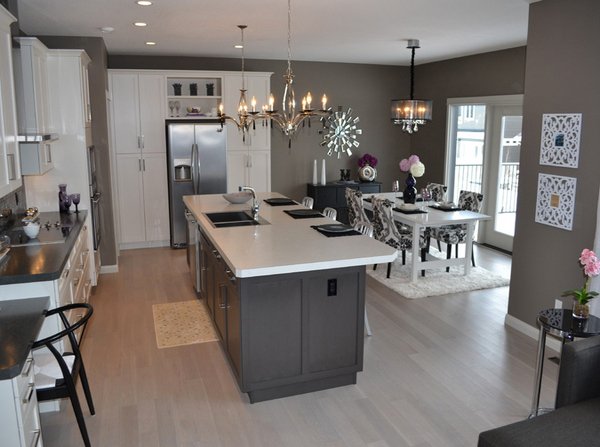 The light-colored wooden floors complement with the white cabinets, grey walls and unique furnishings and lighting fixtures.
Caudhill Lane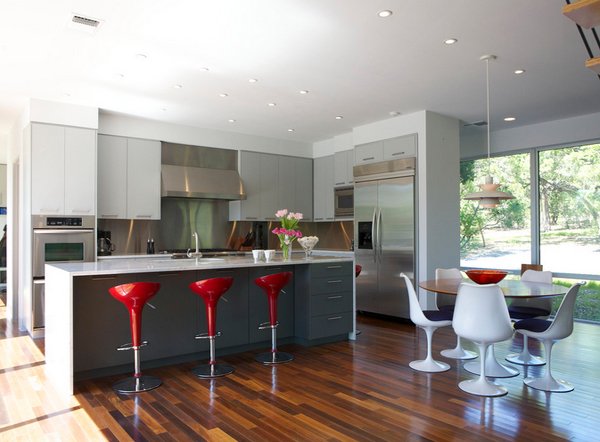 Here is an example of a designer who is not so into chair legs; not only did this person opt for the entire Saarinen dining set, but also for pedestal barstools. They also went for a PH 5 pendant that stunned a lot of people.
Chancellor Street Residence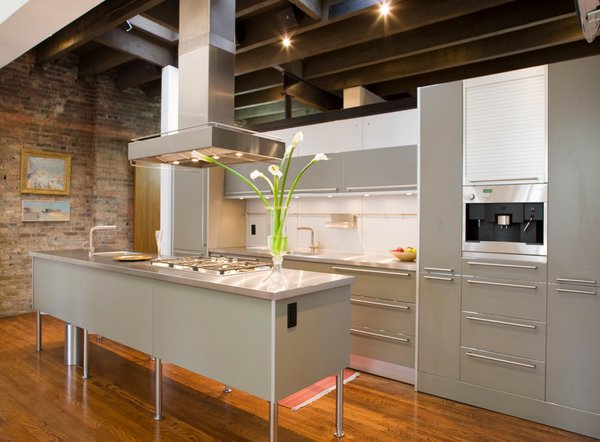 This is definitely a beautiful example for a grey kitchen although the feet on the island waste some useful space – but still, this kitchen is stunning!
Cohen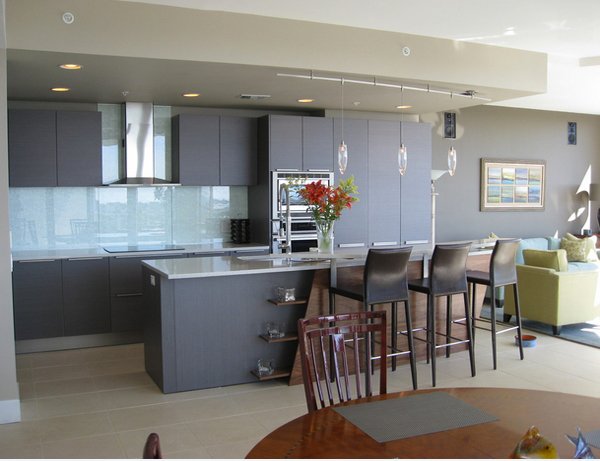 The soft grey mix for this kitchen is soft to eyes and gives us a clean and sophisticated look. The icicle pendant lights add accent to the dainty ceiling treatment just above the kitchen bar.
Dallas Kitchen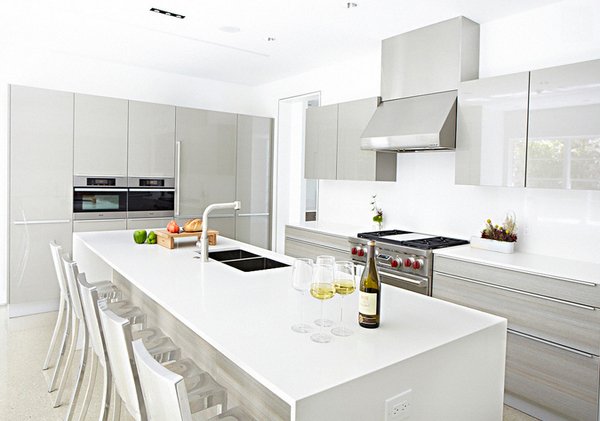 The designer chose this color to complement the Ivory Terrazzo floor as it had the same tones and wood texture to soften the kitchen because it is mostly hard surfaces. The finishes are Cubanit and Teak Quartz both by Poggenpohl.
Divine Kitchen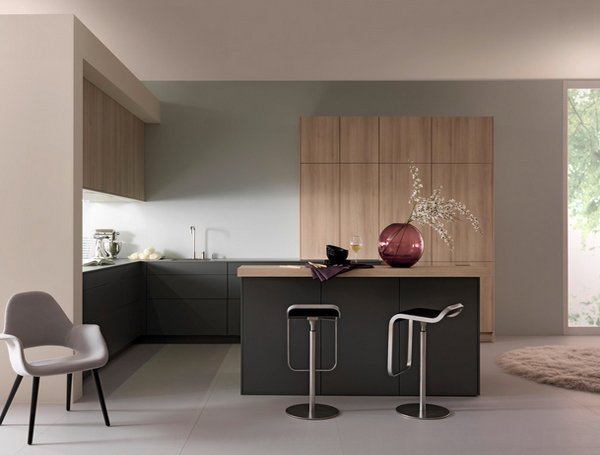 Something this serene and simple is not only tough to pull off, it most likely takes pockets so deep, and they reach China. Although we're kind of good with the design stuff, we think we would hire a kitchen designer to pull this off. This is not just a kitchen, it's an A-List star.
E. 8th Street House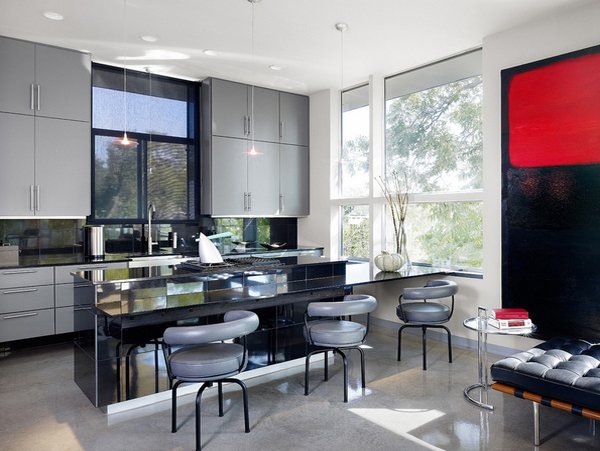 A cool, monochromatic palette and spare aesthetic defines interior and exterior, eschewing, at the owner's request, any warming elements to provide a neutral backdrop for her art collection. Thus, finishes were selected to recede as well as for their longevity and low life cycle costs.
Fontana Penthouse
Let's make our kitchens of a minimalist design. No carvings, no cherubs, no acanthus leaves. Just simple, straightforward and glossy surfaces.
Lucas Valley Eichler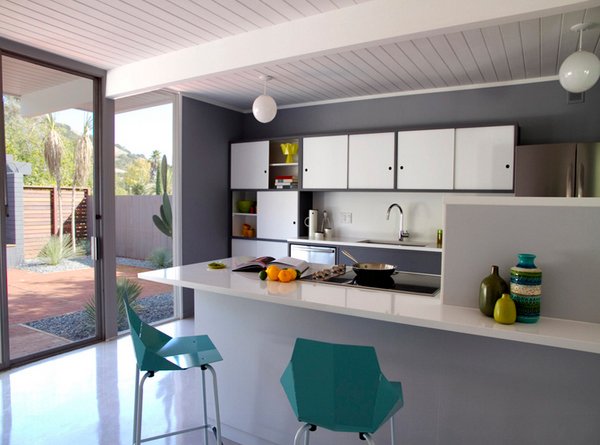 Two shots of turquoise in this very subdued grey and white mid-century kitchen made it look homey and modern.
Lum 17 Street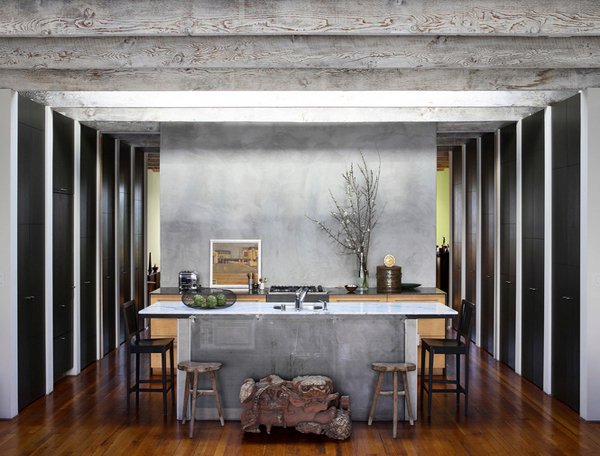 It's amazing how modern a home can look even with the traditional barn-like ceiling overhead. We love the play of the reclaimed wood with the concrete wall, and the way the lines from the cabinets and the beams intersect to lead the eye down the length of the room.
Luna
The overall look is unmistakably superb and class! The mix of white and dark wood made this home a real charmer!
Miami Kitchen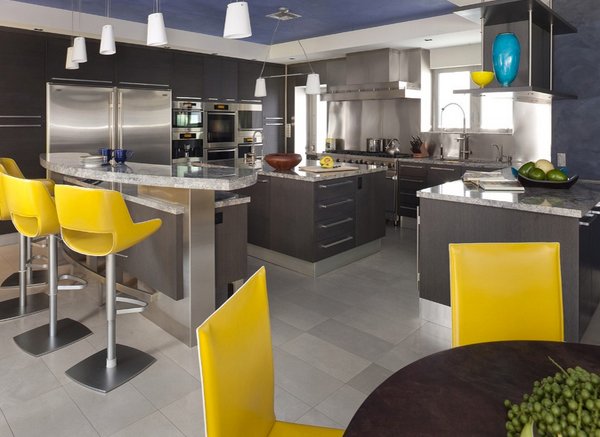 Grey and bright yellow are a fantastic color combination. Whereas grey is cool and understated, yellow is hot and eye catching.
Modern Grey Lacquer Kitchen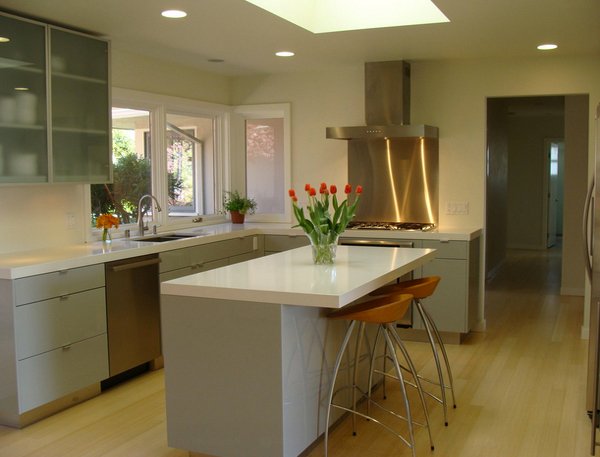 This kitchen is definitely clean and minimal but totally charming, although it seems little cold without wood.
Nordquist Residence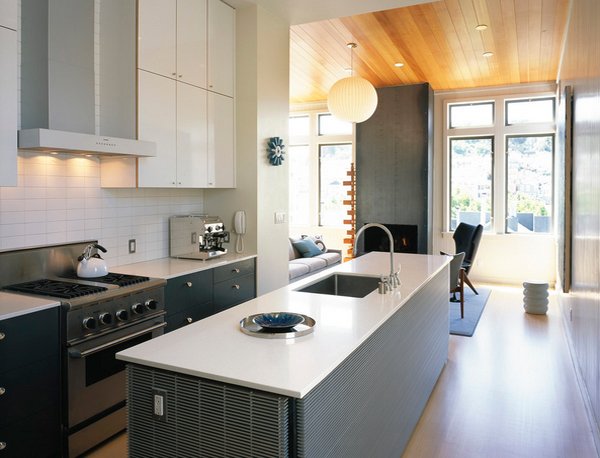 With so many options on the market, it may be somewhat tricky to choose lighting for your home. But keep the general concept at hand and narrow down your choices. Look for lighting with a design that's easy on the eyes rather than boxy pendants or ornate chandeliers.
Parkside Modern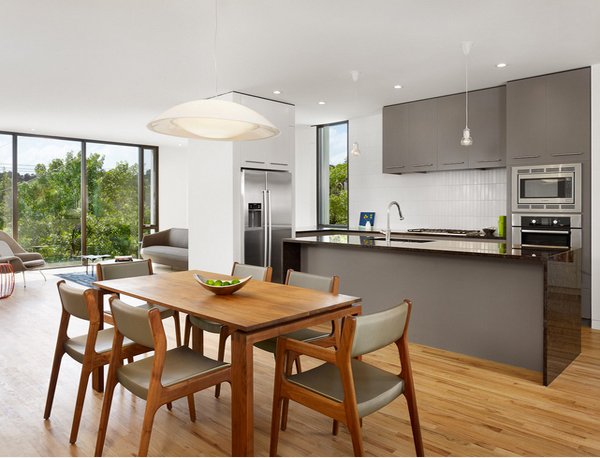 If a kitchen is painted matte grey, has black counters, gloss white ceilings and wood accents – that space is really something!
River House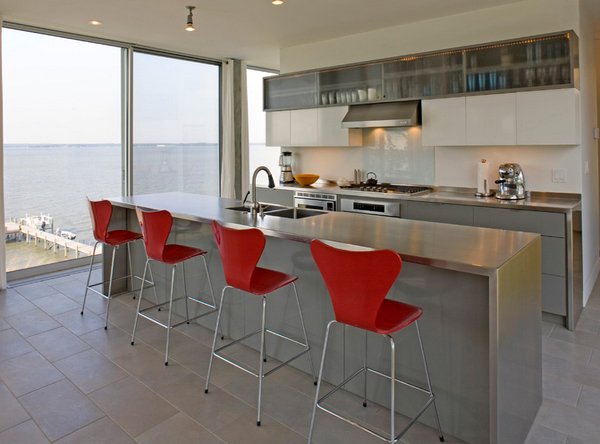 Add impact to a long narrow modern island by adding clean-lined, colorful seating. These Series 7 Stools have long chrome legs which increase the visibility of the island without overpowering it.
Villa Nuevo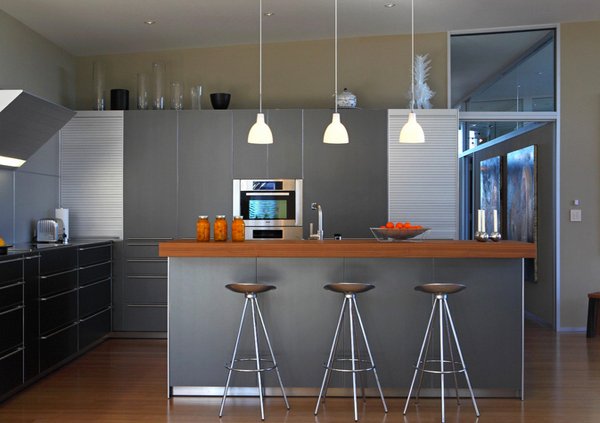 This kitchen utilizes a lot of metallic finishes. The bulk of them are matte, while the stools, hardware and a few accent pieces are polished.
Warmington North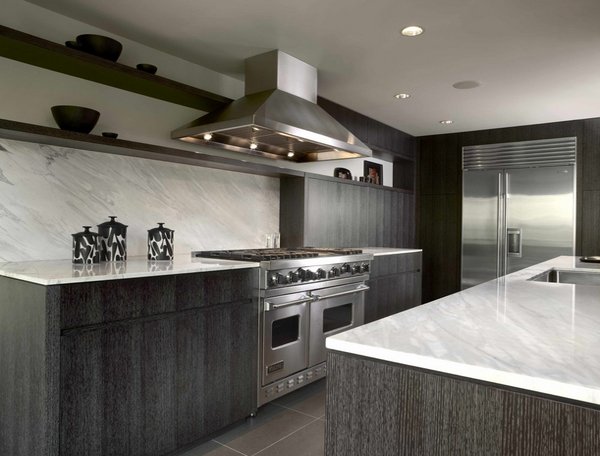 With open shelving and marble backsplash, this is another beautiful example of how to treat the range hood in a contemporary kitchen.
A little bit of grey goes a long way – whether it was just a small part of your walls, or maybe the color of your cabinets or maybe your island stools, using grey as an outline or an accent will bring a soothing quality to your kitchen space without making it too serious or dark. We hoped you liked this list of 20 Astounding Grey Kitchen Designs as well as our list of 15 Warm and Grey Kitchen Cabinets. Yay or nay with grey?