20 Oh-Lala Hawaiian Kitchen Designs
The islands of Hawaii are well known for the environmental diversity that occurs on high mountains within a trade winds field. On a single island, the climate can differ around the coast from dry tropical to wet tropical. Because of this, the designs of the homes in this place is made from wood just like most Asian homes.
Today, we will be showing you a couple of kitchen spaces that are either located in Hawaii or Hawaii-inspired kitchens! These spaces are also great inspirations for Asian kitchens because like most countries in Asia, Hawaii is a tropical country. So, here we go! take a look at the 20 pictures we have about awesome Hawaii kitchen spaces below.
1. Bali House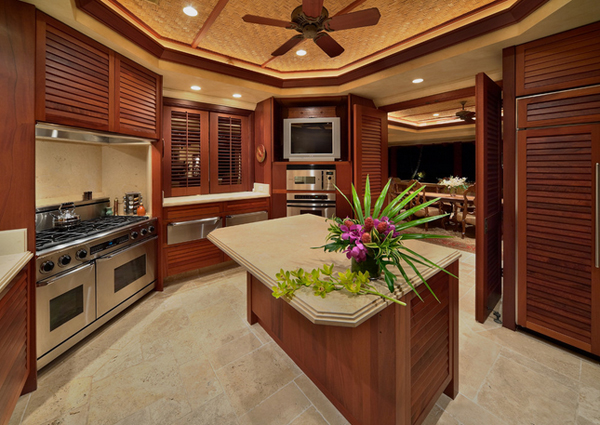 Incorporates downstairs wood colors into a modern "island" feel for our kitchen & louvre red doors would work well with the venting needed on entertainments room cabinetry. Also note Hawaiian "woven" ceiling.
2. Hale Aina by the Sea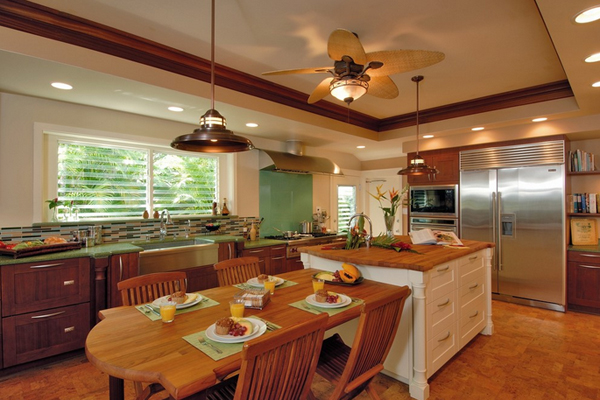 Kitchen island, version 2.0. I simply love the idea of combining an island and a kitchen table. In this Hawaiian kitchen, seating for four is placed right in the center of everything. By using the same material on the island counter and the table top, it is a seamless integration between the two uses.
3. Hawaii in Canada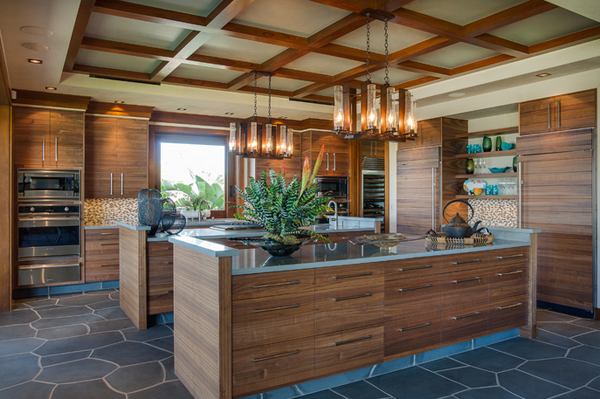 Flat panel is nice, but texture required. Flat paint is too stark and industrial; still like this space though.
4. Hawaiian Cottage Style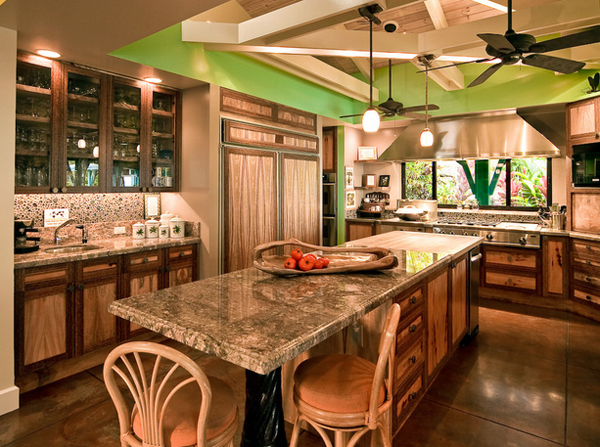 The sudden pop of green in this Hawaiian kitchen is quite interesting.
5. Kitchen Breakfast Bar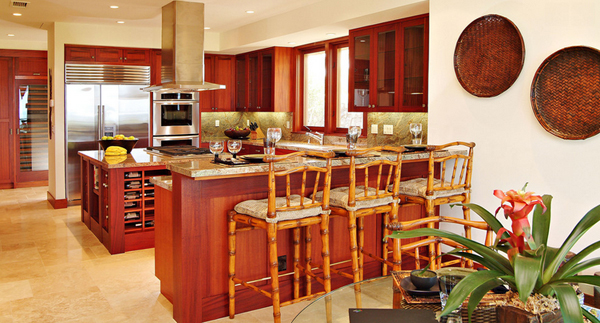 More than the colors of the cabinets in this kitchen, I love the decor and the bar stools too.
6. Kukui'ula – Club Bungalows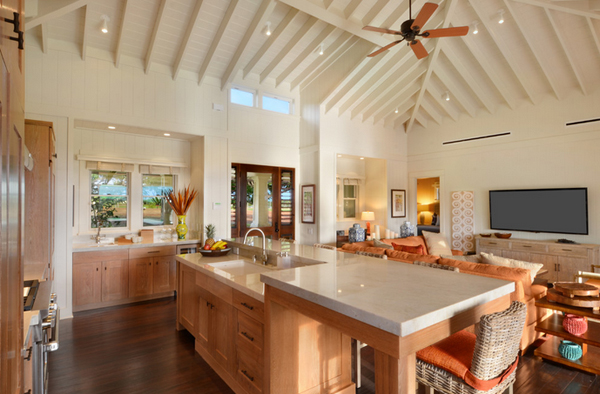 In warmer climates, high-pitched ceilings help with air circulation and cooling. This ceiling has been painted white for a light, contemporary look.
7. Paiko Lagoon Oasis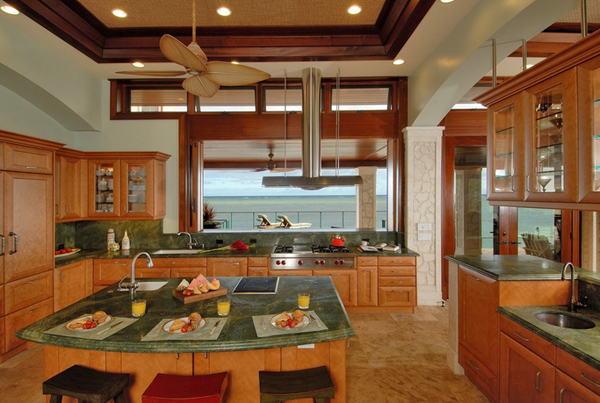 Open ended bar to use at end of hallway to kitchen.
8. Haiku House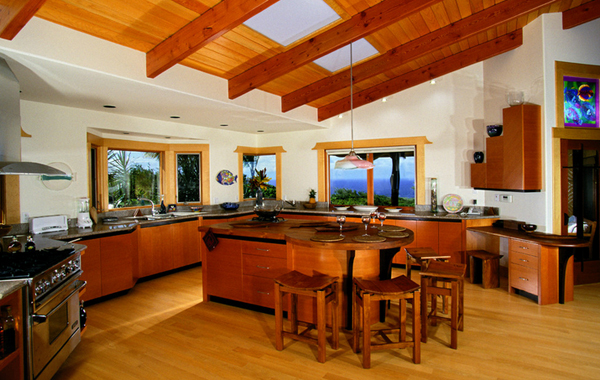 Totally love the island kitchen, masculine range and wood window trim.
9. Hawaiian Condo #9E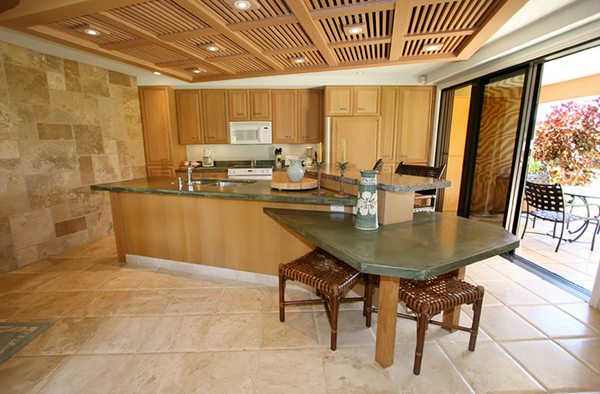 Look at the wooden ceiling of this kitchen! Love the colors of this kitchen too!
10. Hawaiian Escape on Kauai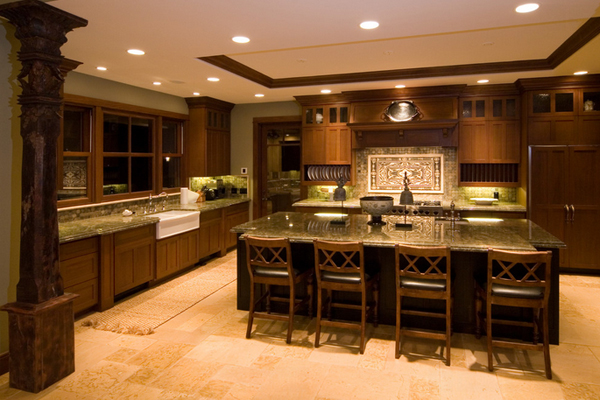 The layout of this kitchen is rather calm and composed.
11. Hermosa Beach Residence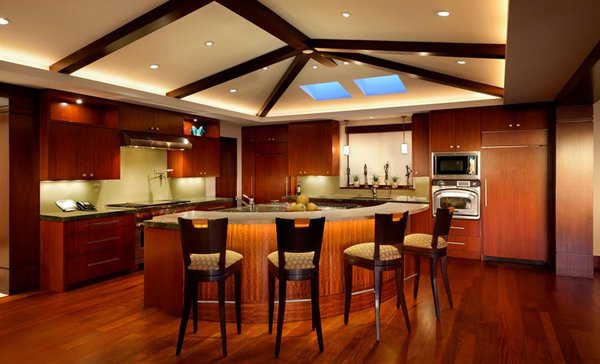 The vaulted ceiling of this Los Angeles kitchen is fascinating especially with the lighting plan in it.
12. Hualalai Estate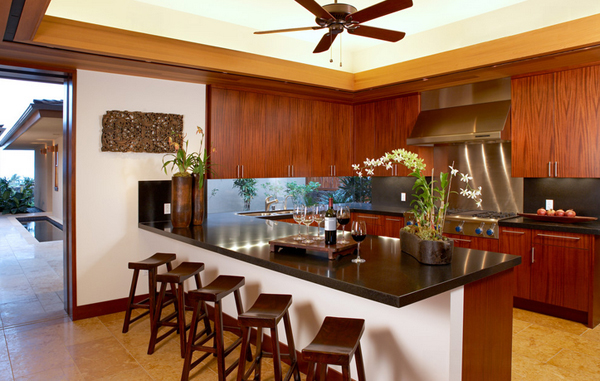 Loving the texture on the cherry cabinets and the black countertops.
13. Kuikawa Lot 1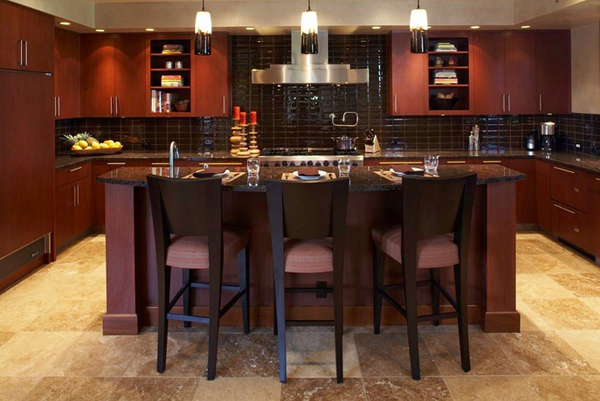 A U-shaped kitchen is always convenient for home owners for a great walking space and traffic.
14. Kukio Lot 82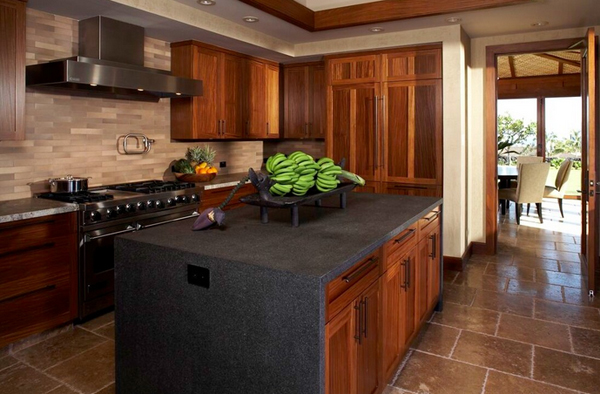 This Hawaiian home takes nature to the interior by highlighting custom items like concrete bathtubs and sinks. The large, pocket doors create the walls to this home – walls that can be added and removed as desired. This Kukio home rests on the sunny side of the Big Island and serves as a perfect example of our style, blending the outdoors with the inside of a home.
15. Maui Tropical Kitchen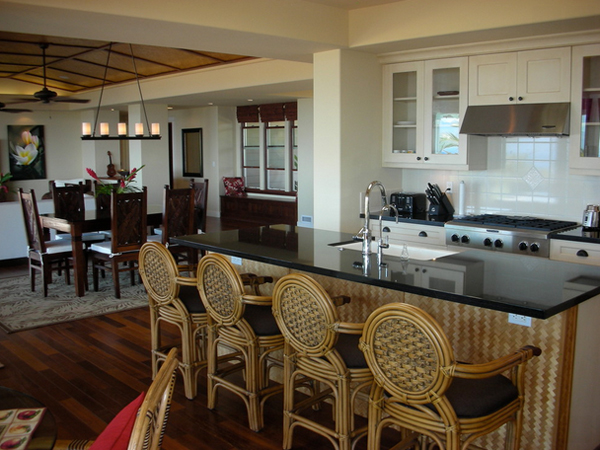 We see awesome creamy white cabinets & dark hardware in this Hawaiian kitchen; note the stunning rattan bar stools.
16. Modern Serenity in Maui
Look at how covered the walls are in this contemporary kitchen! Love the designs of the kitchen and countertops.
17. Kona Hillside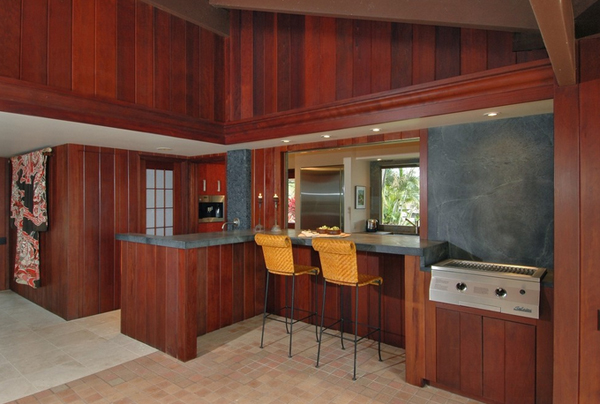 These are beautiful made from wood planks or panels.
18. Private Residence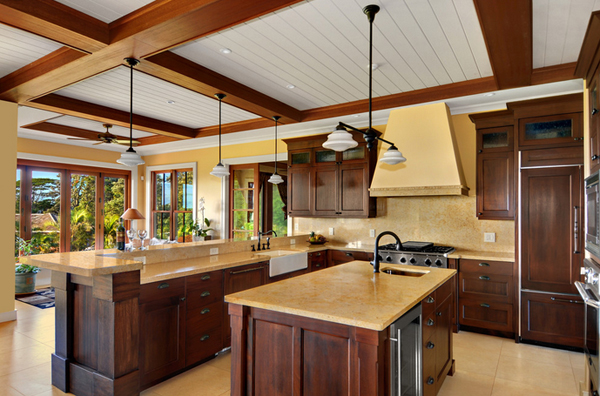 Using a peninsula and a kitchen island is not always the case but this sure is great for more working space especially for a large family.
19. Santa Barbara Contemporary Kitchen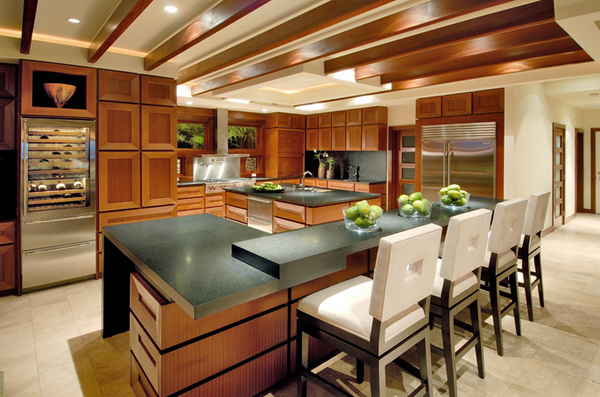 Install an island in different levels. Not only will this increase the visual appeal of your room, but it will add function by creating comfortable surface levels for both eating and preparing meals.
20. Tropical Model Home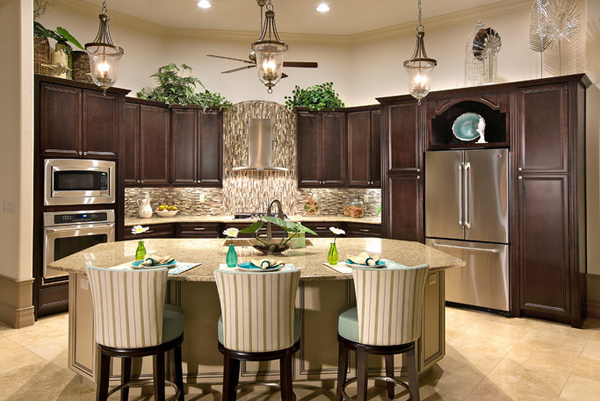 Look at the rich dark wood cabinets with marble floor. Nicely done!
As inspiring as these pictures are, we are sure that there are more kitchen spaces out there that might be prettier than the ones on this list, but hey, the ones above sure was interesting and somehow and almost similar to most Asian kitchens we have seen except with more or less specific decors. Here is another home located in Hawaii that are sure stunning – Inspired Fashionable Elements of the Kona Residence in Hawaii. More to come in Home Design Lover!