A Collection of 18 White Kitchen Cabinet Designs
Cabinets are box-shaped pieces of furniture that are basically intended for storage. Others are stand alone, while some are attached to the wall or built in – in case of modular designs.
Today, we will be showing you handpicked examples of white kitchen cabinets that came from different designers and manufacturers. When you take a look at furnitures like these, you may get to think that they may look similar, but the differences lie in the sizes, materials and in details as well.
Discover some these cabinets having different designs and maybe gain some insights on how you want your cabinets to look like.
Most of the samples we have are made of wood since homeowners prefer this material more often than the others. Check out this collection of 18 White Kitchen Cabinet Designs and leave us comments below!
Duxbury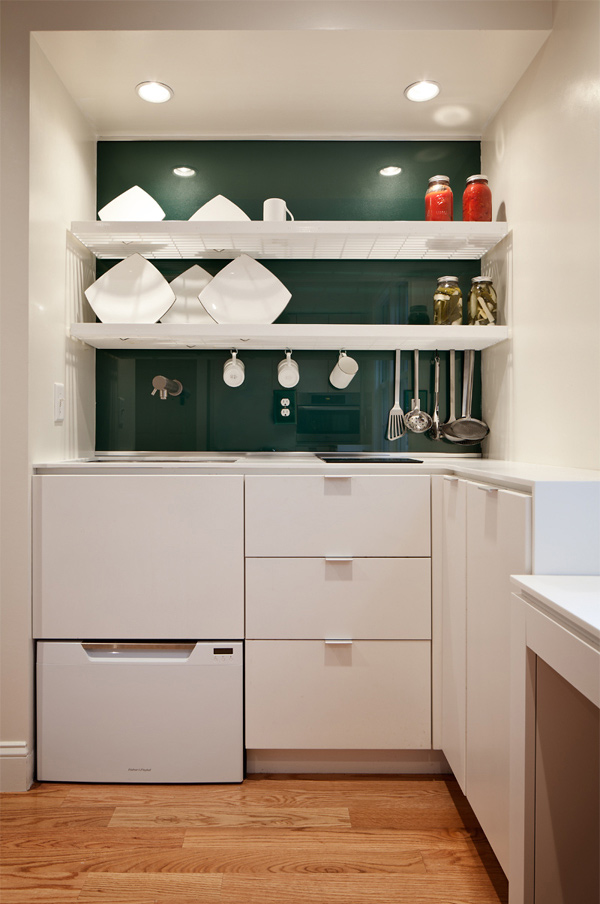 This small kitchen maximizes the available space is has by using open shelving for more storage. The modern handles complement the clean lines of the drawers.
Two Mood Kitchens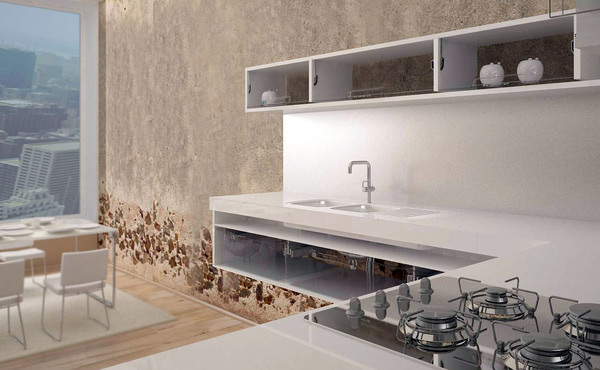 Daria Pavlova did a great job in creating an overhanging counter with shelving and glass covers. The modern feel makes it more look pretty, and by the way, this kitchen area has unique mood lighting!
White and Leather Kitchen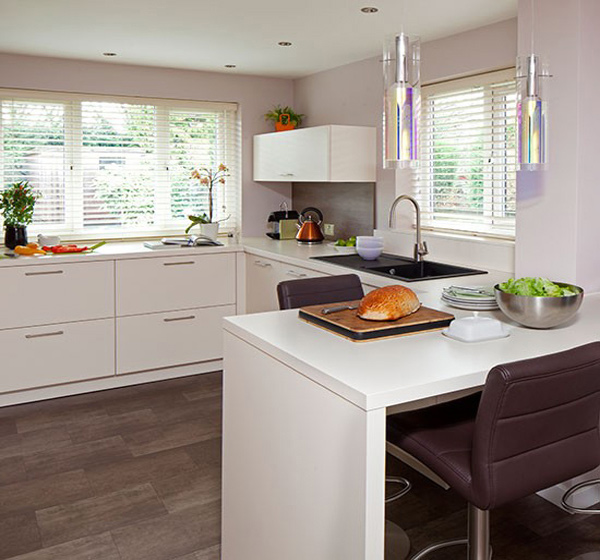 Modern white kitchen cabinetry and worktops and matching cream walls give the space a fresh, clean look.
1918 Cottage Style Farmhouse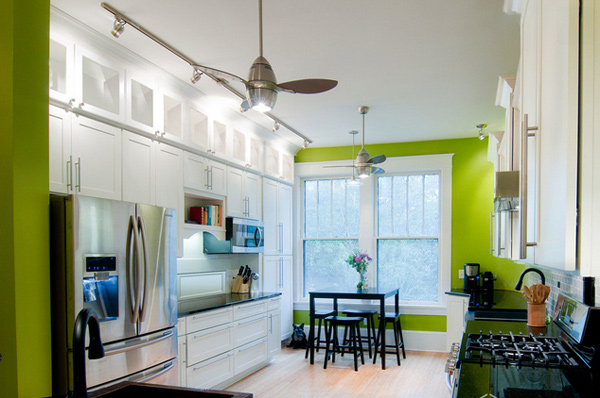 Simple white shaker kitchen cabinets, top-of-the-line appliances and fixtures, and floor-to-ceiling cabinet storage make this kitchen a knockout.
Compact Kitchen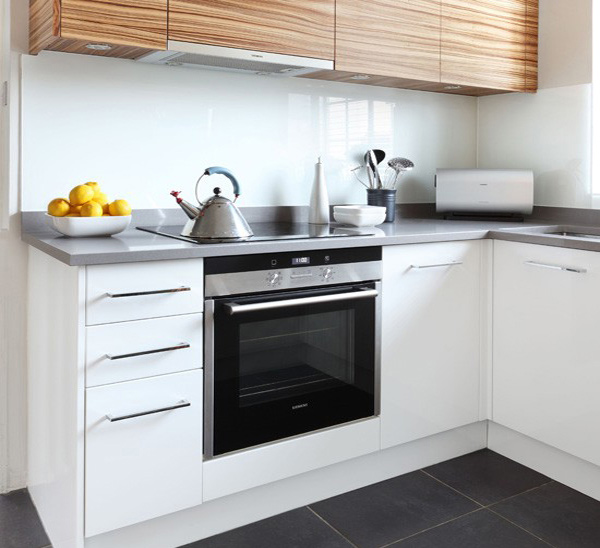 These distinctive kitchen cabinets in zebrano veneer contrast with the gloss white floor units and the black floor tiles to create a warm, modern look.
Grey and White Kitchen Style At Home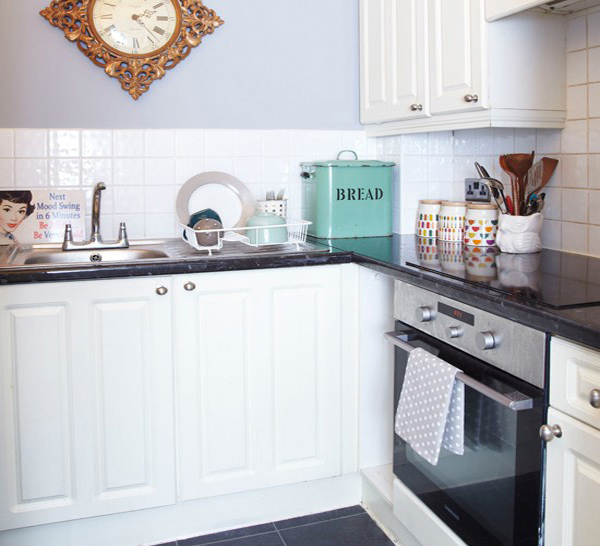 This compact kitchen has been kept simple with cream cabinets, but the colorful storage jars and wall clock add a decorative touch.
Sunnyside Road Residence Kitchen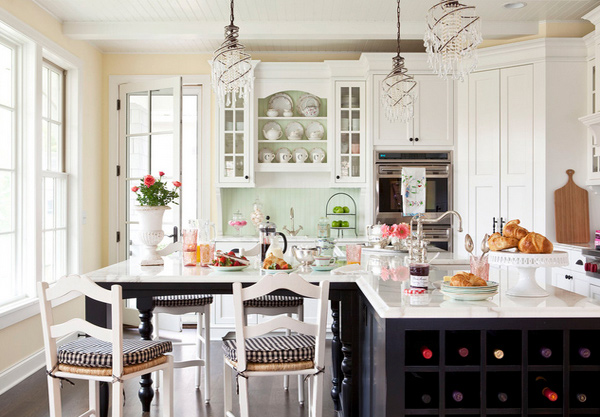 The kitchen cabinets looks classic with its color and design. The crown moldings make it more glam and pretty!
White and Wood Modern Kitchen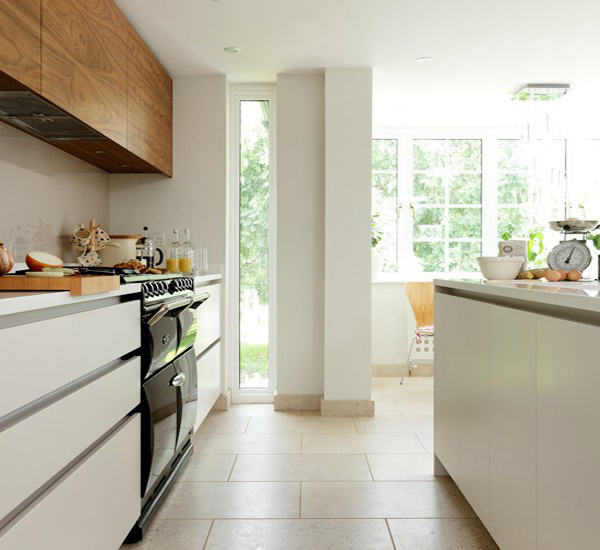 Limestone flooring complements this cool white kitchen perfectly.
White Kitchen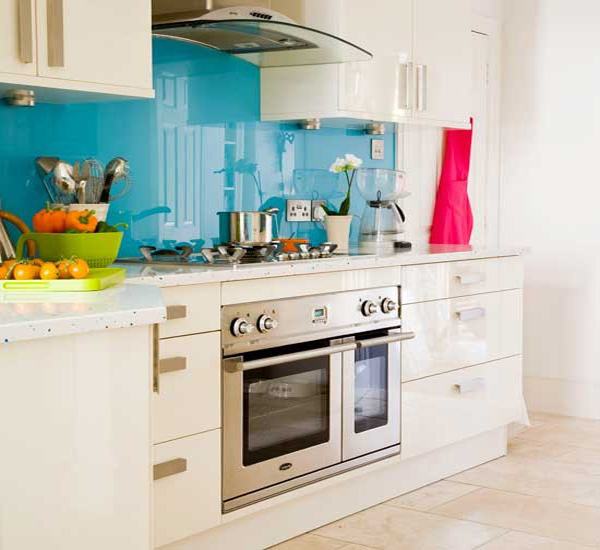 Add a shot of vibrant color in a white kitchen with a glass splashback. This indigo shade gives the light and airy space, along with the hi-gloss material, a contemporary feel.
Classic White Kitchen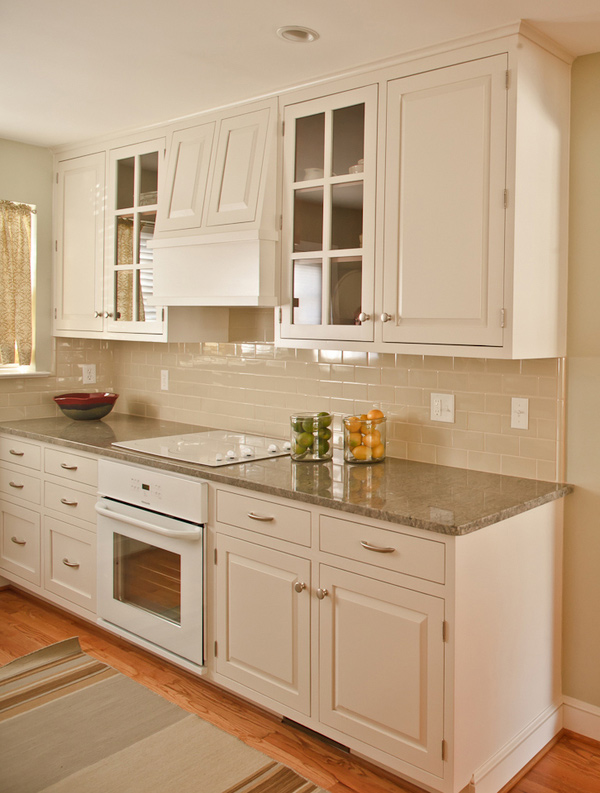 An example of a classic white kitchen that showcase cabinetry which is sleek even when the design is pretty much something you can get in your local hardware shop.
Modern Kitchen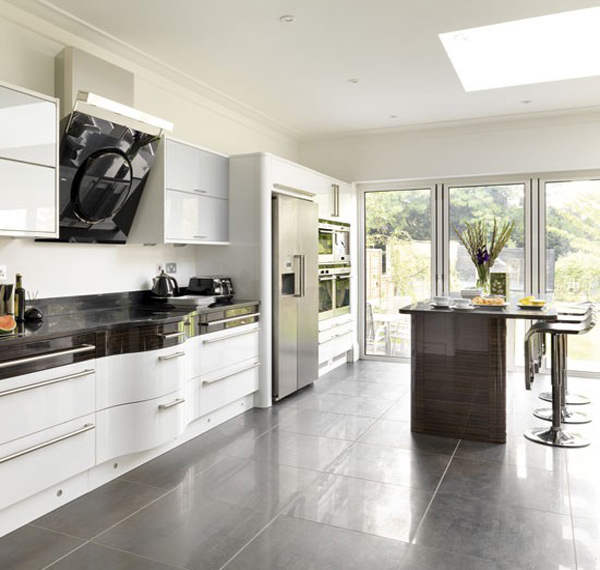 This design uses White hi-gloss cabinetry with contrasting Ebony units across the top to break up the block of color.
Matt White and Red Modern Kitchen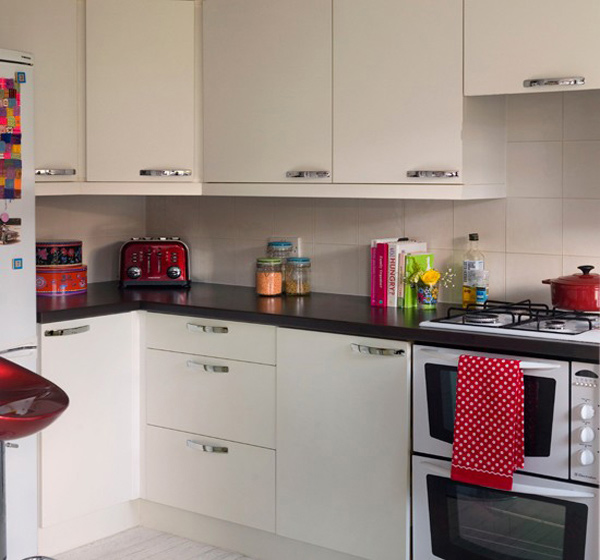 Matt-white cabinetry creates a fresh look in this kitchen, with sleek black worktops as a contrast and colorful accessories to brighten up the scheme.
New York Kitchen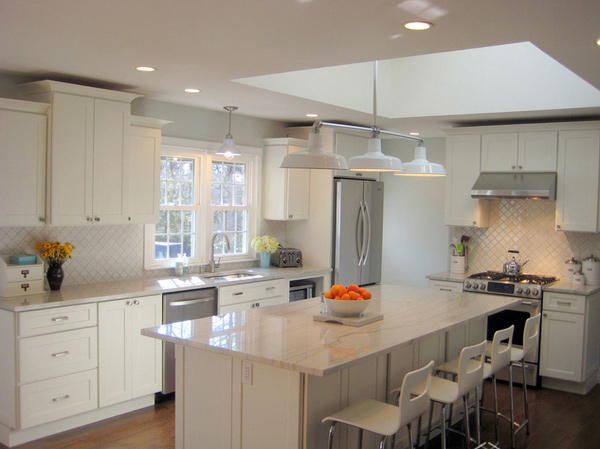 A stunningly gorgeous white kitchen. Simple white mission cabinets and a long island with marble counters create a nice contrast with the brown hardwood flooring.
Seaside Retreat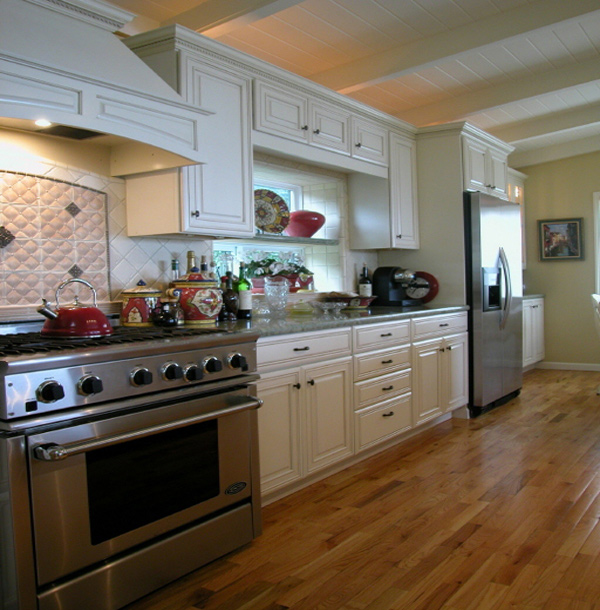 Clean and Bright details to reflect the ocean view from this kitchen.
White Kitchen Cabinets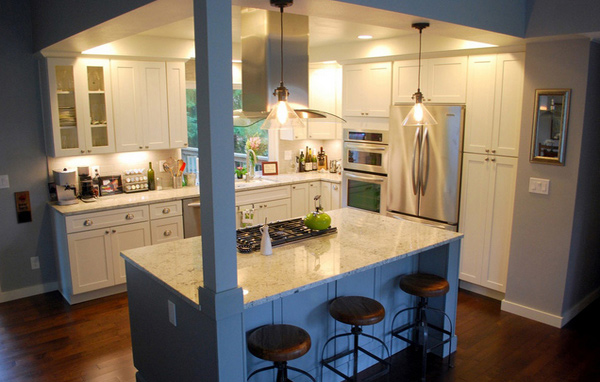 Removing the walls of this kitchen was a major transformation. Now it's much more spacious, and the beautiful Dayton Painted White kitchen cabinets from Cliq Studios are open to the rest of the home.
White Modern Kitchen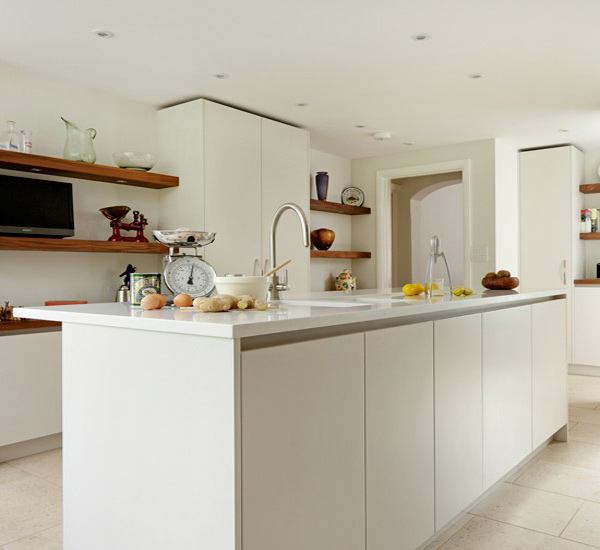 This sleek white kitchen island has a sink and plenty of storage, perfect for food preparation.
White Red Kitchen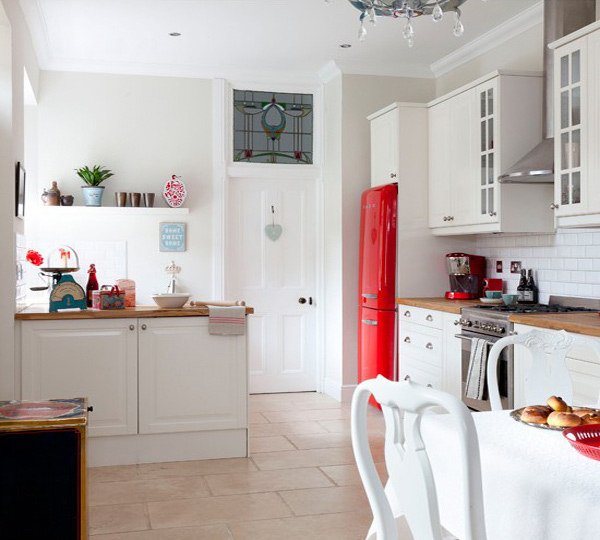 This modern white and red kitchen has a classic Scandinavian style, with fresh white cabinetry and a vibrant red fridge-freezer.
White with Envy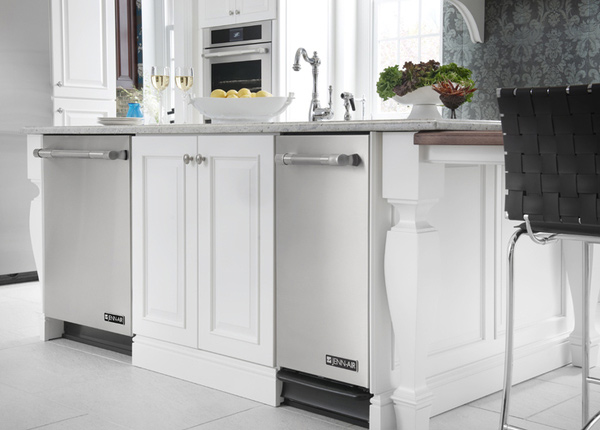 A sophisticated way of seeing kitchen cabinets! This space sure is in luck in having a great finish for its cabinets and appliance choices.
Whatever design or archetype you wanted for your kitchen cabinets can be done, thanks to tons of talented designers and manufacturers. You just have to visualize this and tell the designers the details. The list we have indeed covered a couple of archetypes for your perusal – classic, traditional, modern, or contemporary! Please share a little of your time in leaving us comments below about our list of A Collection of 18 White Kitchen Cabinet Designs and 15 Modern Drapes For Your Homes for us to keep improving our lists! Have a great weekend everyone!