15 Ideas for Highly Functional Traditional Outdoor Kitchens
If you are the person who loves throwing those barbecue parties in your neighborhood, might as well plan on having an outdoor kitchen or grill in your home. Of course, it's not like a must for most homes, but for some countries with a pretty decent weather, barbecues happen in most times of the year.
Today, we thought of compiling a list of spaces which can extend dinnertime with a well-lit outdoor kitchen.
If you're grilling area is separate from your patio seating area, consider subtly linking the two zones with lighting. Direct lighting is more important in the kitchen zone than mood. You can go for an overhead option, like recessed lights or adjustable fixtures that can be pointed exactly where you want them to go.
For more samples, take a look at the 15 Traditional Outdoor Kitchen Designs we have collected for you!
10406 Charter Lake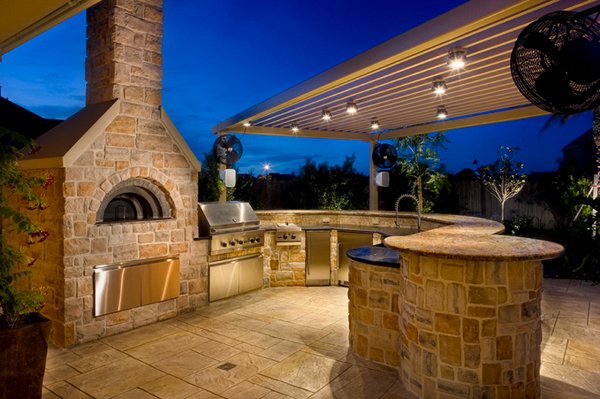 The design of the bar is a bit different from the usual straight line which creates more hominess than the stiff and modern feel. The lighting treatment for this area was well-thought of – we commend the designers for it!
Amsterdam Traditional Kitchen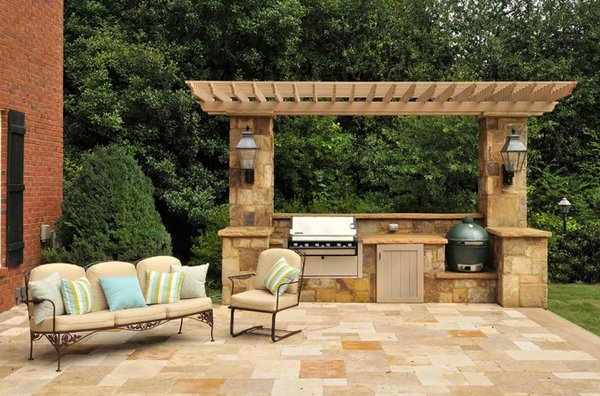 These Pergolas can nicely frame an outdoor cooking area. Fixed lighting and other details combine to make this a highly functional and beautiful setup.
Buigas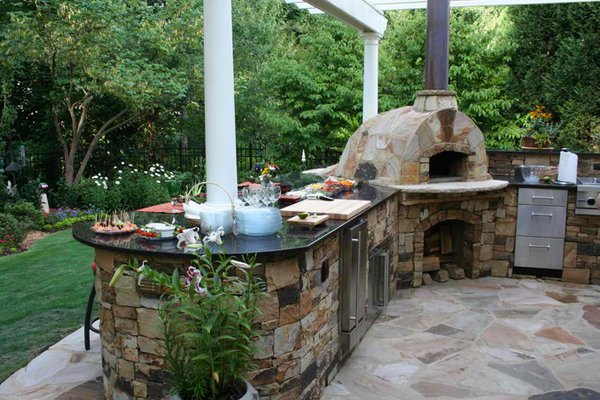 The client wanted a pizza oven and outdoor kitchen – and the designers from Legacy Landscapes, Inc. sure had fun doing it for them!
Macedonia Project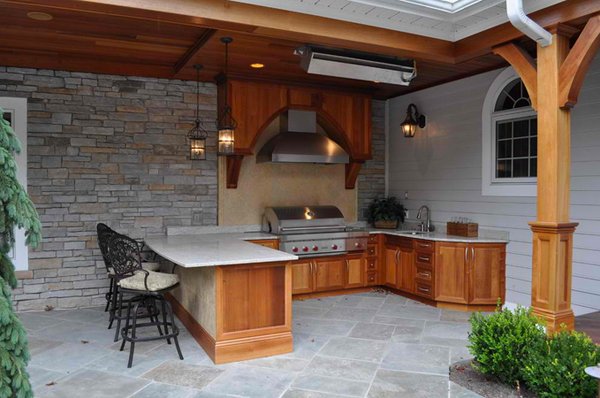 This outdoor kitchen is meant to entertain an extensive family during hot or cool days. A heating unit was added above to keep users warm during cool days.
Mariani Residence
The Mariani Residence sure have a pretty wide patio; adding a modular kitchen to it was quite a task but surely was well appreciated by the client who loves it when friends come over to have barbecues!
Mill Valley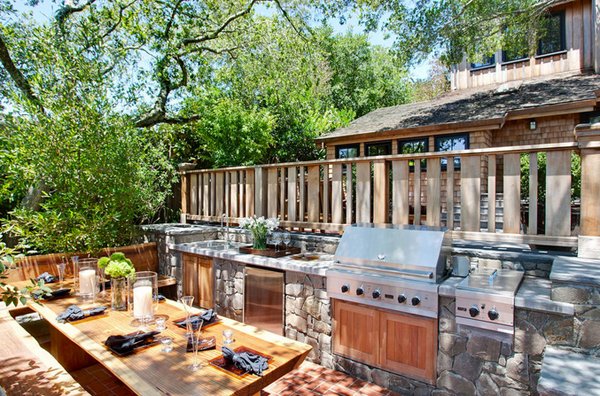 The outdoor kitchen is equipped for cooking and serving alfresco, complete with another long dining table designed for groups.
Outdoor Kitchens and Fireplaces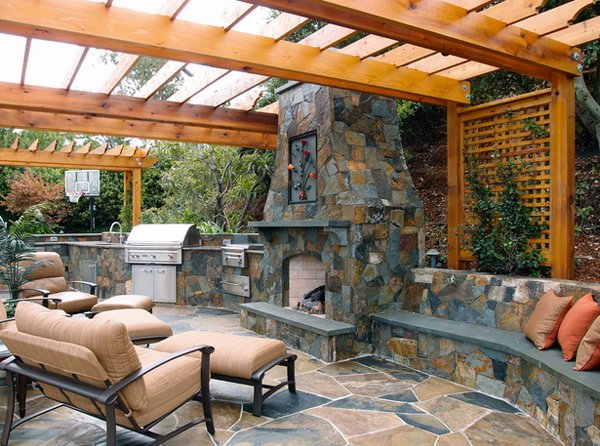 Throwing an outdoor party is easier and fun if you have an outdoor kitchen just like this one – equipped with tons of seating and a great view – all the parties that will be thrown by the client will definitely be a party to beat!
San Francisco Outdoor Kitchen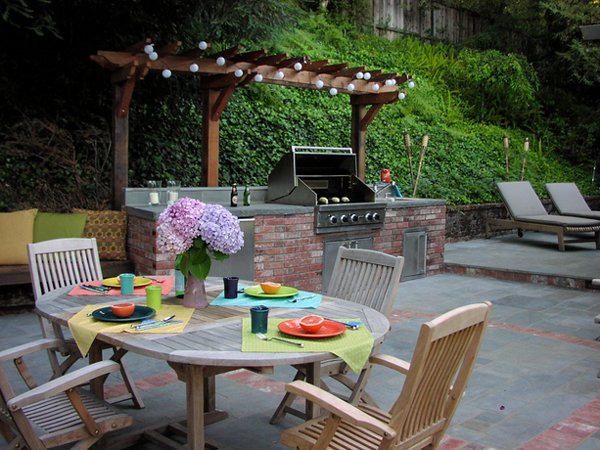 Who doesn't love bricks right? Using this material makes any space seem more traditional and fun and bit rustic. Adding seating areas and a dining area is usually a good thing especially on good days.
Saratoga Estate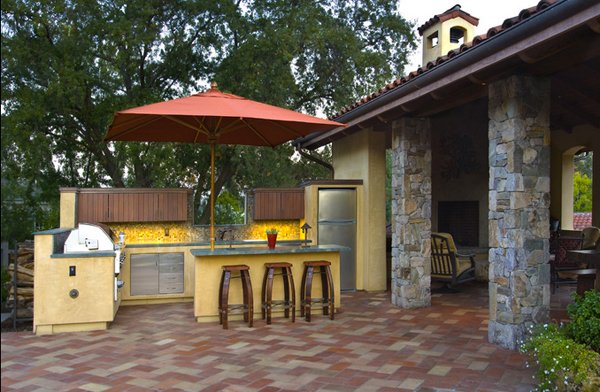 Huge outdoors – great excuse to add a mini kitchen and grill for those outdoor get-togethers and parties you plan every holiday. Using fun colors that complement your floors usually do the trick!
Burlingame Residence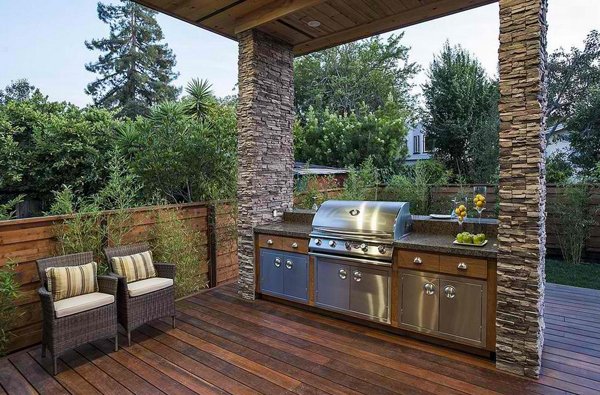 Toby Long Design did a great job in adding those two posts made from stones that complement well with the kitchen counter and grill.
Classic Patio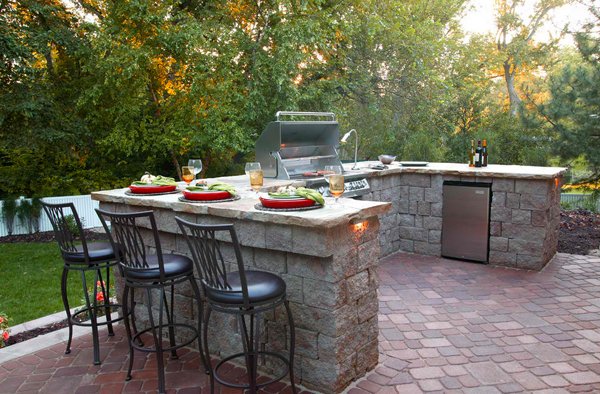 Watching the chef at the grill is half the fun – encourage spectators by setting up a bar-height table and stools near the grill. Go for a built-in, like the gorgeous stone version shown here, or just set up a bar-height outdoor table and chairs.
Houston Traditional Kitchen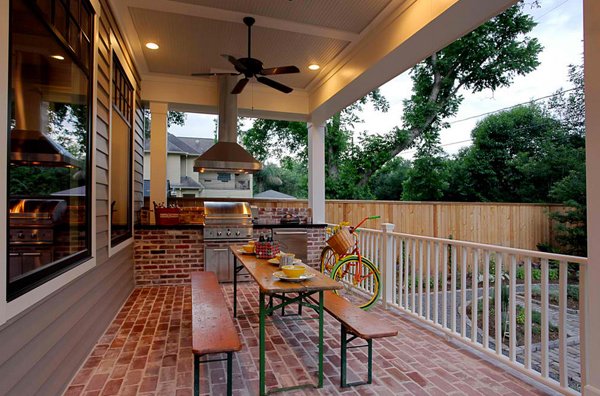 A slender table with bench seats will fit the most guests in tight quarters. If you really need every spare inch, choose benches that can tuck under the table and push the whole thing against the wall when it's not in use.
James & Lynsey Purl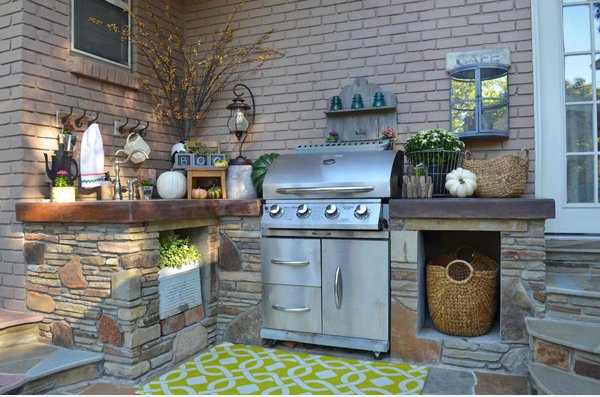 The compact design that this mini kitchen has a lot to offer. They said that good things come from small packages – this maybe one of the best examples! The area looks fun and functional!
London Residence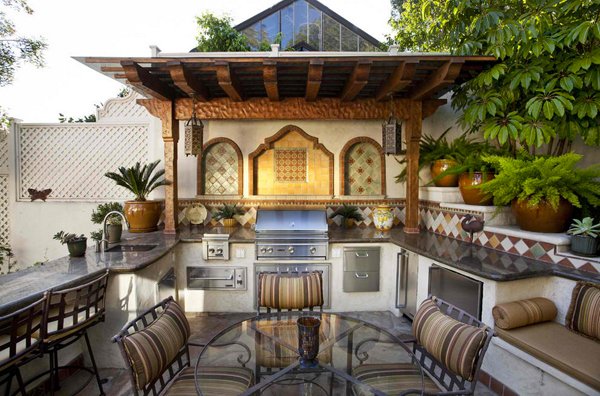 Adding pots and plants anywhere in the house maybe something to think about because they have to be taken cared of; but if you choose the right plants, maintenance is not so bad. Take a look at this outdoor kitchen which is surrounded by the counters, a bit claustrophobic – but really pretty.
Wittman Deck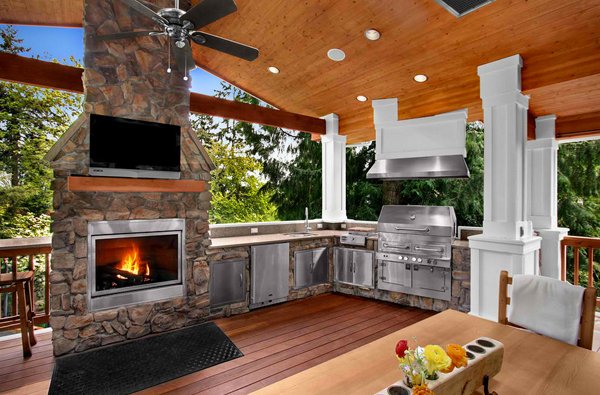 Incorporating a fireplace to your outdoor kitchen is the way to go! For those night-time parties or meals, having a fireplace maybe the best thing that ever happened to outdoor kitchens!
There may be a lot of things to consider in deciding to actually have your own outdoor kitchen, but if you have the space and definitely the money to spend for one, the 15 Traditional Outdoor Kitchen Designs is one perfect list to check on in the future. Whether if its primary is reason is for cooking or get-togethers, you can also check out the Outdoor Kitchen Designs for a Great Cooking Aura we have collated before for more inspiration. Hope you had fun!