15 Outdoor Kitchen Designs for a Great Cooking Aura
Every home would have a kitchen since it is an important part of the house where one can cook and prepare meals. But some homeowners opt to have another kitchen apart from the kitchen inside their homes. This becomes part of their outdoor activities, making it even easier to prepare food.
Grilled foods are made most outside especially on backyards using grills and ranges that are designed for out door use. Some people really enjoy doing activities outside. That is why they choose to have an outdoor kitchen.
Outdoor kitchens are usually comprised of a range, grill, drawers and refrigerator in one. These are the essentials of a kitchen in outside. You will notice that these kitchens most commonly have a complete set of all the aforementioned in just one area. It occupies a small portion of a yard or near the pool but the role it plays for a great time is certainly immeasurable.
So, take a look at our collection of outdoor kitchen designs along with how they did their landscapes to create a better aura.
Montana Kitchen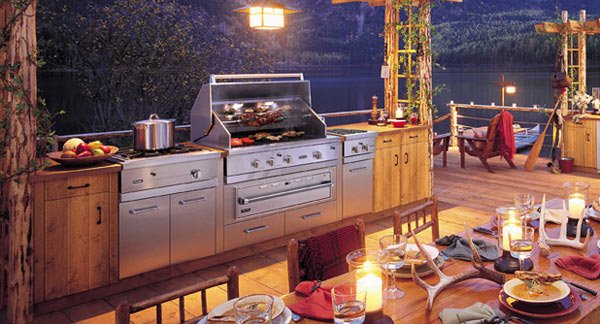 A romantic outdoor kitchen with a dining area titivated with vines and made use of wooden elements.
Outdoor Gallery Idea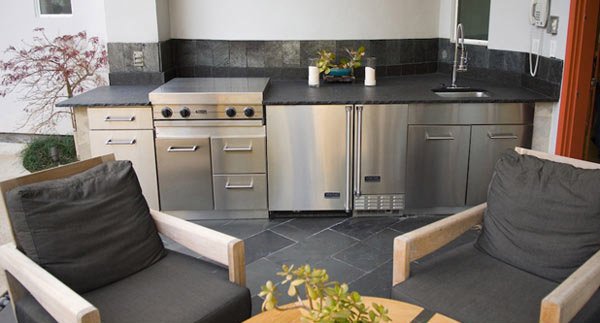 A modern outside kitchen of black and gray shades. It added plants in the area creating a softer aura despite the straight lines and cornered kitchen appliances and furnishings.
Out door Kitchen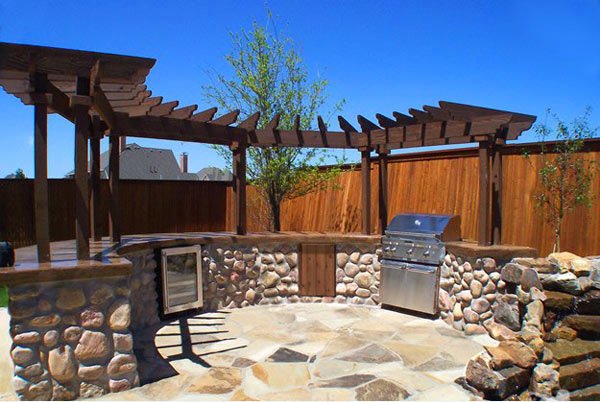 The look of this kitchen is like classical and vintage especially with the big stones it used.
Outdoor Kitchen 12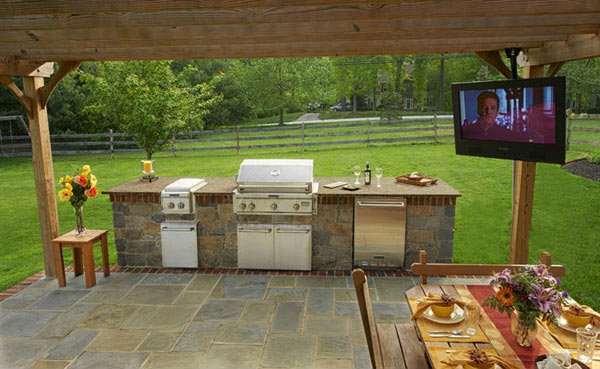 Stones are also used in this outdoor kitchen having an open layout, giving one a good view of the surroundings.
Contemporary Outdoor Kitchen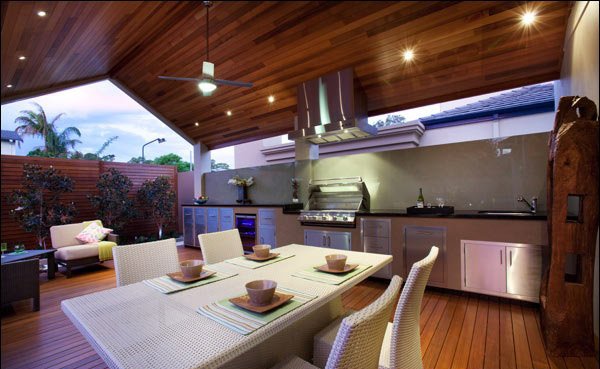 An outdoor kitchen with wooden touches for the floor and ceiling. Its contemporary look was successfully achieved with contemporary furniture.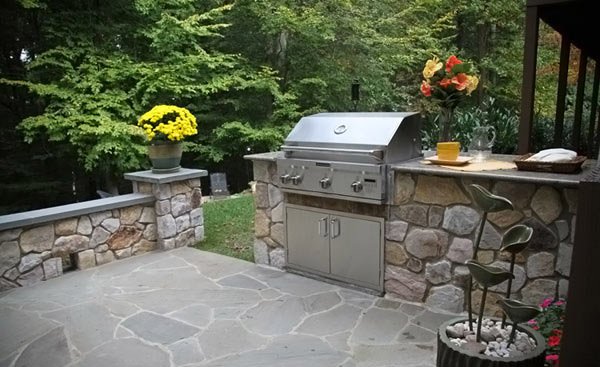 Another kitchen that used stones, making it attain a classic and country look at the same time.
Kitchen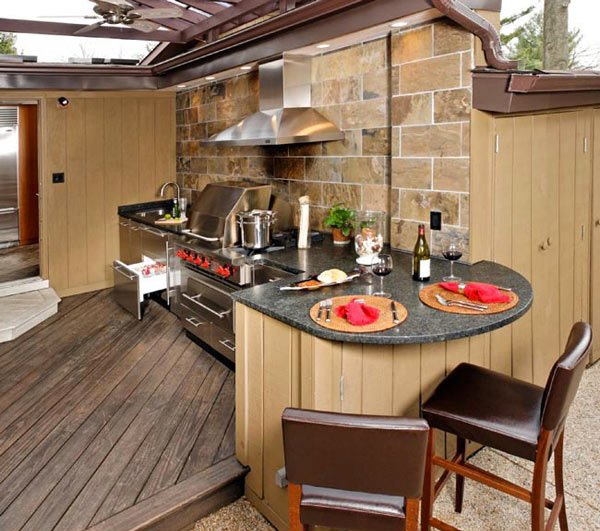 One look at this one and you will certainly know that it is a contemporary outside kitchen design. Impressive design indeed!
Viking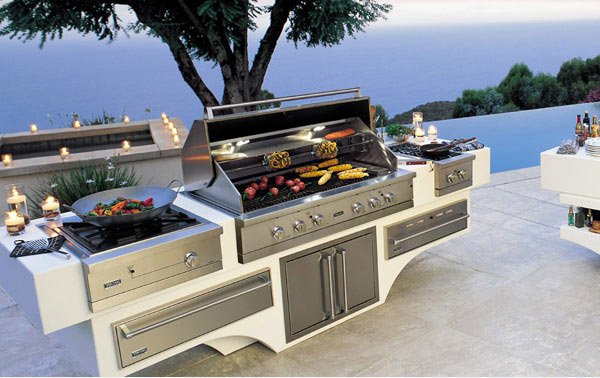 Create a romantic feel with ranges like this. Notice how the homeowners decorated the area with candles making it even more relaxing while one munches on his food.
Italian Design Outdoors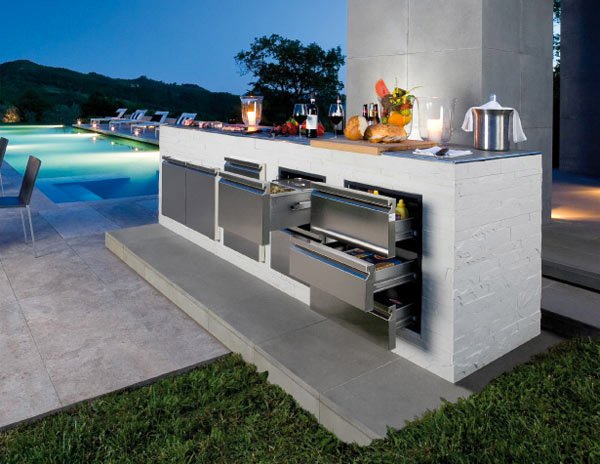 They call this an "Italian design for an American way of life" where one can have a delicious barbecue while having a great swimming time.
Outdoor Courtyard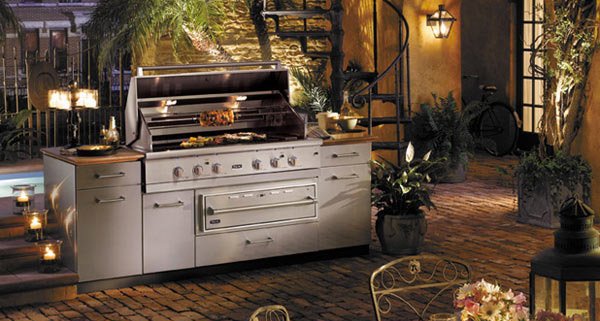 Bring your special someone in a place like this and for sure she will be happy to see an outdoor kitchen as romantic as this.
Open Plan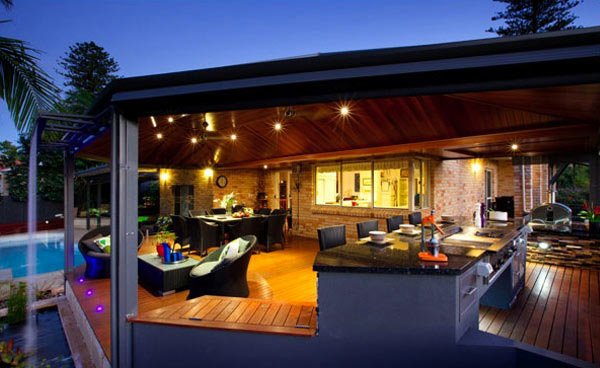 Notice how well-designed this outdoor kitchen is with its open plan and lighting.
Outdoor Gallery Kitchen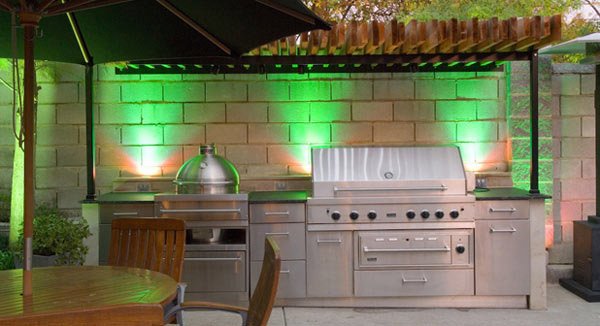 A simple set up of an outdoor kitchen paired with a small dining area.
Outdoor Kitchen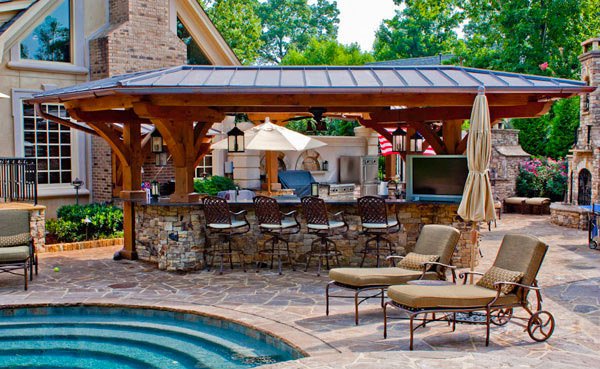 Strategically located near the pool, this is every homeowner's dream. It has a bar where guests can dine and drink at the same time.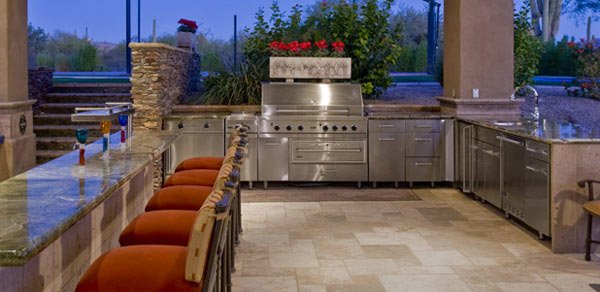 This kitchen idea used granite counter tops making it look luxurious.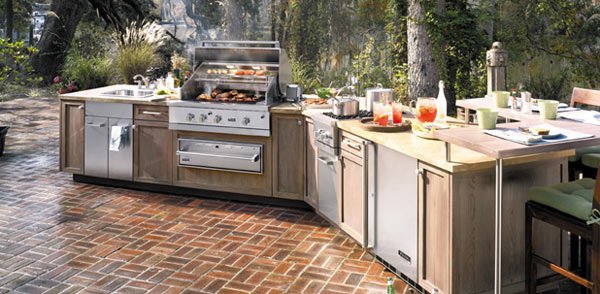 The trees and landscape that surrounded the area will give the homeowners a great time outdoors.
After taking a look at the lovely outdoor kitchen designs above, you will notice that it is not just the kitchen appliances and equipment that matter but it is the landscape that surrounds them. The ambiance of a place totally relies on how the landscaping is being done. But of course, the design of the outdoor kitchen which happens to be part of landscaping has to be counted in. But indoor kitchens are always part of a home and are more necessary than outside kitchens. Well, it depends on the needs of the homeowners. You can check other indoor kitchen designs here at Home Design Lover.