20 Beautiful Outdoor String Lights Set Up
Create a romantic outdoor ambiance with string lights.
It may somehow be hard to think about what lights to actually put in your outdoor space. Considering you already have a theme in mind as to have that space would look like, would you pick a large expensive chandelier, a collection of beautifully crafted pendant lights or go for the easiest and pretty flexible – string lights?
So, what are string lights? If you search the internet for images of how string lights actually look like, you'd see that it's a bunch of bulbs connected in a very long rope or wire. They may seem very simple, even ordinary – but when they light up your sky in the night – the magic just happens. This list that we have today does not necessarily have to be night time photos, but if you can imagine how they'd actually look like – I think you'd consider getting something like this for yourself, check it out!
1. Beneath Starry Skies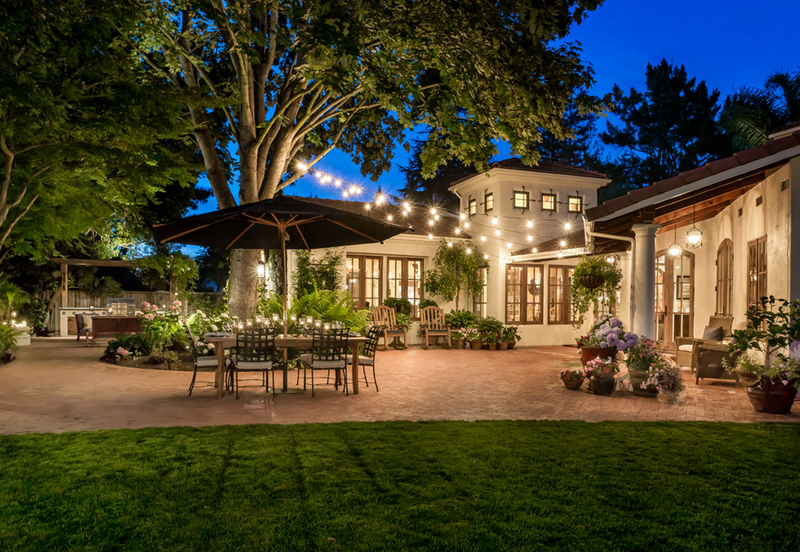 The first on this list is a beautiful home that has an equally stunning outdoors! The large trees, the landscaped lawn and the wonderful lights make this place a very wonderful place to live in! A relaxing outdoor design could actually mean more time spent there to just simply get away from technology – even when it's just a few meters away.
2. 59th Street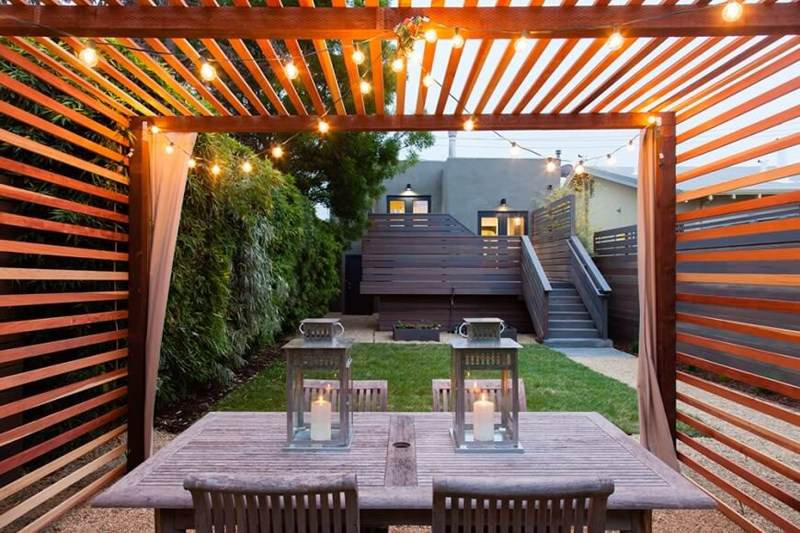 This cute space with a pergola and a table set up looks quite romantic. I'm not sure if that's the main goal for this space in here, but I think that the designers sure made it look real comfortable and inviting.
3. Maruccia Residence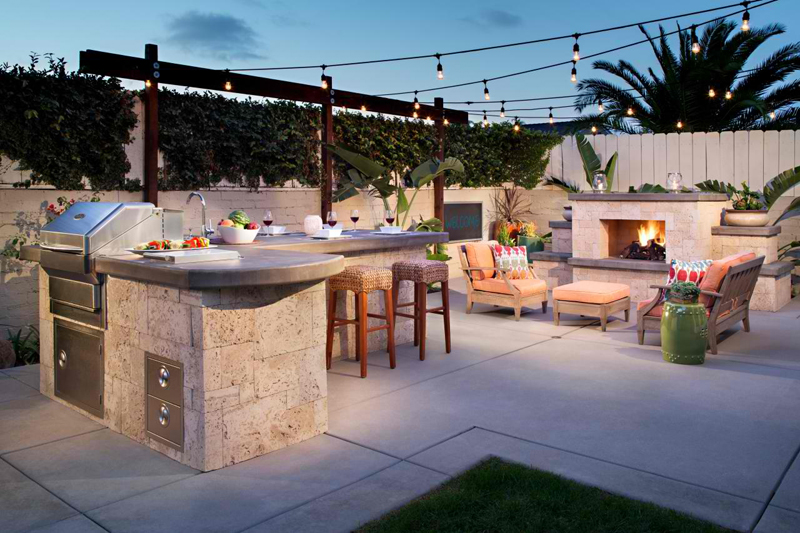 A lot of people enjoy spending times outdoors because of the thought of actually getting out! You might remain in your house, but the feeling of the outdoors is there; because, well, you're really outdoor, just not too far. The set up in here is quite nifty, I love it!
4. Red Hook Front Yard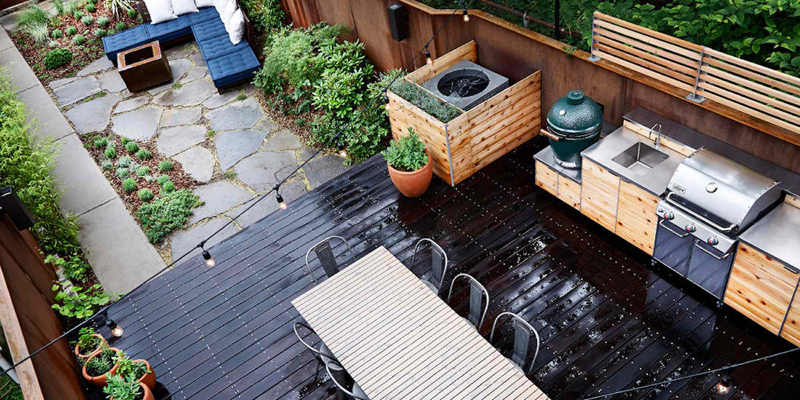 I know that we could have gotten a prettier view of this space (maybe not aerial for that matter), but I think this one is actually great because we get to see where the string lights go, we see the counters, the plants and the walkways that were created for this mini kitchen/dining area.
5. Richardson Bay Overlook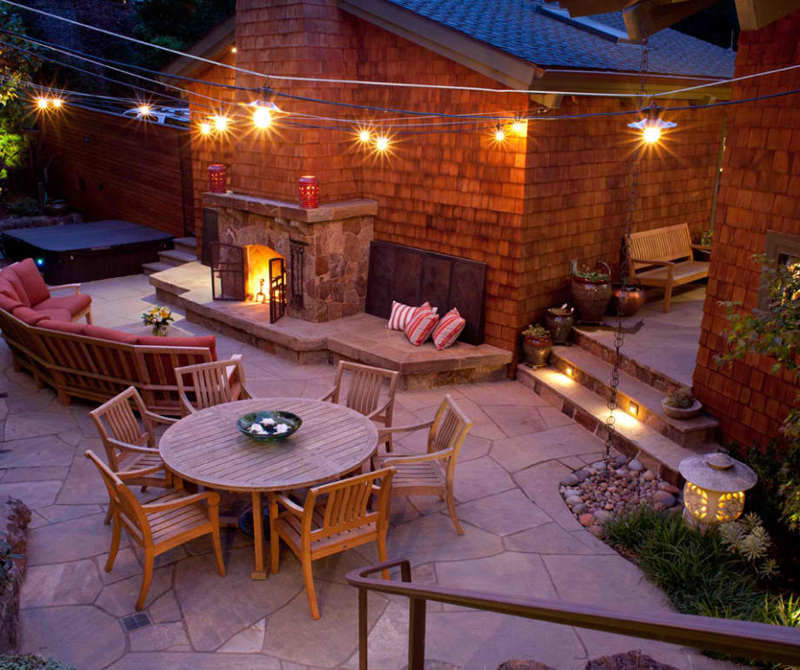 Well, here is a space that I think needs more roof because of the many things that could actually be ruined if it is always hit with too much rain or too much sun; but then again, I know that this place wouldn't be that pretty if this had roof!
6. California Garden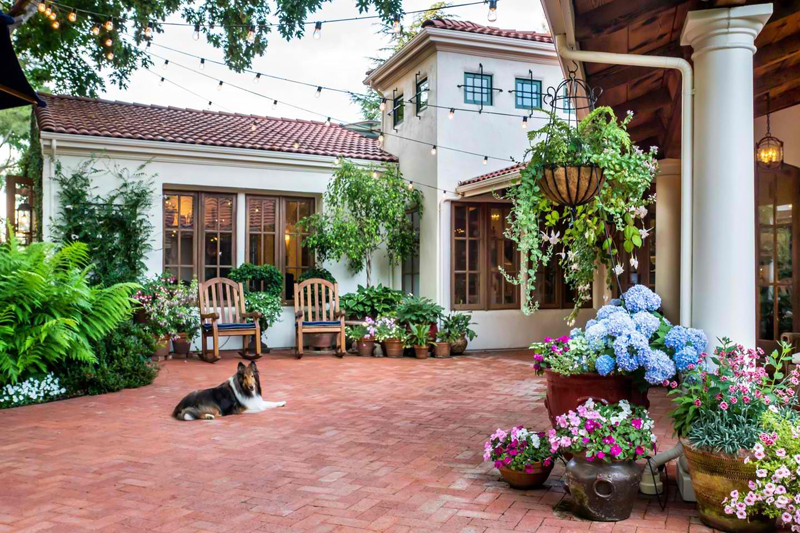 The beautiful plants and flowers and the cute string lights that they added in here. I think that when the night falls, this space is just heavenly!
7. Shepherd Addition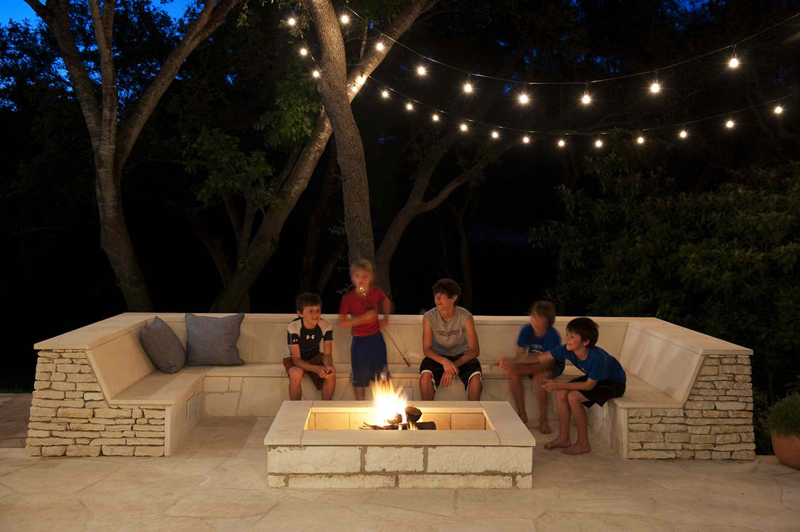 The space looks nice and comfy and having a cute bonfire in the middle of the space could just remind us of camp and summers! If you actually notice, this sectional could actually be made of tiles and stone and I still think it's comfortable!
8. High Style Family Retreat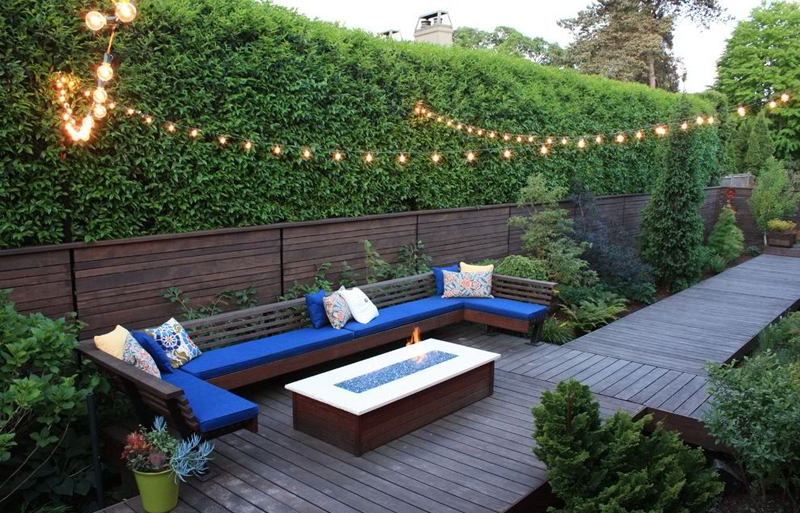 This sure is one great way of making use of your backyard! Making a wooden pathway to and fro a seating area! I love how they added a stationary sectional in here with these large hedges as background! Adding the fire pit created a more contemporary approach to this one.
9. Hill Street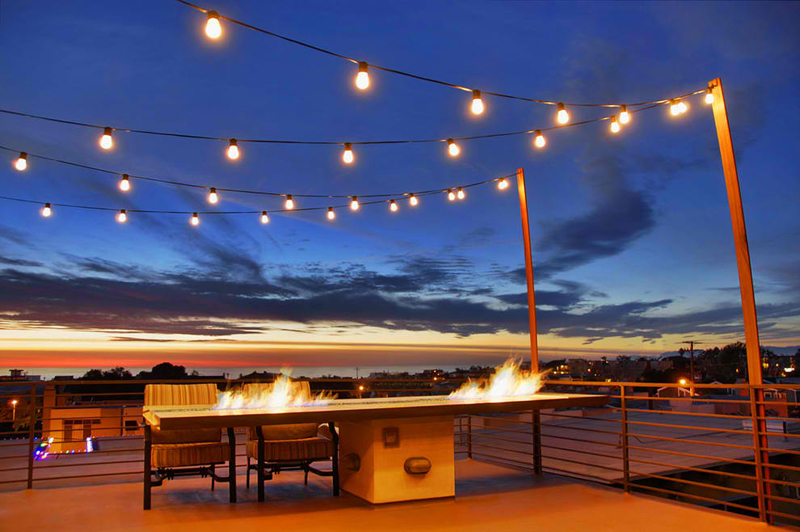 With a stunning view of the sky like this one, I doubt if the home owners actually do not come here during their free time! The aura of this space is just fascinating – even breath-taking, actually.
10. Mid-century Riviera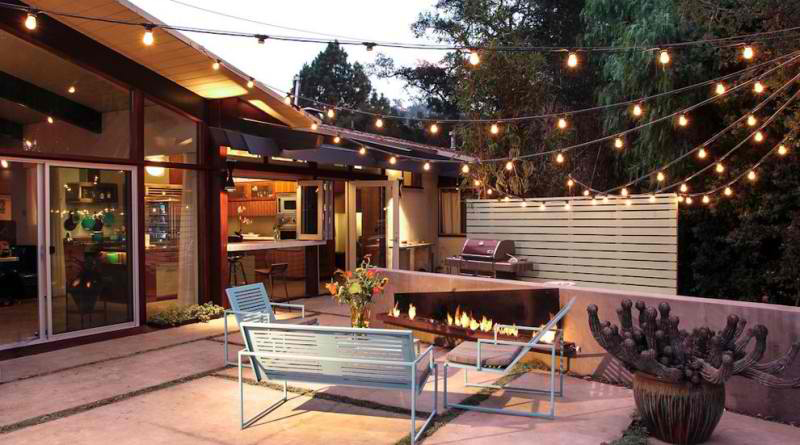 The way the lights come from place and just drop towards the house is just so sweet. This space is pretty much created for that more conducive to rest and relaxation space which I'm sure the home owners are taking advantage of.
11. Washington Property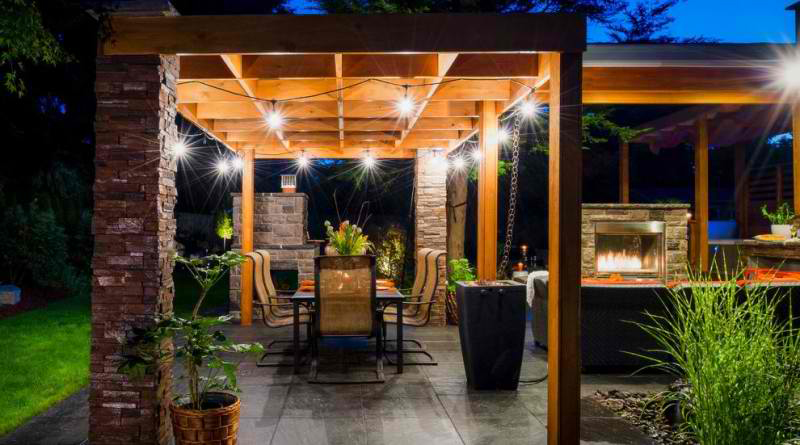 This part here is pretty much just a portion of the entire place that has a pergola or roofing. They have a neat dining space and a stunning living area on the opposite side. This space was created to give way to more times staying outdoors than staying indoors and just watching television. The effect of the entire space for me is just Zen.
12. Healdsburg Residence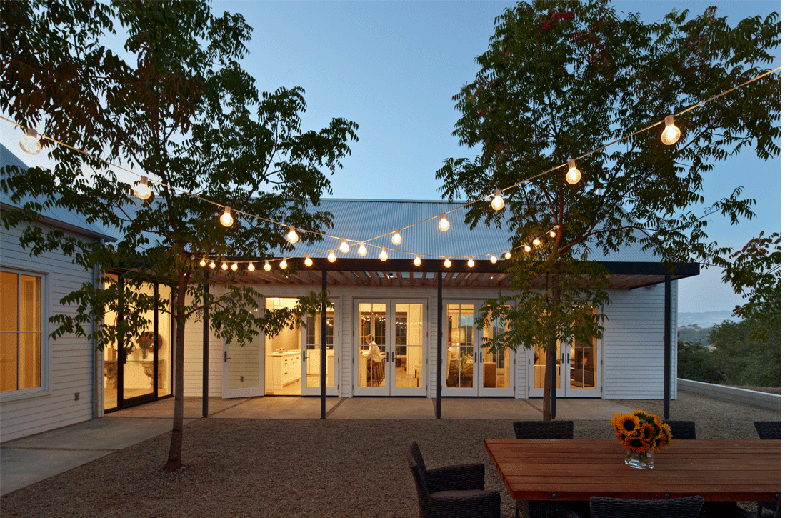 This open area sure is a nice place to actually hold barbecues, not only for the family but for friends too. This space is large and has a sweet view of the horizon which I think anyone would actually enjoy. The trees in here are pretty useful holding the string lights and all that.
13. Arroyo Grande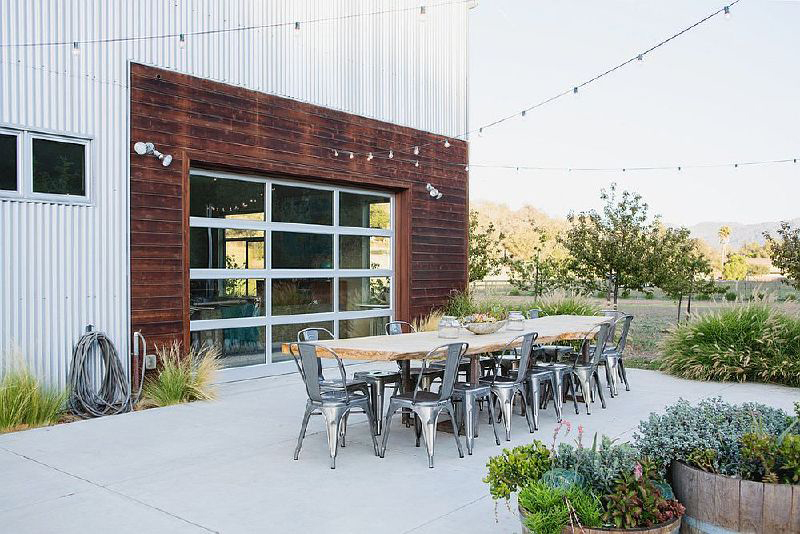 Now I totally love the chairs that they paired with the long wooden table! It looks vintage enough to actually fit the facade of this home and cute enough to actually look great as it is in this set up! The lights seem like they were randomly placed in here, but it still looks great!
14. Fratello Moore Residence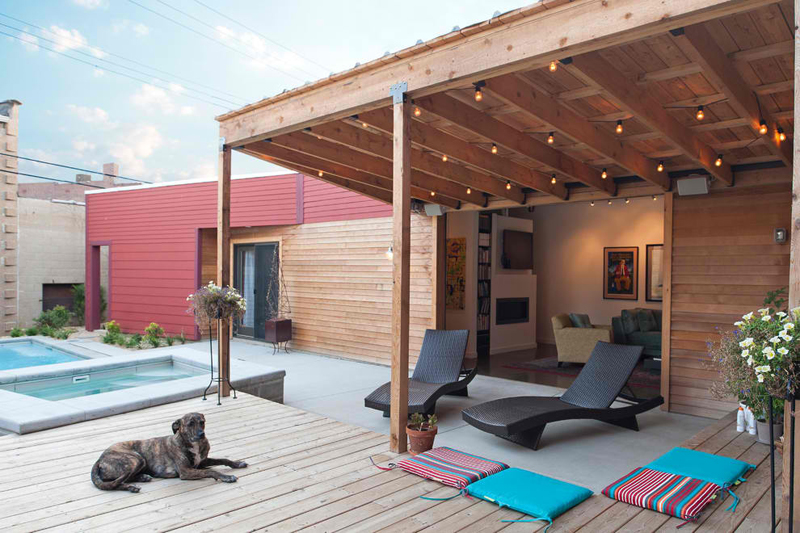 Simple because of all the wood used in here, but still awesome!
15. Mid-century Modern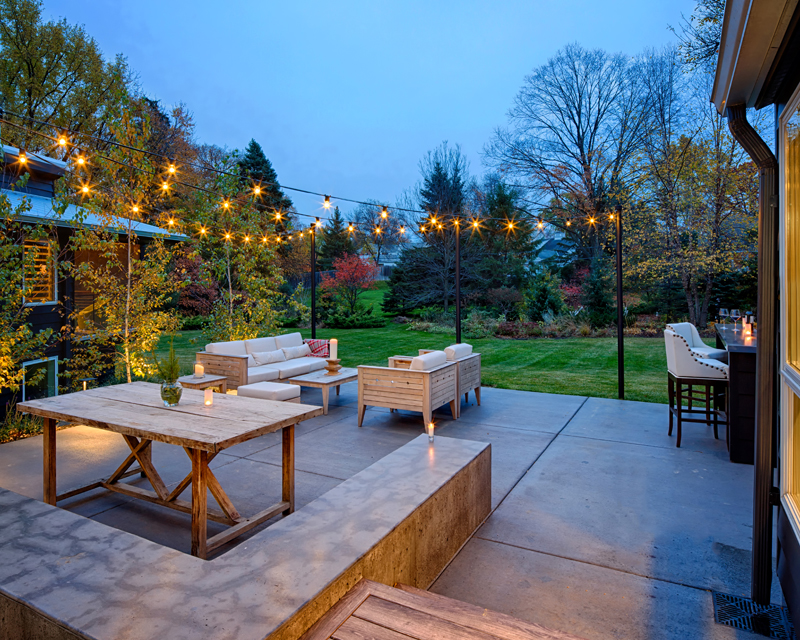 A beautiful outdoor space with those lovely trees and flowering plants that serves as beautiful view when you and your friends actually hang out in the seating areas in here. The string lights used in here created a more dramatic effect to the space.
16. Wine Country Escape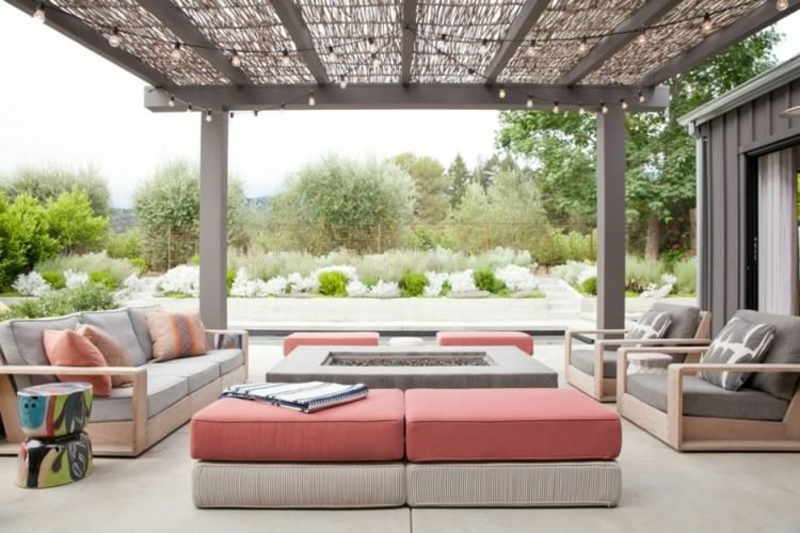 I love the furniture that was chosen for this place; the color combo is great and real pretty and the pergola in here really looks like something anyone could have for their homes.
17. Salazar Residence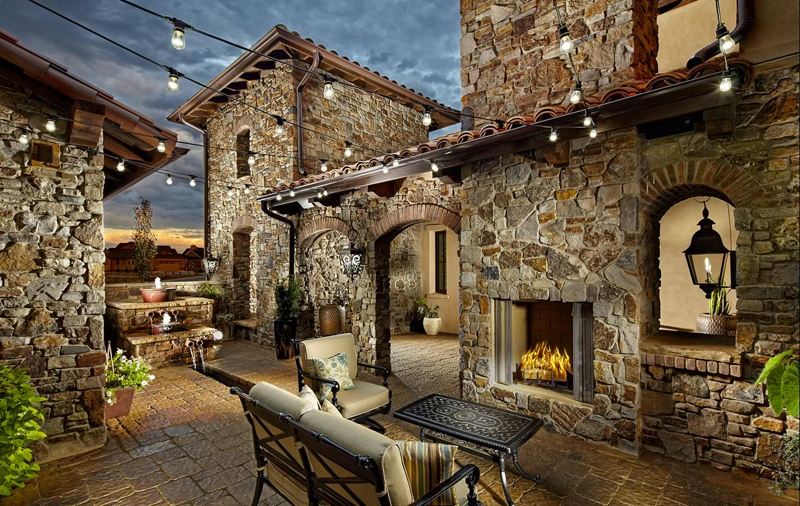 This home is just stunning! The stonework done on the walls and the flooring is just super amazing! It sure looks like a castle of some sort where prince and princesses actually lives.
18. Alta Canyada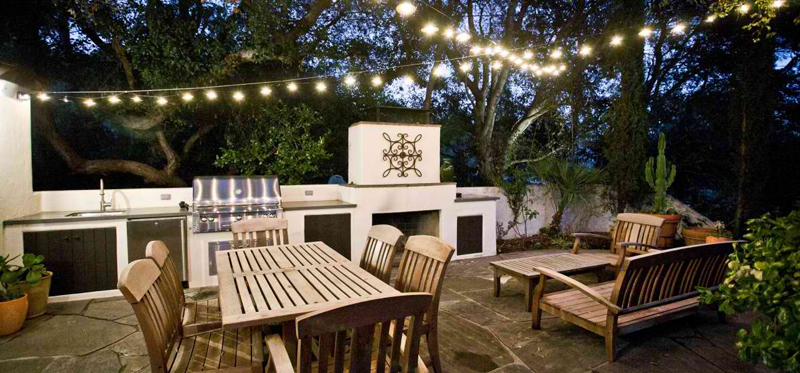 When I saw this outdoor space, I thought that this could be a great place to actually hang out with your friends during movie nights or something – so, instead of watching a movie with them, why not stay out here and have some barbecues and beer!
19. Highland Park Nantucket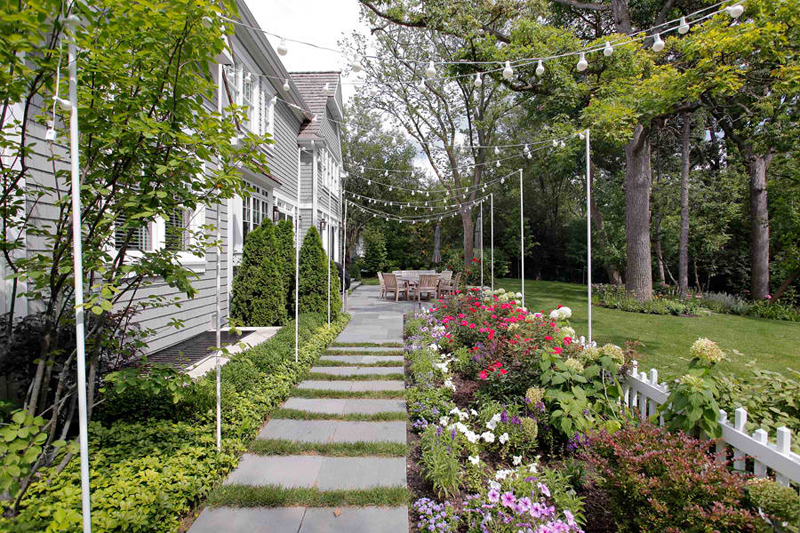 This pathway just have so much flowers it could possibly make you feel like you're actually walking in to an altar like in a church. The string lights look so cute, I think that if it's night time, this place just becomes magical.
20. Echo Beach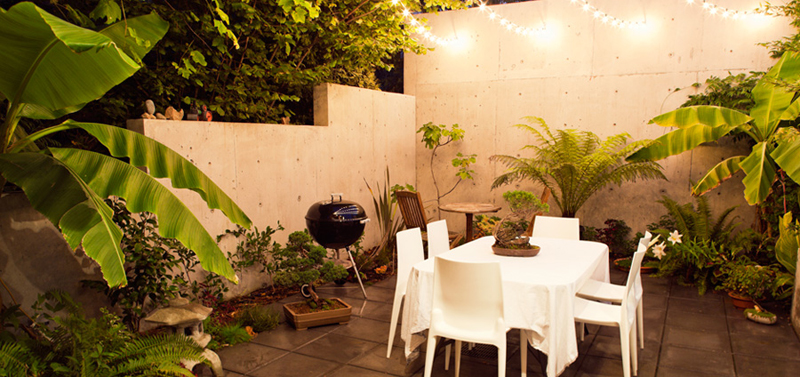 This is one example of how you can actually create a more cozy and romantic space even in a minimal floor area and with concrete all around it. Adding the white dining set somehow completed the look here since everything is practically green or brown.
Did the string lights open up your mind about how small, ordinary things could actually turn of perfect? I think that if you just pick the right bulb and color for your string lights, I think that your personal spaces would just be as magical as the rest of the photos in here. With that in mind, check out the 20 Amazingly Gorgeous Gazebo Lighting that you could also consider for your home! Can you resist these lights? They're calling you!