20 Whimsical Traditional Garden Sheds For A Fairy Tale Like Ambiance
Build a garden shed to your yard for extended functions and added appeal.
Apart from your home, there could be other structures that stand in your lot. It could be a separate garage, a pergola, a gazebo, a pool house, a separate guest house or a shed. Others prefer adding a shed which could be used for various purposes. Most of the time, it is an area used for storing garden tools but sometimes it is more than just for mere storage. It could be utilized as a private space for artists, writers, crafters and others. Yes, a garden shed could also be your home office.
But it isn't just its usage that varies. Even the style does. Modern sheds are a trend which features simple lines and sleek geometrical features. There are also traditional garden sheds. Unlike its modern counterpart, these traditional sheds have a distinct appeal which is almost whimsical. Yes, with all the plants and trees around it, it looks like a home for fairies or even a house that you could see in storybooks. If you don't believe me, well, take a look at what I collated for you today.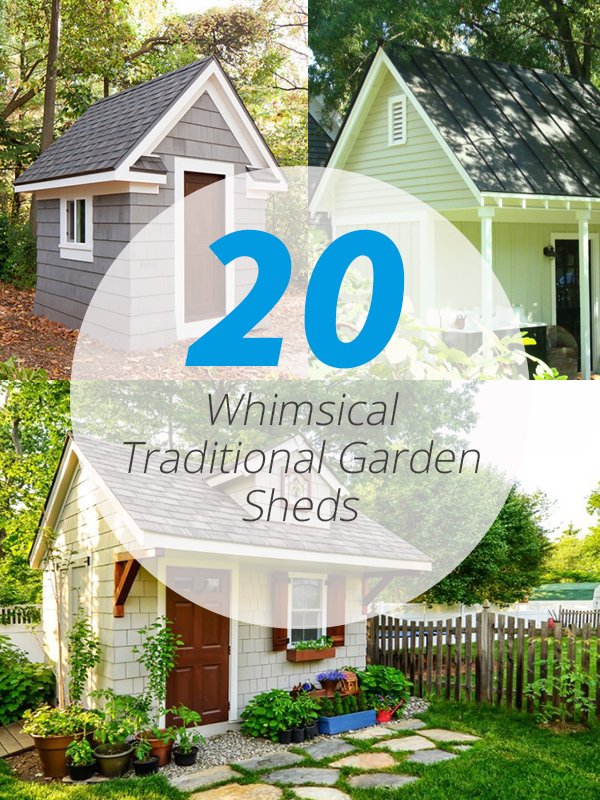 1. Foster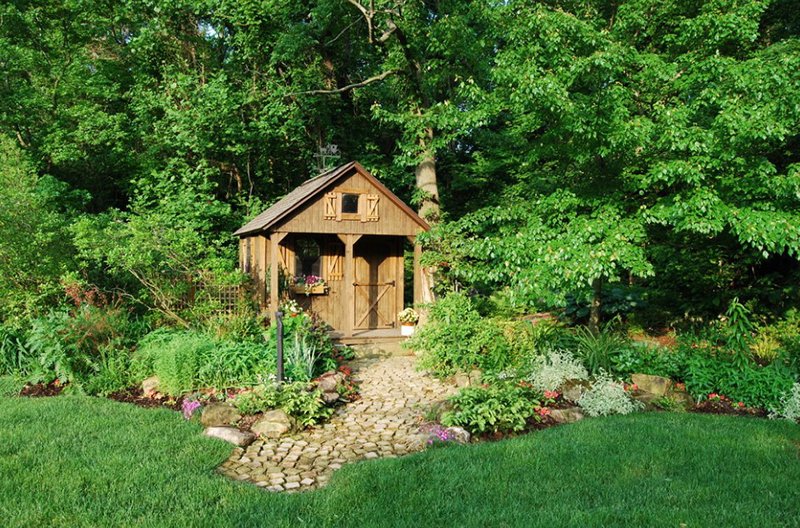 This mountain style gardening shed looks really whimsical especially with the plants surrounding it.
2. 8×12 Premier Garden Sheds for Maryland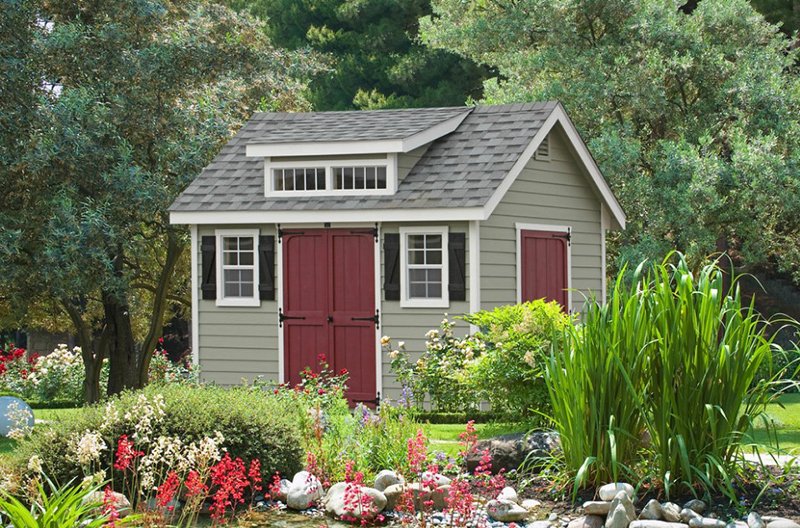 A premier garden storage shed which no doubt added beauty to the property. The garden looks nicer with a shed like this. Of course, the plants in it contributes a lot to the appeal of the area.
3. Storage Shed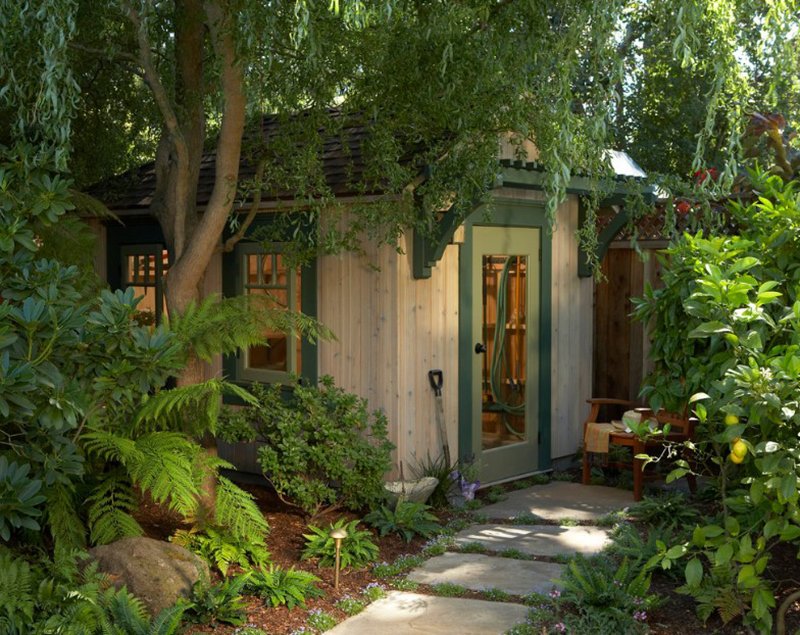 With the plants around this shed, it looks really nice even if it is merely for storing garden tools.
4. White Hall Renovations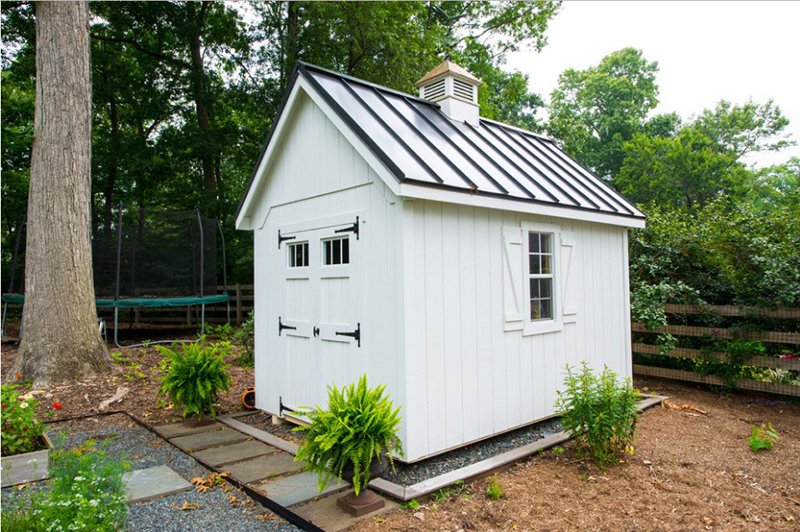 The contrast of black and white looks nice for this small renovated shed. And it has a chimney too! I wonder what this shed is used for.
5. Kentfield Artist's Garden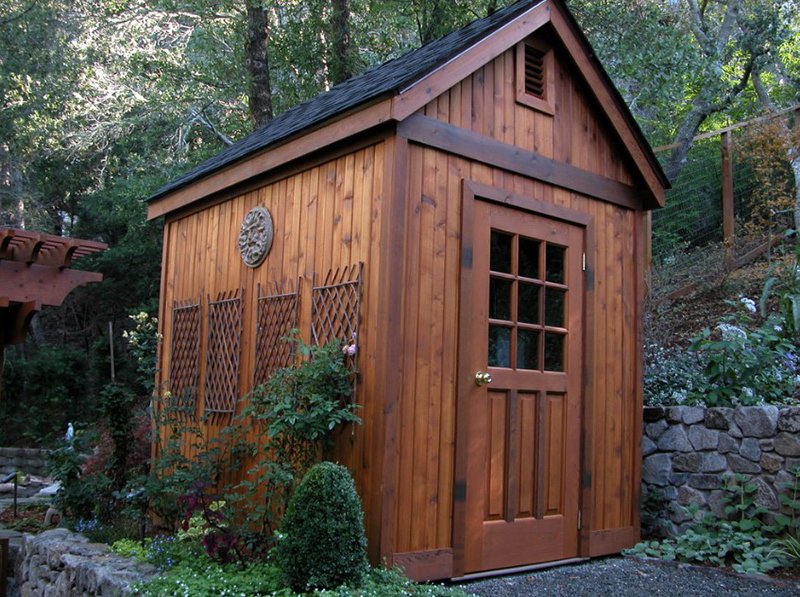 Instead of painting it, this shed retained the wooden texture of the shed which made it look even more beautiful with its natural appeal.
6. Victorian Splendor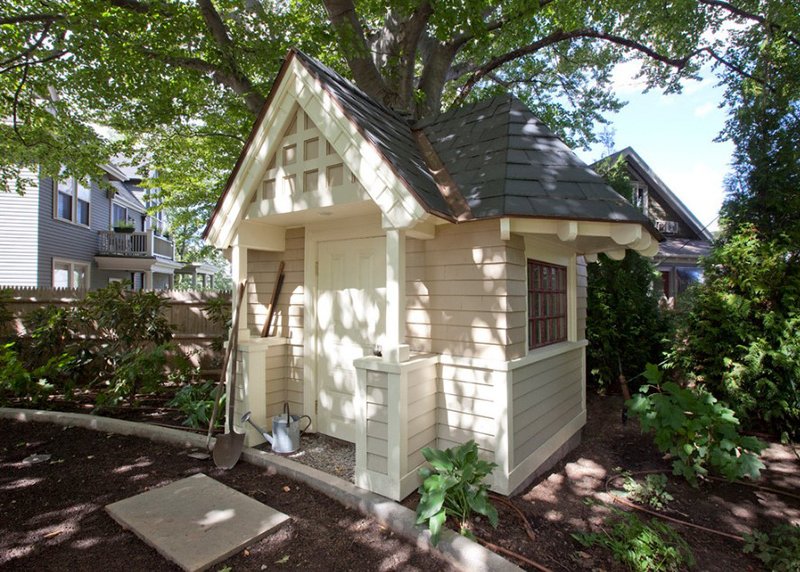 This shed has a Queen Anne style which is what the family wants. This design also compliments with the architecture of the house.
7. Traditional Shed Chicago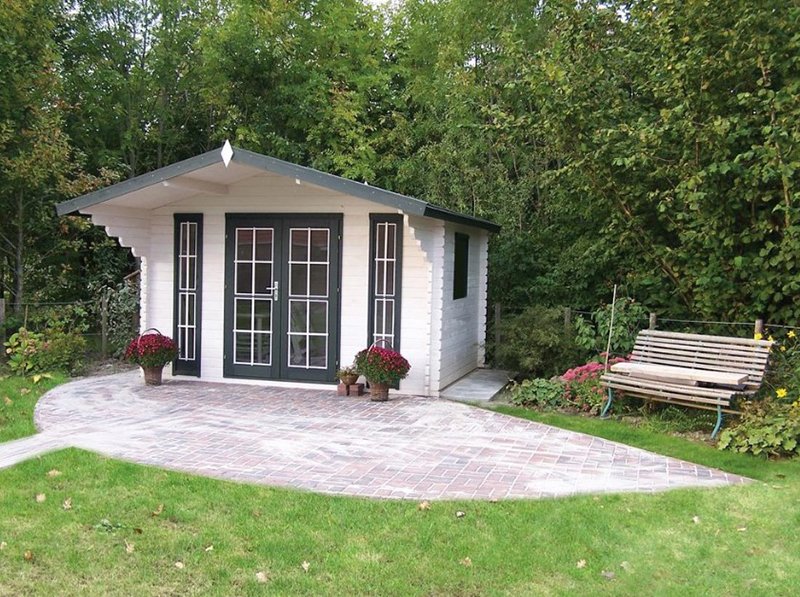 For me, this traditional shed looks little formal but traditional as well. Seems like a spot where the family could gather around.
8. Talahi Rd.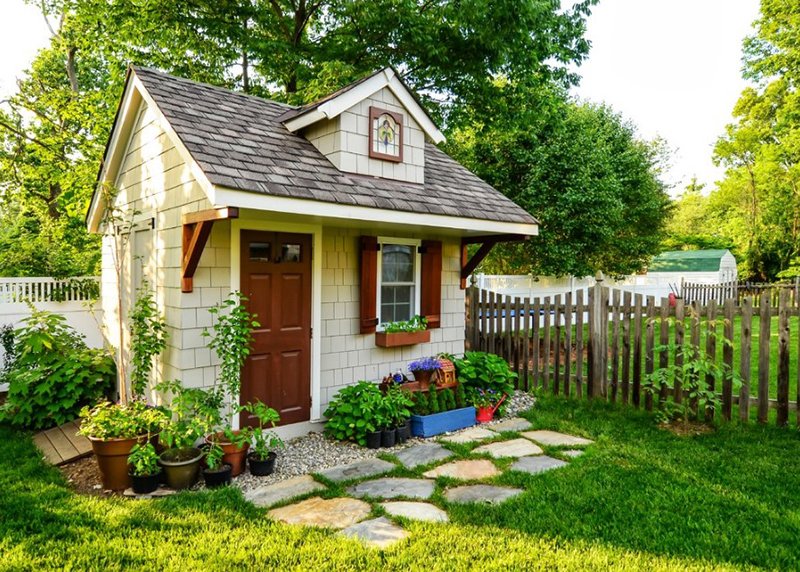 This is so cute, right? I like the large stones added on the ground. It also has a dormer adding more appeal to it. This one really looks like a house in a storybook. It would even be perfect as a home for Red Riding Hood's grandma!
9. Beaman Home Art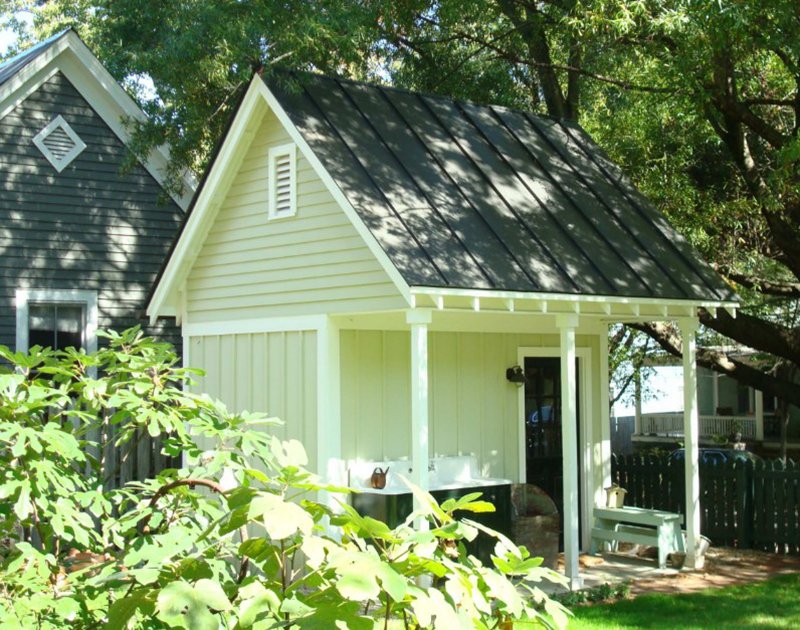 What made this one unique is the porch on it. Notice that a sink is added to the porch so that one can easily wash up when needed. Well, this design could definitely pass for a home.
10. EGR Classic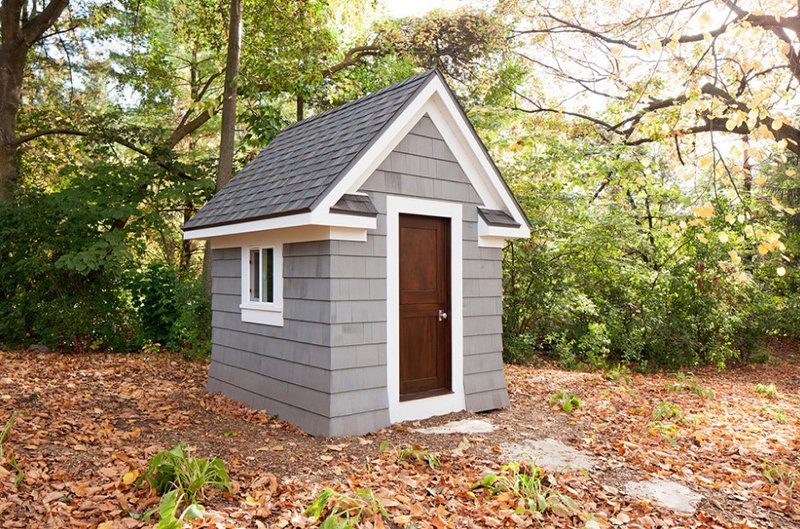 With the looks of this, it appears like it's a newly finished shed but I like its design. You can tell that when the plants are added, it would look even nicer.
11. San Luis Obispo Overlook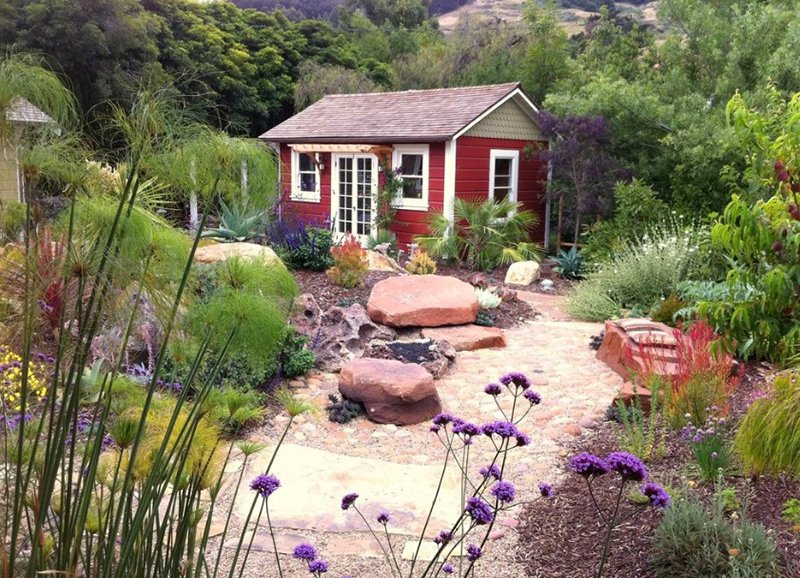 Mediterranean planting surrounds this red garden shed adding drama to the space and making it even more inviting.
12. Custom Sheds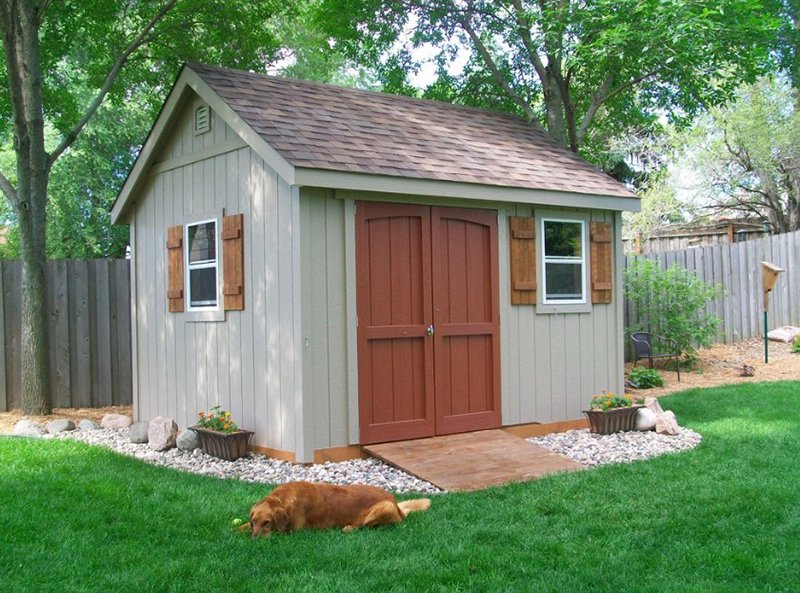 Combine gray and brown so you can come up with a shed like this. It is also nice that the area has some stones surrounding it.
13. 8×14 Premier Garden Shed in Vinyl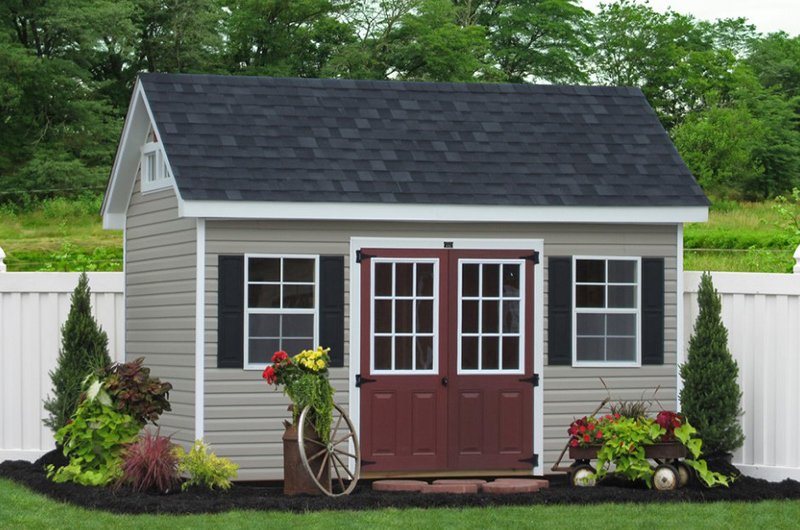 You can also use double doors for your shed like the ones above especially if you intend to bring in larger items inside it.
14. Boxwood Cottage Garden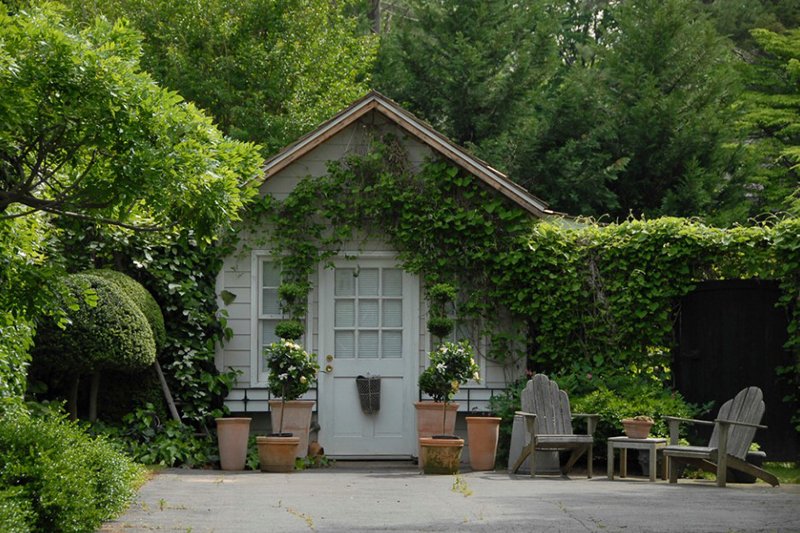 Isn't this a whimsical garden shed? It sure is! All those vines bring drama to the shed. And something like this would definitely look lovely in a home.
15. Outdoor Living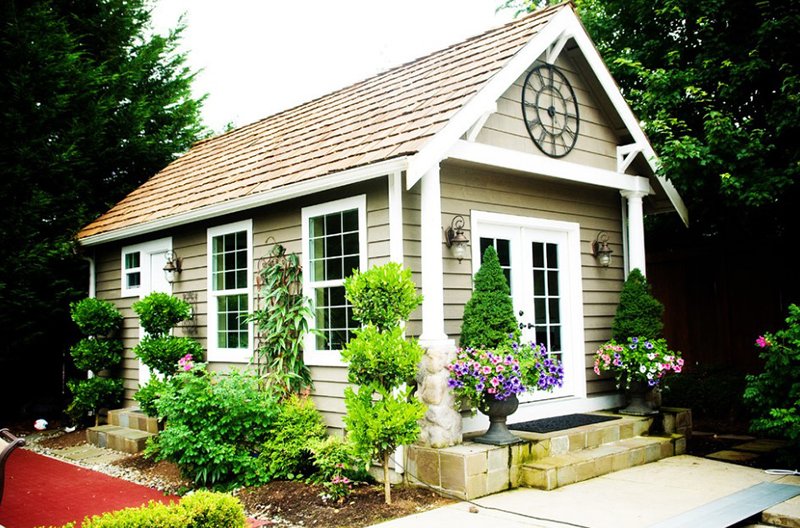 This design could pass for a home. I like it that it has wall sconces on the wall. I just love the overall design of this one especially with the plants around it.
16. Green Roof Garden Shed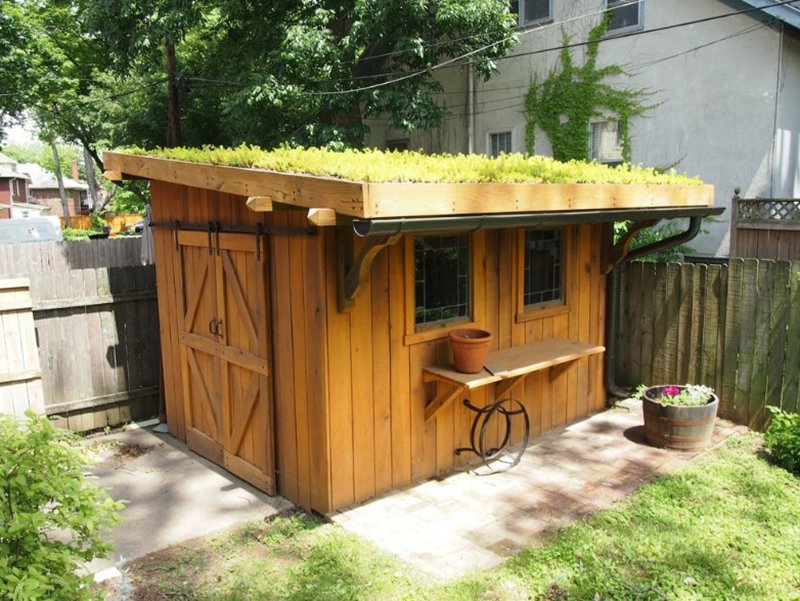 You can also make your shed environmentally friendly by installing a green roof. This roof has shallow rooting plants like small succulents and groundcovers. This helps to clean and slow storm water runoff as it hits the roof. Aside from that, it also insulates the space as well.
17. Home Office Shed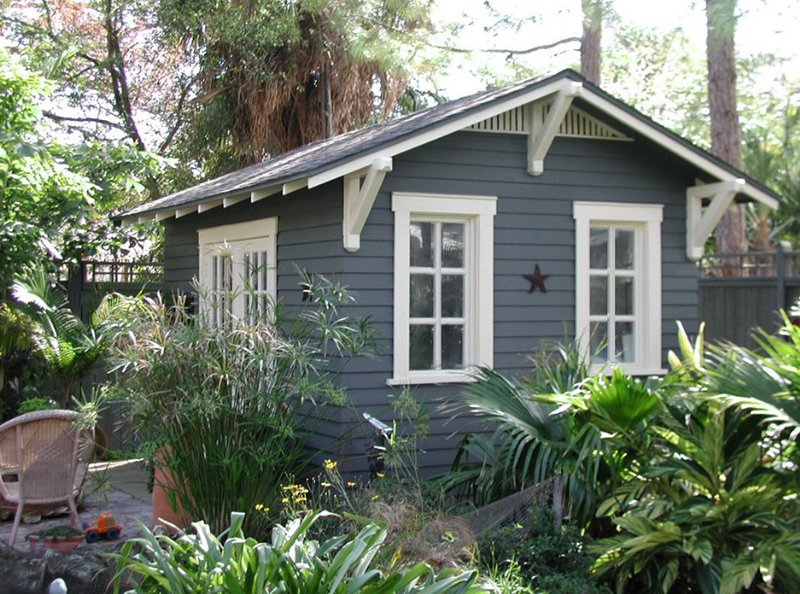 If you like gray, you will like this shed. It has a finished interior with bead board ceiling, wood floor, AC, and internet connection. Yes, this isn't just a shed for storing stuff but it is a home office.
18. Potting Shed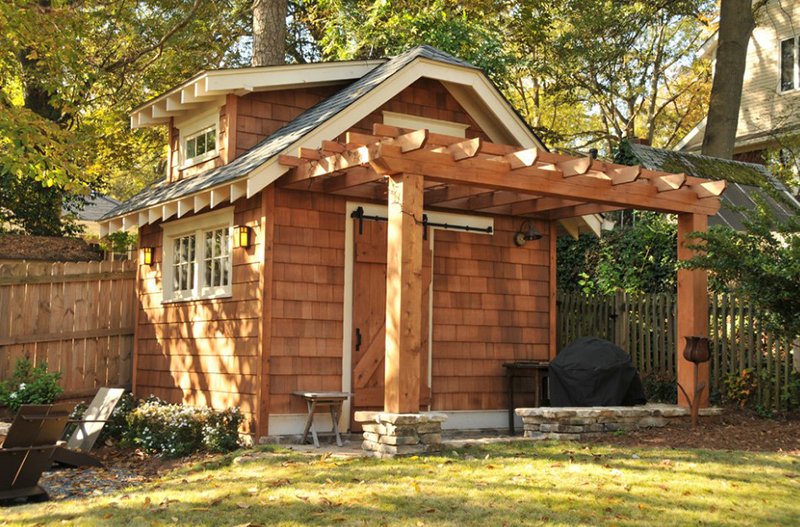 Isn't this beautiful? This is a renovated shed. The designers maintained the original footprint of the shed as well as its original location. I like the idea that it has a dormer on it.
19. A Paces Ferry Shot House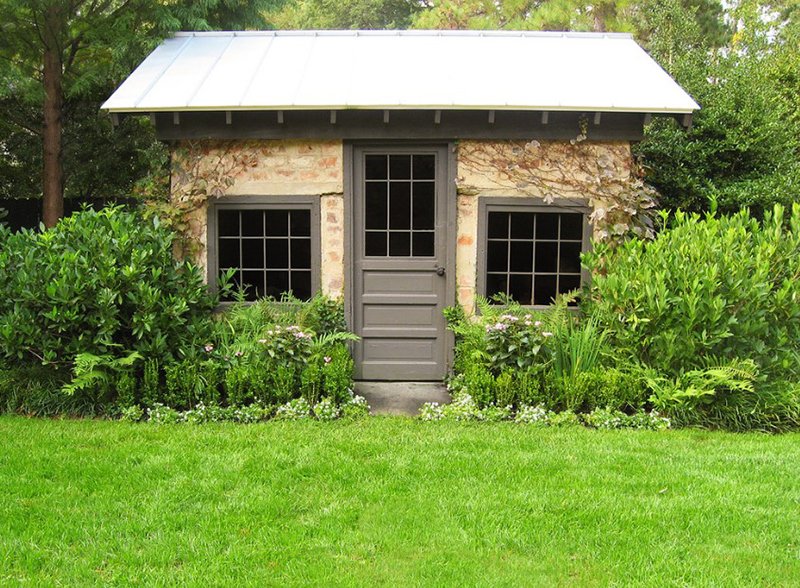 What did you think of when you first saw this? I guess it you might think that this is one of the homes for the three little pigs!
20. Furwood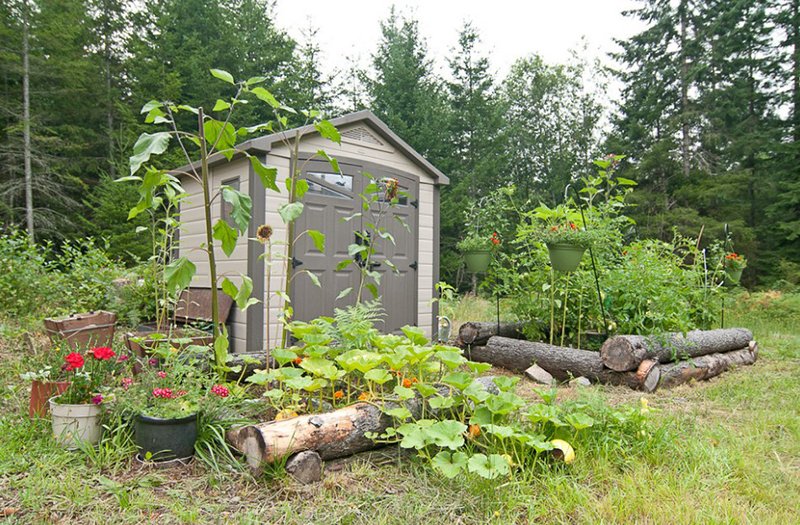 A simple gray and white shed in the middle of the bushes sitting on bare ground. It is made of polycarbonate (plastic) with its own floor panels.
These are all so lovely indeed! Don't you just love the idea of having a traditional garden shed in your courtyard? That would be awesome! But of course, it depends on your available lot and your purpose of having one. If I would add this feature in my garden, I would probably use it as a home office and even as an extended play area for my kids. They would no doubt love it! Now after seeing the above structures, you might end up inspired in constructing your own garden shed. Since it has a small floor area, you could actually do it on your own and get creative. But if you are not that confident to build one, better call an expert to make one for you. How about you, would you opt to add a garden shed like this one in your home?