20 Pleasing Concrete Built-in Planters for the Garden
Want to beautify your garden? Here are lovely ideas by using built-in concrete planters.
There are different ways to add plants in our house. For those who are blessed with yards, it would be nice to add many plants and trees in it as well as landscape structures where one can spend time with family and friends. Or if you don't have enough space, you can just add hanging plants or place plants in pots so you can arrange them inside the house. It would also be nice to add built-in planters too both inside the house and outside.
Today, we are going to show you how concrete built-in planters can be used for the yard or the garden. Aside from the usual rectangular ones, there are other creative ways to do it. Others use a different finish for the planters to make it look nicer. Still others just put their creativity in the mix of plants that they add in the area. So, we have gathered some images of beautiful concrete-built in planters to give you ideas on how you can add one for your garden or even for the interior of your homes. But what we are going to show you today are built-in planters outdoors. Come take a look.
1. Full View Day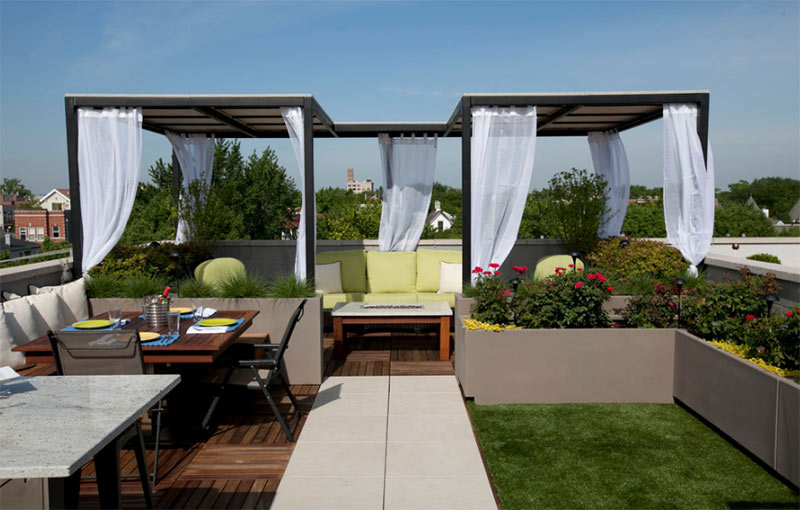 Isn't it refreshing to see these white fabrics blown by the wind in this roof garden? It sure is! You can also see here the built-in planters which also help define the spaces in the area from the dining space to the covered seating area.
2. Aptos Residence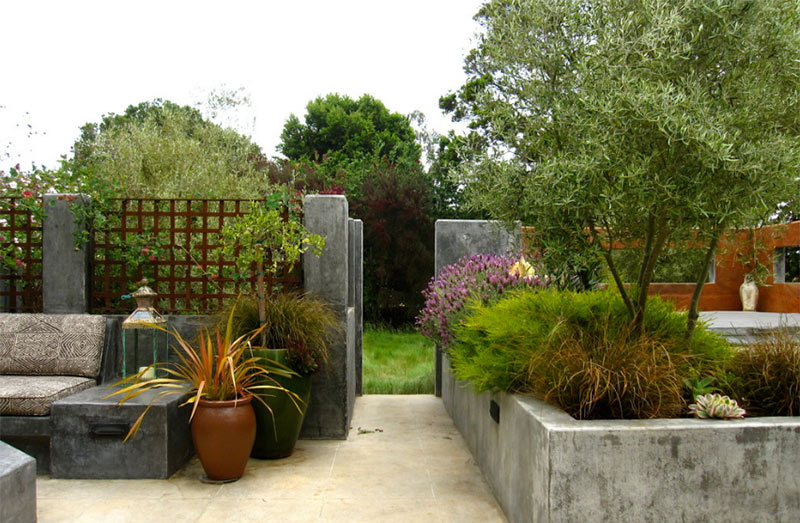 It is also a good idea to use planters like this for gate entrances to add beauty and privacy to the home as well.
3. Danks Street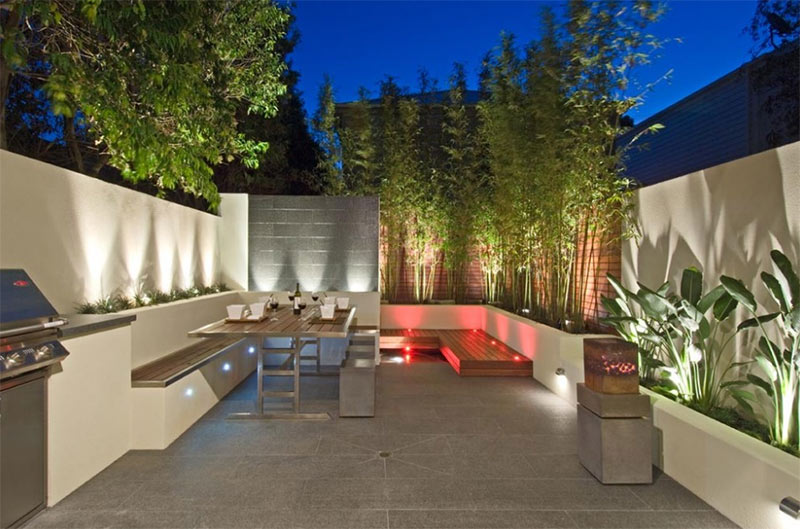 This design maximizes a minimal courtyard space while having a high level of detail in it. You can also see many attractive features in the area with a mix of modern and Asian design.
4. Short St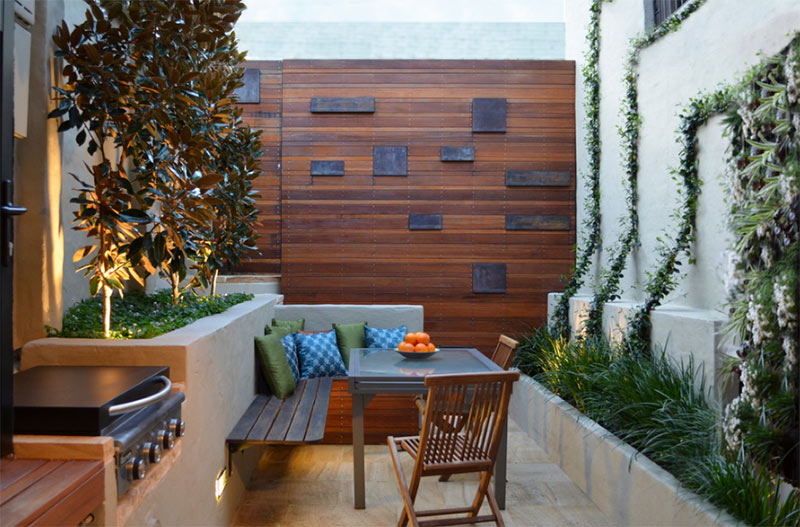 Love the wooden wall here with some metal items attached to it since it gives a subtle rustic touch to the area. Of course, you would surely notice the plants around here too.
5. Santa Cruz III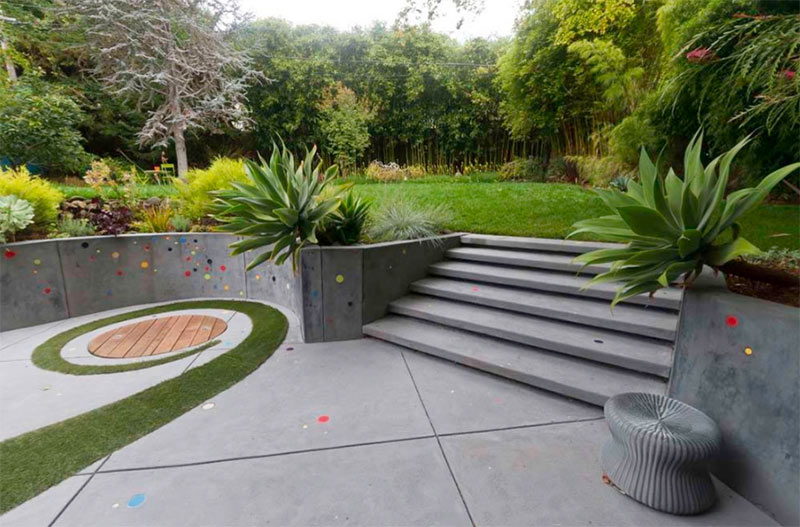 What I find interesting in this garden is the curvy elements in it as well as the colorful dots on the concrete planters. This sure is a creative way to add life to your garden area.
6. 8th West Residence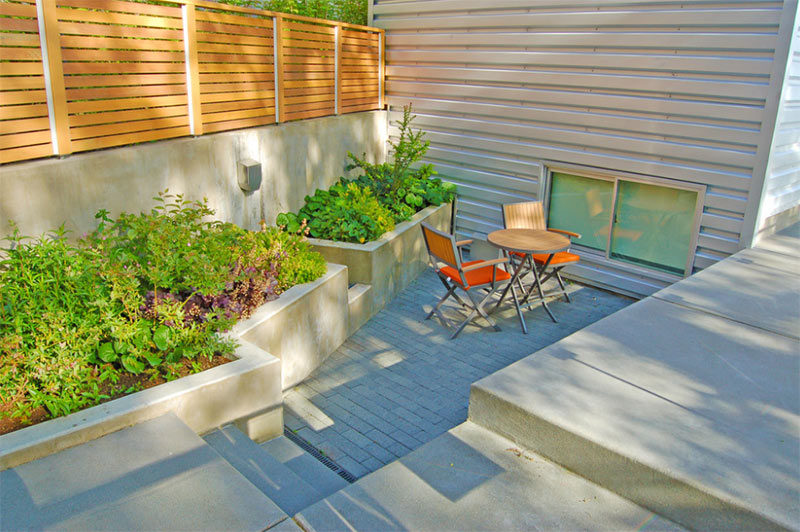 Apart from the wooden elements used in this space, I also like how the planters are designed which also defines the steps and the path in the courtyard.
7. W 14th Residence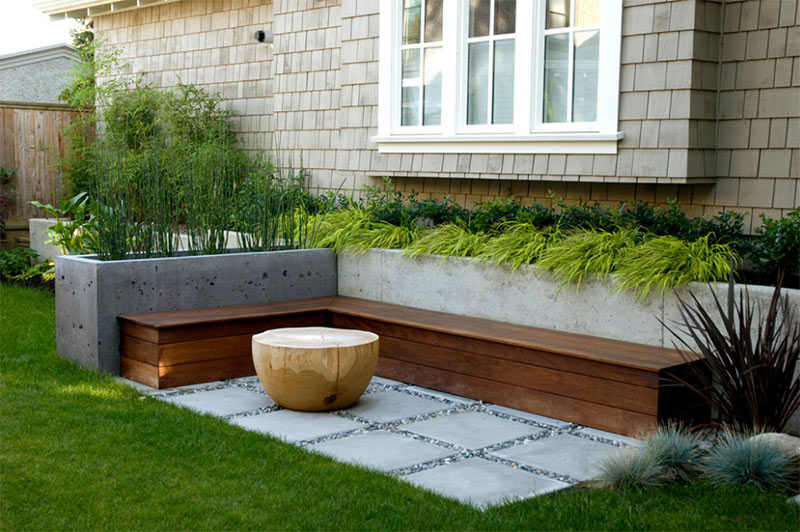 Since it is nice to spend time outdoors, it is a great idea to add a built-in wooden bench in a garden with an L-shaped concrete planter. It is also nice that there are different plants added in the area.
8. Rhee Residence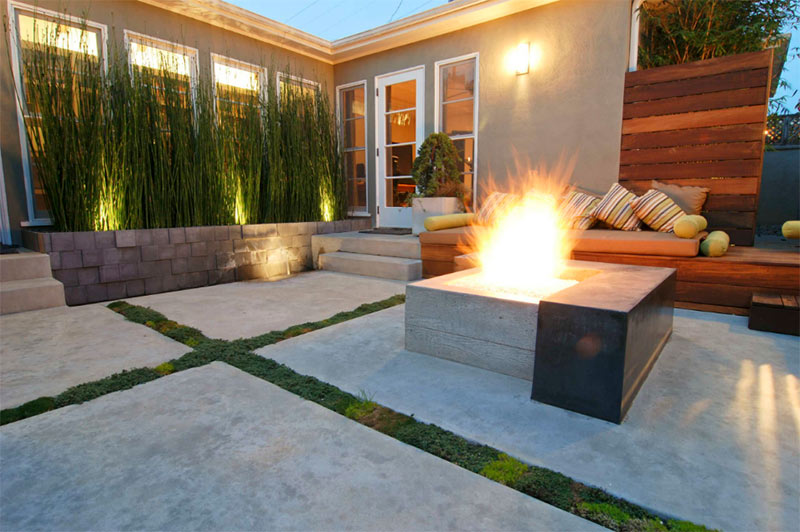 Isn't this a lovely space? Apart from the interesting planter design and the tall plants in it that is lighted, I also like the seating area too which has a comfortable wooden bench and a square-shaped fire pit to keep one warm during cold nights.
9. Ozone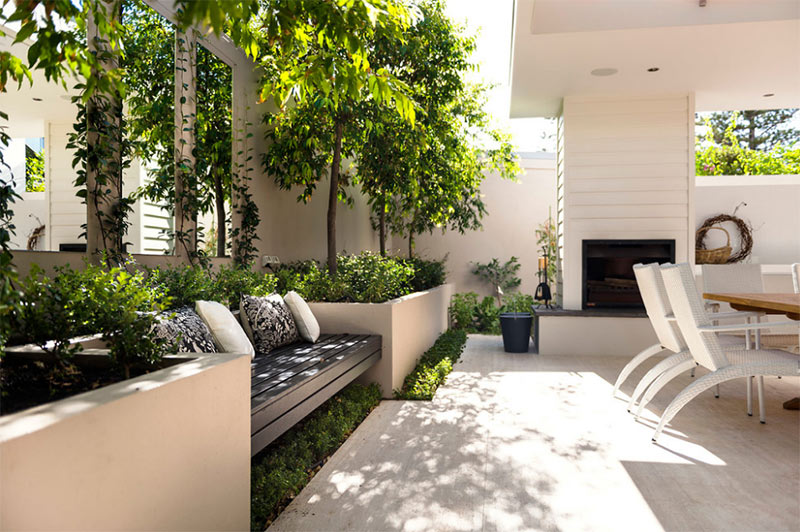 Such a refreshing outdoor space with trees, vines and different kinds of plants around it. It would be nice to sit in that wooden bench that is sandwiched with two concrete planters.
10. Mid-century Re-modern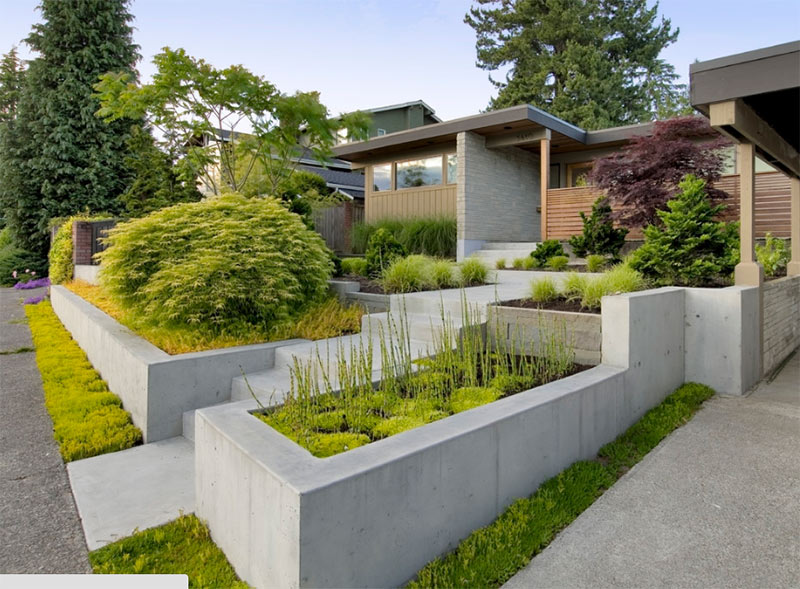 This house has a very nice facade and curbs appeal because of all the plants in it as well as the planters where the plants are contained.
11. Gilford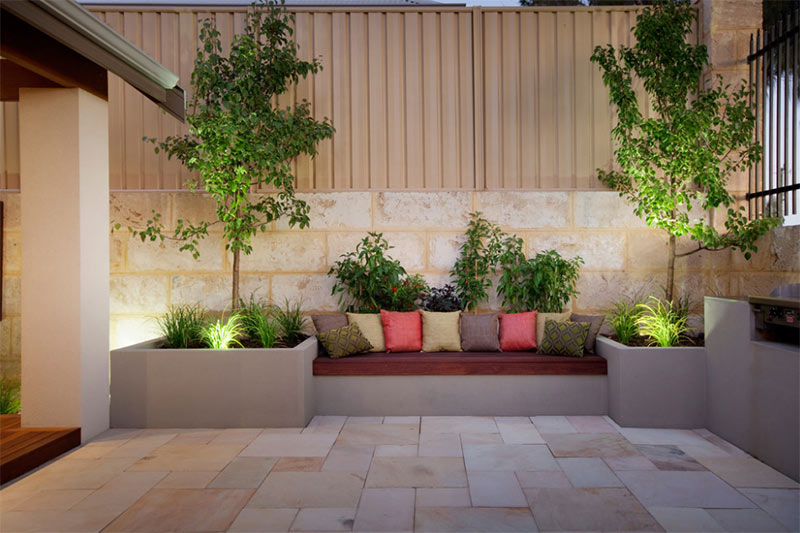 Another lovely place to spend lazy afternoons and romantic date nights with your partner. It would definitely be nice to have a space like this in the house, right? Add colorful pillows to bring colors to the area.
12. Landscapes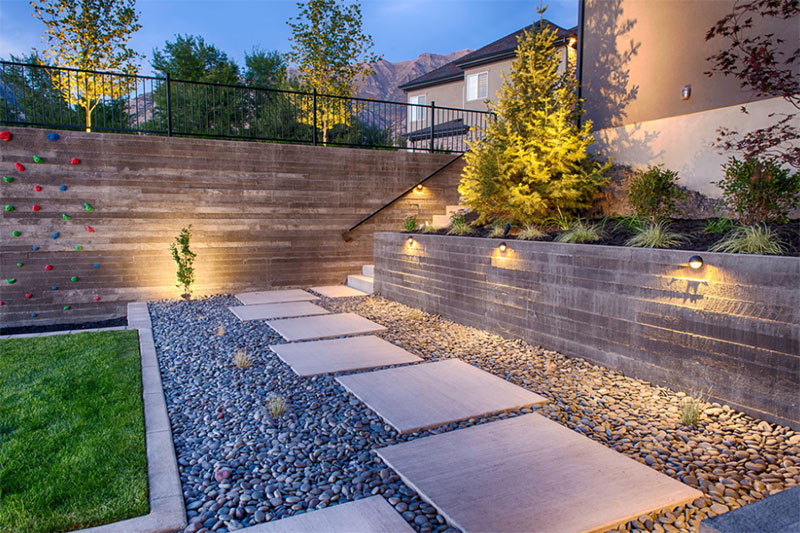 This one used poured concrete walls which features a retaining and climbing walls. Walls like this one is done in a way that the concrete adopts the grain of the wood, making it appear like natural wood. Lovely, right? I also like what they did to the paths too.
13. Morden Road Mews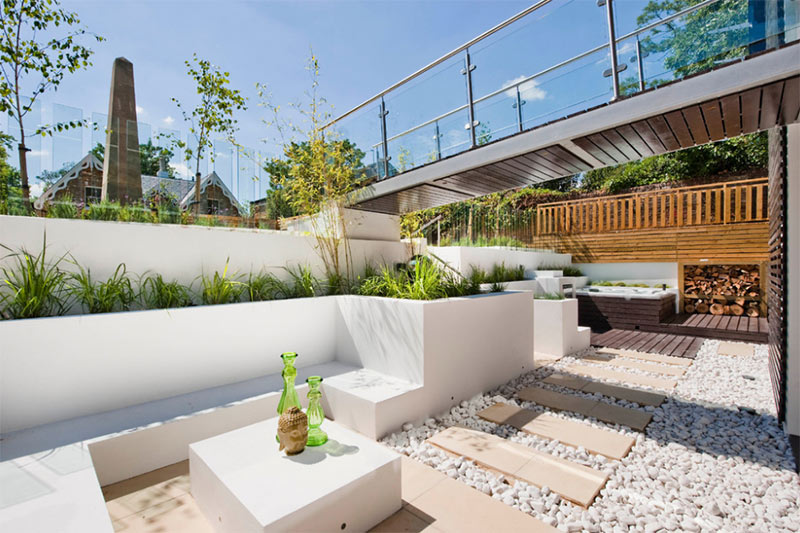 This one looks simple yet sophisticated as it used white for the planters and the bench. It is also a great idea that white stones were used on the ground as well.
14. Danville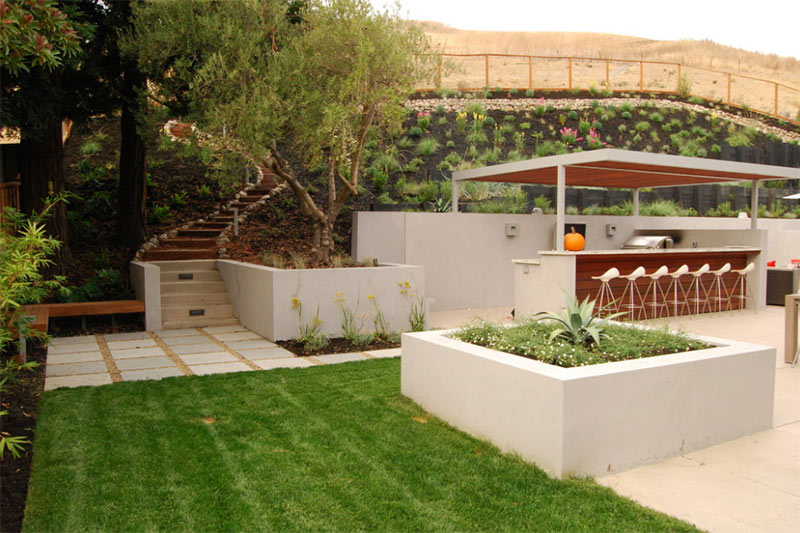 For a sloping topography, having planters is one way to help hold soil while adding an attractive feature to the garden.
15. Aperture Circle Residence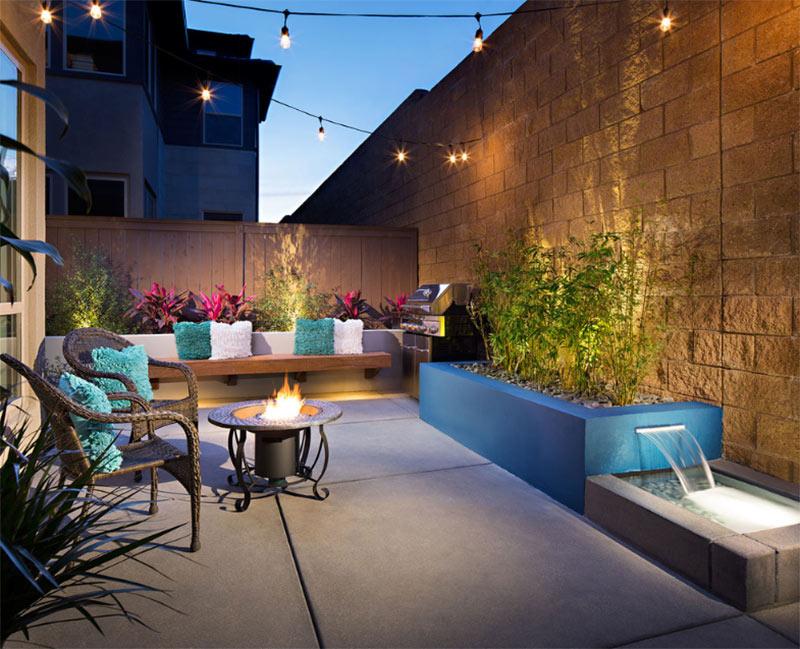 I find the colors used here very sweet and chic. Aside from the planters at the back of the wooden bench, you can also see here a fire pit and a mini-waterfall that is too cute to ignore!
16. Contemporary Courtyard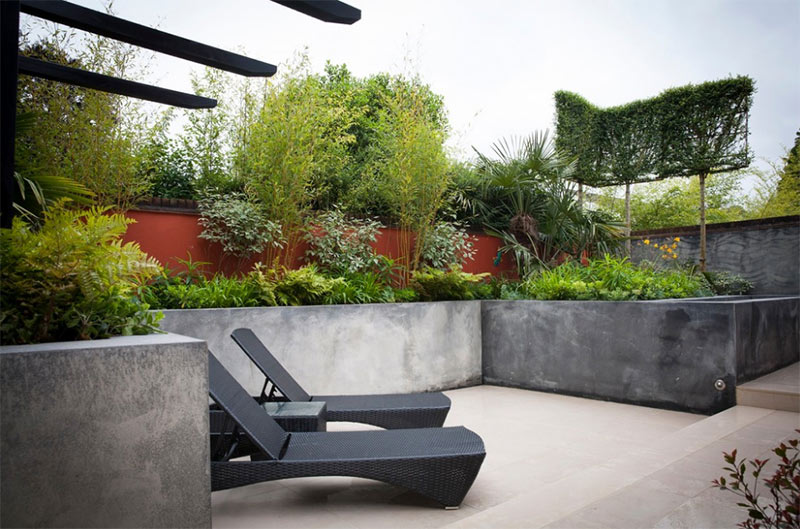 If you want some privacy in your garden, then it would be a good idea to add tall and think shrubs on your planter like this one.
17. Hill Street Project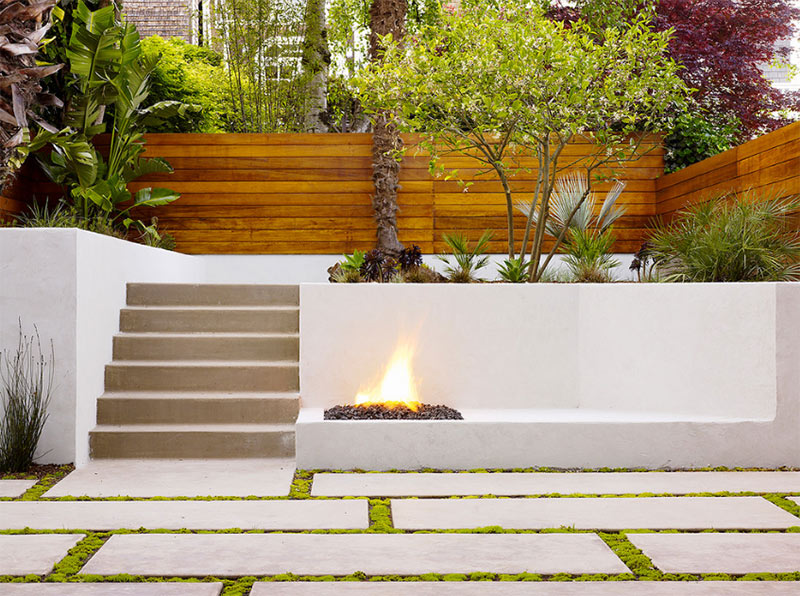 Adding different levels to your garden is a good way to bring depth and style into it just like what the landscaper did to this one. I also like the mix of plants used here as well as the concrete pavers.
18. San Carlos Modern 2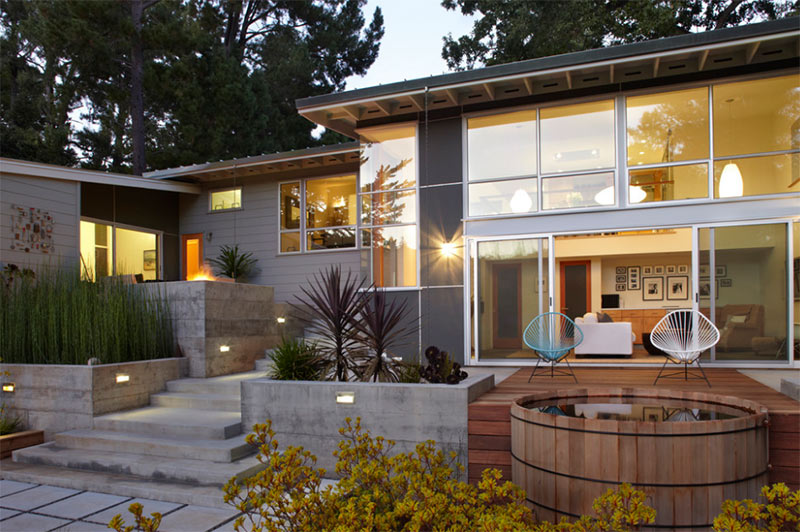 If you think that poured concrete looks ugly, you are totally wrong. You can see in this image that it looks really nice with lights on the sides of the planters and creative sleek steps along it. And it sure is a surprise to see a wooden bath tub outdoors!
19. Short St.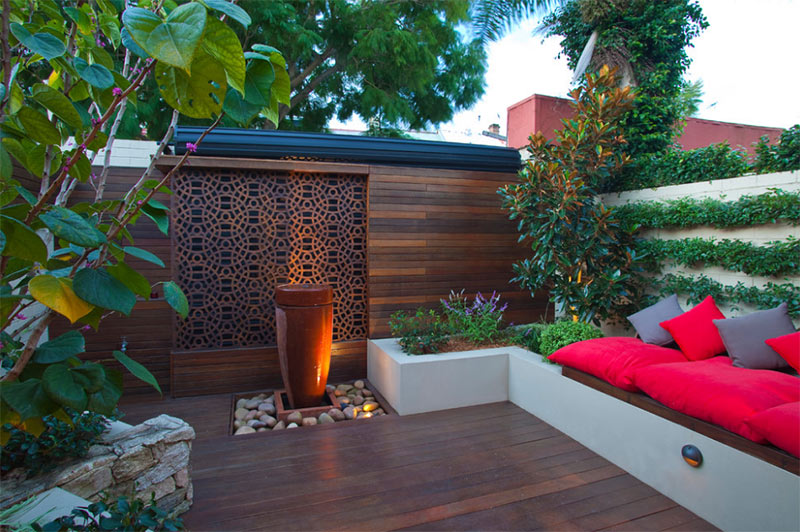 Interesting wall design, right? It sure! It looks really attractive and beautiful bringing a contemporary vibe to the area. Well, this space does look really pretty in all aspects including the brick covered planters.
20. Atkinson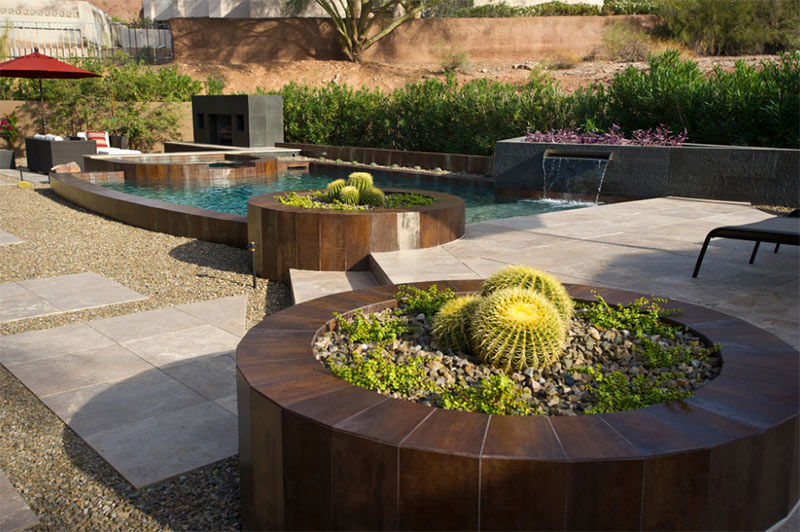 Who said you can't make round planters like this one in the pool area? You can do it too and it would surely look nice in the outdoor space. What you can see here is a masonry planter with a specialty tile facing.
There are indeed different ways to add planters in the house and one way to do that is by having built-in concrete planters in the outdoor area of the house. This way, you can keep plants in a beautiful manner and you can also make your garden even more attractive. I know you won't question that anymore because you have seen that in the images above. They all look nice while each one has a unique design. Aside from the planter itself, also the plants are also different. So, which of the above entry do you like the most?