Claremont Residence Extension Features a Backyard Update
If you are blessed with a spacious lot, you would surely make use of it so you can add more footprints to your home.
For some, they prefer to use it as a garden or a yard where they can spend time outdoors. Guess, that sounds better, right?
That is why many homeowners prefer to have their own yard since they need a space to relax and unwind from their busy city life.
Want to see a home with a lovely backyard?
You can see that in the house that we will feature today. It is a project called Claremont Residence extension by David Barr Architects. The new modern extension and backyard are made for a pre-war suburban house, located in Claremont, Western Australia.
Scroll down so you can see how the extension and backyard turned out!
Location: Claremont, Western Australia
Designer: David Barr Architects
Style: Modern
Number of Levels: One-storey
Unique feature: The project is an extension of a modern home which features a backyard and a pool.
Similar House: A Contemporary Backyard in Florida Features Multi-Levels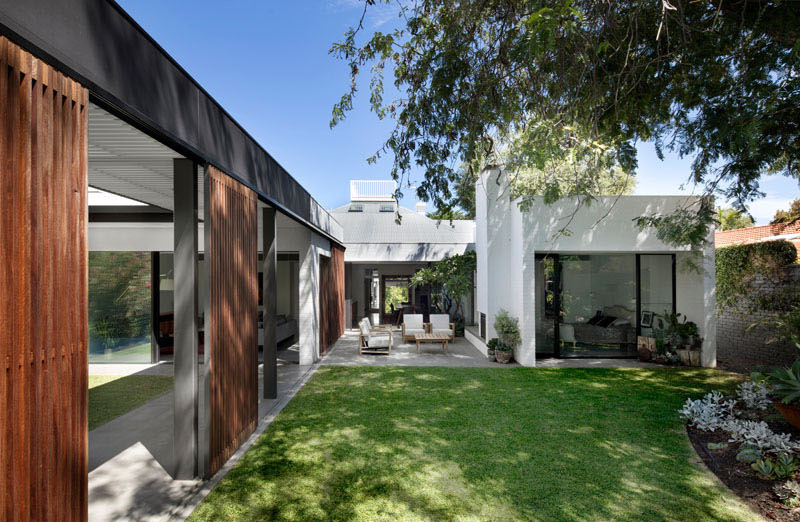 The project extends the house into the garden which captures views of beautiful mature trees on the site and in neighboring gardens. Distinct spaces are created externally which include a courtyard, a formal lawn, a raised external dining area and pool. Then, it draws back into the house through large areas of glazed openings.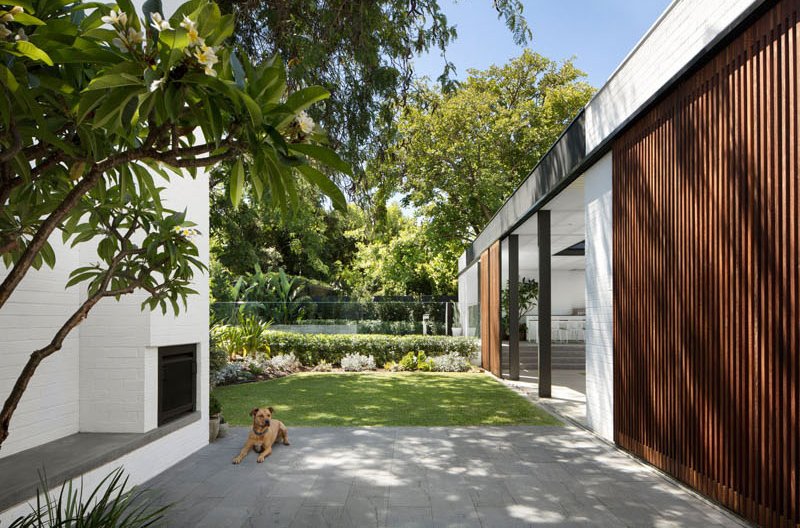 This area can be accessed when you step down from the pool. It is a small grassy area under a tree while next to the lawn is an outdoor lounge focused on a fireplace.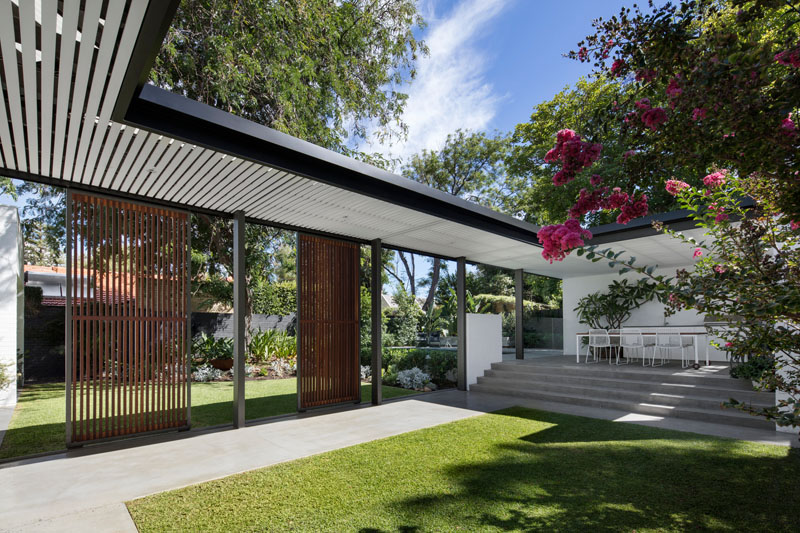 This walkway leads up to a raised outdoor kitchen and dining area. Notice that the yard has beautiful flowers and tall trees in it.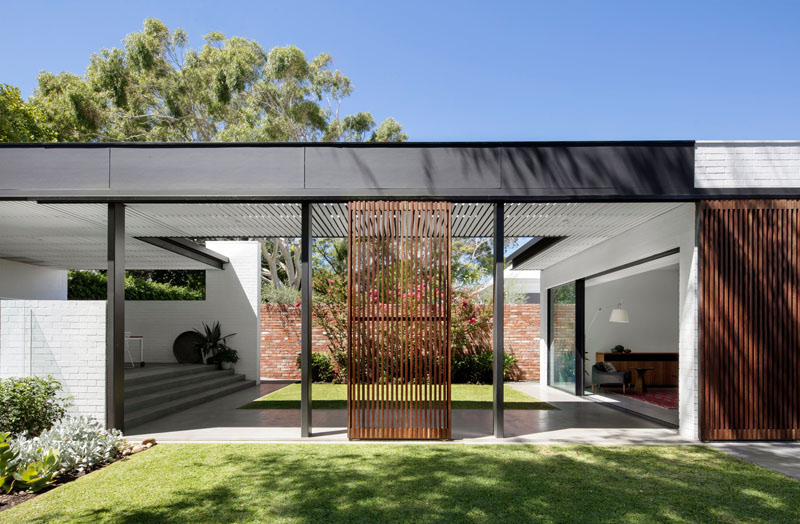 A covered walkway connects the various areas of the new backyard. It has operable timber screens that have been included to provide shade when needed.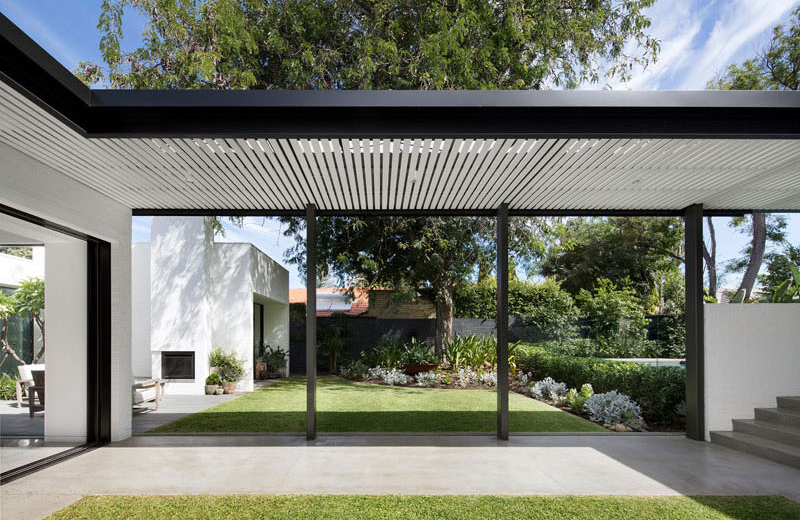 To access the outdoor space, this shade is provided which is directly connected to the interior. Like the house, it is also in black and white.
Read Also: A Chic Backyard With A Small Modern Pink Patio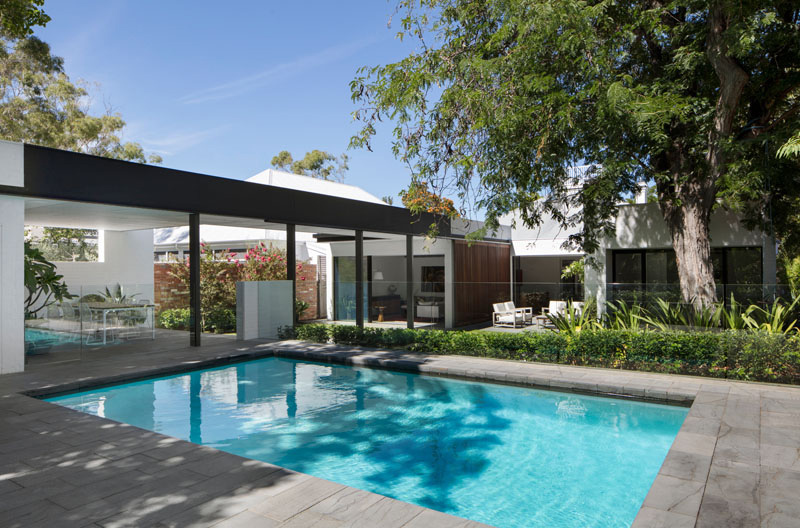 Next to the outdoor kitchen and dining area is a rectangular swimming pool. A glass safety fence surrounds the pool and allows for uninterrupted views of the backyard.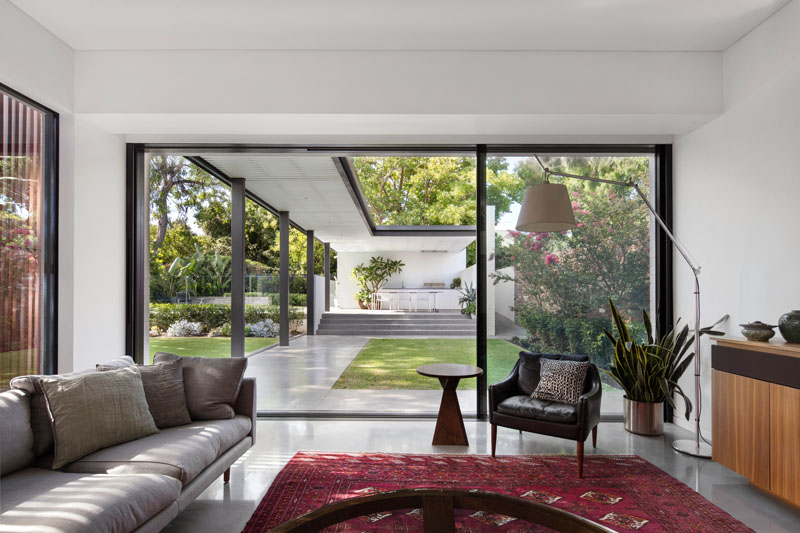 Concrete floors have been paired with white walls and black window and door frames in the house to create a clean and modern aesthetic. What you can see here is a new living room that opens up to the backyard through a large sliding glass door.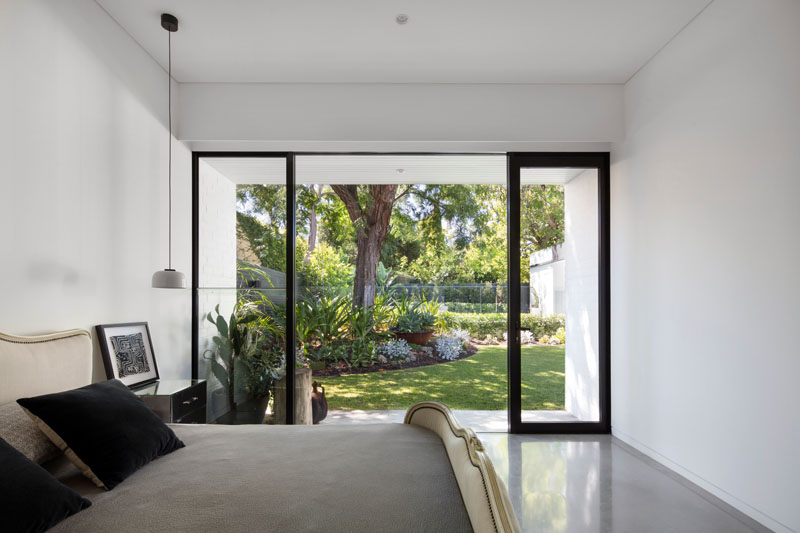 Seen here is the bedroom which can also be accessed from the backyard. It also has a simple design with just white walls. The tall glass window and sliding door allows the entry of natural light.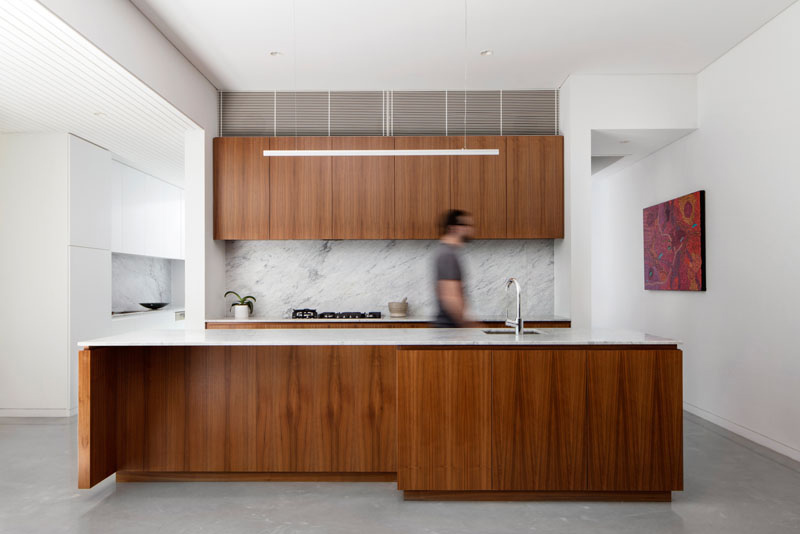 Inside the home, a new kitchen was added which features American Walnut wood cabinets, white countertops, and a stone backsplash. Isn't this beautiful? The wood and white combination looks very nice. The kitchen also connects to the backyard through sliding doors.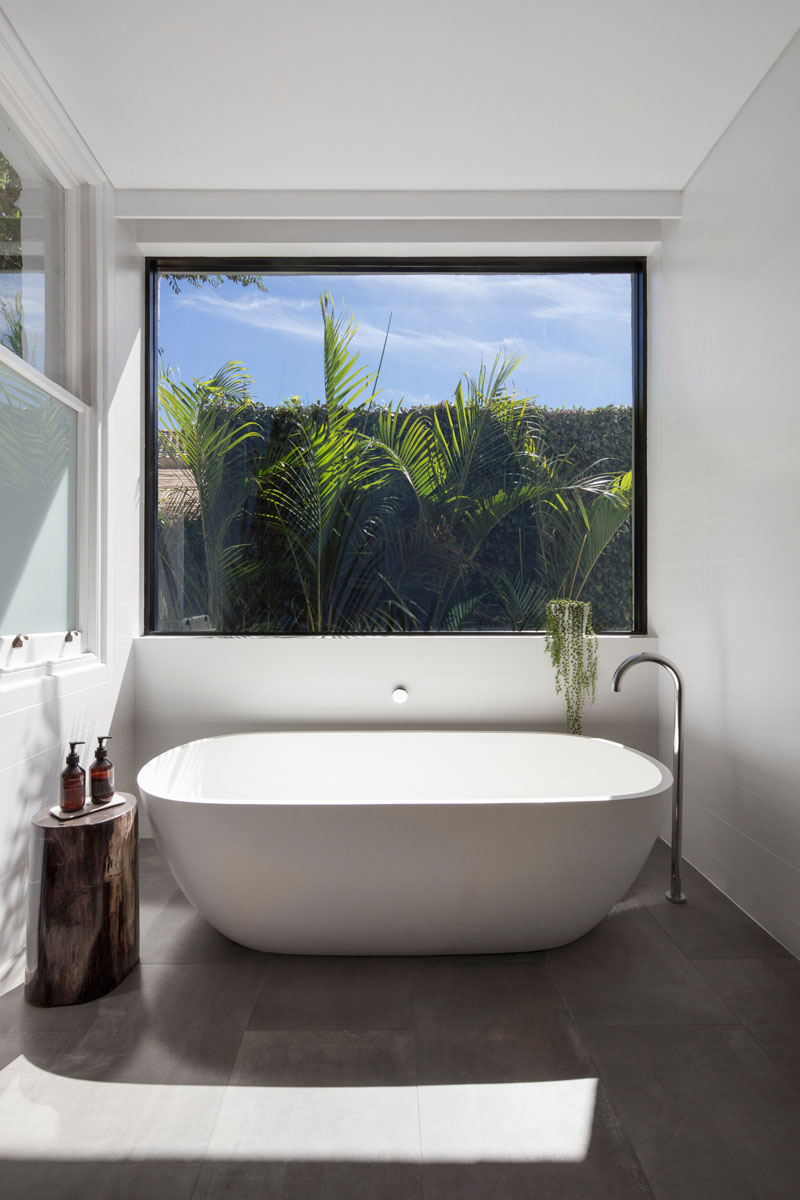 The black frames that are featured throughout the extension are also seen in the new bathroom with a simple modern design. On the left side, you can see a window frame from the original house.
Isn't this very nice? According to David Barr Architects, the project's materials are a juxtaposition between the brickwork. It is 'bagged' and painted white while dark steel and timber elements link them. There are also large sliding doors with concealed frames concealed which open the major rooms to the garden and courtyards. It also features deep window that reveals open to the north, while operable timber screens shield western windows from the sun. In the interior, there is a restrained palette of concrete floors, plaster walls and American Walnut timber joinery that gives the client's art and furniture collection prominence. At the same time, it creates a backdrop for their young family to add vitality. Apart from the images above, the details given to us by the designer surely add more appeal to the home. Even if we can just see the modern extension, we can say that the entire house is no doubt a gem! And the backyard is now very relaxing and inviting!