A Rooftop Garden in New York Seemingly Looks Like a Meadow in the Sky
A rooftop garden dubbed as meadow in the sky. Find out why.
I have observed that many home owners these days prefer to have a roof deck instead of just cover the upper area with a roof because with a roof deck, the area can be used as a courtyard, a garden, a play area, and others. One can also still add another room on it when desired. Also, the rooftop or the roof deck is one space where one can also enjoy the beauty of the surrounding area like the city or the trees.
What we will feature in this post is a rooftop garden in New York which appears like a meadow in the sky. From the rooftop, one can get amazing views of the Brooklyn Bridge and Manhattan. The nearly 6000 square foot rooftop garden is a lovely place to get away from the hustle and bustle of busy Brooklyn in New York. It is like a getaway place in the middle of the city. The design of the rooftop was completed by landscape architecture firm James Corner Field Operations. This garden is located on top of a seventeen-story apartment complex which is designed by Leeser Architecture, and developed by Two Trees Management. Just imagine how high this rooftop is! At least one you want to relax, you can just go up instead of going to a faraway place. Come take a look at the images below.
Location: New York
Designer: James Corner Field Operations
Style: Contemporary
Type of Space:Rooftop
Unique feature: A seventeen storey building has a rooftop garden on top of it which looks like a meadow because of the several types of grasses and plants on it.
Similar House: Gorgeous Rooftop Design with City Views of Chicago
The rooftop has its own dining area and other seating areas. Aside from that, it also features a boxed structure which is covered with a reflective material which scatters more light in the space. There are also several wooden plant boxes found here.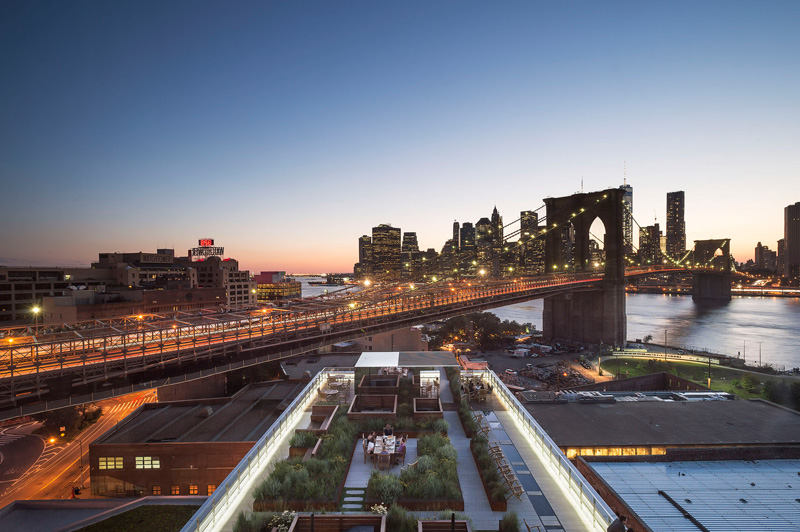 This is how the entire rooftop looks like. The layout is indeed done well and from here, one can get a glimpse of the stunning bridge that is lighted during the night. But despite being in the city, it is far away from the busy and noisy streets.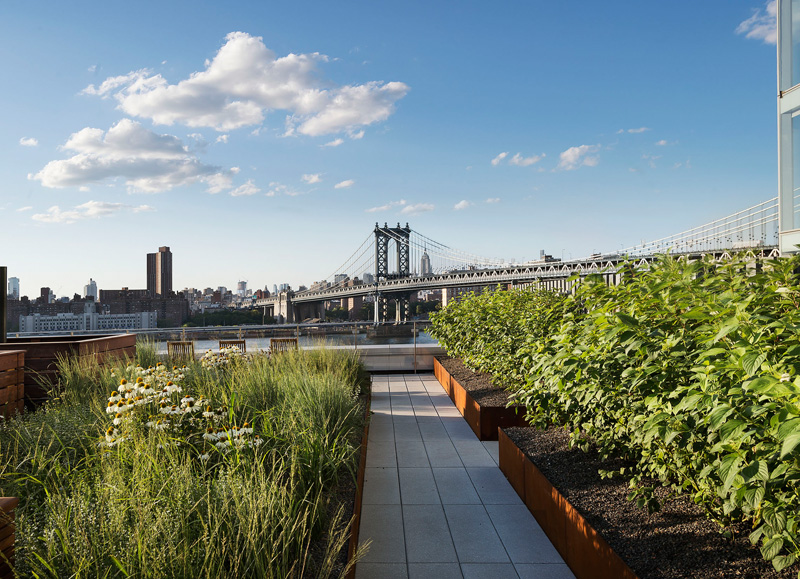 What made this rooftop similar to a meadow are the variety of grasses and plants in it. The mix made it appear like you area actually on the ground and not seventeen stories above it.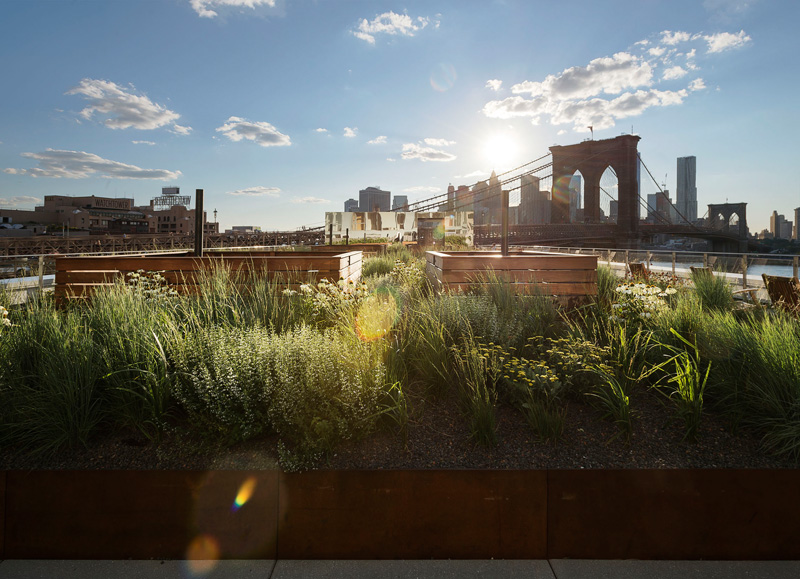 The rooftop is features several different seating areas as well as wooden planters for the grasses. All the areas could provide amazing views of the Brooklyn Bridge, Manhattan Bridge, East River, and Manhattan Skyline.
Read Also: A Manhattan Rooftop Garden Turned from a Barren Area to a Whimsical Garden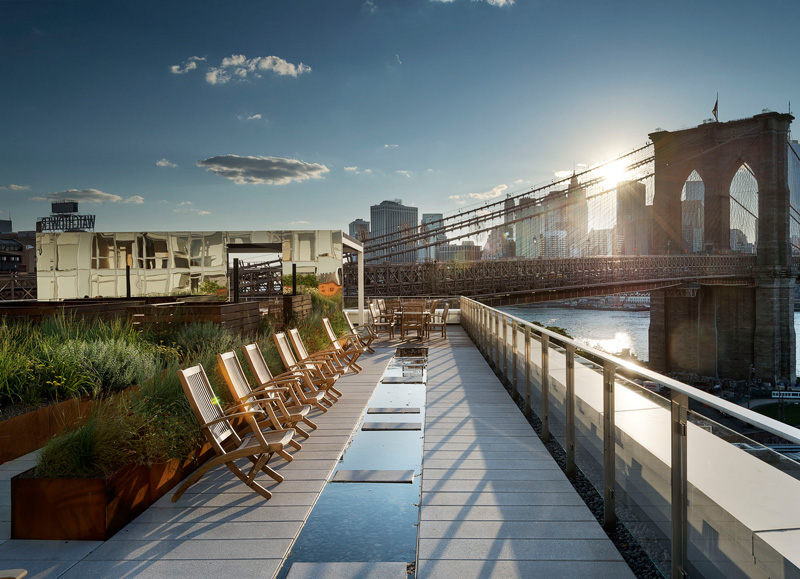 Many wooden chairs are added in this part of the rooftop so that you can spend time with family and friends while enjoying the view around the area. It also used variety of materials for the flooring.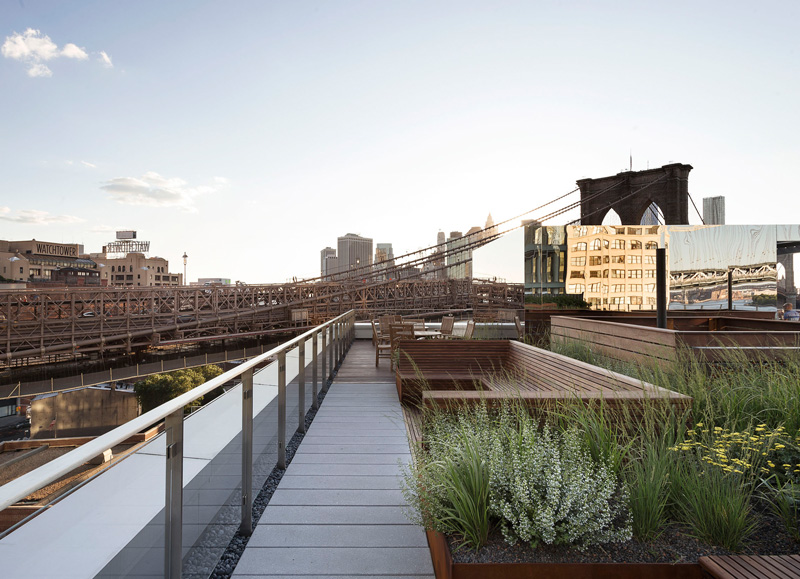 In the center of the roof top garden is a dining area that is surrounded by a meadow of various grasses. These grasses give the setting a more intimate feeling. Notice also that it has a glass and stainless steel railings for more security and safety.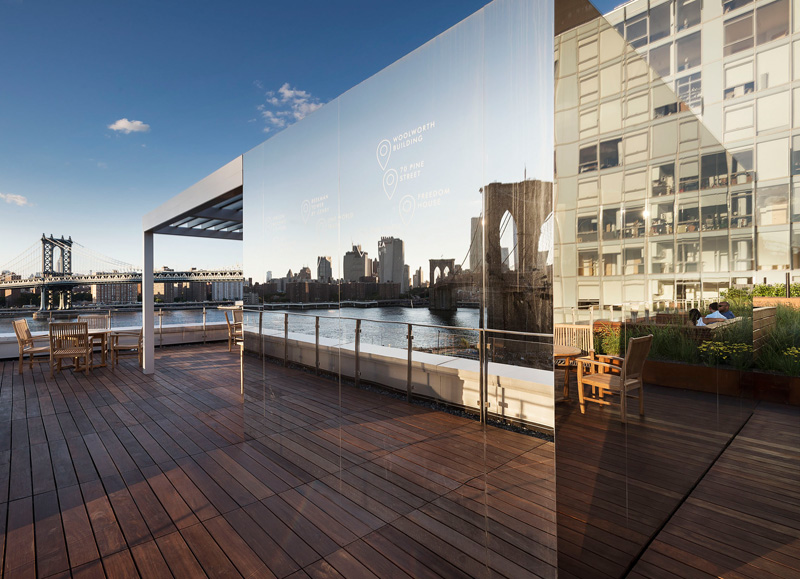 I would assume that this cube is where the staircase can be access and that it also has a room inside it. What is unique about this cube is its mirrored finish which reflects the surrounding around it. For sure, it also bounce light all around the area too.
It is indeed nice to have your own space like this one because you don't have to go far in order to get closer to nature and have your own quite time. This can also be an ideal place to spend time with friends, family and special people. This rooftop is designed by James Corner Field Operations adding many seating areas as well as tall grasses, making it appear like a meadow in the sky. Lovely, right?