A Manhattan Rooftop Garden Turned from a Barren Area to a Whimsical Garden
Who says you can't have a lush garden when you are in the city? Well, if you really have that will and determination to have one, you can do it and you can get one especially if you work with talented designers. Just like what a New York City dweller got when he worked with Landscape designer Todd Haiman to turn a barren rooftop into a serene escape.
This home in North of Houston in Manhattan got a beautiful makeover complete with a dining and grilling area, a daybed, an outdoor shower and plants galore.
Aside from that, the 950 square meters rooftop was also equipped with clever storage system to make sure everything is neat and organized. The garden's wall were covered with cedar boards with ipe while planters were attached to the walls comprised of lovely plants. The entire space seemed to magically turn into a whimsical serene area. Let us take a look at the images below.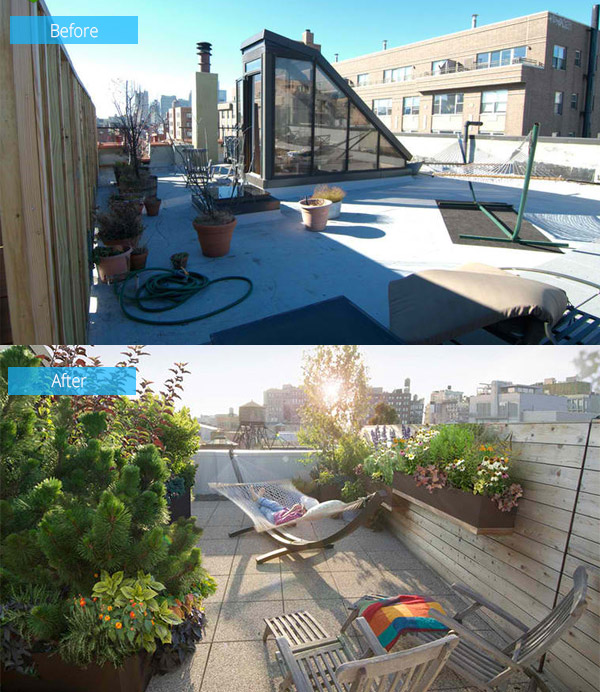 Once a stark space on top of a large building, it turned into a beautiful garden. It was a challenge for the designer to deal with heat, wind, weight limits and to provide access to all residents of the penthouse towards the fire escape. The new look of the garden was created through the idea of the client who wanted a natural and organic feel mixing different trees, shrubs, perennials and annuals.
On the Western edge of the garden, one will find switch grass (Panicum virgatum 'Shenandoah') that adds interest to the landscape and softens the view.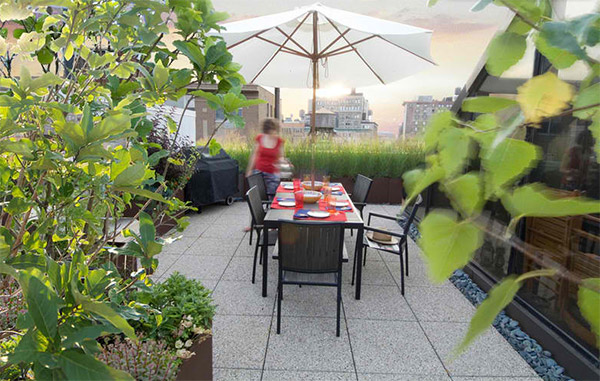 Exposed stone concrete pavers cover the roof's surface that are slightly spaced apart to allow water drainage. Since the client loves to barbecue, herbs like oregano, lemon thyme and others were planted that can be used for grilling.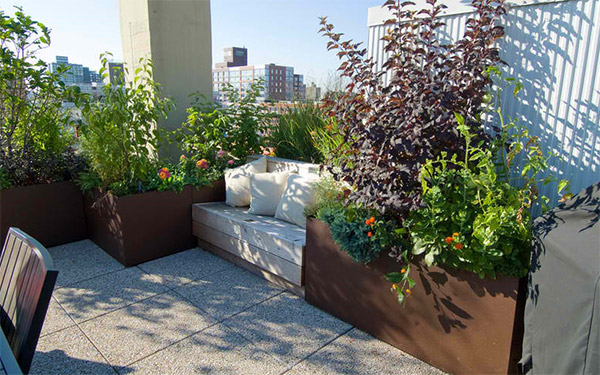 A custom-size daybed illuminated with LED lights is seen in the northeast corner that offers a spot for working or lounging. Most of the seats here have concealed storage under them.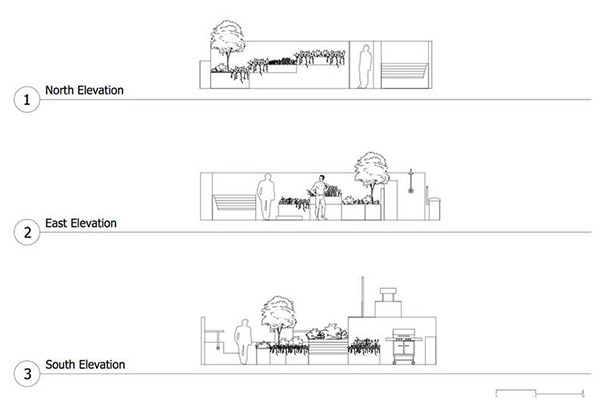 This elevation will give you the idea of how the rooftop garden looks in every area.
Aside from what we have mentioned above, the plan also shows an outdoor shower in the southeast corner with an access from the adjoining space to the east and a common space to the north.
Todd Haiman Landscape Design indeed saved a barren rooftop and turned it into something we all want to have. I'm pretty sure that all the residents in the area are happy to have a lovely place to lounge and relax even if they live in the heart of the city. Do you have a rooftop too that you want to transform into a garden?