Breathtaking Naroon Modern Backyard for Unlimited Outdoor Fun and Relaxation
It is important that we could have good balance in life when we speak of work and relaxation. Most of us would rest during the weekend while others would love to get a good rest when they get home. It would be nice to have a certain place in the house where we could feel like we are in a place that is free of worries and see the beauty of nature. With this, we are able to relax every day after a day's work without the need to go somewhere else.
We can actually have our own private sanctuary outdoors just like a courtyard or even a backyard.
A couple with four children in Melbourne was blessed to have a wonderful modern backyard that measures 66 feet wide and 26 feet deep. The space have a breathtaking design that could either be a social space or a private hub for relaxation. The backyard has a lovely gardenscape with a swimming pool. There are also areas intended for lounging and even for dining.
Well, I really don't have to say too much about it because the pictures will tell you everything!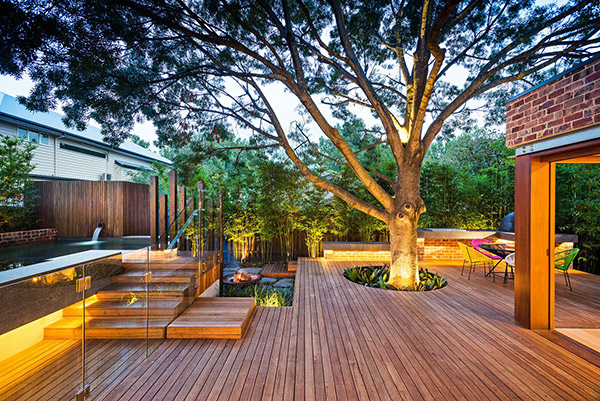 The outdoor space used Stringy Bark deck that is the same height as the floor of the interior.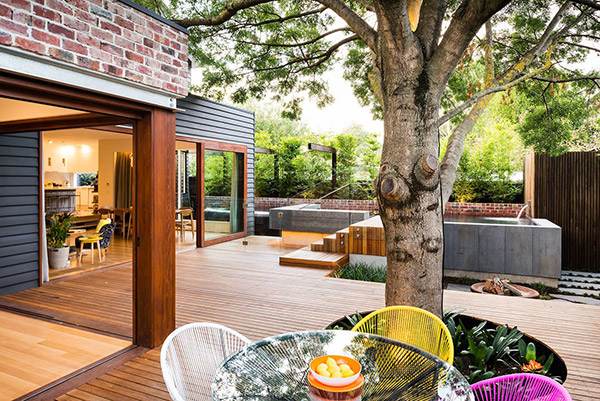 You can see that it creates a continuous flow from the interior to the outdoor space. I'm sure you didn't miss the colorful chairs too.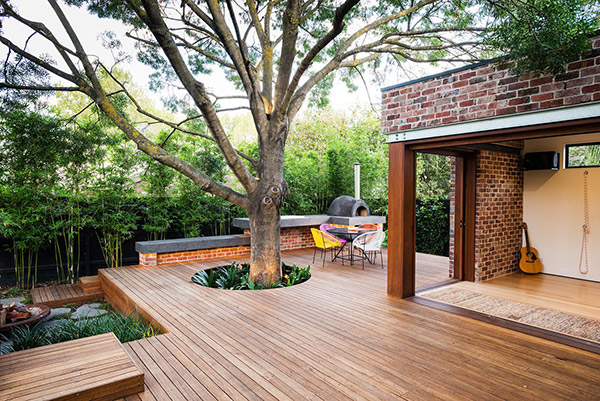 I love how the backyard was designed with different levels to add depth and beauty to it.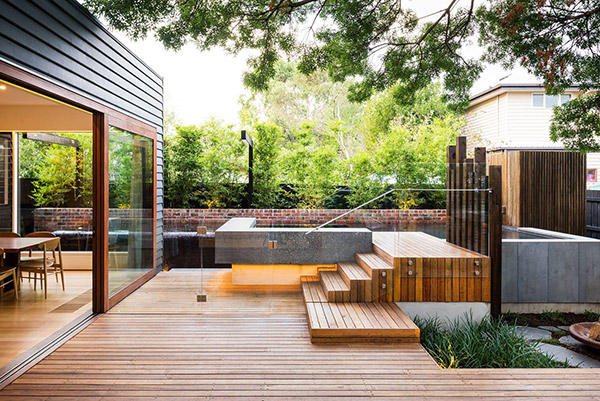 The pool and spa is raised giving it a more interesting look. It is also secured with a glass fence.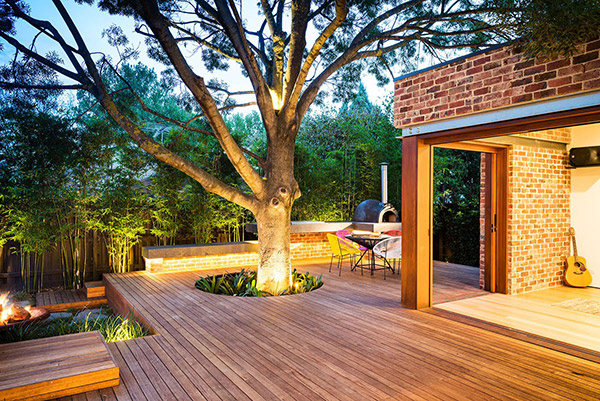 I love the idea of retaining the tree and just cutting a round whole around it to allow the grass to peep from it. The lighting is very dramatic too.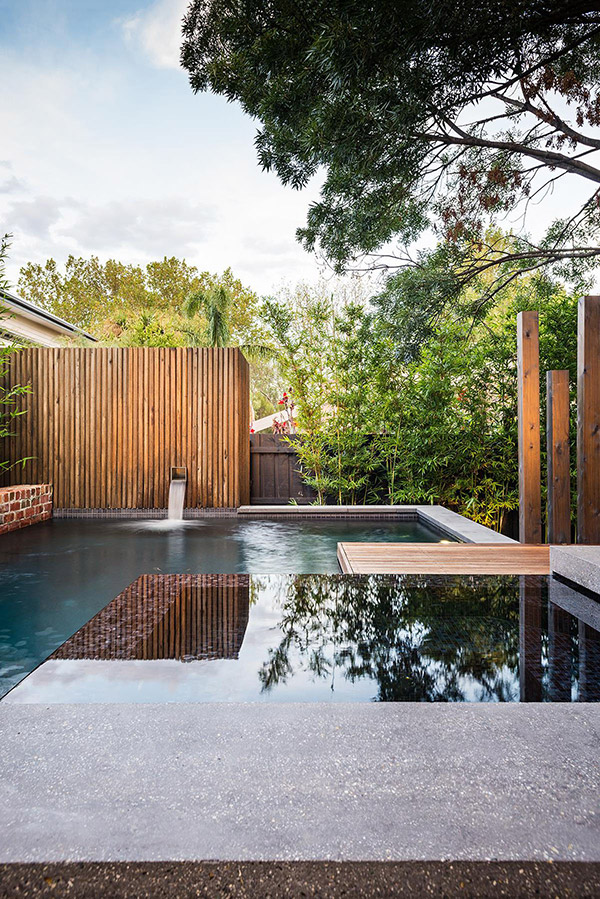 And this one is the raised pool and spa. Ahhhh…what a serene place!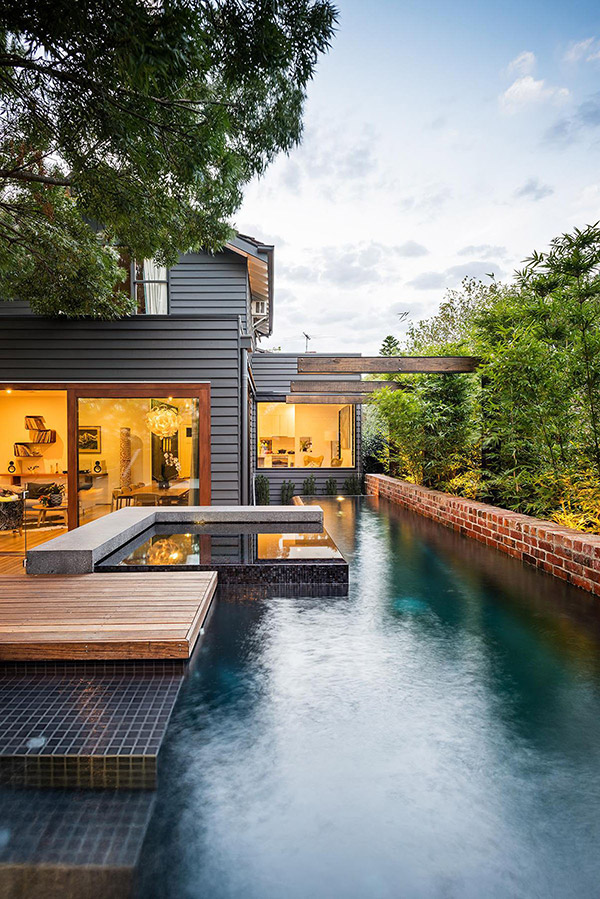 When you are in the lower area of the backyard, you will not be able to appreciate this beauty. But once you have stepped up, you will certainly be blown away.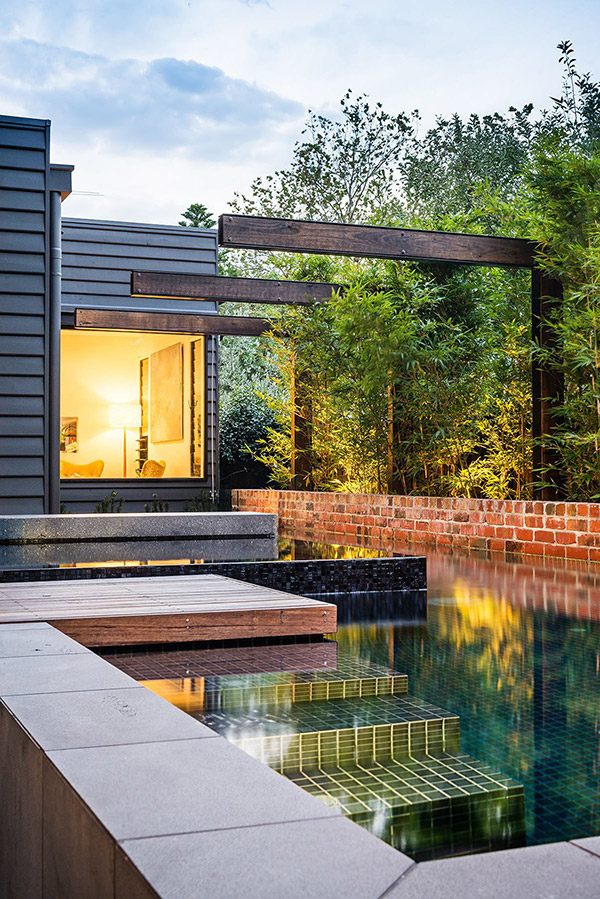 You can see here a mix of materials used for the pool area which adds more appeal to it.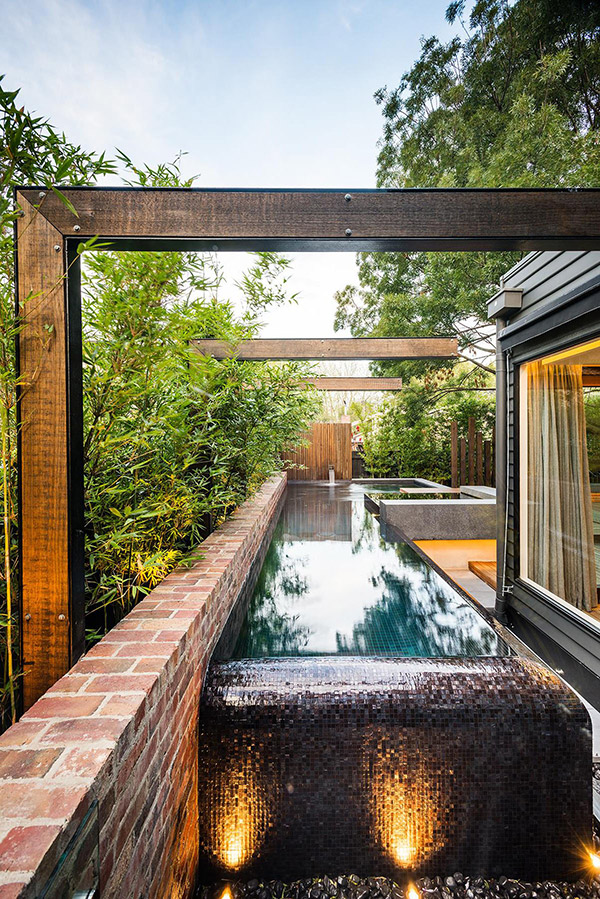 The pool is L-shaped but is large enough for the family and friends utilize.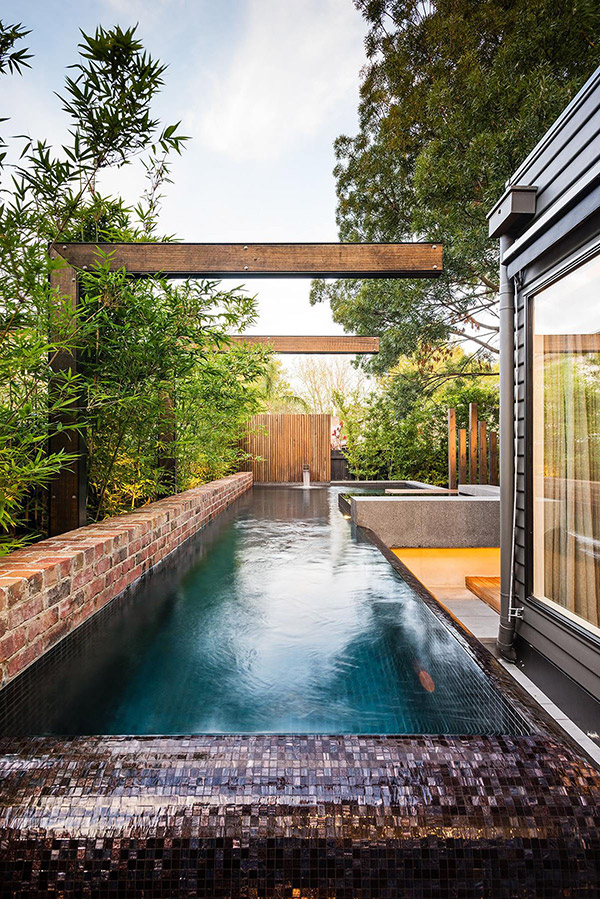 Black mosaic tiles are used for this part of the pool. But in the floor tiles of the pool, it used black tiles too.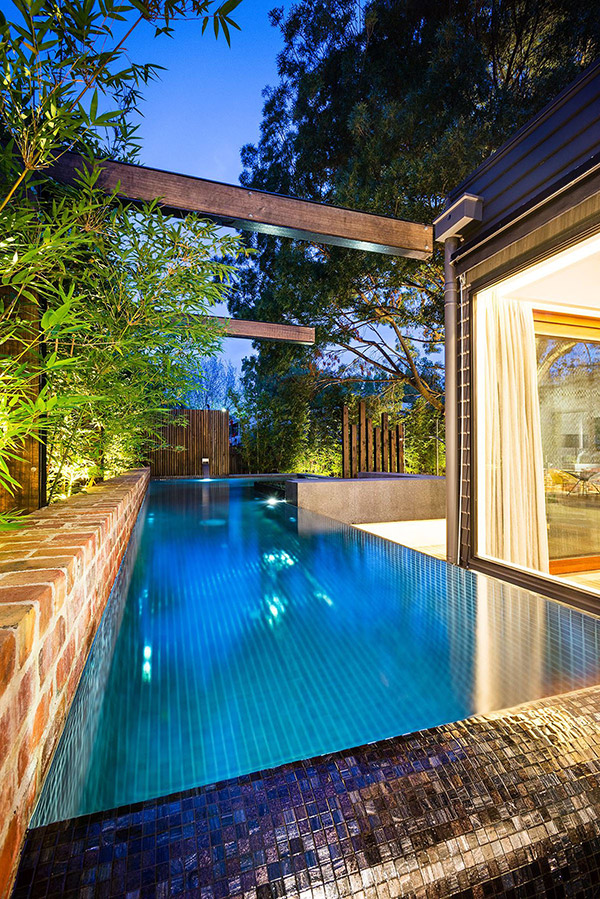 Exposed steel and bricks are features that made the backyard look more beautiful.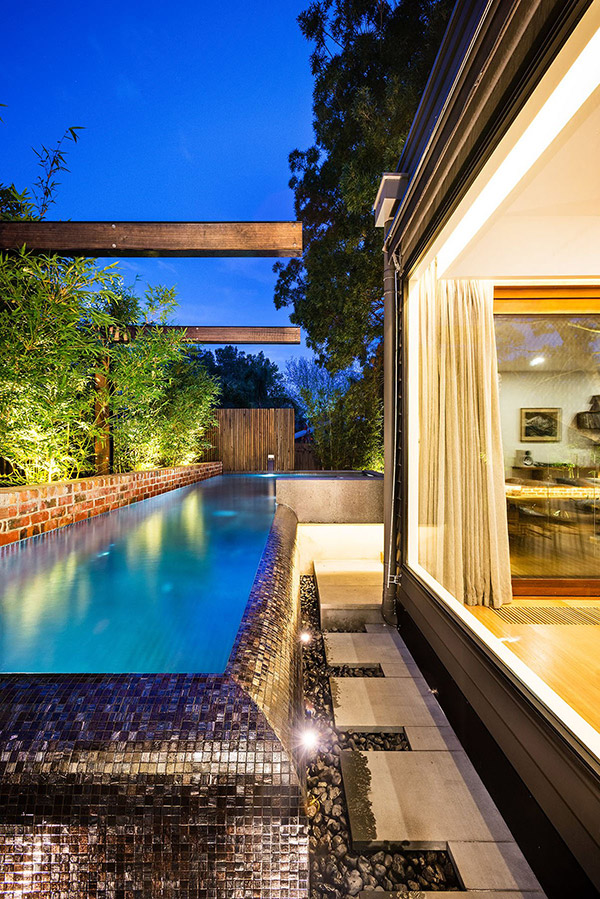 Take note of the concrete pavers too with stones around it. I can tell that every single thing in this backyard is really well thought of!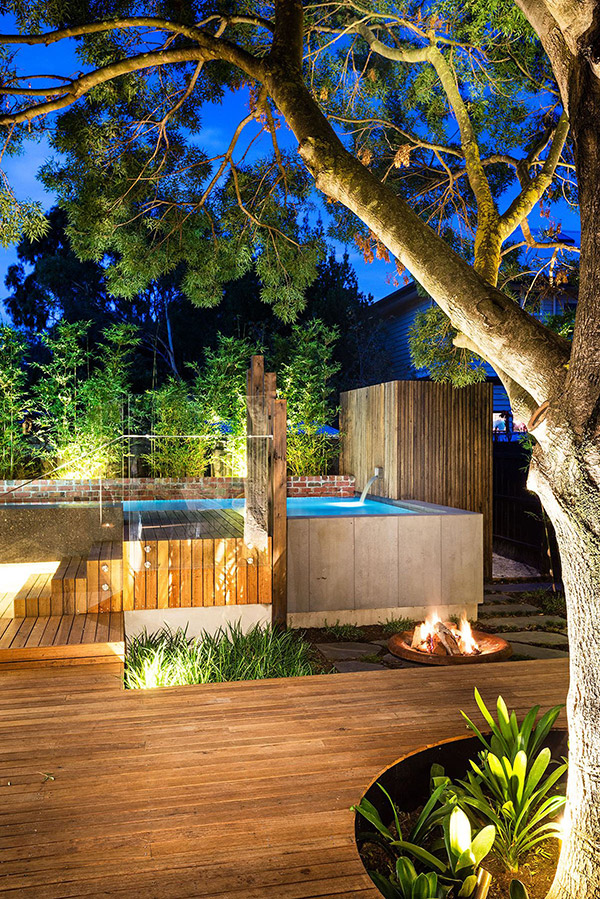 An outdoor space won't be complete without a fire pit because it creates a balance between water and heat.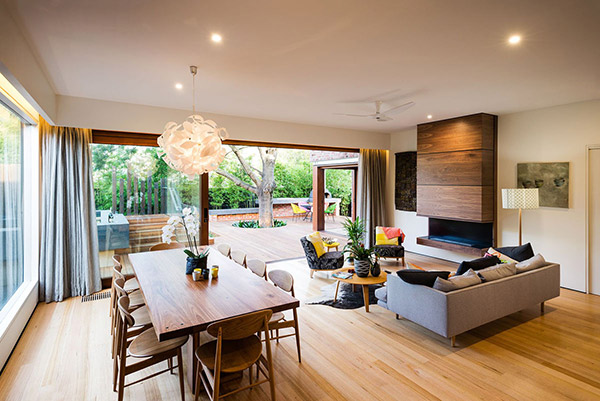 While we feasted our eyes in the outdoor space, here is a glimpse of the interior. Well, expect it to be very beautiful too.
The photos captured by Tim Turner Photography is absolutely stunning! This is the backyard of my dreams! Aside from the pool and space, I also love the idea that it has a built-in BBQ and wood fired pizza oven. It has enough space both for fun and relaxation. This project was made possible with the collaboration of COS Design for the layout, Signature Landscapes for the manicured gardenscape, Serenity Pools for the swimming pool and Frameless Impressions for the glass work. No wonder a great backyard was realized because it is a handiwork of all these creative and efficient people! I'd love to have a backyard like this one!