15 Wonderfully Made Vintage Kitchen Designs
When you try to look up vintage in the internet, it would usually connect you to links with grapes or wine making in it – because vintage is typically known as wine making from grapes.
But in our generation, if you do not actually look it up, it would mean a certain time or era where cute stuff were from – cute necklaces and boxes, even suitcases. I'm pretty sure that is what you will be seeing in shops that sell vintage items, either restored or handmade products.
But let us not take much time on that, in today's article, you would be seeing the beginning of vintage kitchen but slightly modern touch.
The era of the so-called vintage was from 1920 – 1950. That is why you will be seeing kitchen ideas that were even tagged 1920's.
The photos you are about to see are the ones that were either restored, battered to look the part or kitchens that have tiny items like a signage, pictures, photos and memorabilia that depict the said era. Take a look at these Vintage Kitchen Designs and judge for yourselves!
1920's Historic Kitchen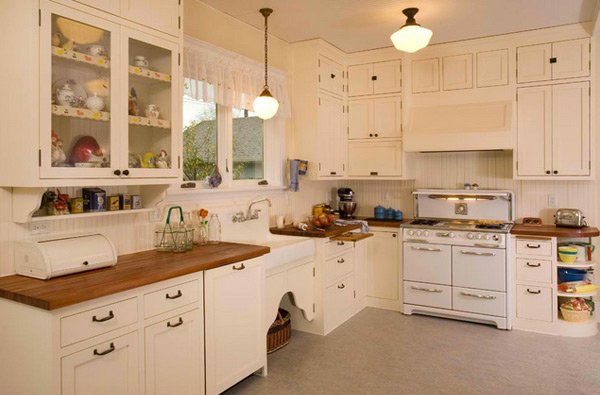 The design of this kitchen was from the 1929's. The details were exquisitely made and using brown counter-tops made this kitchen more classic.
1920's Kitchen Remodel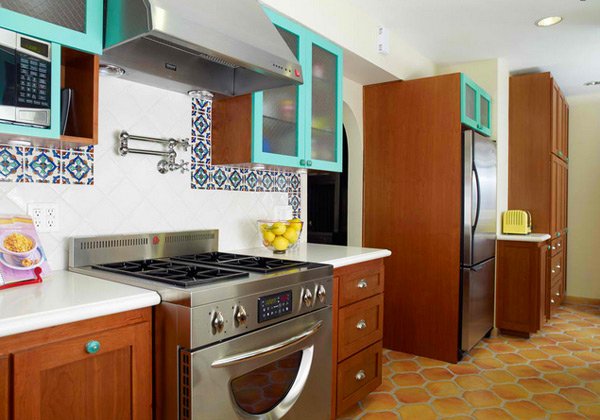 Another 1920's kitchen – but this one was a remodelled version. The use of contrasting colors emphasizes the vintage feel for this room.
Beach House Kitchen
A white kitchen is one traditional look that will never go out of style. In this kitchen, we are able to see signs on the cupboards which is one touch that will be usually present in vintage design.
Blackstone Edge Studios Kitchen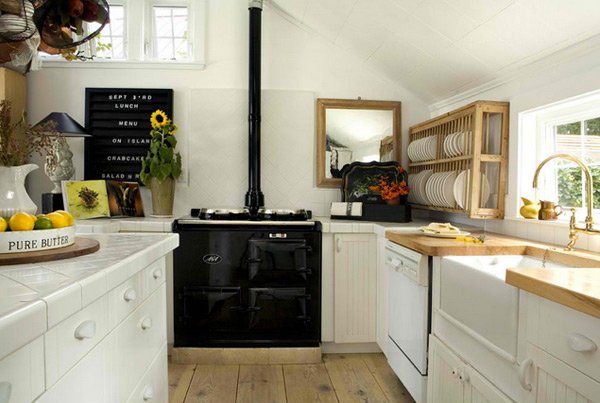 One small kitchen made vintage with the unique black range and the wall decor that may serve as a menu board for this kitchen.
Colorful English Farmhouse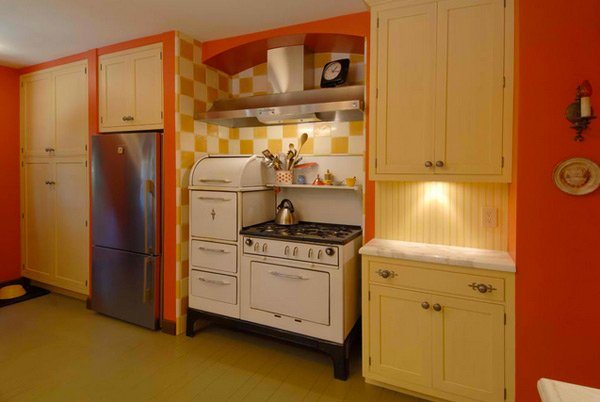 Retro kitchen will totally brighten any home! Using an old school range made the look complete.
Cora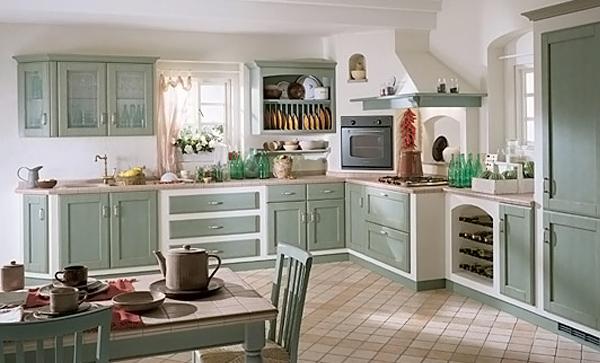 Traditional look and feel for a kitchen space. The faded green color looks charming for this homey kitchen.
Historic Beach House Renovation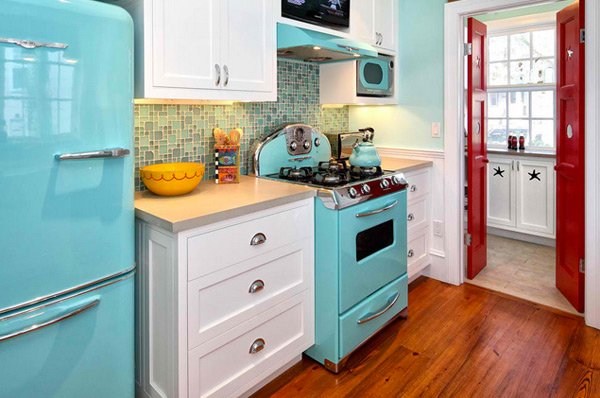 Big Chill made a great job in creating these retro cool appliances for our homes! The use of bold colors made this kitchen way too cool to even cook in it!
House in Justynów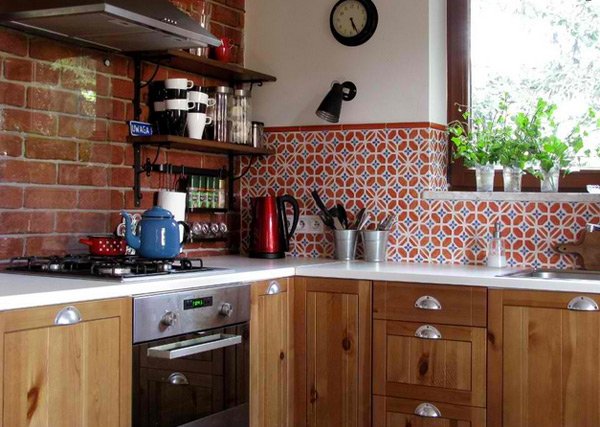 Cute furnishings make this room pretty. The use of bricks as accent walls in kitchens make it more interesting – it brings you back in time.
Kennedyg High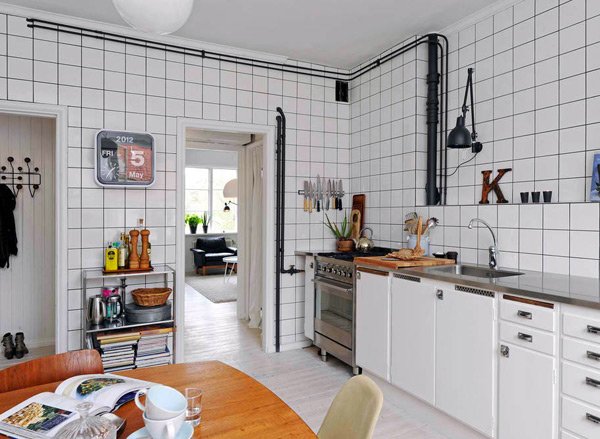 Like the use of bricks, the use of tiles in the entire kitchen makes it interesting. The pipes being revealed is quite a cute catch too!
Kjellestadsg High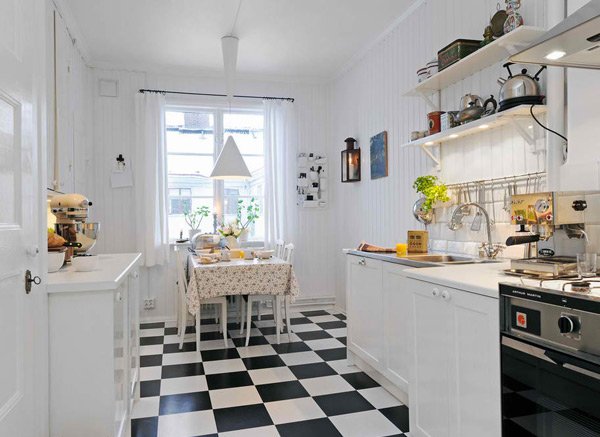 Russell Project
Battered bar stools, framed signage are a few of the characteristics a vintage room has.
Victorian Pool House Kitchen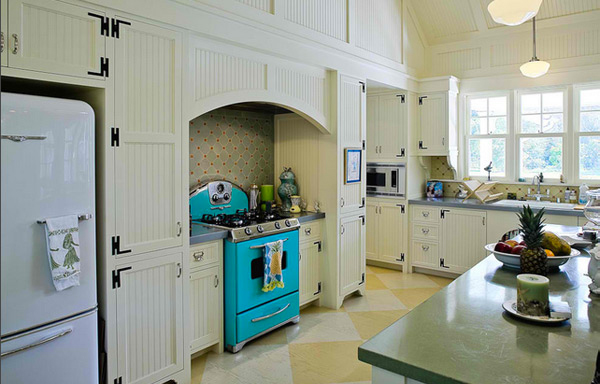 Have you noticed that another range with this design was in one of the photos we have above? This range – plus the classic look of this kitchen made a whole difference!
Vintage Kitchen Stock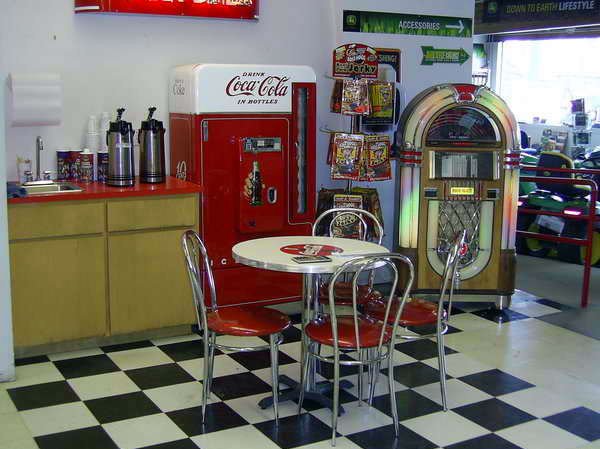 We think you will definitely love this kitchen. Super retro! Vintage signage, an old school jukebox, and coca cola stuff completed the entire Retro/Vintage look.
Vintage Tiny Kitchen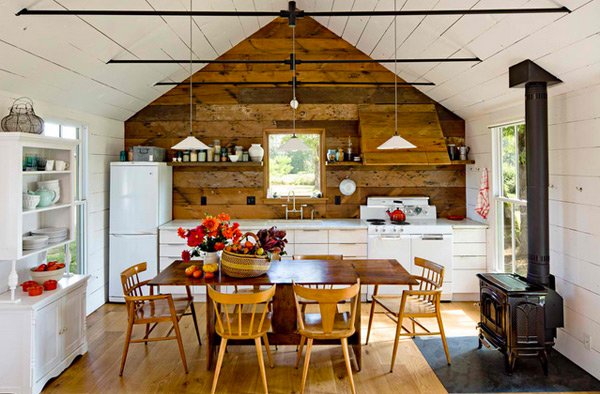 The floor of this kitchen is made of Oregon white oak and the dining table is made of walnut. The range was a vintage find from the internet. Don't you just love the traditional look but with a vintage touch?
Vintage Kitchen Design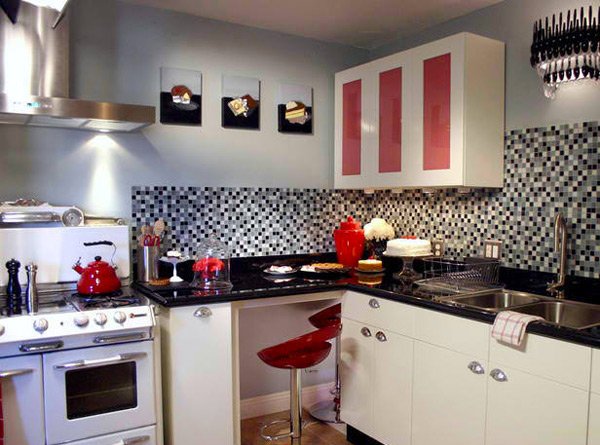 With just the aura for this kitchen, we bet you can really feel vintage – old school yet really modern.
That was the 15 Wonderfully Made Vintage Kitchen Designs that we were able to look up for you. You can search for more ideas like these by searching for items from the said years we mentioned above. These ideas are being accepted by the people because of the inclination we have with history, these things not only remind us of the past we all had, but it also brings us back there, even just a little bit. We hoped you like it guys! But if you want a different style like maybe a Country Kitchen, you can also get some design inspiration here.