20 Beautiful Kitchens with White Chairs
White chairs are added in the kitchen to bring more luxurious appeal.
White is in fact the most versatile color that will go great with anything it is matched and paired with. It is the safest, the most neutral and the simplest yet glamorous color there is! If there is nothing you can think of that would match with the color you want, always think white – it definitely goes with anything and everything! With that in mind, do you know of any color combination that looks best with white? Tell me.
Below is a list of 20 Beautiful Kitchens with White Chairs – you will definitely see the most contemporary spaces with the best staging and arrangement there is; with the most awesome set of chairs and decorations there is. Every kitchen in this list is in fact the prettiest I have seen with the white motif – I am pretty sure that you will love the kitchens because I know I did. The spaces that you will be seeing below might alter your way of thinking about using white furniture in the kitchen, check them out!
1. Barnes Townhouse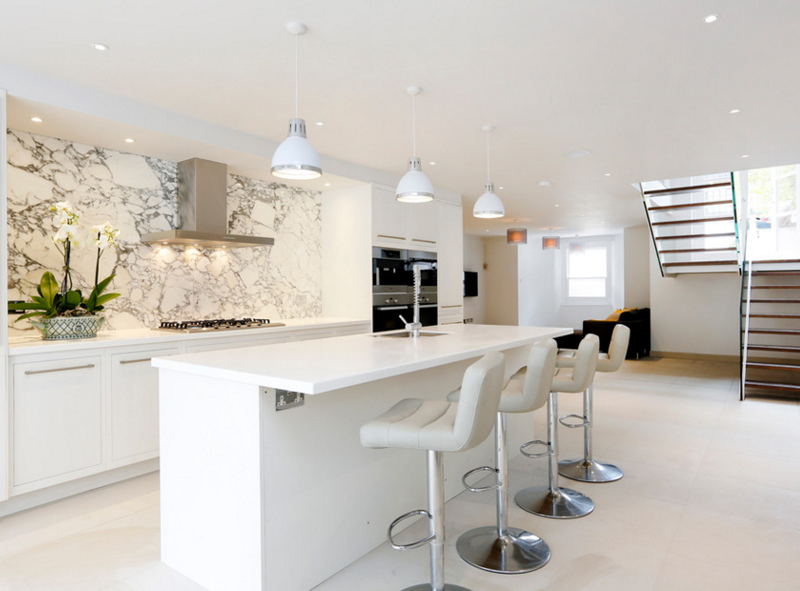 Think what you want, but I think this kitchen is just splendid! From the awesome seats to the neat countertop and fabulous pendant lamps, this is one kitchen to beat! Kitchens like this one does not come every day, and there are a few people I know to be rich but do not have the prettiest kitchen spaces.
2. Boston Kitchen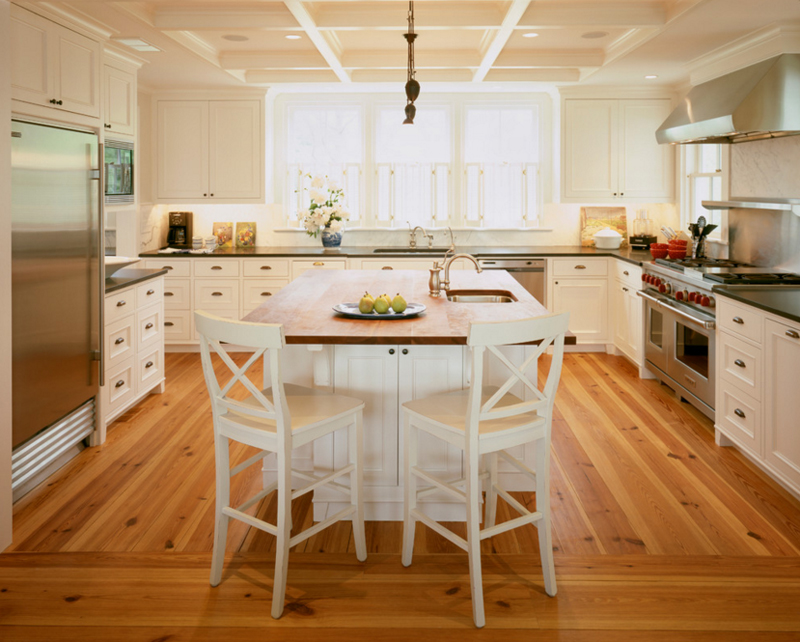 A neat kitchen design ideal for homes where there is one Mum who stays at home to take care of the family. This kitchen looks like the owner needs the large space for cooking and food preparation all day-everyday!
3. Brunstrom Residence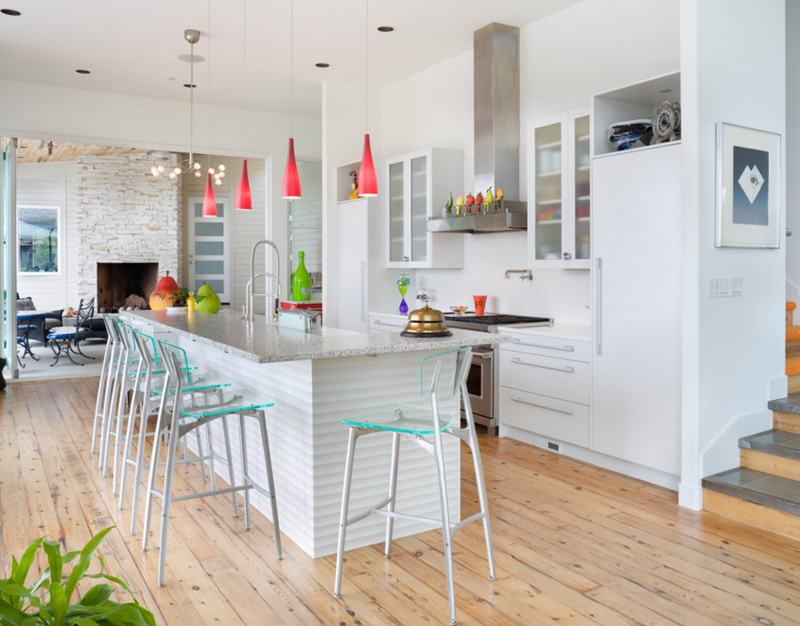 Pink pendant lights add color to this all-white kitchen! From stainless appliances and stools – this sure is one bright kitchen that any teenager would love to hang out in because of how cute and clean this space is. If this kitchen belonged to us, I think I'd be inviting most of my friends to come over so that I can bake for them!
4. City Home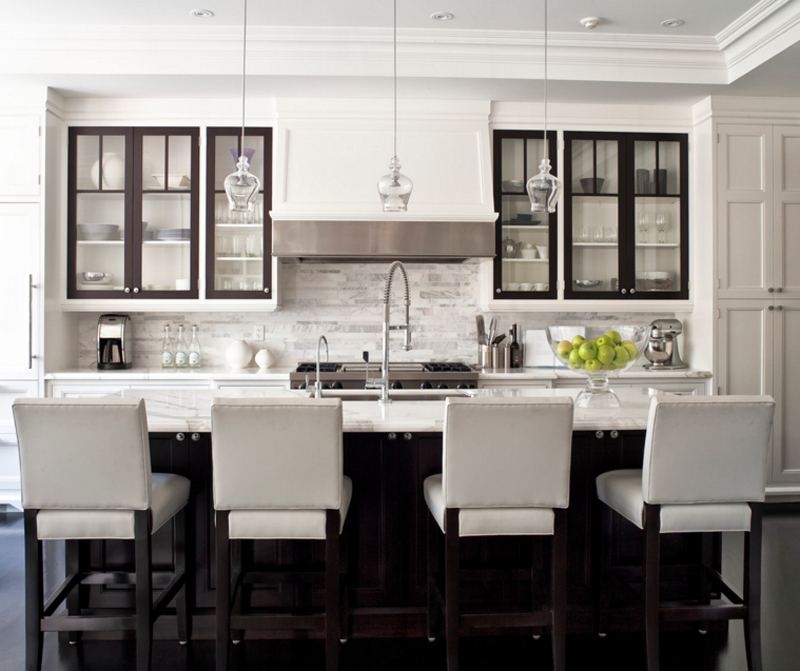 In here we see a brown and white combination for the kitchen and do you notice how regal this space looks like because of the color palette? I'm guessing that this would work all the time but people would not necessarily choose this color combo all the time.
5. Clapham Painted Shaker Kitchen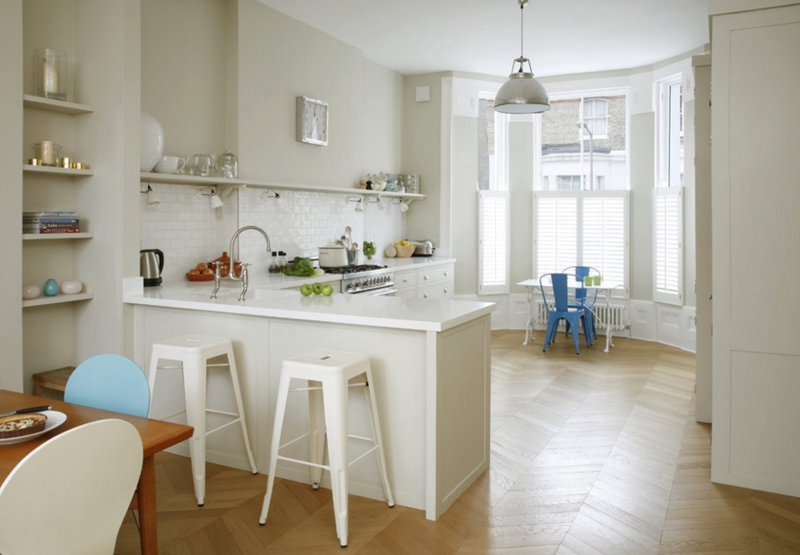 Here is one simple loft that has a small area for the kitchen – but notice how much the color white works well for this space. Another white and brown combination; only this time the brown used in here is much lighter. The white stool that I think you can easily get in your local hardware store looks great against this small countertop.
6. Farmsworth Residence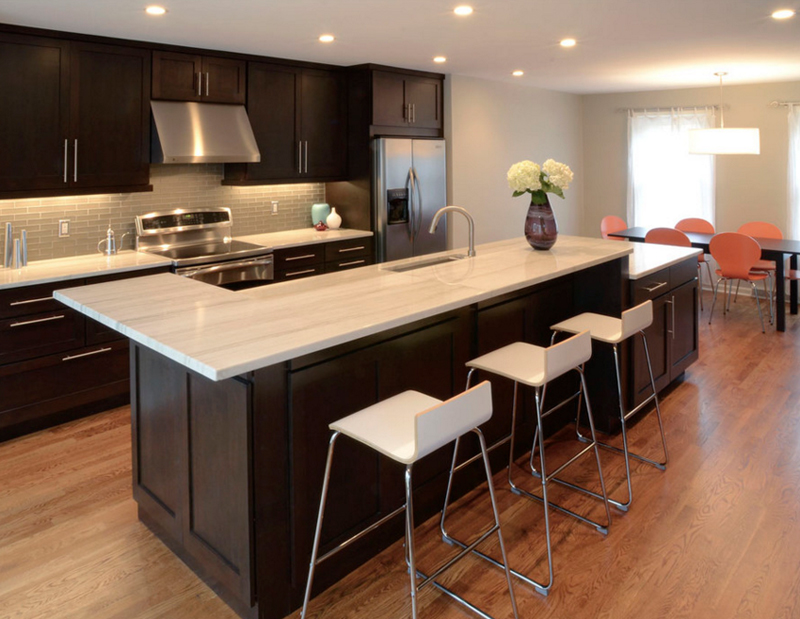 I have already seen this white kitchen bar stool in the small department store in our area – and I think even when the design is quite common, the look works all the time – even in traditional kitchens; but this especially works if the space of course is contemporary or modern.
7. Sherwood Kitchen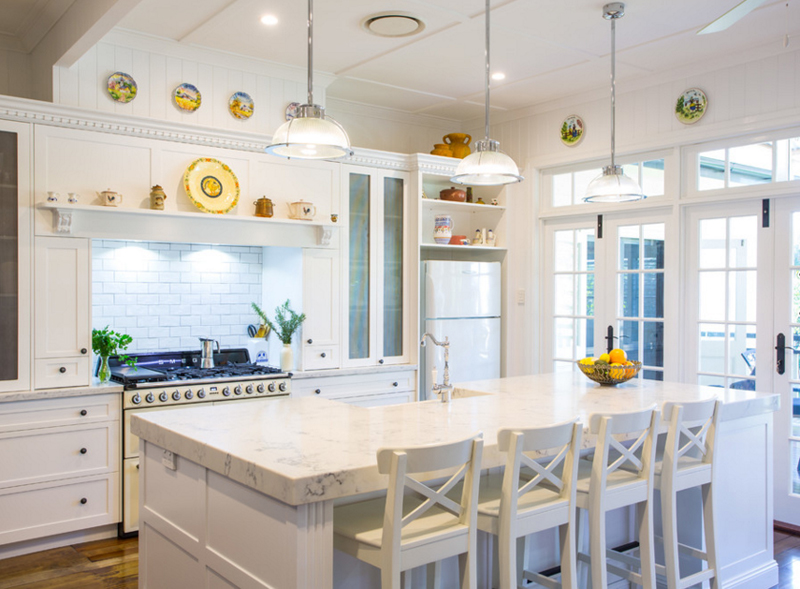 This is one Hamption-style kitchen that shows us how much living in an uber white space would look like. Fabulous appliances and decoration, stunning furniture and lighting fixtures! What do you like about this space then?
8. Kitchen for Jonathan Williams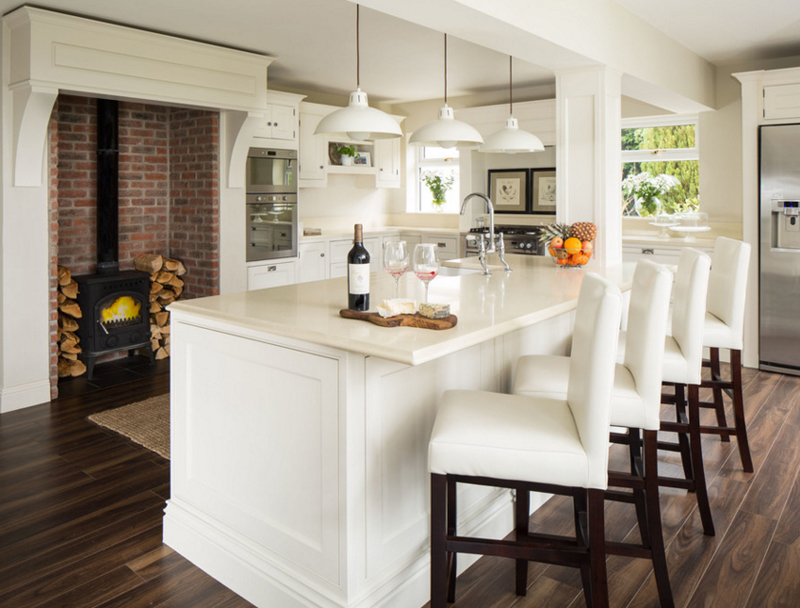 Whoever Jonathan Williams is, I think that he is really lucky to have a stunning space like this one. He has a clean space where he can prepare his food and drink his wine and just maybe relax and de-stress.
9. Traditional Kitchen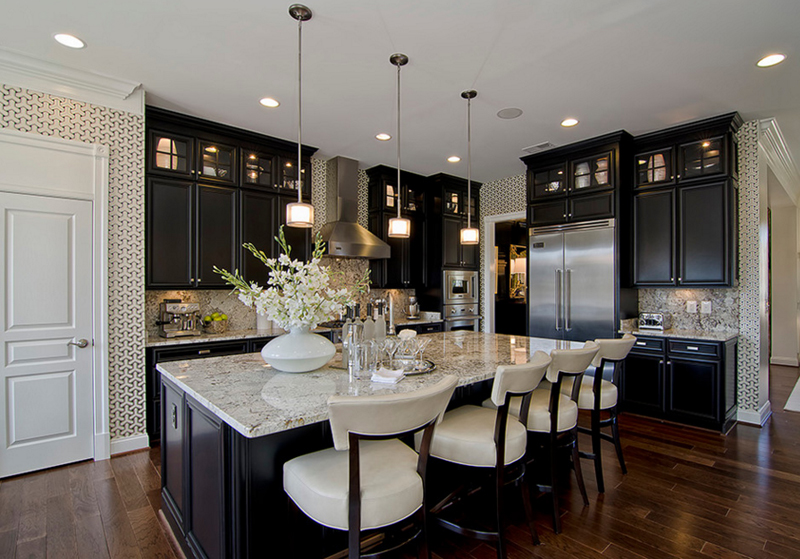 A black and white kitchen may be the most basic color combination choice for a contemporary space – like the kitchen! It's a safe choice because it always works and will always work. The white chairs in this kitchen is a charmer as much as it looks really comfortable.
10. Leawood, KS Colorful Kitchen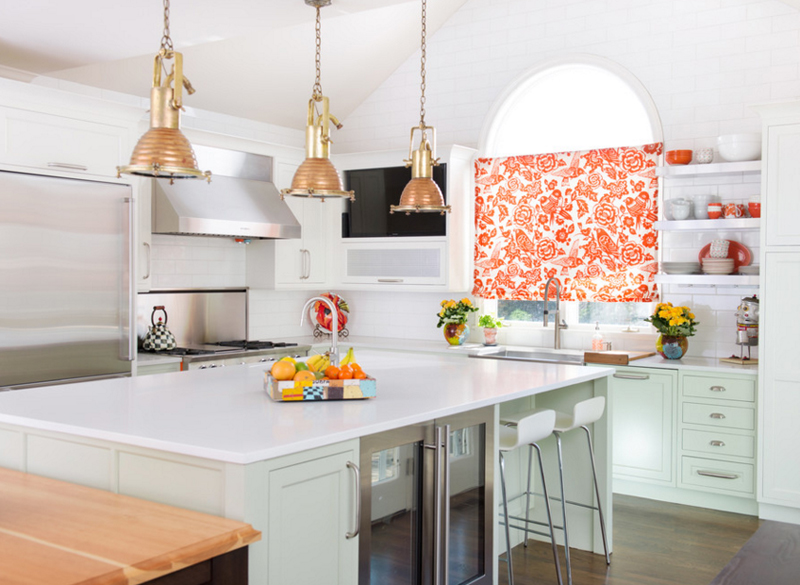 What a pretty little thing! The color of the drape on the window and the color and design of the pendant lights, this is one neat kitchen ideal for cooking and Instagram! However common the white chairs are in this kitchen is, it's still looking fab!
11. New York Transitional Kitchen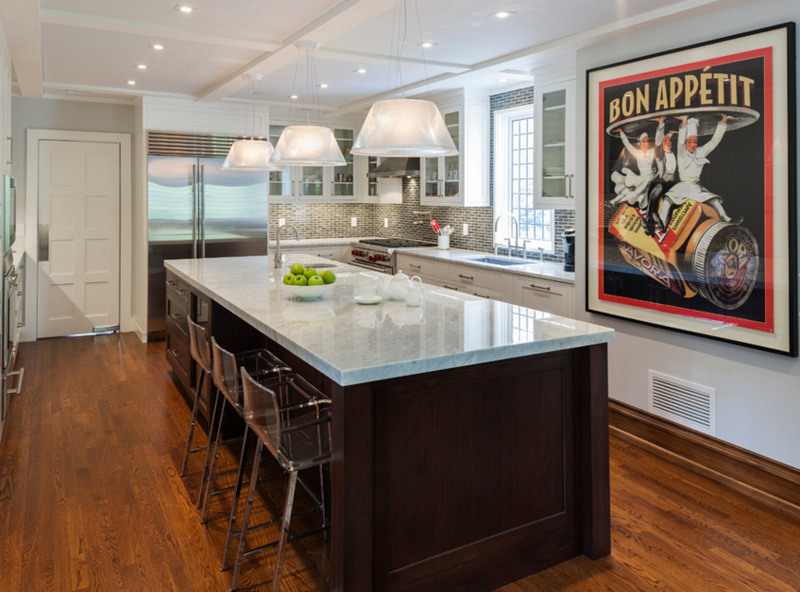 The ghost chairs in this New York kitchen gives way to a transitional space that everyone would surely love. With the feel of the traditional space and the look of a contemporary one – this kitchen is for the books.
12. Pemberton Addition Renovation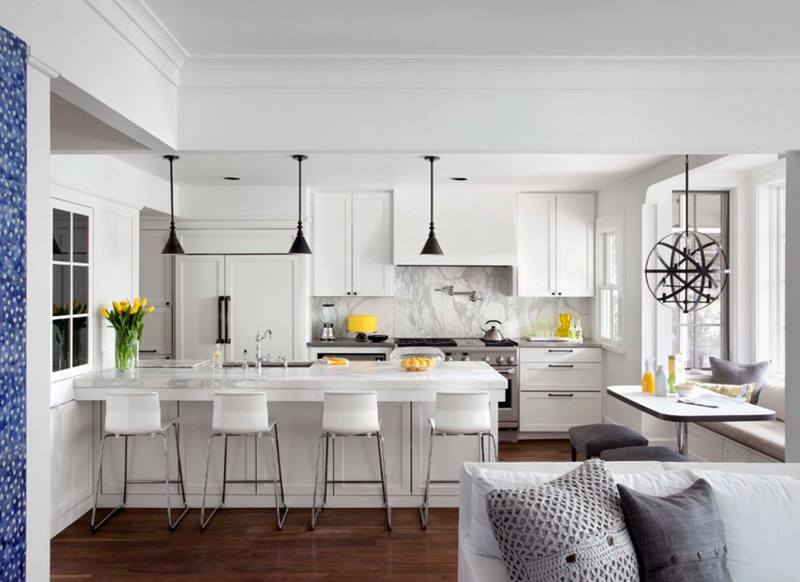 One fancy kitchen that is adorned with stunning furniture and awesome lighting fixtures – this white kitchen is a result of a recent renovation. I can't say how the old space looked like, but I think one looks great enough for us to see it online!
13. Roundhouse Minimal Kitchen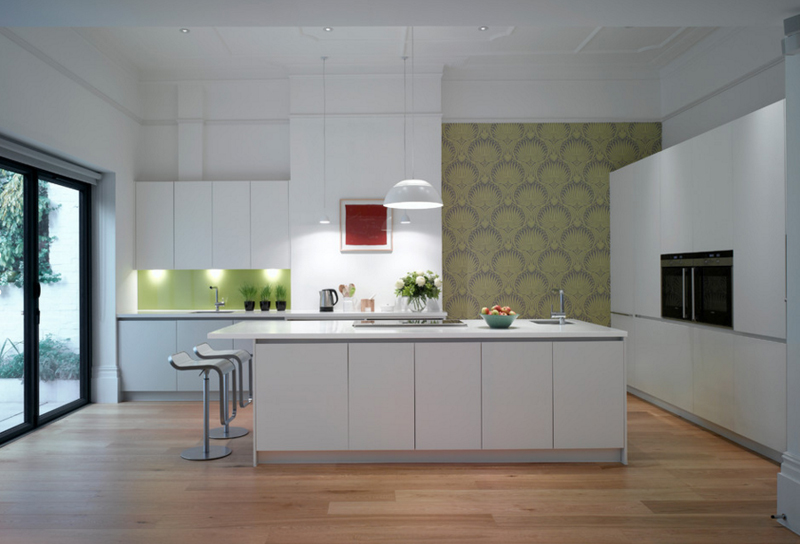 The accent wall by the far right sure creates a dramatic approach to this minimalist kitchen space. A large space with tons of circulation and a space worth the praises, this is one great design from Roundhouse! Applause, applause for people who have the best kitchens and invites their friends over!
14. San Francisco Traditional Kitchen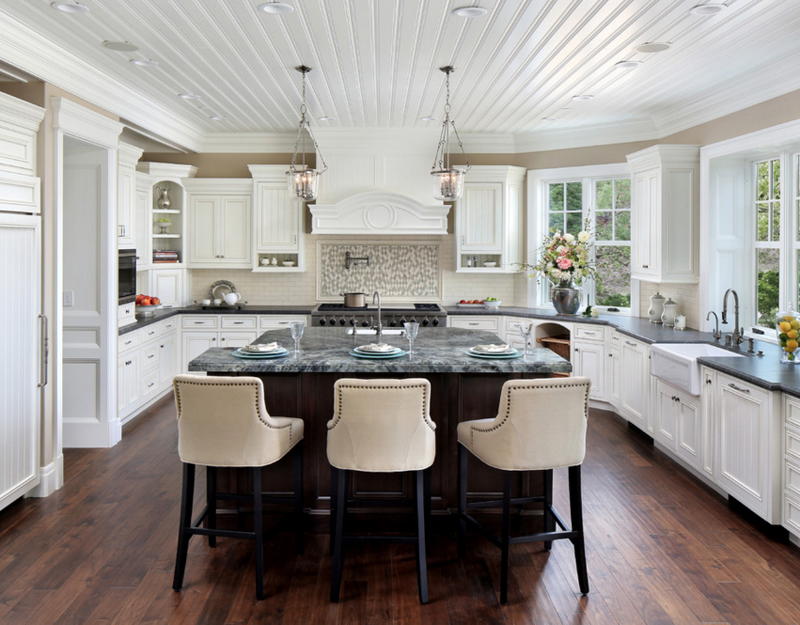 A beautiful San Francisco kitchen that has everything that you need for food preparation and cooking. The beautiful pendant lights complement well with the white comfy kitchen stools. Let your family members and friends come over every weekend for tea and home-baked cookies and I bet they'd suggest you open a store.
15. Soothing White and Grey Kitchen Remodel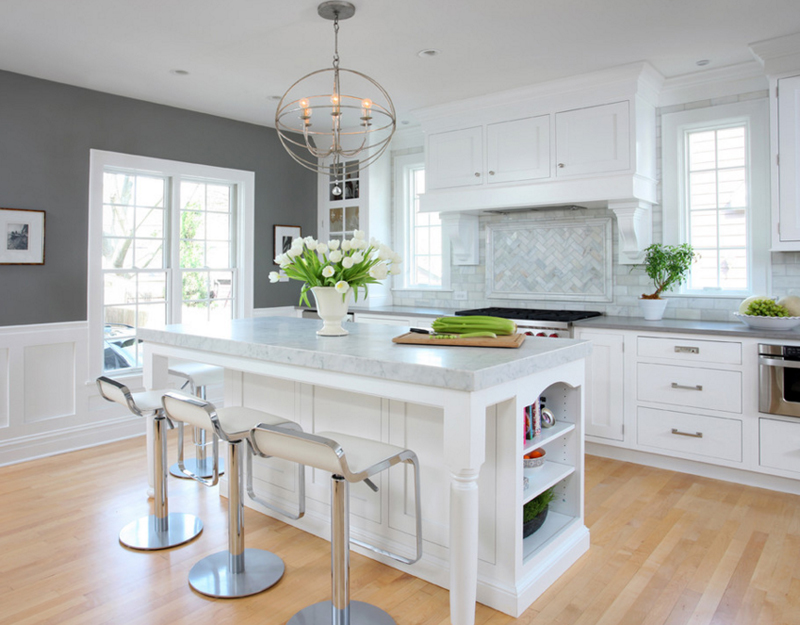 See the stunning pendant light? I just love it! It is super beautiful and unique. This kitchen might look small, but take all its beauty in; I think anyone with this kitchen would love staying in there and bake all day for the family.
16. Suburban New Home Remodel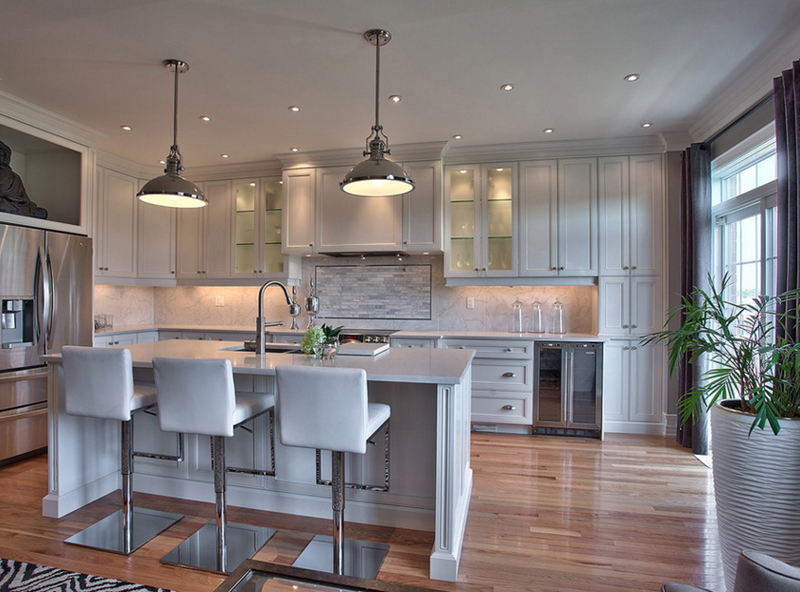 Industrial pendant lamps paired with the slightly modern kitchen stool design – yay or nay? I think that this is one stunning set that is quite expensive but worth every penny! That's for sure!
17. Toronto Kitchen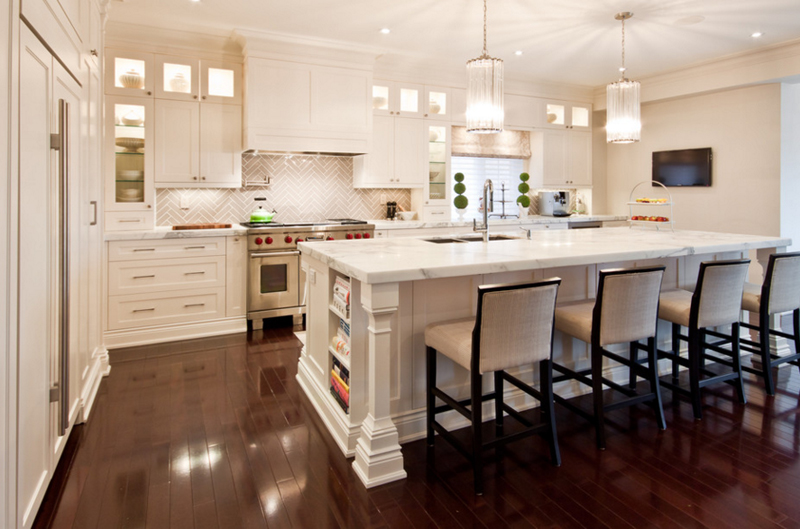 I think that this is one extravagant kitchen space! With a large kitchen island which is adorned with two stunning pendant lights and four awesome comfy chairs! I think that this is white and it sure will bite!
18. Villa Nirvana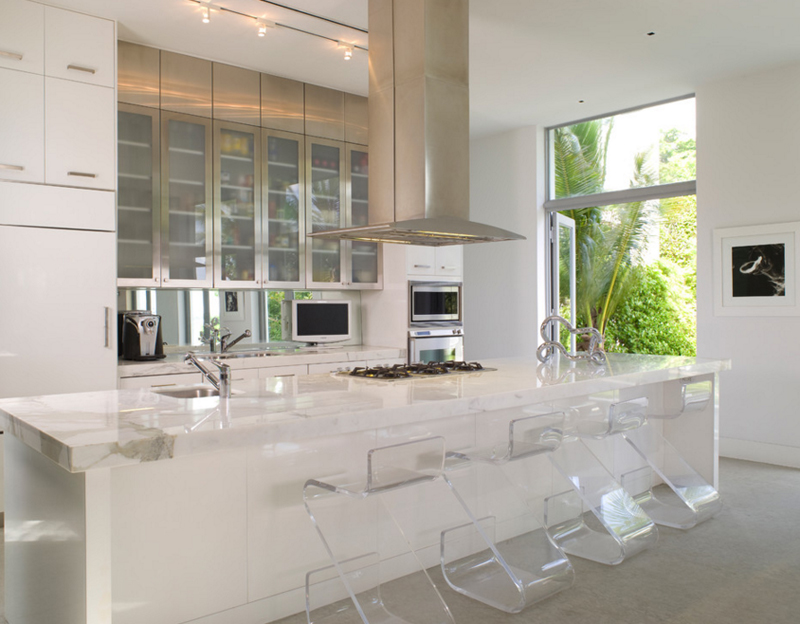 A beautiful and contemporary kitchen with the most awesome ghost chair there is! Haha! The countertop on this awesome kitchen island looks far expensive than my stuff is worth! Haha.
19. Wanborough, Swindon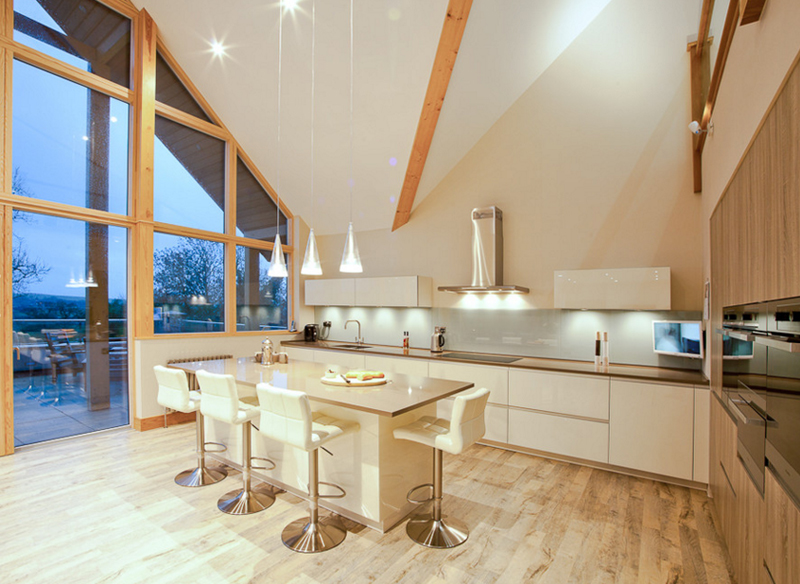 This space sure has a high ceiling! Pretty expensive to maintain I should say! Haha. Well, of course I do not think that it's much of a problem for the home owners who surely love this home. What do you think about this home in Wanborough?
20. White and Wonderful Kitchen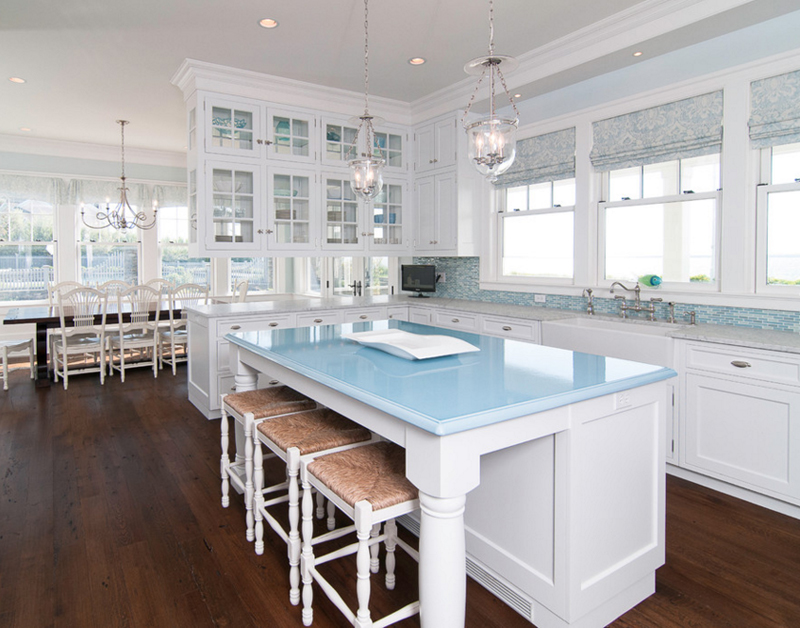 Last but surely not the least, this white glorious kitchen looks something inside the ship or a large boat. This space looks like the inspiration is in fact from a vessel in the sea. From the color to the feel, this is one kitchen for the magazine.
If you think about white chairs – we have a lot of them in here at Home Design Lover that you can check for design inspiration. Like the 25 Living Rooms with Beautiful White Chairs. I think that the spaces in this list were made much prettier than the next and I think you will love each of the kitchens in this list because of the wonderful designs they have. Whether we are talking about the white chairs in here, the kitchen islands or the pendant lights – this space is just splendid!