25 Stunning Kitchens with Tiffany Lamps
If you are a fan of TIffany lights, here are some that you can see in the kitchen.
It is common for us to see beautifully designed pendant lamps or chandeliers in kitchens. In today's generation though, we see more and more contemporary and modern designs of lamps than those traditional or even vintage type of lamps; but for today we will be sharing a special type of list – a list of 25 Stunning Kitchens with Tiffany Lamps.
Below, you will be seeing different kitchen designs that are adorned with beautiful Tiffany lamps. They come in different numbers, sizes, color and design combination that I think totally complemented the spaces and made each space more and more interesting and prettier. Check them out.
1. Adirondack Style Kitchen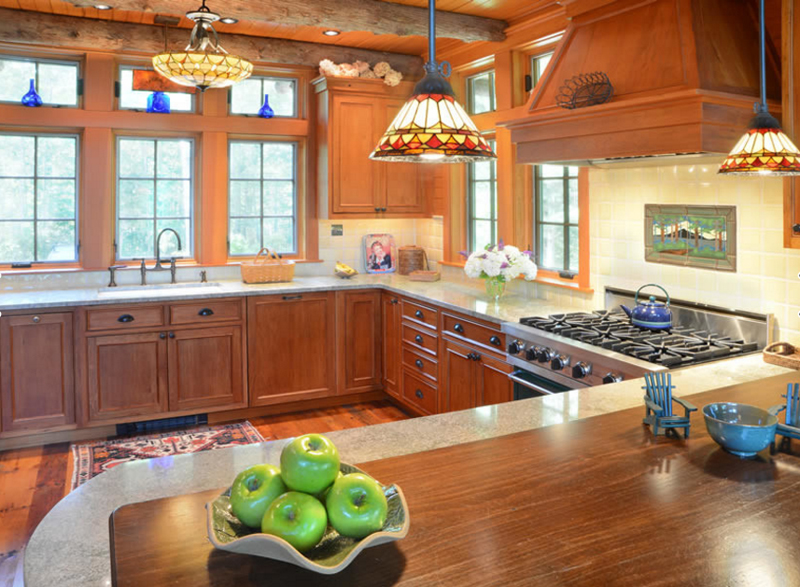 Notice that there are two different styles of Tiffany lamps in this small Adirondack style kitchen. The colors of the lamps really complement the color of this kitchen. Right?
2. Beach House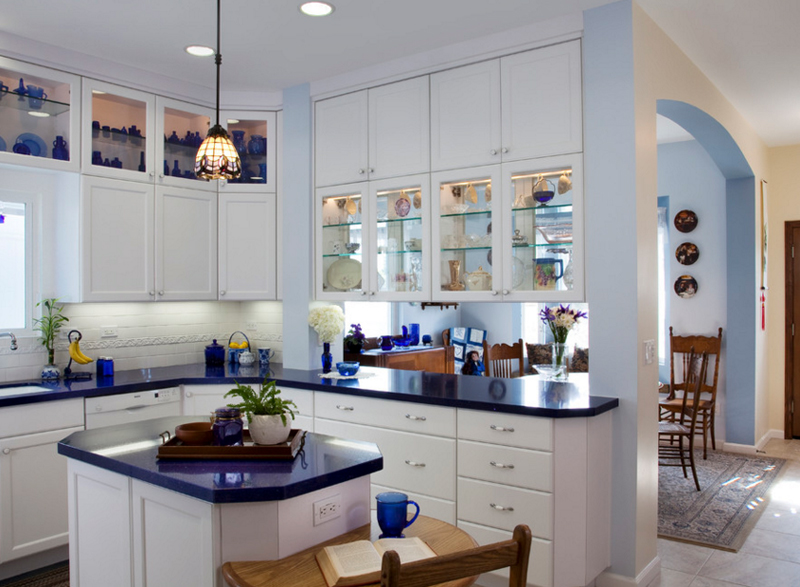 This San Diego beach house sire is neat and really pretty. I can't imagine letting anyone sandy or wet come inside this clean house because of how hard it would be to clean up! Haha.
3. Black Residence Kitchen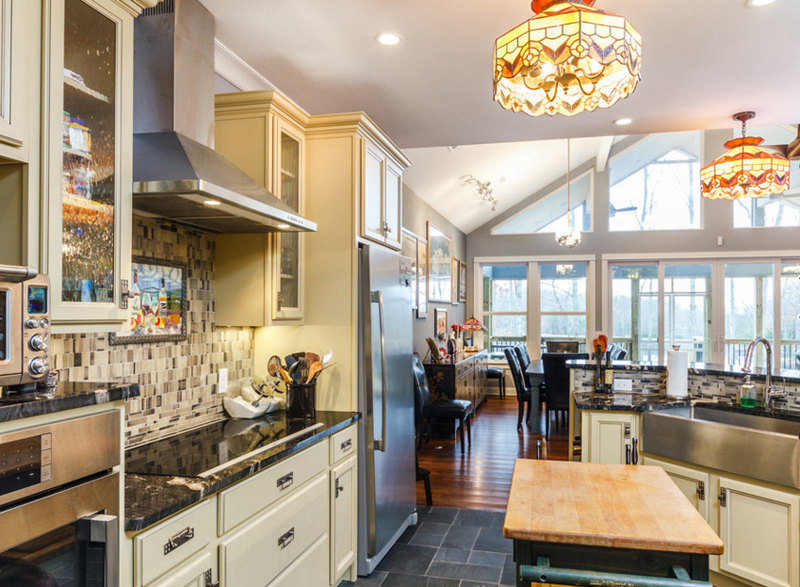 The kitchen in this home sure is tidy and pretty. Adding the Tiffany lamps to it meant adding a bit more color and love to this space. Notice that the kitchen has neutral colors and the Tiffany lamps added a bit of color to this area.
4. Briar Rose Kitchen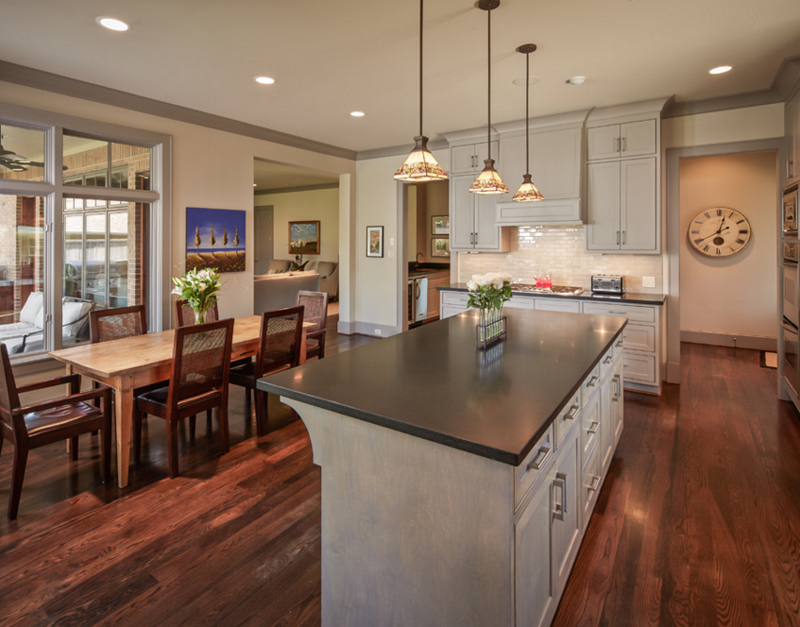 In this kitchen, like most kitchen spaces that we see online – the bar or kitchen island is decorated with at least three pendant lamps. This wide kitchen and dining space is earthy and really nice.
5. Buehler Kitchen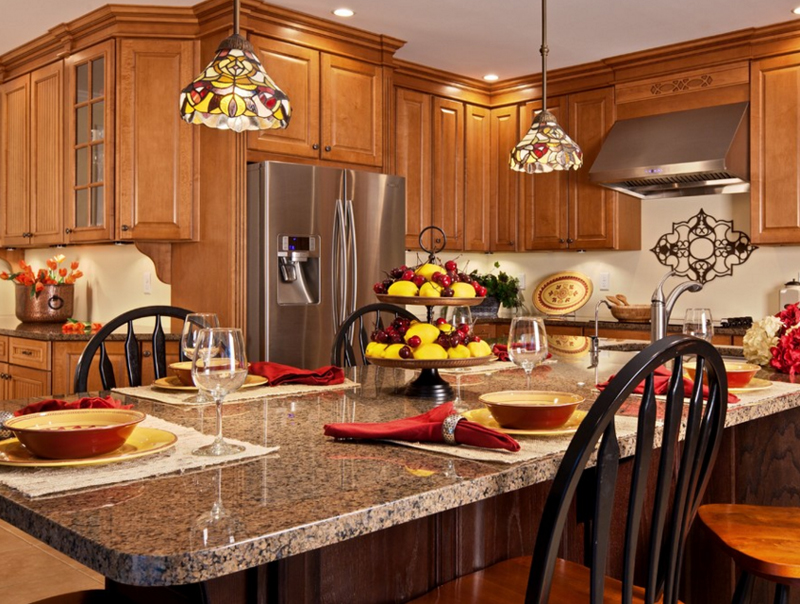 The traditional look and aura of this kitchen is quite common – with those wooden cabinets and granite countertops, but the Tiffany lamps are the catch – they add a bit of drama instead of using those industrial or contemporary pendant lamps like other kitchen designs we see in the internet or the magazine.
6. California Spanish Home Remodel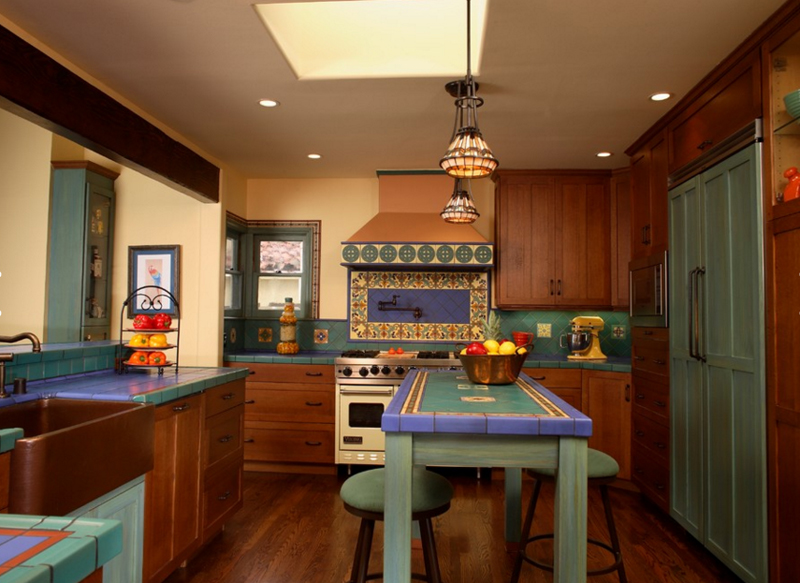 This Spanish home in California has the most ideal space for the Tiffany lamps. With the colors and designs on the tiles, the Tiffany lamps just somehow blend with them. Totally flawless.
7. Charlotte Mediterranean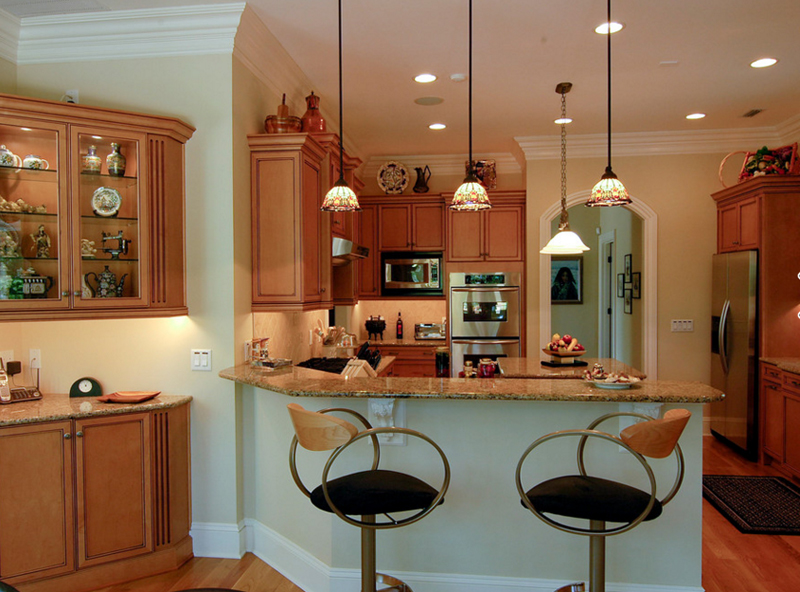 I like the kitchen bar stools in this picture. They seem contemporary but still traditional in a sense. If you notice the cute-sized Tiffany pendants, they have this details that make them the center of attraction by this area.
8. Colorful Kitchen in Richmond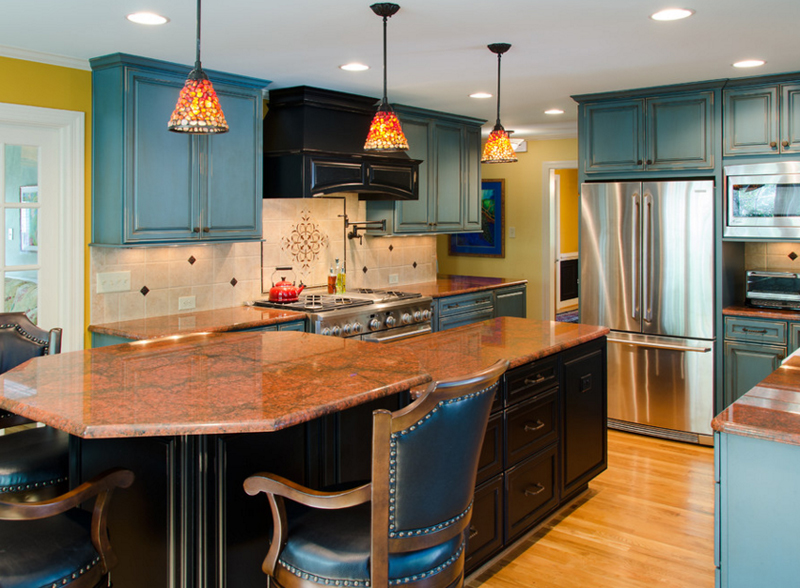 Don't you just like the colors in those Tiffany lamps? Their color is like a ball of fire that makes this kitchen bright and warm. It's combination with the blues in the cabinets and the browns in the countertop create a more fiery ambiance.
9. Mediterranean Summer Kitchen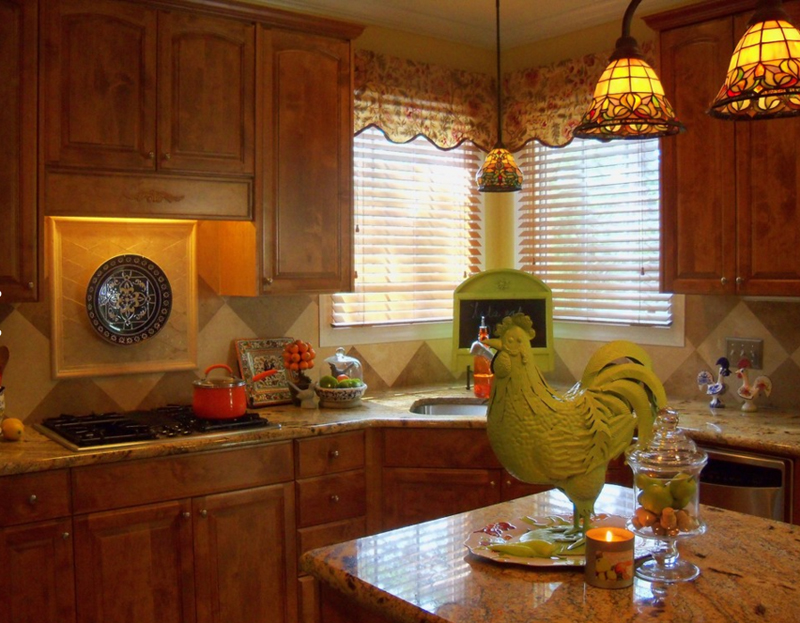 This French kitchen looks like the perfect match for the Tiffany lamps! See that other lamp by the lavatory? Pretty awesome right?
10. Craftsman's Traditional Kitchen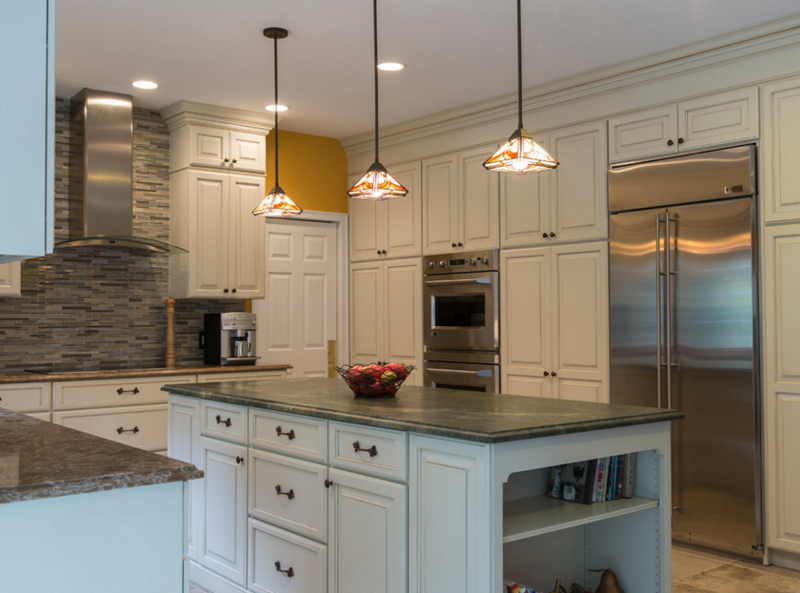 Although there is only a bit of contrast in this kitchen, I still think that the lamps' design adds a bit of color to this Bridgeport home. This cabinet-filled kitchen sure has everything hidden to make sure that the space is clutter-free and organized.
11. Ottawa Cream and Grey Kitchen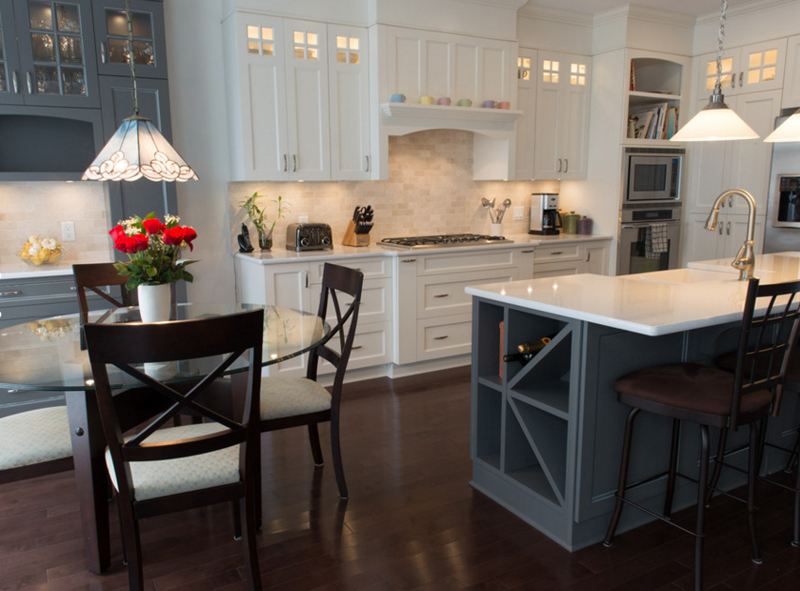 From this angle, I think the Tiffany lamp does not look as gorgeous as it is, but if you have the chance, take a look at the other photos of this kitchen for you to see the said lamp. The design has a blue and white combination that surely blends well with the colors of the kitchen.
12. Chicago Green Kitchen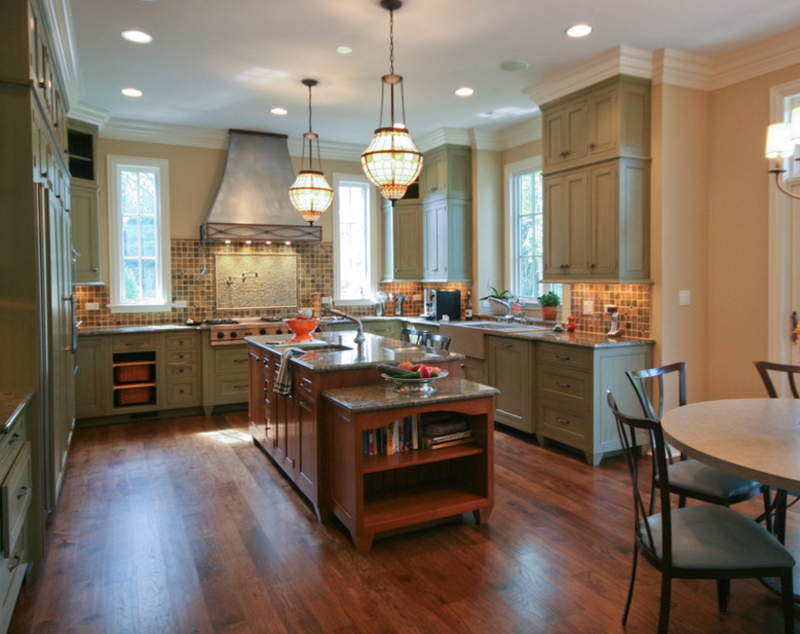 The design of the Tiffany lamps in this kitchen is quite unique – they are large, grandiose and really lovely. The way they light this space is just beyond words.
13. Higgins Beach Cottage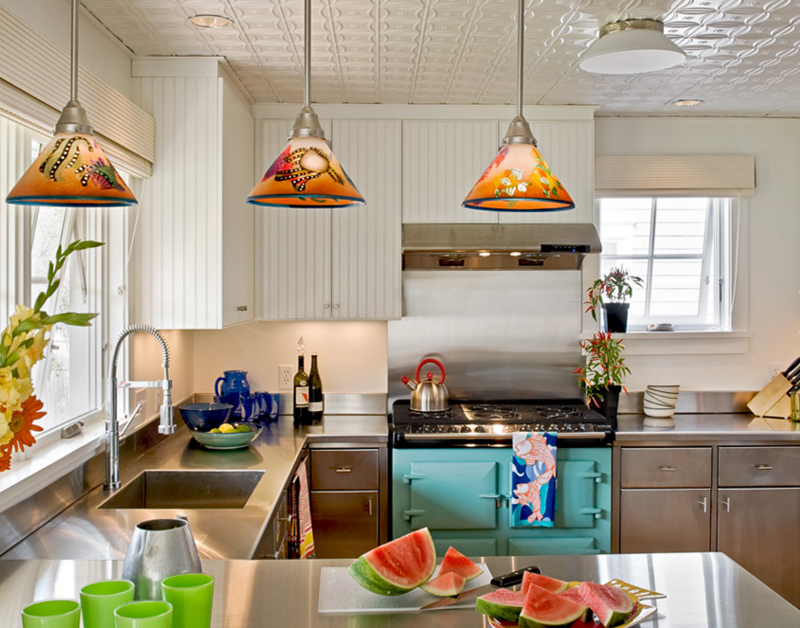 See the design of these lamps? Pretty unusual right? Although that is the case, I still think that it's fun and one of a kind.
14. Incredibly Green Kitchen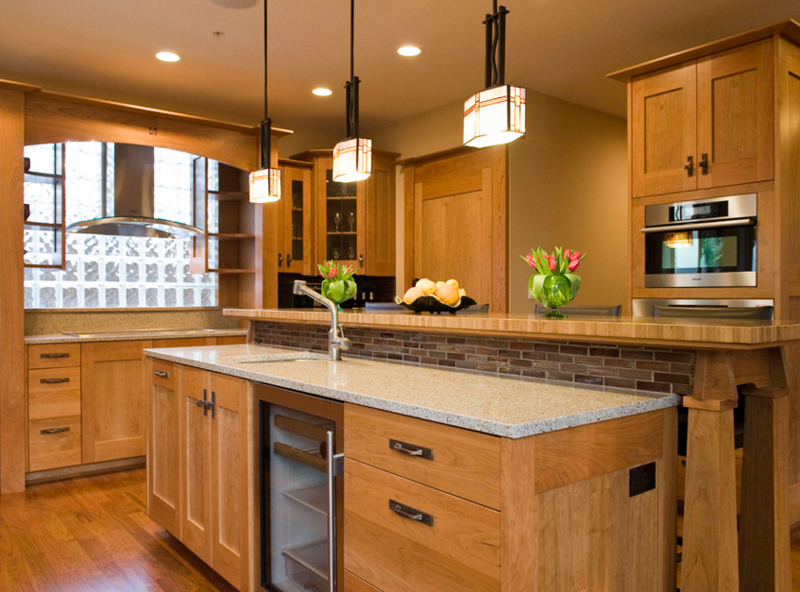 From what we can see, this kitchen is made from eco-friendly materials – somehow expensive but will surely last longer than your regular building materials. The design of the cabinets and the color of the strip on the Tiffany lamps blend well.
15. Transitional Maple Kitchen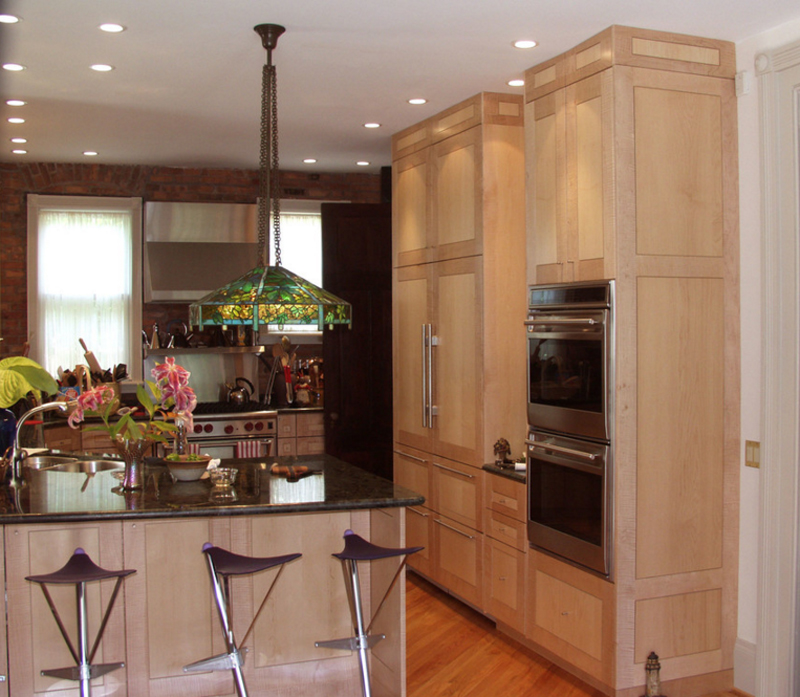 Adding flowering plants or potted plants in general in the kitchen creates a more healthy environment; plus the use of eco-friendly materials sure makes your kitchens more resistant and appealing to Mother Earth – and adding a beautiful Tiffany lamp brings class and glam to your space!
16. Maciakiewicz Kitchen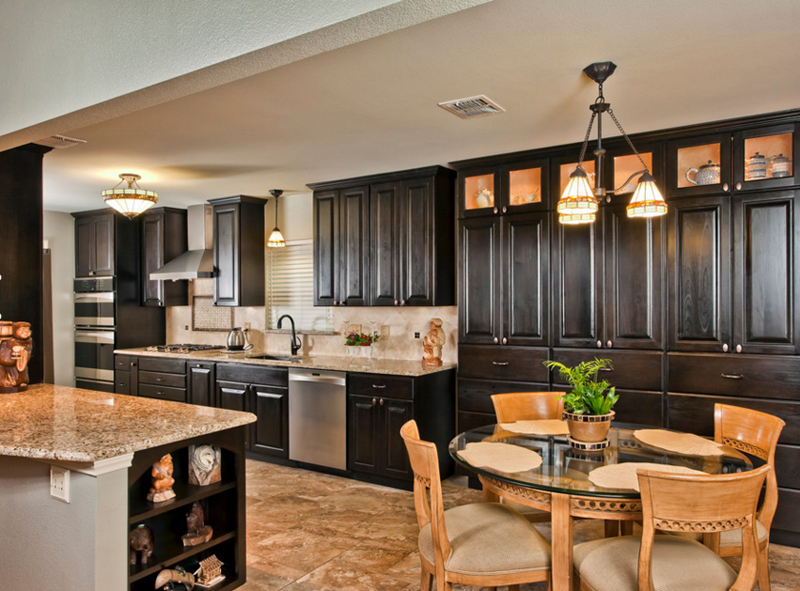 This Maciakiewicz kitchen sure looks sophisticated and solid because of the color palette used in it. I personally like the small dining room table and chair set in here that totally match the lamp above it.
17. Madison Kitchen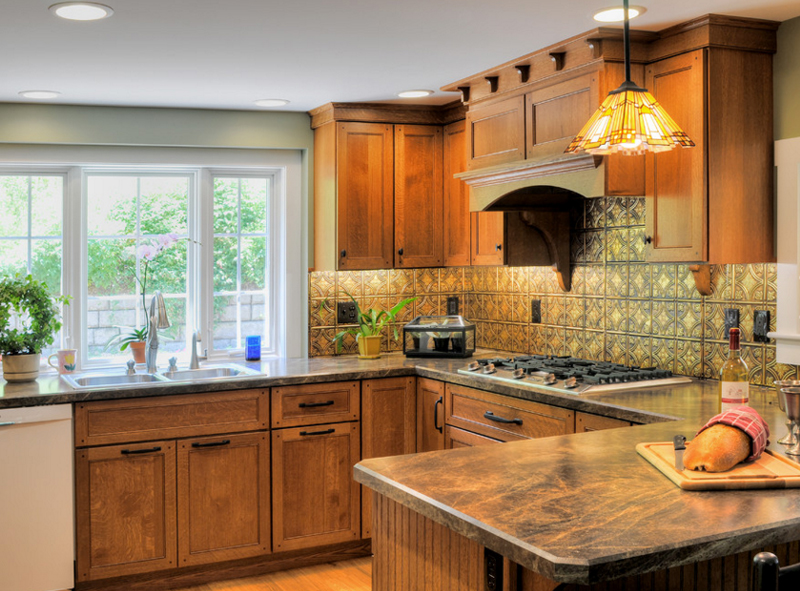 In this picture, we see a simple and homey kitchen. From the color choices to the solo Tiffany lamp – we can even call this a minimalist kitchen.
18. Modern Inset Shaker Kitchen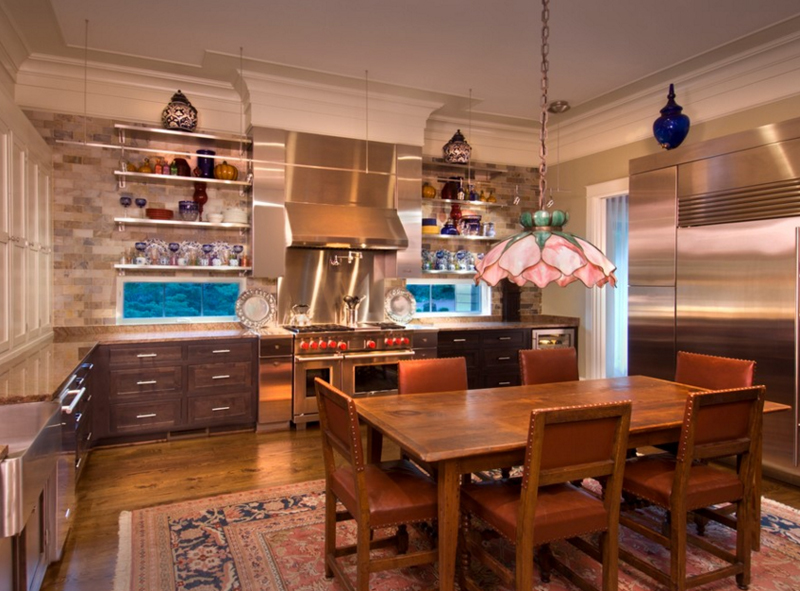 When I saw the Tiffany lamp in this kitchen, I thought I saw a lotus flower and I think it is in fact the inspiration to this lamp. The colors of the lamp is really pretty and because you don't see colors like it inside this kitchen, this Tiffany lamp sure stands out!
19. North Point, Reston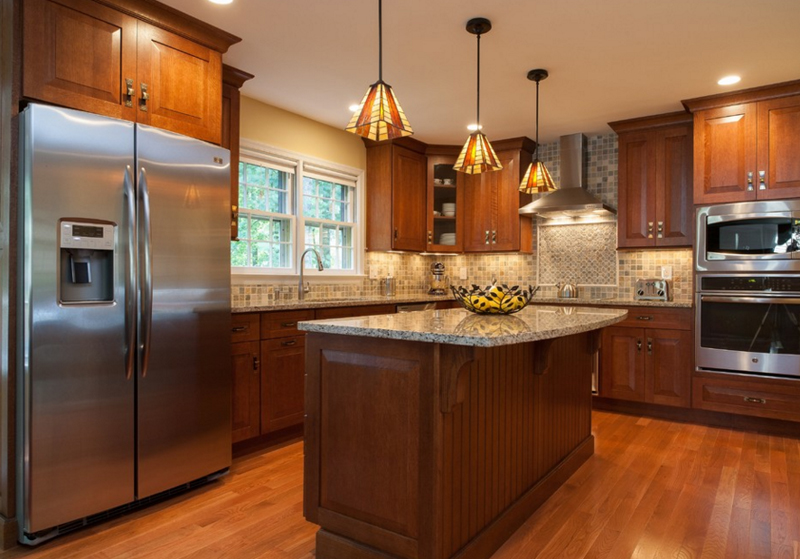 A beautiful kitchen made with the best hard wood available in the area – this kitchen in North Point, Reston is a total charmer. I would think that the home owners love to hang out in here because of the beautiful space – to bake and cook the best meals for the family!
20. Novack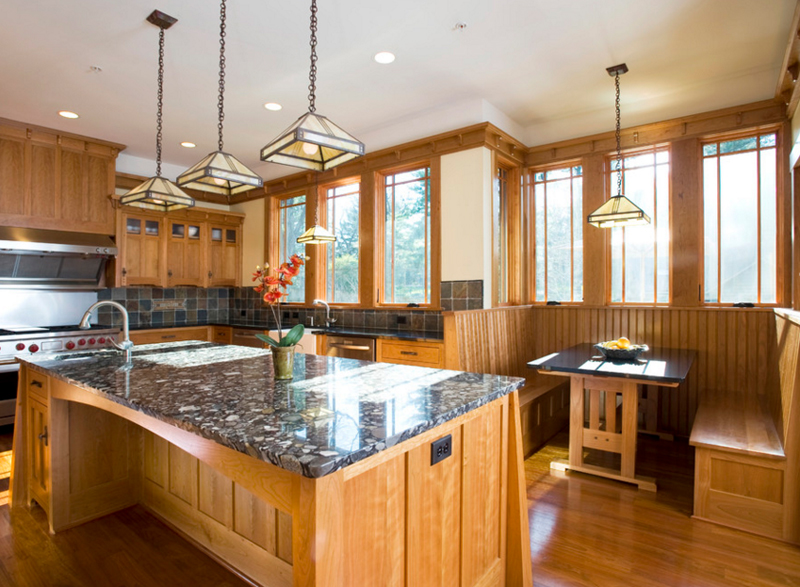 Familiar Tiffany lamp design? Its color contrasts well with this kitchen space with a small nook on the side. Plus, I also think that the windows in this kitchen is quite pretty, what do you think?
21. New York Traditional Kitchen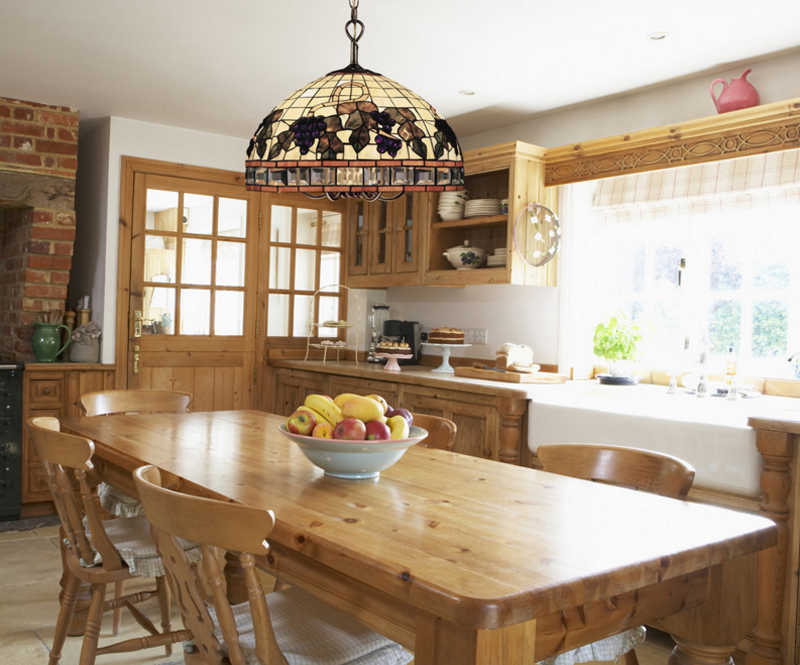 This is a six-light Tiffany chandelier. With its color and detail, it sure is the center of attraction of this New York kitchen.
22. Stoney Pointe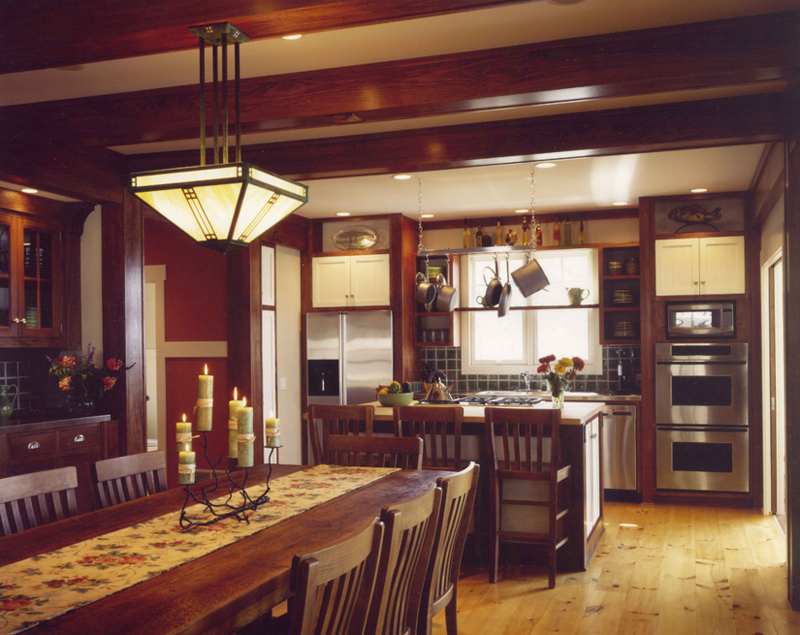 Here is one traditionally designed Tiffany lamp – it is simply beautiful and gorgeous all at the same time. Its base color contrasts with the color of wood in this kitchen and it sure makes all the difference.
23. Traditional Kitchen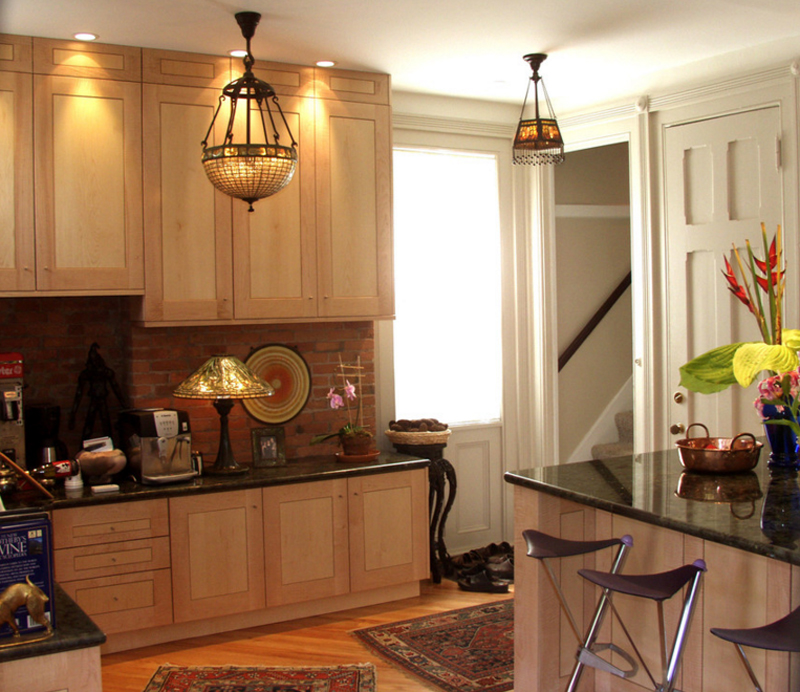 Three beautiful Tiffany lamps – different in type, design, shape and detail but still special in their own ways. I personally like the rounded lamp and I think most people do too!
24. Westbury – Sanford II Kitchen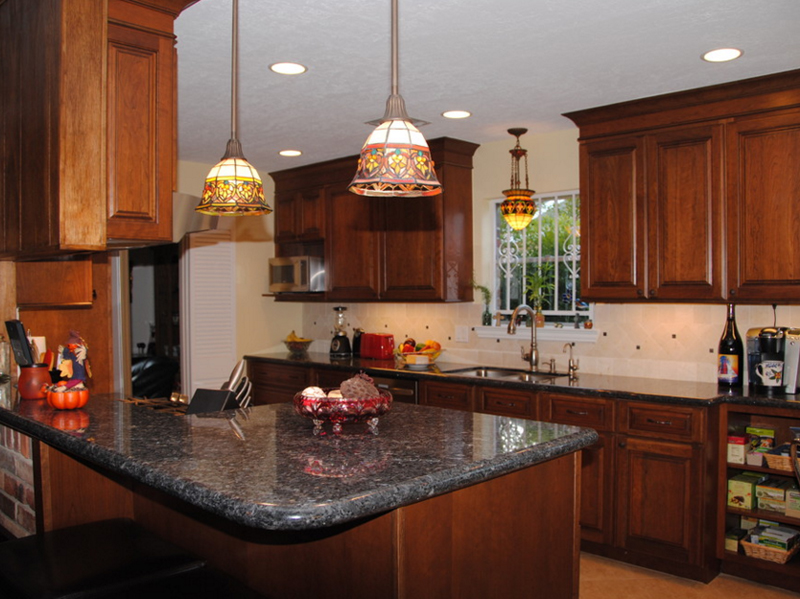 I have never seen this Tiffany lamp design before, but with the shape and detail on it, I think this is one is special. There is another lamp by the lavatory with a different design and shape – I think that it is neat too.
25. San Francisco White Painted Kitchen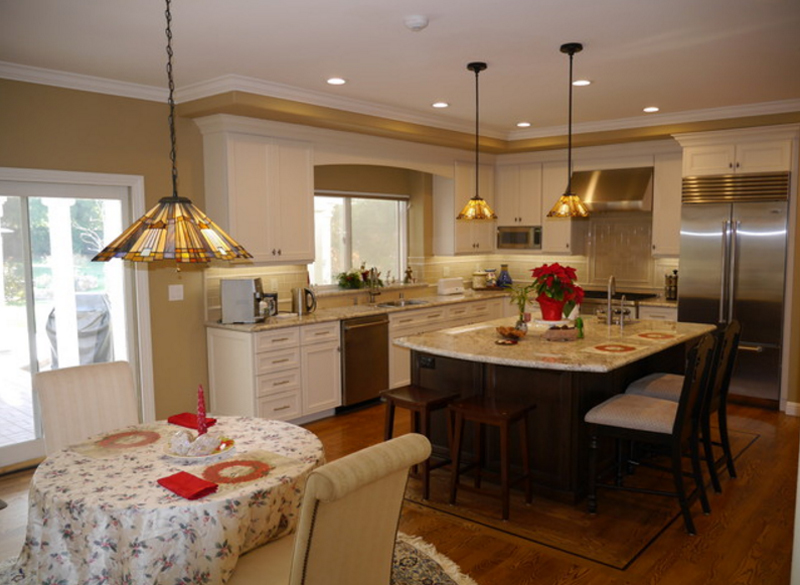 If I am not mistaken, the three Tiffany lamps in this kitchen have the same design. I saw a Tiffany stand lamp similar to the design of this lamp and it sure looks neat and cozy to stare at, right?
Like me, I think that you would agree that this list is in fact a fascinating one. From the designs of the lamps, to the design of the spaces – each kitchen is made prettier with the wonderful designs of each Tiffany lamp. With that in mind, take a look at the 15 Intricate Tiffany Table Lamp Designs and tell us what you think about how you think and feel about the Tiffany lamps.