20 Brown Kitchen Cabinet Designs for a Warm, Natural Look
The color of the kitchen cabinets bring life to the area. We would agree with this because apart from the backsplash, the only item in the kitchen which we can teak in terms of color are the cabinets.
Most of the time, kitchen cabinets are painted in neutral colors. And one common color is brown.
What do you think of this color?
Well, for many, brown would easily be linked to chocolate and the earth. Although it isn't as sweet as the colors, brown can actually be your best friend when it comes to interior decorating.
Do you agree?
If not, why don't we look into some interiors with brown colors in them? For instance, the kitchen. Well, naturally, we are going to show you brown kitchen cabinets.
Let us see if this will make you love the color as you to the end of the list.
1. Stuart Kitchen Remodel–Medfield, Massachusetts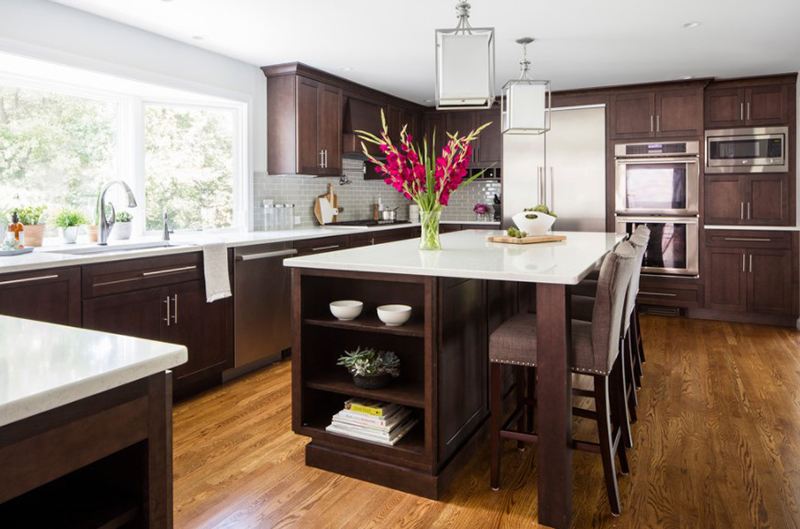 A transitional kitchen with medium tone wood floor looks great with its brown cabinets. It is also nice that there is a contrast between the dark cabinets and the light counter backsplash.
2. Replica New Build Home in Conservation Area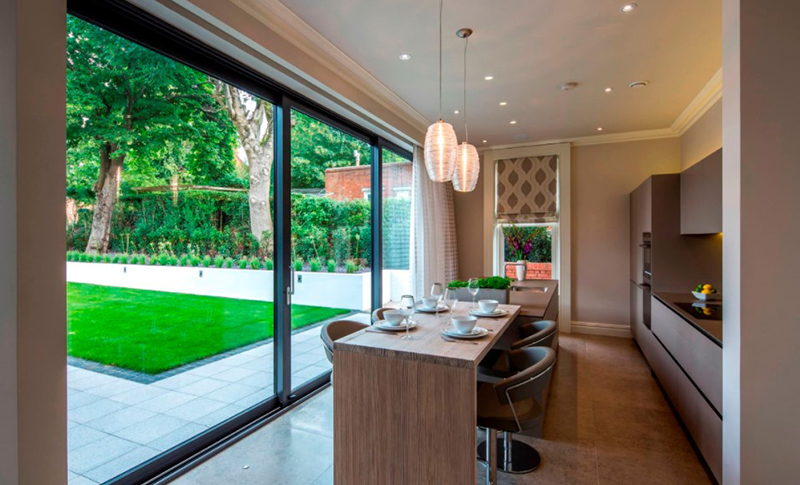 This kitchen has a floor-to-ceiling window that gives it a good view of the garden. It has brown flat-panel cabinets which is a good way to bring a contemporary feel into it.
3. Apartment at Pochtamtskaya Street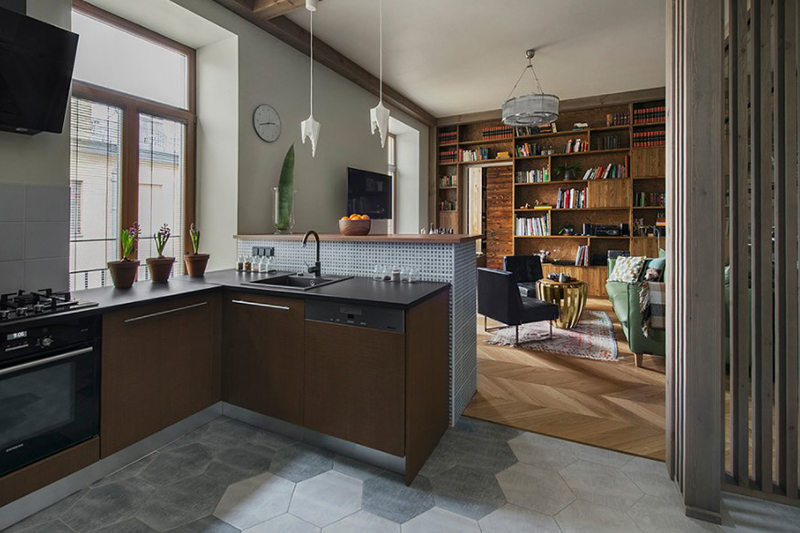 A trendy U-shaped kitchen with gray flooring and brown cabinets. Even if the apartment is small, it has everything one needs for a home!
4. Classic Shaker Kitchen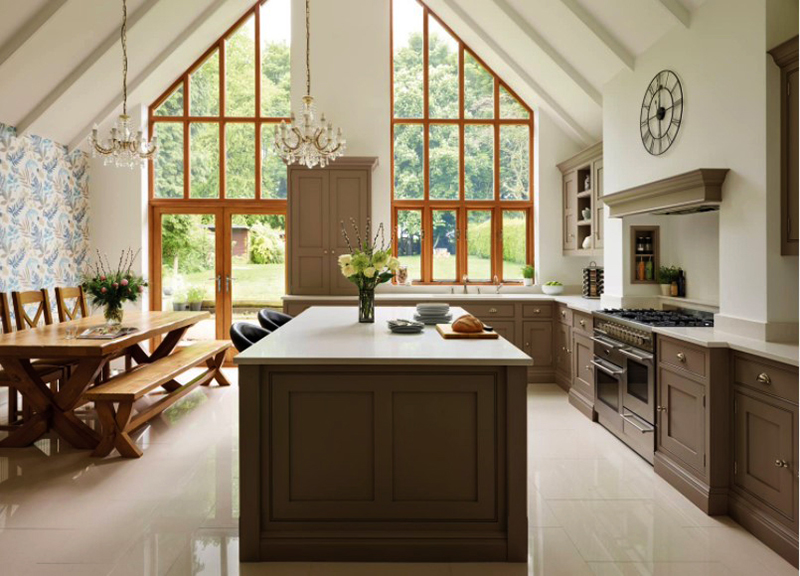 Shaker cabinets are seen in this kitchen with lots of natural light and dramatic features.
5. Gill Street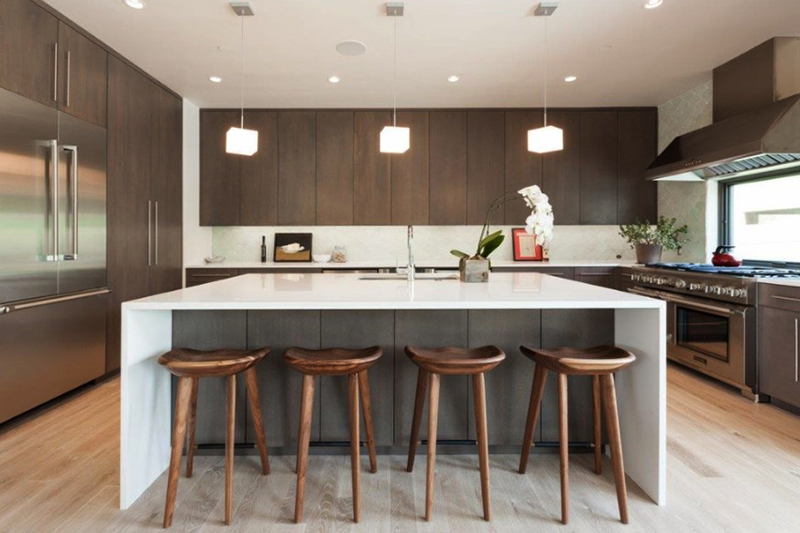 The stainless steel appliances in this kitchen are a good match to the brown cabinets. Isn't it good that this space has sleek features all over it?
6. Central London Apartment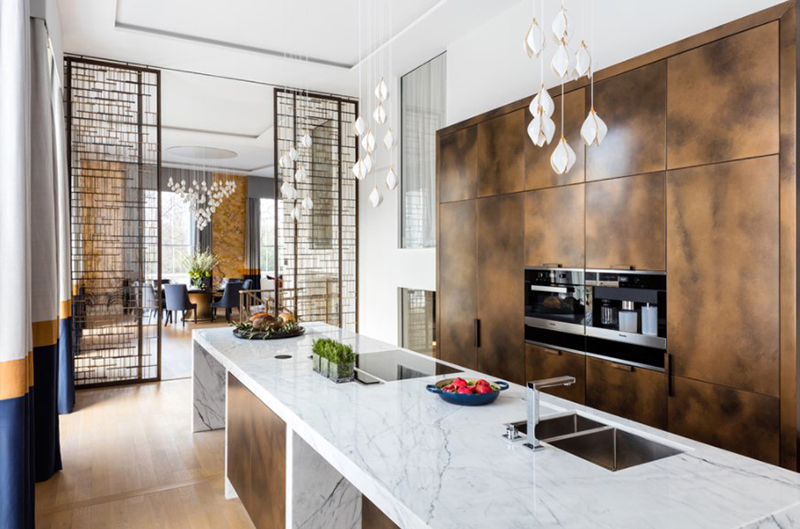 Instead of a plain brown cabinet, this one has some creative painting on it which makes it appear like it has some sort of texture. Overall, this narrow kitchen looks sophisticated!
7. Contemporary Kitchen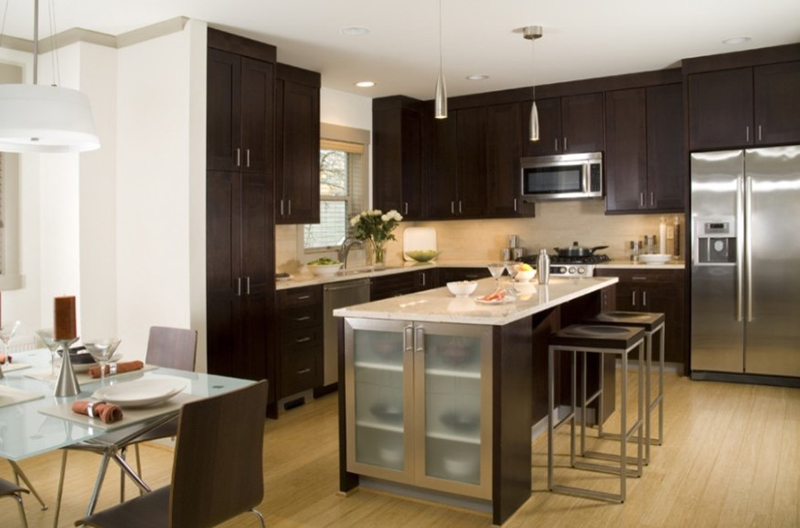 Kitchens like this are common for condominiums and apartments. This is even big but it is perfect for someone who loves to cook.
8. West Seattle – Contemporary
The granite on the kitchen island gives it a luxurious appeal. You can also see here that the counter has a wine storage on it.
9. Mississauga Private Residence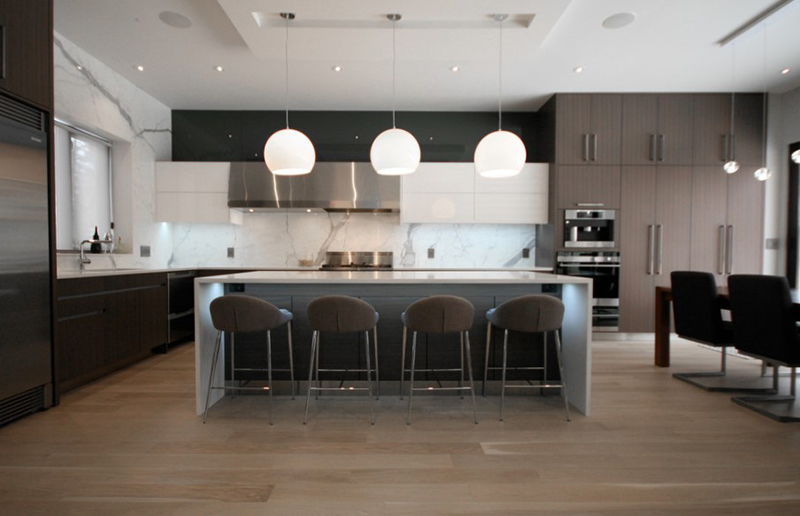 A large modern kitchen that perfectly combines white and brown in it. The lights also add beauty to the area.
10. Big Open Kitchen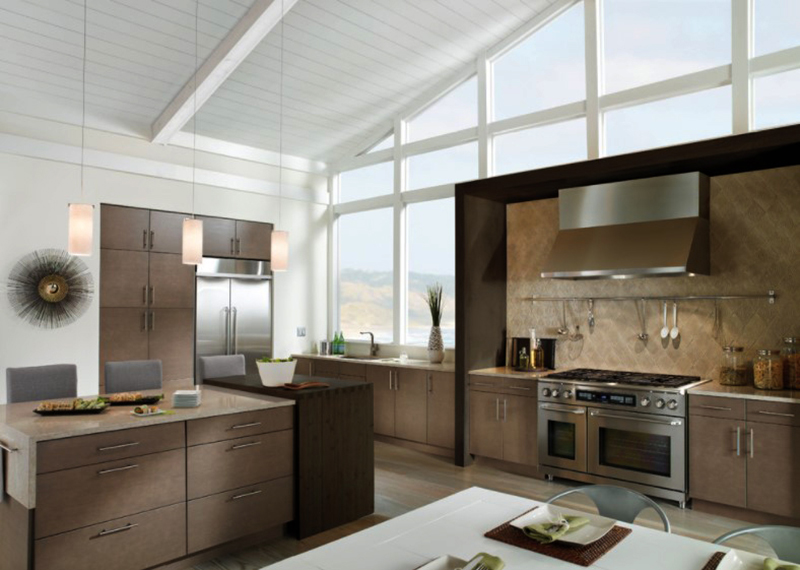 The ceiling of this contemporary kitchen gives it a larger feel. The brown cabinets look great with the beige backsplash and stainless steel appliances.
11. Hampton Beach House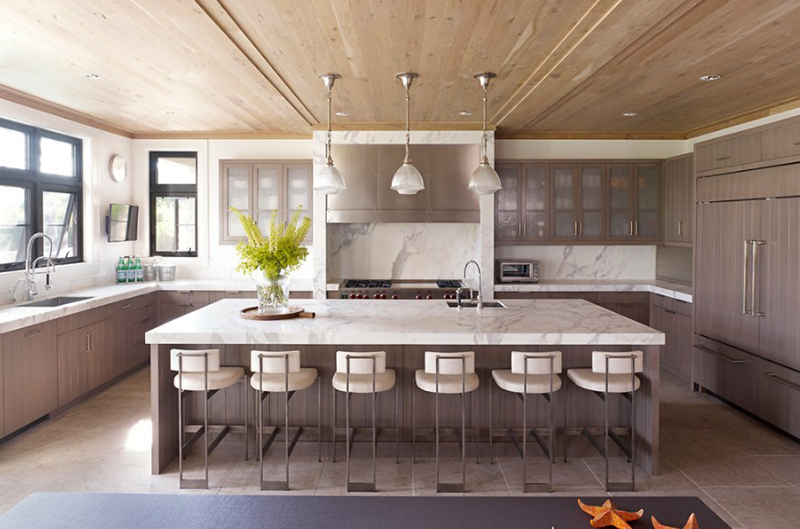 The stone slab backsplash and countertop looks great with brown. The wooden ceiling also adds drama to the space.
12. PH-1 modern prefab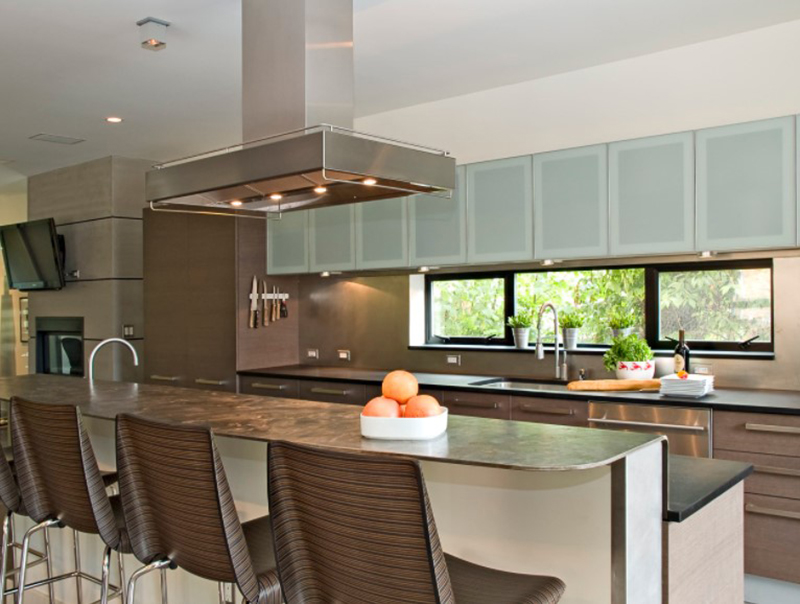 A contemporary kitchen with flat-panel cabinets and a window trio with opening sides near the sink.
13. Valentine Estates Model – Durango Plan – Woods Cross
The backsplash of this kitchen adds appeal to it and it is a good match with the color of the cabinets and the walls.
14. Palo Alto Kitchen Design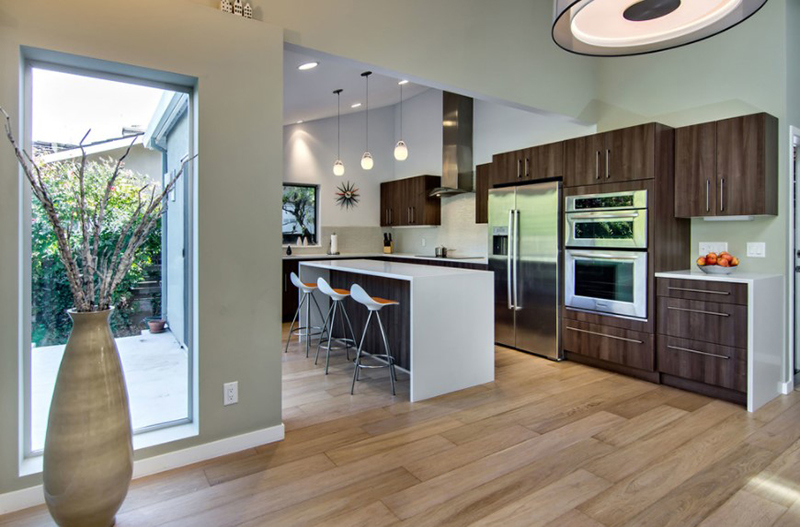 Quartzite countertop is used in here and we can see that the brown cabinets look great with the stainless steel appliances in it.
15. Decora Roslyn Kitchen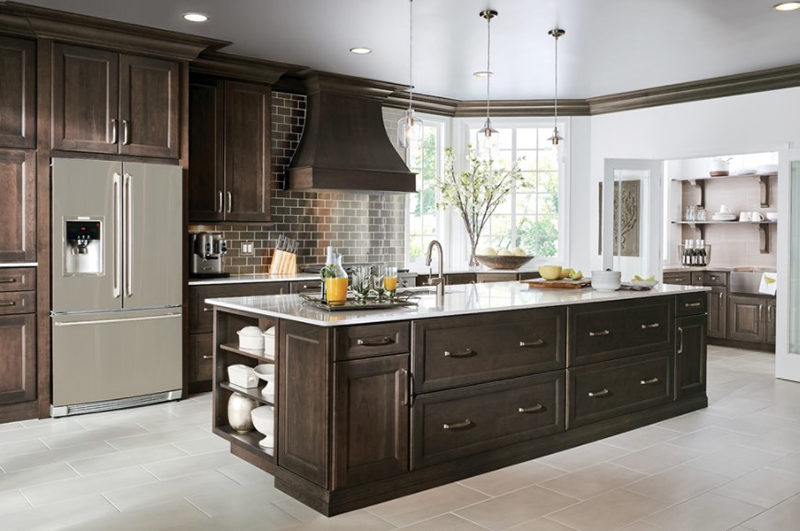 An open kitchen environment and large spanning island allows for easy cooking and entertainment.
16. Dark Transitional Kitchen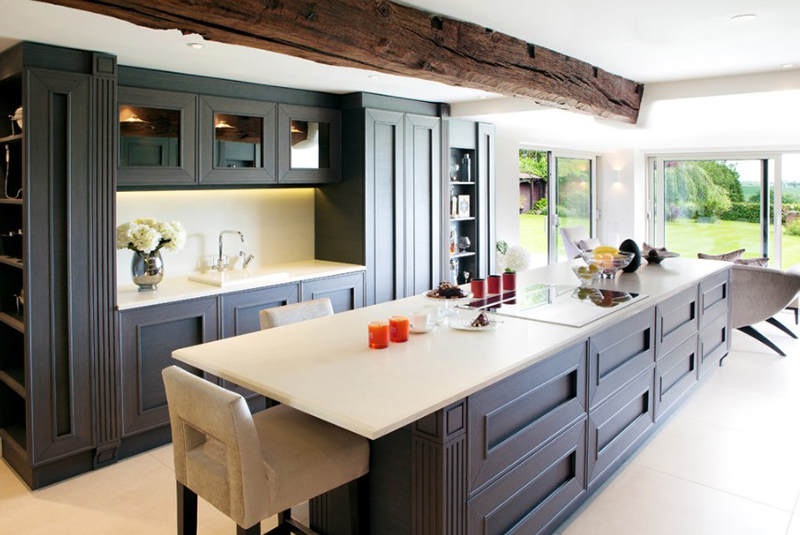 This large has an open concept. One feature that I like here is the wooden beam on top of the counter.
17. Northcote House
The kitchen doesn't need to be crowded with so many things. It is even best if it has a simple design like this one. It looks neat with brown and white colors in it.
18. Chatswood: Edmondson Park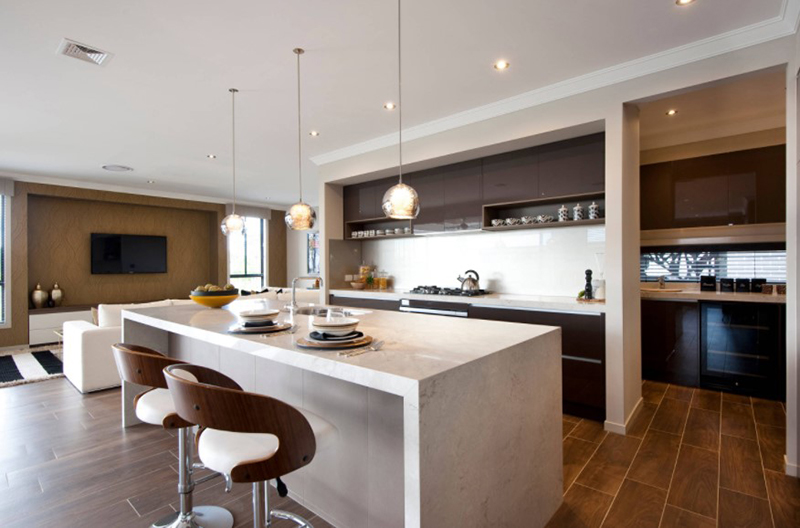 The house used an open floor plan and as you can see, its kitchen is located beside the living area.
19. Coppell House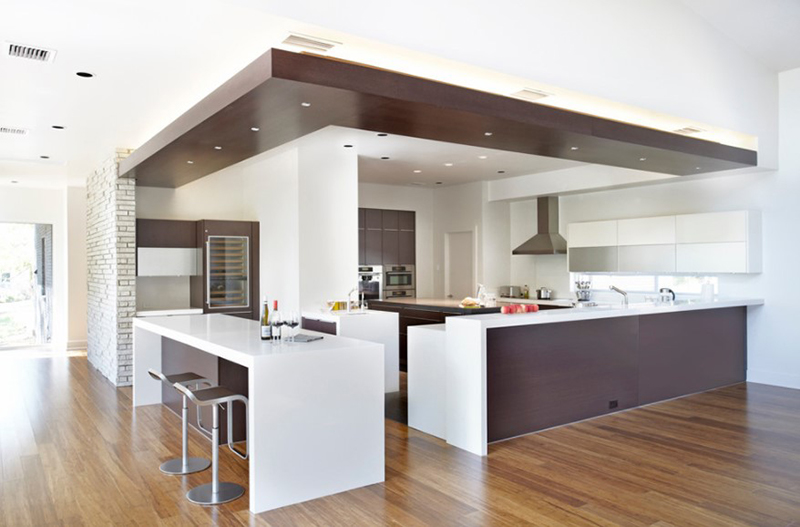 This large modern kitchen looks really neat. The stone wall on one side is a great addition to its design.
20. Remuera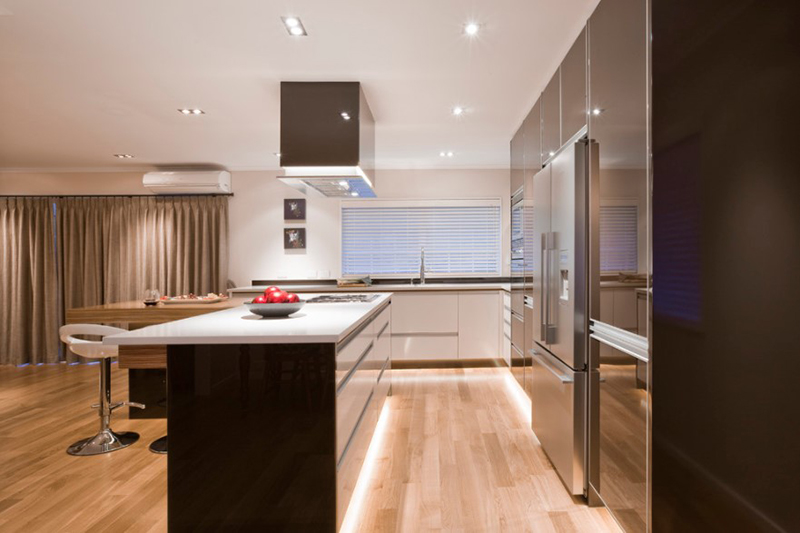 A modern kitchen design with light wood floor and stainless steel appliances. It has brown flat-panel cabinets with under mount sink and an island.
Nice, right? Yes, brown doesn't look dull or boring at all. In fact, it can actually be a great addition to a space just like what we have seen above. It is a good option if you want to stay neutral yet you want to add a little twist in color to your interior. So, if you are hesitant to use brown for your kitchen cabinets, this list will no doubt change your mind. Of course, you can also try other colors for the kitchen cabinets. You can even go with white which would look perfect in any space. Can you tell me which of the above kitchens do you like the most?