How to Decorate the Top of Kitchen Cabinets
The kitchen is one area of the house that is commonly used. We prepare food in it many times in a day. Aside from being clean, it is also important that it is well-organized and well-designed.
If these two are considered, the kitchen becomes a better place to work in and even to bond with the family as you prepare food together. When decorating the kitchen, we don't crowd counter tops with stuffs. Instead we put decors to the walls and even above the cabinets.
One of the most challenging part to decorate is the on top of the cabinets.
There are homes that have these spaces above the cabinets which could be an added storage or be a nice place to display some items. But how you decorate that area in the kitchen can either make or break your kitchen's appeal.
So, we have here some tips for you on how you can decorate the top of your kitchen cabinets.
1. Know the dimensions of the space above the cabinets.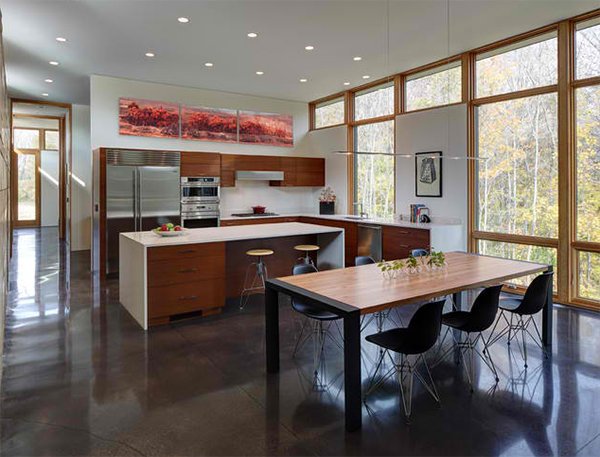 Before you start decorating or before you even bring in some items to put into that, make sure to measure it.
Measure the length and width of the area above the cabinets. This way, you will know if your items are too large or too small. Don't get displays that are very small because it will be dwarfed in the space.
2. Avoid crowding it.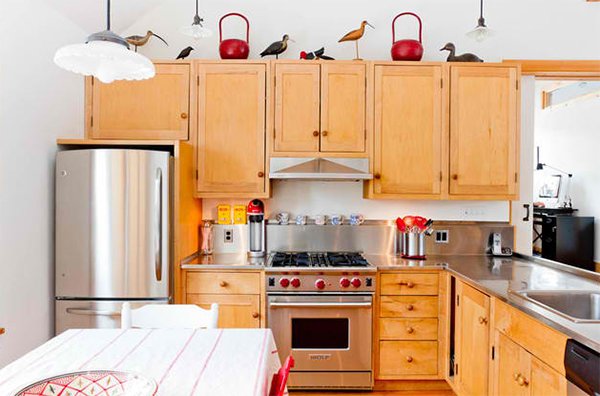 It is never a good idea to crowd the space above the cabinet. If you do this, your kitchen might look like an exhibit area. And you will be collecting dust which isn't good because the kitchen has to be kept clean.
Also, the purpose of the space which is to give your space a lighter feel will certainly feel.
3. Put spaces between decors.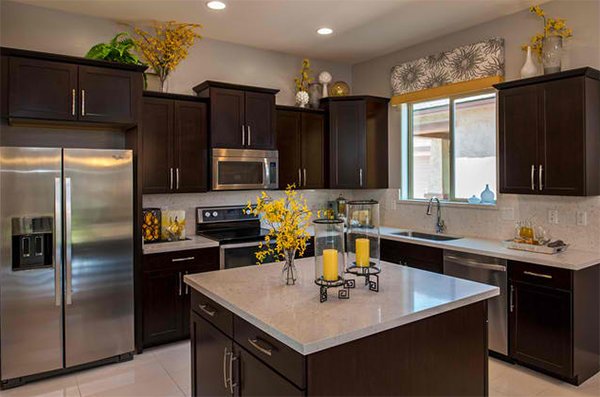 So, to avoid that crowded feel, you have to put some spaces on each item. It will also look good if you scatter them in a creative manner.
Mix and match some items on top of the cabinet with varying spaces between them and you will get a beautiful decor.
4. Display a collection.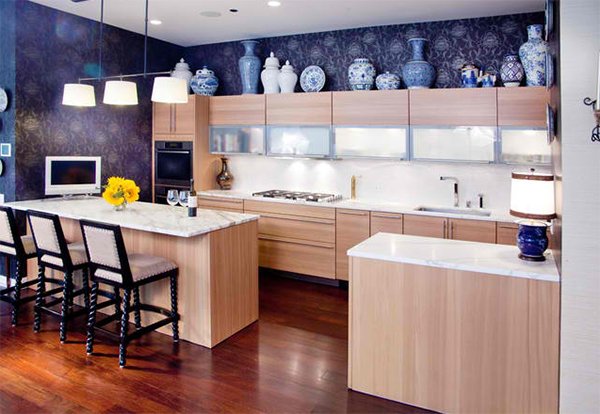 It would be fun to see the things you love above the cabinets. If you have a collection of jars, sculptures, plates and others, use it for decoration. This way, you will always see your favorite things every day.
Following your hobbies will make you love your kitchen even more.
5. Stick to your interior's theme.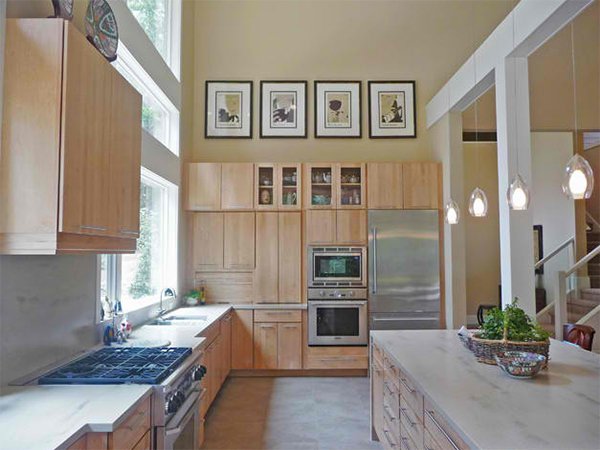 As always, there needs to be coherence in the space. That is why you have to put decorations that fit to your theme. For instance your space has a modern design, then go for display with modern forms and shapes.
If you have a beach themed house, then get some items that depict such. This way, everything in the house will look as one.
6. Choose colors wisely.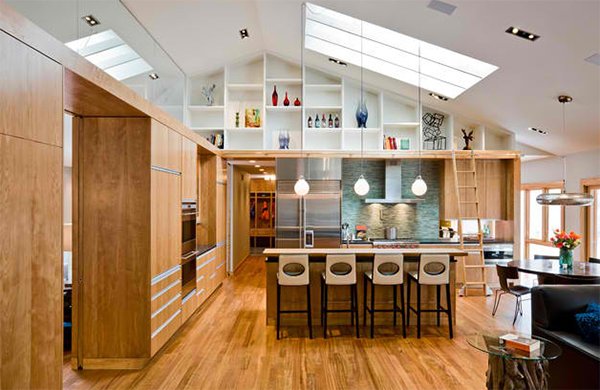 So if you don't have a collection and you don't really have a theme for your home's interior, then choose colors. You can play with different colors if you want to but you can also choose one primary color and add different tones of such.
You can also continue the accent theme of your house if you want to. Pops of color will make your space appear more interesting.
7. Create a focal point.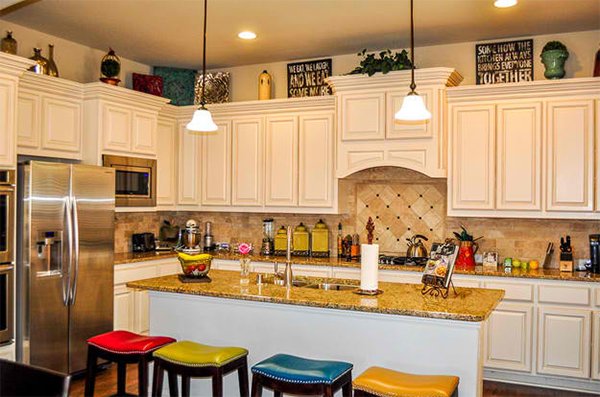 Choose one big item to display. Make it as your focal point. Start by placing that large item a little bit off center. From there, add other decor. This way, you will have a direction of how to display on top of your cabinet.
The focal point will draw the eyes. It has to be big and bold because it is at the top.
8. Mix and experiment decors.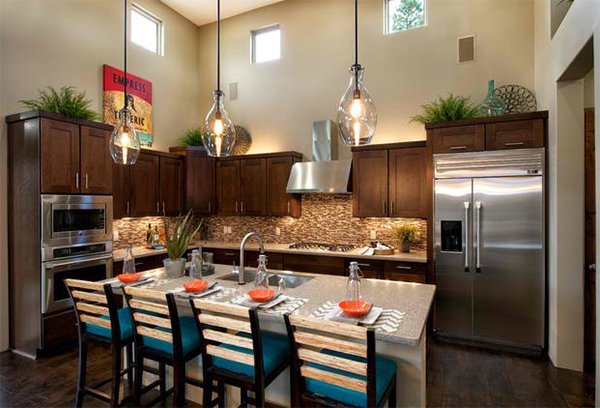 Grab this and that and place them on top of your cabinets. You will see that if you mix and match, you get a beautiful outcome. Place items of different sizes, forms and shapes.
Choose those of varying colors too. Be creative in the arrangement. For sure, your kitchen cabinet will look very attractive.
9. Leave it empty.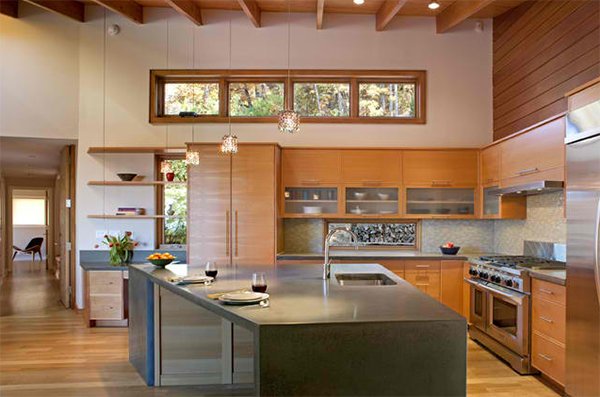 If all else fails, then leave it empty. End of story. There are many homes that do not have a display on top of their cabinets. And they look good that way too.
So, if you can't find the perfect decorations, just leave it that way.
10. Clean decors regularly.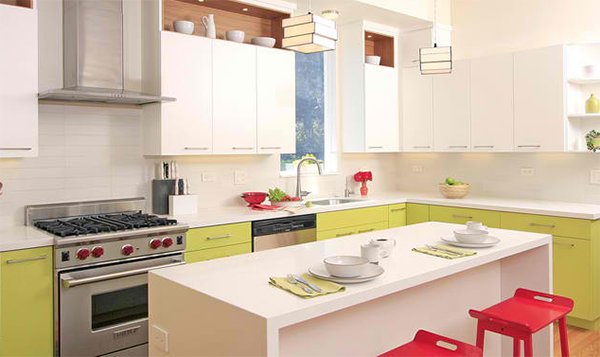 Don't let dust accumulate on top of your cabinets. Make sure to regularly clean them. This way, your decors will be preserved and your kitchen is kept clean.
You don't want to look up and see cobwebs instead of your beautiful decors.
Conclusion
It isn't really hard to decorate that area above our kitchen's cabinet. Just be creative and everything will fall into its proper places.
Also, another tip, if you are decorating with smaller items, prop them up with a book or a box so that it will be seen from below. You would need this technique for sure especially if the cabinet have a crown molding. We hope this tips will help you to make your home a lovelier place to live in!