20 Beautiful Stainless Steel Island Counters
Want a stainless steel counter for your kitchen? Check this list for inspiration.
One of the few things that not all kitchens have is a decent looking island. As much as islands are wonderful additional counter space in the kitchen, some kitchens do not have it because it is not really a necessity. Sometimes, even kitchen bars are not that much of a priority in the kitchen, how much more is a kitchen island, right?
I said above that even when a kitchen island is wonderful, it is not a necessity, but today, we would be seeing a couple of kitchen spaces that have them and looks real nice. These kitchen spaces have islands that have stainless steel counters – some have tiles or granite in them like your regular kitchen counters. So, without much further ado, check out the 22 Beautiful Stainless Steel Island Counters below.
1. Cantilever House
Whoever we ask in the home design industry, they'd surely agree that stainless steel is a basic part of the kitchen – just with the appliances, you have enough stainless steel in it to take care of. Of course, like all building materials, stainless is something to take care of – it might not be the easiest to maintain, but it sure looks great in the kitchen once it's all clean!
2. Contemporain Cuisine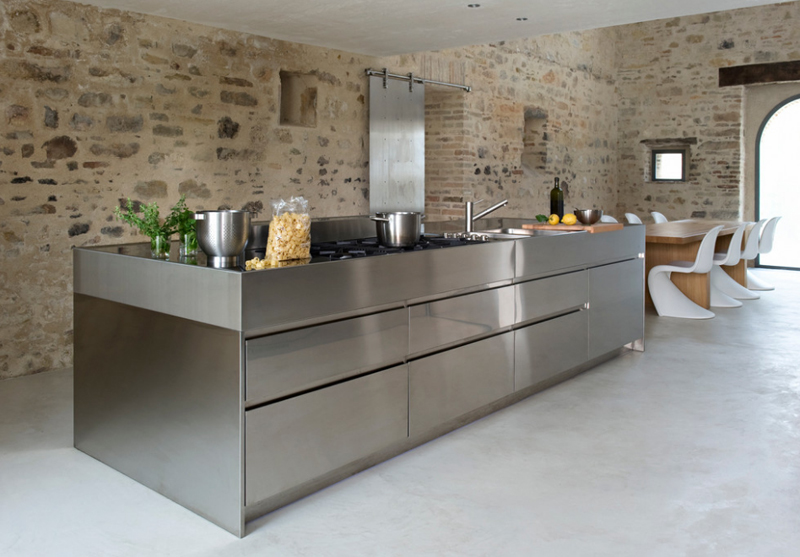 Talk about a counter slash island! This might be the most minimalist kitchen in this list. Looking at this one, we know for sure that this is something modular that you can easily purchase in your closest home depot or if not, order from there. The sleek design creates a contrast with the stone walls on the background.
3. Cow Hollow Modern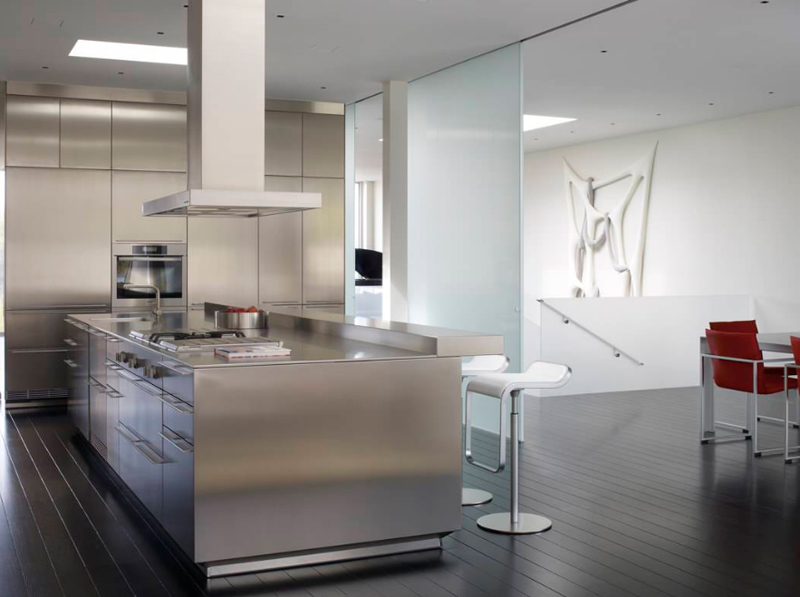 This is basically a modular kitchen appliance that you purchase like the one before this. It's sleek, sophisticated and actually fashionable! The entire house brags a modern look and feel that not all the spaces in this list have.
4. Dallas Kitchen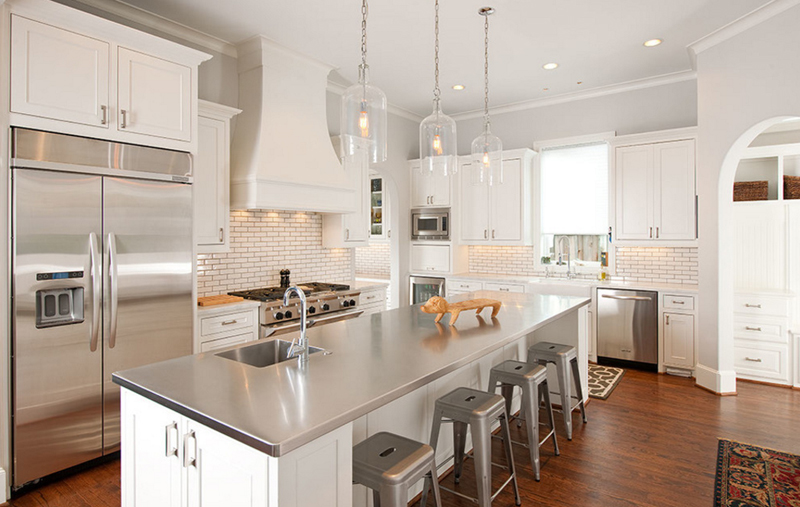 This kitchen island and bar sure is long and nice; actually, the entire kitchen is actually wonderful! From the white cabinets to the stainless counter and the grey kitchen stools, this sure is one charming kitchen to be in. If you think that the pendant lights are missing, look again.
5. Eclectic Elegance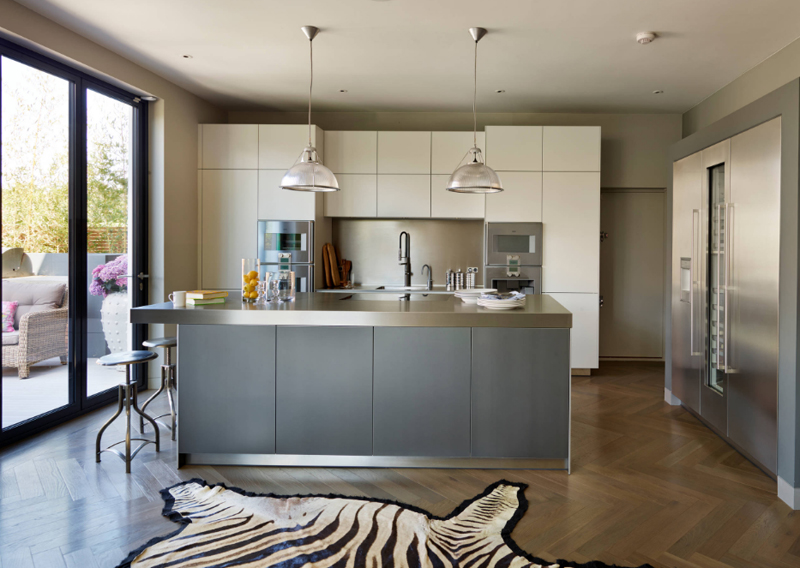 Well, it's good to see some animal fur rug in the kitchen, it's not something people always do – but looking at this lovely kitchen, the addition of the rug to it made a whole lot of difference. We see a nice flow of foot traffic in here too which makes it nice and ideal for people to come around in. Access to the patio is available because of the sliding doors seen on the side.
6. Fold Place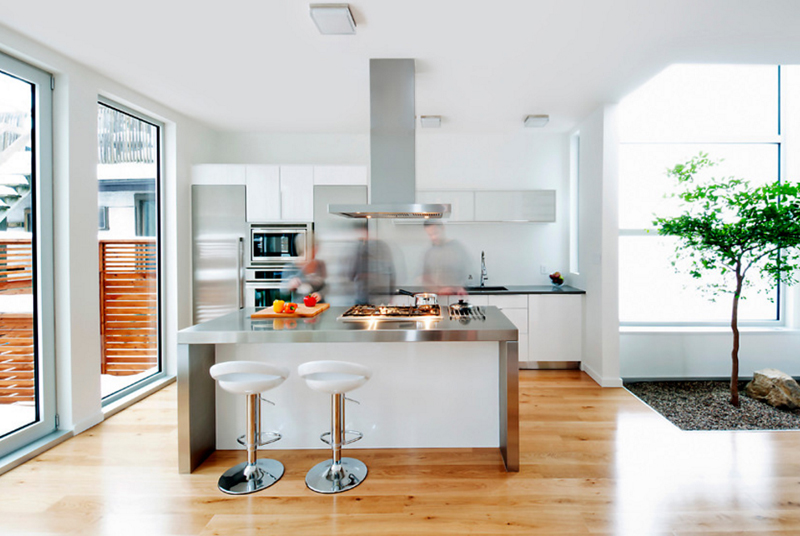 Well, what do you know? A living tree inside the house! I guess there's nothing better than that! I am in such awe of this lovely kitchen! The white walls make the flooring seem prettier and the stainless counters look amazing with all the white too! I think that this is the kitchen to beat in this list! Don't you agree?
7. Garfield Residence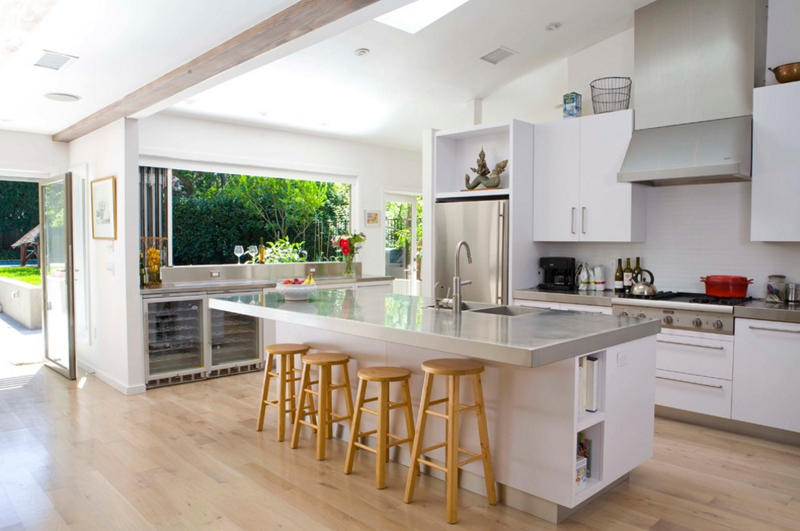 Don't you think that it's actually great to have your kitchen island and kitchen bar or nook as one? It saves space and makes multi-purpose furniture and decorations seem more ideal – especially in a generation where space is minimal, we have to definitely work on making things more functional than decorative.
8. Greenbrier Estate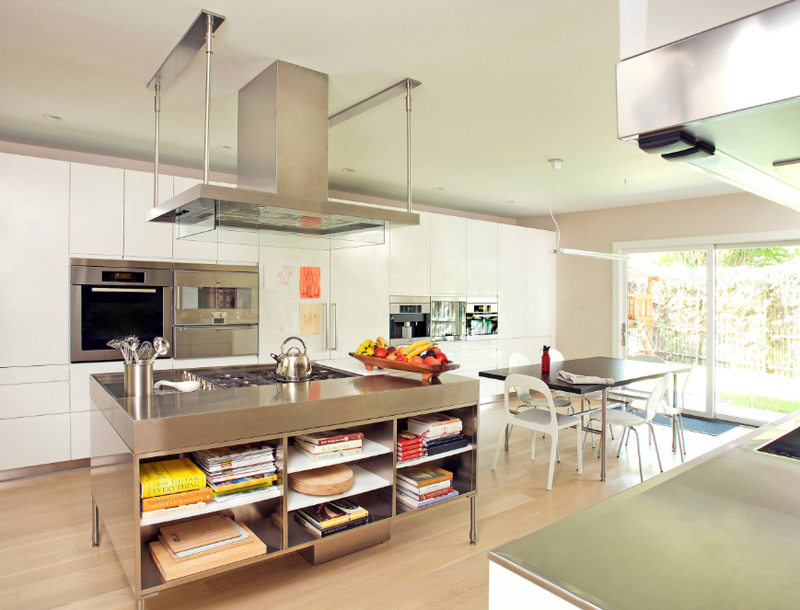 This island sure is where they cook because the exhaust is just above it; and what do you know, this kitchen island is also a book shelf and a mini kitchen bar too! This is what I was telling you about when I said that the best way to maximize space is to make sure that the things you have at home are actually multi-purpose!
9. Idarado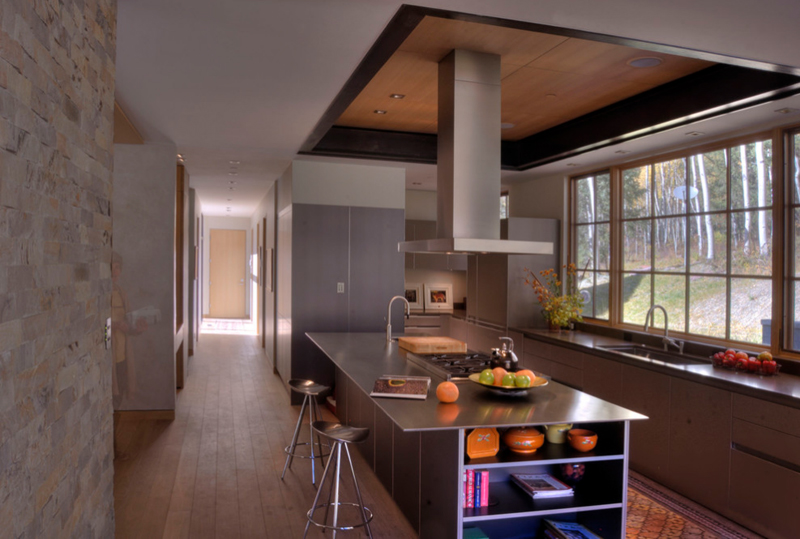 This Idarado kitchen sure looks perfect! It is beautiful in the inside and it sure looks interesting outside too! The materials of the interiors is a combination of rustic and contemporary – the stainless counter sure is wide enough to include a nook where you and your friends could stay while drinking or eating something while someone cooks!
10. Kentish Town House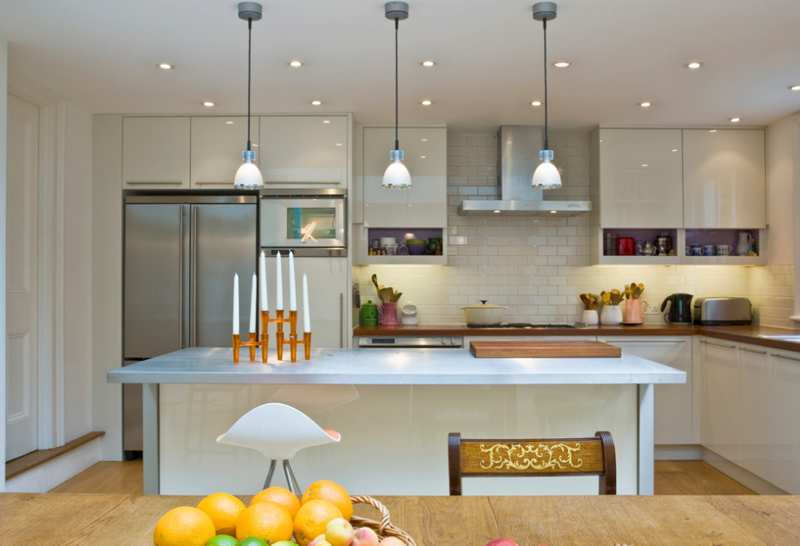 The light colored stainless steel counters look blue from this angle – maybe it's just me though. Look at how cute the pendant lights are! If you notice, the counters on the back somehow look like it's made of wood. What do you think?
11. Knollwood-River Oaks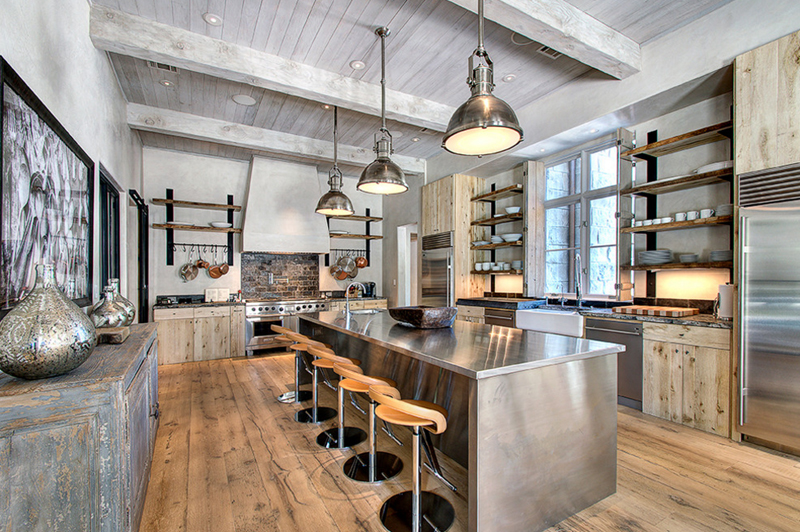 The color scheme of this entire kitchen looks a bit silvery grey because of the paint of the cabinets and of course because of the stainless appliances too! I totally adore the fact that they used large halogen lamps as the lights in here because it gives this space the most rustic and vintage look. I don't think they are using large amount of lighting in here because that's not needed in the kitchen.
12. Liberty Heights Residence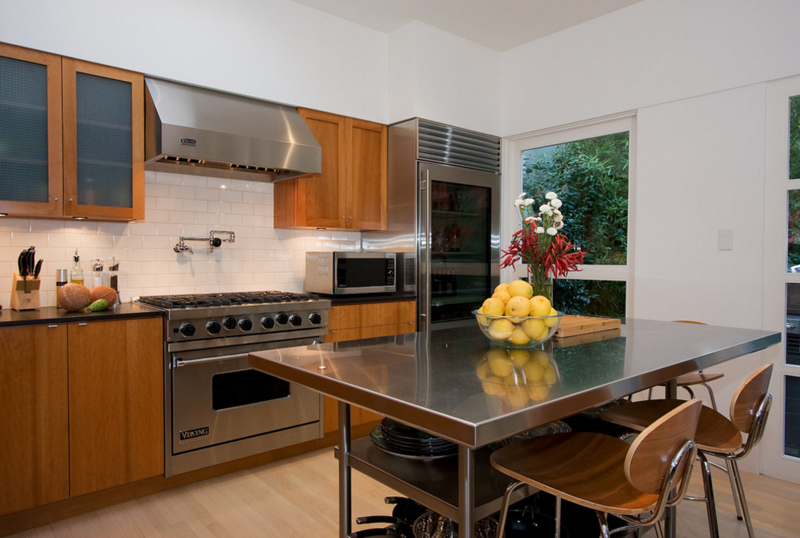 See how the kitchen island in this kitchen is basically a table with chairs somehow inserted to it. This is one way of adding a kitchen island that wouldn't be too expensive or hard to find because sometimes choosing the best kitchen island or having it designed especially for your kitchen could take more time than just purchasing it in the mall or home depot.
13. Linden Hills Remodel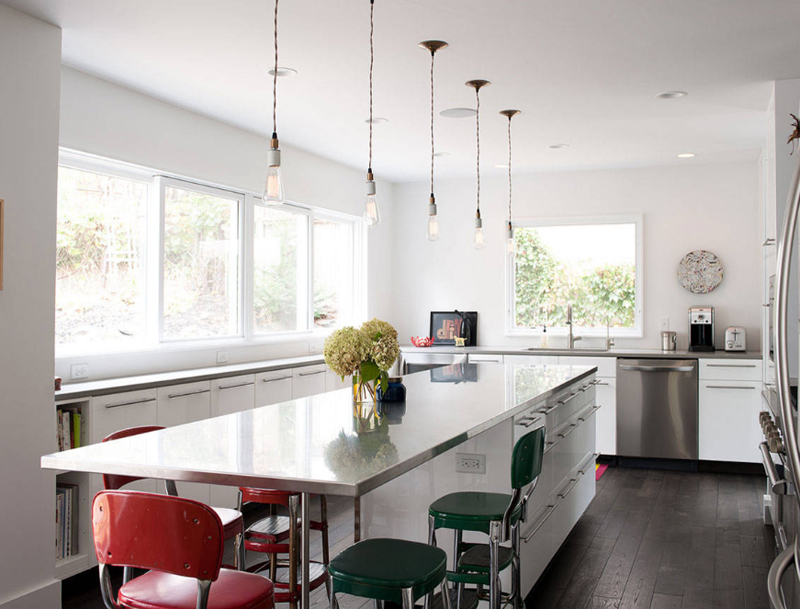 Oh this is one stunning kitchen island and bar! The choice of the chairs in here makes me think that this area is a vintage diner inspired space – at least for the bar part. The other end of the island sure looks clean and ideal for food prep and maybe even for a food or drink station during times when you just want to hang out in the kitchen.
14. Metropolitan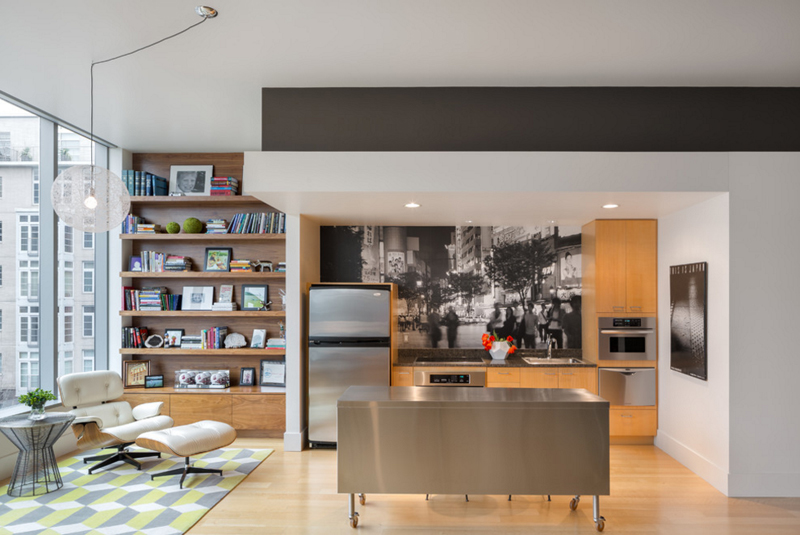 Well, here is one kitchen island that sure shows us what a kitchen island should look like. A normal looking table or something in the middle of the kitchen. Since this space is most likely in a high rise building, I would like to compliment the designer for really adding a seating area or reading nook by the window!
15. Modern Green Home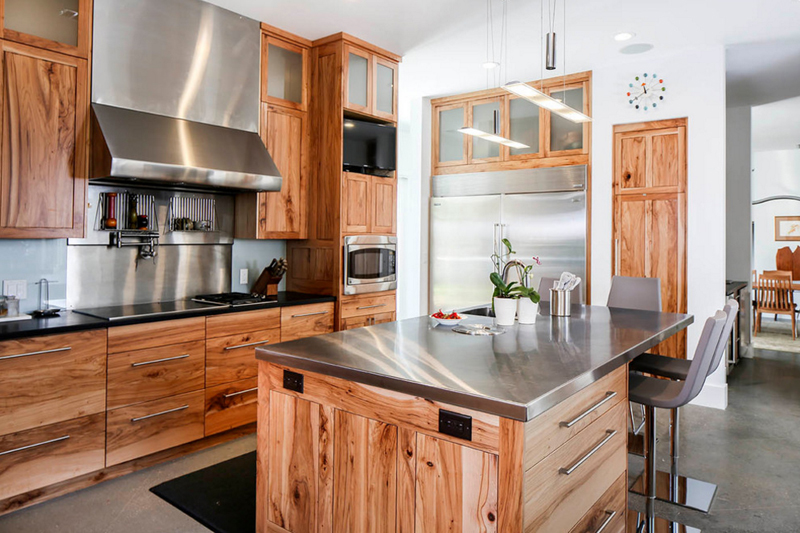 The stain of the wood used in the kitchen cabinets look interesting but not as fancy – it makes it look like it's actually fake wood or ordinary wood just painted or stained to look something different. It looks great with all the stainless materials in here but I think they could have chosen a different stain and it would have been perfect!
16. Modern Sleek Kitchen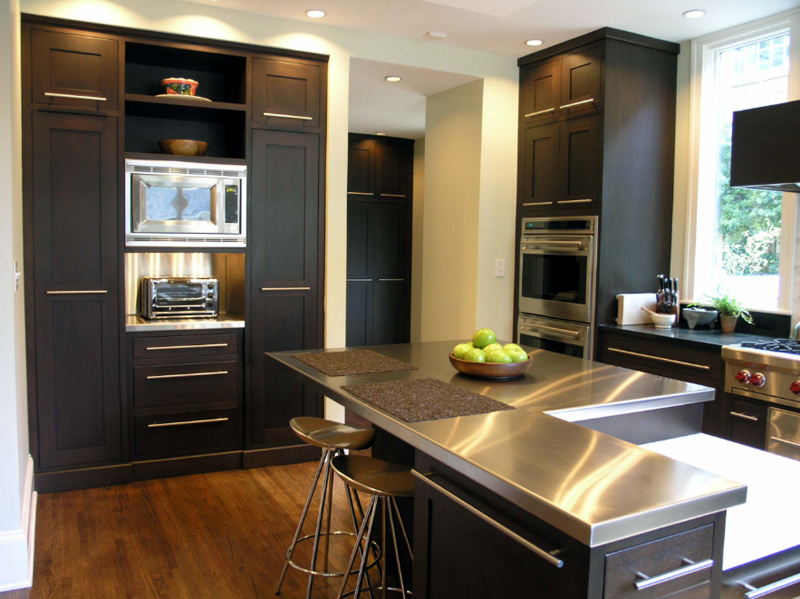 The color of the cabinets and the color of the flooring looks incredible paired with the stainless steel counter and the appliances. If you ask me, I think that this kitchen looks awesome even when there is minimal space for people to really walk around in.
17. Orlando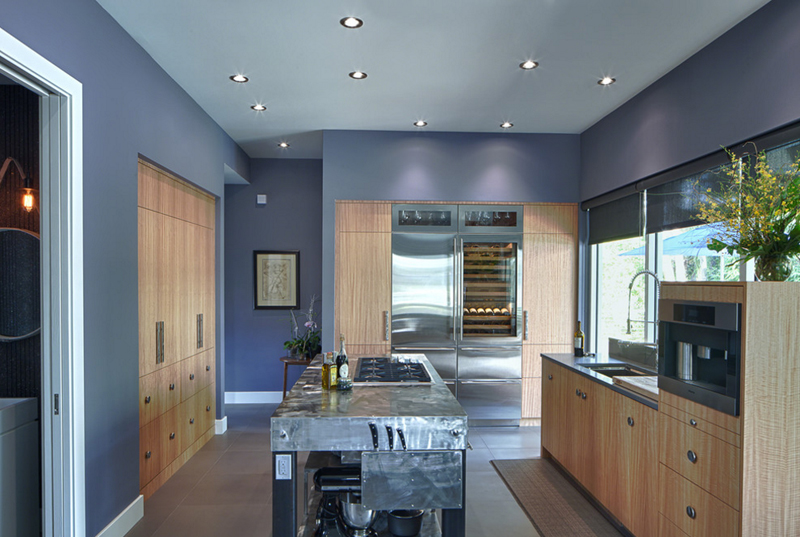 This is one cool color to actually use in a kitchen. It somehow looks like its blue, indigo or something in the family of violet. I'm not quite sure, but this color sure does not encourage eating – this could be a good thing or a bad thing depending on the users of this kitchen.
18. Simply Sophisticated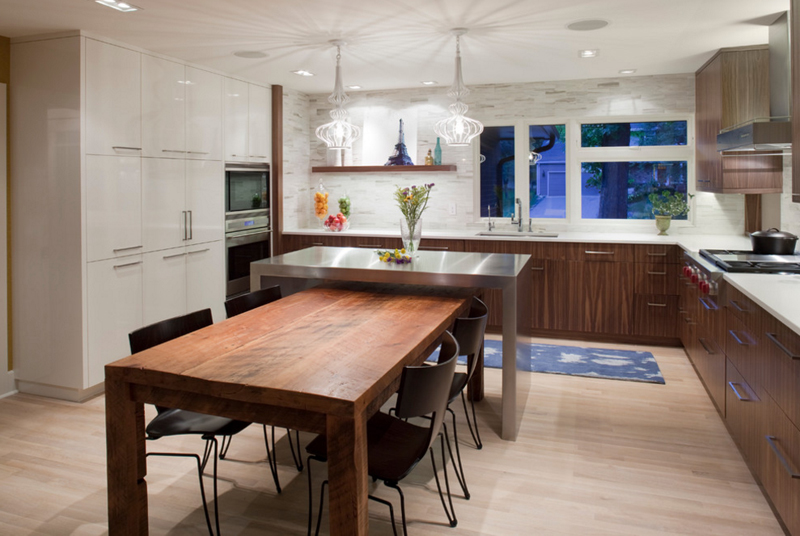 From the name of this kitchen, this sure looks the part – it's simple and still sophisticated. In home design, designers and homeowners alike aim to achieve this. As you can see, this kitchen sure has enough beauty in it that at one look, you know that it actually is stunning; charming even.
19. Skagit River House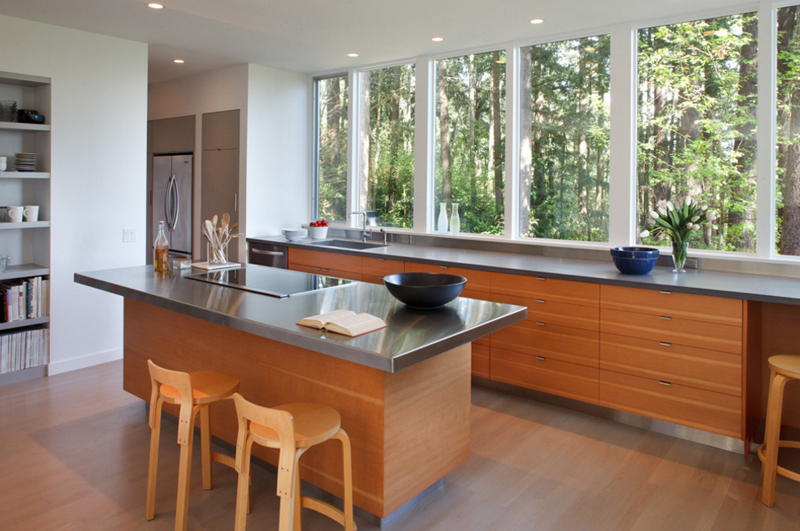 Kitchens like this one inspires me because of how minimal stuff in here is – and it still looks perfect! And if you think it couldn't be more perfect, check out what is outside those glass windows!
20. Tedworth Square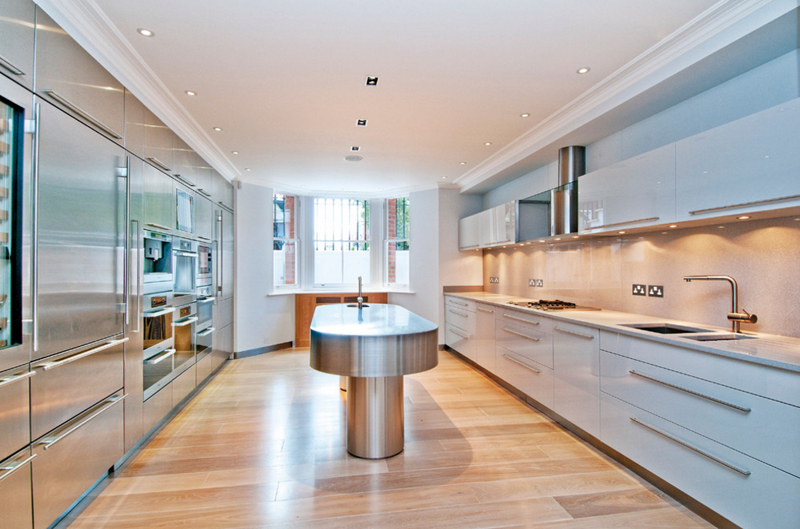 Last but not the least is this wonderful kitchen island! I am very happy that I actually came across this one because it's unique and quite interesting – the way it looks and how this could actually be used for this kitchen that looks like it has enough space to actually work on.
If there could be more beautiful kitchens that has kitchen islands like the ones on this list, you should tag us with it, so that we can check them out ourselves. This list and the 20 Kitchen Designs with Stainless Steel Elements are lists that shows us how beautiful stainless steel is in the kitchen!