20 Ultra Modern Kitchens Every Cook Would Love to Own
Don't look too futuristic and too old time. Get an ultramodern kitchen design with all the modern functions you need.
Kitchens come in different designs and layouts which depend on the usage of the owners and the space available. But whatever is your space, you can always choose a design and style that you want for your kitchen. These days, modern kitchens are a hit because of their focus on function and how sleek they look like. But there are still homes that have vintage or classic designs. Or those kitchens with modern design but has added retro decors. Things like this are common. Yet, there are some homeowners who want that hardcore modern look.
With that, we have collated some ultramodern kitchen designs that will give you ideas on what to do with your own kitchen. These kitchens have either sleek lines or curvy lines in them. But their entire look is neat and very impressive. Some of them are even almost futuristic in design. Mostly, you would see some straight lines and smart usage of space, whatever is the size and shape of the kitchens area. In terms of colors, most would have a modern color scheme with earth tones and neutral touches. There are also some that has pops of bright colors in them too. Go ahead and scroll down so you can check what I am talking about.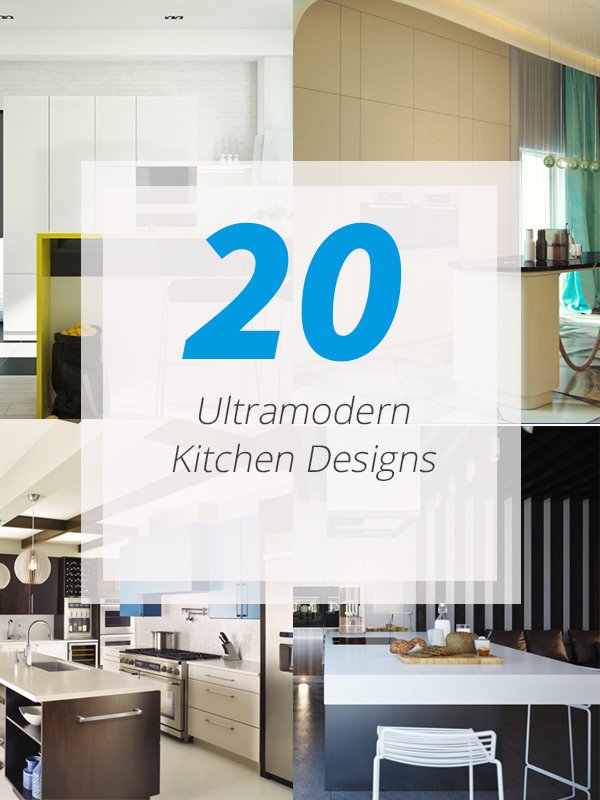 1. Ultra Modern Kitchen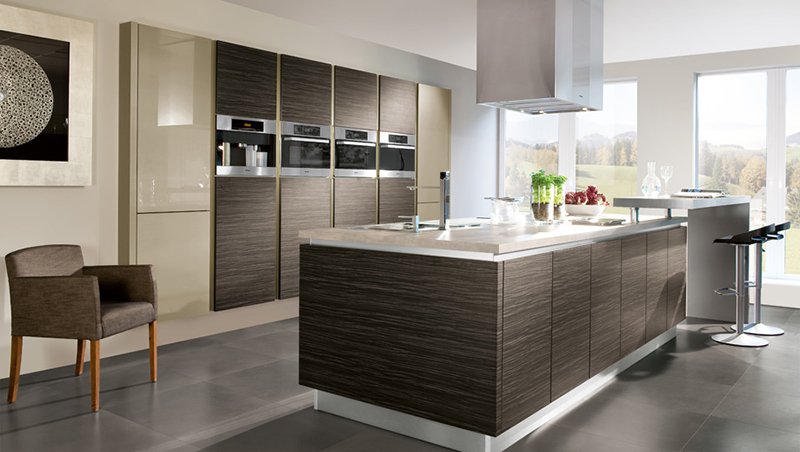 This kitchen used wood for its cabinet and island combining with earth colors. It has sleek lines on it and used modern kitchen appliances.
2. Roundhouse Minimal Kitchens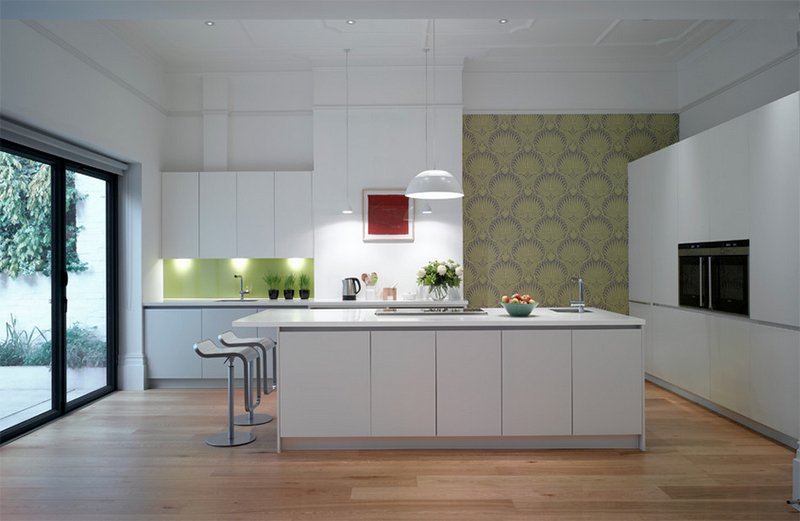 This white matt lacquer handless kitchen features Glacier White Corian worktops and glass splashbacks. Using white for the cabinets, walls and ceilings make the area appear more spacious.
3. CityScape Kitchen
Set in an open floor plan, this ultra modern kitchen has a stunning view as well as high quality items inside it from the kitchen island to the counter chairs.
4. Ultra-Modern Kitchen Spaces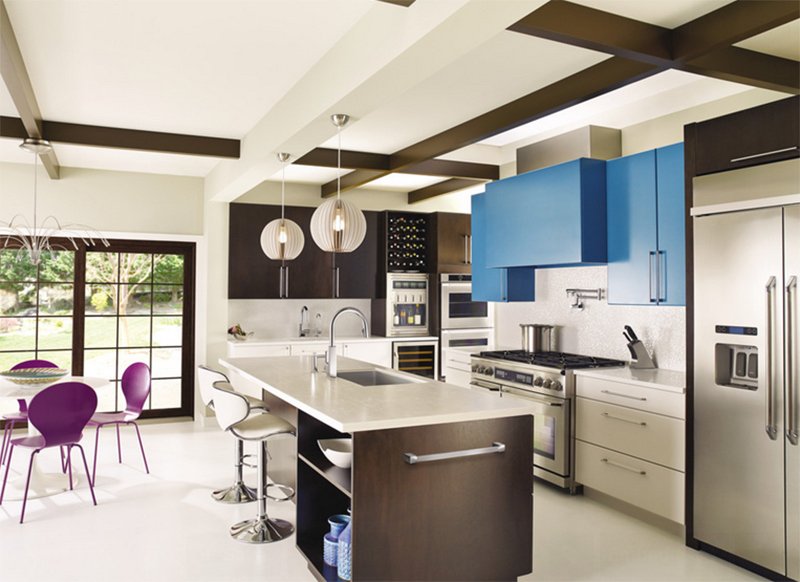 I like that this kitchen used blue hanging cabinets and purple dining chairs. Chrome fixtures were also used to add a clean finish to a modern kitchen.
5. Modern Green Kitchens Cape Town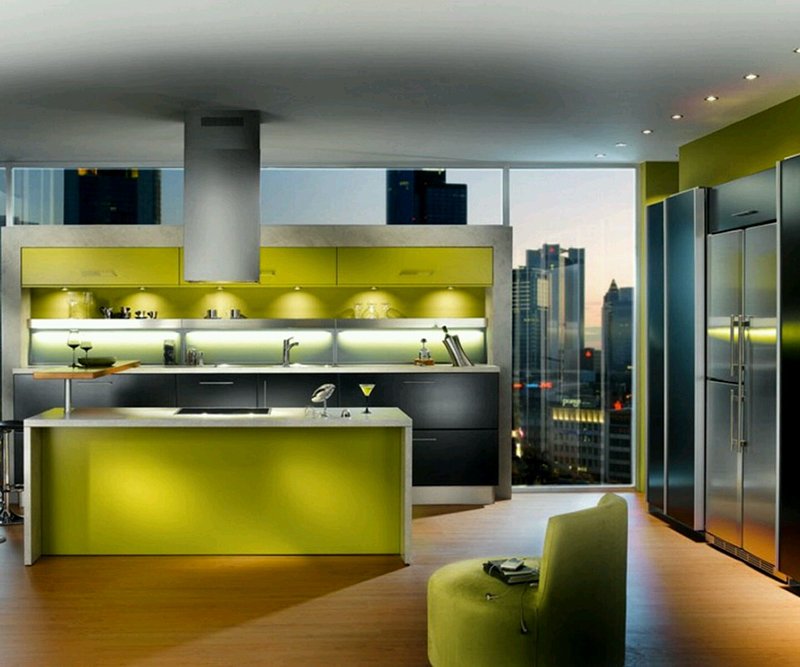 Lovely. Gray and green colors combined together work amazingly well! White and silver are also seen here creating a very modern atmosphere. Of course, what made this kitchen even more gorgeous is the cityscape seen from its fixed glass windows.
6. Missoula Ultra-Modern Home
White paired with silver accents could surely bring out an ultra-modern vibe. Notice the creative backsplash tiling too that looks lovely in the kitchen area.
7. Palm Beach Condominium Interior Design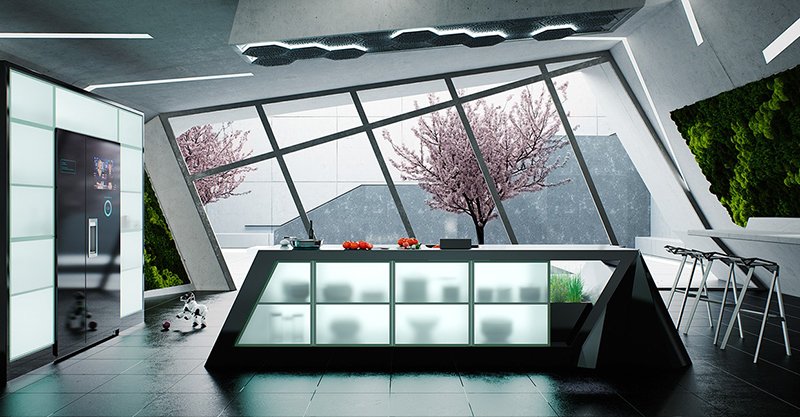 Sleek, reflective countertops and off-kilter angles- these are the features that made this kitchen a vision of the future. The cook top has an ultramodern bent that seems to fuse the technology of touch screen with the actual stove.
8. Cream Handleless Kitchen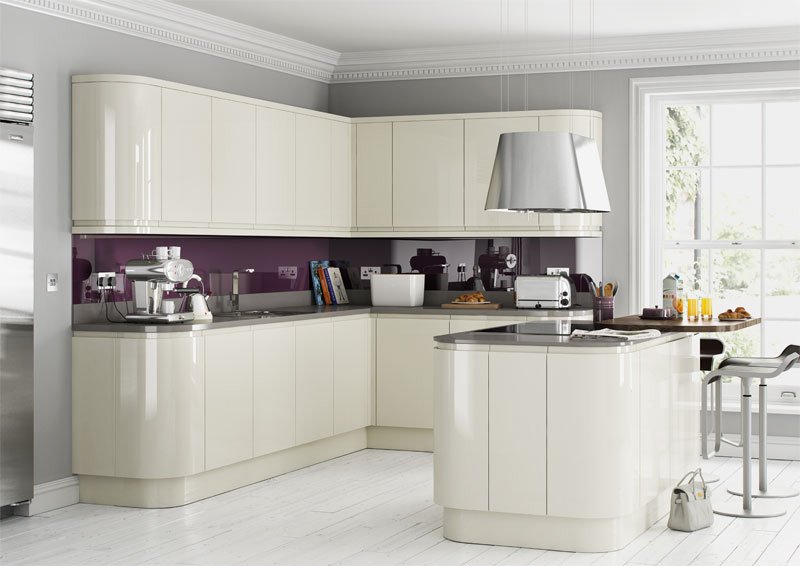 This cream kitchen has some subtle traditional touch because of the molding on the ceiling. But its curvy design exudes an ultra-modern feel especially with the stainless items and purple backsplash.
9. Natural Wood Kitchen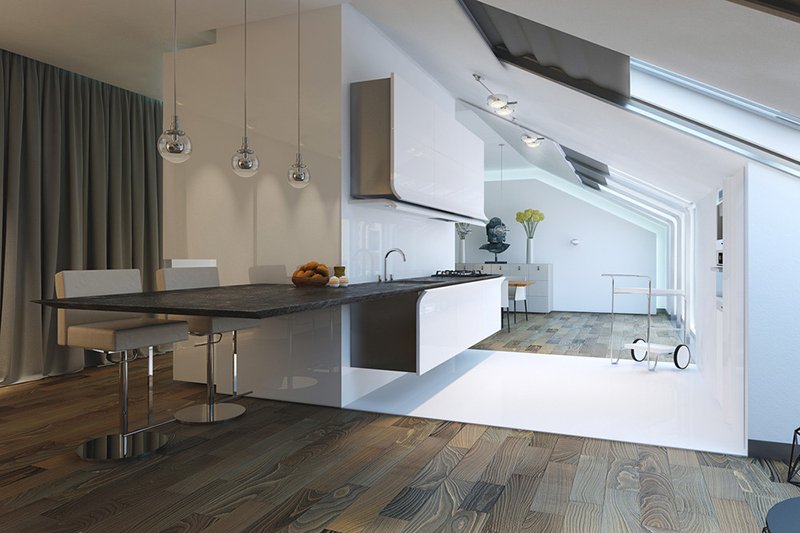 Bright white dominates this space featuring natural wood flooring. Simplicity is key in this kitchen with a floating tabletop, minimalist bar cart, and origami-inspired dining chairs.
10. Oatmeal Beige Kitchen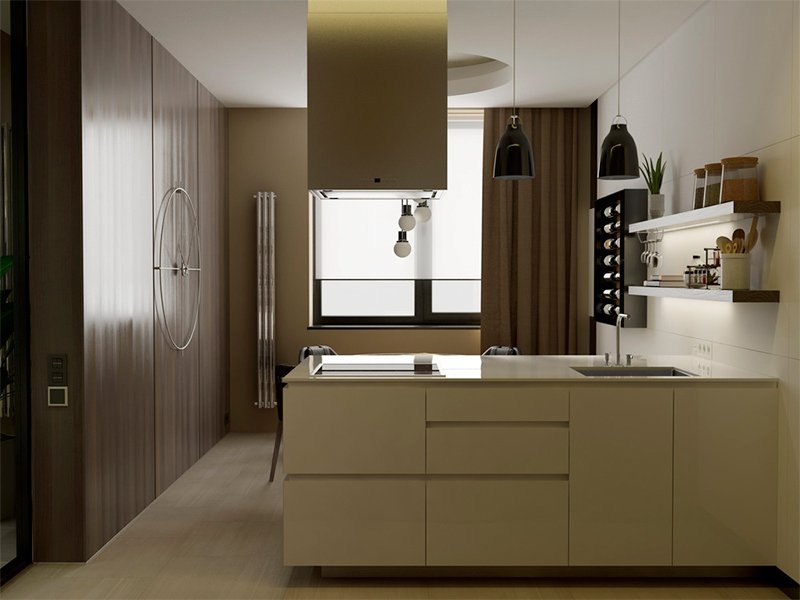 Comforting oatmeal beige palette is used in this ultramodern kitchen. The space creates a humble yet stylish feel.
11. Playful Modern Kitchen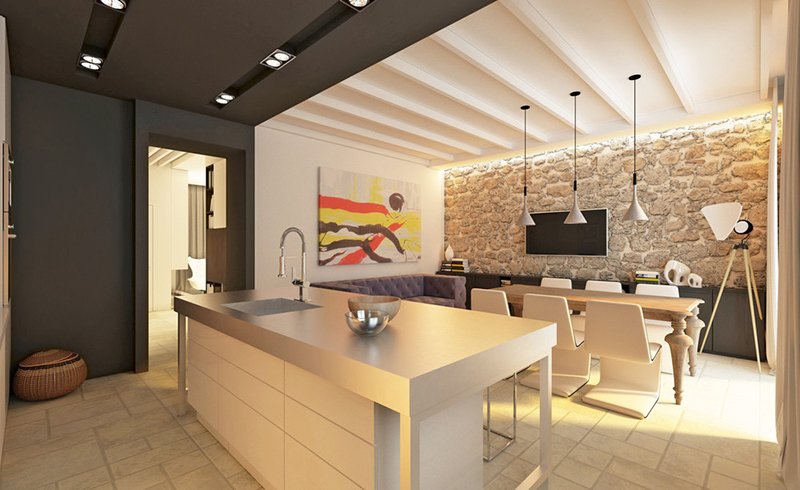 What immediately got my attention are the stones on the wall just near the dining area. This kitchen gets a bit more playful with pops of creative color from the abstract art to the lush purple Chesterfield. It sure is a creative space to prepare food.
12. Lemon Kitchen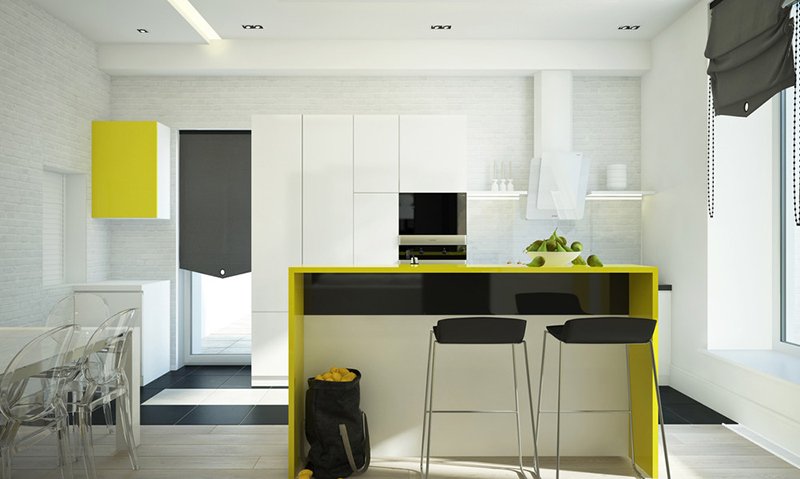 A small yet functional kitchen in a lemony neon yellow accent that runs the risk of feeling cartoonish. But it didn't give the area that cartoonish feel. Instead, it made it look even more ultramodern especially with the subtle accents that are nothing if not sophisticated.
13. Tasty Sweet Kitchen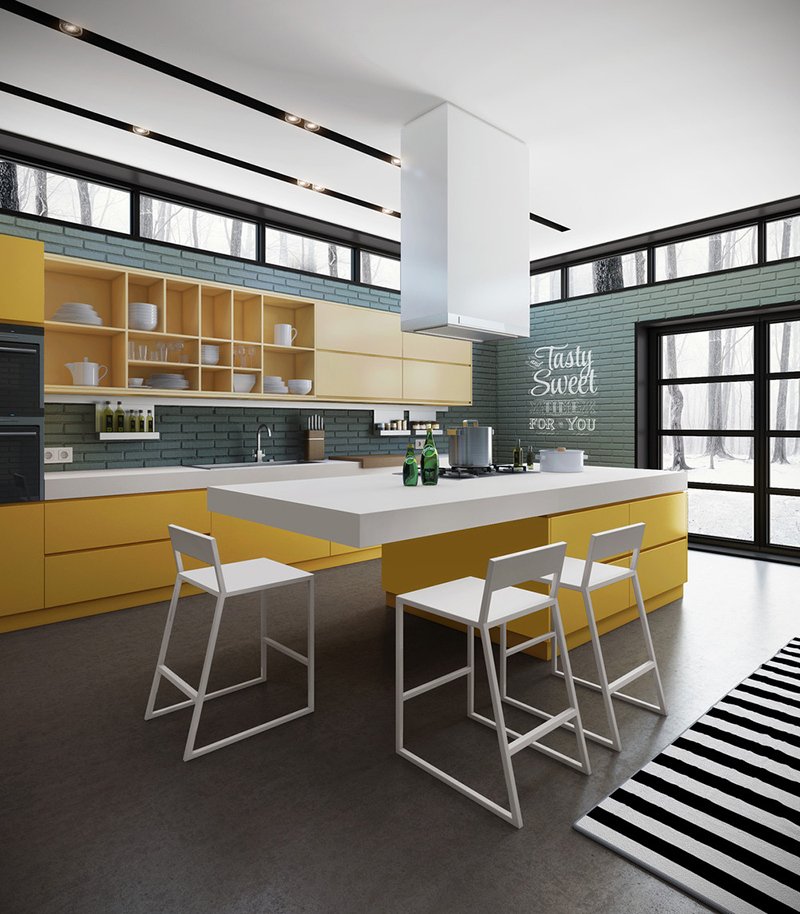 This one has a warm and welcoming palette, beckoning guests to come over. Its countertop extends to become a kitchen table/breakfast bar. Love the colors here and that wall decal too!
14. White Modern Kitchen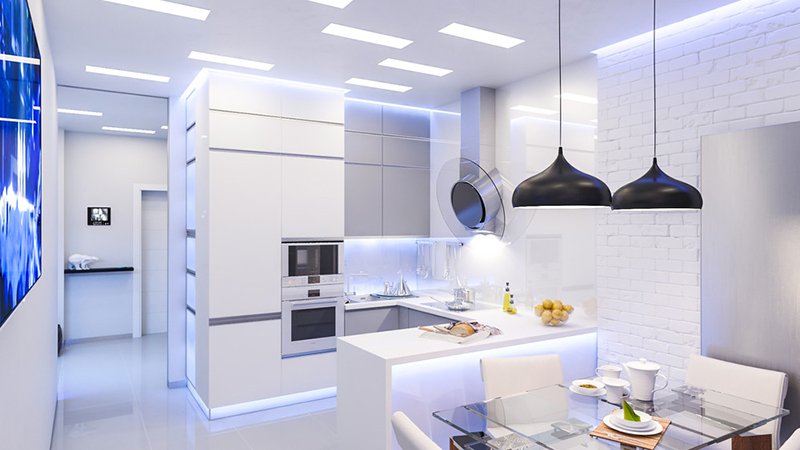 A kitchen which is white on white featuring a futuristic vibe. It has whitewashed brick, glass accents, and the some eerie overhead lighting that makes you feel like you are reading a spacecraft. The lights bring that futuristic effect to this kitchen.
15. Blue Modern Kitchen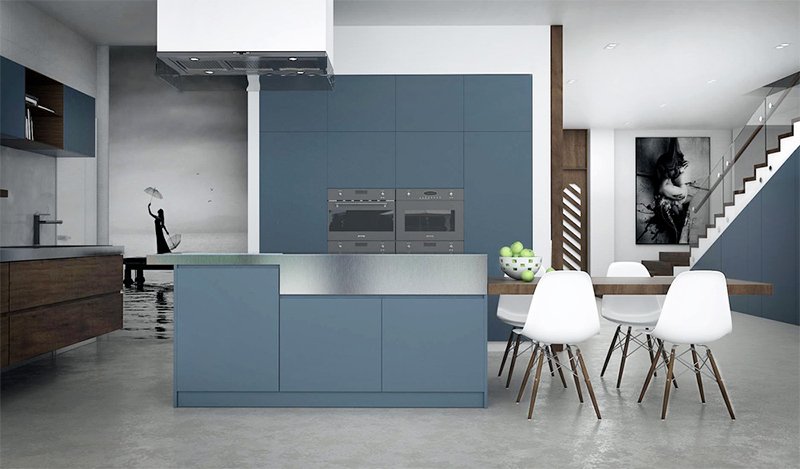 This modern kitchen has a bit more traditional touches. The teal and wood color palette looks a bit trad but the living art piece placed over the front door gives it some modern lean. But the overall design is simple using Eames-inspired dining chairs, lovely lacquered wood cabinets and a simple polished concrete floor.
16. Industrial Inspired Kitchen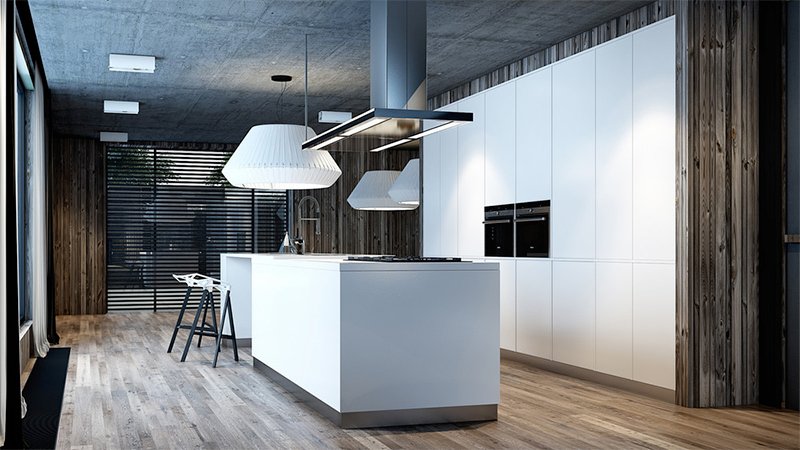 Who says an ultra-modern kitchen cannot have and industrial touch? This kitchen has an open floor plan that uses plenty of wood to offset the darkness of the concrete ceiling. It also used white paneling, countertops, and flying saucer light fixture that complete the look of contrasts in the area.
17. Winterfell Kitchen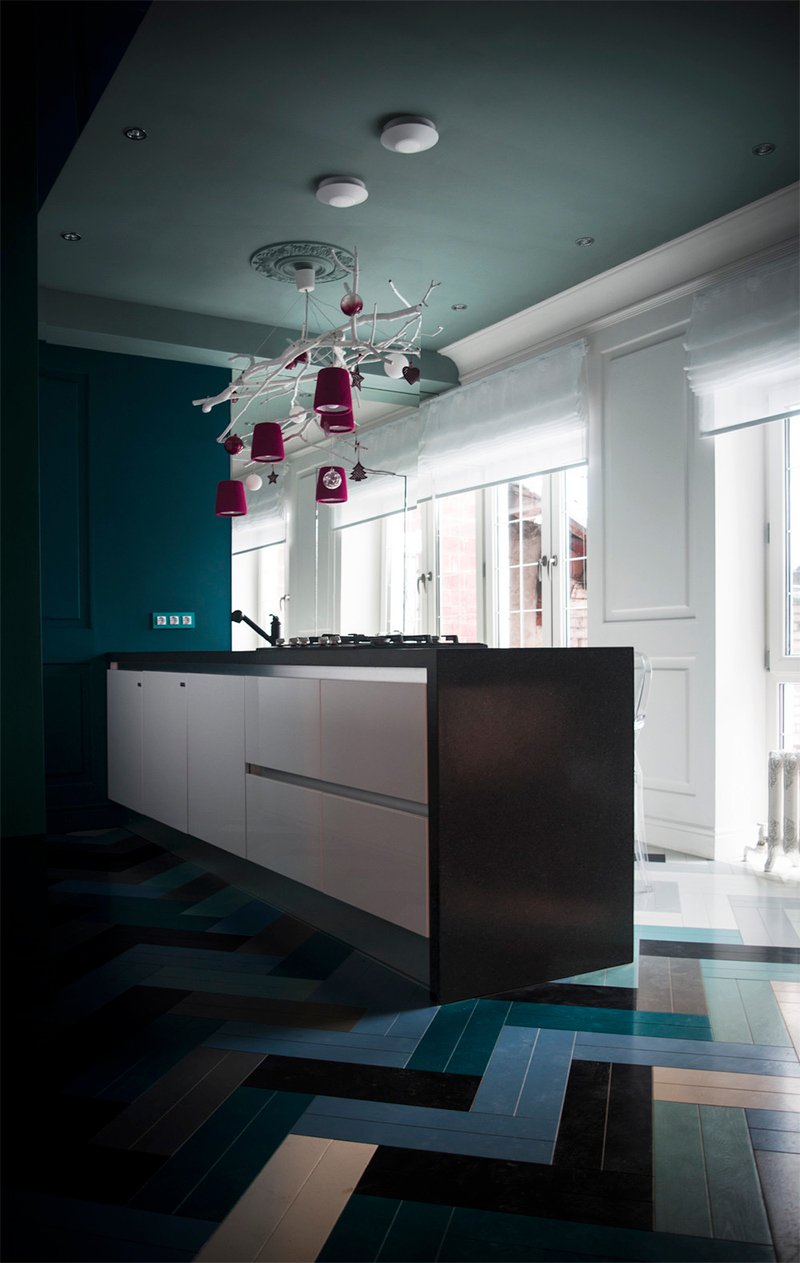 The color is a bit dark but like is name, it does have that fantastical touch in it especially with that pendant light. What is lovely here is the tile flooring with various tones of green arranged in a creative manner.
18. Kitchen Legna 3 2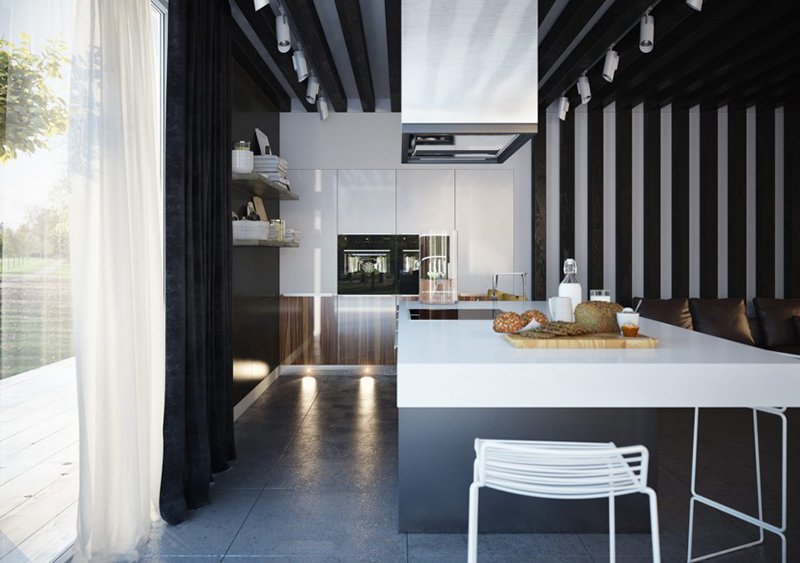 A kitchen with contrasting black and white colors. It doesn't look very spacious but it does look very functional. On the ceiling are exposed wooden beams while on the walls are vertical wood painted with black. Notice the tracking lights too.
19. Kuhnya Mariya 1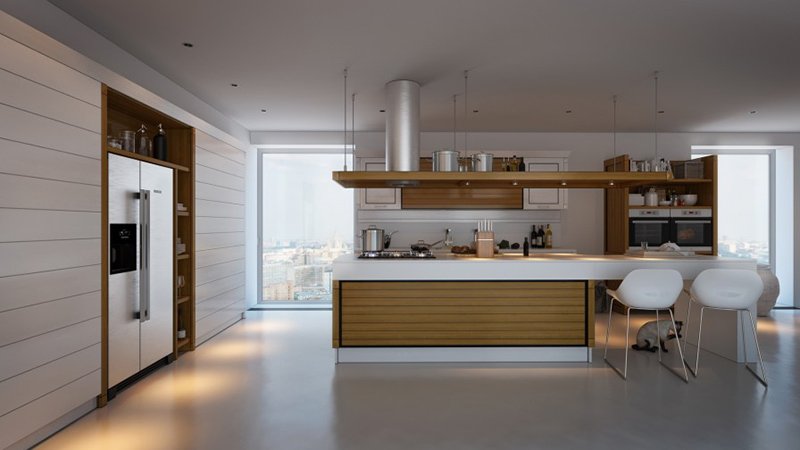 A neat ultra modern kitchen with the combination of wood and white colors. The stainless items used here add some beauty to the area. And that picture window is perfect for setting eyes on the cityscape.
20. Kitchen Living Room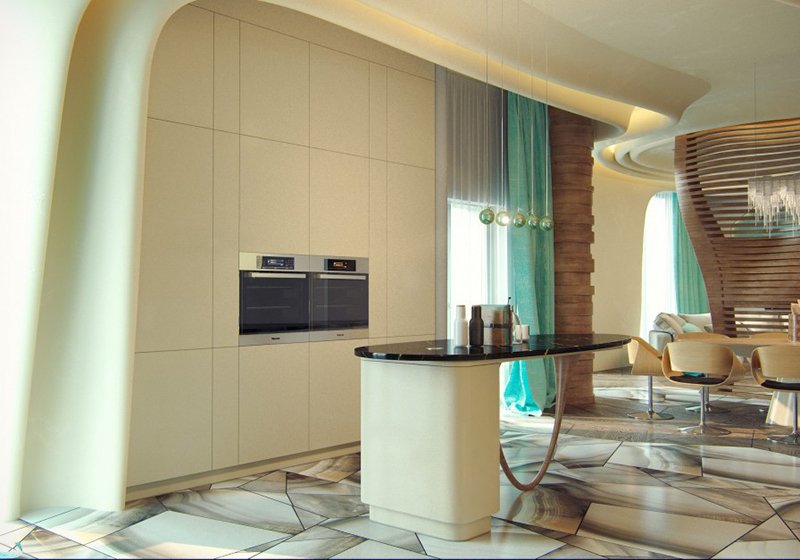 This kitchen sits in an home with an open layout connecting it with the living room and dining room. That kitchen island has a beautiful modern design featuring a curvy stand. Even the ceiling has some curves on it too.
Hardcore ultramodern spaces indeed! One look at these spaces will surely make you see the luxury and sophistication in them. What is good about the above spaces is that they look very beautiful without the need of adding too much decorative items in them. In truth, it is really just a matter of design. So, if you are currently designing your own kitchen, consider the above designs as well as your client's need for the area. This list is also a good inspiration for your future kitchen renovation. Now, can you tell me which of the above kitchens you love the most?