25 Kitchen Design Inspiration: What is the View from Your Kitchen Window?
It would really be nice to work in the kitchen with a lovely view from your window!
I know we have been showcasing various kitchen interiors as well as some furnishings too. But today, we are going to show you something else. Let us say that this is a lighter take on kitchen design because aside from the layout, style and look of the kitchens, you can also see what the homeowners can "see" while they are working on their kitchens. You may ask, does that even matter? Of course it does! If your kitchen window opens to a garbage area, you would never attempt to stare at it and you will never open your window. I know that is an exaggerated example, but it does make sense. What about if you are looking at the beautiful waters or the tall mountains? Ah… such a relaxing sight. You'd be fueled and inspired to work with a view like that!
A kitchen would have a window on it- small or large. Most are intended to let natural light in or to add ventilation to the area. Others added windows so they can get a good view of the beautiful outdoor area. Hence, I was curious of what homeowners can see from their kitchens because from mine, we can only see other people's homes since we live in a subdivision. I thought that it would be wonderful to see green plants or a relaxing garden from our window, or maybe even the ocean or the cityscape. Well, the view varies depending on the location of the house. We have gathered here some kitchens with breathtaking views. Scroll down and draw your eyes to the windows!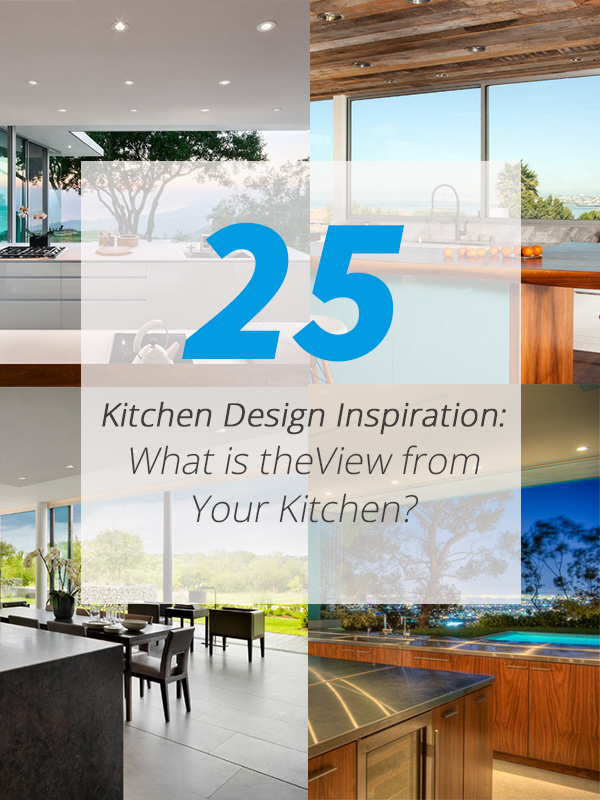 1. Eclectic Kitchen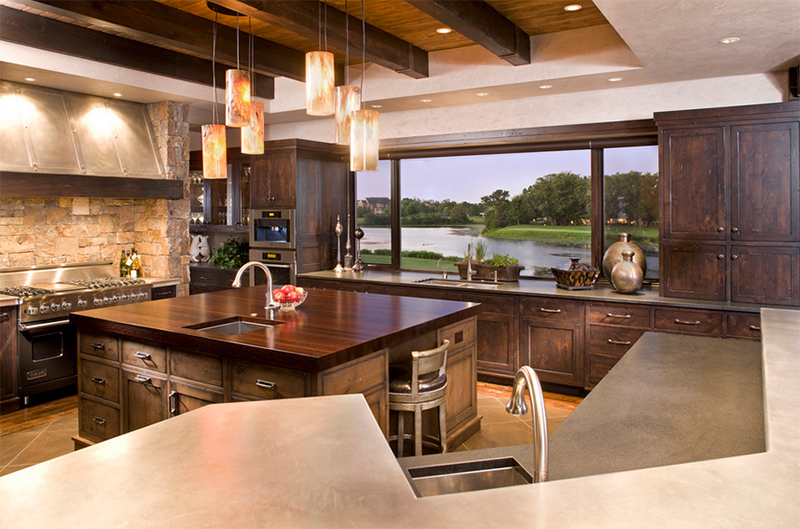 An eclectic kitchen is already a beautiful space but with that view, it made this area look even more inviting!
2. Drift Road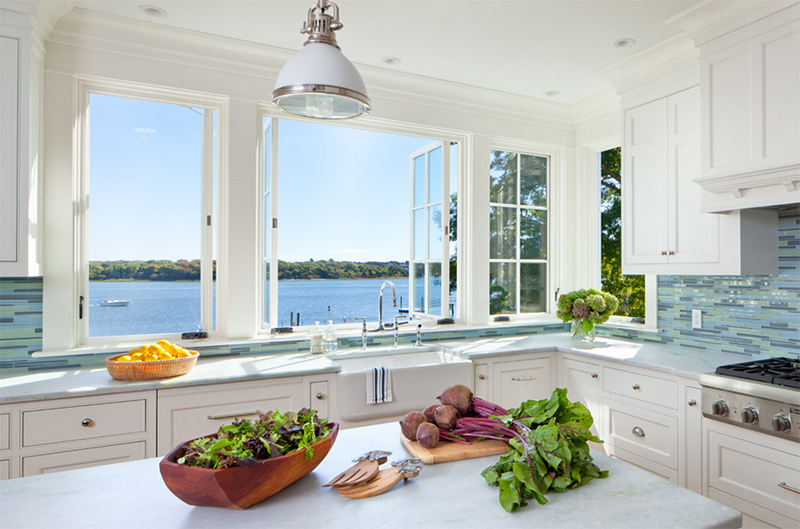 I could work for hours in a kitchen like this with a view of the waters. How about you, do you feel the same way too?
3. Lookout Residence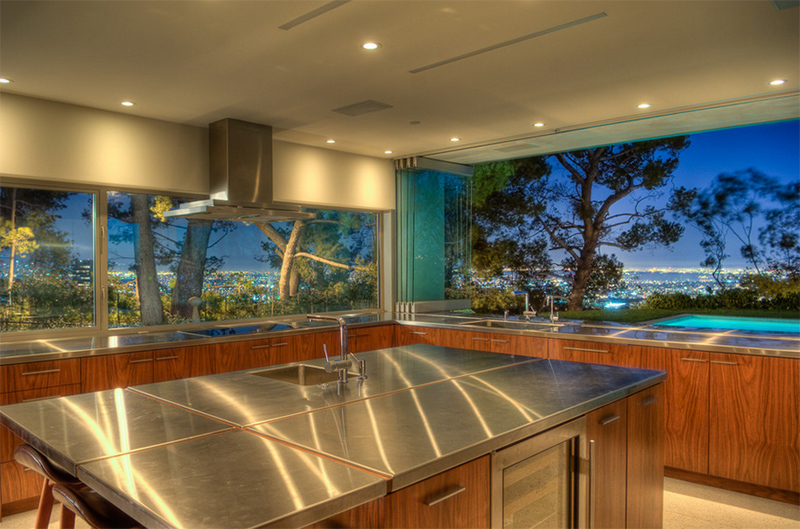 I like the design of the windows for this one. It can be folded when you want to see the city lights and the outdoor pool area and landscaping.
4. Silver Bow Residence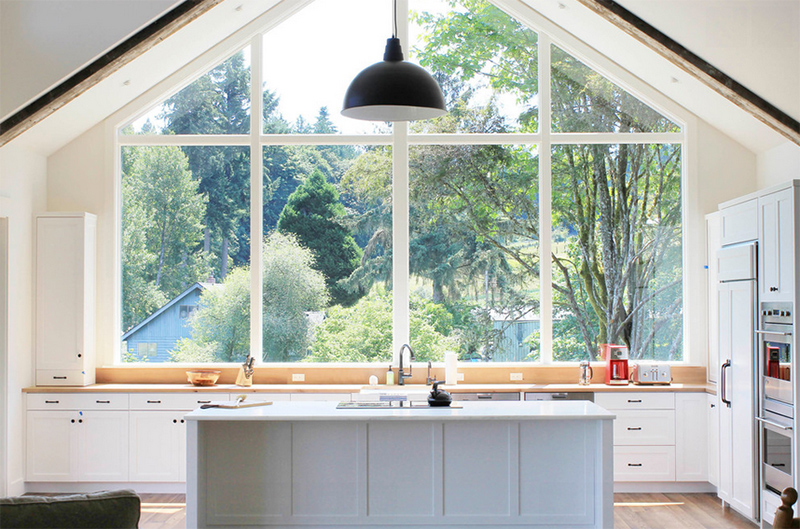 This kitchen is obviously on the upper level. You can see the trees on the garden from here which is no doubt a refreshing view from this white kitchen.
5. Summer Lake House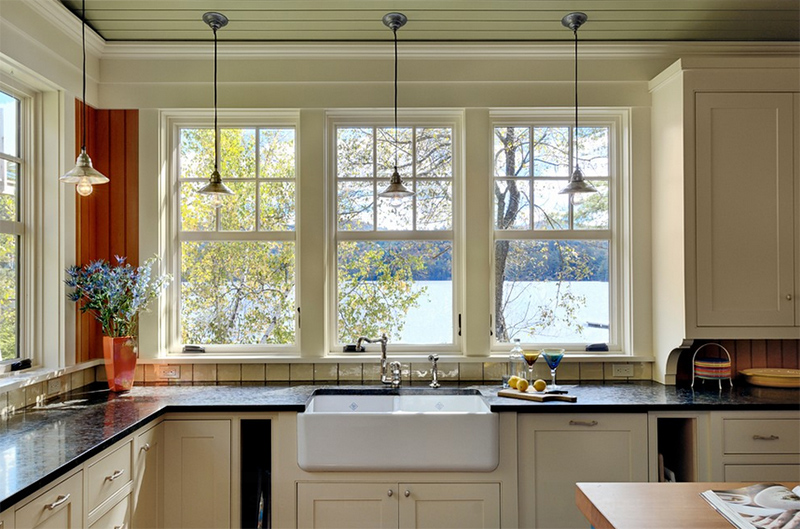 The lake is clearly seen from the kitchen's French windows. I can imagine how the view here changes from one season to another.
6. White Boxes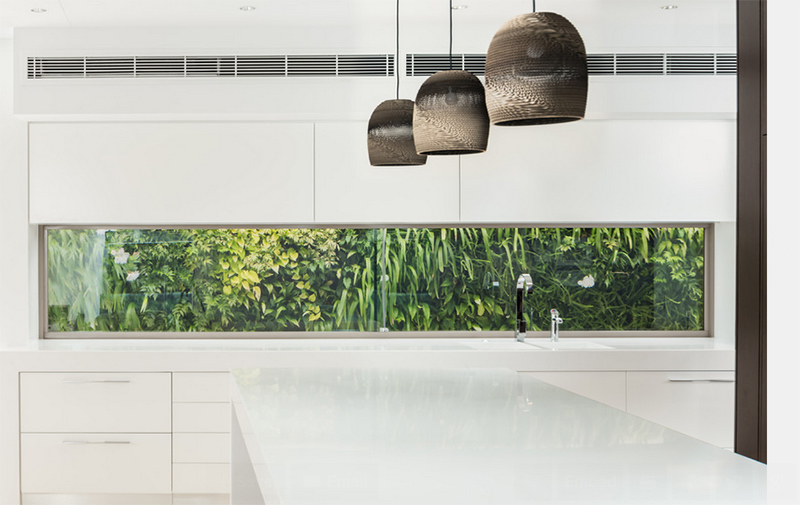 This is a white modern kitchen. A long horizontal glass window is added to the area with a view of the green living wall from outside. I honestly love how the green wall broke the monotony of white in the kitchen.
7. East Side Residence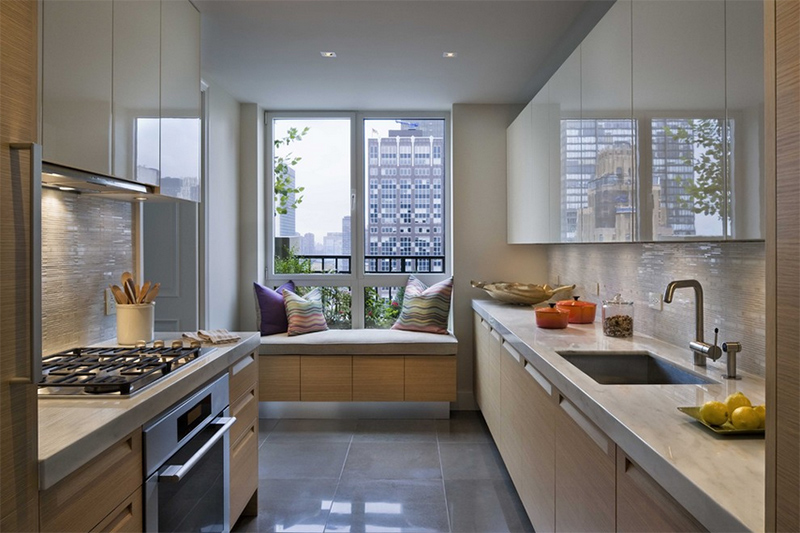 A contemporary kitchen with glossy white hanging cabinets and wooden lower cabinets. This is obviously contained in an apartment since you can see the city's skyscraper from here.
8. Arroyo Grande Modern Farmhouse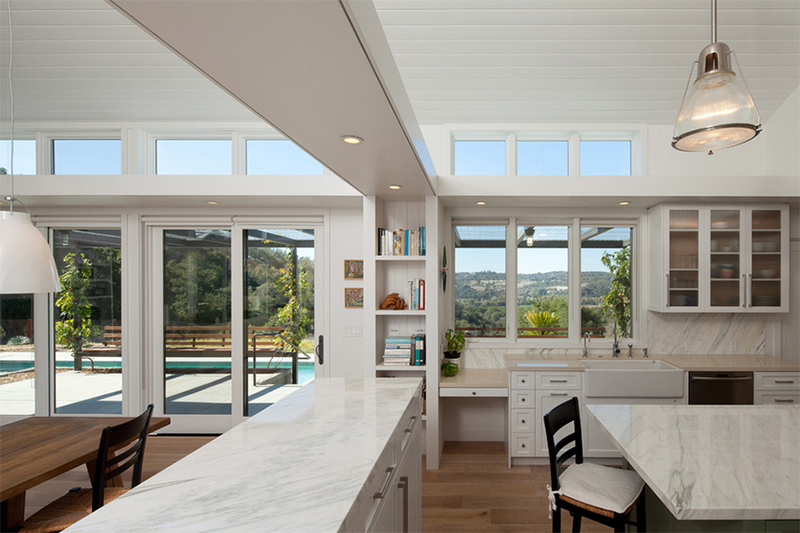 What I noticed in this kitchen are the books on the side and how it lined the space with a continuous drop ceiling. And yes, the beautiful view of nature is clearly seen from here aside from the pool area and the home's landscaping.
9. Chewuch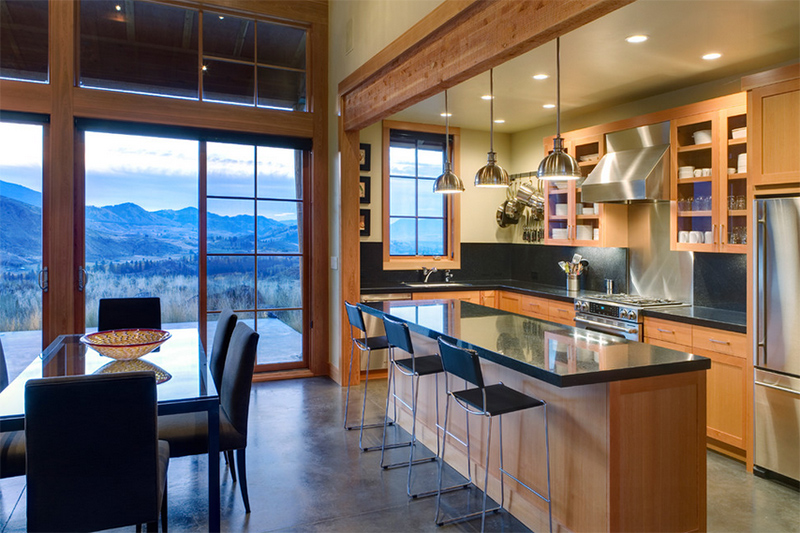 From this sophisticated kitchen, one can see the mountain alps and natural grass landscaping. This would be lovely even when its winter.
10. The Larch House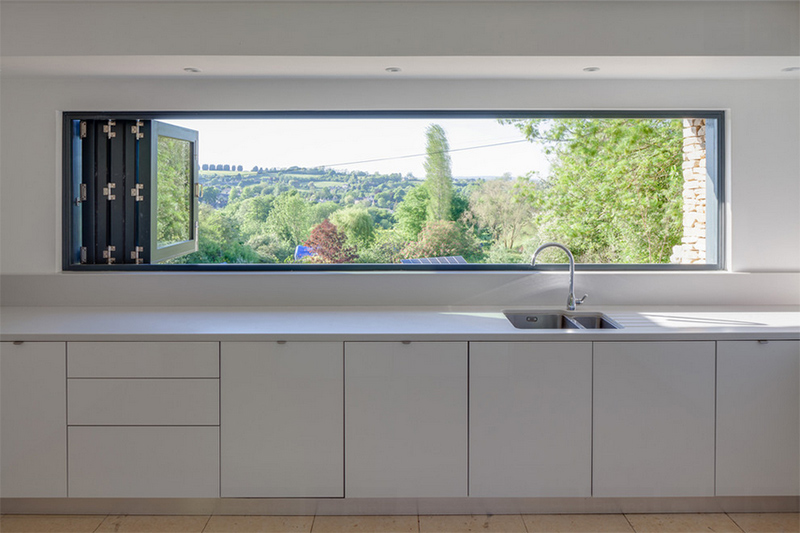 Folding windows will allow the owners to let more natural light in while giving them a view of the beautiful surroundings.
11. Ozone House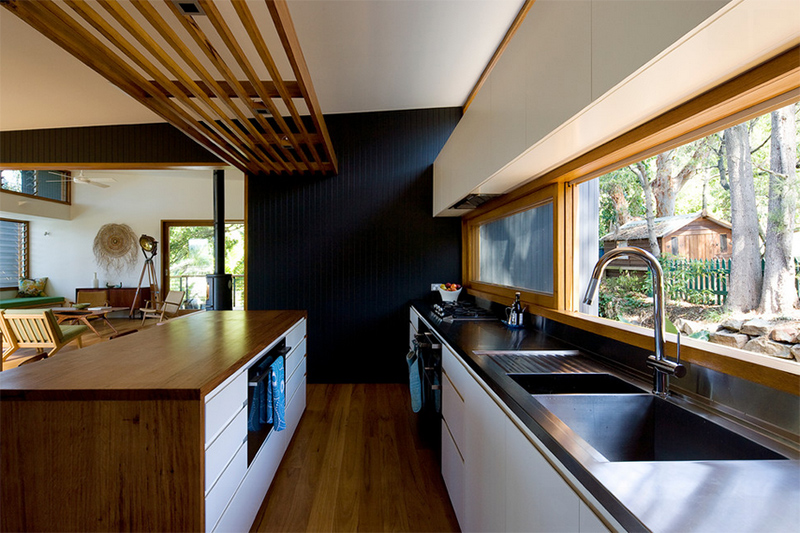 This kitchen has white colors combined with wood. It looks nicer with stainless elements on it. The view? Well, another structure and the relaxing garden with tall trees on it.
12. Lopez Island Residence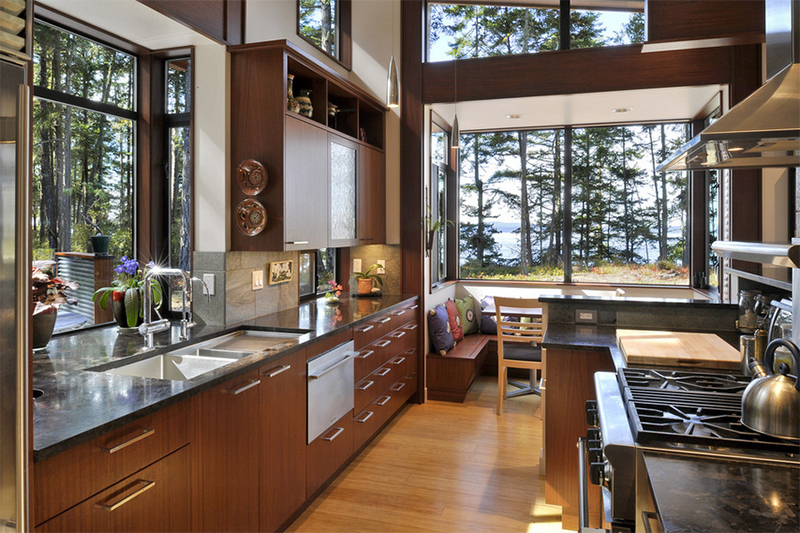 There is so much in this kitchen. Aside from the storage spaces and kitchen items, the view of the tall trees outside the kitchen is indeed breathtaking. I wonder if Jacob Black is there. Lol.
13. Beaches House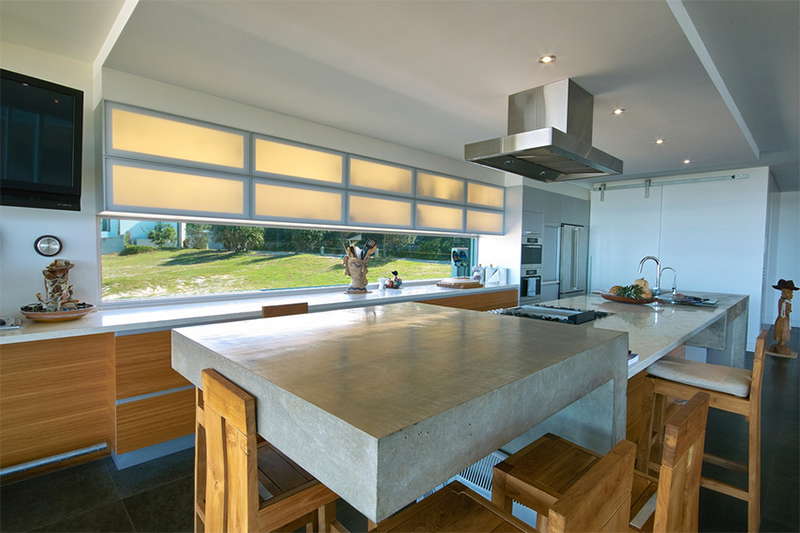 This kitchen has a concrete island which looks perfect in this contemporary space. You can see from here the green lawn of the home's outdoor area.
14. Paddington Butterfly House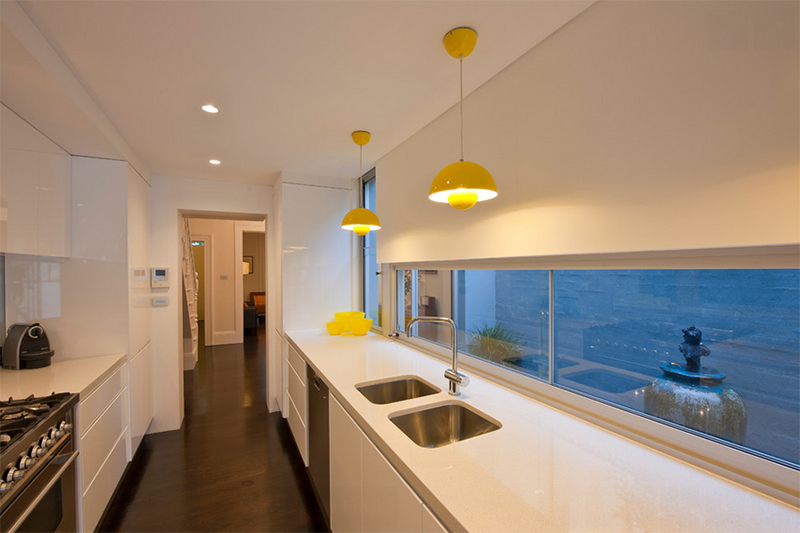 Yellow accents on this kitchen look extremely cute for me! Instead of a garden, what you can see here is the stone wall of what I think is a fence with some water feature. You can do this too if your home doesn't have a pleasing surrounding.
15. Kitchen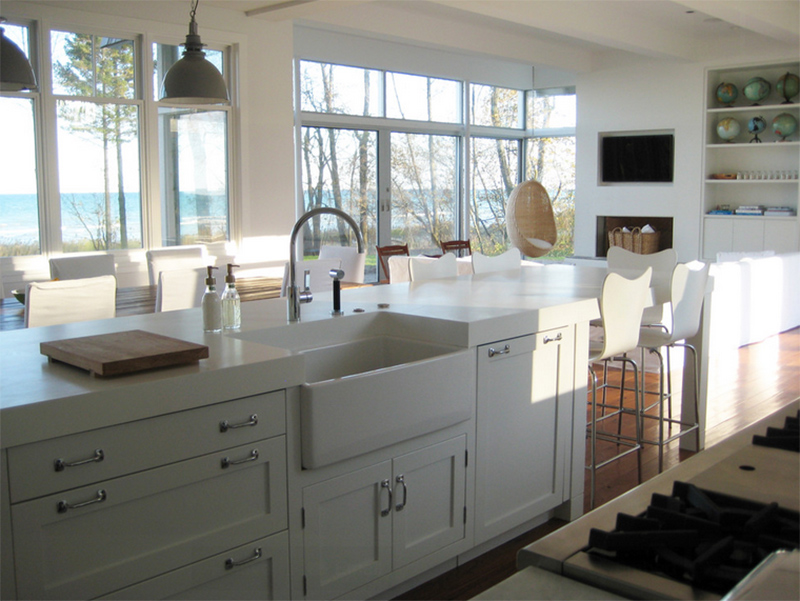 Another kitchen with a view of the waters and the trees. Notice that it has a dining table connected to the island.
16. Fisher Road Residence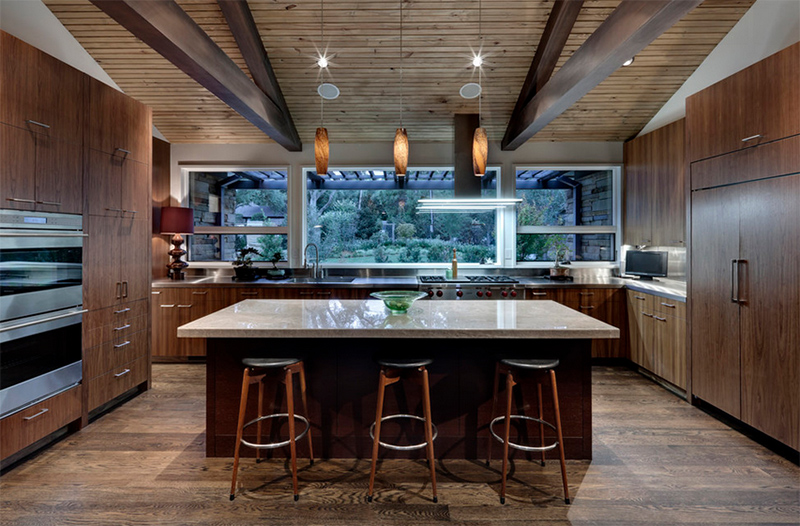 Why not cultivate a beautiful garden with bushes and seating areas? This would be a gorgeous view from the kitchen just like this one. It made good use of wood just everywhere!
17. Avalon House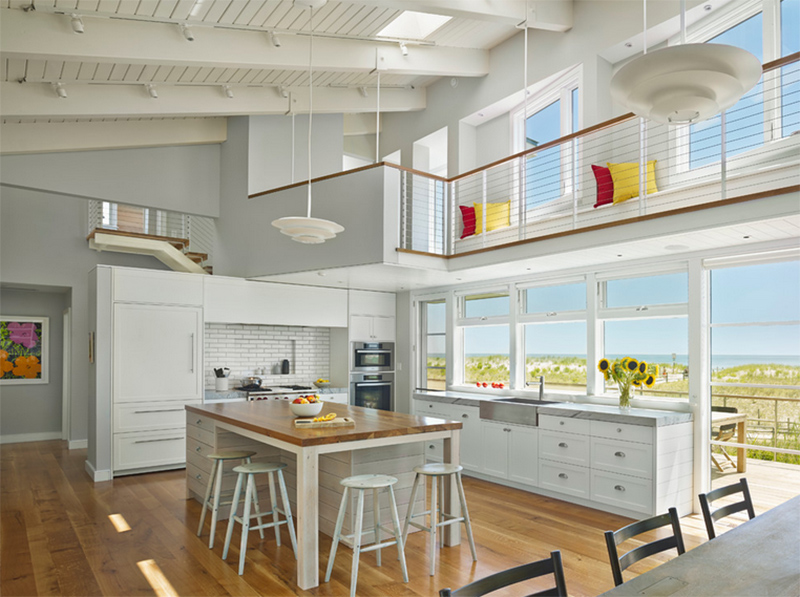 A double-height ceiling home was able to add a mezzanine with built-in benches. It has windows everywhere and I am certain that anyone who is in here could appreciate the beauty of the beach and the fresh air from it.
18. Oceanfront Estate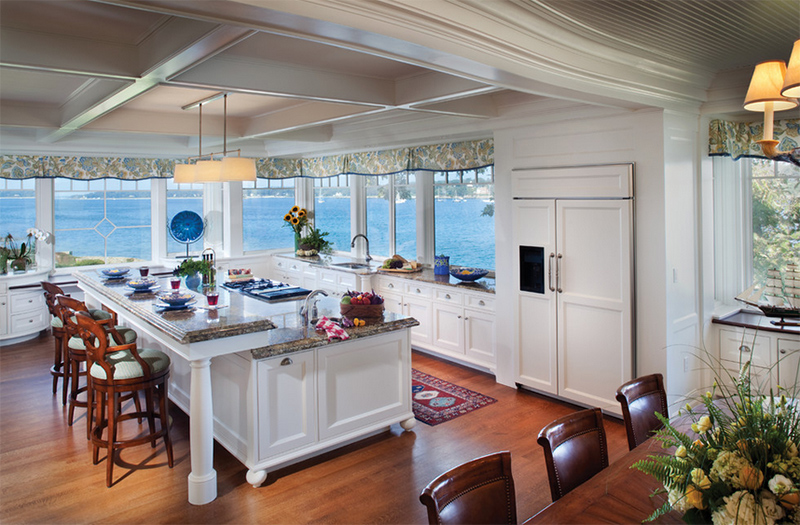 An ocean front home will of course get a view of the ocean. Well, it might even make you feel like you are on a floating structure or on a ship.
19. Carpinteria Foothills Residence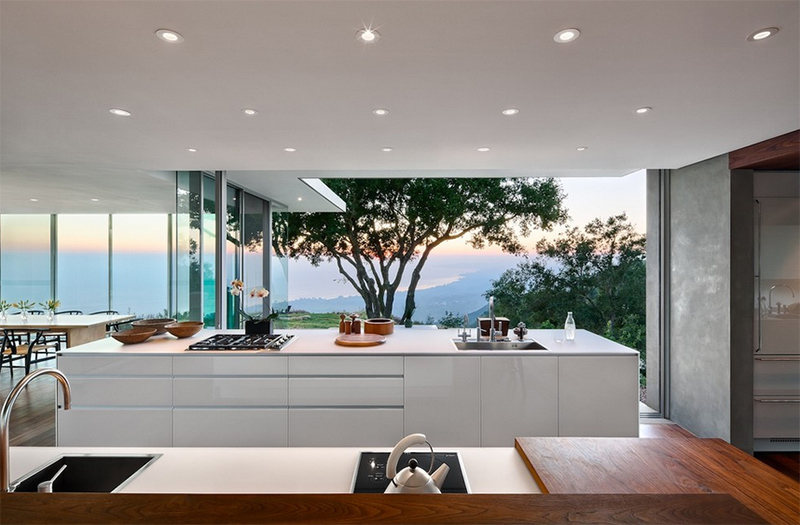 A modern kitchen could be enough for you but what about if it has this view? Now that would truly be awesome! Just look at the colors of the sunrise!
20. Gregory Phillips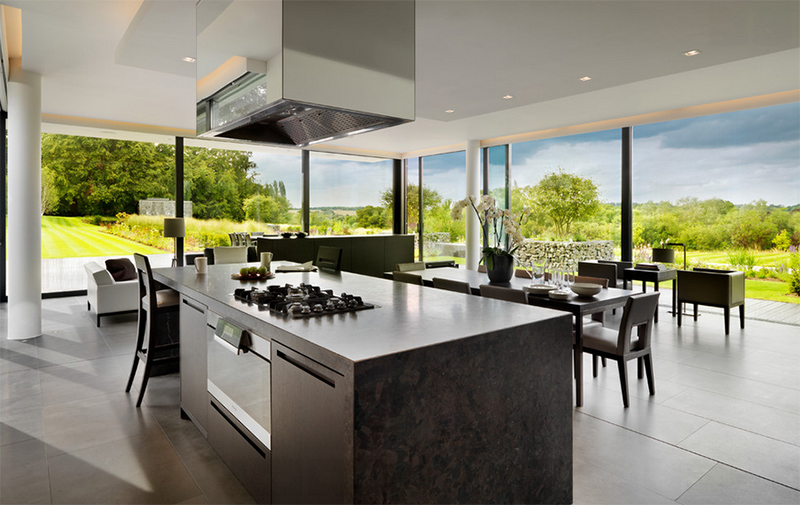 Dark colors were used for this kitchen but it doesn't look dark after all. Glass surrounds the kitchen where you can see the beautiful green garden outdoors. I'd love to have an outdoor space like this!
21. Contemporary Dining Room
How about having a good view of the ocean? Well, that would be awesome too! Just look at this one, it will surely keep you going no matter how many dishes you need to prepare.
22. 26th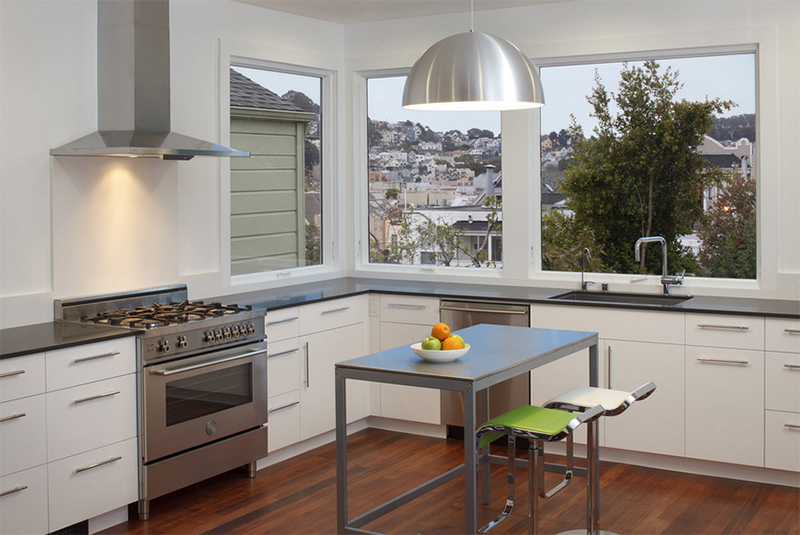 Now if you live in the city or in a village, you can still get a nice view of the neighborhood or maybe even of the neighbor's garden.
23. Nineteenth Street Residence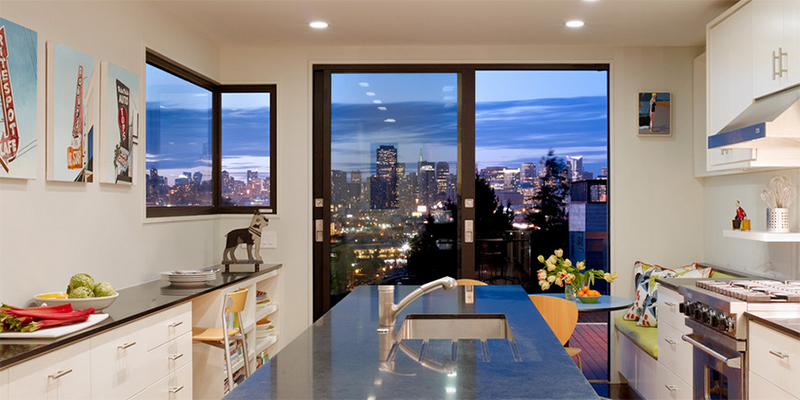 If you are the type that loves the busy city, then the urban lights would make you feel good just like what you can see from this kitchen that is located in a condominium.
24. Centre Island House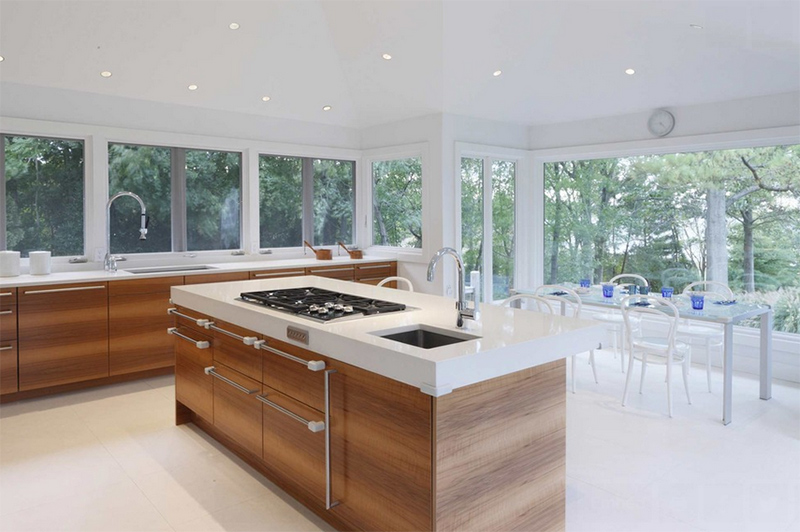 With a kitchen that has glass windows and doors, expect a good view of the trees around it. Of course, if not for the trees, it wouldn't look this good.
25. Paseo De La PLaya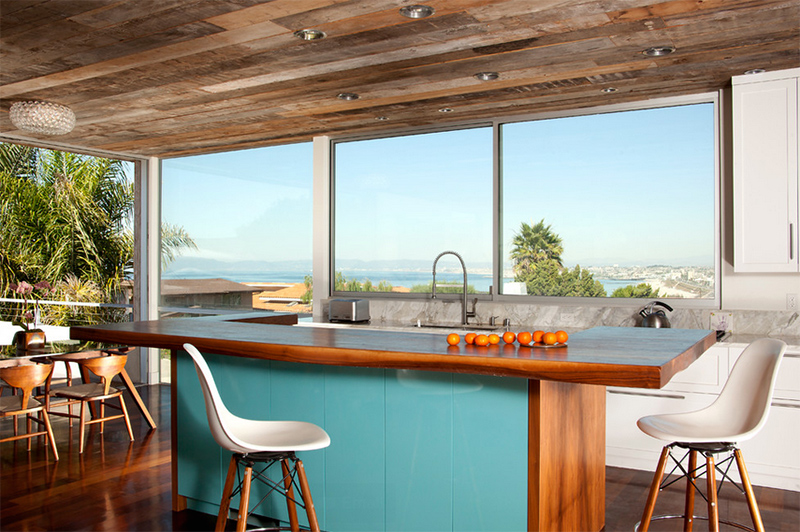 Last but not the least, a kitchen with a pretty accent on the wooden island overlooks to the beach. Sunrise and sunset would be amazing here!
Nothing really beats a good view from any space of the house. It will surely make you feel better while working and it will also make you love your home even more. No wonder why many people prefer to live in a home with a stunning surrounding because aside from the effect it has to the home, it has an even larger effect to the home owners. Aside from the kitchen, it would be best to have the same stunning view all around the house from the living room to the bathrooms. Some would create their own garden if their surrounding isn't gifted with lovely views. Well, you can always have a beautifully landscaped space with the help of professional landscapers or with your own creativity! With this, you will be able to add beauty to your outdoor space and you will also get a lovely view while you are inside the house.