24 Beautiful Western Kitchen Decor
Distressed, worn, shabby or rough-hewn – these may not the first words that come to mind when we think of kitchens today. While crisp white cabinets, polished nickel hardware and beautiful marble countertops are on trend these days, a rustic kitchen will always provide the comfort of a piping hot bowl of macaroni and cheese on a cold night. More words that describe the look are "well worn," "patina-ed," "antiqued," "homey" and "reclaimed." See the pictures below if you'd like to try any of these ideas to cozy up your kitchen.
You can use wood from floor to cabinets to ceiling, just be sure to break it up a little with countertops and a backsplash of a different material. A reclaimed sink, enamel stove and old-fashioned cabinet latches gives the kitchens below much of its vintage charm. Take a look at the pictures we have collected for you guys and tell us what you think!
1. Atlanta Country Kitchen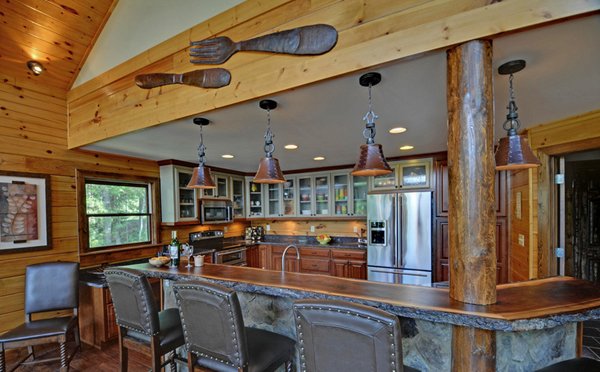 The cabin wood feel of this Atlanta kitchen is just refreshing! Feels like a total vacation when you look at it!
2. Austin Nautical Themed Timber Frame Home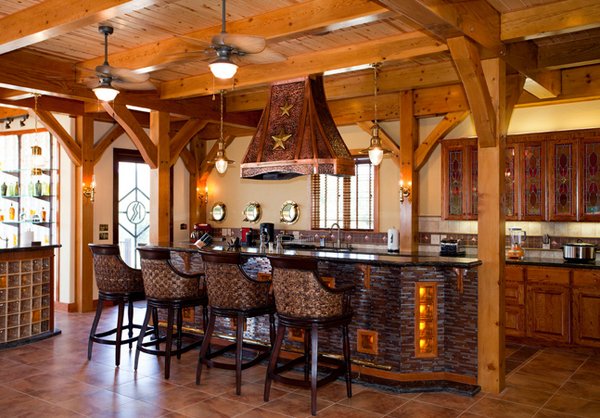 This kitchen is rustic, robust, handsome and beautifully put together.
3. Austin Traditional Kitchen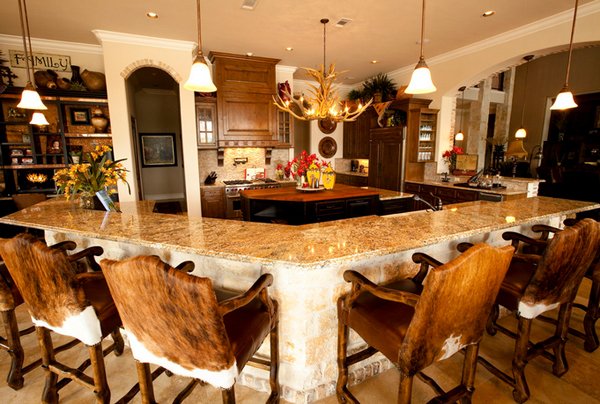 Pretty neat cowhide chairs! Note the stunning chandelier in the background?
4. Canada Rustic Kitchen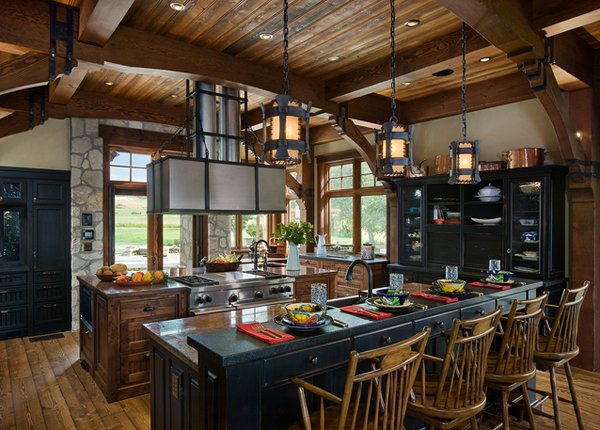 I really like the light fixtures and the hood over the oven.
5. Carriage House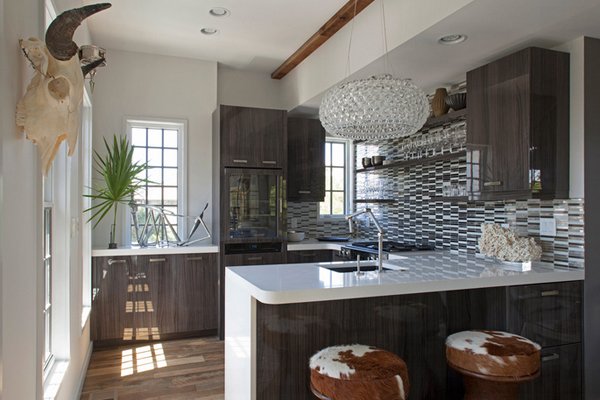 I love the color of cabinets with white tops, backsplash and lights; love the bar stools and the skull decor on the side.
6. Cedarview Residence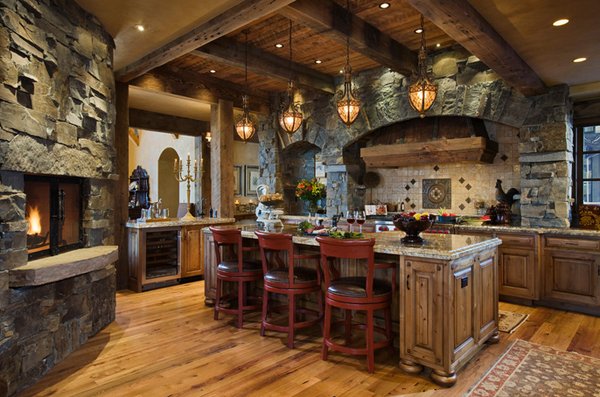 The style and colors of the cabinets, chairs and the range hood is plain awesome! Love the lighting above the island too!
7. Channels Ranch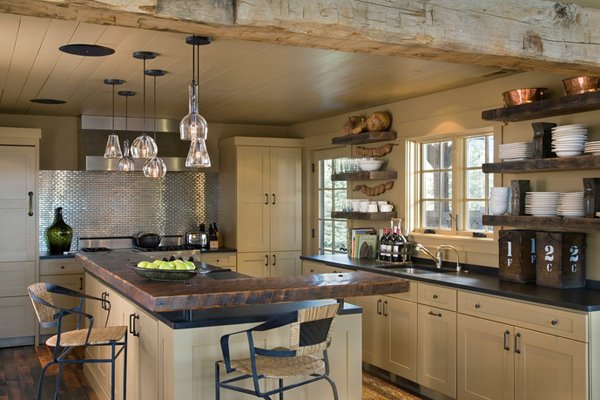 Like the use of wood counter, lighter cabinets, metal backsplash and barn boards.
8. Homestead Pioneer Ranch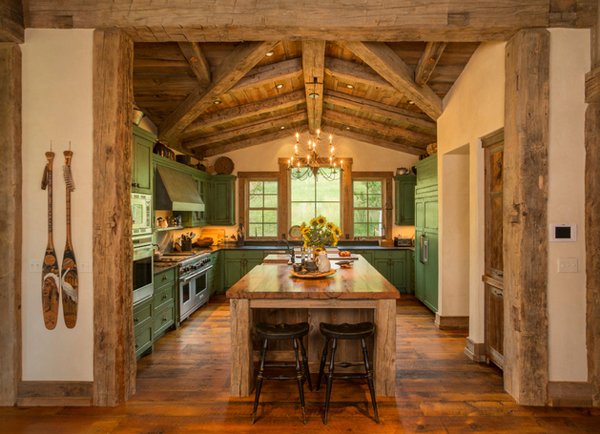 The layout of this kitchen is fascinating with those paddles on the entrance is cool too. Notice the color palette used in this Denver kitchen too!
9. Houston Ranch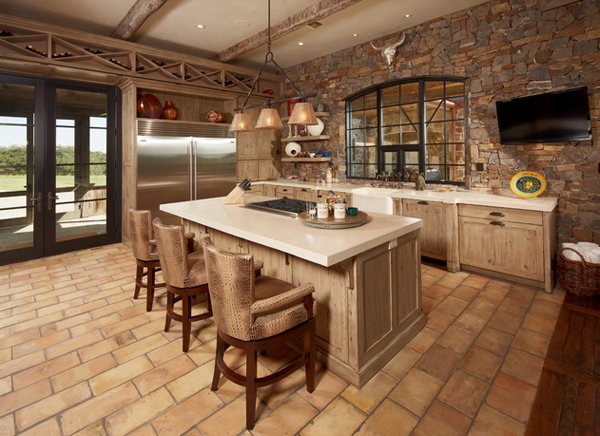 The open concept of this Houston kitchen is great and love the colors used in this one too! I love how they added a TV here too.
10. Job's Peak Ranch Residence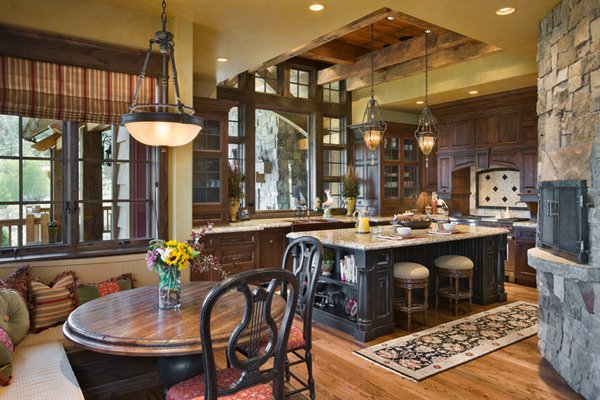 The pendant lights used in this kitchen is rather rustically beautiful – if you know what I mean.
11. Keystone Ranch Home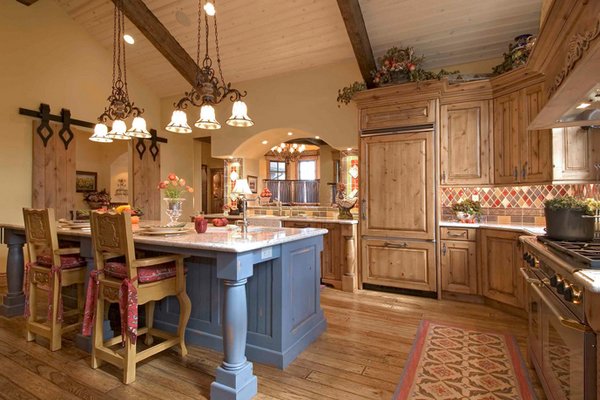 This country feel kitchen enhances the great outdoors with it's calm yet bright colors throughout the space. Having a custom tile backsplash pulls out all the earth tones throughout the kitchen.
12. La Jolla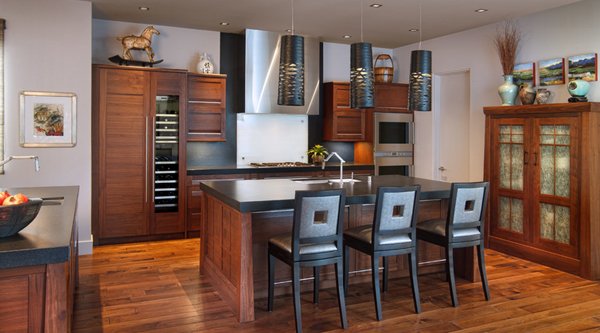 Not a big fan of the wood floor & the place is kind of dark but I like the shapes used in this San Diego kitchen.
13. Land's End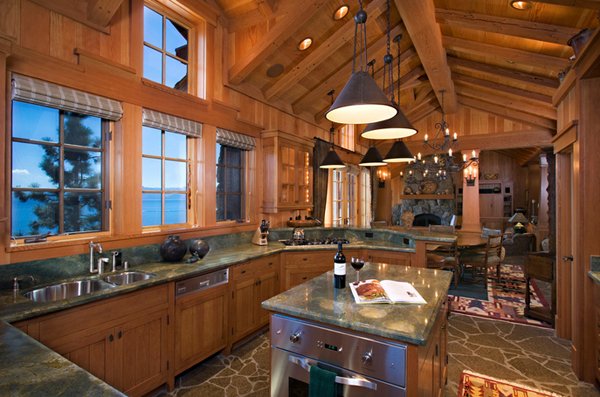 The windows and the ceiling design in this kitchen is lovely – just like the inverted triangular pendant lights.
14. Llano Ranch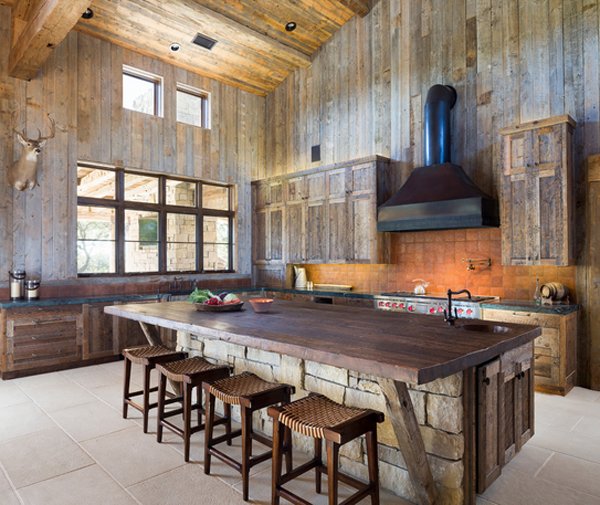 The general feeling and aura of this Austin kitchen is comforting and really beautiful.
15. Louisville Log Home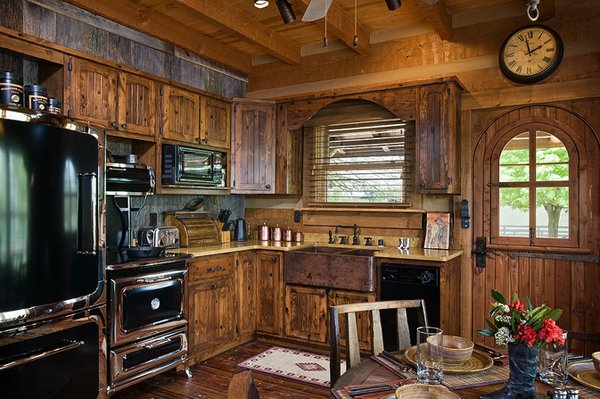 Log cabins are seen as scary in movies, but this one sure is lovely and very homey.
16. Moonlight Ranch Residence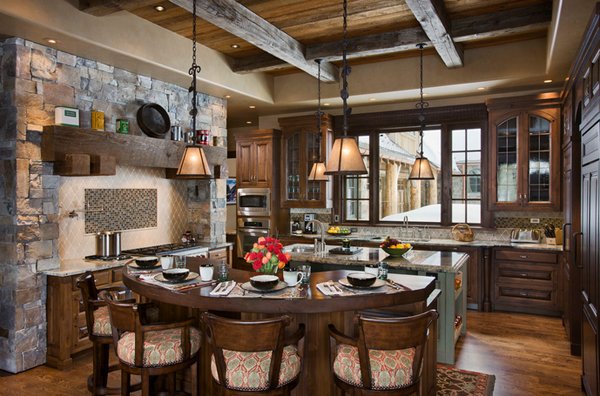 Stunning accent wall with a counter on the side with matching hanging cabinet.
17. New York Rustic Kitchen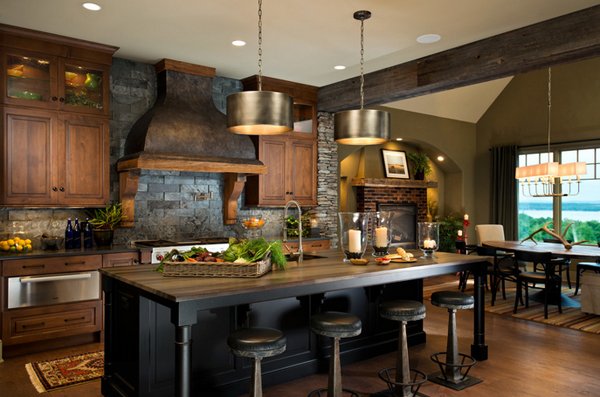 Great colors – slate grey cupboard and brown bricks with the stunning black island counter and bar stools.
18. Ranch House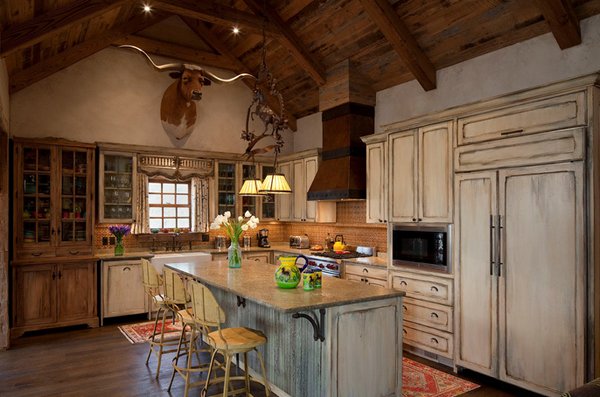 The long horn in the wall is just neat!
19. Ranch Manor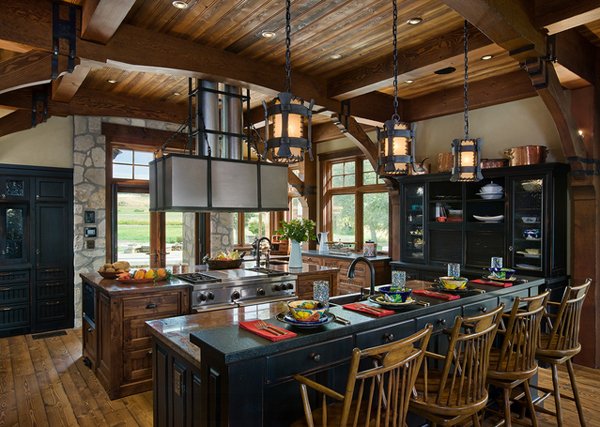 The rustic ranch styling of this ranch manor house combined with understated luxury offers unparalleled extravagance on this sprawling, working cattle ranch in the interior of British Columbia.
20. Rush Lake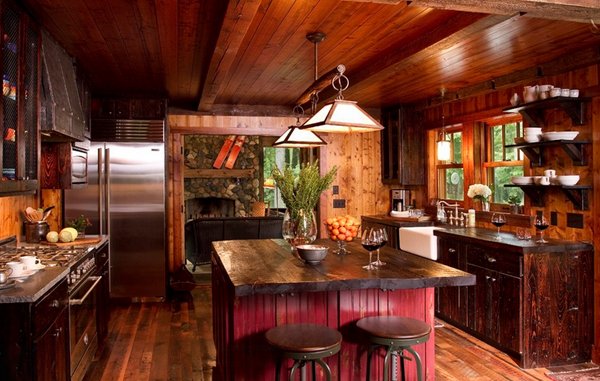 Consider reclaimed wood for your countertops. A couple of coats of polyurethane will keep wood countertops protected from spills and rotting. If you're renovating an older home, look in the attic for beautiful old floorboards to use for countertops.
21. Rustic Contemporary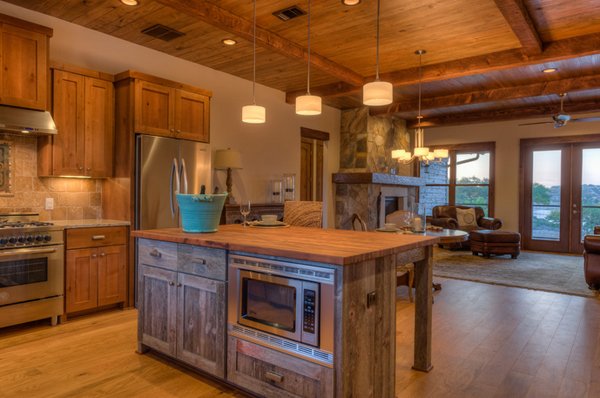 Here is a contemporary approach to a rustic kitchen – cleaner lines done on the wood used on this one.
22. Rustic Vacation Home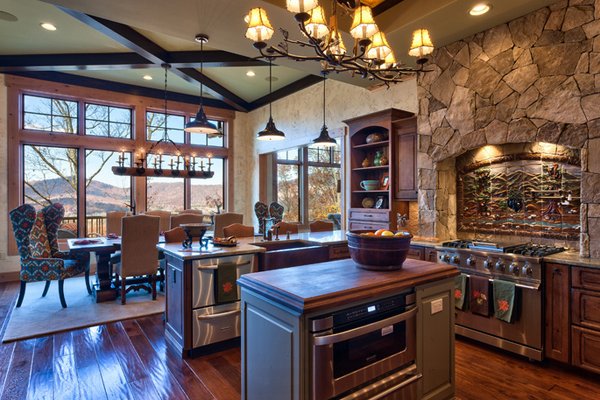 How do you like the combination of wood, stone and stainless steel?
23. Spanish Peaks Retreat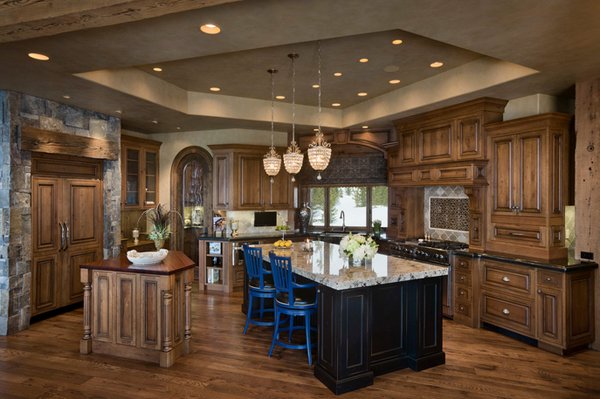 Take a look at the arch over the sink which gives of a really traditional feel to this kitchen.
24. Twin Creek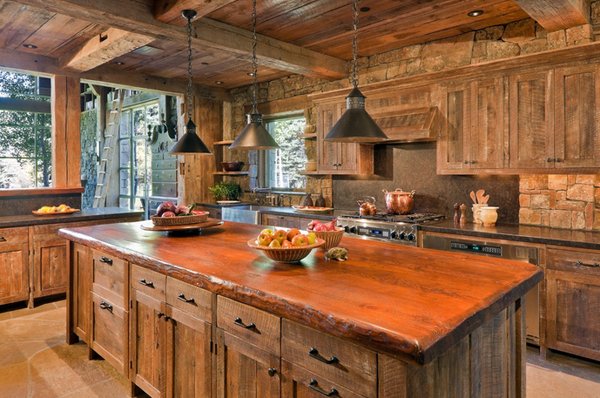 This kitchen looks like a space our handy Fathers' can actually do with the help of their handy-dandy tools.
You can always combine your light-colored-kitchen dreams with rustic elements like reclaimed wood on the island or countertops, exposed ceiling beams and a hardwood floor – just like the kitchens we had above. Western decor will always be interesting whether it'll be in a kitchen, dining room, bathroom or bedroom – with that in mind, check out the 16 Awesome Western Living Room Decors and comment below!