16 Nicely Painted Kitchen Cabinets
We love colors, and we pretty much want these colors to be available to us.
Today, we will be showing you 16 Nicely Painted Kitchen Cabinets that might inspire you to have your cabinets painted. If you have whites, creams, earth-tones or blacks for your kitchen cabinets, take a look at the list that we have for you to encourage you that a little color may actually prop your kitchen to look more stunning and welcoming!
First step is to choose what color you would want to be applied to the cabinets. Either you can do the painting or you can ask someone to do it for you, whether or not out of friendship (insert wink here).
The 16 Nicely Painted Kitchen Cabinets come in mostly traditional designs but of course in different colors – pastel, bold, and even close to the browns. You will be amazed at some of the color combinations we have in stored for you. Here we go!
Beverley Place Kitchen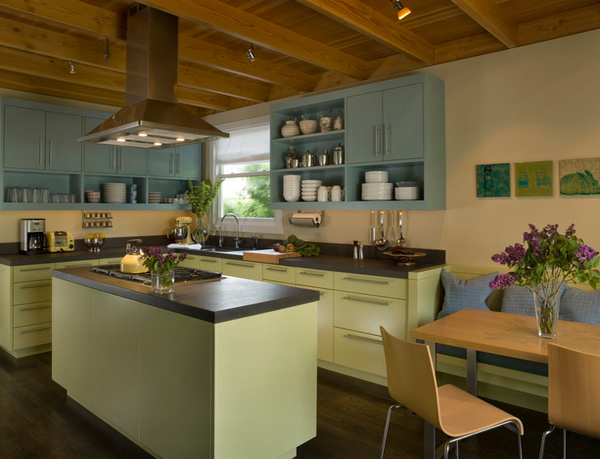 We like the combination of cupboards and the open shelving. This picture also shows how well different colored cabinetries can work.
Blue Grey Kitchen with Island Unit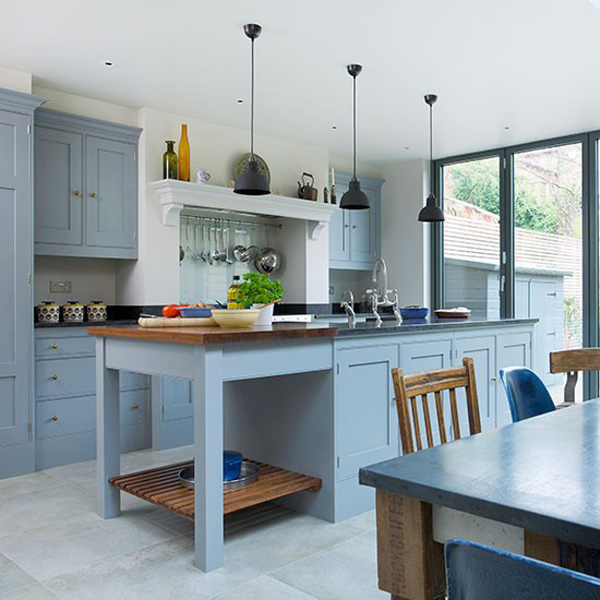 This country kitchen has clean lines, with smart kitchen units painted in a subtle shade of blue-grey and ceramic flooring.
Blue Kitchen Pendants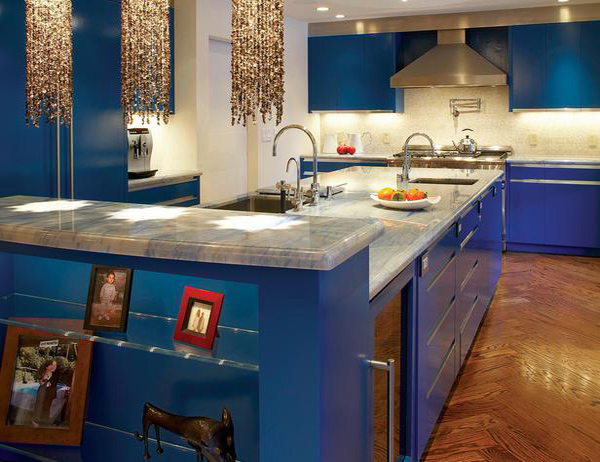 The project embodies the exuberance of a Brazilian-born woman, who embraces color with all of its glory. The dynamic kitchen, featured in Angeleno magazine and California Home and Design, has painted blue cabinets, Azul Macubas extra granite and state of the art appliances.
Bright Lime Green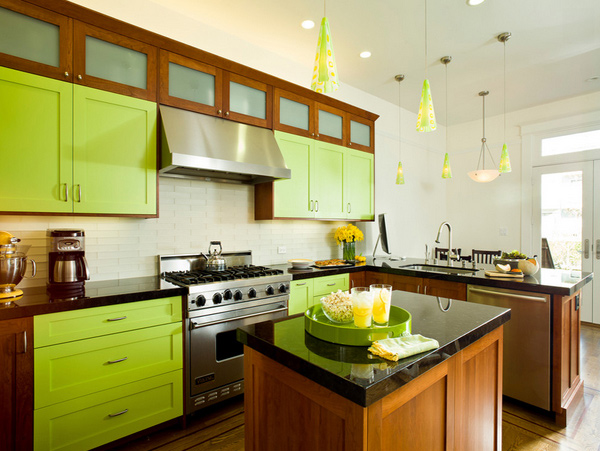 We love the combination of the colored panels for the cabinets and the dark browns. Matching pendant lights brighten up the room at night.
Farmhouse Slate and Wood Kitchen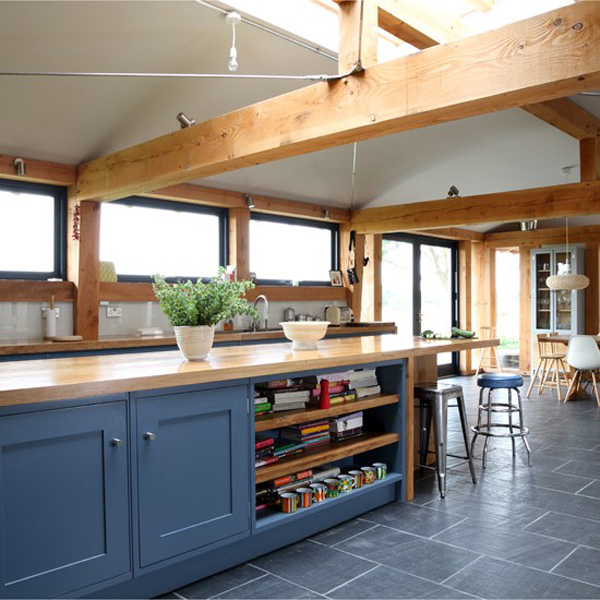 The bespoke Shaker-style cabinetry in this farmhouse kitchen was built using solid oak and painted in a blue-grey shade for a relaxed country feel.
Glamorous Grey and Purple Kitchen with Island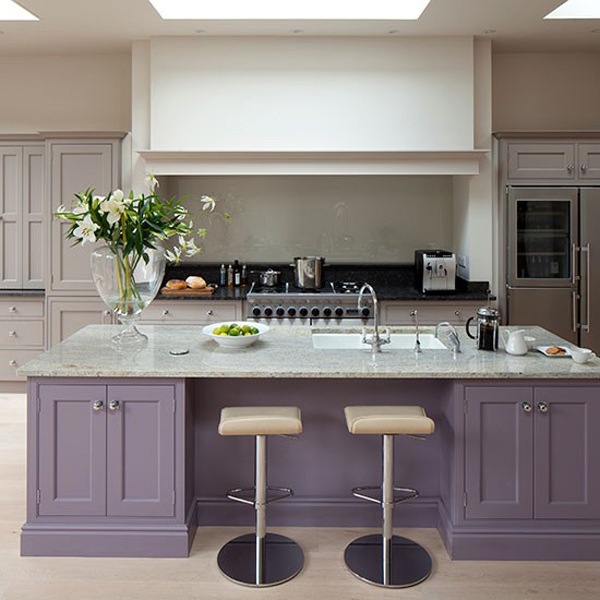 This island unit in this glamorous kitchen has been painted in a striking purple shade so that it stands out against the pale-grey background and oak flooring.
Green Painted Kitchen with Storage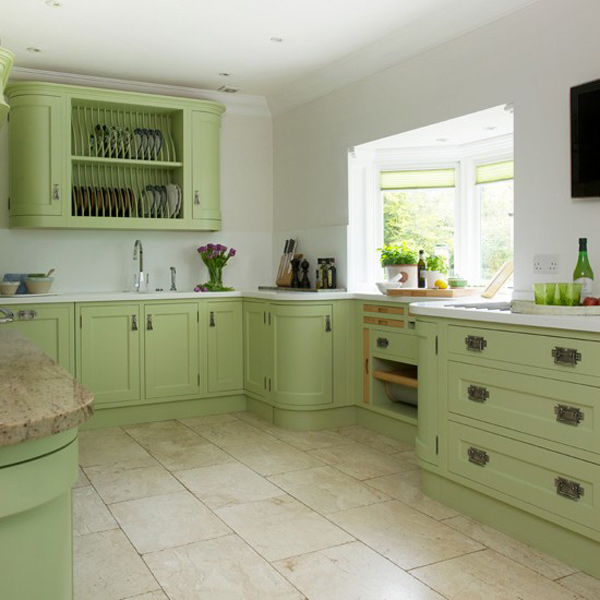 Plenty of storage means there's a place for everything in this green-painted wood kitchen.
Grey Kitchen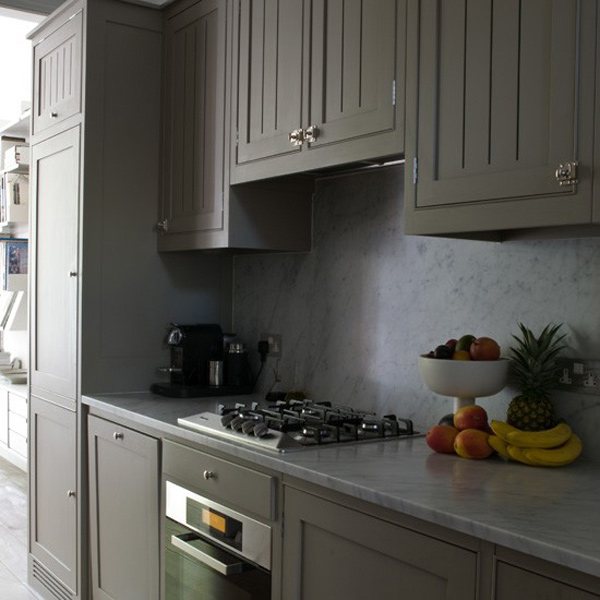 Soft grey kitchen cabinets create a tranquil feel in this kitchen. White marble worktops and tiles lift the look.
Lemon Kitchen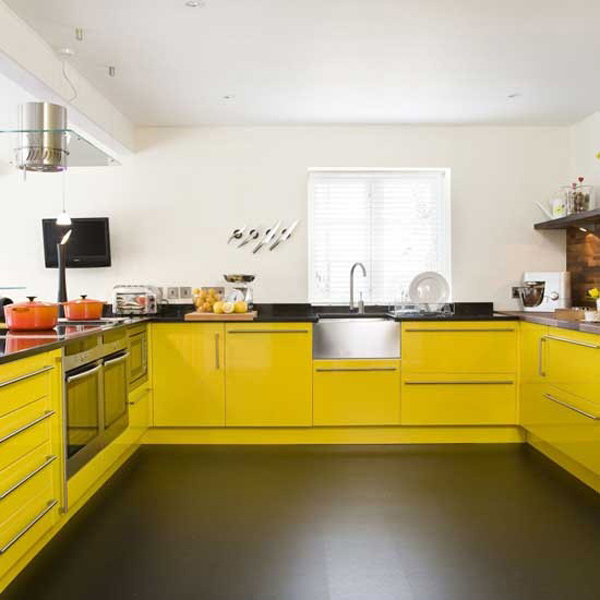 Bright yellow hi-gloss cabinets give a real lift to this large kitchen and are contrasted with the soft white walls. Dark flooring adds an industrial feel to the space. Modern and sleek appliances complete the look.
Mt. Washington Kitchen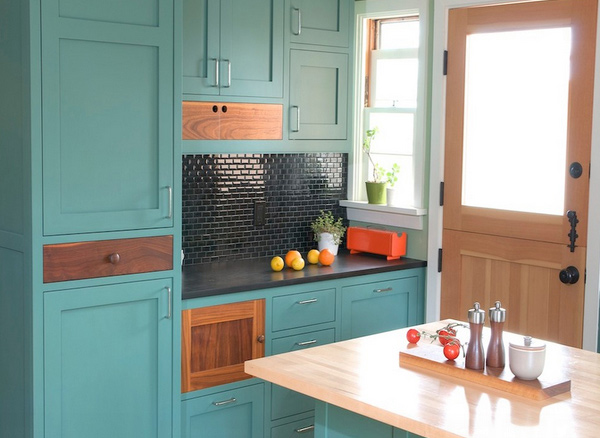 Shades of turquoise work with retro-style kitchens for a nostalgic wink — and also look great in modern kitchens.
Plum Kitchen with Central Island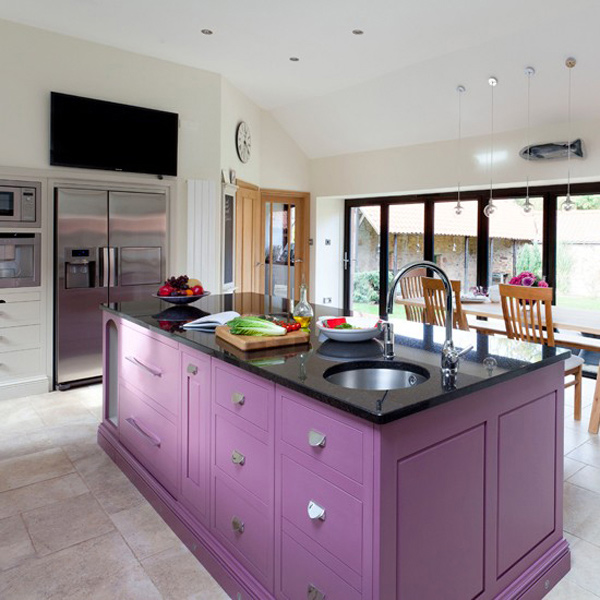 A plum-colored island unit is the focal point of this traditional hand-painted kitchen.
Range Cooker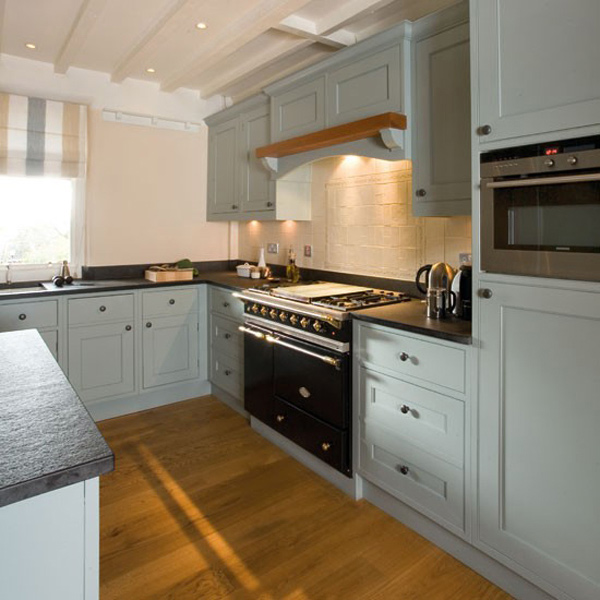 The stylish black Lacanche range offers a variety of cooking options, so is ideal for entertaining. It is framed by a ceramic tiled backsplash in subtle cream from Malborough Tiles matched with subtle grey kitchen cabinets.
Red and White Kitchen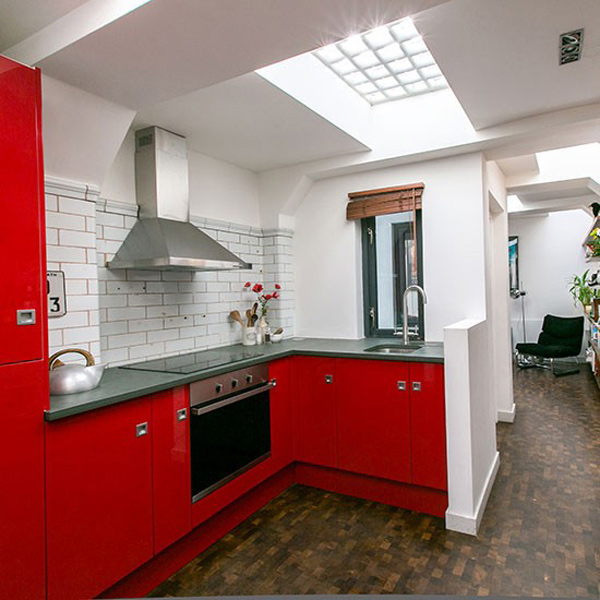 Customise your kitchen cabinets with high-gloss car paint – use a professional spraying company for a good finish.
Shaker Style Kitchen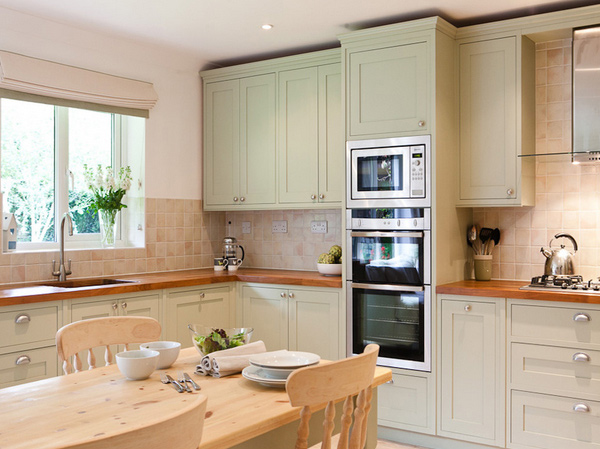 Repaint cabinets. If your kitchen cabinets have a dated finish or you want a more personal touch than standard-issue white cabinets, think about adding color. Try pale sage green, as shown here, duck egg blue or warm putty — all versatile choices that go with many different materials and finishes
The Olivers House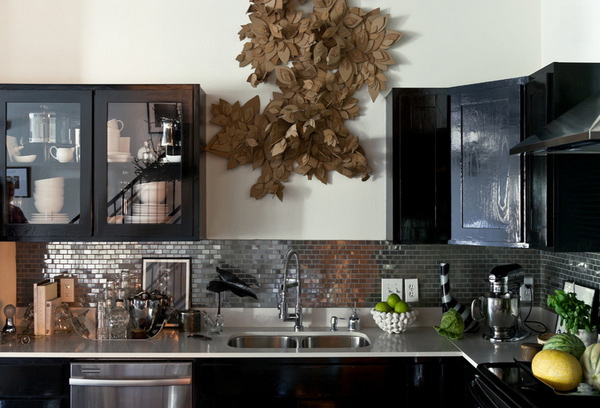 These Dallas homeowners painted their kitchen cabinets a high gloss black. We love that the black paint created a drama in the kitchen giving it an almost fashion forward look.
Transitional Kitchen Blue Island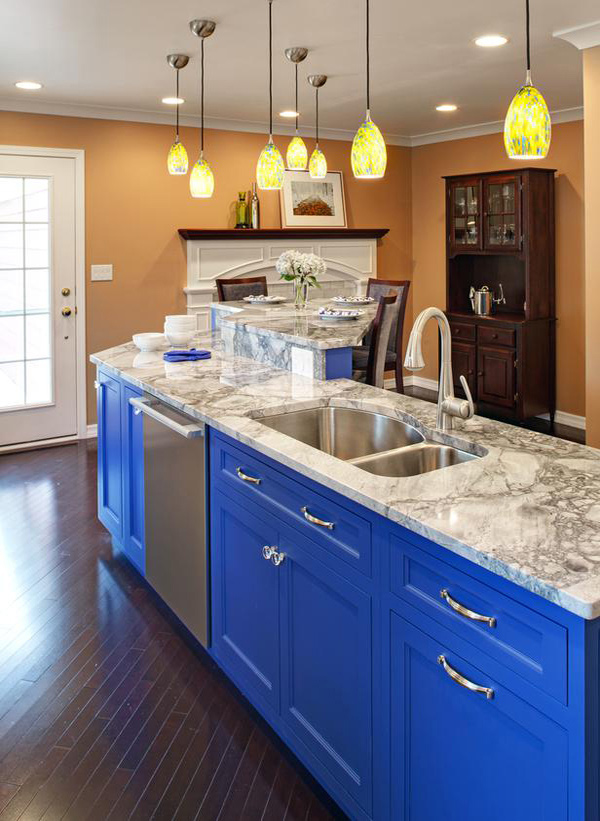 The vibrant blue island adds a dramatic pop of color. The intensity of the color is softened by the stainless steel appliances and the soft grey granite top. The white painted fireplace surround coordinates with the perimeter cabinets tying the rooms together. The raised bar area provides casual eating for the family as well easy entertaining.
The 16 Nicely Painted Kitchen Cabinets is a stunning list as to how one kitchen can be brightened up with a bit of color, thanks to the cabinets. Most of the kitchen cabinets we have above are made of wood – why not? They are so pretty and match any style we want to achieve. Contemporary to modern to even traditional – we have it all, here on Home Design Lover! Please do check the 15 Astonishing Black Kitchen Cabinets for more inspiration.