15 Outstanding Industrial Kitchens
Industrial style kitchen may not be that popular nowadays, but the question is why wouldn't we add brick walls, pipes, wood beams, wall-mounted rails, or retro-looking appliances in our homes? Like my friends, we like the look that an industrial space has as it gives one space an eclectic feel that we just find so cozy. If you love those commercial range look in your kitchen, maybe this style will fit right for you.
Perhaps one of the most stunning uses of wood materials happens to also be practical. A word of caution: Wood needs a lot of care, especially in the kitchen.
Before you take the leap, do your research for the species of wood you want so you know exactly what you're getting into.
If you think you can live through all the old and rough material intended for an industrial space, then i'll bet you'll love the 15 Outstanding Industrial Kitchens below, check it out!
Cabbagetown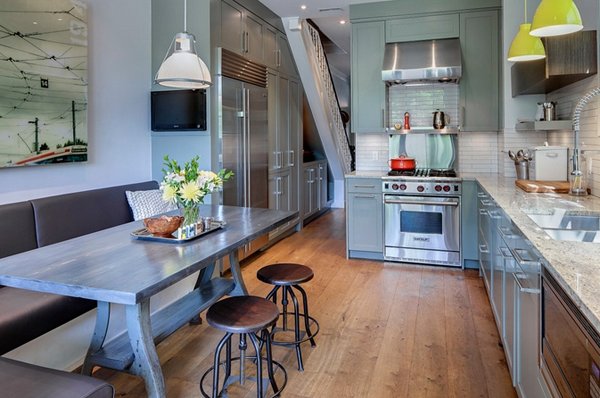 Like many Victorians, this house is on a deep and narrow lot, making natural light scarce. The kitchen's location at the back of the house couldn't be changed, but Beauparlant reconfigured the room for maximum natural light.
Caesarstone Kitchen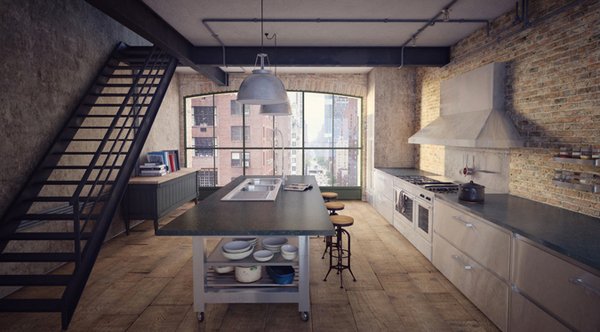 Smooth slate grey with chalky white veins. Inspired by some of the world's most beautiful natural marble, Caesarstone's newest designs represent the five new additions to the Classico collection, all with a unique blend of earthy tones and delicately infused veins.
Carriage House Renovation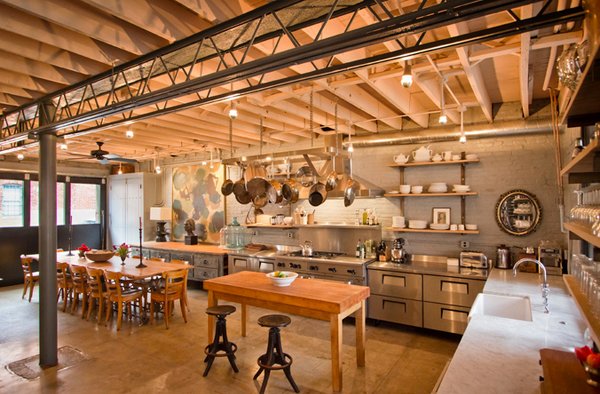 Entertaining, cooking and eating are big parts of the Kahoes' life. "They didn't want a kitchen and a dining room as much as a kitchen with a large table in it," says architect Shawn Buehler. Dan and Anna want their guests to be in the kitchen for all parts of the meal – even clean-up.
Chicago Urban Chic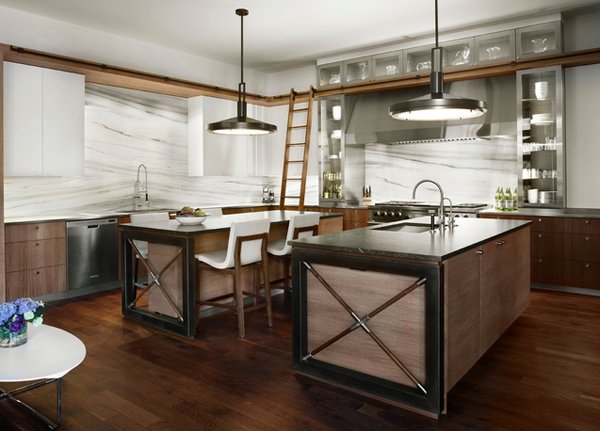 Notice that this urban kitchen actually is a bit contemporary because of the counter stools used by the island behind the sink. But the lovely pendant lights and all the stainless cabinets says it all.
Eclectic Oakland Loft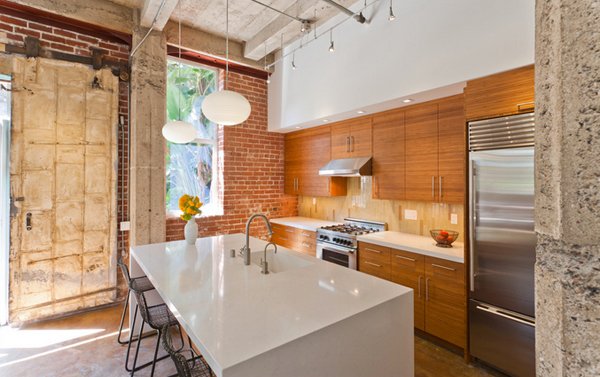 This is a modern bamboo kitchen cabinetry in an eclectic Oakland loft. Perspective view highlights island countertop with waterfall ends & integrated sink.
Erie Loft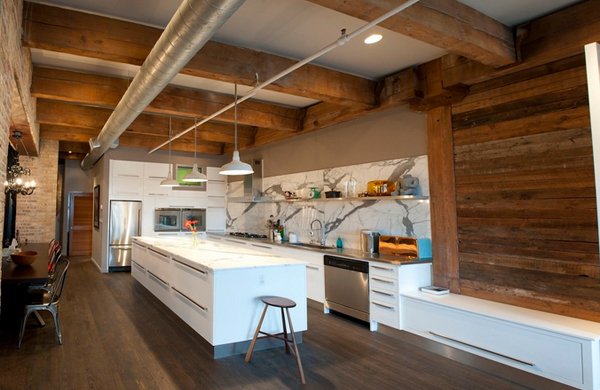 According to the designer, they wanted to avoid the lifeless feeling usually associated with industrial lofts by giving the space a warm but rustic aesthetic that they thought best represented the original loft building.
Franklin Street Loft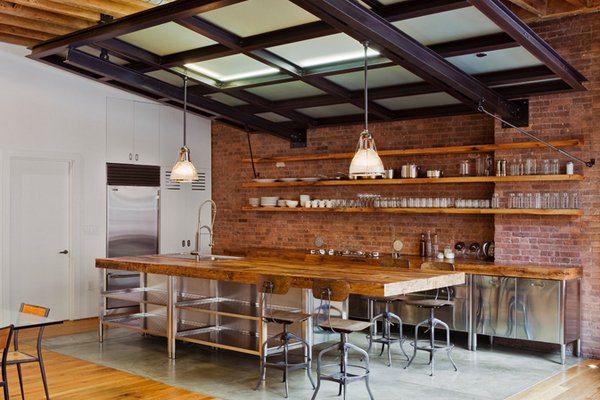 The counters and shelves in this industrial kitchen are made of reclaimed barn wood, which navigates between the exposed brick and stainless steel. The wood adds character and a sense of history to this sleek loft.
Industrial Kitchen
White and stainless steel furnishings dominate this stylish, utilitarian kitchen. Using the original brick alcove to house a modern range is a functional and easy use of space. Wall-mounted rails have been fitted for easy access to utensils.
Knollwood River Oaks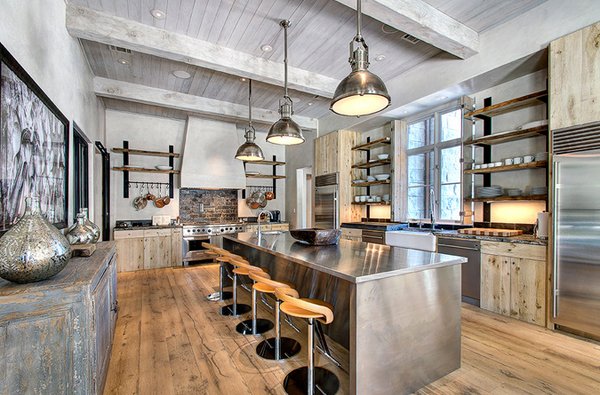 Anyone who would see this kitchen would definitely love the vaulted ceiling, multiple night fixtures and even the island! The color of the space suggest vintage, contemporary and industrial all at the same time!
Mountain Brook Renovation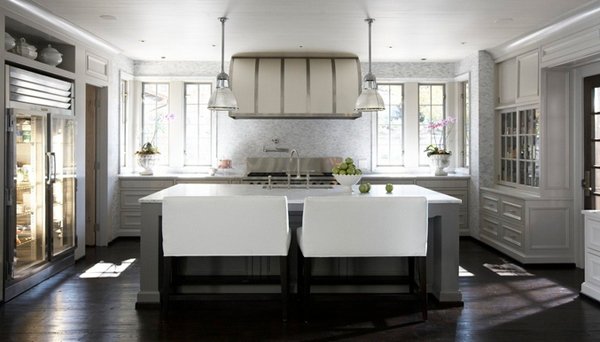 Adding bench bar stools to this elegant kitchen instantly make the room feel more relaxed. If you're worried about the durability of white upholstery, use an easily cleaned material like vinyl to help your benches stand the test of time.
Pantry and Fridge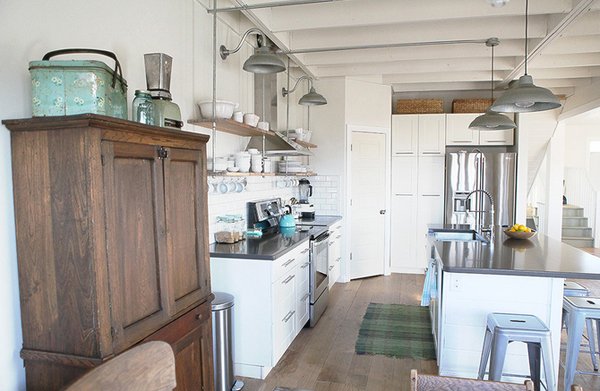 Wall mounted fixtures are a great solution to provide counter surface lighting.
San Francisco Kitchen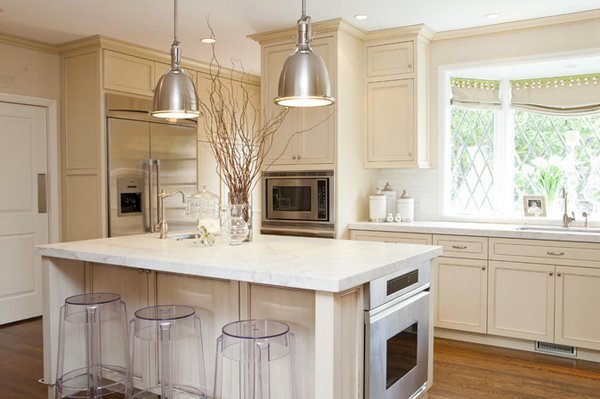 We found out that the hand-hewn cabinetry and custom steel pulls complement the exposed brick retained from original structure's former life as the Carnegie Library in Mill Valley.
Stir Cooking Kitchen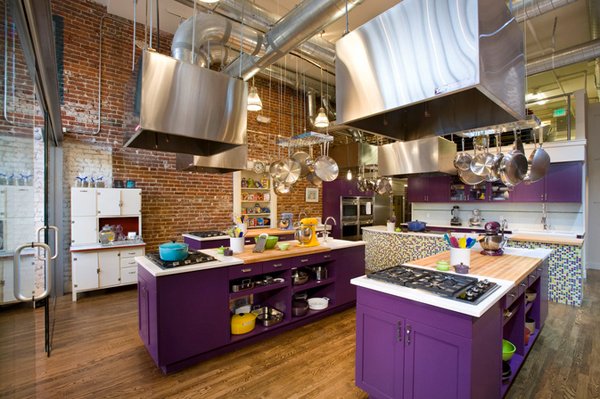 The bright amethyst islands in this kitchen are what first set me on this kick. We love the contrast of this bold color with the exposed brick and rustic wood flooring. Try painting your island with Benjamin Moore's Passion Plum for a similar look.
Sundown Parkway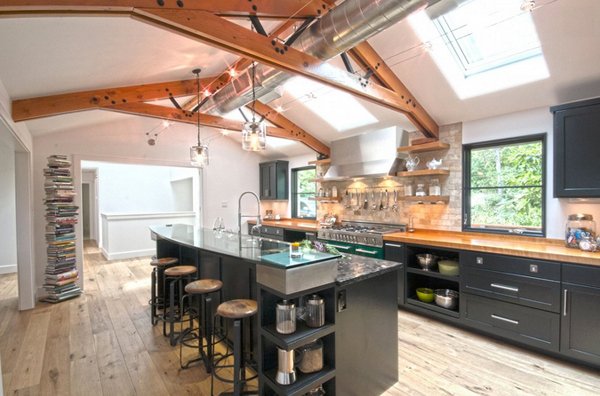 We love the look of the exposed ceiling with all the beams showing up along with the stainless tubing seen above that complements well with the all the appliances in this kitchen space. We also love the kitchen stools which according to the designer were picked up by the owner at a local flee market.
The Home Of Stella And Joeri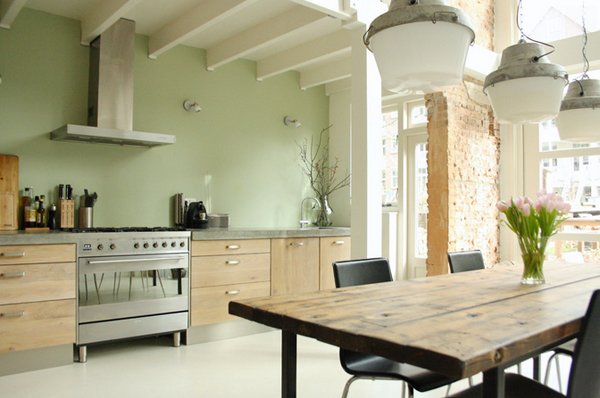 According to the homeowners, the most striking room is the pistachio-colored kitchen. Its wood, concrete and brick have an industrial look, which wasn't what they were looking for at first. But it ended up that they actually liked what the designers did to it. Just wonderful!
Industrial design may remind us of dark, cold spaces and lot of metals of some sort, but if you may have observed above from the list of 15 Outstanding Industrial Kitchens, it's not always the case. You can always add color and contemporary items to make the space cozier, warm and even inviting! Leaving one wall unfinished or showing off a brick wall in your kitchen usually does the trick – pair them with large stainless steel pendants and you're good to go! For more industrial spaces, check out the industrial living room designs and tell us what you think!