15 Stunning Apartment Living Room Ideas
We all know that an apartment is a self-containing housing unit that occupies only a part of a building. We know of starting families who lives in apartments while waiting or preparing to have their dream homes built. The rent of the apartment depends on the size and location and even the available amenities of the said space. Unlike studio-type homes, apartments have partitions which allow us to recreate our design and style preferences.
Our living room is the most popular place in our house because it is where we entertain our guests and this is the place where families come together to end their day and relax while chatting and hanging out – sometimes, eating takeout food and watching your favorite TV series. Today, we will be seeing 15 Stunning Apartment Living Room Ideas where we can see how wonderful and flexible our living space can be, let's check them out!
Apartment 1601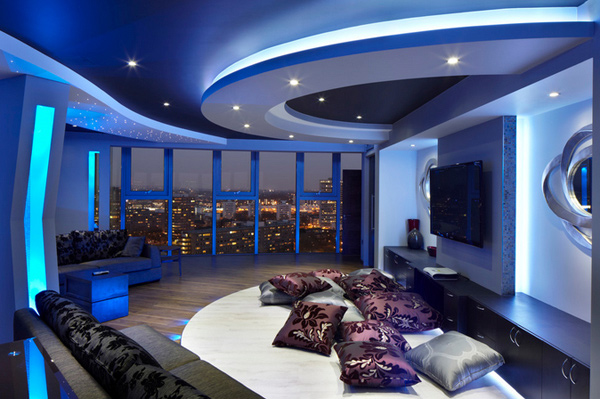 The design reveals previously unseen panoramic views of London's famous skyline and increases the usable floor space and value by reconfiguring access arrangements. This glam living room apartment is something to look forward to after work.
Brooklyn Apartment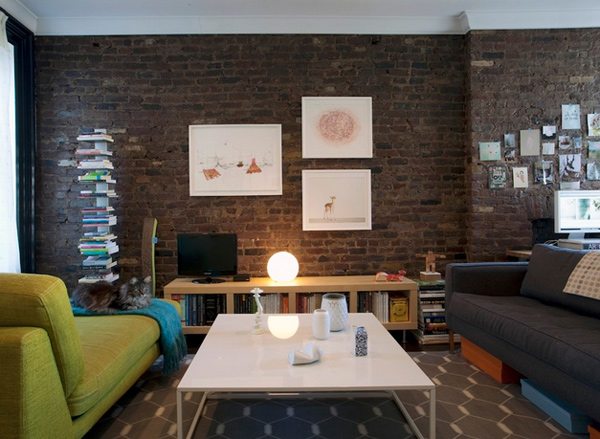 The exposed brick walls in this apartment were a huge selling point – and they work beautifully with Singleton's amazing art collection.
Hollywood Deco Glam Studio Apartment
This Los Angeles apartment has an eclectic approach to its living room design. The play of colors in this space is definitely interesting.
Kensington Apartment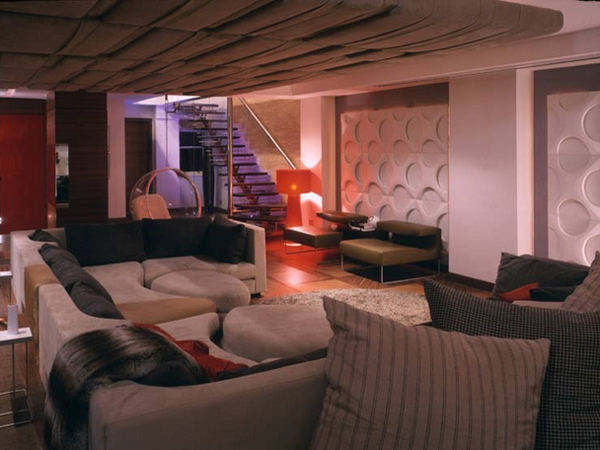 The Bubble Chair blocks out a bit of noise, and thus is a good place to find a little solitude in a crowded room. In this layout, it's perfectly placed in a great spot to let you climb in and be ever-so-slightly anti-social.
Nashville Eclectic Apartment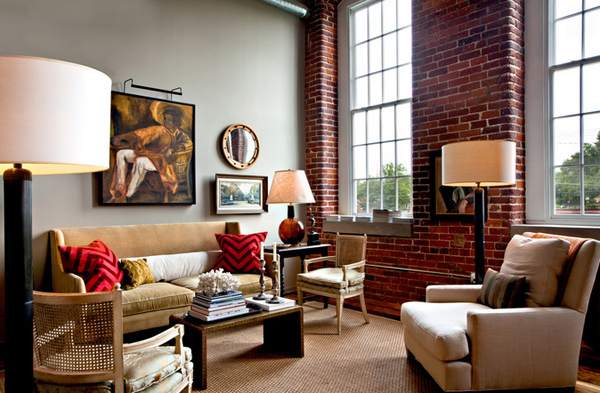 We're not sure about you, but when the brick wall was added to this living room design made it more homey and comfortable.
New York Apartment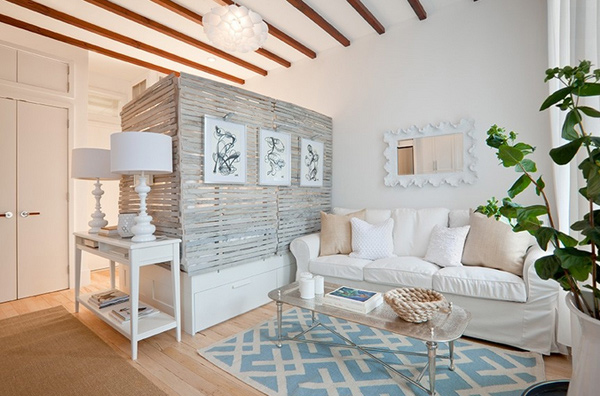 The 3rd floor studio apartment offered a great space for The Brooklyn Home Company designers to show how you can fit all you need into one space. Fully staged with custom furniture by the designers and styled to show how to utilize this great space.
NYC Chelsea Apartment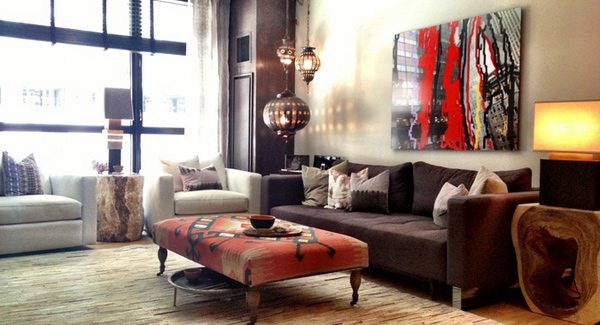 The owner of this New York apartment is an art historian and collector so she wanted her space to reflect a modern, comfortable and a well-travelled style. You will notice how exquisite the decors and furniture in this home.
Quirky Apartment Renovation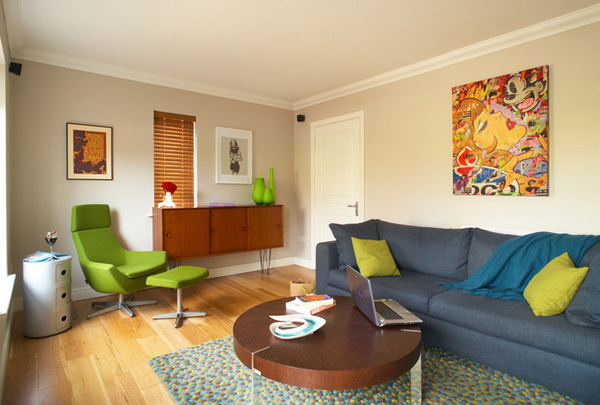 Most people say that their kitchen works the hardest for their family. But the clients wanted to max out their compact living room's flexibility. The space hosts get-togethers with friends and sitcom watching on the laptop, and even has his-and-hers reading nooks by the windows.
Railtown Apartment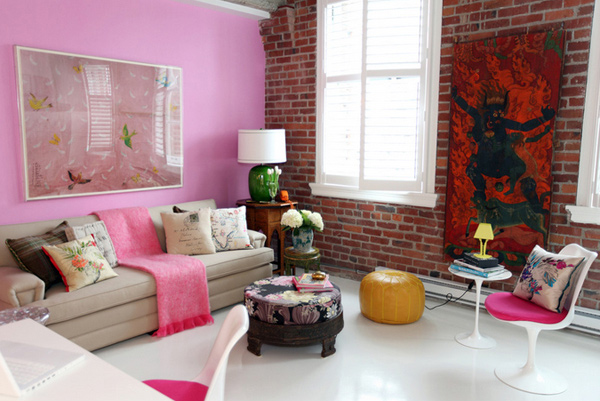 Check out how fun and pretty this Vancouver apartment living room looks and feels. The aura is clean, sleek and smartly done.
Small Apartments, Big Style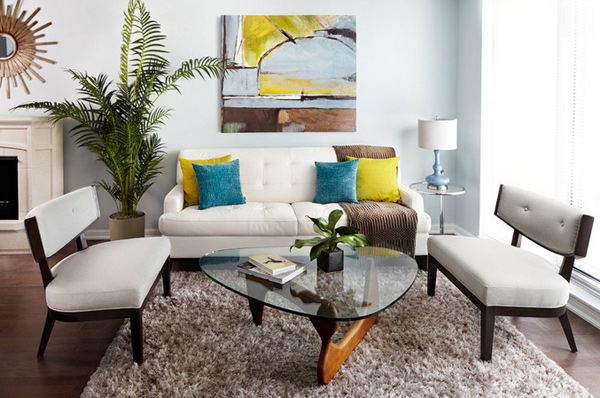 This space has white and simple seating furniture that absorbs all the colors around it. The blues, yellows, greens and browns make this room just stunning!
Small Chelsea Apartment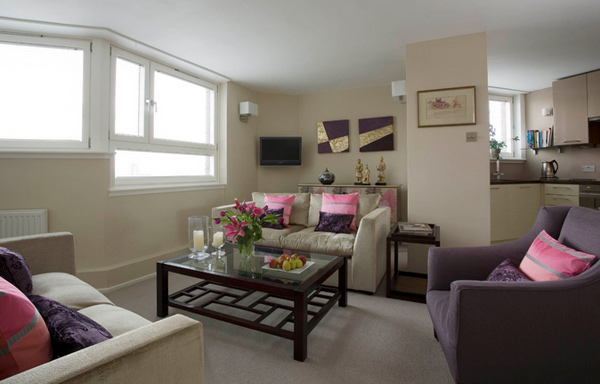 Neutral stone colors are used to give this apartment a sense of space. They are brought to life with accents of color and dark wood.
St. Guillaume 1-Bedroom Apartment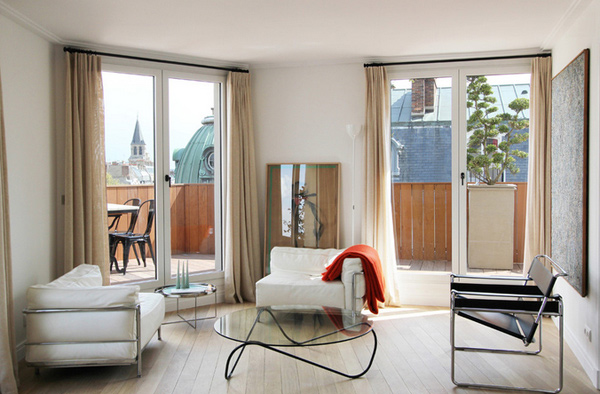 Completely renovated 1-bedroom apartment, in the heart of the St. Germain des Pres neighborhood in Paris. Simple, clean, minimalistic and very conventional.
Steve and Amber Frazee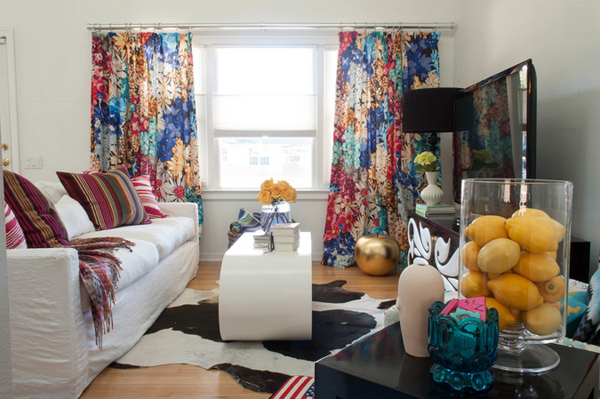 While laying out the living room, Amber anchored the space with a large white sofa, then layered in textures and chose drapery fabric that picked up some of the colors in the room, like the gold on the apple sculpture and the aqua in the upholstered armchair. Of the curtains, Steve says, "I don't think she could have put anything in this house that fits her personality more."
Cozy Apartment Living Room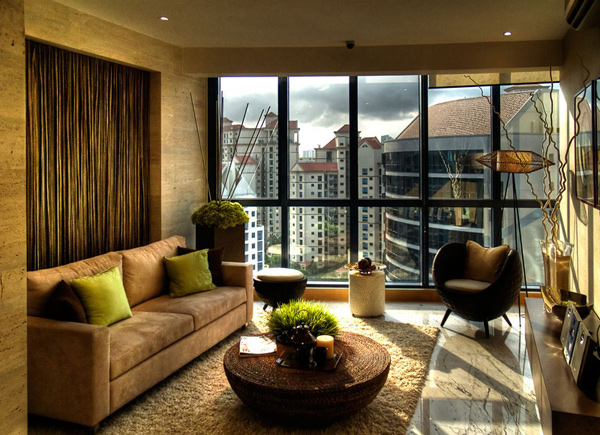 The colors are pretty much warm and really earthly. The use of neutrals created an inviting feel to the space and adding greens added an aura which reminds us of plants outside especially that this apartment is in a higher floor.
Grey Apartment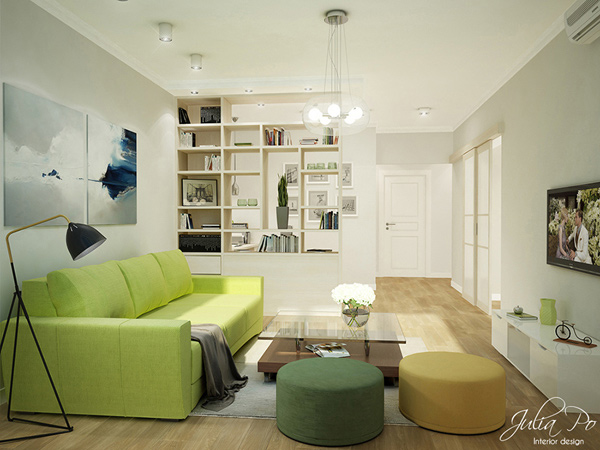 The play of greens and neutrals is a bit like the one above this photo. Although white is the most prominent color, the feel of this living room is really homey.
When planning a living room design, the first and most important factor to decide is the purpose of the room. One thing to remember when designing your living area is that you have to be comfortable in the room and like the style since you will most likely be spending a lot of your time in the room. Finally here are a few living room design ideas that will really get you in touch with the style that you want. The 15 Stunning Apartment Living Room Ideas and the trendy living room colors you can choose from can serve as inspiration for us who enjoys rearranging and redecorating! Check it out!