22 Dining Areas With Wire Dining Chairs
Want a subtle industrial tone to your dining space? Try using wire dining chairs!
Dining chairs have different designs and whatever you choose, it will give your space a unique look. Chairs used in the dining area may be made of various materials and could come in varying colors, patterns and prints. And yes, we would all agree that the home's look is greatly affected by the dining chairs. For sure, you'll agree with me after seeing many dining area interiors that we have featured here on Home Design Lover.
Today, we are going to show you a list of dining areas that used wire chairs in them. This way, you will see how metal chairs actually looks like when used in a certain space. For sure, you will love how it turned out and you will also see what the dining tables were used to compliment with the chairs. You will also see different settings of the dining areas. Let us take a look at the images of the dining areas with wire dining chairs in them.
1. Putney, Loft Conversion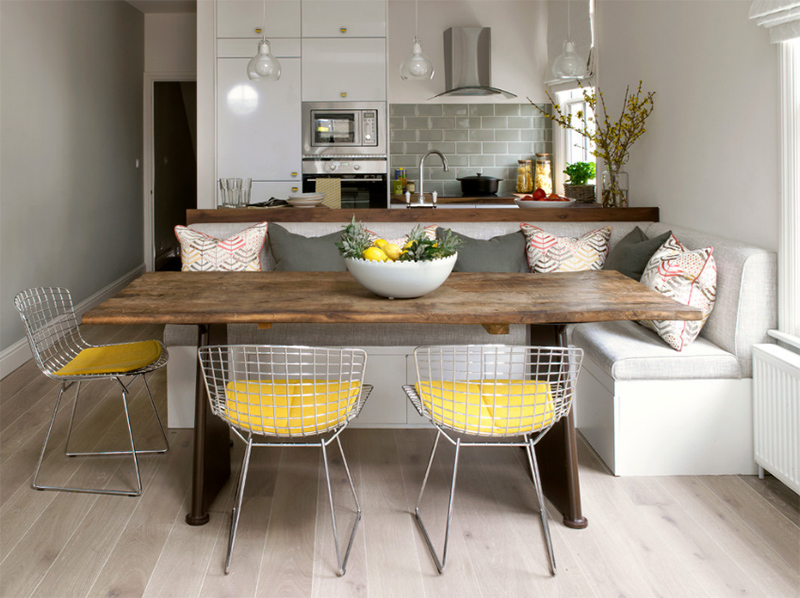 Aside from the L-shaped bench on one side, there are also wire chairs in this dining area which has a wooden dining table. Love the yellow pads on the chair.
2. Contemporáneo Comedor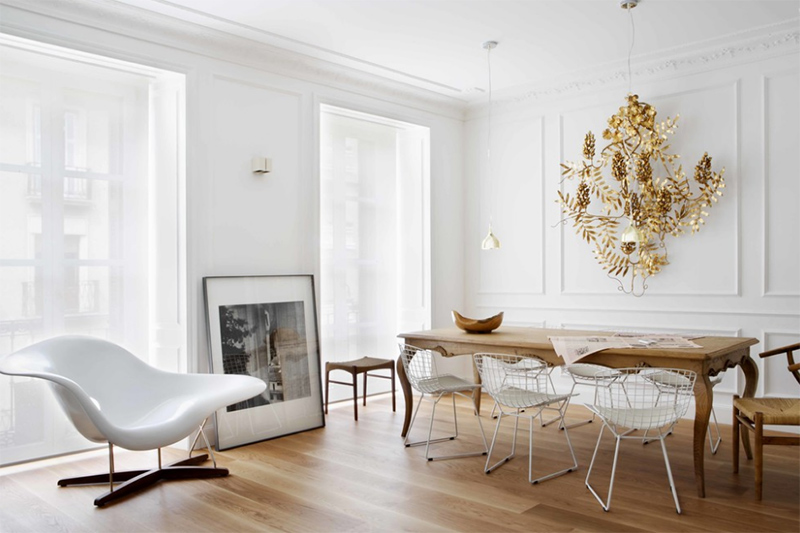 Since this dining area is all white in color, white pads were added to the chair and it does matches well to the interior.
3. Modern Home in Oakville Ontario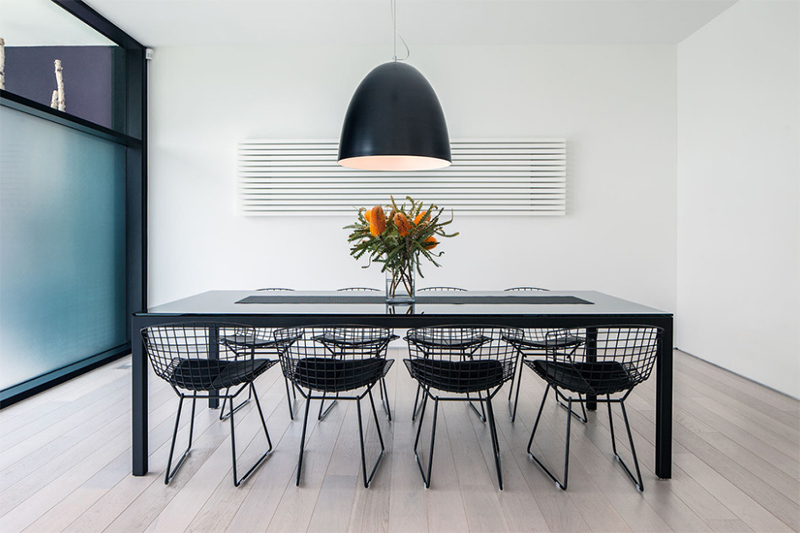 If the previous dining space is white, this one has black colors in it from the pendant light above the table to the chairs.
4. Vanderbilt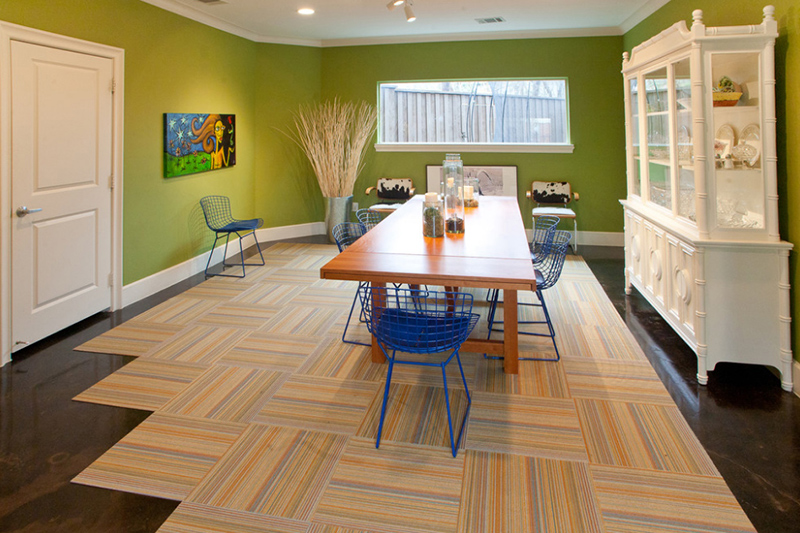 Using square carpets is also a good idea for the home just like what you can see in this dining area that has blue chairs.
5. Backyard House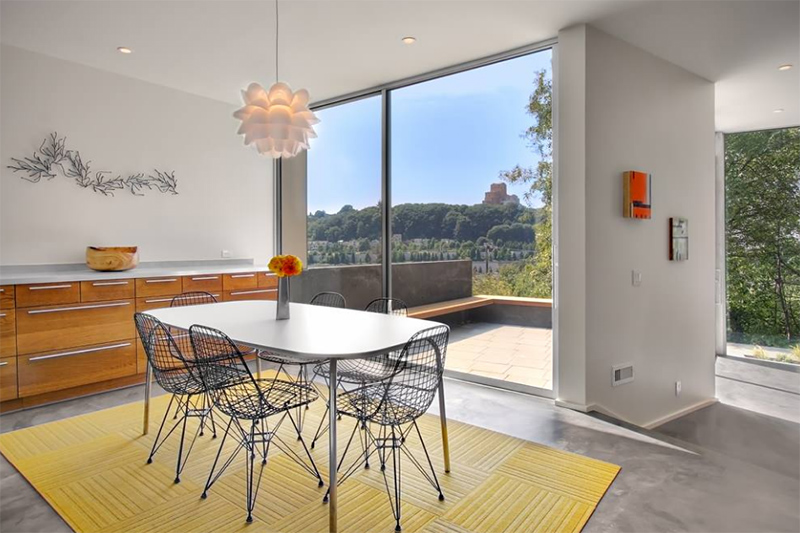 This has similar carpets with the other one and looks really bright because of the tall glass windows on the side. Above it is a beautiful white pendant light that added appeal to the dining space.
6. Orrington Colonial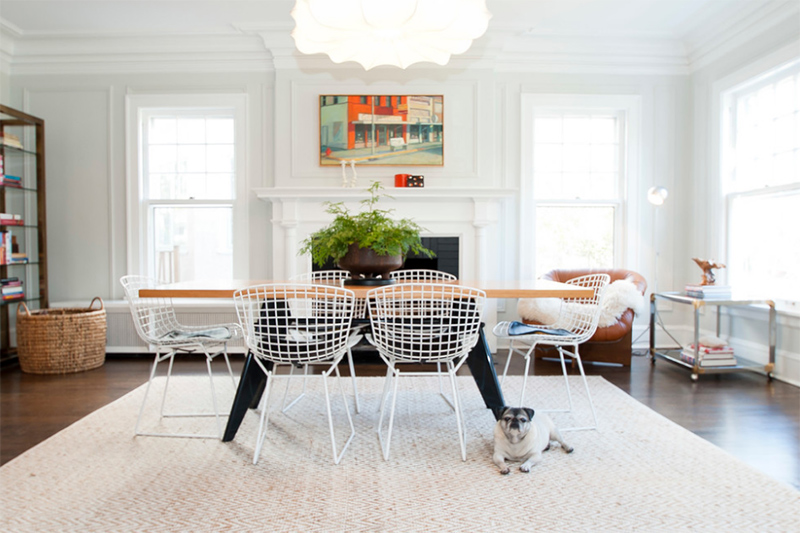 For this one, it has a Scandinavian appeal in it with a lovely plant as a centerpiece.
7. 640 Broadway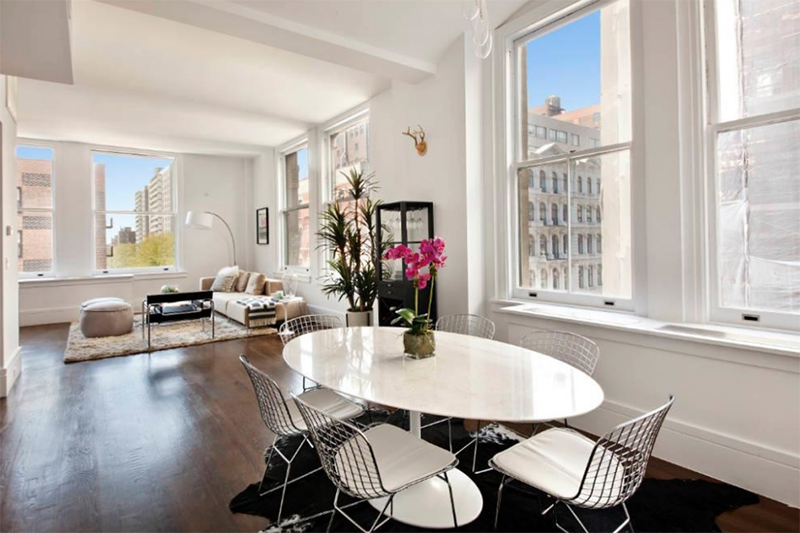 A white oval pedestal table is used for this space and it is surrounded with metal wire chairs. It is also bright because of the window beside it.
8. Teton House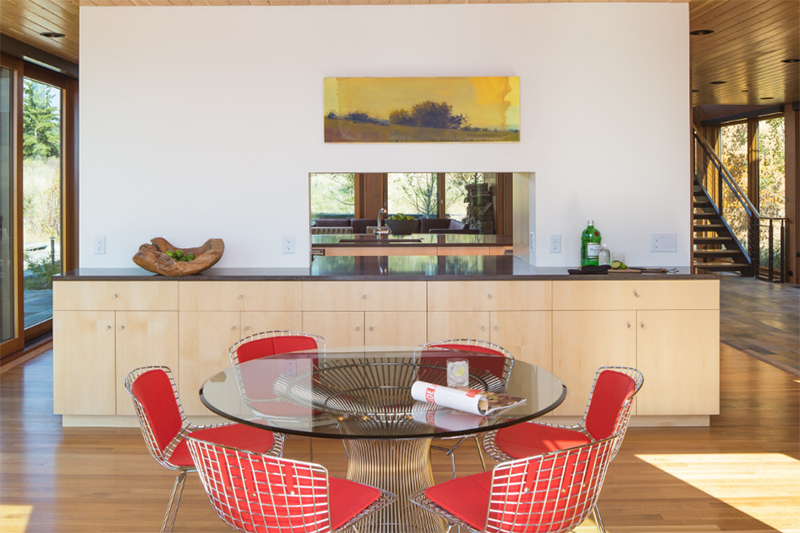 This one has red pads on the chairs. Its pedestal also is made with the same material as the chairs and it has a round glass top on it.
9. Parade Home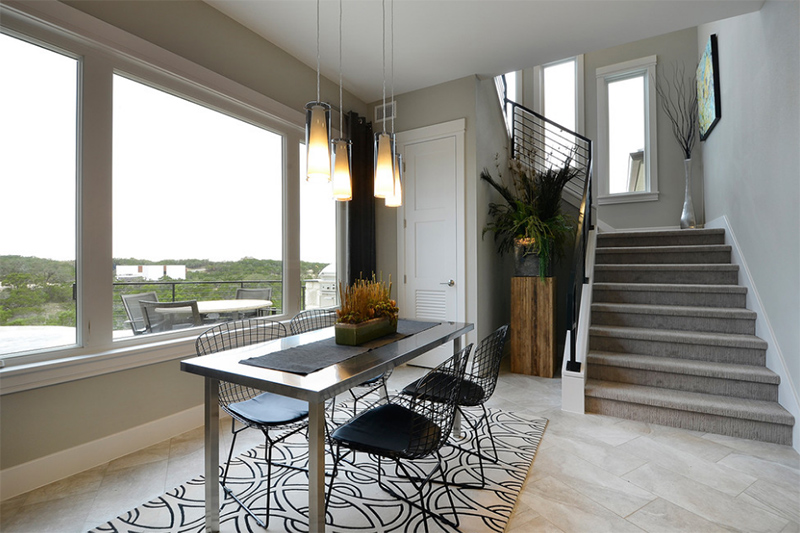 I like the area rug for this as it sits under the long small table with four wire chairs. It would be nice to dine in here with a good view outdoors.
10. Wild Oak Drive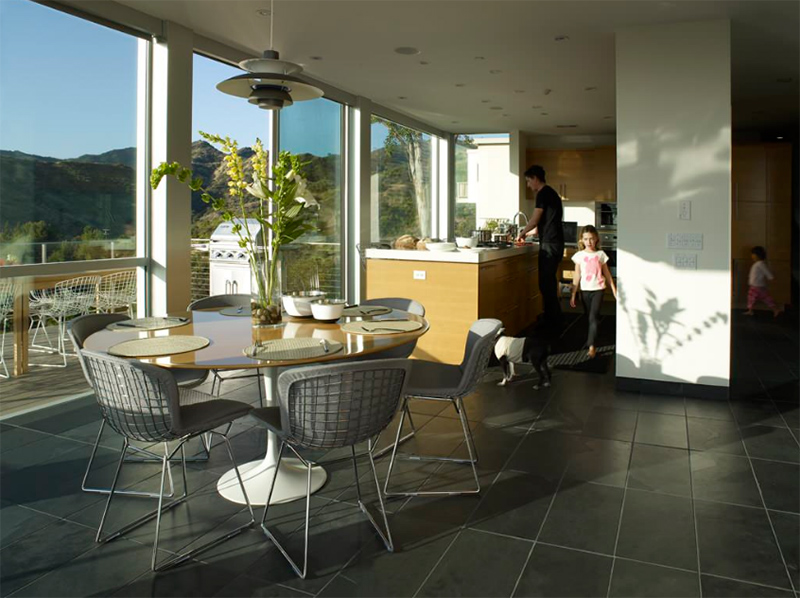 Gray pads added beauty to these wire chairs that surround the round table. Notice that the dining areas sit in a home with an open layout.
11. Houston Street Townhouse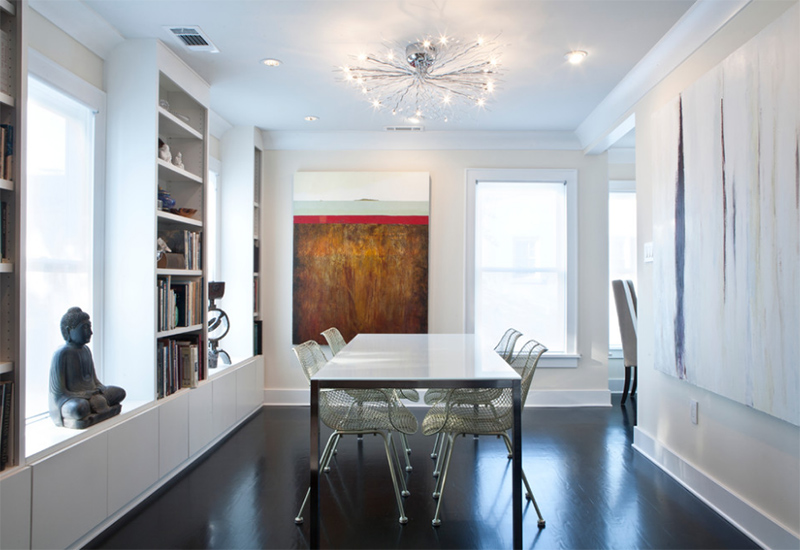 Instead of adding pads, the wire chairs here were left without it. You can also see that it has a different design since it has armchairs.
12. Valley Parade, Glen Iris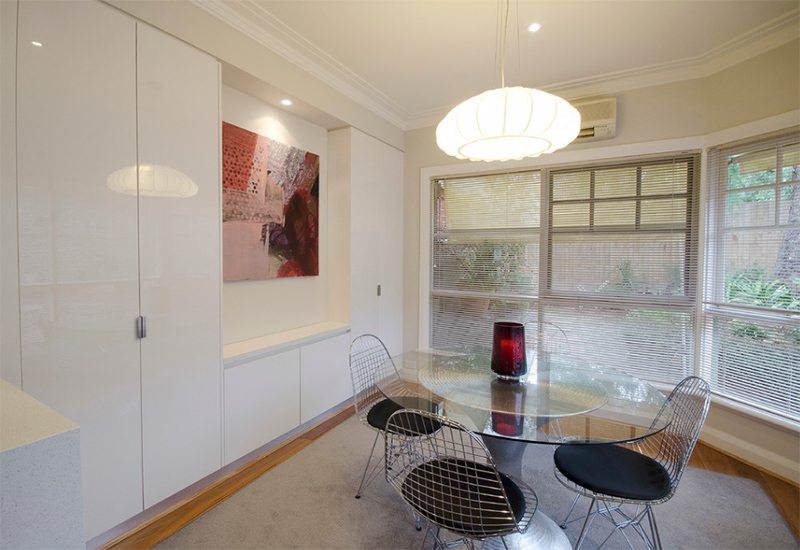 It is always nice to pair chairs like this with glass. This sure is a neat and simple dining space.
13. Paris Apartment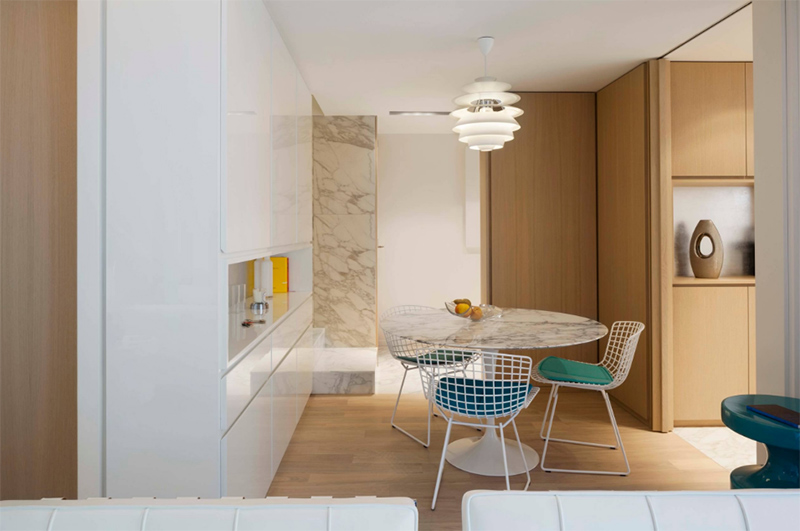 You can also experiment by combining different colors for the metal pads like this one. A round marble table is used here which compliments with the wall near the stairs.
14. Madrona Passive House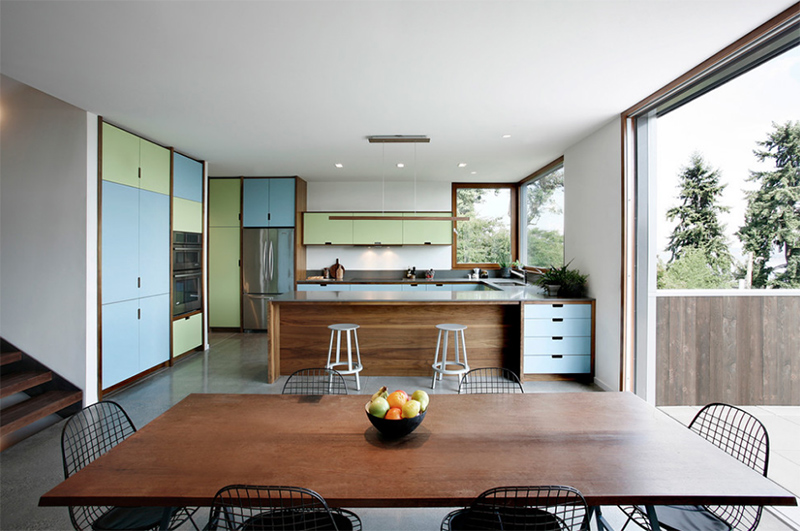 The kitchen for this home has pastel blue and green in it which is a good view from the dining area with a long wooden dining table.
15. Black And White Apartment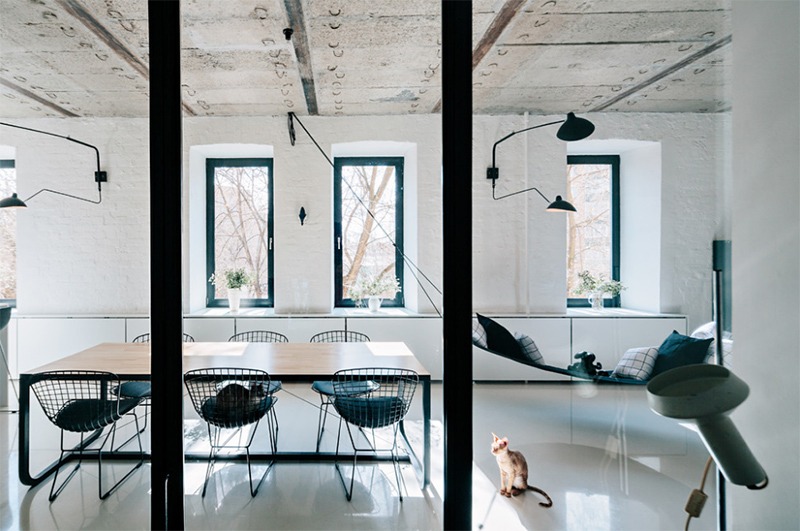 What I like in here is the swing in it which is a fun element in the area. Also seen here are blue green pads for the chairs.
16. Houston Street Townhouse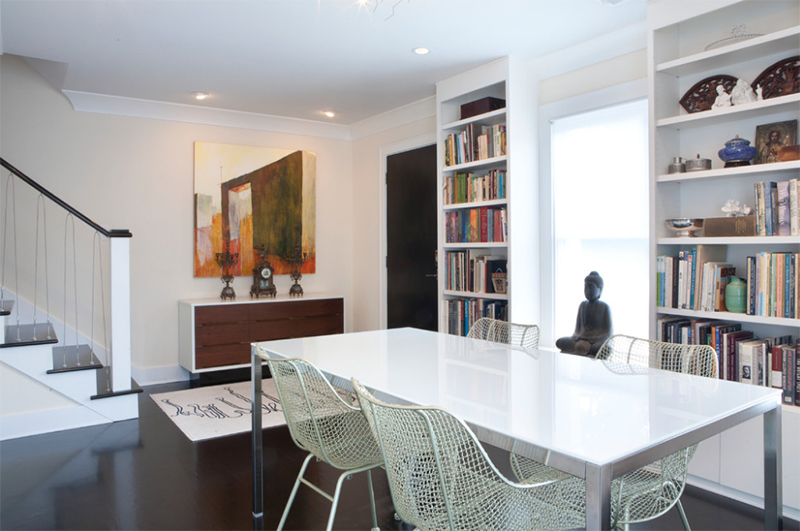 White wire chairs are used for this space with a tall bookshelf.
17. Dining Rooms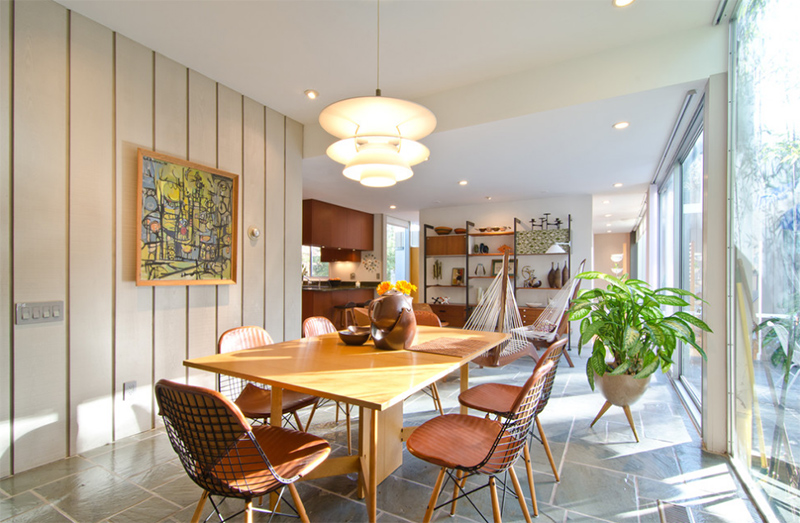 To match with the wooden dining table, brown pads were used for the chairs. Notice also the stringed chairs in the living area. Very unqiue, right?
18. White Willow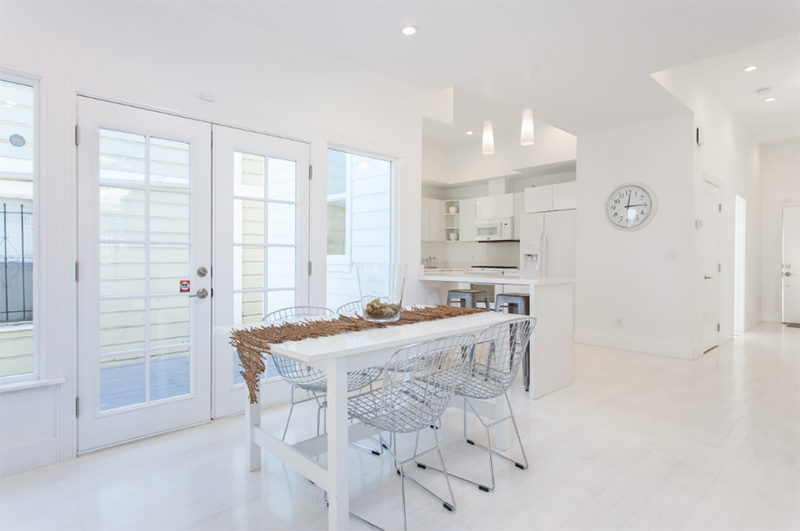 Isn't this a simple yet beautiful space in white? The wire chairs are lovely additions to the area and what broke the whiteness in here is the table runner.
19. North Dallas, TX: James & Kristina Hart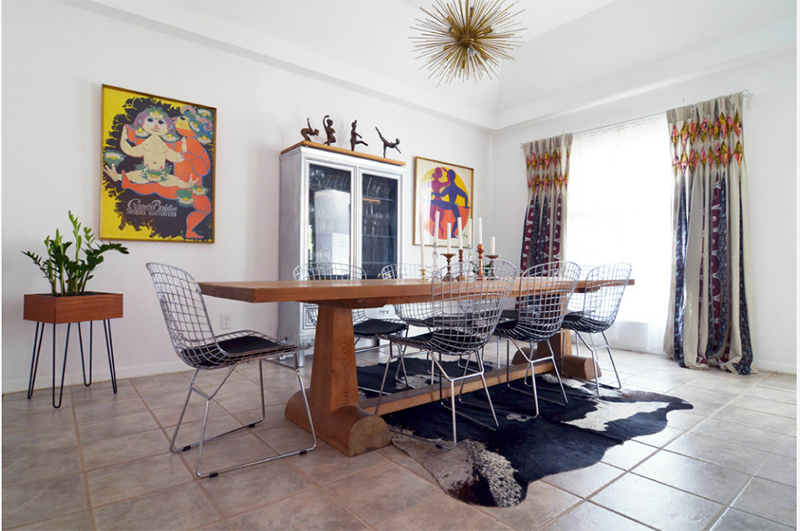 Interesting wall arts, right? I like the combination of materials in here as well as the addition of a cowhide in the dining space.
20. Mullet House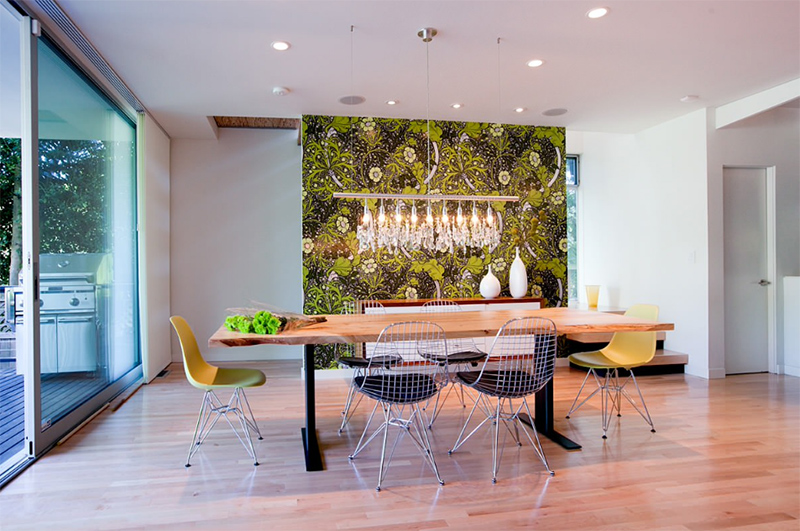 Imagine this space without the backdrop. Well, it will still look lovely but nothing beats its appeal with the printed green background on it. Very refreshing!
21. Camp Hill House Extension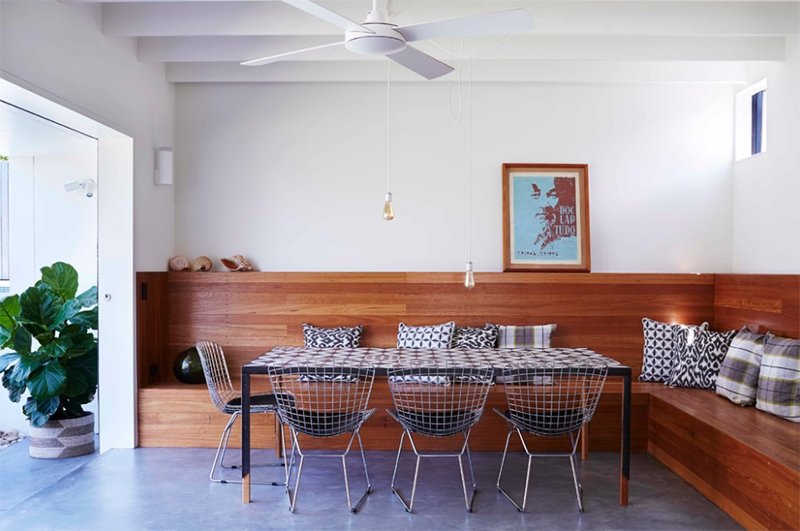 Aside from an L-shaped wooden bench, this one has wire chairs around it and some black and white throw pillows to compliment with it.
22. Kronhusgatan 2E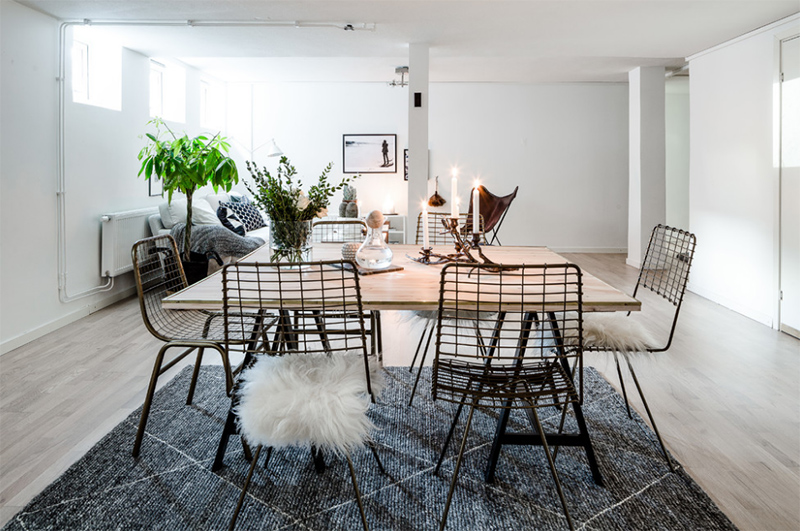 A dining area that looks romantic because of its candle lights. What I also noticed here are the different styles of the wire chairs. Lovely!
Beautiful, right? Using metal chairs for the home gives a subtle industrial look to wherever you add them, just like the dining areas above. You can also notice that others added pads or furs on them to make them more comfortable. But of course, it is comfy even without those additions. You can also use metal chairs in other areas of the house like the living area or even in the outdoor space like a covered porch. Which of the dining area designs above do you like the most?