20 Ideas to Use Flower Centerpieces in the Dining Table
When we dine, it isn't just that food that matters to us but also the environment as well as the aura of the space. It could affect our appetite too. Even the table setting and set up would have a great impact to our dining experience. We would feel special if a well presented dining table welcomes us. That is why, it is important to decorate them by adding beautiful centerpieces, creating a tablescape or using lovely dinner ware.
Most often, we can see flowers as a centerpiece for a dining table. But we don't just gather them and add them to vase without a creative approach to it. So today, we are going to show you different ways to use flower centerpieces for your dining table. If you love flowers, this list will appeal to you!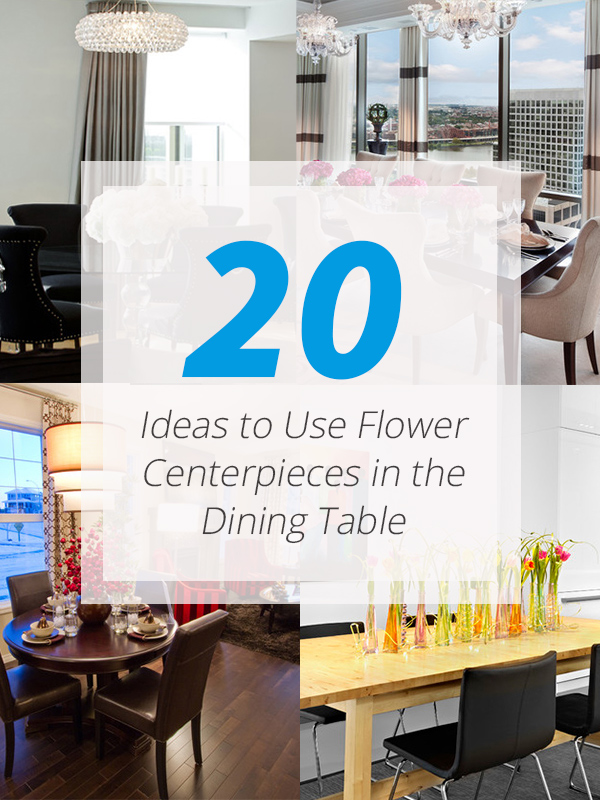 1. Crocus Hill Shingle Style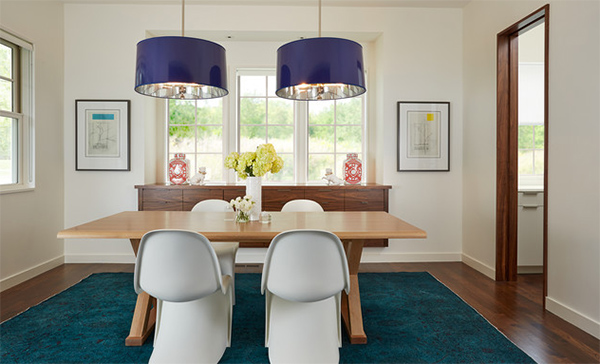 The blue drum pendant lights look lovely above this dining table with white flowers on it.
2. Palmer Circle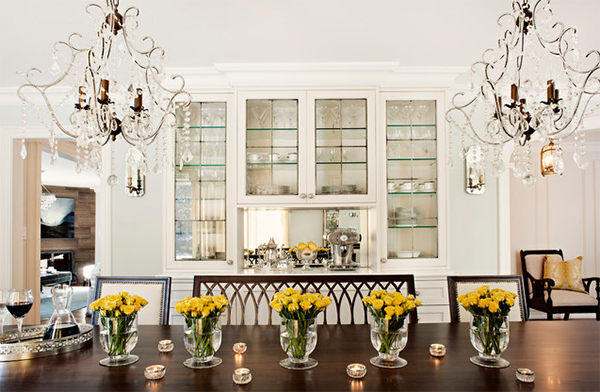 Super attractive yellow flowers were scattered on the table by putting them in different vases.
3. Hollywood Residence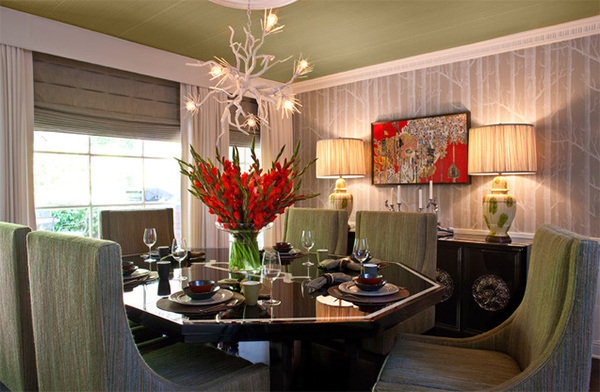 Love how this tall red flowers in the vase compliment with the branch chandelier.
4. Turnberry Tower Arlington, VA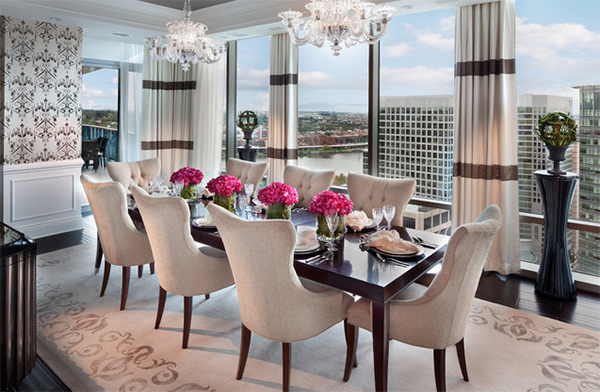 For a white dining area like this, pink flowers would be awesome!
5. Arlington House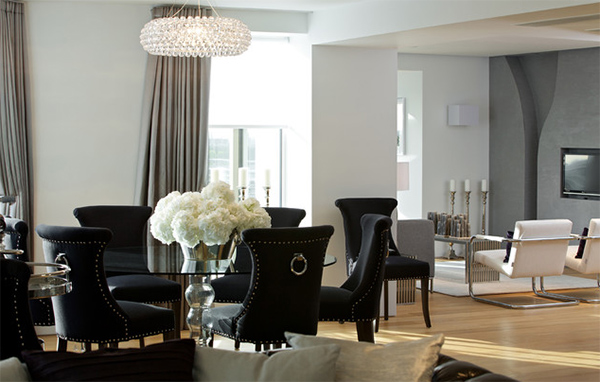 Aside from the beautiful black chairs, the flowers are a good contrast that looked soft in white petals.
6. Transitional Dining Room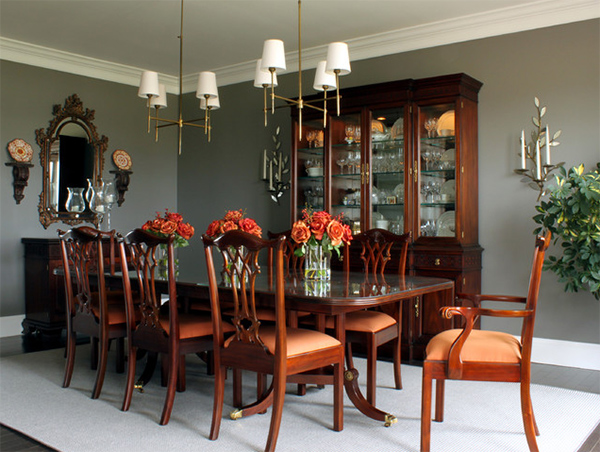 Orange roses! Why not? Gorgeous transitional dining room indeed!
7. Westfield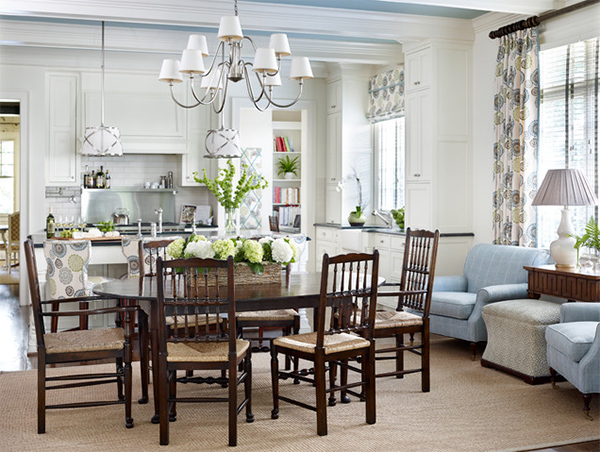 I love the cottage feel of this dining area because of how the flowers were arranged on the table.
8. Flintrock Falls Showcase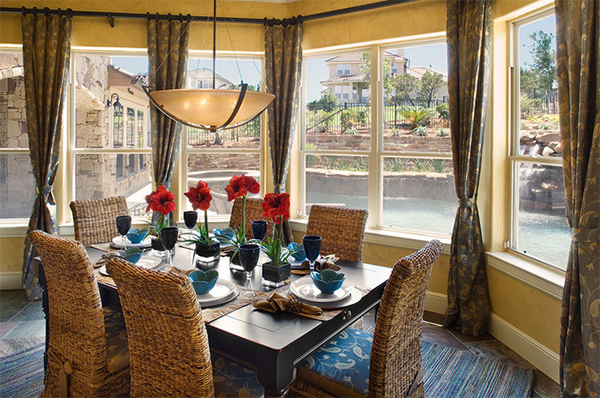 Another idea for adding flowers is putting small vases with one flower on each one.
9. New England Style Home West Sussex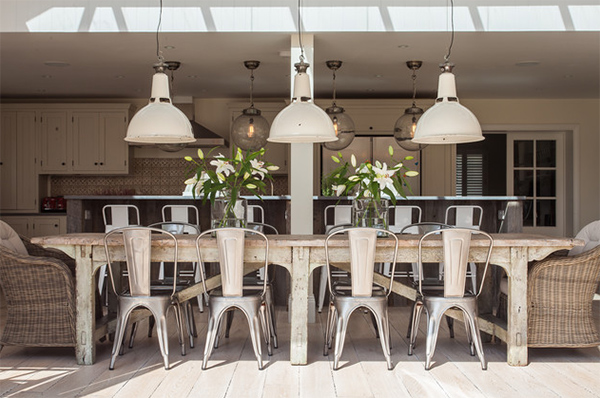 A shabby chic dining area that I adore so much especially with those white flowers!
10. Urban Living – Pacific Heights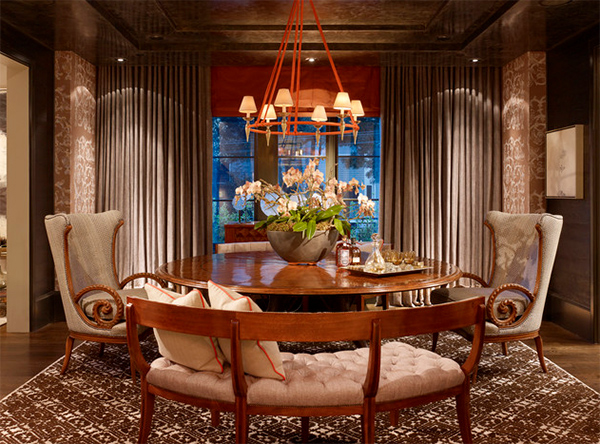 You can also place a bowl that will serve as a planter for a plant that bears lovely flowers.
11. City Living At Its Best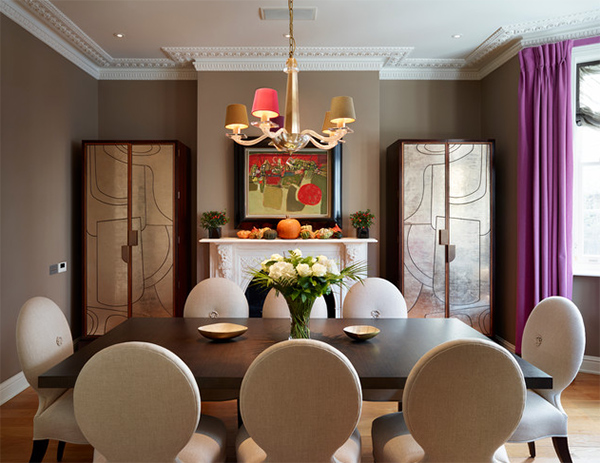 Just a simple vase of white flowers sits on this wooden dining table with the mantel as a backdrop.
12. LG House – Dining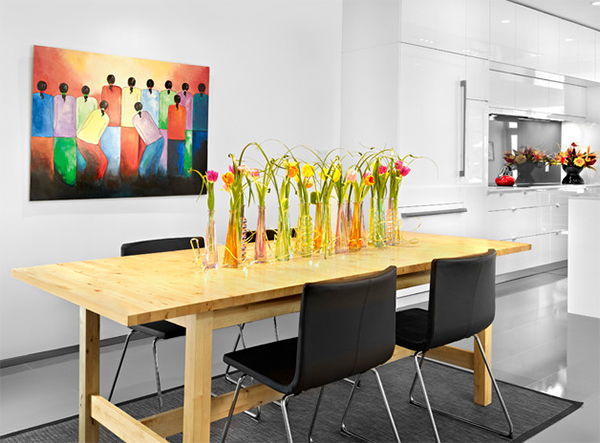 I like the pops of colors from these flowers and vases!
13. Dining Room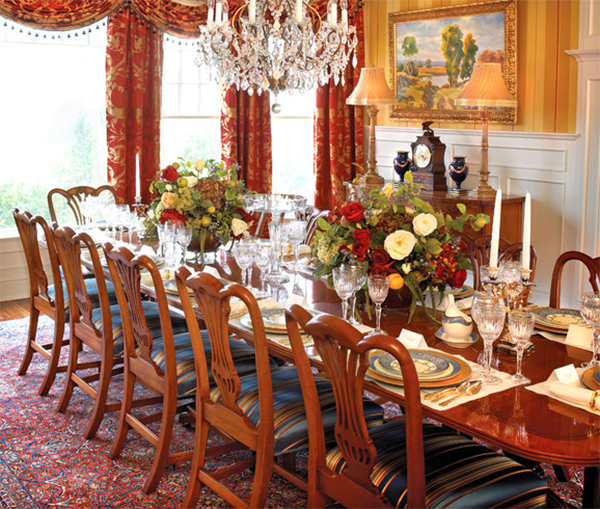 A beautiful traditional dining room that has touches of autumn colors even for the flowers.
14. Moonmist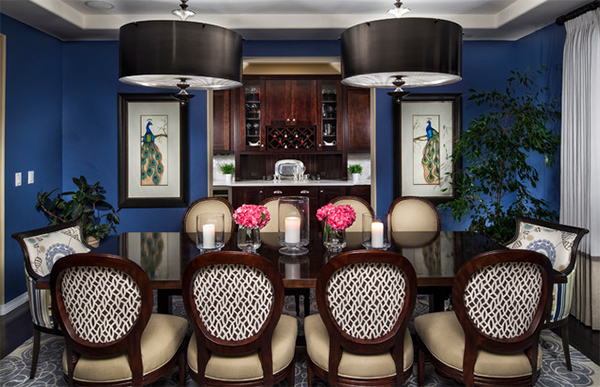 Take note at the colors used in this dining area. The pink flowers added more appeal to it.
15. Glamorgan Way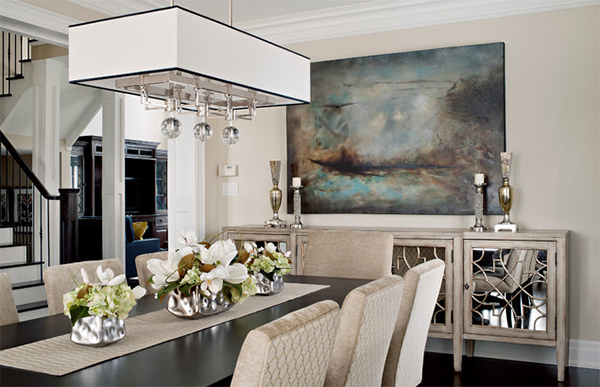 I like the containers of these flowers. They look totally fab especially with that chandelier!
16. Designer Home in SF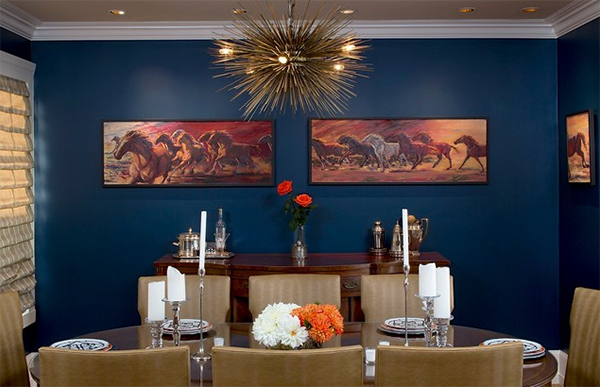 Combining flowers this way is also a good idea for a lovely dining set up.
17. Passive House Retreat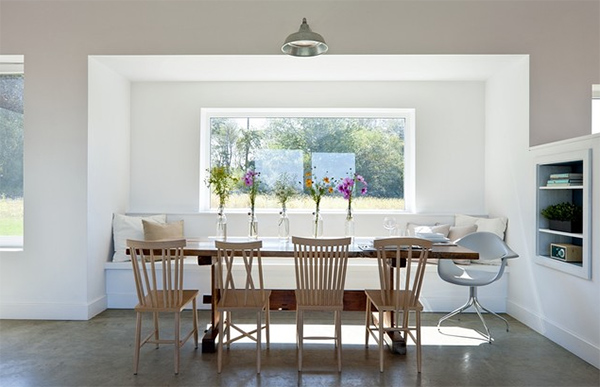 How about using bottles as a vase and add flowers of different colors?
18. Cochrane Riversong – Innovations by Jayman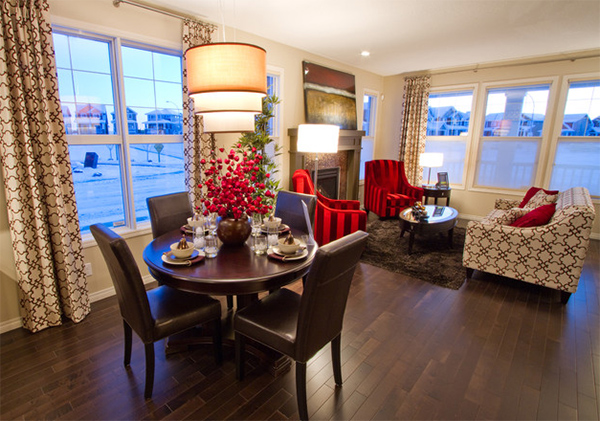 A splash of red for a room just like these flowers would be a great idea.
19. Dining Room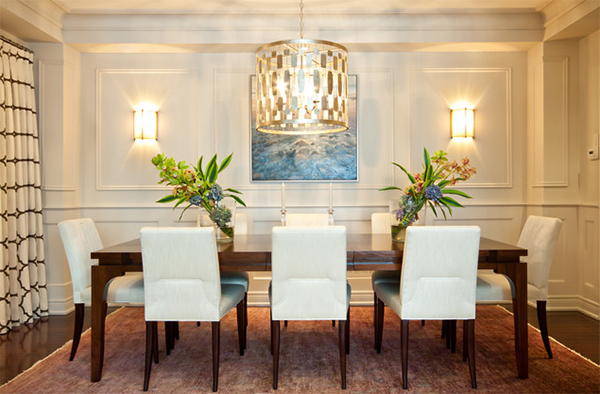 The floral arrangement on the table looks very creative with the addition of leaves.
20. Eat in Dining Area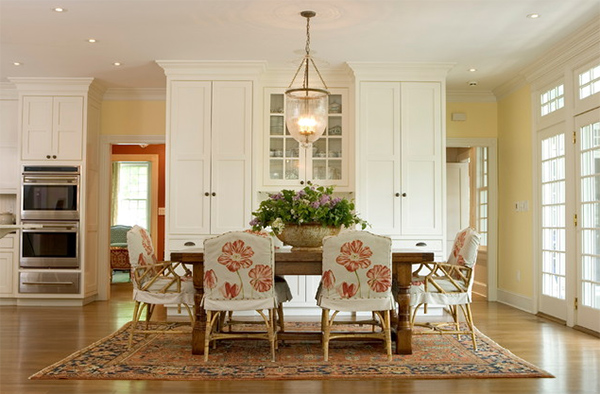 You can also use a large bowl for your centerpiece and fill it will flowers!
It would really be nice to add flowers to the dining room as well as to other areas of the home. But yes, flowers work really lovely for a centerpiece. You have to play with the colors and type of flowers that you use. Others use synthetic flowers that look real which can also be a good option if there are no available fresh flowers near you. Sometimes fresh flowers can also be costly too especially if the flower is rare or doesn't grow in your area. Do you have a vase of flowers as a centerpiece for the dining table?