20 Dining Areas with Roman Shades
Everywhere in the house, we make use of window treatments and when we talk about window treatments, they come in different designs, sizes, styles and prints. We have featured some spaces before with roman shades and we sure loved the way the shades added beauty to the homes. Today, we will show you another list with roman shades and this time, it is for the dining room.
Roman shades are simple window treatments that can be folded and kept to allow light to enter or can be drawn down if privacy is needed or one wants to prevent sunlight glare. We have seen different dining rooms with roman shades and we decided to make a list out of it. If you are planning to put up roman shades for your dining room, then the list below will be a good source of inspiration.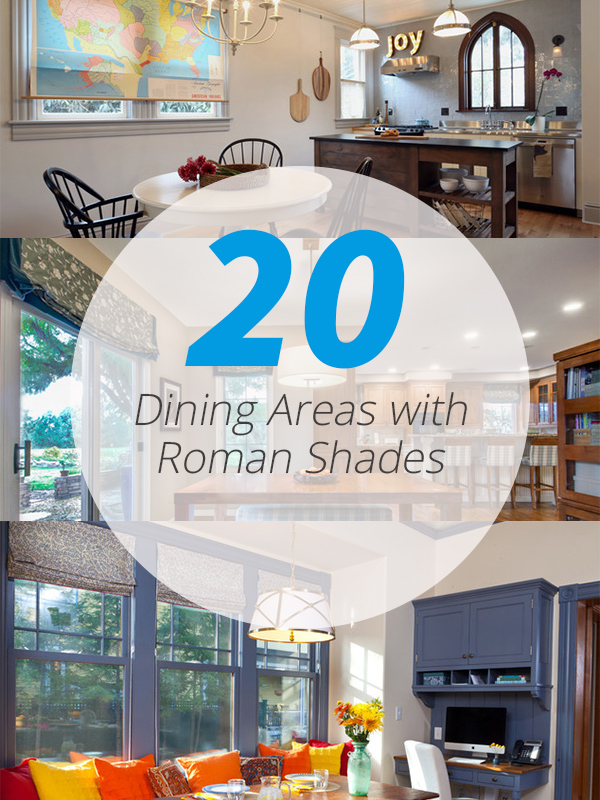 1. Watersound House, Seagrove, Florida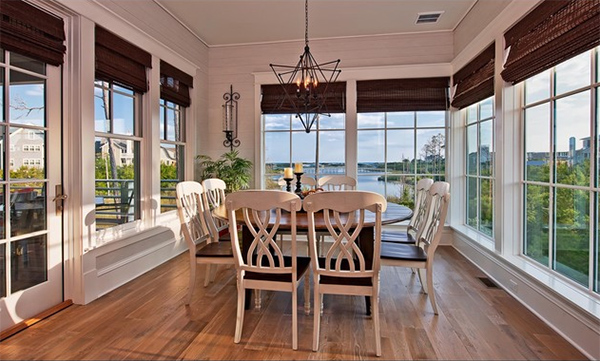 Don't you love the beachy feel of this dining space? And it has windows all around it with roman shades.
2. Eclectic Dining Room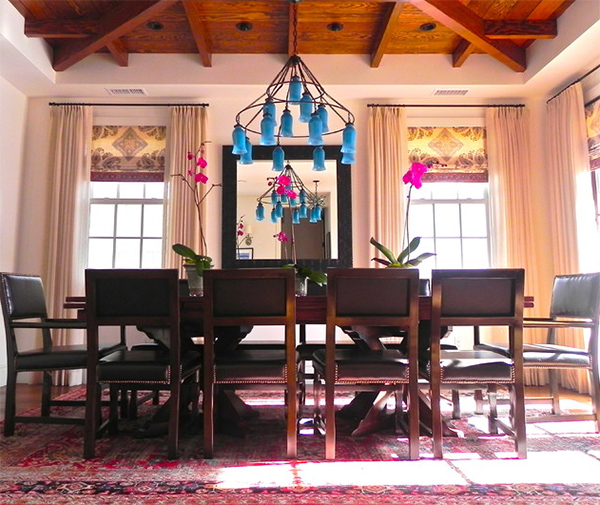 Beautiful roman shades design paired with drapes- a good idea to add life to your windows.
3. Contemporary Gem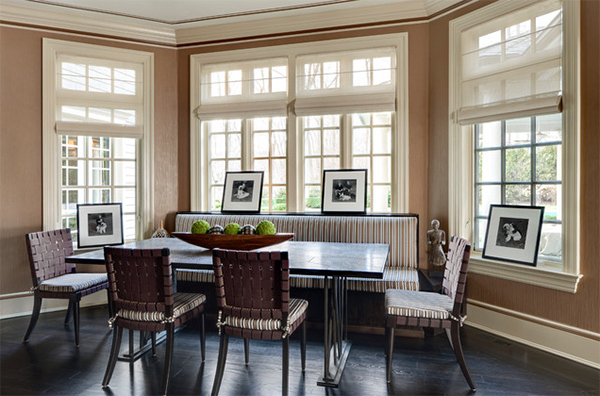 White roman shades would look good in any space and in whatever color scheme.
4. Harvey Cedars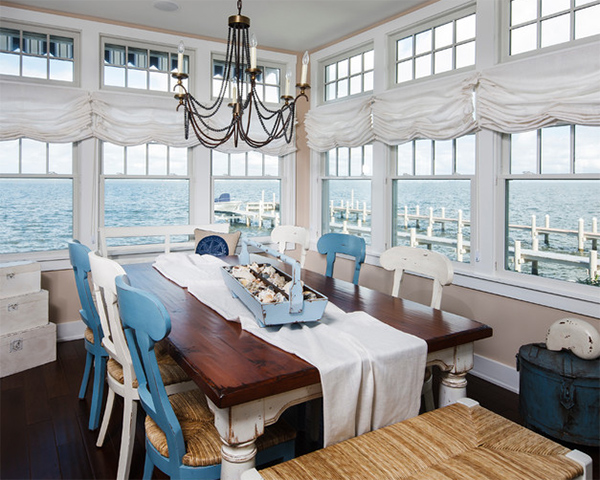 Love the view outside! The colors of the dining chairs are pretty too and the design of the window treatments is just perfect.
5. Rustic Kitchen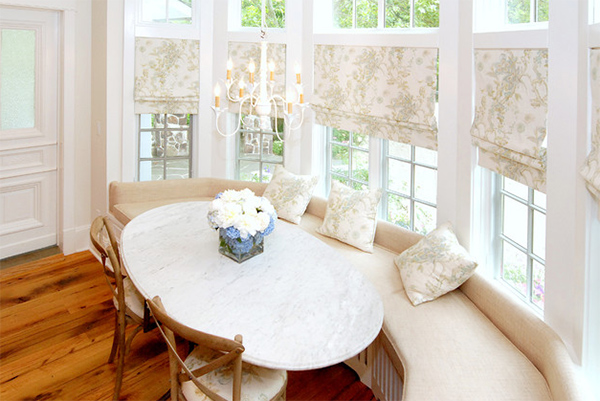 Floral printed roman shades that match the throws is a good idea too!
6. Monticello Drive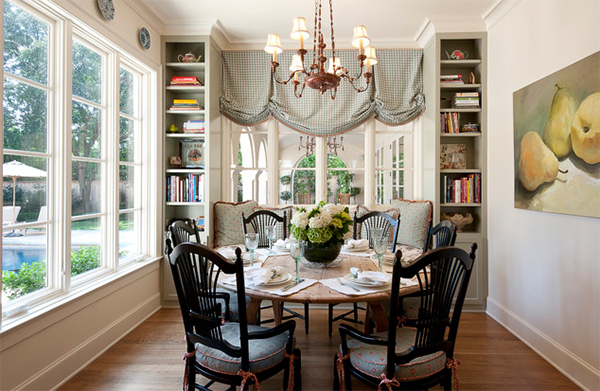 Look at this one. It has three panels wherein the center one is bigger.
7. Historic Cambridge Remodel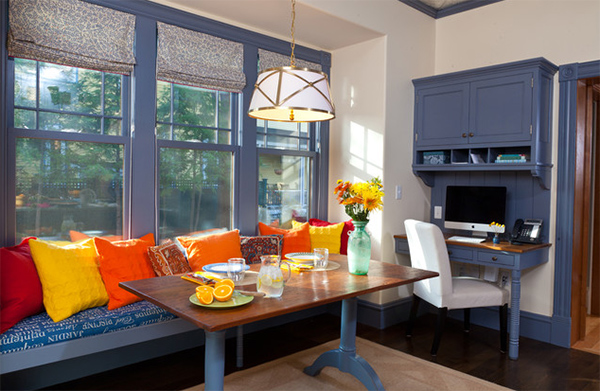 I like the colorful throw pillows here and the humble roman shades too.
8. Manakin Sabot Dining Room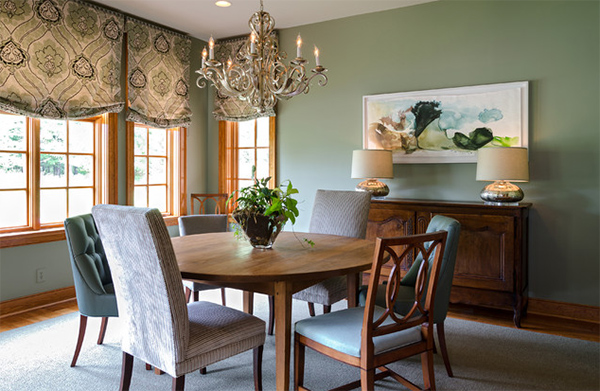 You can bring in prints to a dining room through the curtains like this one.
9. KH Window Fashions, Inc.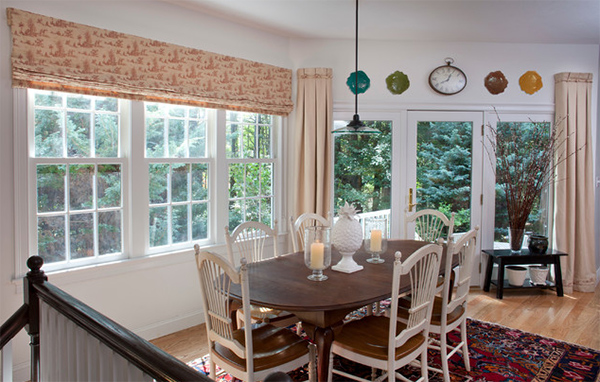 French country style window treatments that occupies the entire window.
10. The Preserve – Informal Eating Area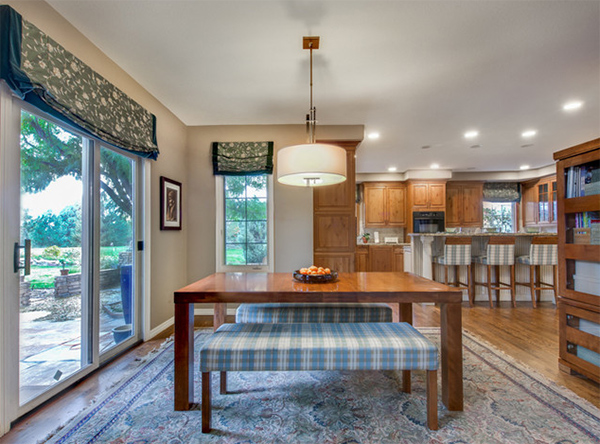 The roman shades here is a combination of prints and plains.
11. Levolor Classic Roman Shade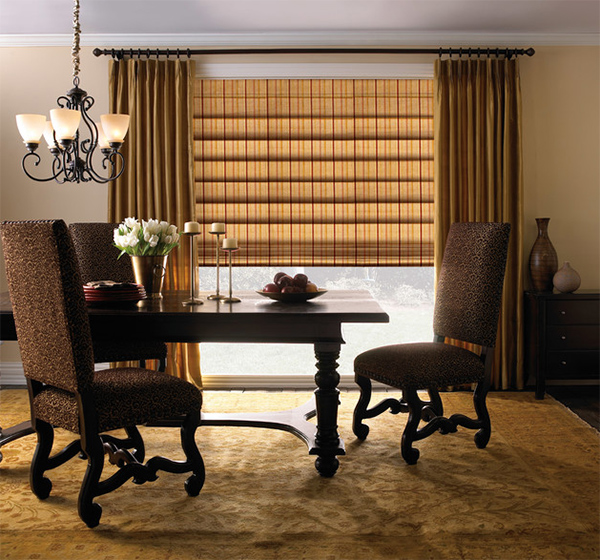 Aside from the roman shade, drapes were also added to the large window.
12. Hunter Douglas Contemporary Living Window Treatments and Draperies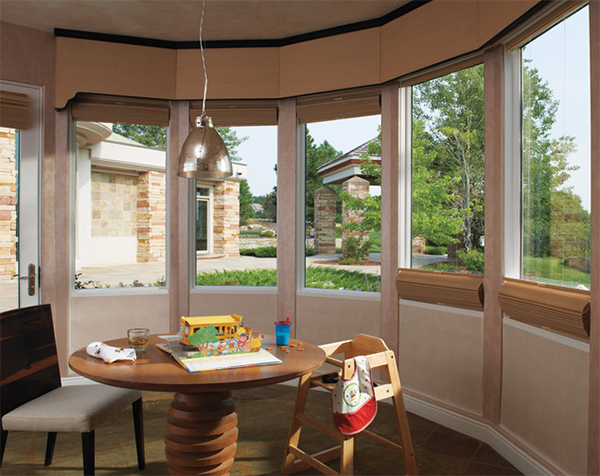 A serene dining space with windows around it. The roman shades are under the window canopy.
13. Window Coverings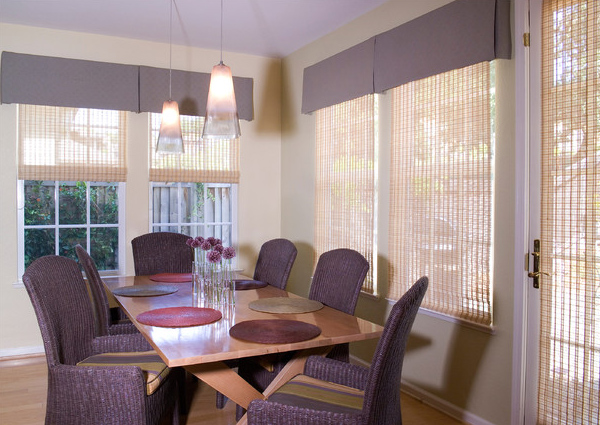 Lovely window coverings here! It also has one for the door too.
14. Breakfast Room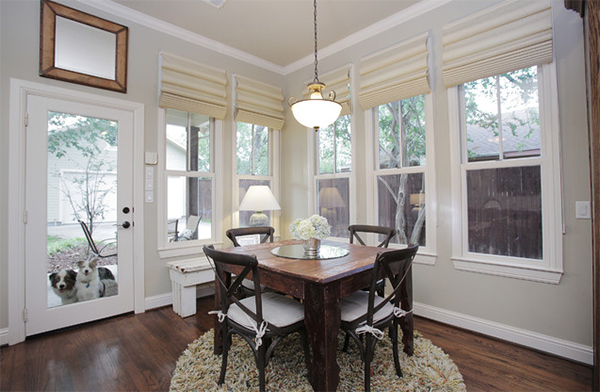 The roman shades added appeal to this dining room with wooden dining set that sits on an area rug.
15. Contemporary Dining Room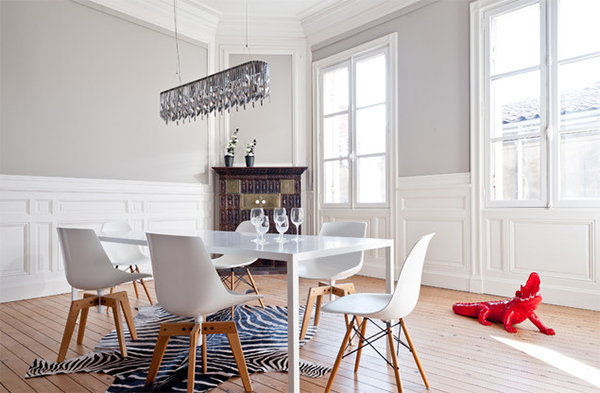 Floral printed roman shades looks pretty even it is just for a single panel.
16. Kitchens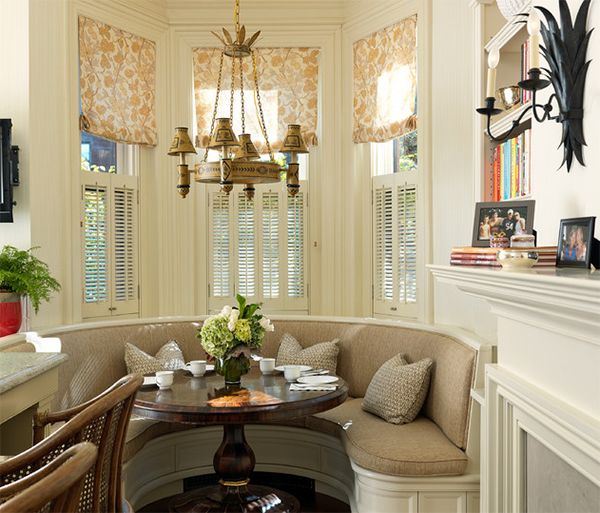 A curvy bench has three windows graced with floral roman shades in neutral tone.
17. Maria & Jim's Adventurous Victorian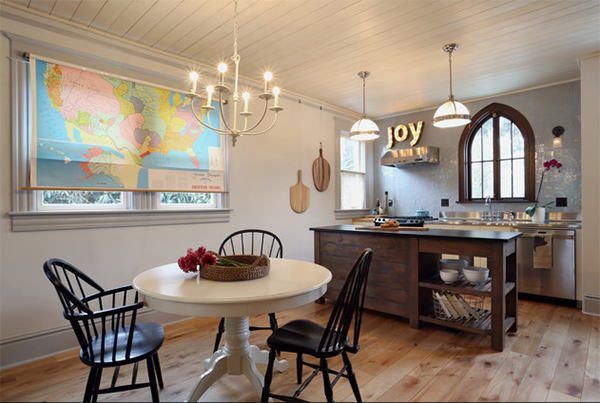 How about a map as roman shades? It would look amazing like this one!
18. Wimbledon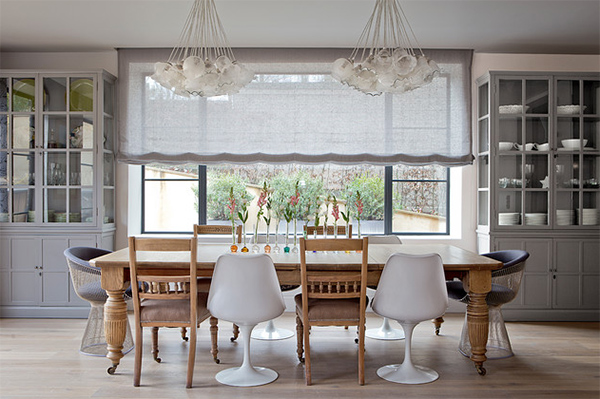 You can also use an entire fabric to cover the whole window instead of separate panels.
19. Shady Grove Kitchen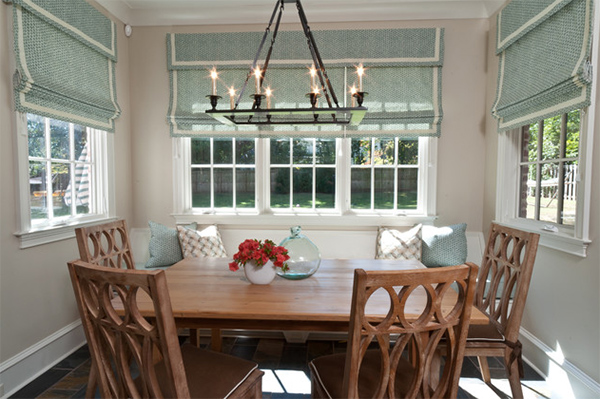 Green and white roman shades for a small dining space looks pretty nice.
20. Marin Family Home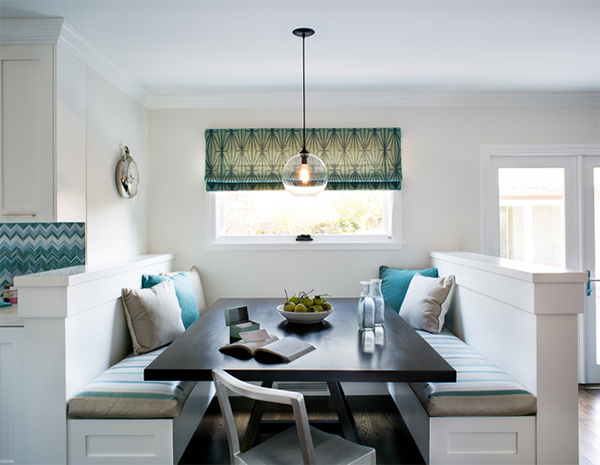 The roman shades here have geometric prints in green.
So, what can you say? The dining rooms above are a mix of various styles from modern to traditional ones. For sure, you were able to get some ideas on how you can add roman shades to your space especially if the window design is similar to that in the photos. You can also see other lists we have created that shows how they used roman shades in their spaces.