20 Beautiful Dining Rooms with Vaulted Ceiling
Worry not if you have a vaulted ceiling for it will look nice in your space like these dining rooms.
In one of the articles I wrote about with regards to vaulted ceiling, I mentioned in there that we somehow have this imagination what a vaulted ceiling can do for your house – and some home owners and designers like it and others do not even consider it. As much as a vaulted ceiling is wonderful, at some point, you know that it is impractical; but for clients who has the money to spend on this one and want one sure can always go for it.
For today, we will be showing you a couple of dining room spaces that has vaulted ceiling. All the rooms in this list are not only beautiful but very much worth it. Some of the spaces in here are really wide while others seem a bit smaller but employing a vaulted ceiling somehow created that imaginary feeling of space and airiness. Take a look at what I am talking about and tell me what you think through the comment section below.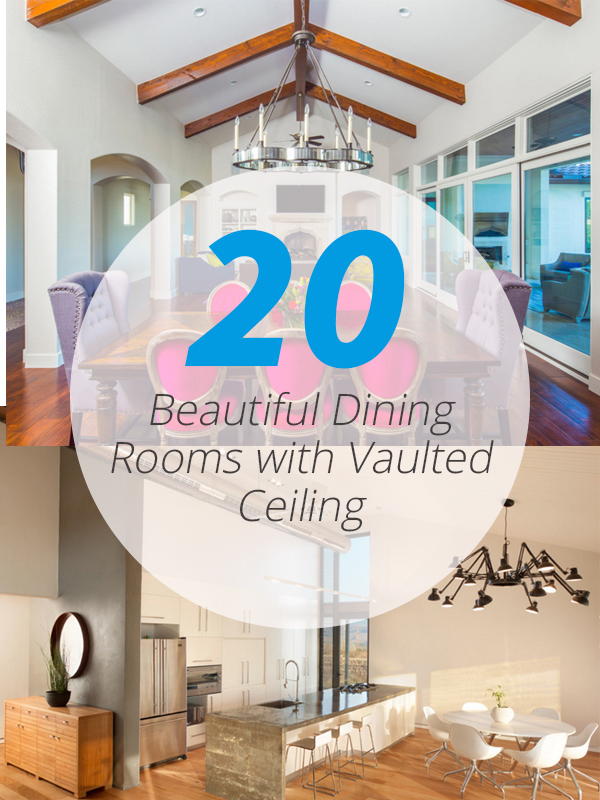 1. Hillside Spanish Colonial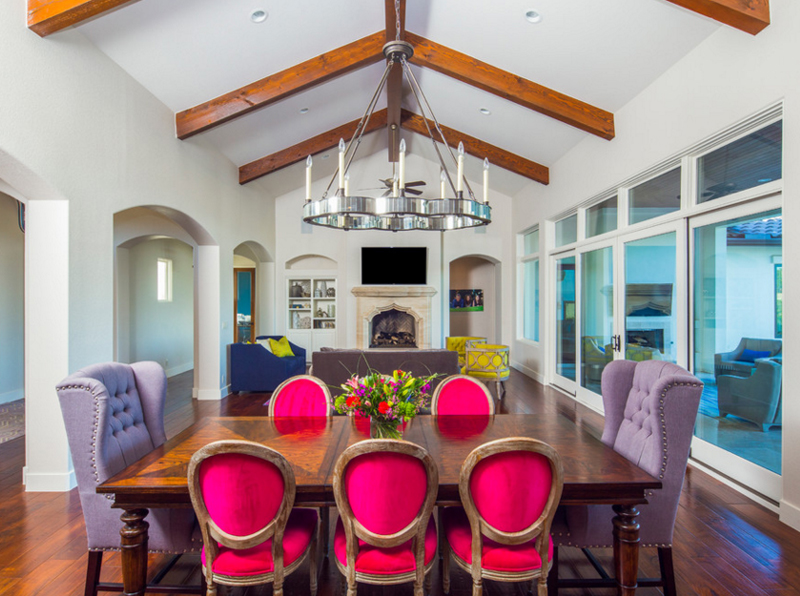 Well, this sure is one fancy dining space! The exposed wooden beams are really pretty against the white ceiling. I like how they played with colors, as seen in the chair choice that they made. You might even try to take a look at the living area that has colorful couches and arm chairs as well.
2. New Home in Devon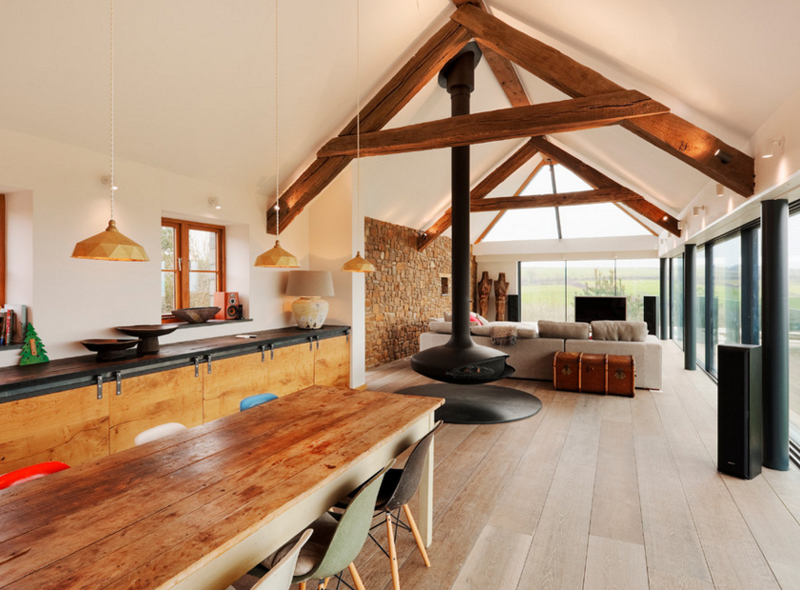 I know that we do not really see too much of this house with this angle, but we can see that the pendant lights in here are really stunning; along with the obvious vaulted ceiling and exposed beams. The contemporary colors seen in this home is quite interesting and really beautiful.
3. Palmer Street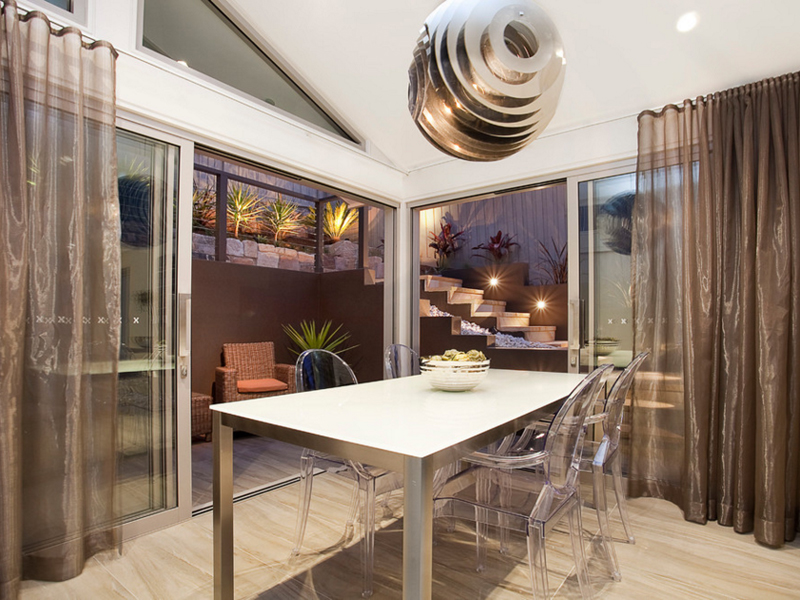 The vaulted ceiling in this dining room is not as high as some of the rooms seen in this list, but the mere fact that this dining room has a vaulted ceiling, you'll know how much creative and inspired the designer and the client was. This space may look simple, but sure is nice to look at and seems great for those small dinners you want to hold for your family or friends.
4. Point Loma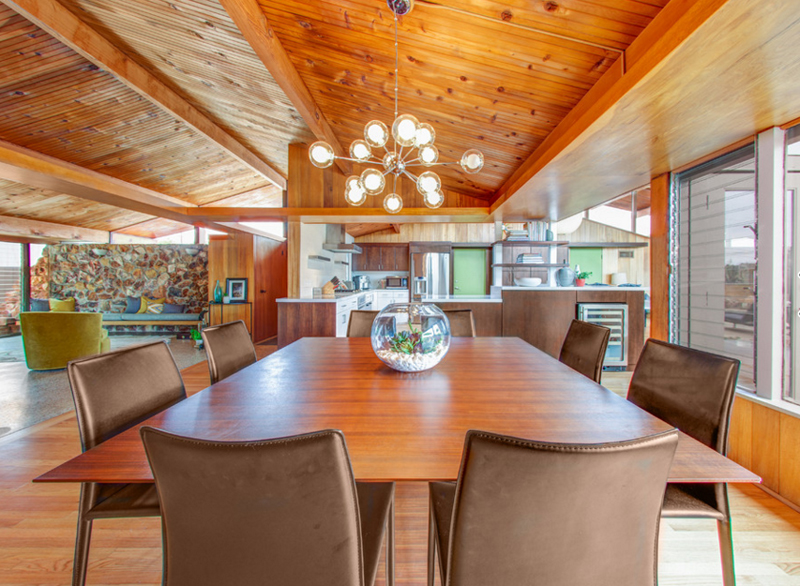 We have featured the living room of this home in one of our lists and its dining space sure look worthy of being included in this list too. The ceiling of this home is really beautiful and you'll know that they incorporated the idea of eco-friendliness with the choice of building materials used in this space. Even the pendant light in here is cute and unique.
5. Private Residence, Wimberley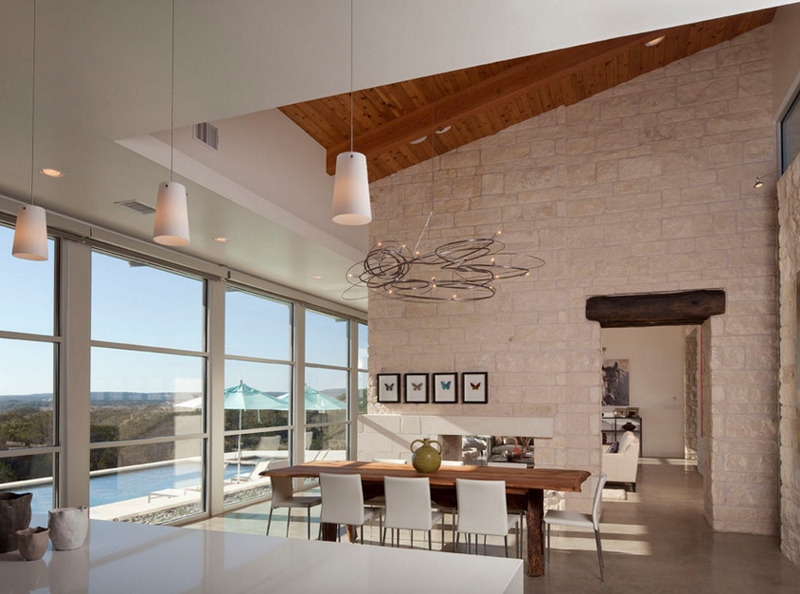 One of the things that people love about vaulted ceilings is the fact that make your homes seem really spacious and large even when it is actually not really the case. For this home in Wimberley, you can see how large the house is, plus with the vaulted ceiling, this sure is one neat house!
6. Real Estate in Vancouver
This is one small looking dining space, but with the vaulted ceiling, it seem a bit larger than it actually is. I love the large windows and the beautiful dining table – it sure is gorgeous with its reclaimed wood look and the thought of having it paired with contemporary chairs in grey! The decors in the middle of the table is quite neat too.
7. Sonoma / Sea Ranch Redux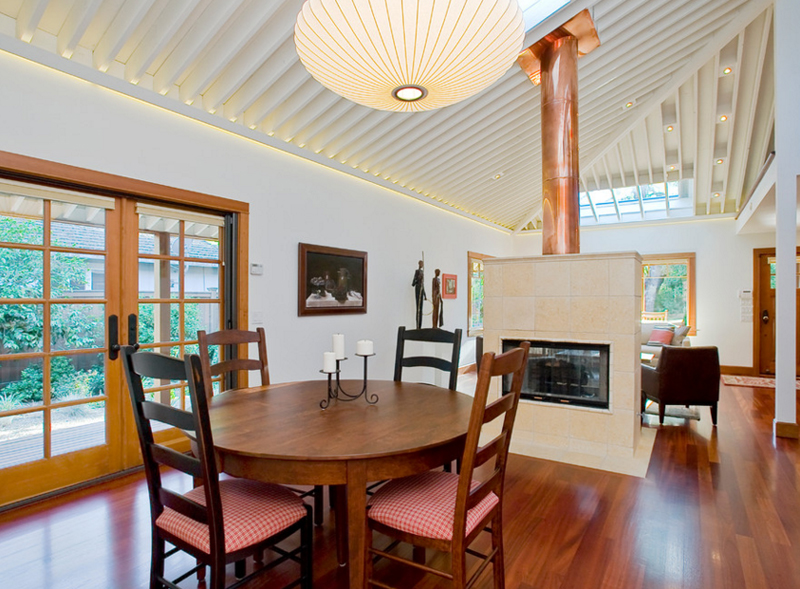 Want to make you space feel like that of a cathedral or a basilica? After using a vaulted ceiling, have a skylight – whether big or small, skylights are very useful as much as they make your homes look pretty. For this home, for example, you see a skylight by the living area – aside from adding light to the space, it looks sweet.
8. United State Contemporary Dining Room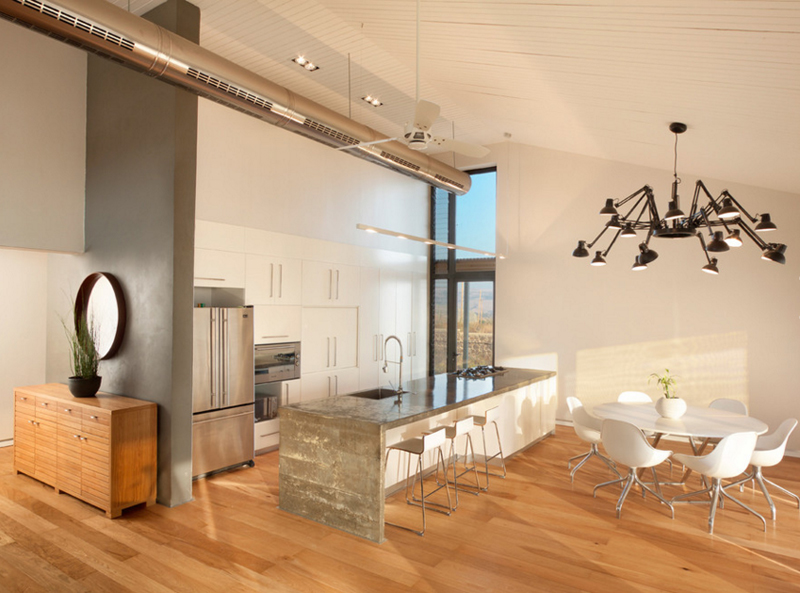 This dining-kitchen open floor plan showcases a large and contemporary home. At some point it looks like a large social hall or something, but this sure looks like a high-maintenance home. The furniture available is limited to the ones that are needed and the decor is very minimal.
9. Carmel House Forrest Ave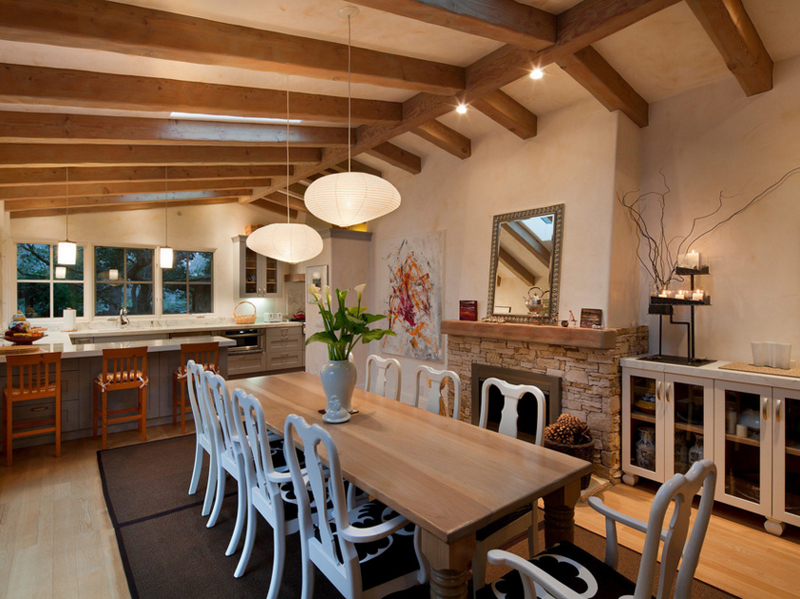 Let us dwell for a moment at this beautiful Carmel house. The exposed beams show us the lovely vaulted ceiling and the things inside this space are just fascinating! The chairs, the pendant lights and the fireplace area and mantle is really astounding.
10. Cliff Line Road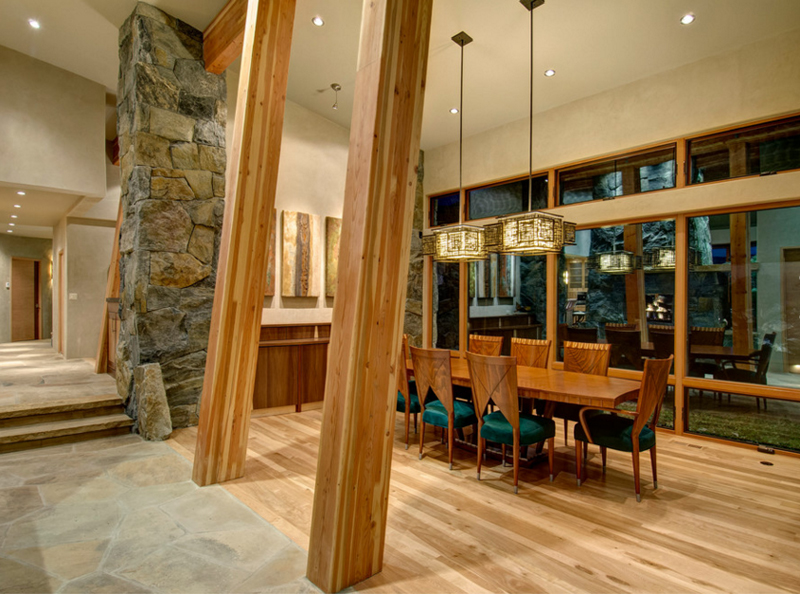 We have a kid at home right now, so I am not really that interested in having exposed columns or large stones for an interior of a house; but if you do not really have a kid or if they're already grown up, this space would be really great. The design is just as fascinating as most of the rooms in this list but the details in here make it look really expensive.
11. Green House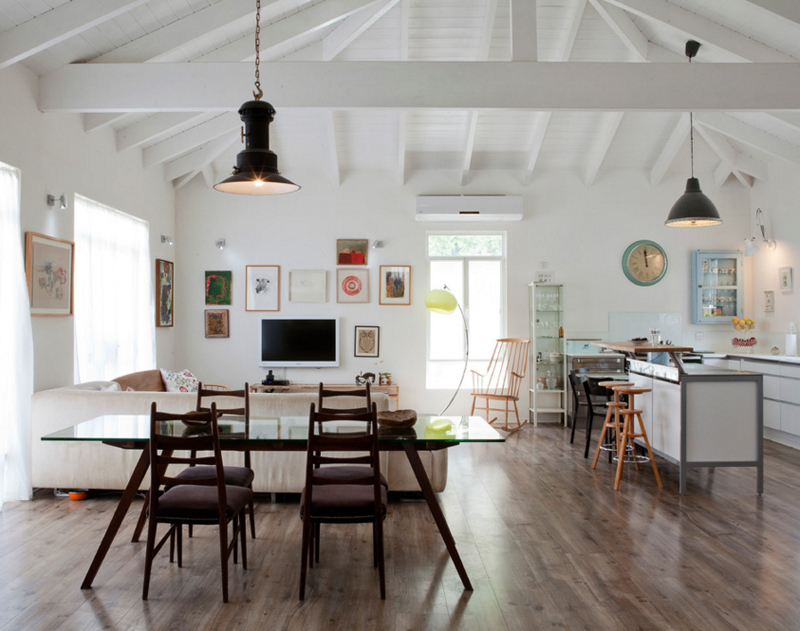 A house with a vaulted ceiling and in white sure looks stunning! The design of this interiors look like a loft and very contemporary. I like how this space looks because it looks really fresh and in the now. The choice of furniture and decors is very fun – I know every yuppie would love this.
12. Montage Laguna Beach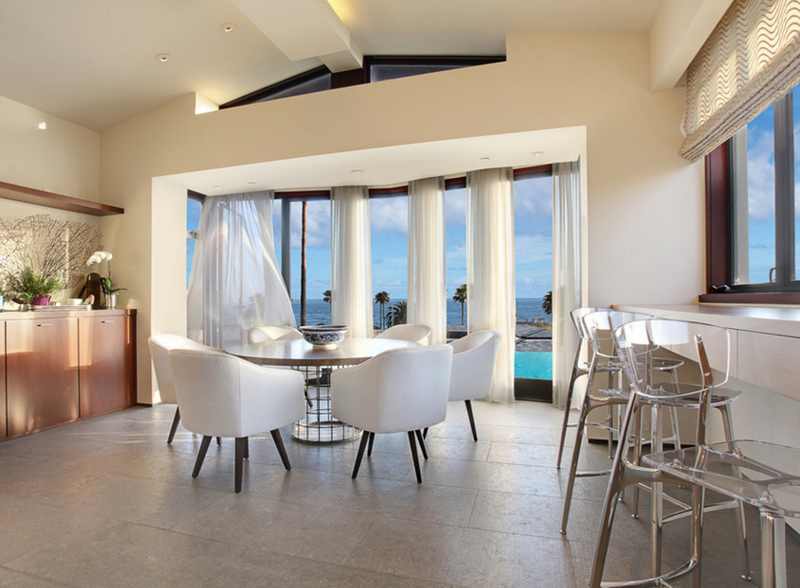 A small vaulted ceiling can really make a difference – take a look at this Montage home in Laguna Beach and realize that even when the vaulted ceiling is not as high as some of the homes in this list, but it made a lot of difference in here because it look and feels airy and it complements with the view from the outdoors too. What do you think?
13. Pond House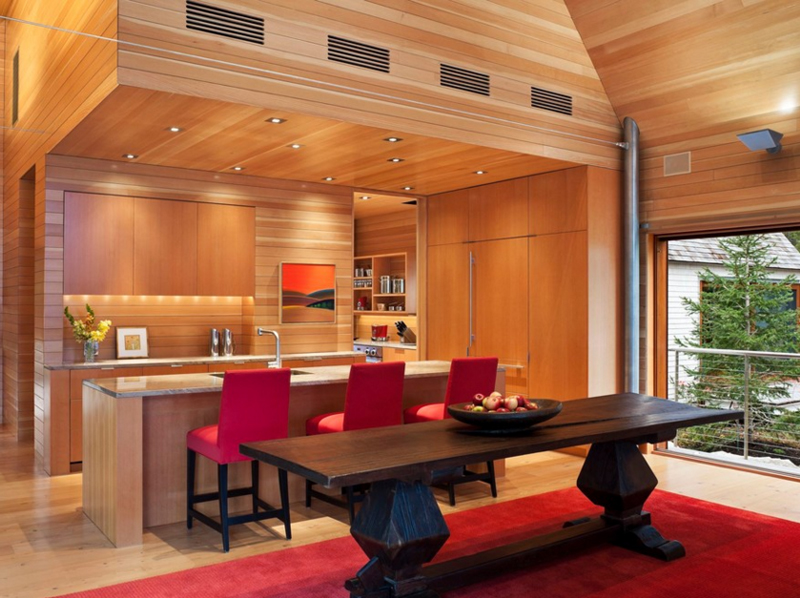 How do you like a wooden-made home with a vaulted ceiling? It looks like a cabin in a way, only a bit modern; this Pond house is beautiful and looks fresh! The only think I hope that this house is a bit eco-friendly because it seems that this is made from laminate and all.
14. Purple Heron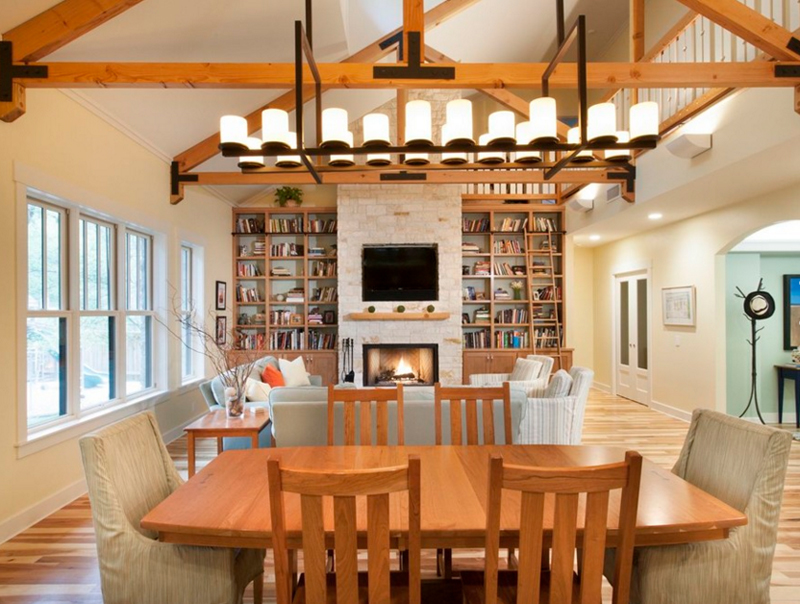 When I saw this beautiful home, I was beaming. Pun intended. The look and aura of this Purple Heron house is very much something anyone is imagining if you think of home; a place for relaxation and for spending time with family and friends.
15. 99 White Pine Interiors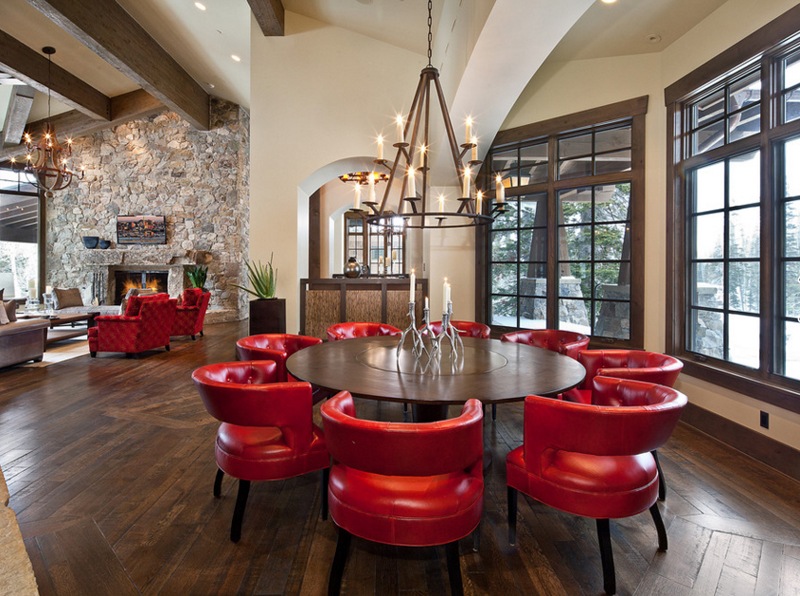 This rustic space is quite intriguing; it's both beautiful and a bit mysterious. I like the fact that the furniture choice is great – it matches with the entire theme that the house has; even the chandelier atop the table is something worth the look all the time, every time.
16. Bungalow Expanded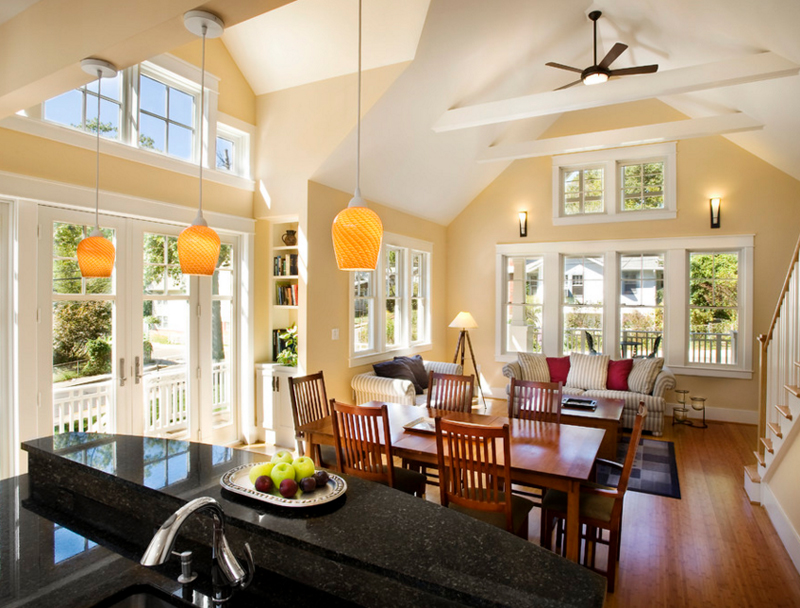 This bungalow is quite cute – the colors are simple but it really looks homey and calming. The furniture and decor in this home is smaller than usual but since the square area seems small, but it looks like the designer really made sure that they maximize up all the space.
17. Vineyard View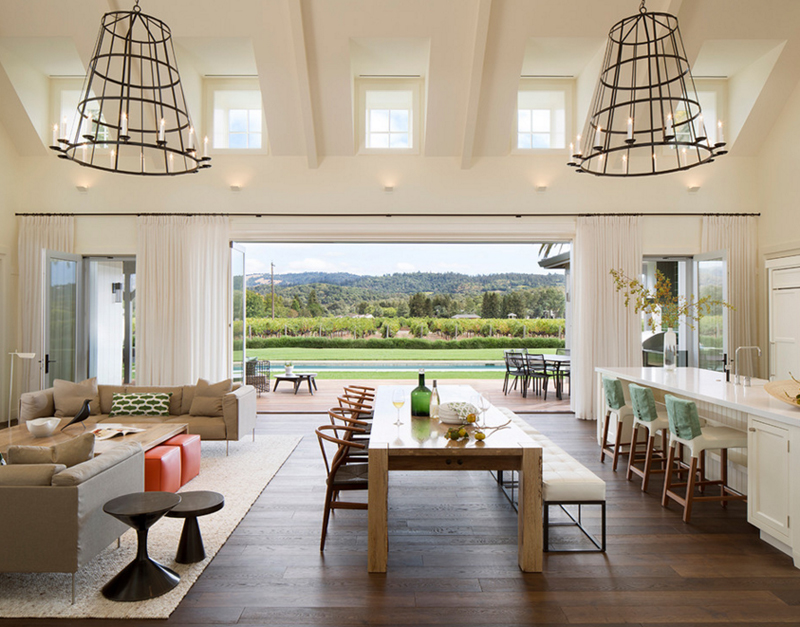 Well hello there large house! I mean, is this even a house or a mansion? This is one large space that has an open floor plan which is ideal for large home with kids because for most parents, they like it when they can see their kids play and see what their kids are picking up and breaking! The vaulted ceiling is adorned with skylights which is a great way to beautify it and at the same time be functional.
18. West 12th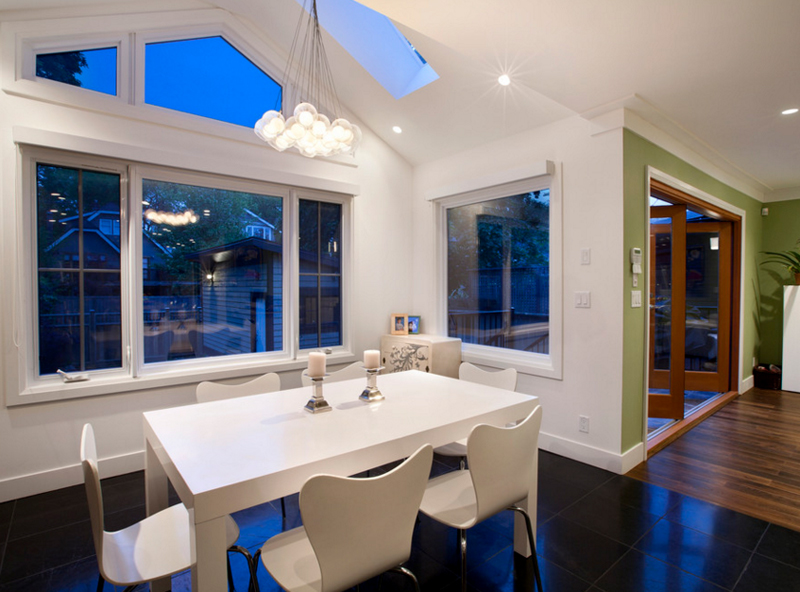 A house with a skylight is really charming – at least for me. It somehow reminds me of churches because most of the time – it's churches that really have skylights; it saves you lights in the daytime and it shows you the sky during the night that sometimes makes the mood in your home really romantic.
19. Westlake Total Renovation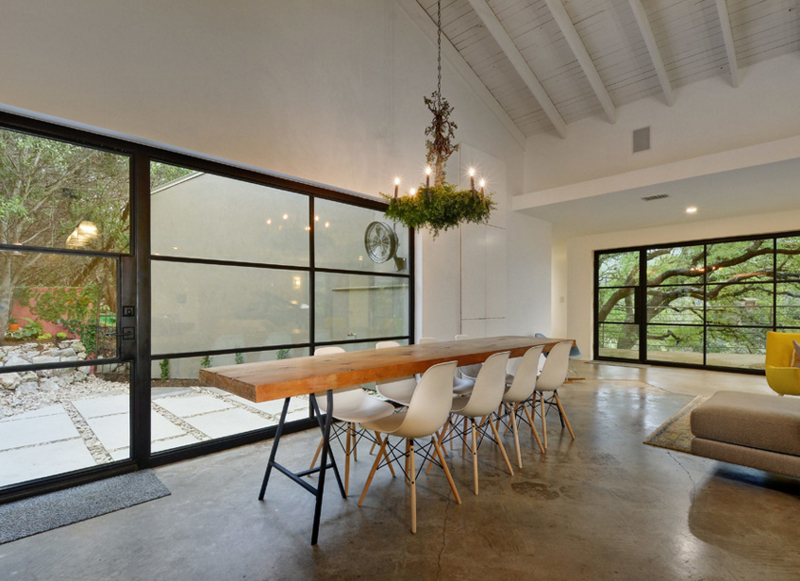 The pendant light in the middle of this room seems to look like a wreath that the church places by the altar during the Christmas season. It is covered in sort of fern or something and has those candle-like lights. The large dining room table is fascinating – it even beats the beautiful trees outside.
20. Winnetka, Il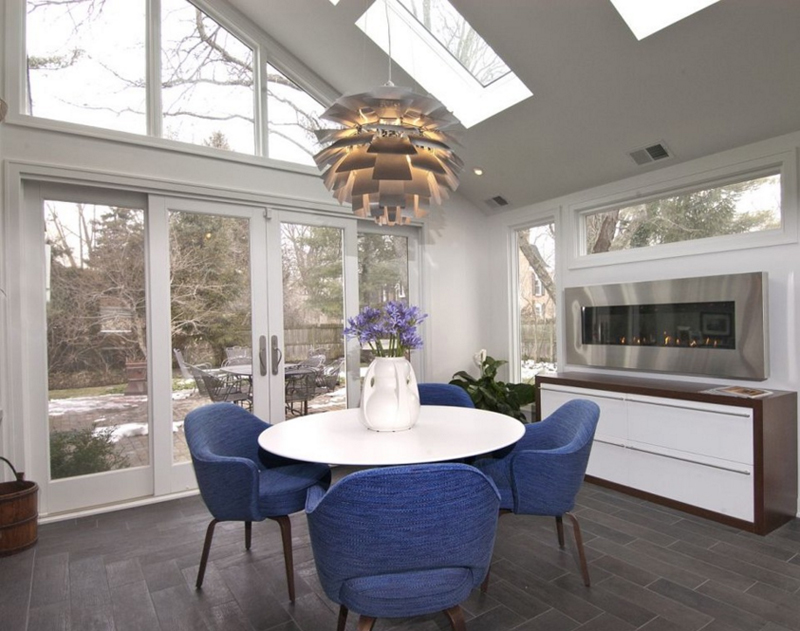 Aside from the fact that this space has a vaulted ceiling, you know that this is in fact a beautiful dining space that seems to have tons of windows and doors that allows you to see the outdoors and have tons of light that could be very useful if you're in here preparing food and entertaining your family.
What do you think about the urban spaces that we have featured above? The 20 Beautiful Dining Rooms with Vaulted Ceiling does not only aim to entice us guys but also to inspire and educate us with how much interesting vaulted ceilings are. Just like today's list, check out how vaulted ceilings looks like in the living area and tell us what you think about them!