20 Contemporary Bathrooms with Vaulted Ceiling
Vaulted ceilings work well for the bathroom too. Let us look at some examples.
Vaulted ceilings, are you for it or against it? Time and time again, homeowners, builders and designers have had conflict with the desicion to whether or not use a vaulted ceiling. As an advantage, a vaulted ceiling or a cathedral ceiling as it is also popularly known, looks good and allows a lot of lighting inside the house; they make your homes feel rather airy and light and sometimes, it gives you the opportunity to add a skylight too.
If there are advantages, there are also disadvantages – for one, vaulted ceiling doesn't really add any room to your house; even when you feel it to be spacious; plus, you have no choice of building upward in your space, say you decide to actually add a floor. With that in mind, today, I will be sharing to you a couple of photos that show us how stunning home spaces are used vaulted ceilings. Of course, it always depends on the designers and even the homeowner whether or not they wanted to have this type of ceiling work. Check out the 20 Contemporary Bathrooms with Vaulted Ceiling below and tell us what you think!
1. Art of Bathing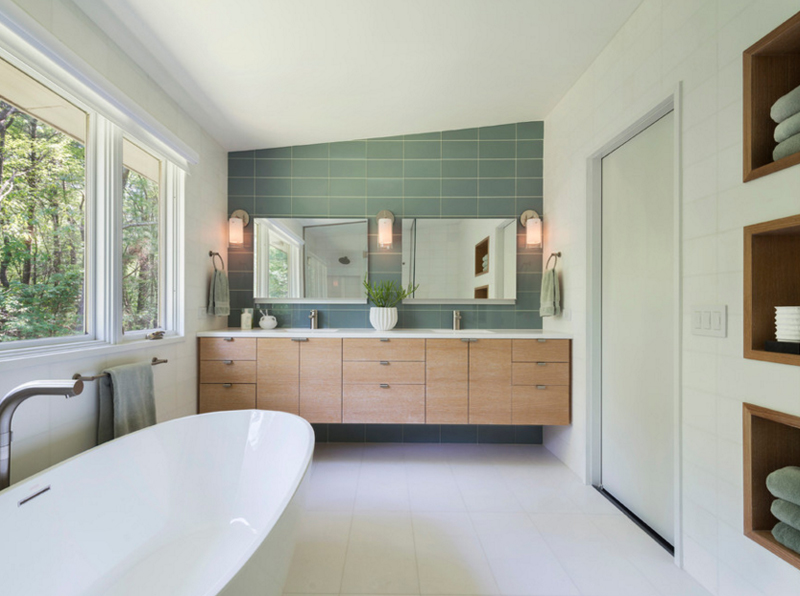 This Boston bathroom sure looks simple but still stunning! Notice the large windows? The view of the outdoors is just perfect during long baths you take to relax and refresh yourself. I also like the tile choice by the vanity, how about you?
2. Chicago Master Bath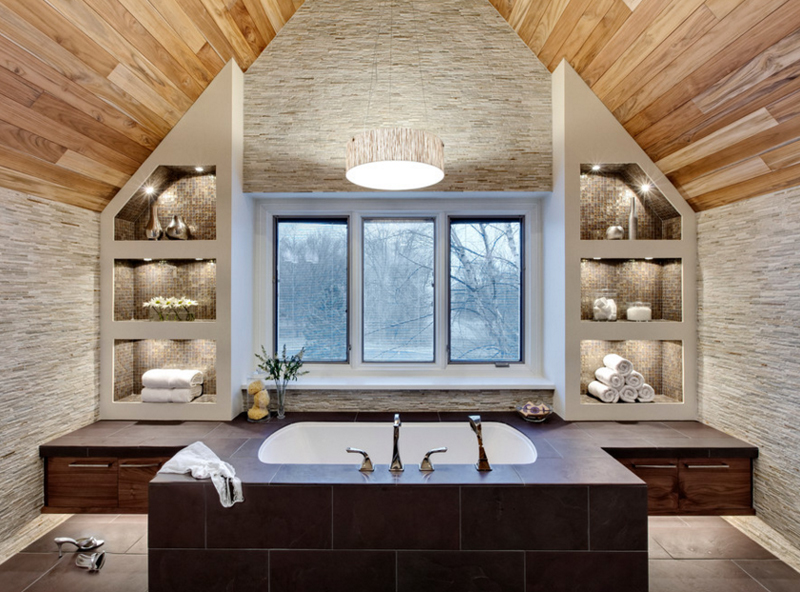 The material used on the ceiling is something that people or designers consider for the flooring, right? In this bathroom though, we see how much the color and material used on the ceiling, the walls and the flooring make this bathroom look and seem more stunning than how it actually is – that is something home owners would always want to have.
3. Contemporary Gem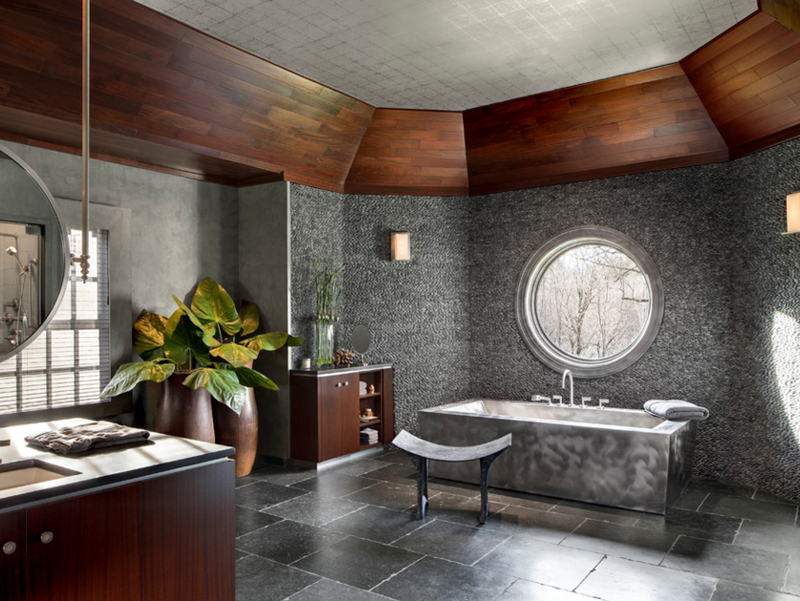 Well this bathroom looks really futuristic because of the color. It seems like this bathroom is made from silver or stainless steel when in fact, it is not the case. The use of the best grey materials for the ceiling, walling and flooring made this bathroom really stand out.
4. Dovercourt Home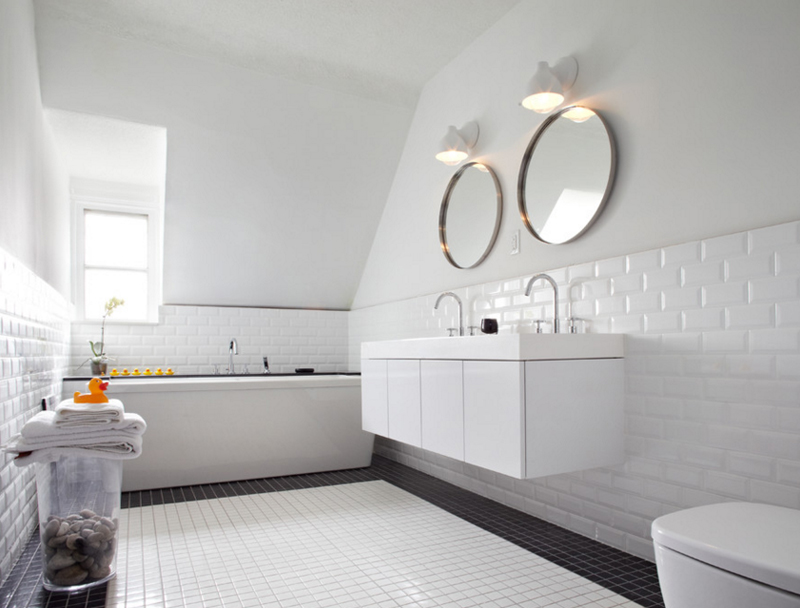 Oh I love how clean and heavenly this bathroom is in Dovercourt. The double vanity which is adorned with two beautiful round mirrors is an added charmer in this bathroom; the vaulted ceiling which ends by the bath tub is nice but you really have to be careful in standing up in this situation.
5. Eagle Trail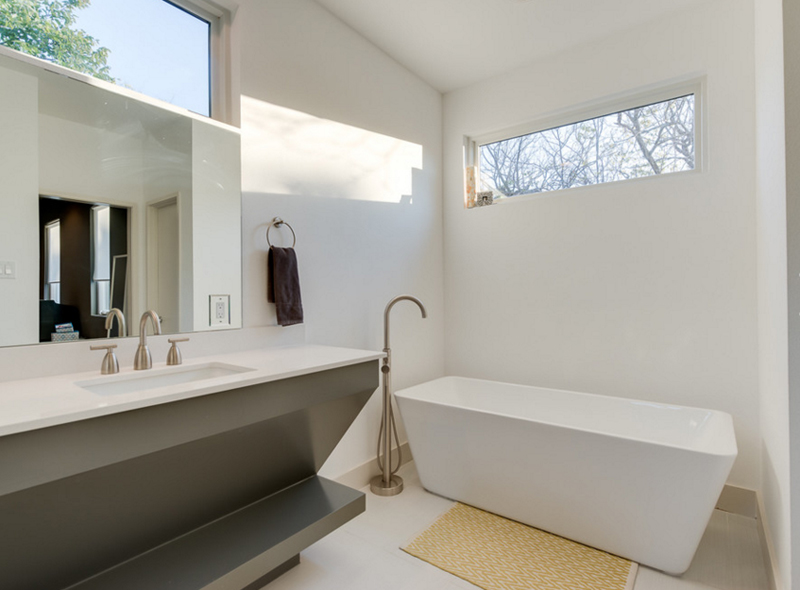 There is a minimal angle in the ceiling of this bathroom; but notice that there are two rectangular windows in each of the visible sides in this photo that somehow resembles skylights that are used in cathedrals or basilicas – or even in this Eagle Trail bathroom.
6. House 6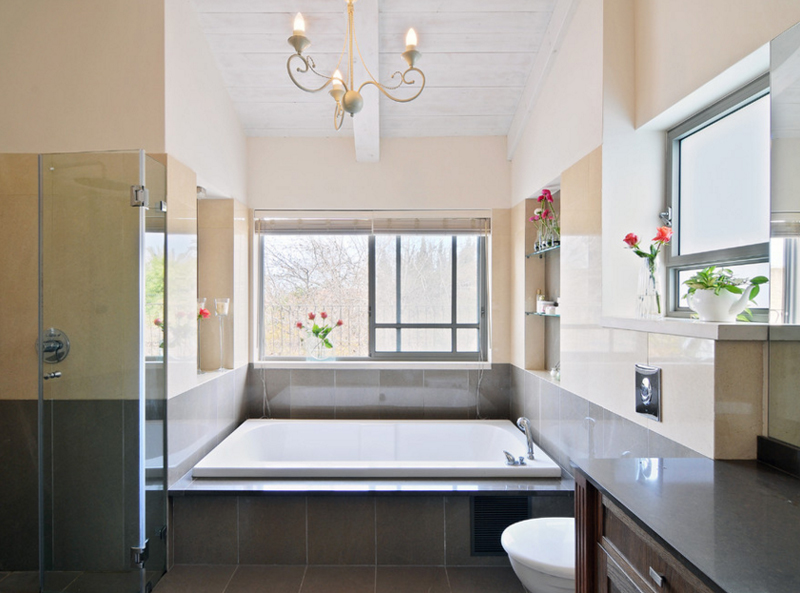 Bath tubs should be placed in a strategic position that allows one to feel rather free.
7. Levine Project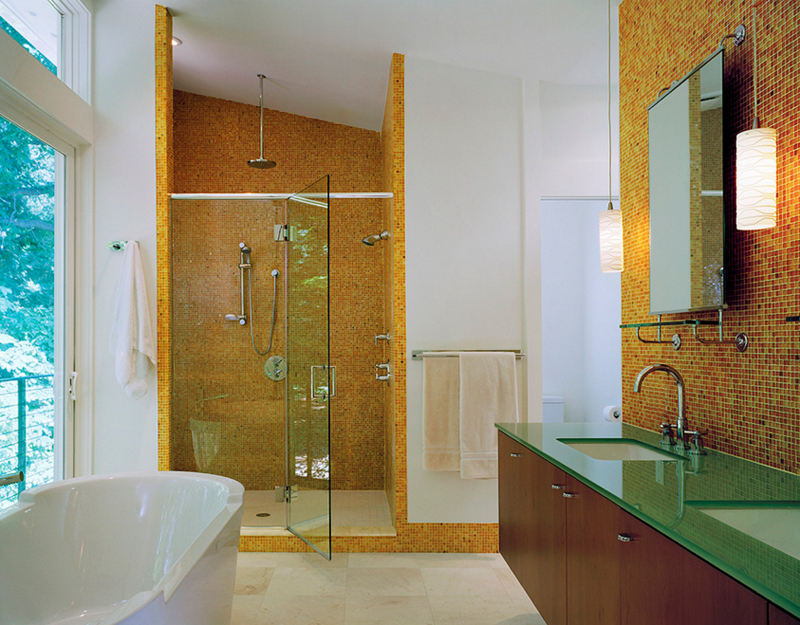 This home project from The Levine Group is quite neat. There's a stand-alone oval tub, a spacious shower area and a double vanity. Nowadays, having a double vanity is quite a necessity for couples. All is fair in love and vanities!
8. Loft Conversion in London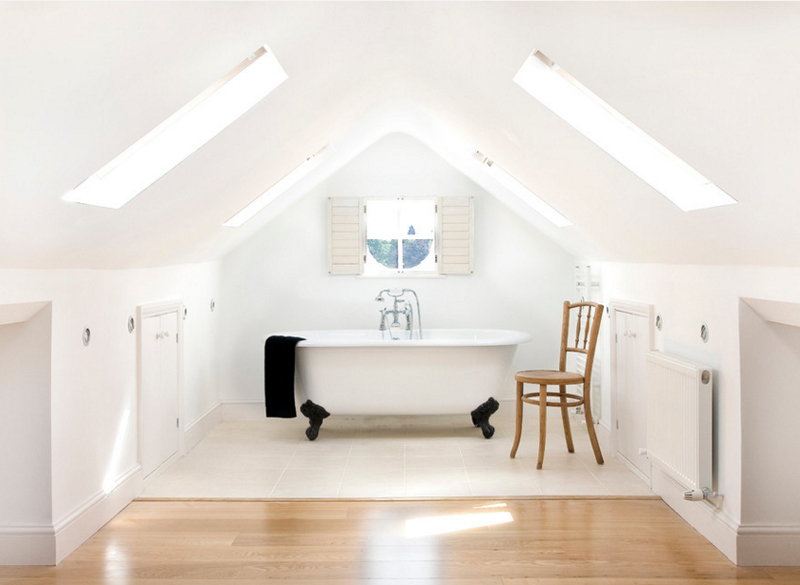 Most of the loft converted spaces that I saw in the internet never fail to amaze me. Some designs are prettier than others, but all in all, they are all pretty to see and really interesting, just like this one – we see a very heavenly bathroom with a simple but vintage-looking tub and a cute wooden chair.
9. Martelange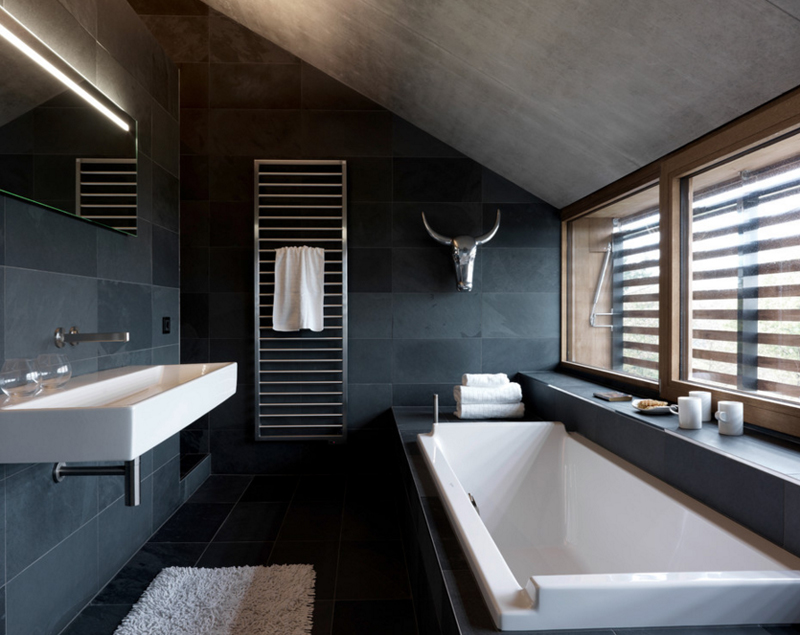 At first glance, this bathroom looks really masculine – maybe it's because of the dark-colored tiles and that silver animal head on the wall. Although I can't really say for sure if this bathroom is owned by a guy or a woman who just actually prefers this color palette. I like the fact that the shorter side of this bathroom is all-windows.
10. Newton Swansea 1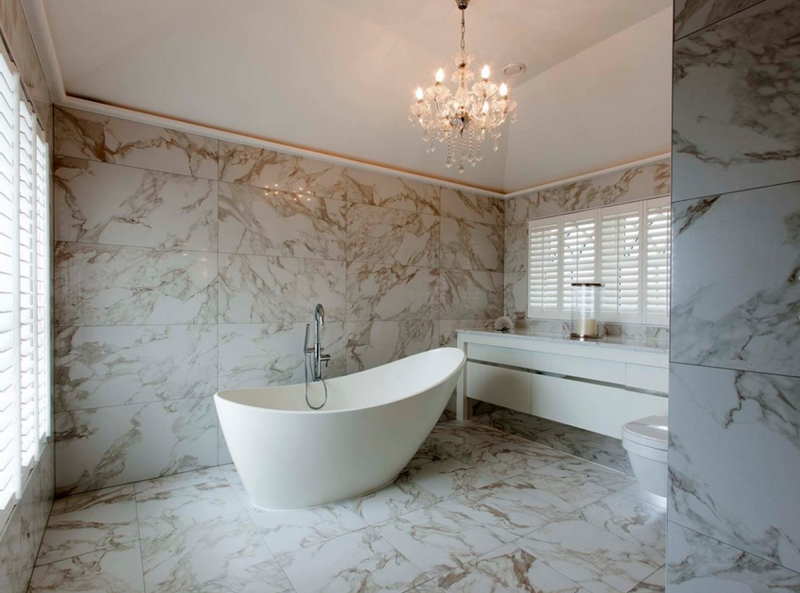 All the marble work in this bathroom is superb and really expensive! This is one minimalist space that somehow seems too expensive and pretty to even use! Of course, other rich people have more stunning bathrooms, but this one sure is one to beat!
11. Point Loma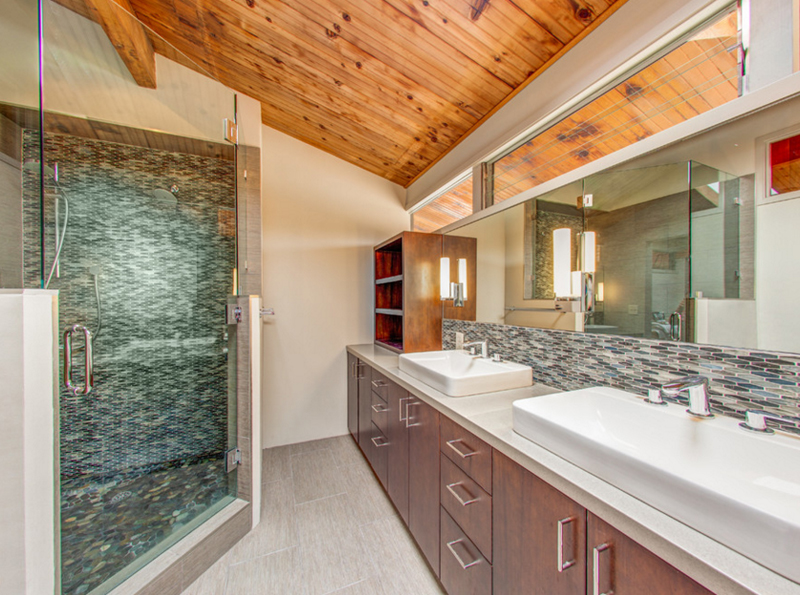 Note the beautiful ceiling in here – wooden vaulted ceiling with a long counter that showcases a double vanity with a very long mirror. Women would love to stay in here together to wash their faces and do their make up!
12. River House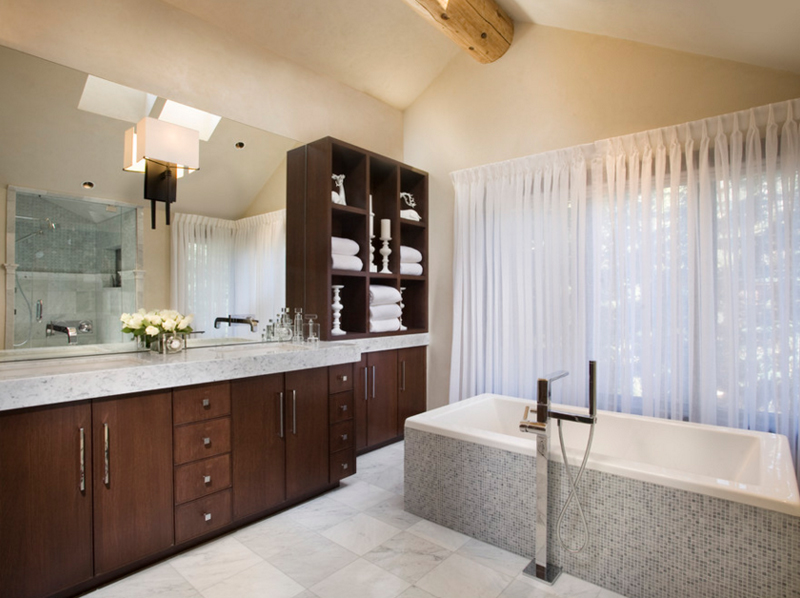 A simple yet elegant bathroom is done for this River house. The design is simple with all the basic needs – a stunning tub, tons of storage, a large mirror and a large shower area that we see through the large mirror.
13. River Oaks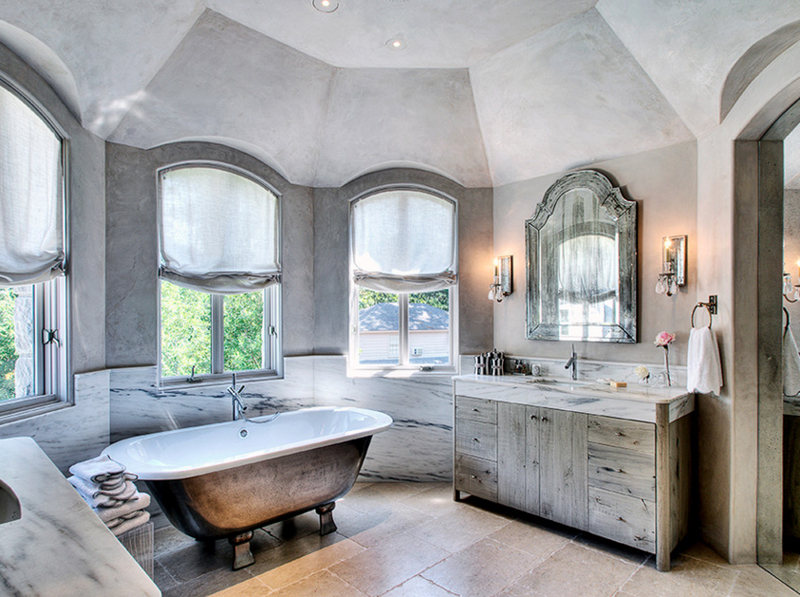 When I saw the pictures of this home – River Oaks, I was able to see how marvelous and very different the home is from those normal looking contemporary homes we see online or in magazine and books.
14. Scotch Pine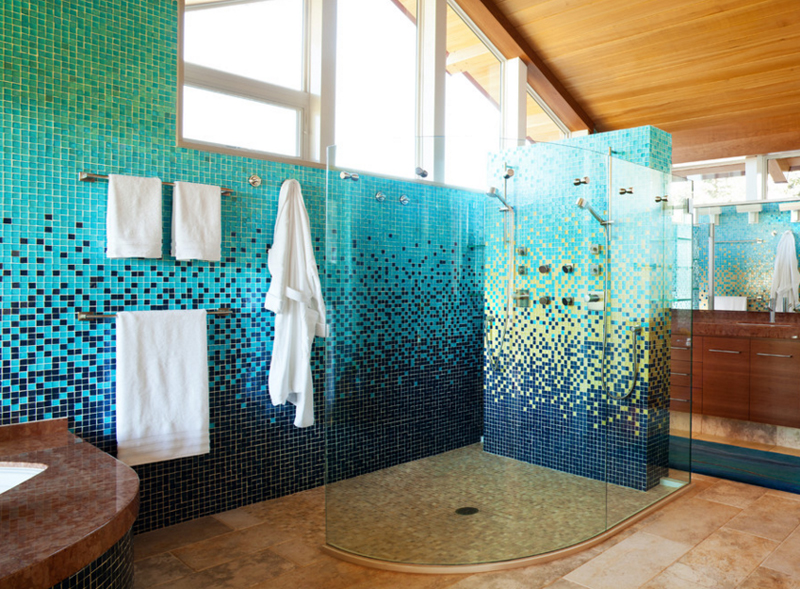 Colorful tile work was done in this awesome bathroom! It looks fun and very refreshing. If you have noticed, most of bathrooms in this list used earth tones like black, brown or entirely white or some cute tile – in here, we see that they played with mosaic tiles to create a stunning work in here.
15. Sustainable Cliffside Living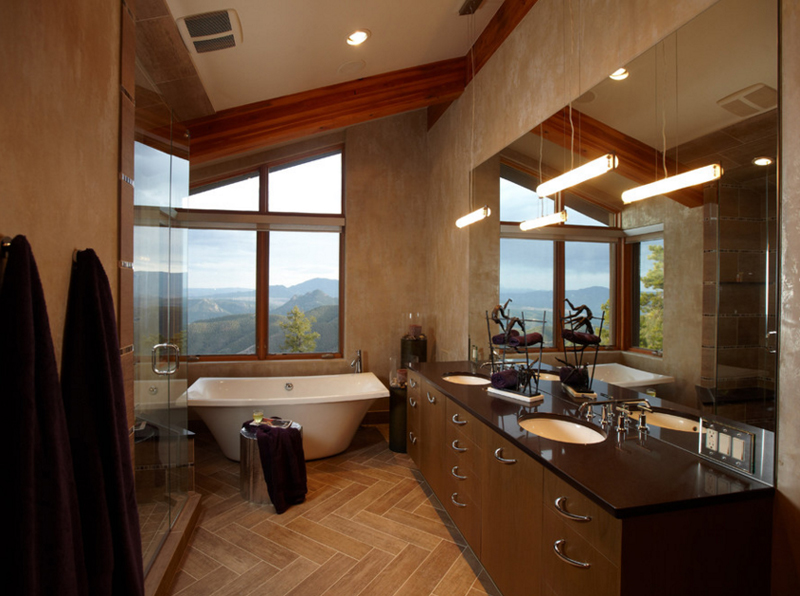 Well, this bathroom sure looks like some 5-star hotel-room quality! With a stunning view like that and the fact that this home is located in by a cliff – words are not enough to describe how gorgeous this space is.
16. The Church Conversion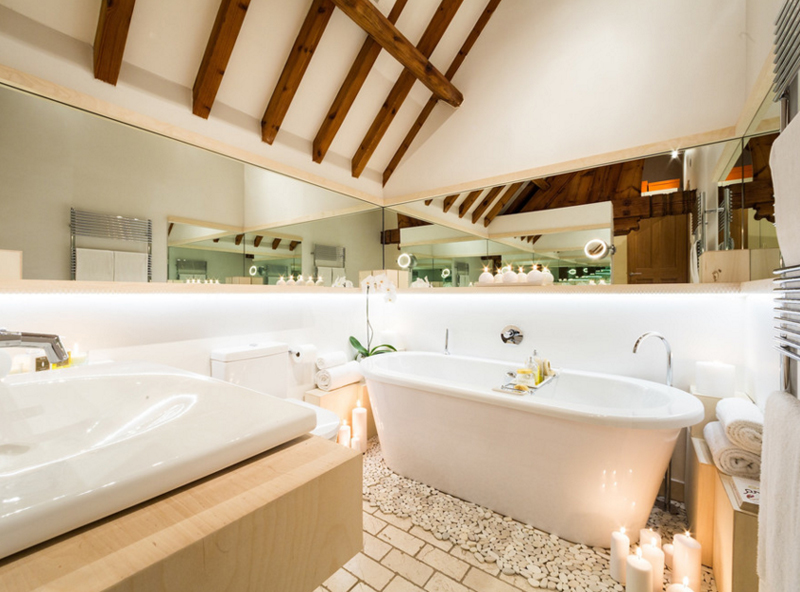 If you haven't seen a church converted into a house, well it's time for that you do! In here, we see a pretty space made into a lovely toilet and bath. I love the fact that they really added all those candles for staging. The vaulted ceiling which is adorned with wooden beams also added charm to this space.
17. Toll Brothers Plano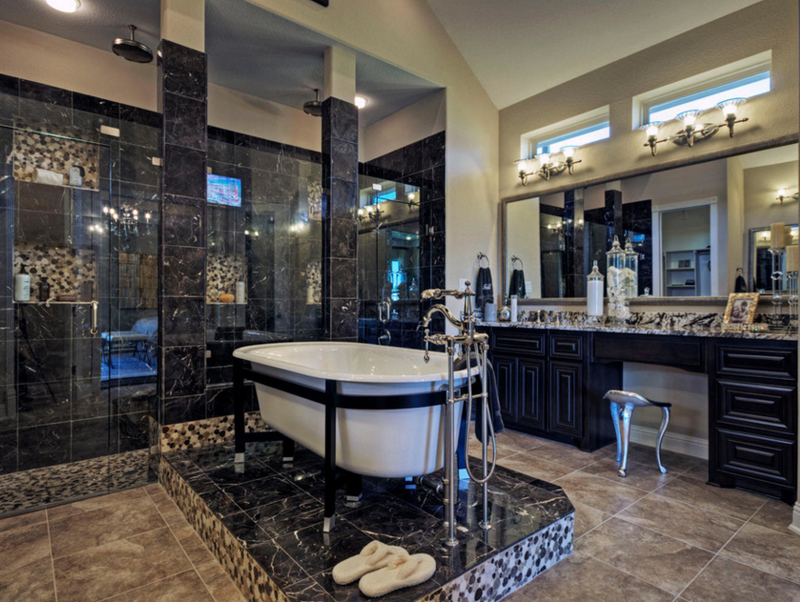 Here is an example of a bathroom that I imagine Hollywood artists would have. Pretty intense with the materials and at some point even Avant-garde.
18. Vilters Switzerland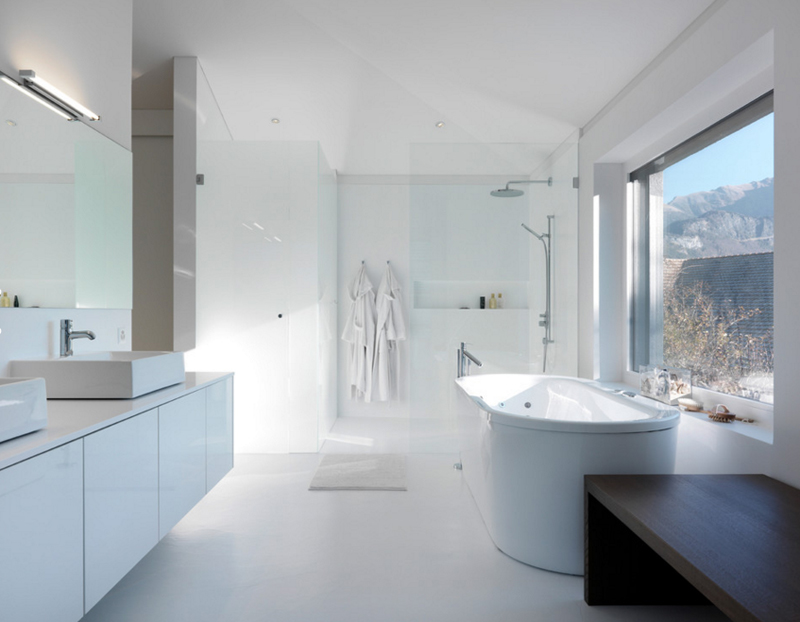 This bathroom actually looks rather modern for me – its color may simply be white, but the look and finishes on the materials used in here looks rather sophisticated and even futuristic. I like that the tub is beside the window – although I hope for everyone's safety and well-being – the other side should be covered with a high concrete wall.
19. Waterford in Valley Pointe
What a cute pendant light! Okay, okay, the main thing that we should be noticing in here is the vaulted ceiling and not the pendant light, but hey, see how adorable it looks like? It even gives off a cute shadow play on the wall because of its design. Also, I would like to commend the designer of this space because of the separated vanity which I think could either be intended for sisters or well for a couple but they just decided to separate them anyway.
20. Wawona Street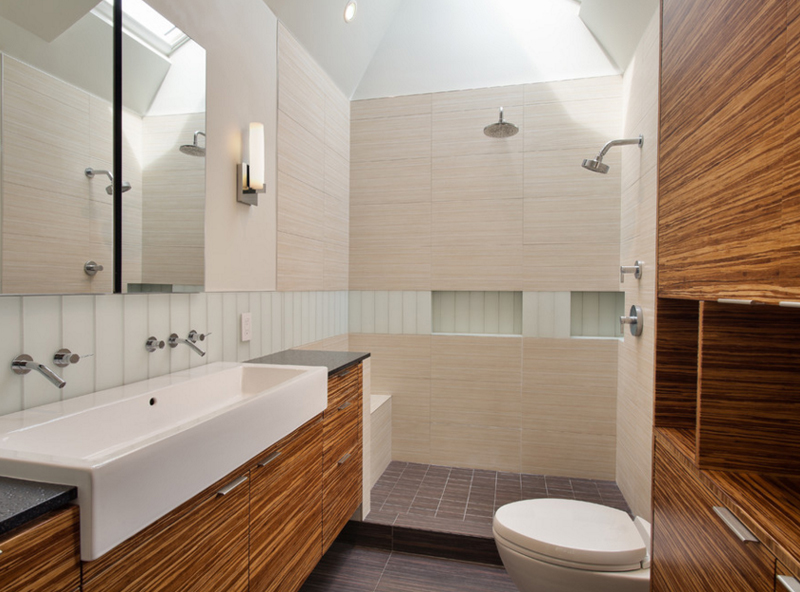 A San Francisco bathroom with a vaulted ceiling that may somehow seem small but what's important is that all the available space is utilized and that everything we need in a bathroom is present in it. In here, we do not have a tub but we have a neat shower area, a toilet and a vanity.
If you like the illusion of a larger space because of the vaulted ceiling, this is partly because it has been known that large spaces like the Grand Central Station and Notre Dame feels really open and it's just too beautiful – unlike a large space without a vaulted ceiling like Penn Station in New York, it feels rather tight and claustrophobic; pretty oppressive. I hope you like this collection of 20 Contemporary Bathrooms with Vaulted Ceiling because from what I know, the list I made before about the 18 Living Room Designs with Vaulted Ceiling, people actually enjoyed it and shared it to their friends. Still more to come in Home Design Lover!18 Living Room Designs with Vaulted Ceiling, people actually enjoyed it and shared it to their friends. Still more to come in Home Design Lover!