10 Tips to Pull Off a Mismatched Dining Room
Like most of you, I also thought that a dining area should have the same dining chairs and should stick to one color and style just like what we see in usual dining rooms. Even my own dining room has the same chairs too. The idea of uniformity arises from the fact that a dining area has to be formal. But I think, it would work best in a home if it looks more homey, cozy and comfortable. This way, the entire family will have great time eating together.
But what other homeowners are not aware of is that you can actually make your dining room look fun and even more inviting by doing the mismatched style. The first time I saw a dining room of varying chairs and lovely colors, I honestly fell in love with it and this made me look at my uniform dining chairs as very boring! I'm not sure if you have already seen a dining area like this one but if you haven't, you will see that in the sample photos below that accompany our tips for you. Yes, we will be giving you some points that you need to know in pulling off a mismatched dining room.
1. Choose the table first.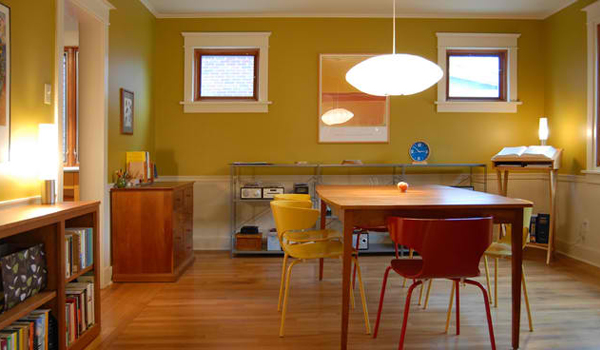 Not all may choose the table first because some would get the chairs before the table. But it would be better to choose the table first because this will make it easier for you to get the chairs that will match its height. This will also help you determine the kind of chairs that will fit into it and would look good with it.
2. Check your available chairs.
Before you think of buying, look at what chairs you have. If you think they look old and boring, then try to revamp your chairs. Do some painting and change the upholstery. Look for random chairs that are available in your home too. You can also add this as your dining chair. When you decide to buy, you can try second hand chairs to save money and just fix them or change their look.
3. Chairs should have uniform height.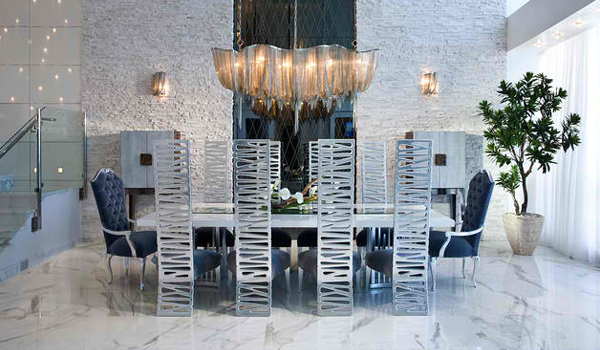 Imagine sitting on different heights while dining. That wouldn't be nice. To make sure that your mismatched dining room will work, see to it that the chairs have the same height. It has to be of correct height with regards to the table too. If your chairs are too short or too tall, then the users will not be able to use it comfortably. And you don't want that to happen.
4. Use the same chairs with different colors.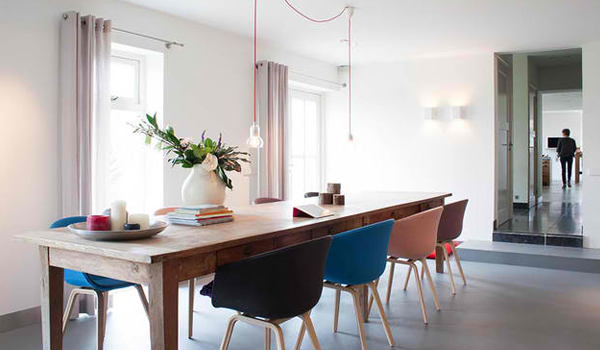 You don't have to worry if you have the same chairs because this will work well too. When you buy the chairs, get those with different colors. There are really chair that are readily available in varying colors. If it isn't, you have to paint it. If it is only available in black and white, that will do too. Some chairs even have a transparent version.
5. Use different chairs in the same color.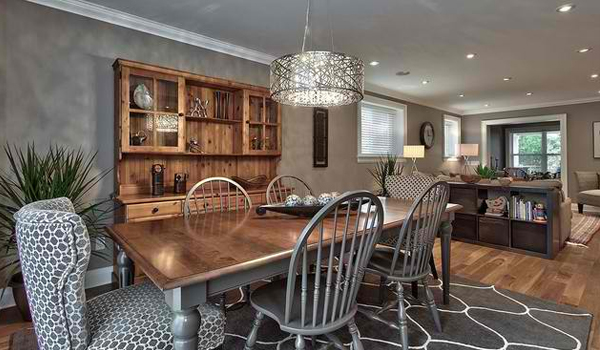 Another way to create a mismatched dining area is to use different chairs of the same color. For instance, you can color them all white or black or whatever color you want. This is budget friendly for you don't have to get many colors to paint random chairs you can find.
6. Use the same chair with different upholstery.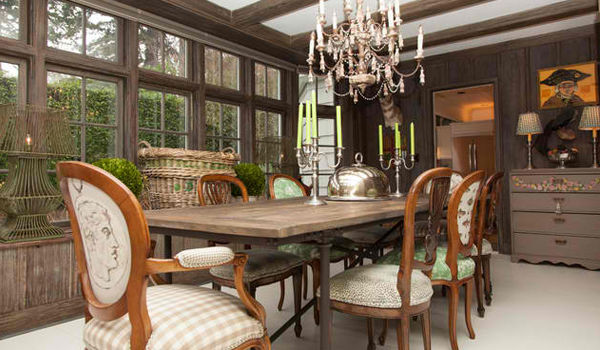 Don't worry if you have the same chairs. You can still make your space appear mismatched by changing the upholstery of each one. Choose different colors and patterns to make it look even more attractive! You can DIY this because it isn't really that hard to redo a chair's upholstery. If you do it by yourself, then you can save a lot of money!
7. Create contrast with modern and vintage chairs.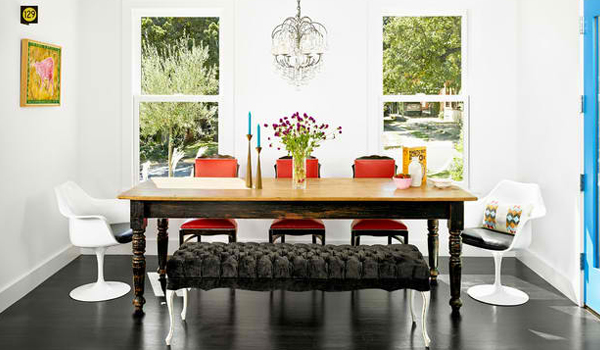 We know for a fact that most of us choose a motif and concept for our homes to create coherence in every corner of it. But if you want to achieve a beautiful dining area, you can always place contrasting decors and furniture. One way is to mix modern and vintage pieces. You can also use those with contrasting colors.
8. Use chairs of different types.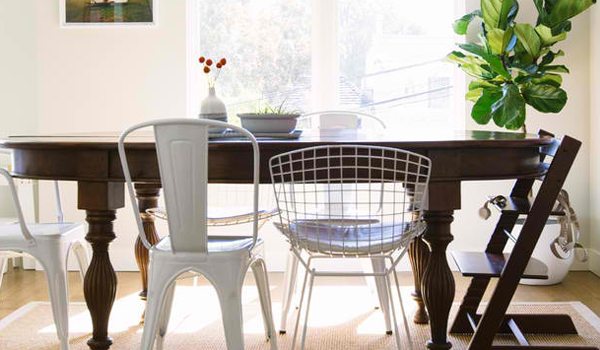 We are aware that there are different type of chairs. You can pick a bench for one side and mix them with a wingback chair, a stool, or just whatever chairs you can find. The stranger they look, the more exciting your mismatch dining area will appear! So, don't worry if you get some odd chairs to your space. It will do the trick.
9. Use chairs of the varying tones in the same color family.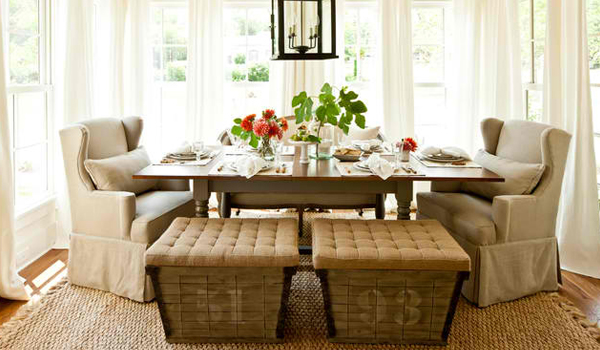 If you want to have chairs in different colors but would like to tone it down, then use various tones of the same color. With this, you can save money for paint too. Another option is to use neutral colors to add a warm feel to your already cozy dining area.
10. Be creative!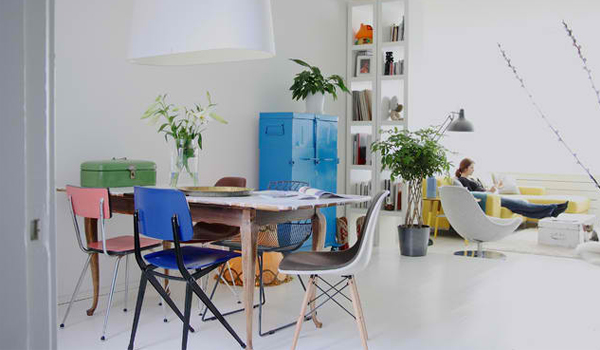 And above all, just be creative! Get whatever pieces you want to use. Apply the colors you want and arrange them considering each chair's function, size and usage. If you do that, your mismatch dining area will never fail. You can use different types and styles of chairs and no one is gonna tell you that you are doing the wrong thing. Just let your creativity flow and consider its usage!
I know you are starting to love the look of a mismatched dining room. I feel the same way too. Seeing those means that I can always retain old furniture and just revamp them and use them for the dining area. New pieces can also be added to the space if desired or if you have the budget. The above dining rooms shows us that even if everything doesn't look the same, it can still have the same impact to the area's appeal and impression.