20 Awesome Flat Screen TV Furniture in the Kitchen
If you love night time soaps, you know that in a split second, a sneaky sideways glance can tell you that two characters are having an affair; or a tiny cough lets you know that someone has suddenly become terminally ill. So what do you do if you don't want to miss a single second? Not a problem! A flat panel TV can be built in to a small niche in your cabinet so you don't miss anything when you are preparing for a meal.
Below is a list of kitchen pictures where you will be able to see that TVs are not only for the living room, entertainment room or the bedroom. They have a place in the kitchen as well. Because of our innovative designers and decorators, we can now watch our favorite soaps and TV series while also doing our cooking, so here goes something.
1. Winnetka Remodel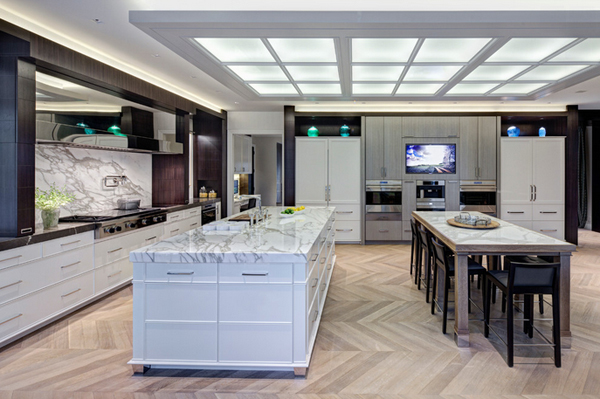 Like the thought of having a TV in the kitchen; for game days when I'm cooking!
2. Antique Home Addition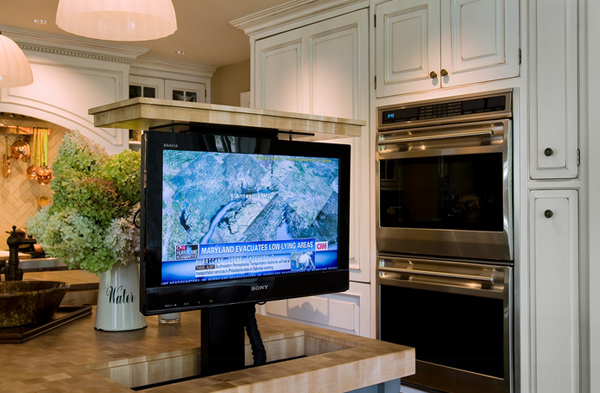 This pop-up TV in the kitchen is one modern touch to this New York kitchen.
3. April Case Underwood Kitchen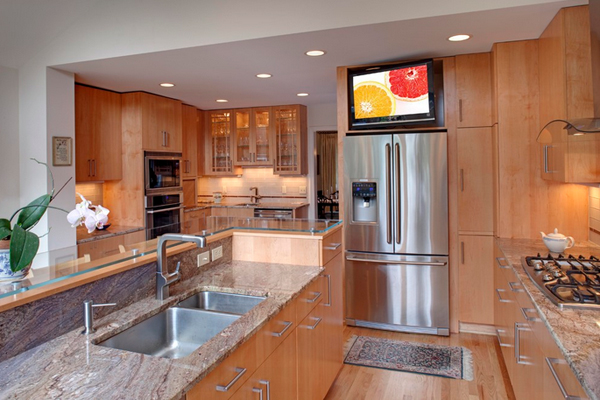 The television above the refrigerator is one good location – look at the great woodwork with the cabinets.
4. Burnaby New Home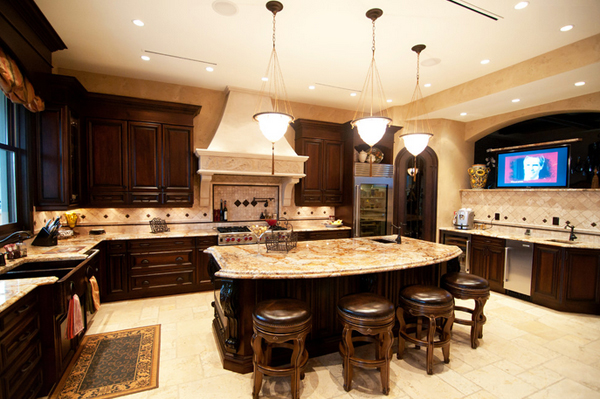 Classic Old World kitchen with antique finishes and details give this kitchen a rich classic feel.
5. Carmen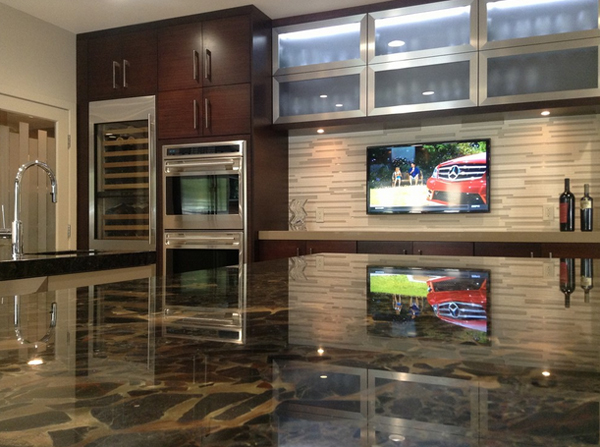 Adding a flat screen TV just below the wine bar is one way to spend wine nights!
6. East Coast Traditional Kitchen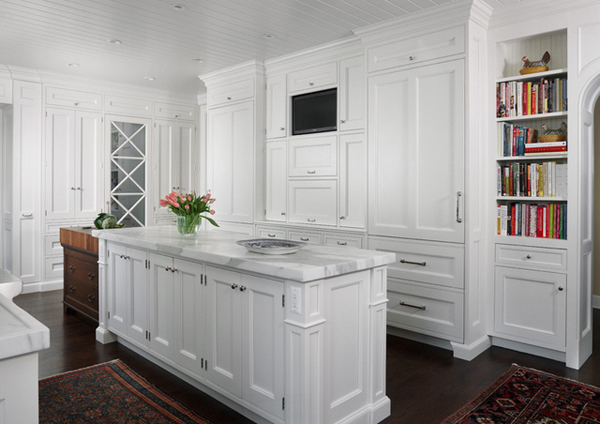 The TV placement and mirrored glass on the side is stunning; I think if the TV was bigger, this would look more awesome!
7. Granite Kitchen Remodel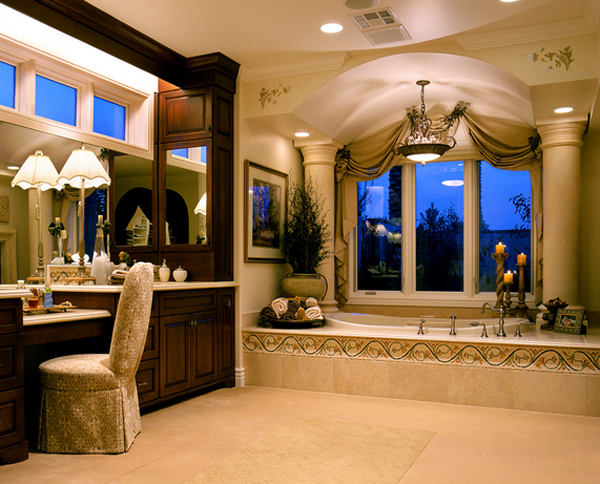 I totally love the Mediterranean feel of this Las Vegas kitchen – not to mention the large flat screen TV.
8. Longboat Condo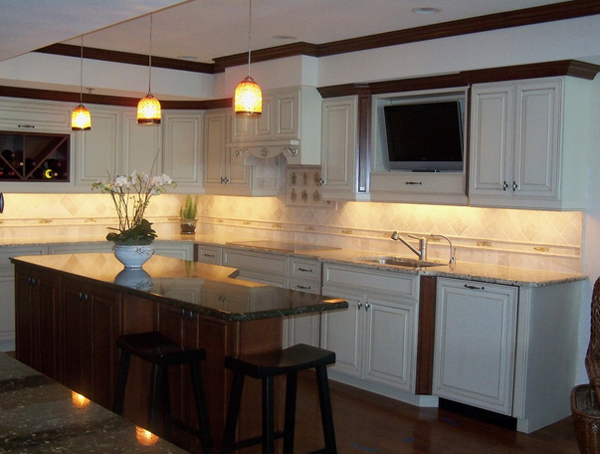 This kitchen is provided an area to sit and read in some existing chairs that drove the deeper color of the bar. The island provided a place for breakfast and lunch and the ability to watch a flat TV over the sink. The areas were pulled together with architectural accents, a wine rack and the crown molding.
9. Woodchuck Kitchen Renovation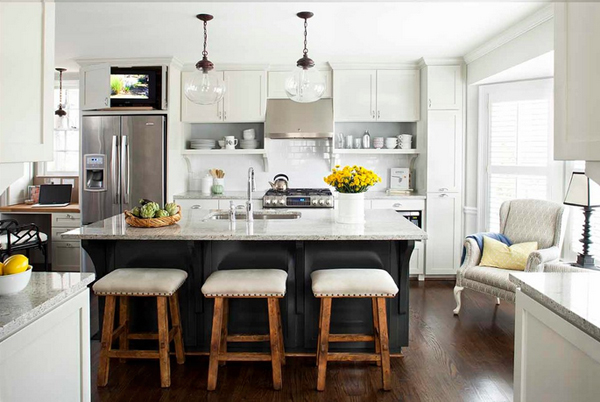 Looking at this kitchen – I wish this belongs to my home!
10. Meydenbauer Bay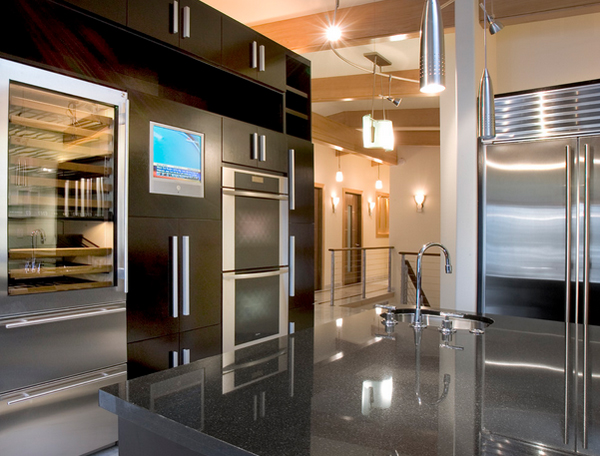 See the small flat screen TV? It's almost hidden, it fancy!
11. Oak Bay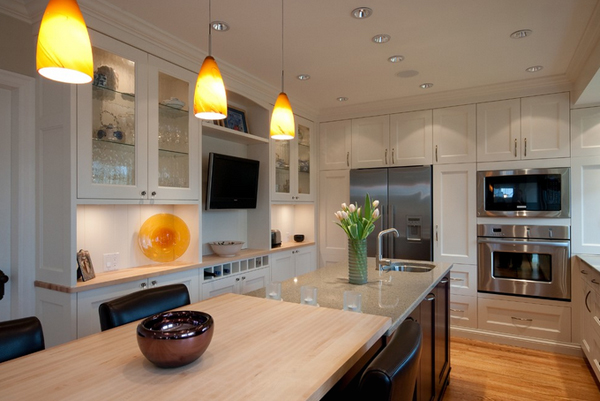 "The island, which is connected to a raised informal eating counter, has a prep sink," she points out. "The hutch on the left is slightly narrow to help give the island a decent depth."
12. Oak Park Kitchen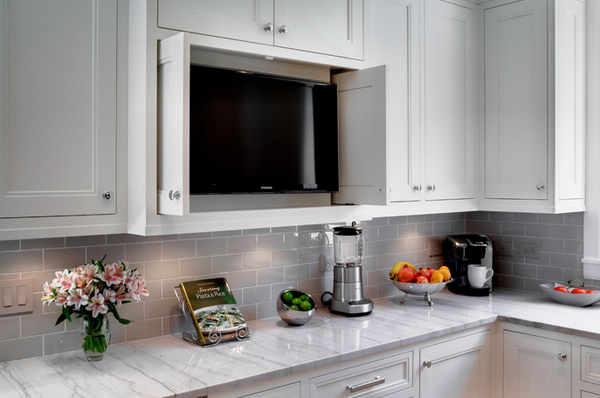 A TV is cleverly hidden behind a wall cabinet with entertainment style doors. Custom drawer inserts were designed to provide more efficient access to spices and other kitchen related items.
13. Zen Kitchen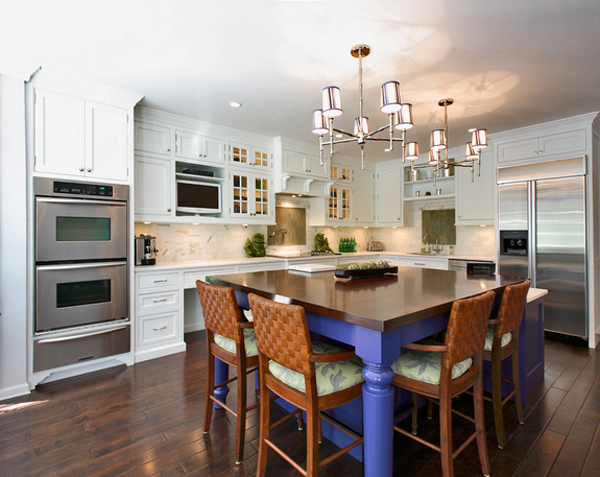 Go eclectic with a painted island base. What a personality this purple table-style island has!
14. Phinney Kitchen Remodel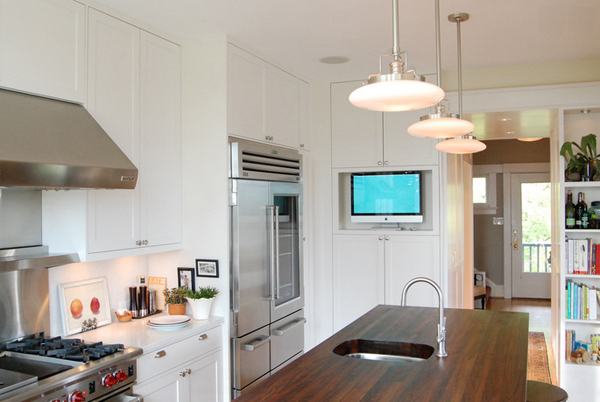 Totally love the color palette of this Seattle kitchen – notice the stunning flat screen by the door?
15. Pima Canyon Desert Modern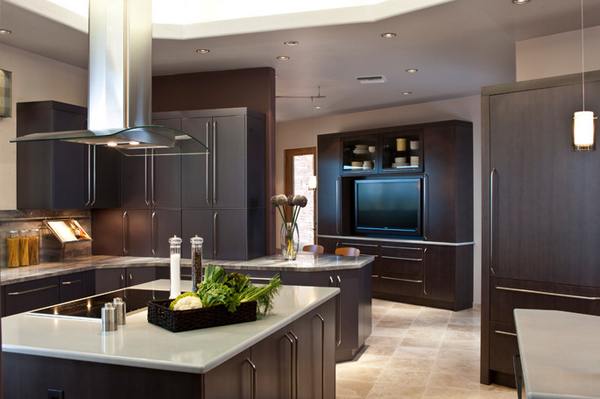 Opt for clean-lined hardware. "Buyers prefer drawer pulls and handles to be just as clean lined as the cabinetry," says Gangi.
16. The Hamlet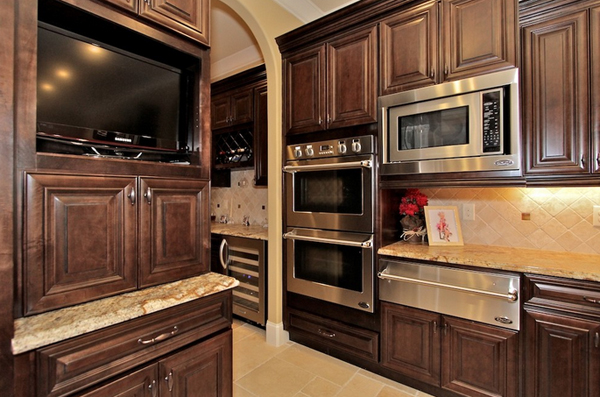 If TVs come in browns, this flat screen TV in this Nashville kitchen sure will just blend in.
17. United States Contemporary Kitchen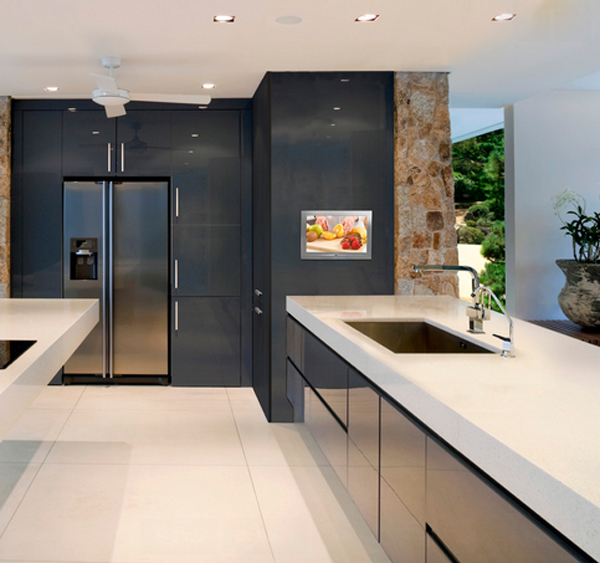 It's time to start thinking of the screen as a portal that allows access to all the content in the cloud: recipes, cooking demonstrations, breaking news, weather alerts, research for a child's homework, access to a school's calendar or assignment list, and yes, television programming. Thinking that we can or should live without all these perks in the most-used room in the house seems silly to me. Of course, it should make sense aesthetically.
18. Victorian Splendor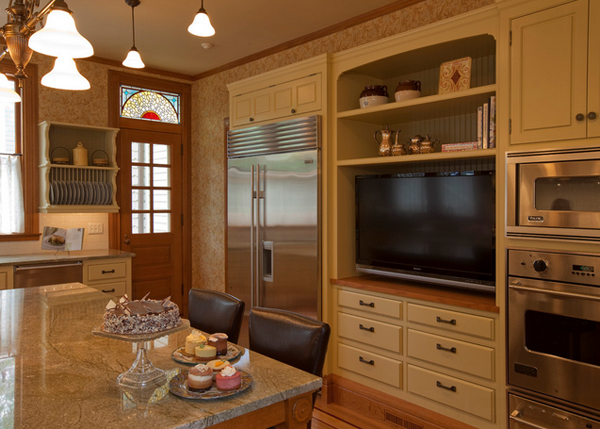 This Queen Anne style home sits proudly in Cambridge's Avon Hill Historic District. Past was blended with present in the restoration of this property to its original 19th century elegance. The design satisfied historical requirements with its attention to authentic details and materials; it also satisfied the wishes of the family who has been connected to the house through several generations.
19. Warm White Kitchen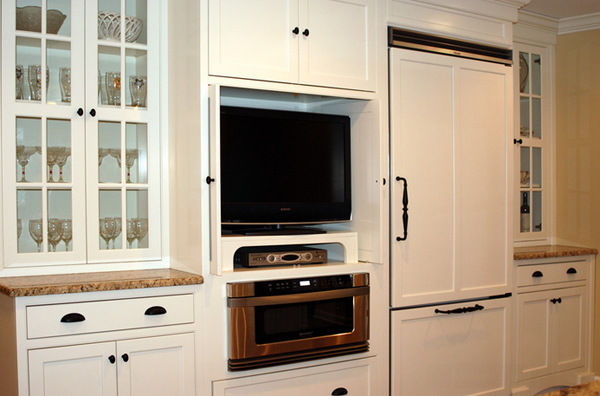 Professional refrigerator and dishwasher appliances are concealed with custom panels, a wood mantel hood gives the upper cook-top area an "integrated" look to the rest of the cabinets, and a flat screen TV hides behind custom "built-in" doors that can recess into the cabinet when open.
20. Whole House Renovation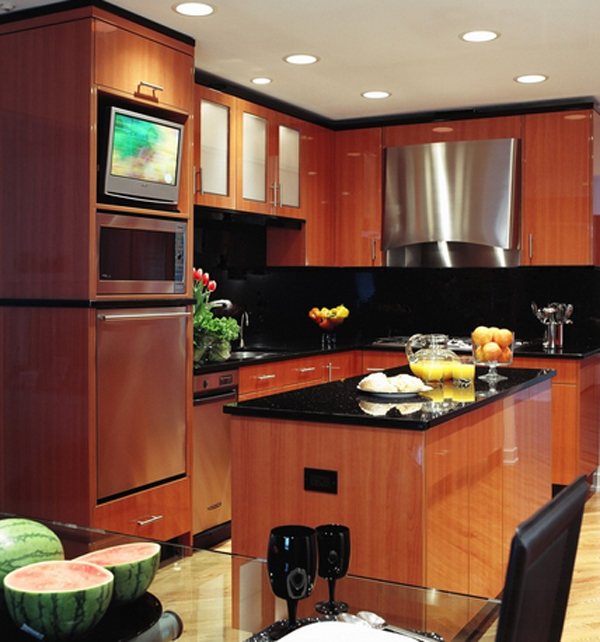 How do you like the TV location in this kitchen?
If there is a word that combines fantastic and fabulous, the kitchens above is that word – maybe, fantabulous? The pictures of the flat screen TVs which were inset the stunning cabinets are just fascinating and really beautiful – if we have a stunning kitchen, I'd love to add a TV there, that's for sure.