20 Flat Screen TV Furniture in the Dining Room
Flat screen televisions may not be the latest in television technology, but getting one or two for your homes is a big deal for the family. In the dawn of slim furniture, cellular phones and even in shoes – having a slim TV at home will not only make the kids happy, but even the guys who will be buying them!
Today, we have a list of dining rooms with flat screen TVs that complement and blend well with the spaces we have below. Spaces range from traditional to transitional spaces, contemporary to even modern ones -check out the furniture or walls which the TVs are attached to and imagine if the ones in their positions are the thick and huge TVs! Haha! Check out the list below.
1. Boutique Mews House, London
The lighting in this dining room is nice in different areas – it sure is wonderfully planned and organized.
2. Chicago Rowhouse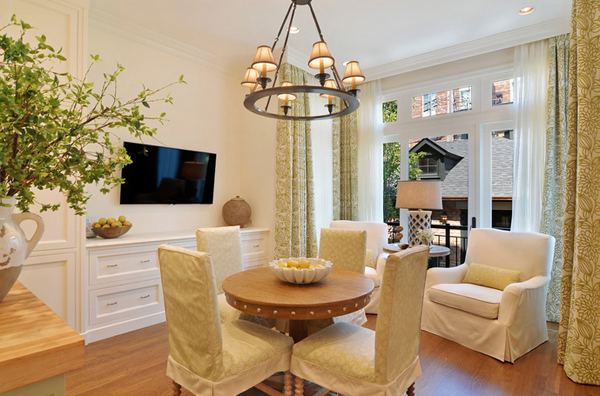 Sitting area in kitchen features corner windows with transoms . Sheers and over draperies hung from hardware hidden in crown molding pockets offer light control and privacy when needed; the over drapery fabric is super functional- it's outdoor fabric by Perennials.
3. White Lake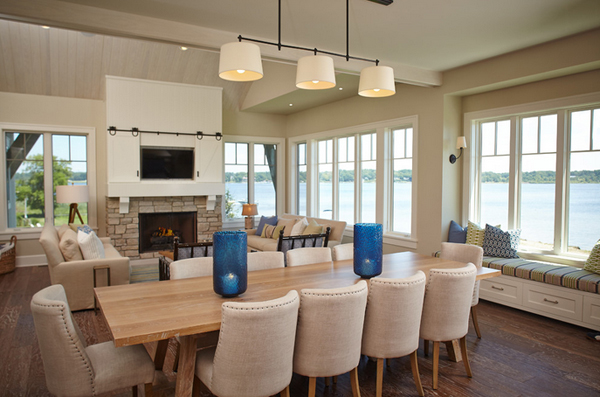 The television by the fireplace sure is stunning! Having a lovely living and dining room is an additional plus for this home!
4. Contemporary Private Residence Palm Beach County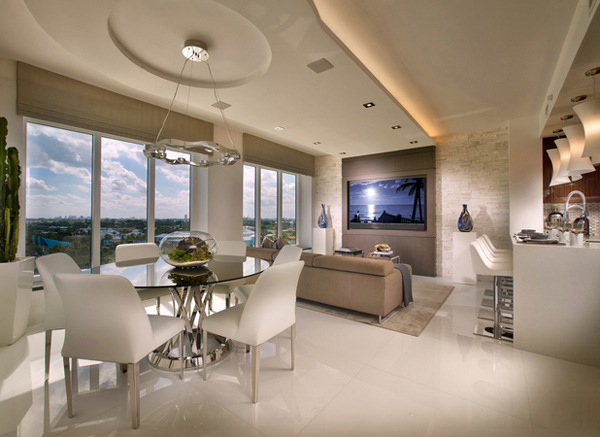 This Palm Beach residence sure is heavenly. Look at the furniture and decor that this place have.
5. South Miami Townhouse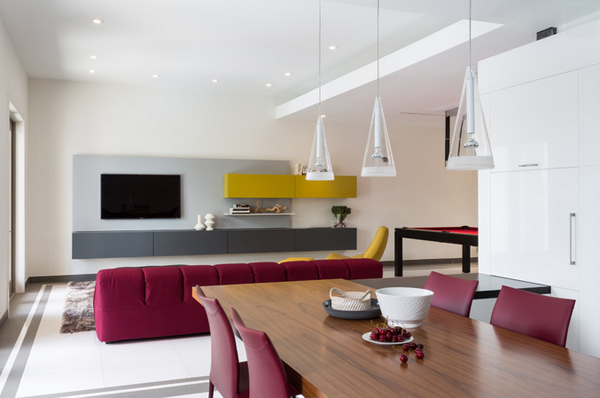 Love the floating shelves and color palette of this Miami home.
6. Kitchen | Classic Transitional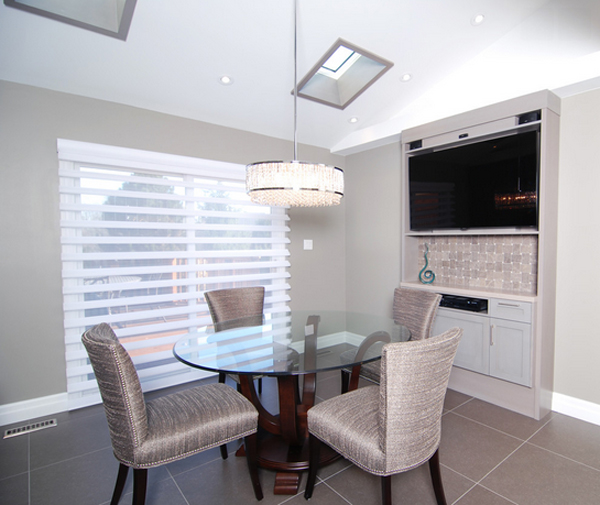 Custom units were built to incorporate a 60″ flat screen TV. Look at the stunning window treatment, pendant light and the dining room set.
7. London Flat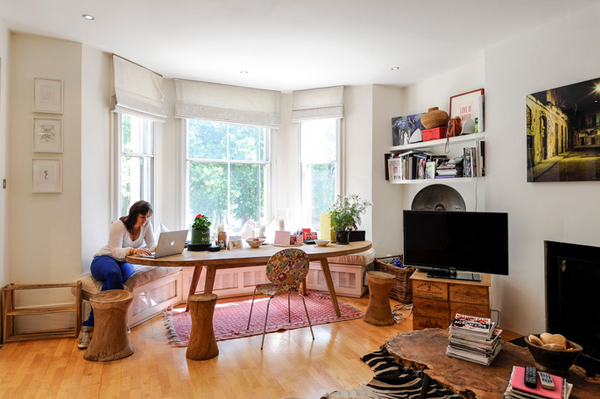 This is the digital age, after all – you might as well take advantage of it! Connect with friends and family through video chats and social media, if you like. But remember, connecting with long-distance loved ones should be a nice treat, not a substitute for getting out there and building a satisfying and interesting life in your new locale.
8. London Transitional Dining Room
We see a wonderful flat screen TV inserted in the accent wall which makes this entire space fancy and rich.
9. Max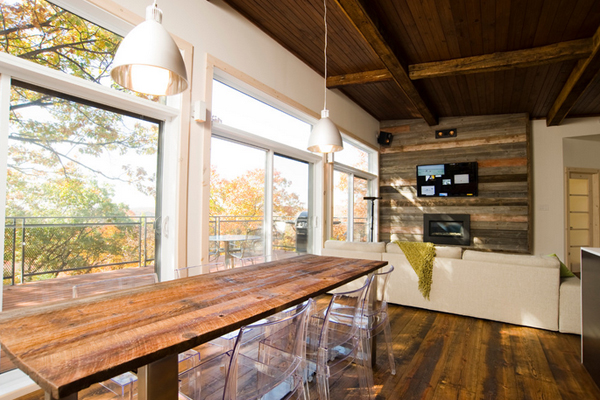 Barn wood accent wall and dining table complement well with the stunning flooring. The Lucite chairs blend well with the wood too!
10. Mediterranean Dining Room in Toscana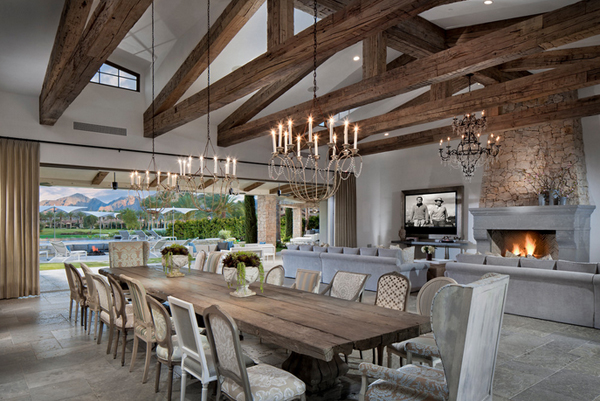 The wooden long table in this dining room is superb! Fun and unique chairs complement the table.
11. Orange County Dining Room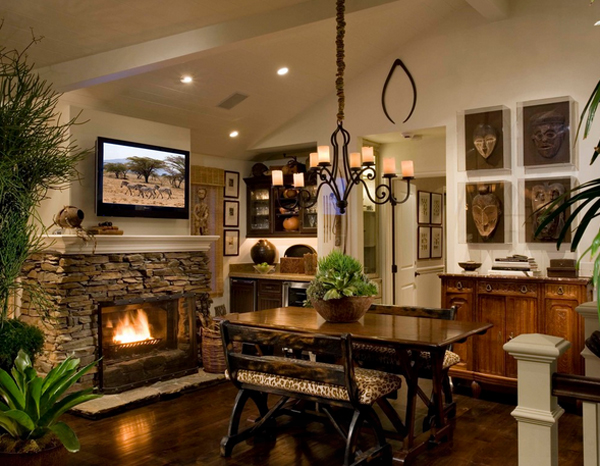 The stone and size of the fireplace. We could remove the drywall from the top half and use exposed black stove pipe only.
12. Peak 8 Penthouse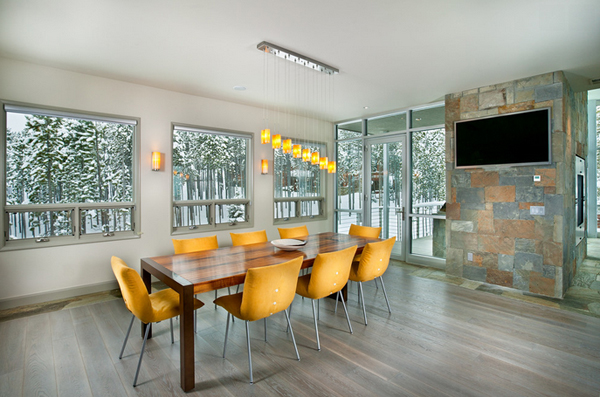 A custom-designed chandelier with ocher-colored onyx pendants suits the dining room furnishings and space layout. Matching onyx sconces grace the window-wall behind the table.
13. Penthouse at Meridian Crescent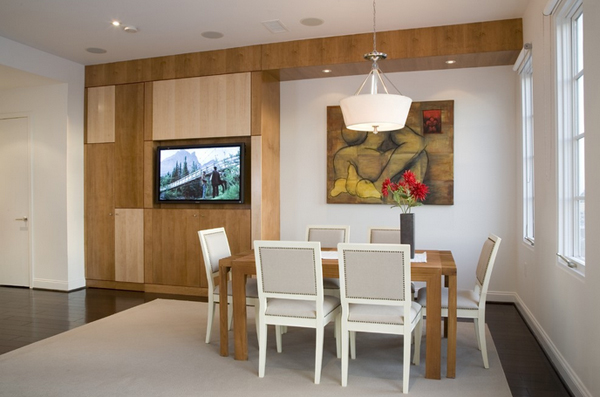 The custom millwork wall houses the flat screen TV monitor, while accommodating all the AV equipment, coat closet and DVD/CD storage, as well as halogen lighting that lights the art wall. The two-tone design blends the two different species of woods appearing through the house and complements the dining room table and chairs.
14. St. Petersburg Place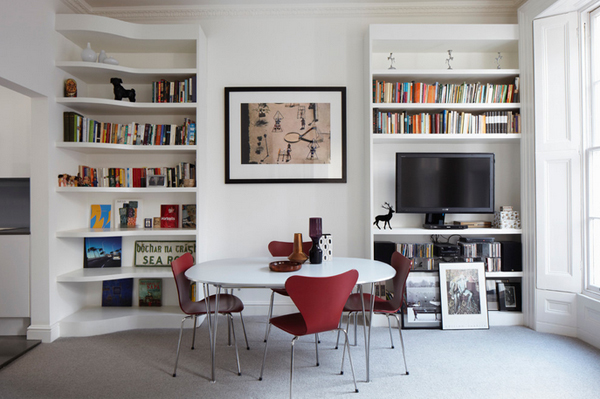 Be astonished at the curved shelves on built in bookcases in this London contemporary dining room.
15. Stolp Family Home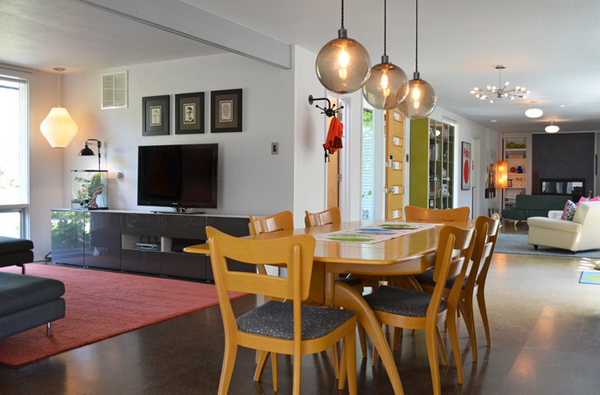 The Stolps bought many of the furnishings online. "Cindy is not afraid of having furniture shipped," James says.
16. Timeless Lake Minnetonka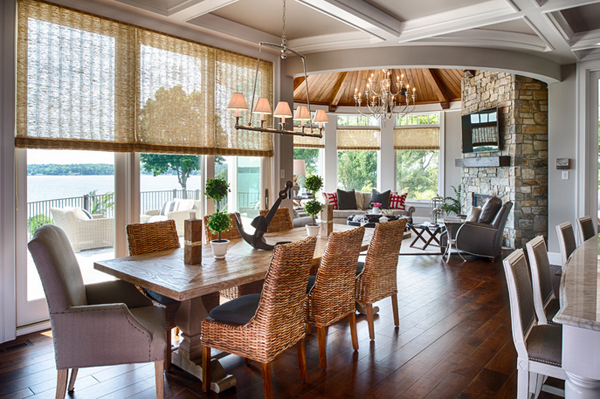 While the kitchen is my favorite room in a home, this nautical design could easily be carried over into the kitchen set up.
17. Tramway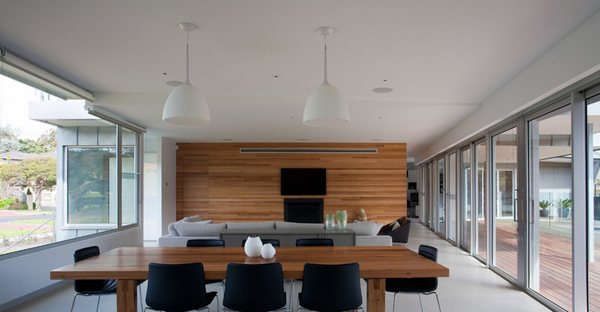 The unusual shaped site in Beaumaris, triggered an innovative design response by Vibe Design; unique in both shape and form. Inspired by the client's involvement with motorsport, Vibe created a modern facade, referencing the feel of the track.
18. Vancouver Contemporary Townhouse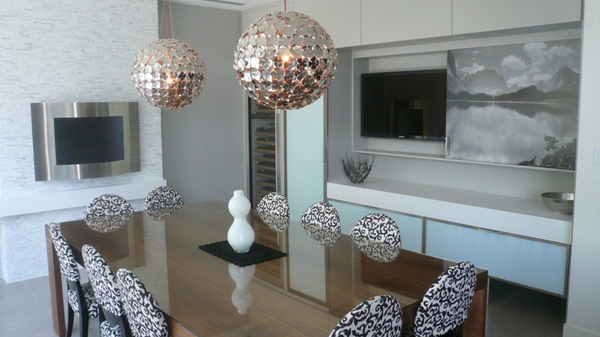 The panel slides in front of the screen to hide the TV when not in use. Media equipment is in the cabinet to the left of the TV. Speakers are in the ceiling.
19. West London Flat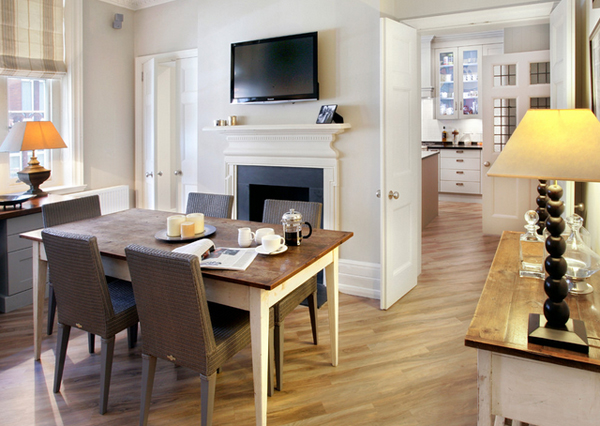 Here is a simple dining area with a simple flat screen TV added above the mantle.
20. West Vancouver Suite Escape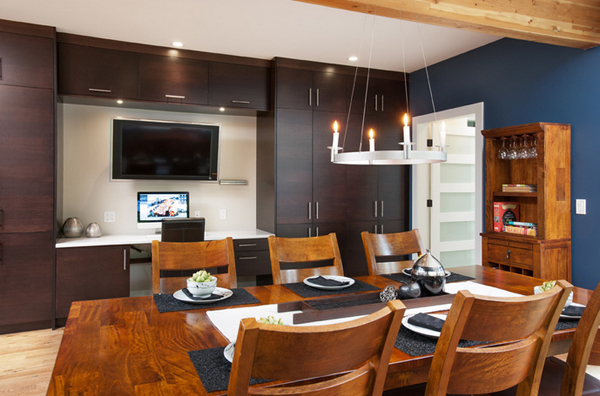 Glulam beam and matching structural post cleverly integrated into island. Multipurpose work space including bar area, pantry, desk, laptop work space, TV seamlessly integrated into millwork.
So what do you think about the list above? You can also add a flat screen television in bedroom spaces or in other areas where we want to get some entertainment. If you enjoyed other lists here on Home Design Lover, this list sure has been more fun because this is something we usually see when we visit a house. More to come on Home Design Lover!