20 Flat Screen TV Furniture for the Bedroom
Since the dawn of television, I can't remember a time where my twin and I didn't have a TV in our bedroom. Having someone with you in the bedroom, whether a twin sibling or a regular one meant having to fight for the channel you wanted – it was a good thing if you liked the same things.
Today, we will be showing you a list of wonderful bedrooms with flat screen TVs in them. Most of the bedrooms in this list are made from different styles and adding the flat screen TVs made the rooms more fun and recreational in a way. Check out the bedrooms below.
1. Dolphin Terrace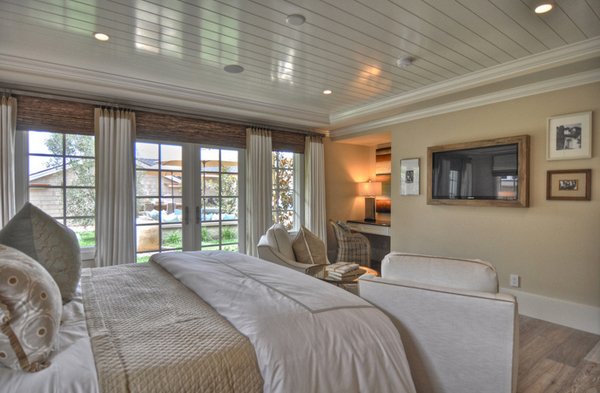 You can't rely on color to punch up a transitional space, but texture rises to the challenge admirably. Coarsely woven fabrics, natural fibers and a blend of matte and shiny finishes lend a sense of layering and help the room pop.
2. Beverly Hills Bedroom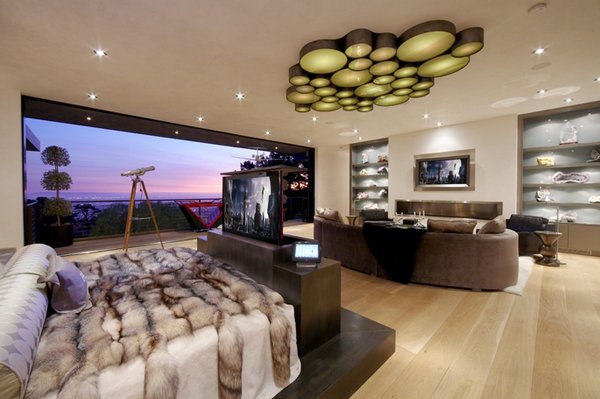 This Master Bedroom media room features a motorized pop-up TV at the foot of the bed and another video display at the far end of the bedroom by the fireplace. Seamless control of the audio, video, lighting, climate, and security is by a Crestron control system.
3. Canan Residence Studio Flat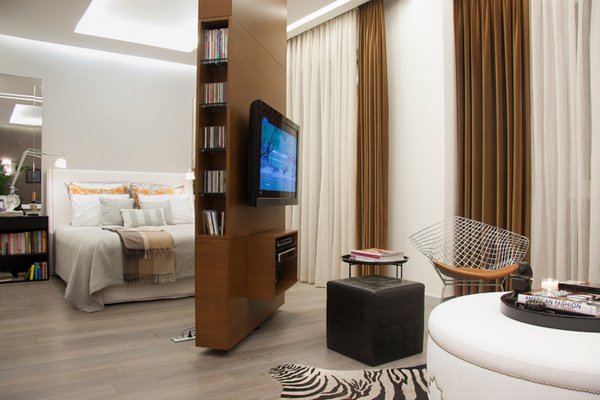 For those living in a small space like a studio apartment, innovative dividers can be used as walls that double as shelving or entertainment systems, providing the illusion of multiple rooms.
4. Custom Parade Home in Austin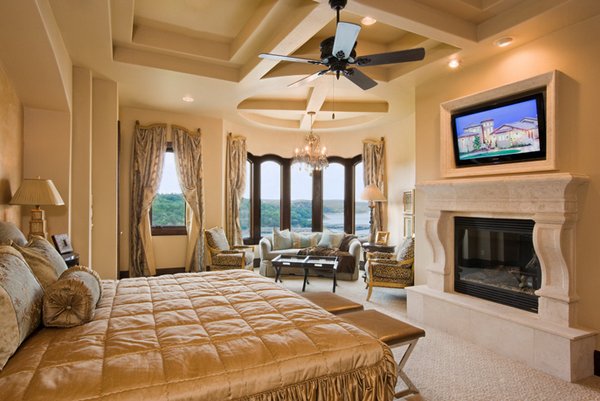 In a room, create an circular adjunct using windows form admitting room.
5. Fort Morgan Beach Home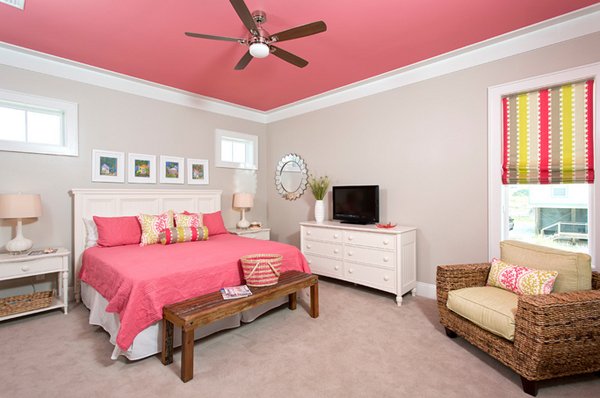 It's pink, it has a flat screen TV, it has photos, and many things that fit into the theme.
6. Frisco European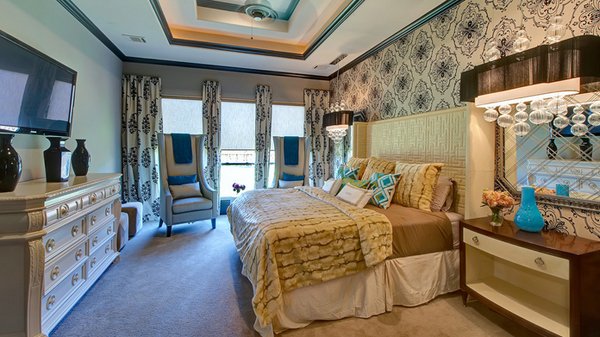 This elegant master bedroom puts the finishing touches on this wonderful modern interior. The swank wallpaper picks up the black trim. The bed is flanked by a pair of contemporary black light fixtures.
7. Lodge Style Bedroom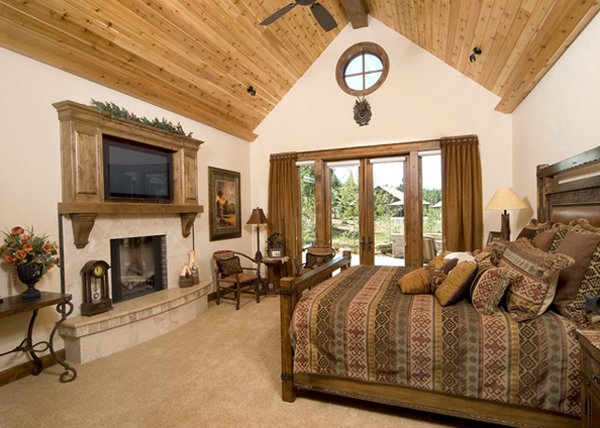 This bedroom is something to think about – the surround of the TV is pretty interesting too, don't you agree?
8. Log Homes & Cabins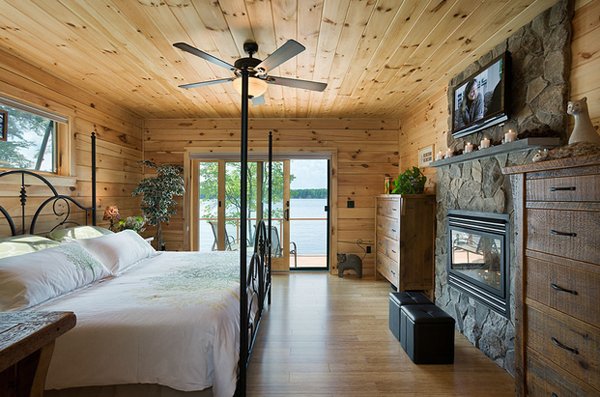 Check out this master bedroom; the pine walls/ceiling; the ceiling fan, bed head and foot board. Love the built in electric fireplace with flat-screen TV above.
9. Marina District Remodel and Addition
The gallery of photos on the wall made the TV seem like a picture on the wall too! I like the color palette of this bedroom, I'm sure a lot will love this too!
10. Master Bedroom with Custom Bed & Media Center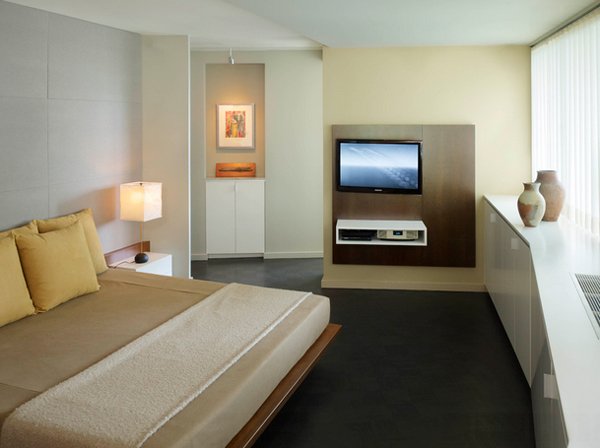 "A neutral color scheme allows sculptural objects, in this case iconic furniture, and artwork to stand out," says Santalla. "An element of contrast, such as a tone or a texture, adds richness to the palette."
11. Miami Traditional Bedroom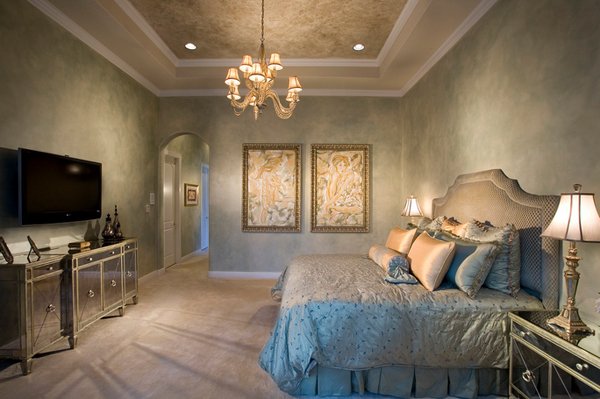 Although this is a tray ceiling, we could do something like this in the dining room/office by just framing a space on the ceiling.
12. Modern Glam Master Retreat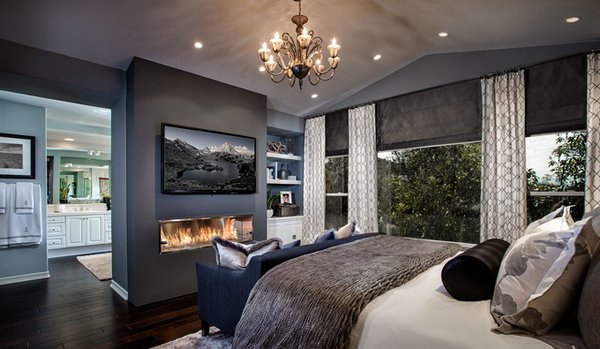 Love colors and fireplace and furniture placement.
13. Parkwood Road Residence Master Bedroom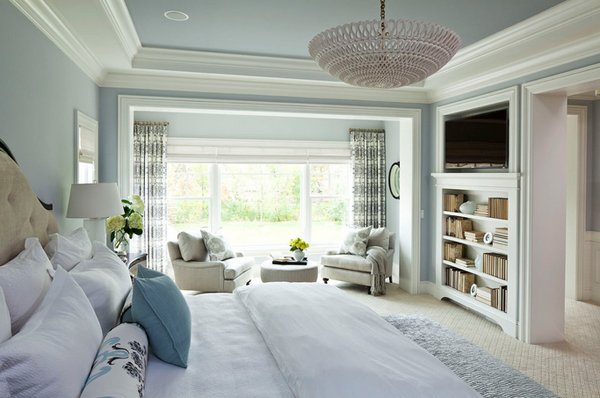 This tranquil master bedroom suite includes a small seating area, beautiful views and an interior hallway to the master bathroom & closet.
14. Private Residence in Southwest Florida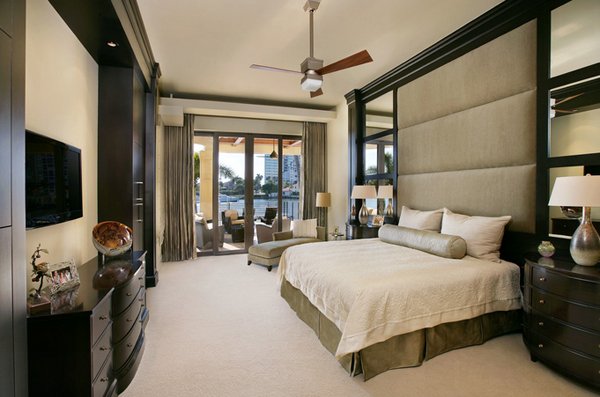 This is an almost monochromatic scheme – this is a very restful room.
15. San Francisco High-Rise Condo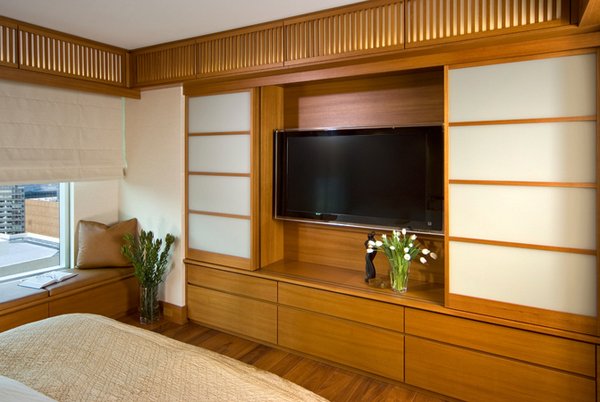 The transformation of this high-rise condo in the heart of San Francisco was literally from floor to ceiling. Studio Becker custom built everything from the bed and shoji screens to the interior doors and wall paneling – and of course the kitchen, baths and wardrobes!
16. Seattle Classic Bedroom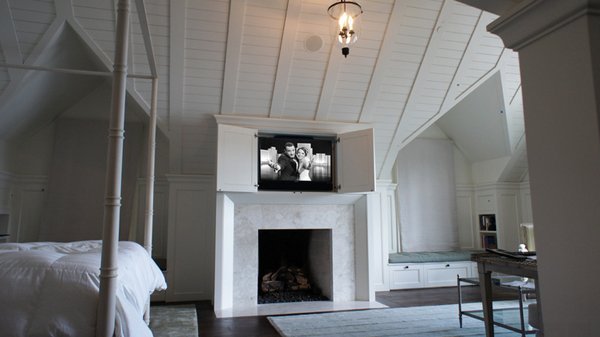 TV's and electronics were hidden within custom built cabinetry. All entertainment systems can be used with a wireless remote that requires only one touch to select what to watch or listen to; all without needing to touch or see the AV equipment.
17. Toronto Traditional Style Home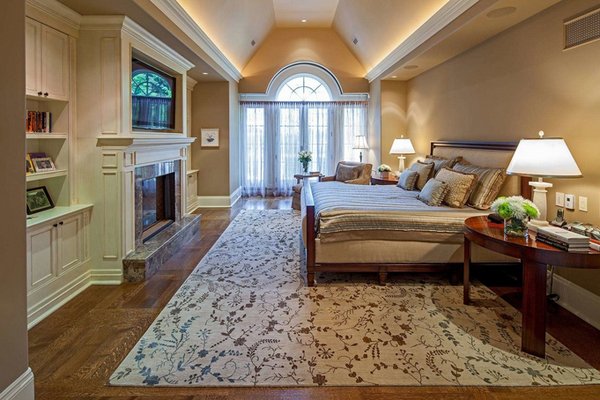 Look at the traditional wall with the fireplace and bookcases that serves great areas for storage and display.
18. Transitional Master Bedroom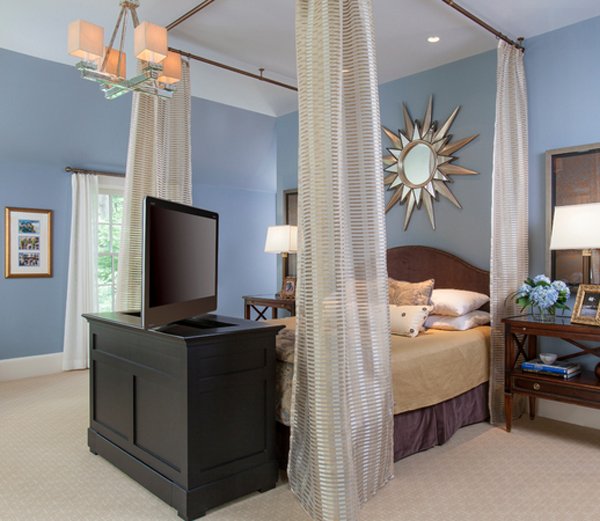 I really fancy the sunburst mirror above the headboard and the fact that this bed has drapes. Look at how close the TV is to the bed too.
19. United States Contemporary Bedroom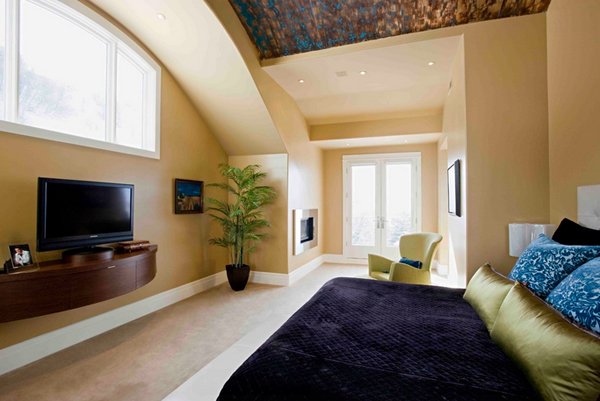 The ceiling screen in the master bedroom is a custom piece from local artisans, faux finished with silver leaf. Light from the outside goes through the piece to light the master bedroom. "It almost looks like a Turkish tent," says Lloyd.
20. Wellington – Microcement Master Bedroom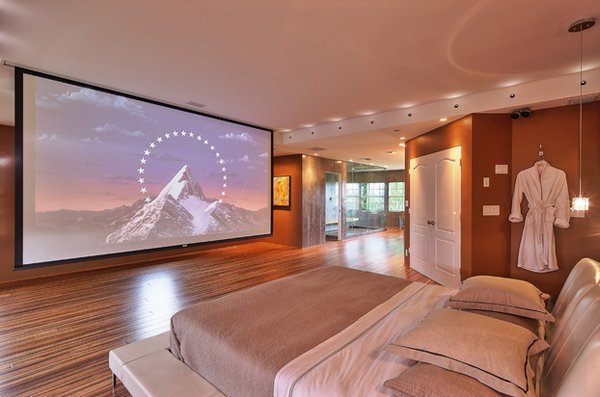 I'm guessing that there are only a few people who prefer having TVs like this – well, for the most part, this is really a white screen for movies and can be connected to the TV too.
How did you find the bedrooms above? Aren't they pretty? I heard from a lot of designers and decorators that they do not prefer adding a television set in the bedroom so that it would only be used for rest, but for people like me who likes to get to watch movies or cartoons before sleeping, TVs are heaven.