Intensify the Look of Your Kitchen with 20 Glass Back Painted Backsplash
Don't you know that a backsplash is need for your kitchen? Kitchen backsplash is rested on the kitchen wall wherein it can shield the walls and most specifically the spot behind the stoves and sinks from stinks and stains during cooking and preparing food. This backsplash also has pleasing value, with colors, patterns or textures that can perk up the appeal of your kitchen. Also, backsplash comes in a variety of designs and styles; but if you wanted to overhaul the look of your kitchen glass backsplash is a perfect accent choice.
But why do you need to choose glass backsplash above any other backsplash? For some reasons; glass is heavy-duty and effortless to mount. It is also simpler to clean and more hygienic for kitchen use. Talking about its beauty and style, a glass backsplash gives a clean, shiny and flawless look not only for kitchen but also other rooms in your living space. In addition, glass imitates light that gives additional glow to the area especially when these glasses are back-painted with colors, no question that it will evidently brighten the design of a kitchen. Take a closer look unto these collections of glass backsplash design for you to pick your own choice for your kitchen design.
1. Simple Elegance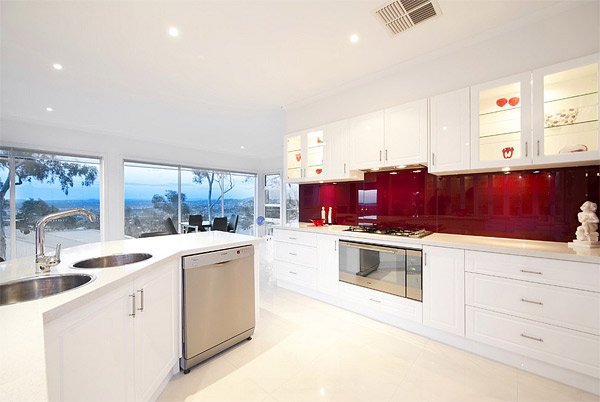 The glass backsplash in red gives a striking effect into a kitchen which is themed with white colors.
2. Kitchen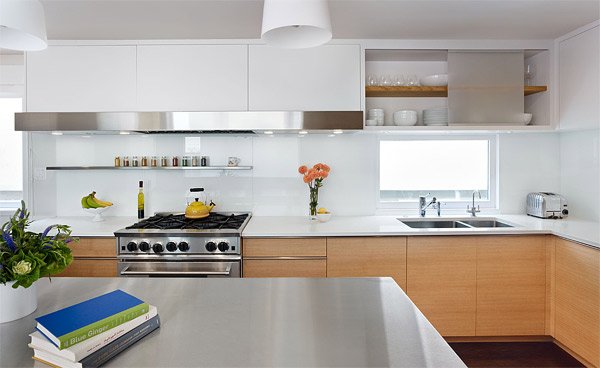 This kitchen stands out with its custom glass backsplash lit with LED strip lighting and it changes its color.
3. Lincoln Park Townhouse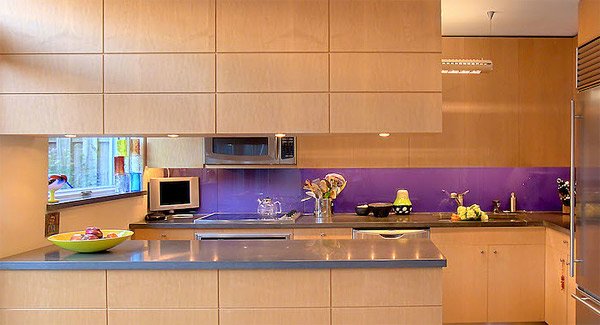 This kitchen got a contemporary look; it features a purple back-painted glass backsplash and concrete countertop.
4. Private Residential Kitchen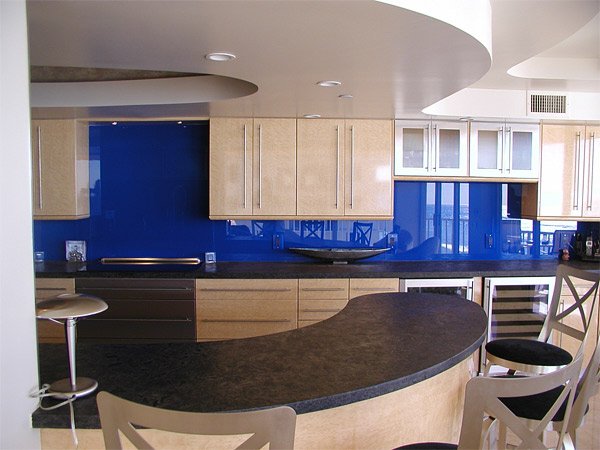 The green glass backsplash softens the texture of the wooden cabinetry of this kitchen.
5. South Bristol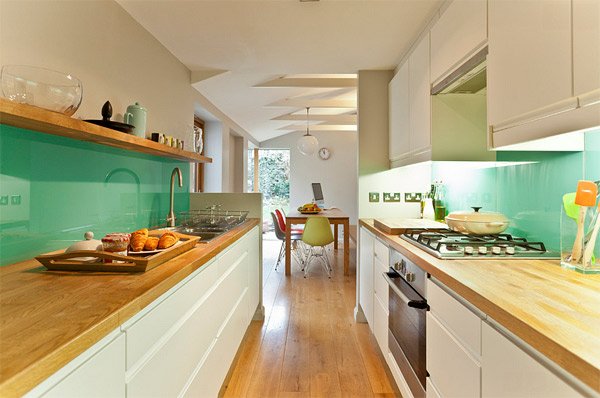 The painted color of the backsplash gives a very fresh and cool look to the kitchen.
6. Stylish Wharf Flat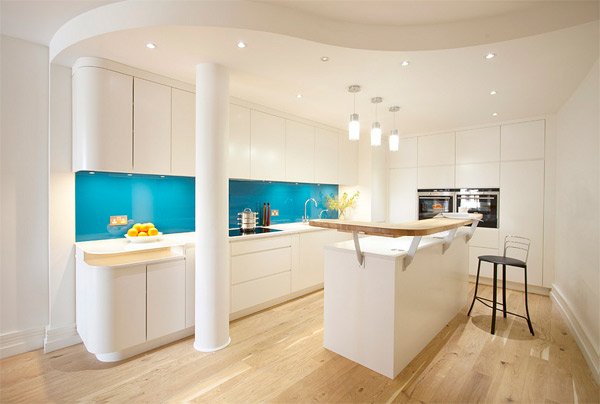 This is simply sophisticated! A simple and clean design added with a glass backsplash that has an eye-catching color.
7. Fisher Residence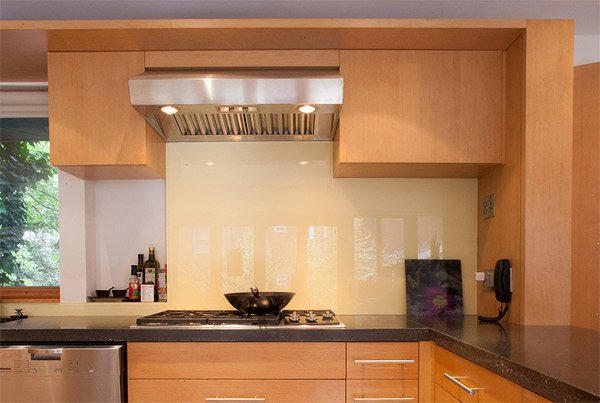 The painted glass backsplash has a very simple color that matched with the wooden materials.
8. Oakland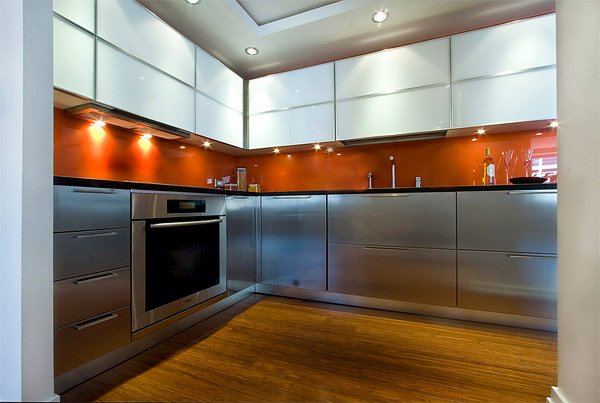 The design behind the glass is hand-painted, just be creative and you'll have a very gorgeous design for your backsplash.
9. Modern Kitchen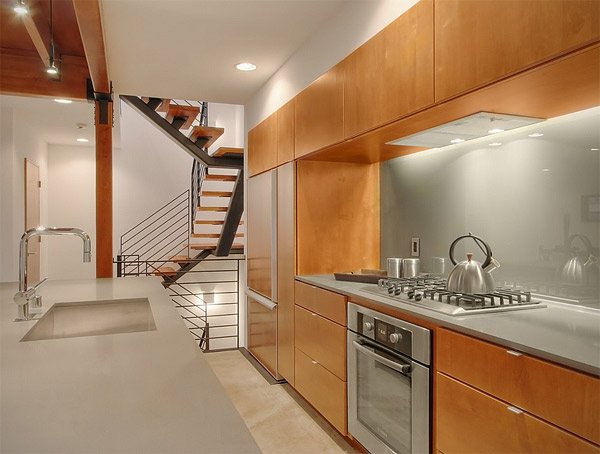 The color of the glass backsplash matches seamlessly with the stainless accessories in this kitchen.
10. Mandeville Canyon Residence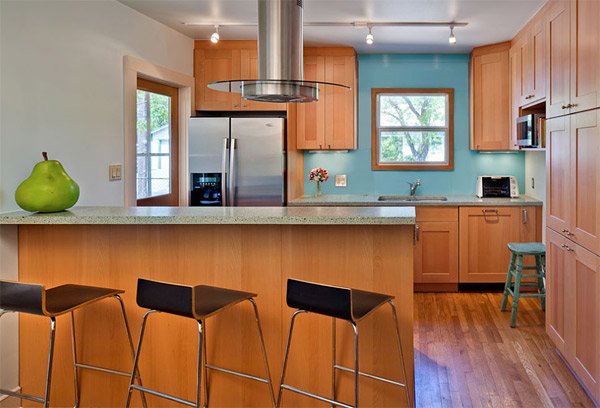 This color looks very cool and earthy! It looks like that you see sky on the wall when you cook.
11. Monbulk Kitchen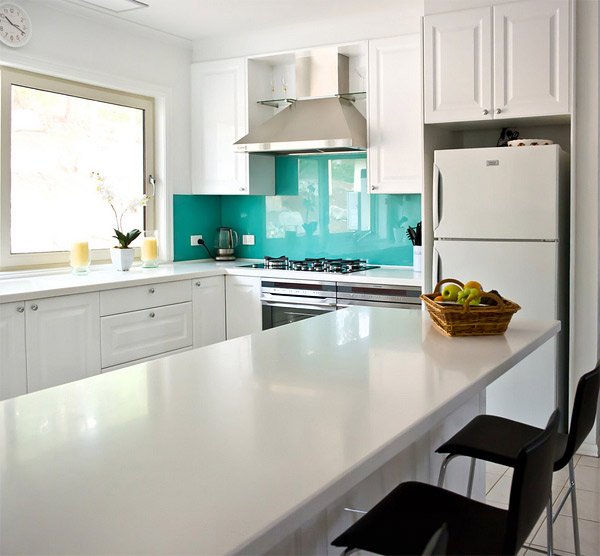 Add a twist to your white kitchen by painting the back of the glass backsplash to add a style.
12. Color Rule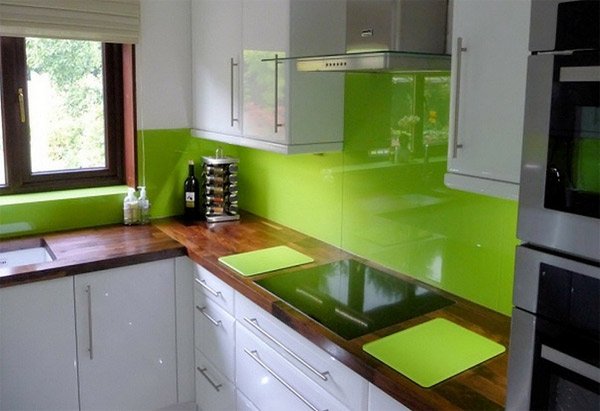 Display the artworks of your children by sticking them into a glass backsplash.
13. Japanese Inspired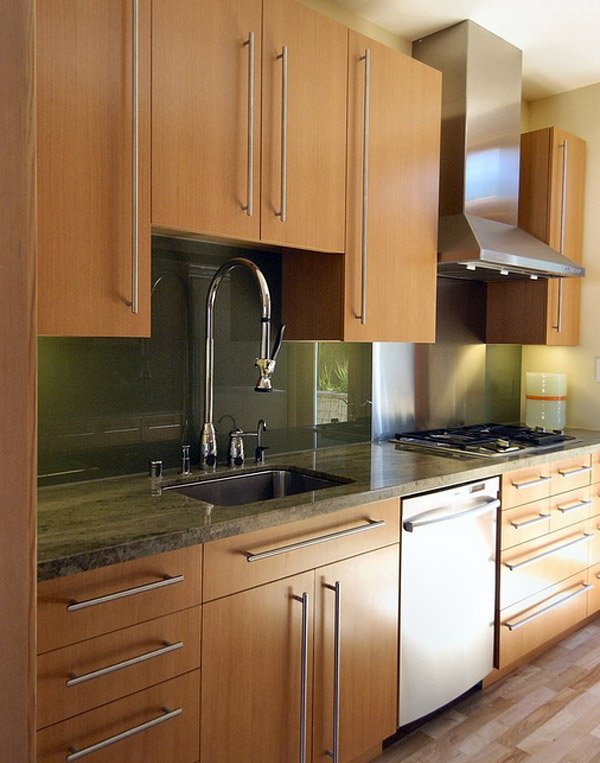 If you want a very striking accent, a custom glass backsplash is a perfect idea. You can have your own texture of the glass according to your choice.
14. Painted Back Backsplash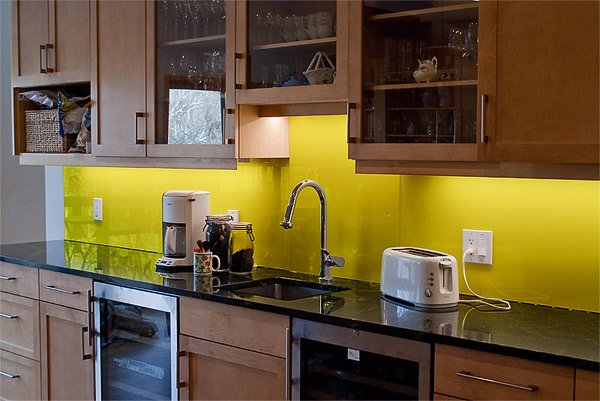 This one got a very vibrant look. It gives lighter atmosphere to your kitchen.
15. TriBeCa Loft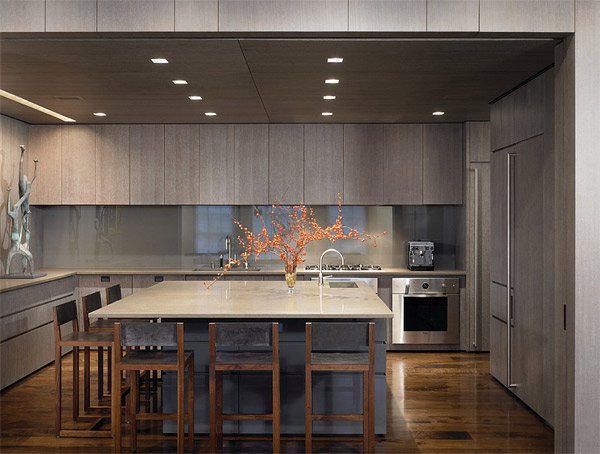 Incorporate woods with glass to get an elegant style.
16. Luna & Timber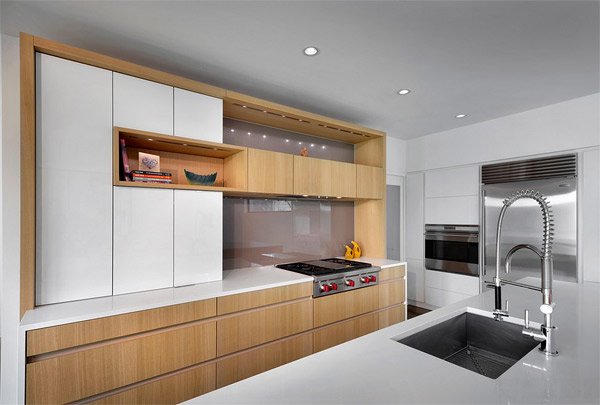 These color matches perfectly with wooden texture which gives a warm sense to the area.
17. Contemporary Kitchen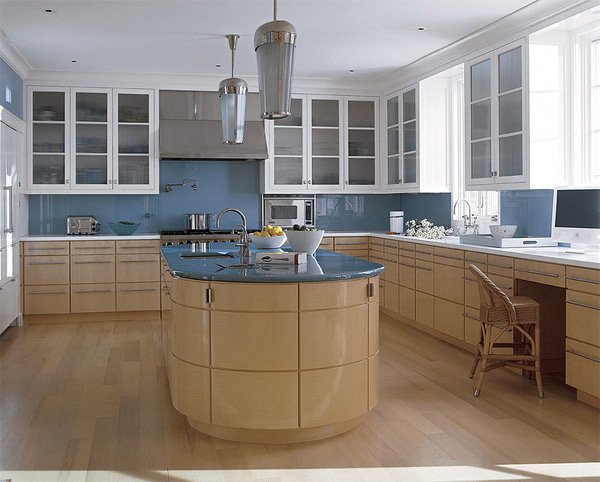 This design gives a unified look with the colors combined perfectly.
18. Pink Kitchen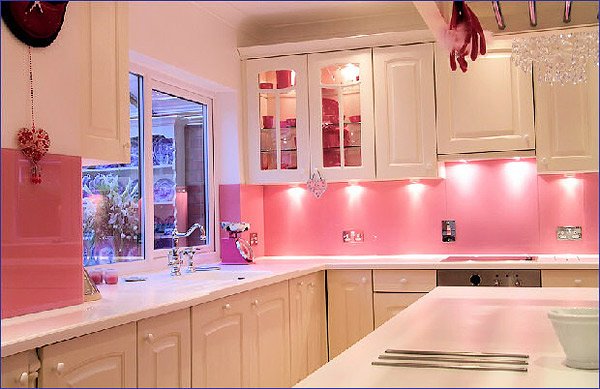 This looks very vibrant, it makes you think that this kitchen is owned by a princess.
19. Stunning Rose Pink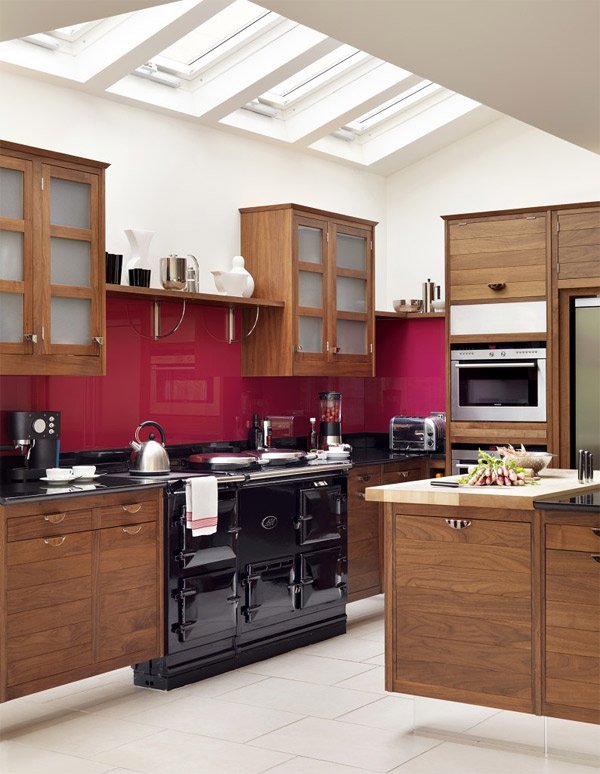 Always choose a stunning color that would give a splash to the overall look of your kitchen.
20. Modern Kitchen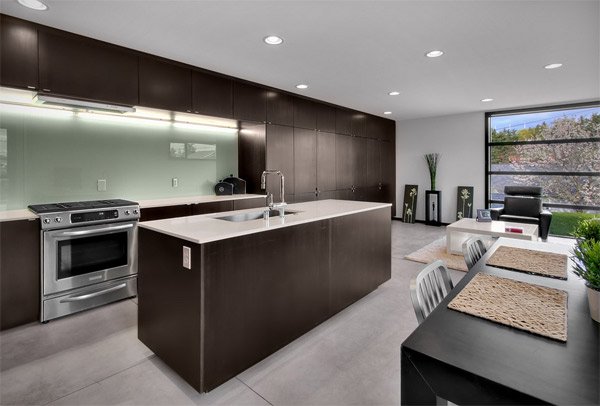 The glass would always give you a sleek effect and the color serve as a vibrant background that will stand out effectively.
So there, if you want to achieve a sleek look in your kitchens, what are you waiting for? Start now to design your kitchen with these ideas. Undeniably, this accent will bring a striking effect to your kitchens. If you want a more elegant look, tiles for backsplash can also be a smart choice.