10 Design Trends to Beautify Your Modern Kitchen
Well, not all of us are into trends but we cannot do away with the thing that some people really take into consideration what is "in" today. Trends is about what most people prefer to use. Sometimes, something becomes a trend because many people are using it and applying it. Just like how we design homes. Designers are always creative and would see to it that they give the home owners the kind of home they want to live in. It has to be functional and of course, beautiful.
Speaking about trends, there are some trends that we have observed in home design. But today, we will let you know what kitchen design trends are usually seen in modern kitchens. Well, you will be amazed how stunning a kitchen will turn out simply by applying these design trends in the heart of our home. Take a look at the images that go with them to give you more ideas.
1. Open floor plan layout.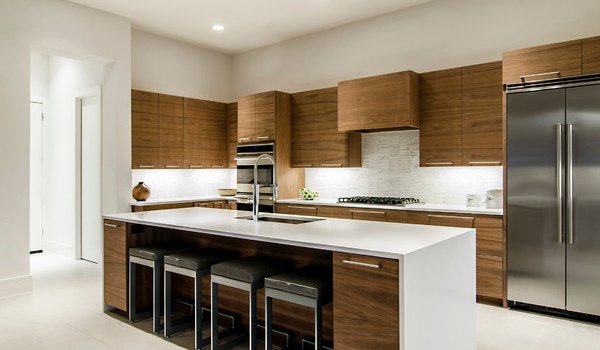 Before, a kitchen that is hidden from view was the trend. But these days, the walls will be demolished to attain an open layout. With an open layout, people could see the kitchen even when they are in other areas of the house. This means that the kitchen has to be neat, clean and well-organized. Also, we have to see to it that the design of the kitchen harmonizes the look of the other areas too. Or you can incorporate some features or colors that will tie it to the nearby space.
2. High efficiency in kitchens.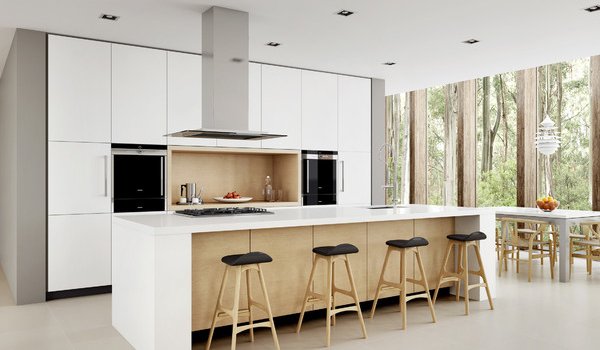 All of us would want to have an efficient kitchen. So, this is what we could see in most kitchens these days. Do that by eliminating kitchen stress. Organize everything. Have a well-arranged kitchen including the pantry. You can even have a clever storage system to maximize your space. There are pull-out drawers, slide-out spice racks and others that you can apply in your kitchen.
3. Addition of luxe mettalics.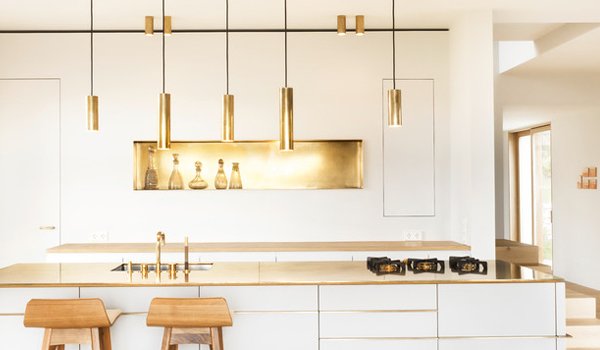 Warmer metals like gold, copper and bronze is the trend for kitchens. You can see this in faucets and other fixtures. Sometimes, it can even be seen in the kitchen appliances. You can also add metallics through the hardware too like cabinet and drawer pulls. A kitchen with metallics really look fabulous!
4. Bold colors.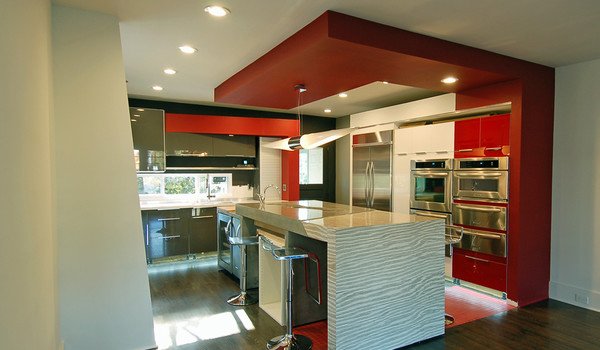 I guess you have observed that modern kitchens would use bold colors. It could either be matte or glossy but whatever it is, the colors would be screaming loud and your kitchen will become the center of attention. But it doesn't mean that you should use it for all the kitchen cabinets. You can also stick to a neutral color for the cabinets and just add some decors with bold colors in them. Some would paint one side of the wall with a bright color to add more excitement in the kitchen.
5. Multi-function kitchen island.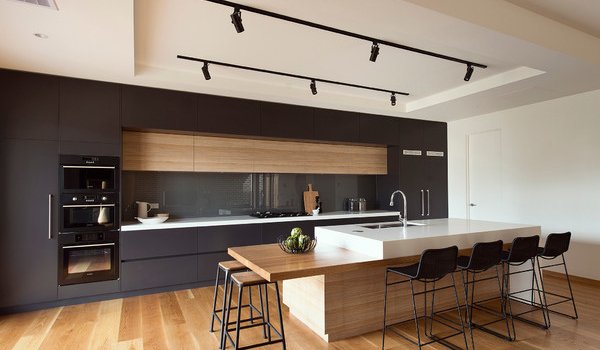 The kitchen island is one item that we all in need for the kitchen. It isn't just for aesthetics because it is there for a primary function. It is where we prepare food. For some, their kitchen island also works as a bar or even a dining table too. It would also have storage spaces under it or even a sink. And yes, kitchen islands could be a fashionable and stylish feature of the kitchen too!
6. Wooden kitchen cabinets.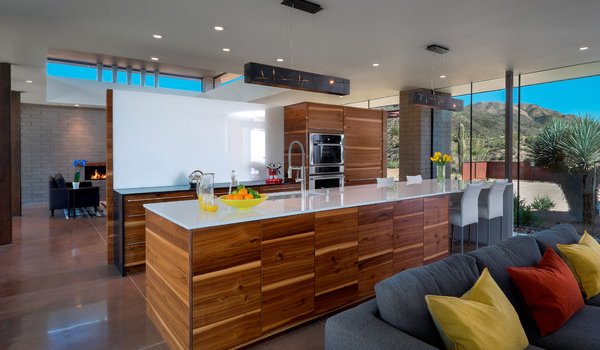 While others prefer to paint their cabinets, some designers use cabinets with pale woods or honey-toned woods. Still others also use dark wood tones but not too often. Cherry wood and walnut kitchen cabinets will also be a trend. Well, we cannot blame you if you like a wooden themed cabinet because it does look nice and warm. It even brings in nature to your very own kitchen.
7. Tiles for a vibrant kitchen.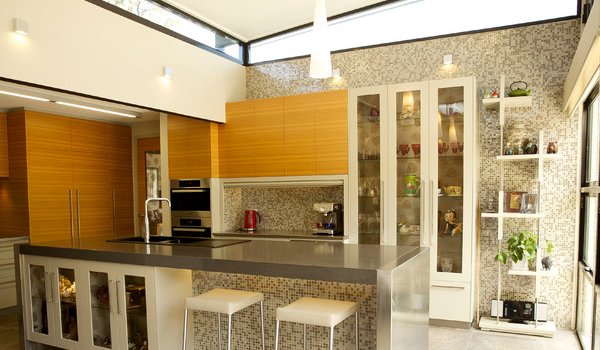 Well, ceramic tiles is easy to install, cheaper and looks really neat. That is why it is a popular material for the kitchen. You can use it for the backsplash or you can even cover an entire wall too. You can play with designs and colors for the tiles to add some vibrant feel to the kitchen. You can also use tiling for the interior of your sink to make it water resistant and so it will look neat. Mosaic tiles will be interesting for the kitchen walls!
8. Statement ceilings.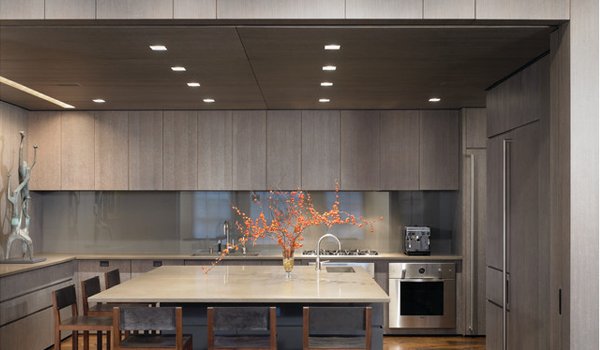 The ceiling doesn't have to be plain and boring. It could be coffered or you can add some interesting lighting to it. I have seen some kitchen ceilings with beautiful designs especially above the kitchen island. This is a good idea to add more visual appeal to the kitchen.
9. Patterns are everywhere.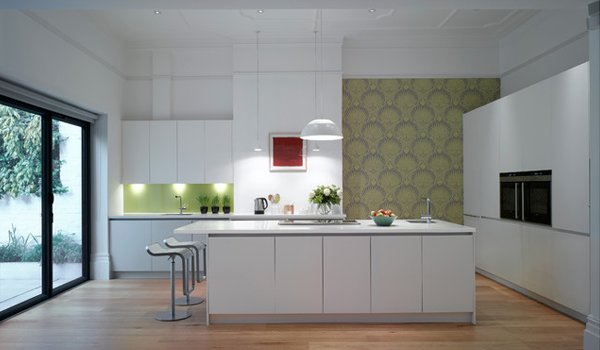 If you don't want to add a plain bold color to a wall, you can use wallpapers. Patterns are a trend to the kitchen too. You don't have to cover an entire wall with patterns. You can use it for just one side of the wall. Or you can install some wall art with patterns on it. Still others use patterns for the backsplash.
10. Gorgeous lightings.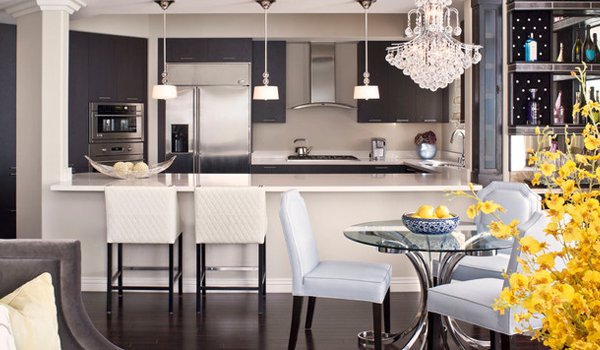 I know you have also noticed that most modern kitchens have lovely lightings in them. Industrial lights are in as well as gorgeous design of lights that will make it as the focal point of the kitchen. Some creative folks just make their own kitchen lightings. Yes, that is possible too. As a matter of fact, it would look even more unique. Pendant lights and chandeliers are used above the kitchen island or even in the center of the kitchen space.
I know you love everything we mentioned above. We like them too. In truth, we have observed all of this from the kitchen designs we featured here on Home Design Lover. Well, if you think you want to apply any of the trends above, then give it a go. Don't forget to consider some things before you start with a kitchen redesign or makeover. We hope you found this post useful!