20 Classy and Functional Double Bathroom Vanities
There are many ways on how to improve the style and ambiance of your bathrooms. To be able to display a high-end style it takes and deserves some attention equal to the other rooms. You can add up anything that will be necessary, but just take into consideration the space provided. Remember, it is also important to conserve the availability of the space to maintain its convenience and be roomy. To add more details on your bathrooms, vanities are one of good fixtures. If you are concerned for its space, don't worry, it comes in variations that would suit your space.
Bathroom vanities are an essential accessory to design your bathroom in the most attractive way. It is possible to choose bathroom vanities which can be affordable and at the same time can effectively change the appearance of one's current bathroom. Your choice of style of your vanities depends on the design you have in your houses. Some would still love a traditional design but others would choose to have a modern touch on their bathrooms. Just take a look on these set of bathroom vanities and surely after seeing them, it'll be on your shopping list.
1. Double Vanity Master Bath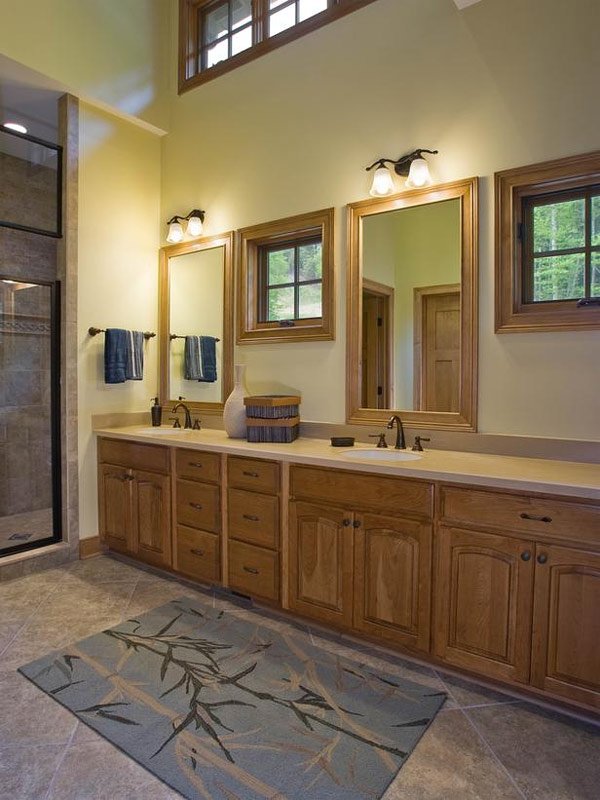 This master bathroom offers generous space and wonderful natural light. The large double vanity features plenty storage and oil rubbed bronzed fixtures. The mirrors were case-out with matching woodwork and crown detail.
2. Industrial Retreat Master Bathroom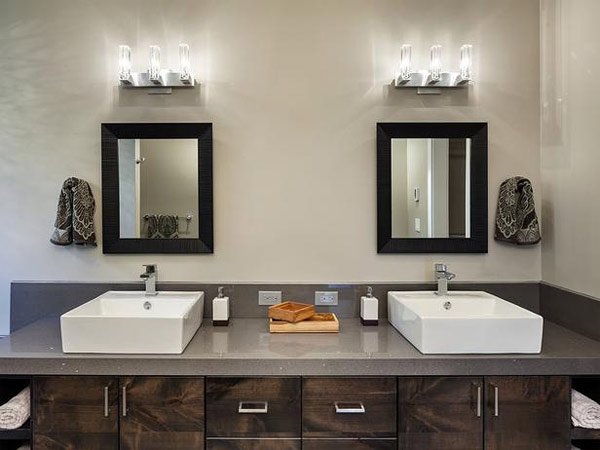 A wood double vanity with quartz counter top provides plenty of storage in this retreat-like master bathroom.
3. Dark Brown Double Vanity in Contemporary Bathroom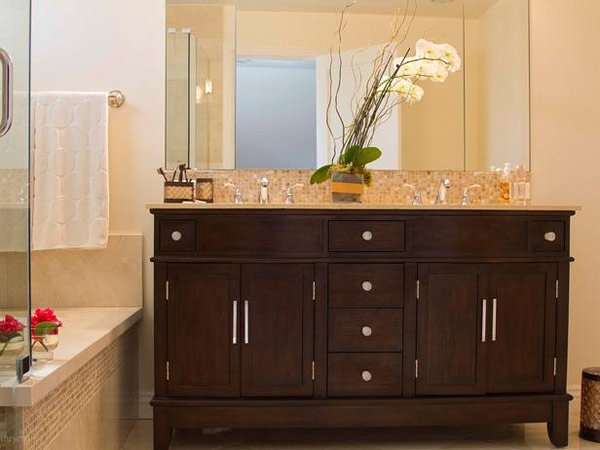 A dark brown double vanity completes this contemporary bathroom balancing out the light neutral color pallet used throughout the space.
4. Contemporary Bathroom With Mirror Sconces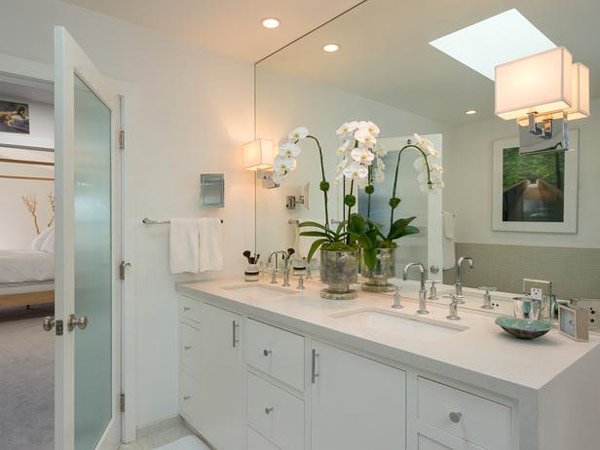 A white quartz countertop wraps down one side of this bathroom's double vanity. There is an additional sconce on the mirror that adds extra task lighting and installed with skylight that also enhances the natural light in the space.
5. Master Bathroom with Custom Double Vanity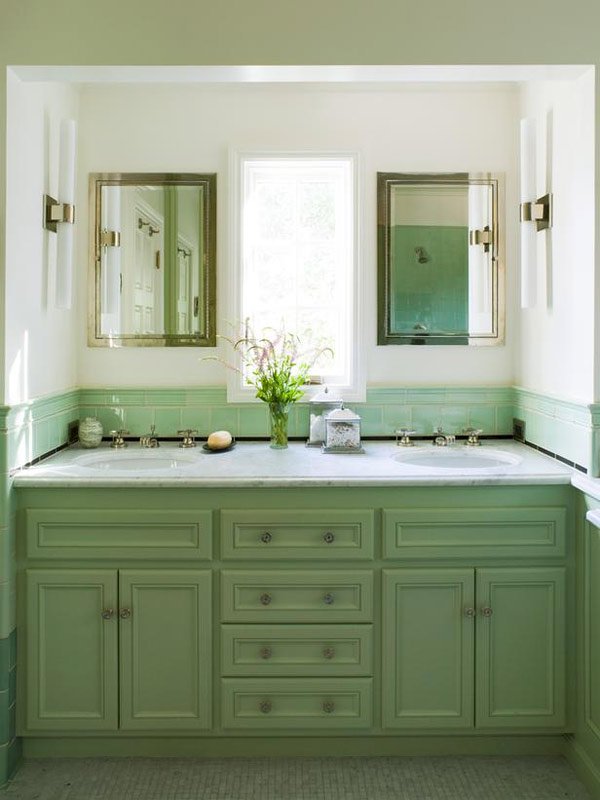 A double vanity with marble countertop is the clear focal point in this elegant master bath. The custom cabinetry is painted mint green, evoking an almost spa-like ambiance.
6. Modern White Bathroom with Double Vanity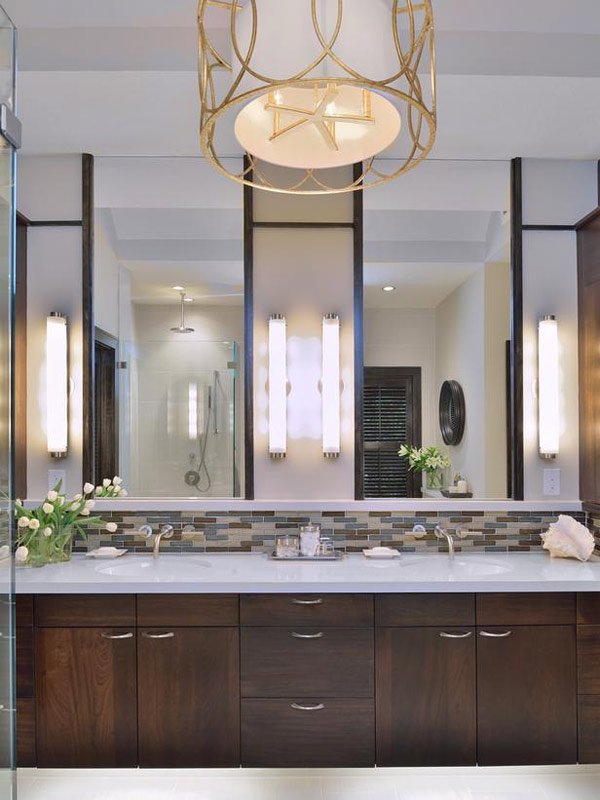 The cleanliness of this bath continue with an earth-toned tile backspaced above the double vanity. Vertical mirrors and light fixtures bring height to the room while the gold pendant light adds warmth and touch of glamour.
7. Historic Hillsborough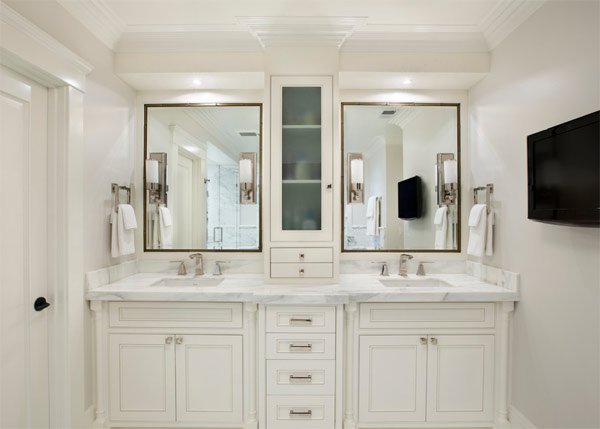 A wall-to-wall double vanity with marble countertop is of great use of the space. A pure white tone for the space adds elegance for the room.
8. Scenic Simplicity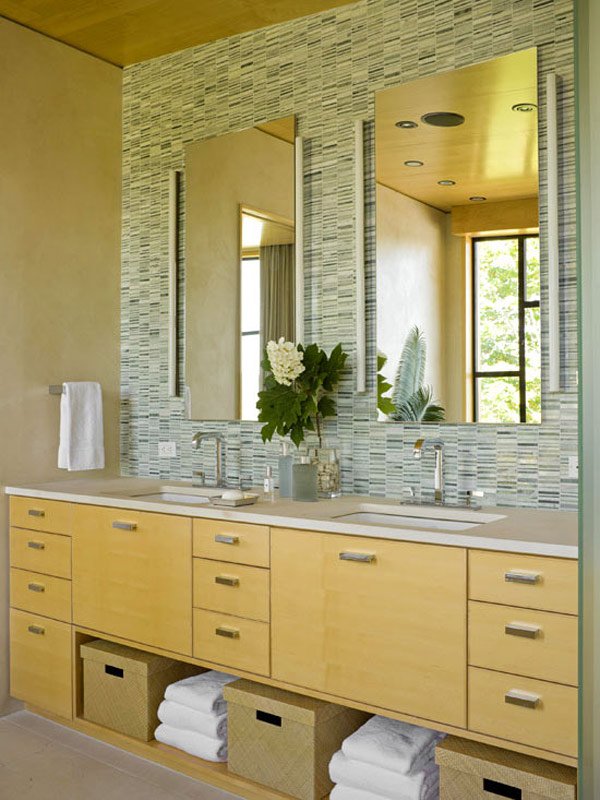 A neutral color palette and smooth lines in this double vanity reflect the relaxed state of mind. Warm maple cabinets establish an inviting, while still contemporary, base for this vanity, with a limestone countertop and sleek chrome faucets outfitting the grooming space with simplicity.
9. Cottage Convenience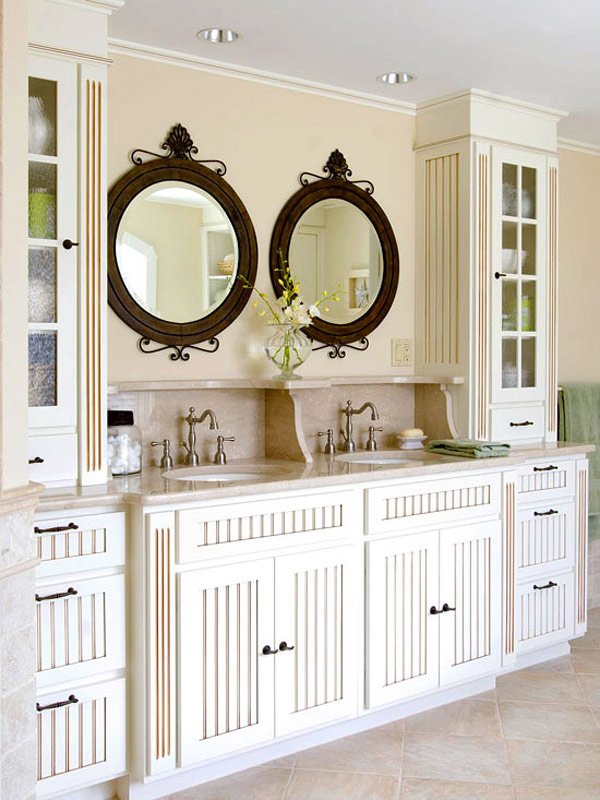 A curvy shelf made of marble, which matches the countertop, extends above the sink for shelving space. In addition to the spacious cabinets and drawers there are also a two tall glass-front cabinets and multiple shelves for accessories and decorative accents.
10. Appealing Contrast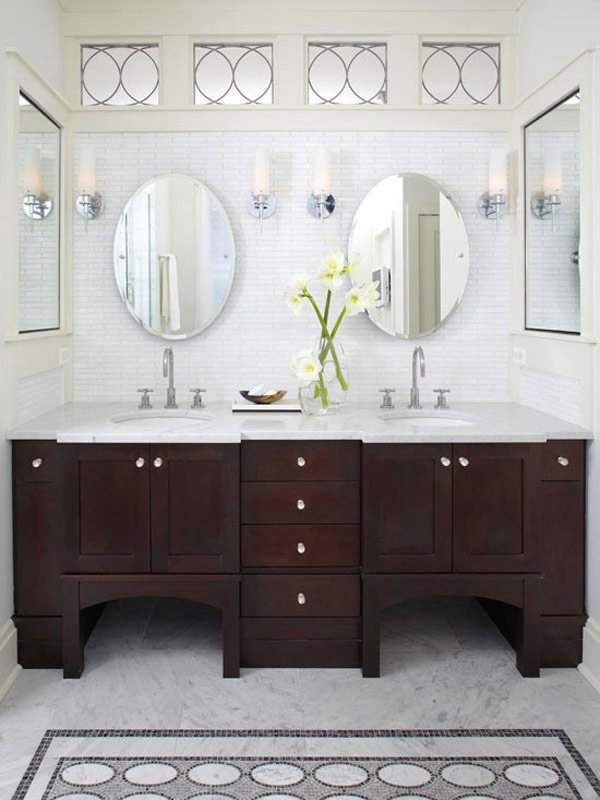 Rich, dark wood cabinets ground this double vanity in its crisp white surroundings. Elements of traditional design, such as marble countertops and subway tile walls, blend seamlessly with contemporary accents.
11. Dark Wood Double Vanity with Matching Canopy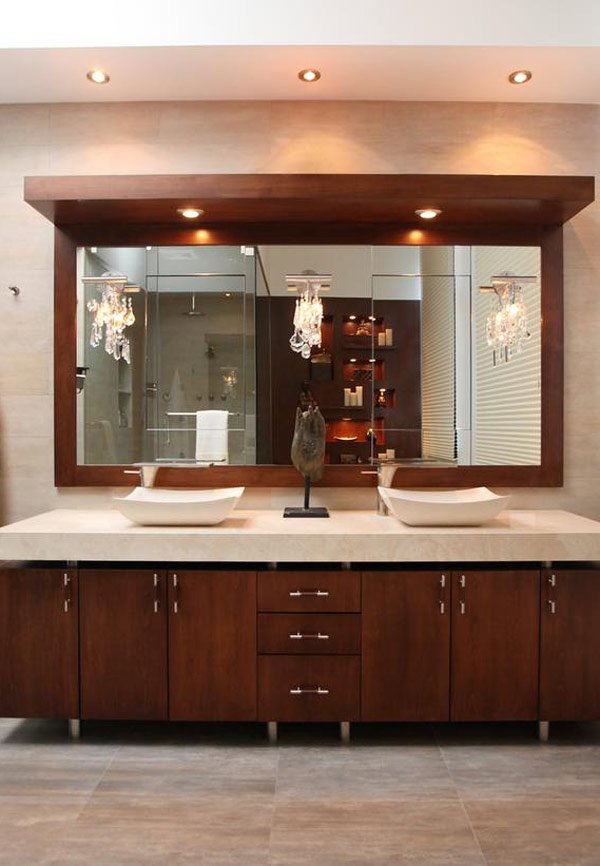 A recessed light above the dark wood double vanity creates a calm and relaxed ambiance.
12. Double Vanity with a Gray Subway Tile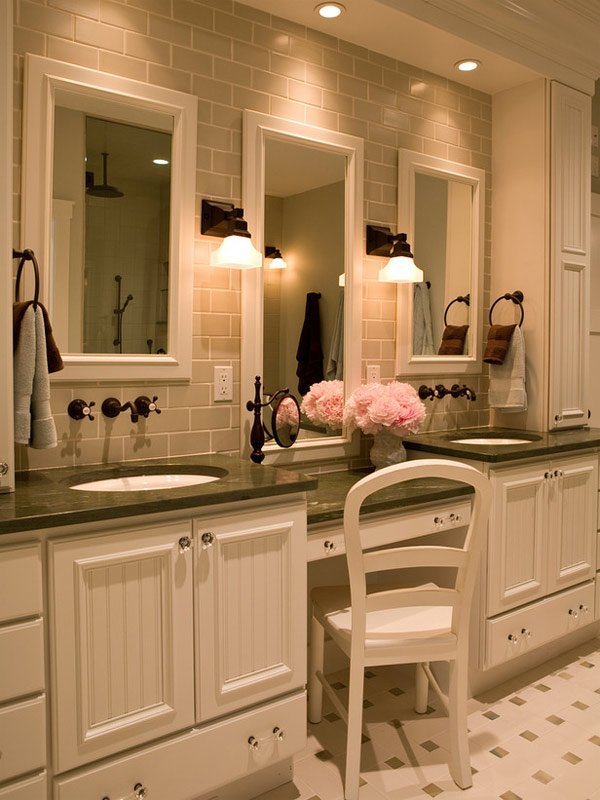 This custom-designed master bathroom features double vanities, a sit-down make-up counter with tiled back wall, hanging mirrors, oil-rubbed bronze plumbing fixtures and in-wall faucets.
13. Dual Glass Vessel Sink with Custom Wood Vanities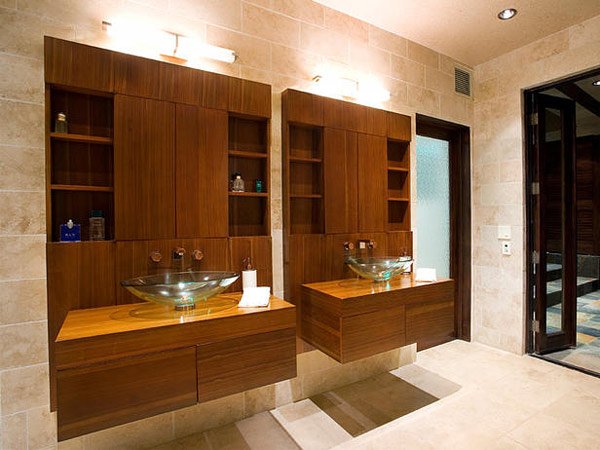 The floating double vanity in walnut with glass sinks and wall-mounted faucets gives the bathroom a contemporary look.
14. Littleton Master Bathroom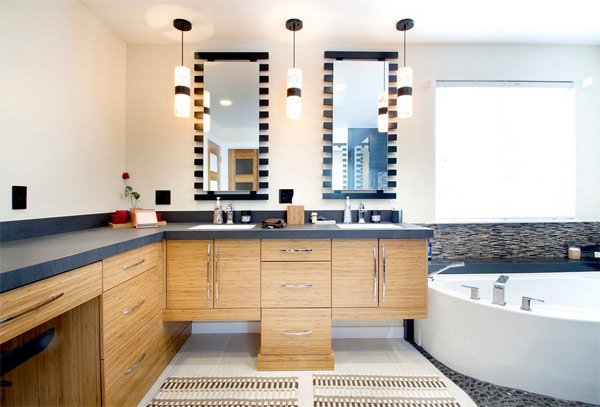 A very modern style, with a floating vanities and an open-space beneath is a room for baskets and other stuffs.
15. Mountain Road Residence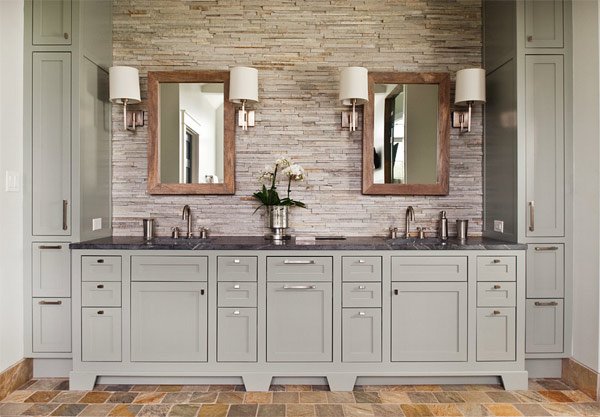 Spacious areas surrounding each sink with plenty of storage. The combination of bricks on wall and the gray tone makes it a perfect setup.
16. Symmetrical Vanities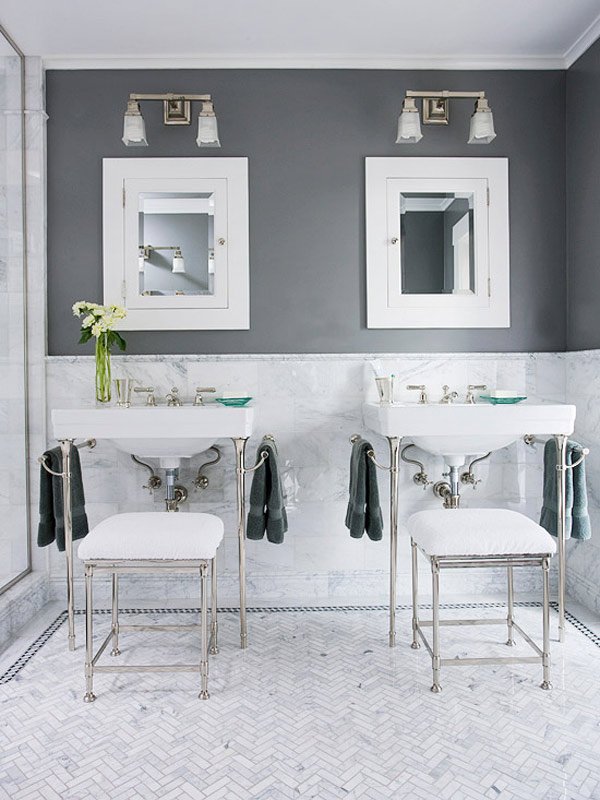 Matching console vanities and coordinating stools stand beneath square recessed medicine cabinets like perfect partners. Crisps white marble resting beneath the charcoal-gray upper walls contributes to the clean, sleek décor.
17. Shared Space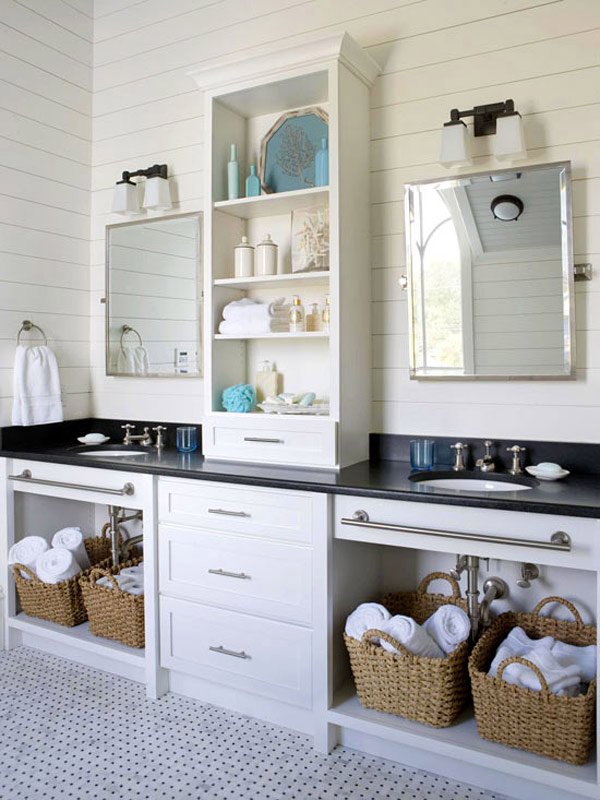 This double vanity enjoys separate grooming spaces, while sharing storage needs. A bank of drawers and an open shelving unit placed in the middle of the vanity helps distinguish space for each homeowner.
18. Double Vanity with Natural Light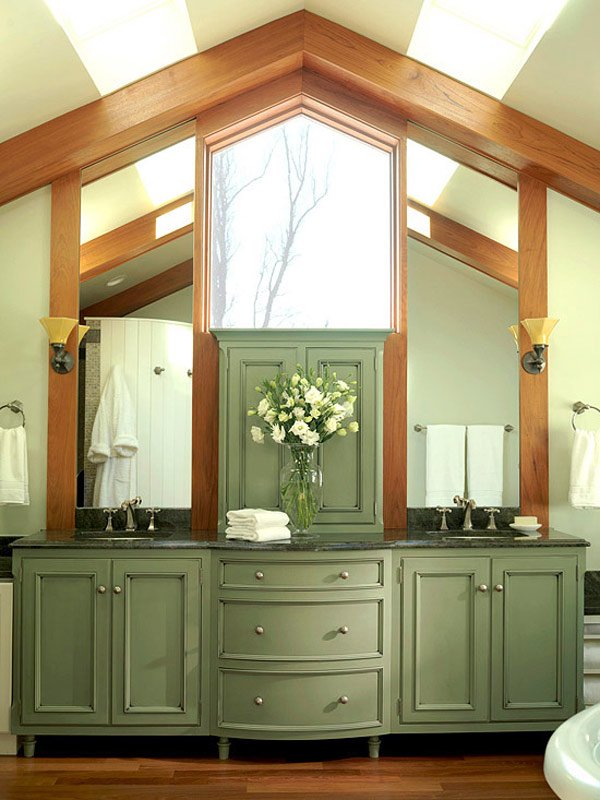 Soaring mirrors draw the eye to this peaked ceiling. A skylight and a large window bathe the room in natural lights. Sage green cabinets follow the earthy theme.
19. Modern Classic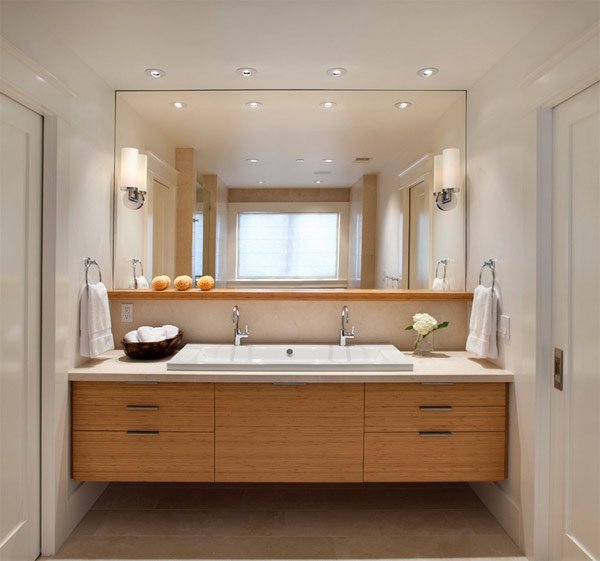 The vanity is made of walnut with an evening stain and natural finish. The case is cabinet grade maple ply and the front is made from one solid walnut slab with each piece of drawer.
20. Modern Master Bath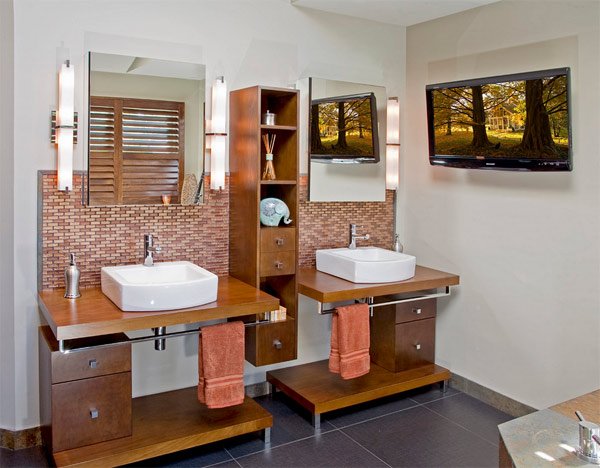 This master bath is place of tranquility and peace, it was transformed into an earthy, modern and unique design aesthetics.
Did you get new ideas from here on how to transform your bathrooms into an elegant one? If you did, I'm glad to know! But wait! There's more. To add up more ideas regarding bathrooms, to make the area more spacious have more shelves and take a look at some bathroom storage ideas so you will know how to keep your bathroom in order.