20 Stunning White Double Bathroom Vanity
Check out these neat looking white double bathroom vanities!
Ever wished that you and your partner could actually share a bathroom together? Especially during times when you actually want to brush your teeth or wash your face? Well, we all know by now that in today's recent practices, designers already are starting to use double vanities which are evidently loved by a lot people.
So, today, we would be seeing 20 Stunning White Double Bathroom Vanity that comes in different shapes and form. If you prefer to have ones that are connected with your countertop or a stand-alone vanity, you can definitely pick one because this list covers pretty much that. Do check out the list below and tell us what you think about one or all of them.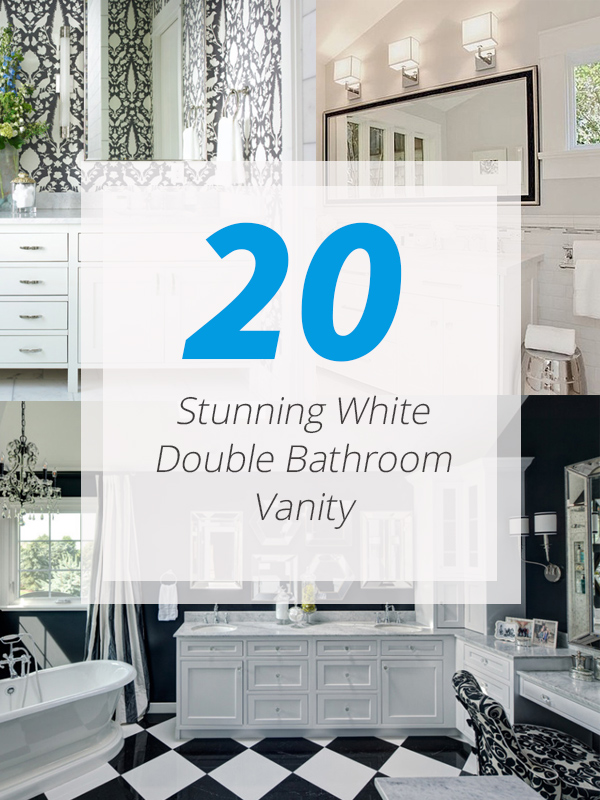 1. Summit Residence
I made this bathroom from Rinaldi Interior Design in the beginning of this list because of how nice this space actually is. This bathroom is a beautiful example of how a practical bathroom actually looks like. The combination of materials seen in this bathroom is so nice and clean, I think being able to sleep in here is not impossible.
2. Vaucluse Residence 10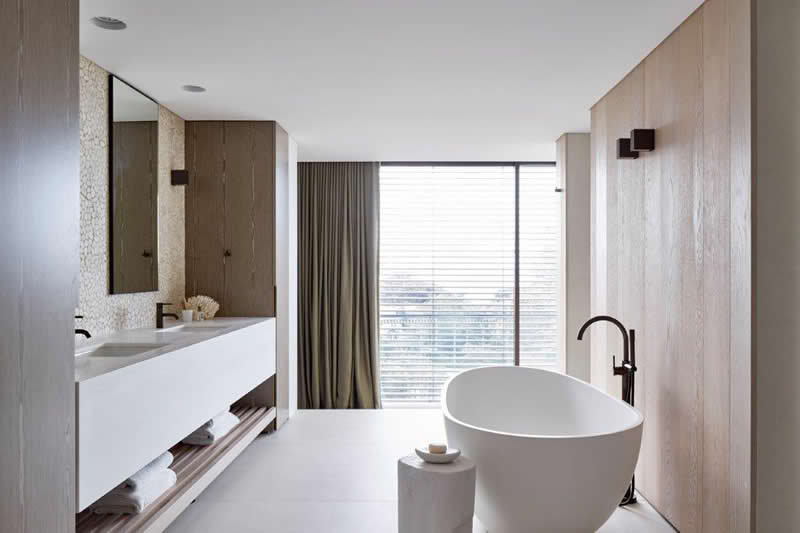 I love how this bathroom actually has a view of the outdoors and has night drapes that you could easily close if you do not need all that light. The double vanity across the gorgeous tub completes the look of this bathroom. Notice how classy the color palette of this bathroom.
3. Castro Street Residence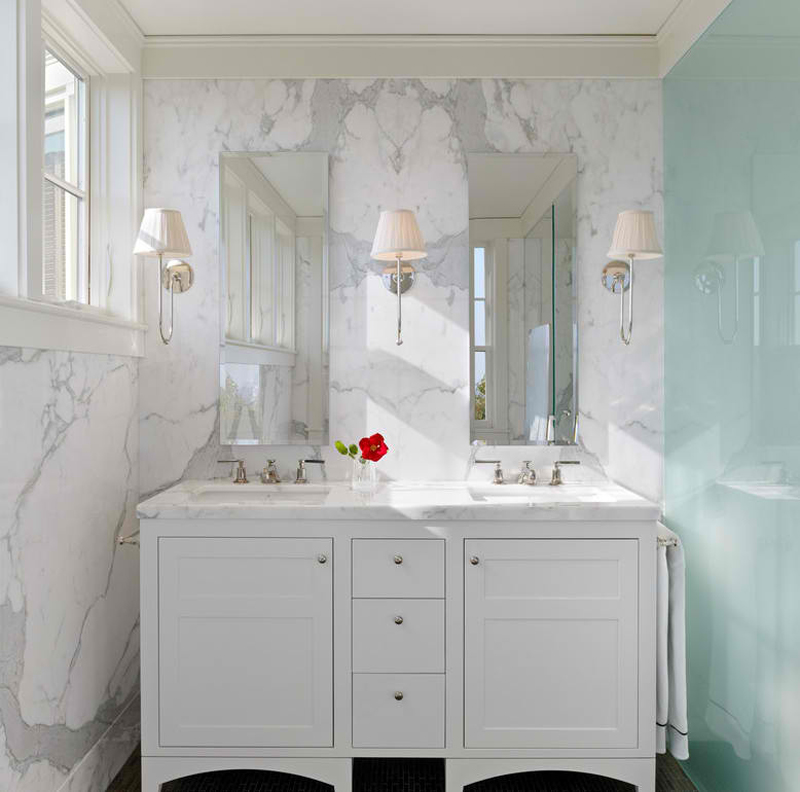 We only see a portion of the entire bathroom but I think that seeing this portion allows us to imagine how the other part of the bathroom actually looks like. The wall look like granite and it looks really beautiful – makes me think that the countertop should actually have the same finish.
4. Lille 4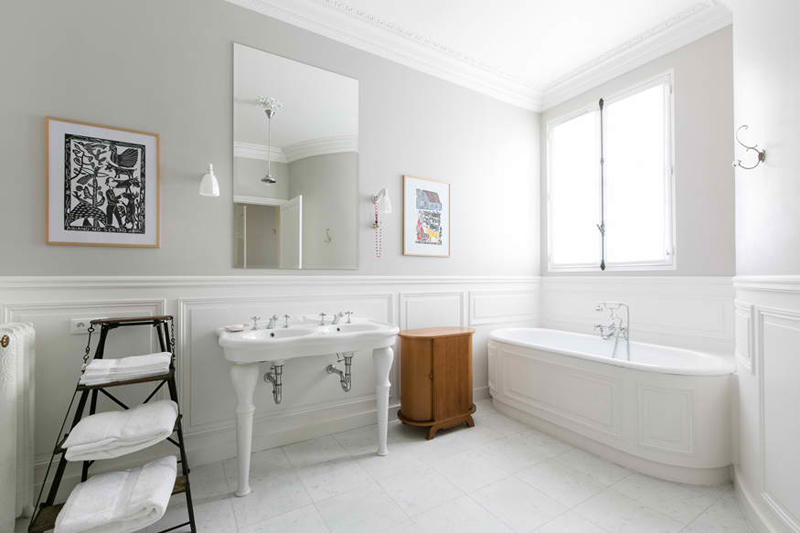 In this bathroom we see a double vanity which is basically connected with each other; and take note, this is one small double vanity at that. In most of the double bathroom vanities that we usually see are separated bowls or are placed in separated tables or stands. This one is nice because it actually saves space and works for bathrooms where space is lacking, but then again, we see that this is one large space and getting a bigger vanity could have been ideal.
5. Midtown Glamour Bathroom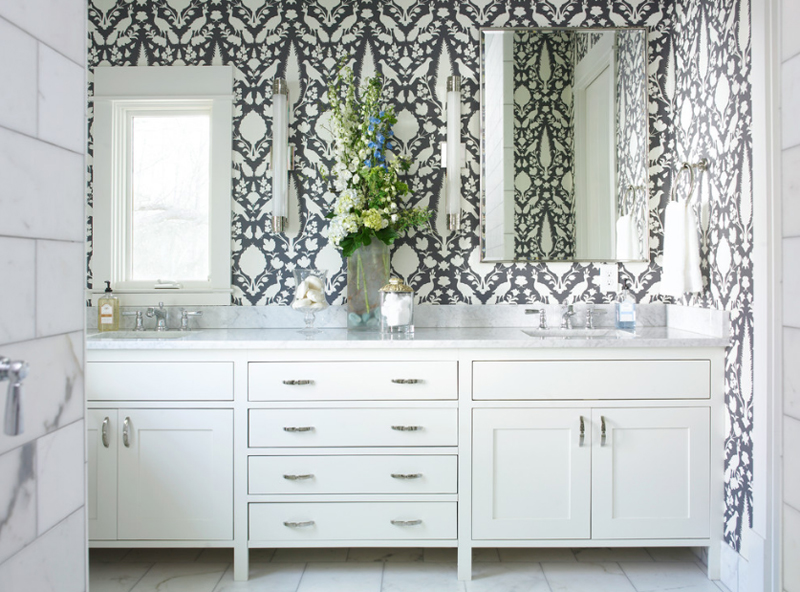 This is what you call an immaculate bathroom! Of course, it's usually an all-white bathroom that gets to have this divine status (or at least that's what I think so). There are other prettier bathroom photos that we'd be able to see down the road and I think that this could very much be something we should remember when we think of awesome-looking bathrooms!
6. 35 Liberty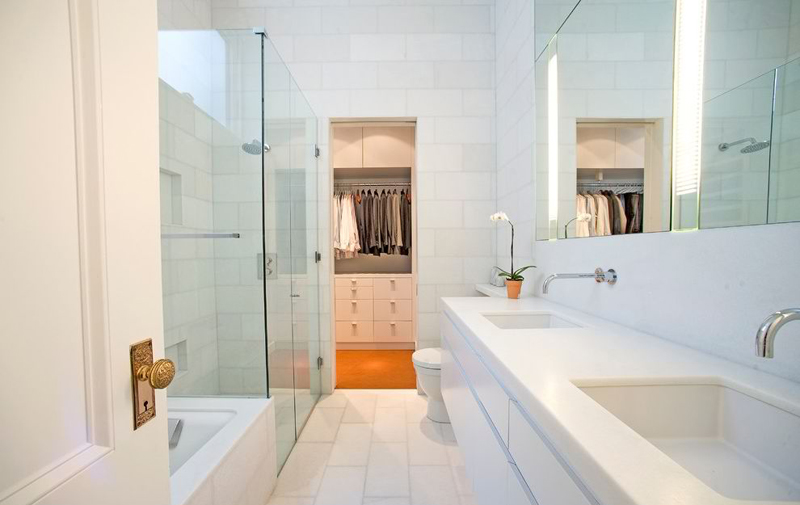 Well this bathroom sure looks like something a newly-married couples would want to have in their bathrooms! I love the all-white theme used in here, it's clean, sleek and sophisticated. Although there is a minimal space for this bathroom, we see how they maximized the space and turned it as stunning as this one.
7. Vaucluse Residence 1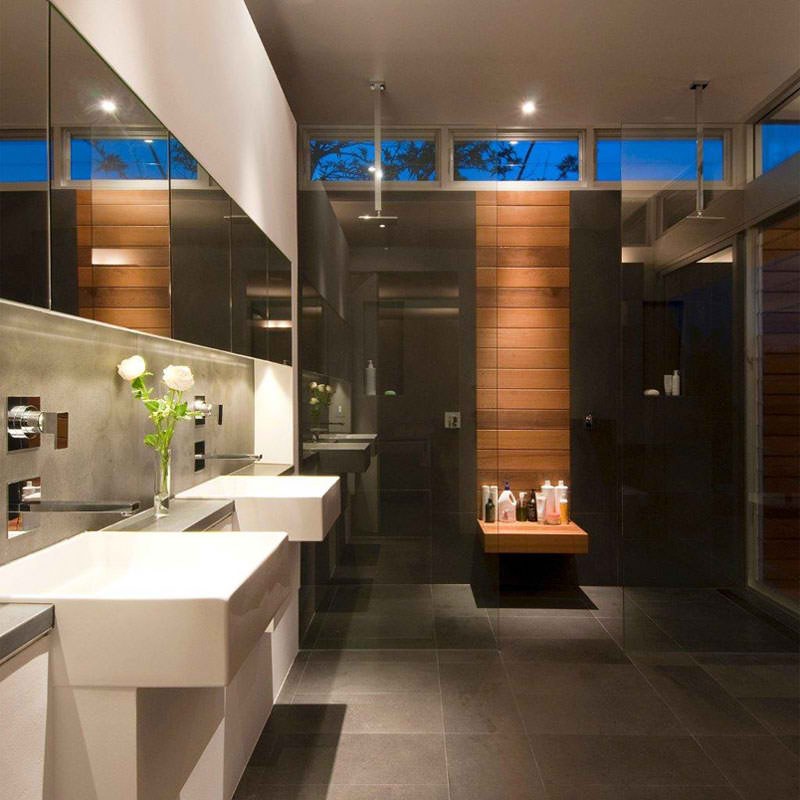 I want to say that this bathroom actually looks really calm and collected – something we'd want our parents would be when we tell them news about our grades or getting married. This bathroom showcases a beautiful aura that one could want for a bathroom – the white and grey combo of this bathroom makes it really inviting and sophisticated. Notice the skylight that could save this home a lot of money especially during mornings.
8. Monterrey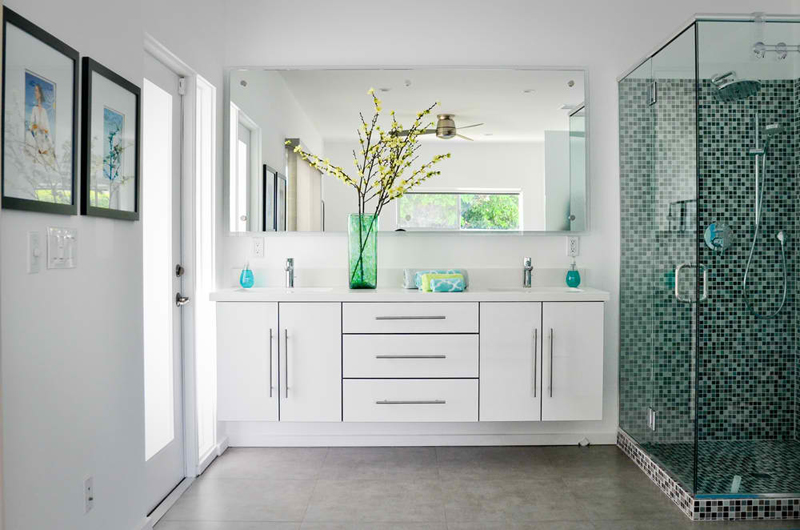 From this angle, it might not be so obvious – but we have in our midst a double white bathroom vanity which is basically connected to a simple modular cabinet work specially done for this home. Totally love the large mirror along with the large vase with the flowers.
9. East Mountain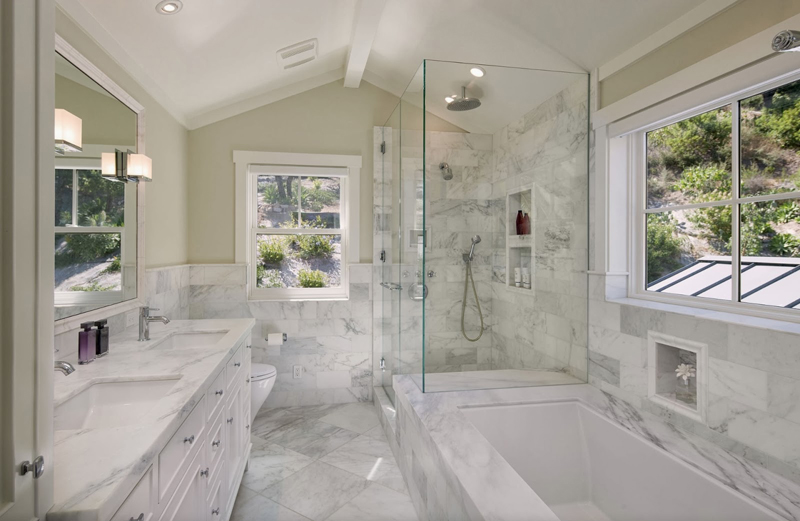 If this bathroom belongs to your house, I think that you'd have great morning and nights especially if you already have this morning and night routine for your skin maintenance. Having this bathroom almost everything in white made it look prettier and really cleaner. As much as white is something harder to maintain than other colors, seeing a space this white sure gives you a perspective what clean actually is.
10. Tucson Retreat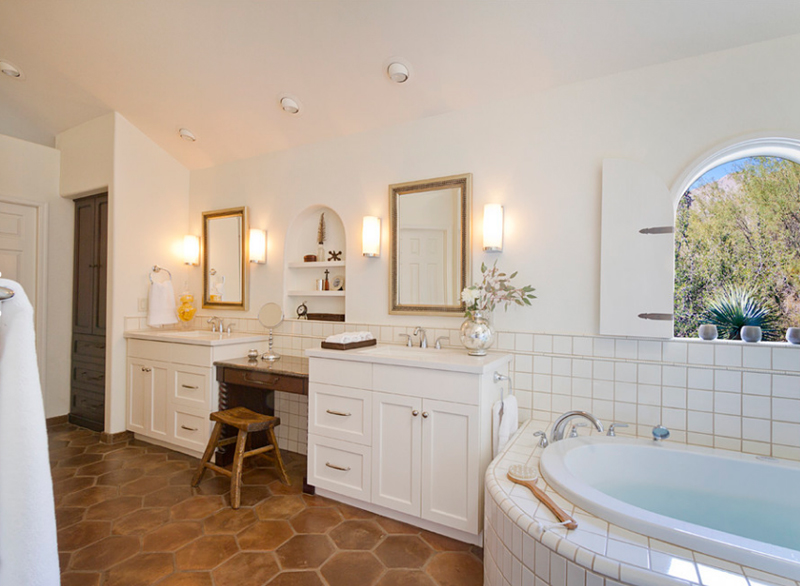 I totally love the tiles on the floor and the double bathroom vanity which is separated by a wooden table and chair combo. The white tiles on the wall and the ones surrounding the tub seem an old one – either this was saved from an old bathroom tile work or they really preferred to use an old design to create a certain aura they actually wanted.
11. Elegant Parisian Bath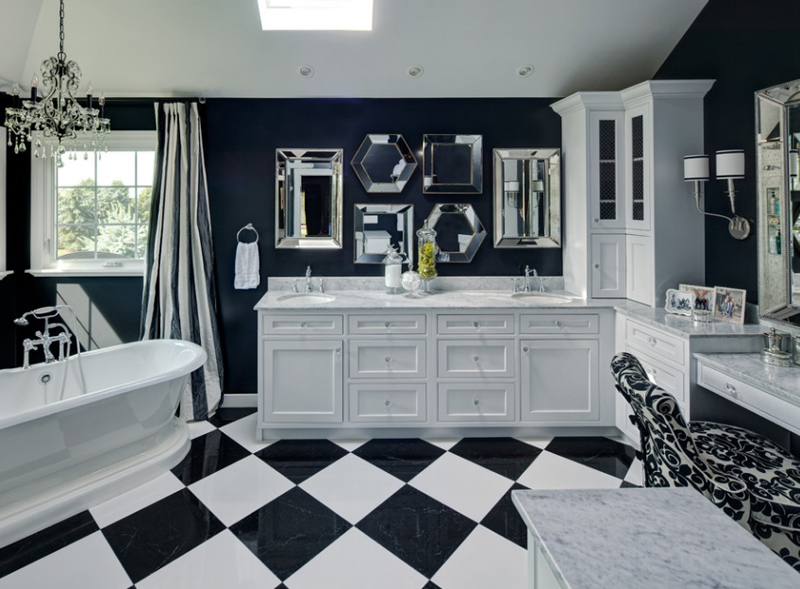 Well, what do you know? On each lavatory we see a mirror just in front of it; but in the middle is awesome mirrors in between them. The countertop in here is basically modular but it sure looks stunning because of the black walls around this bathroom. The black and white theme sure does not remind me of Paris, but it is indeed fancy and so pretty.
12. Victorian Beauty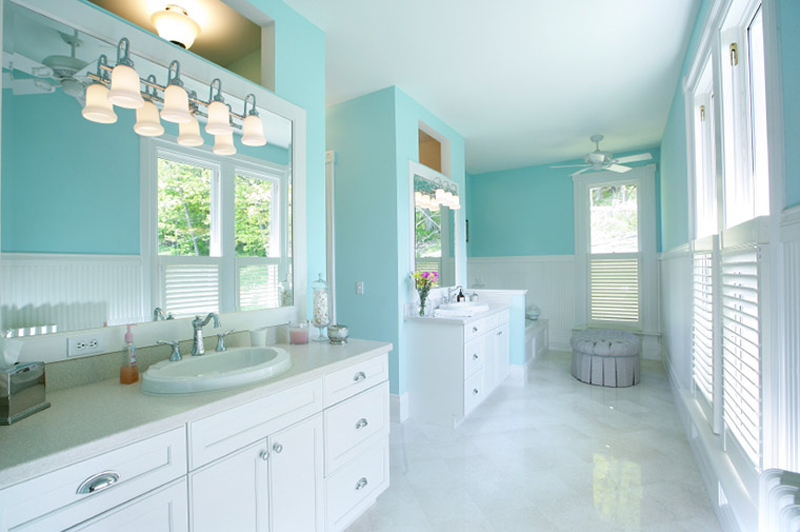 The white and light blue combo of this bathroom looks real sweet; because there are also a lot of windows, this bathroom looks really bright and nice. In this bathroom, we see that the double vanity is separate from one another – pretty cool actually, but when we usually talk about double vanities, we see them beside each other.
13. Fox Meadow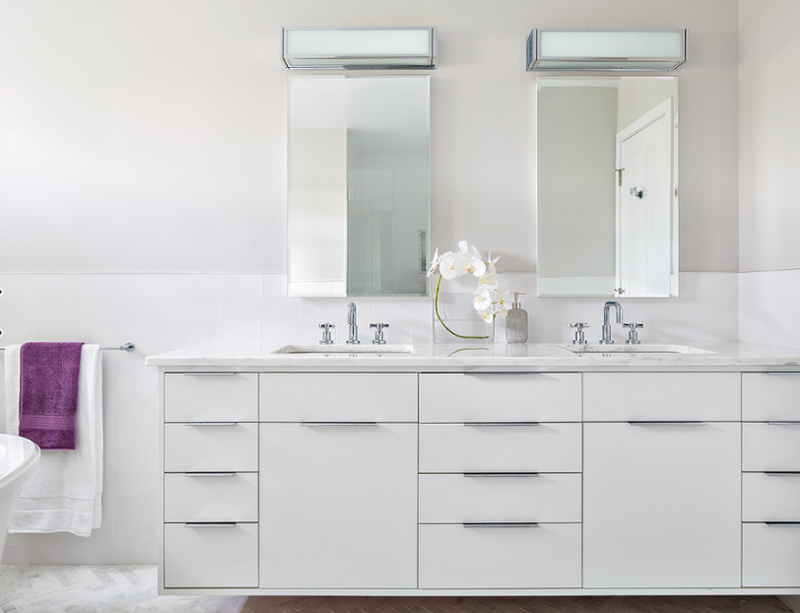 If you think that you'd prefer a vanity without the separate bowl, (maybe your Home Depot didn't have designs that you did like) you can always opt for something like this. Adding a flat counter top with two separate lavatories to serve as your vanity. The cabinets in here looks real neat and definitely clean, I love it!
14. Watermill Toud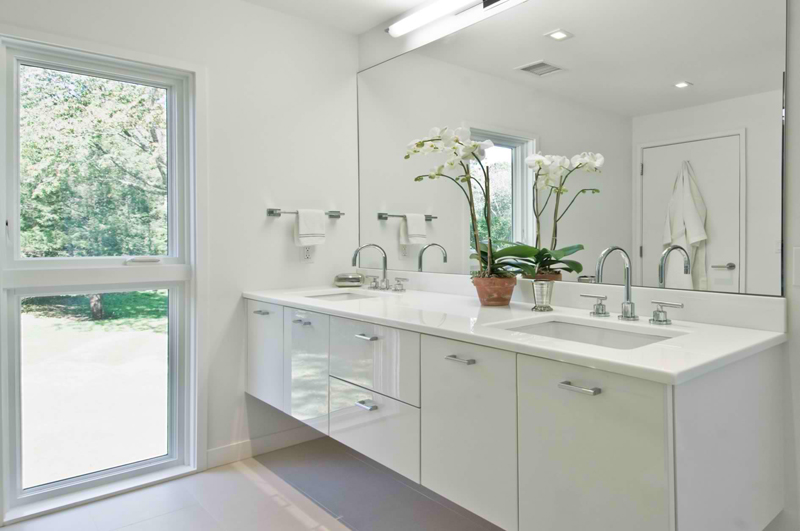 This is definitely one stunning bathroom (or at least powder room!) The lines present in this space are real evident and it's even really nice; the only thing I guess means that this bathroom is not ideal for kids because of all the corners they could possibly hit. I'm confused though, is that a door or just a window? We can ask the designer or just decide which is which.
15. Berkeley Modernism
The white bathroom looks real neat and fancy – even for a white space. Before, I usually associate white spaces to hospitals and honestly, it seems like a normal thing for people I have talked to. This space is a bit different though because of the classier aura that it actually have than other all-white spaces.
16. Contour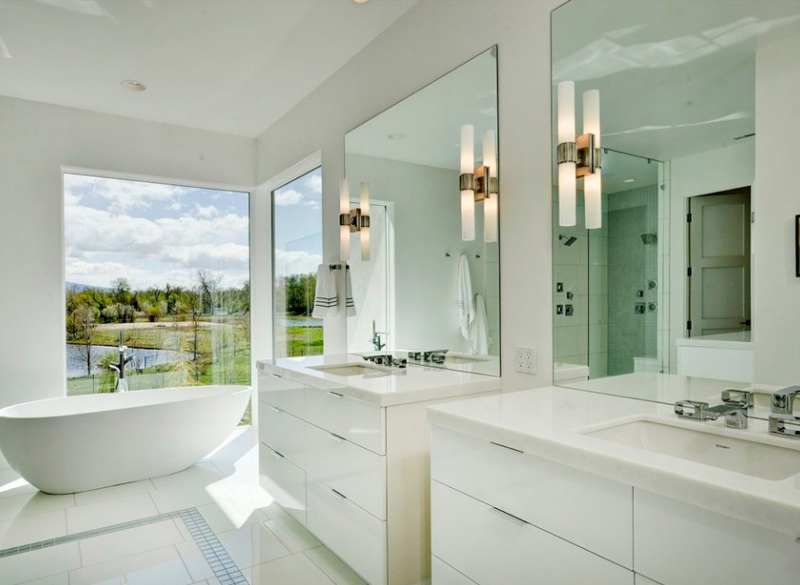 This is one perfect bathroom! It is just so glamorous and fancy, I can't believe this is even a bathroom! The mirrors, the cabinets, the tub and the vanity are just real fancy and gorgeous! This bathroom has an awesome view and I think it is just perfect!
17. Bass River Residence
This is pretty much a white and beige bathroom and if you notice, there seems to be a bit of pink in this space which makes it a real feminine. The traditional look and detailing in here makes this bathroom prettier than it already is.
18. Luxurious Atlanta Bathroom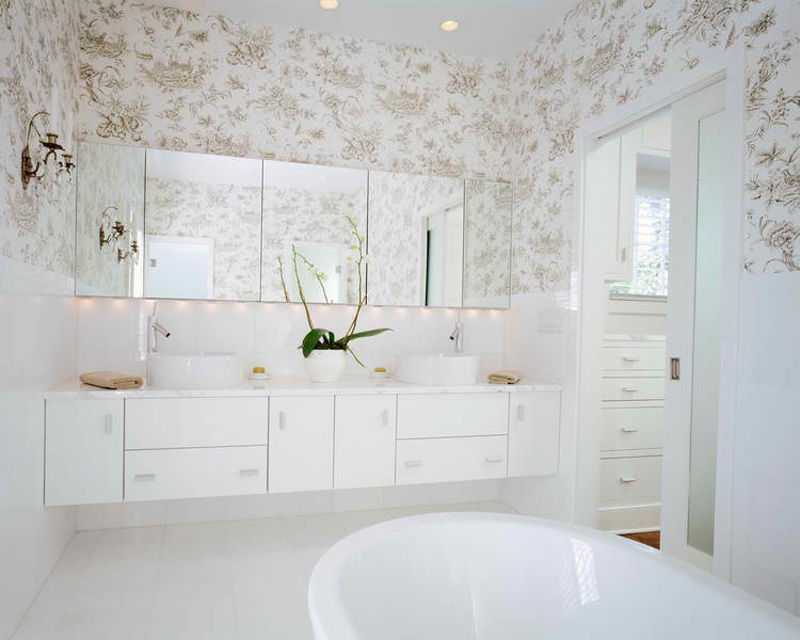 The details on the walls of this bathroom are really pretty – I love it! What do you think about the print on the wallpaper this space is showcasing? The way the printed walls and the plain vanity, tub and floors make for great contrast which is pretty needed in any space to make it stunning and really stand out!
19. Mill Valley Residence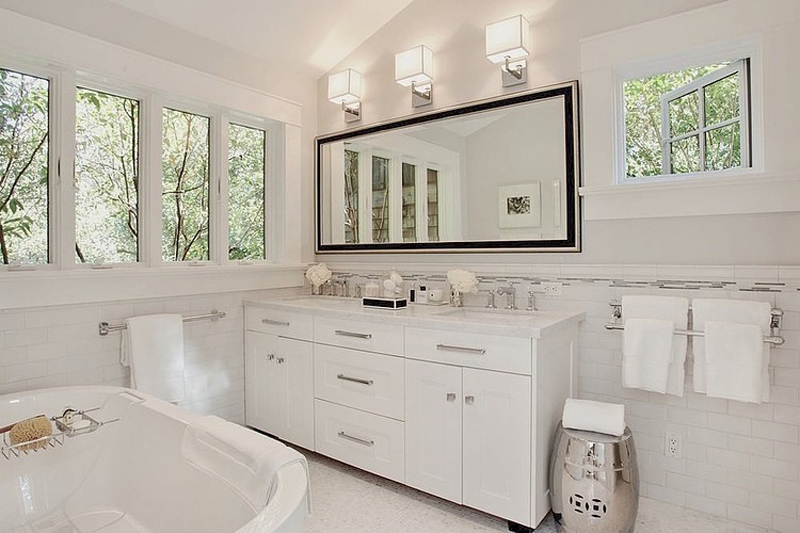 Now this is something you would actually want to look forward when you are at work. A bathroom as inviting as this sure gets more visits than the ones that are untidy and not as pretty! With beautiful and fancy fixtures and lighting, this bathroom is the real deal! I personally love the long rectangular mirror that somehow complement with the windows on other side of the room.
20. Vaucluse Residence 8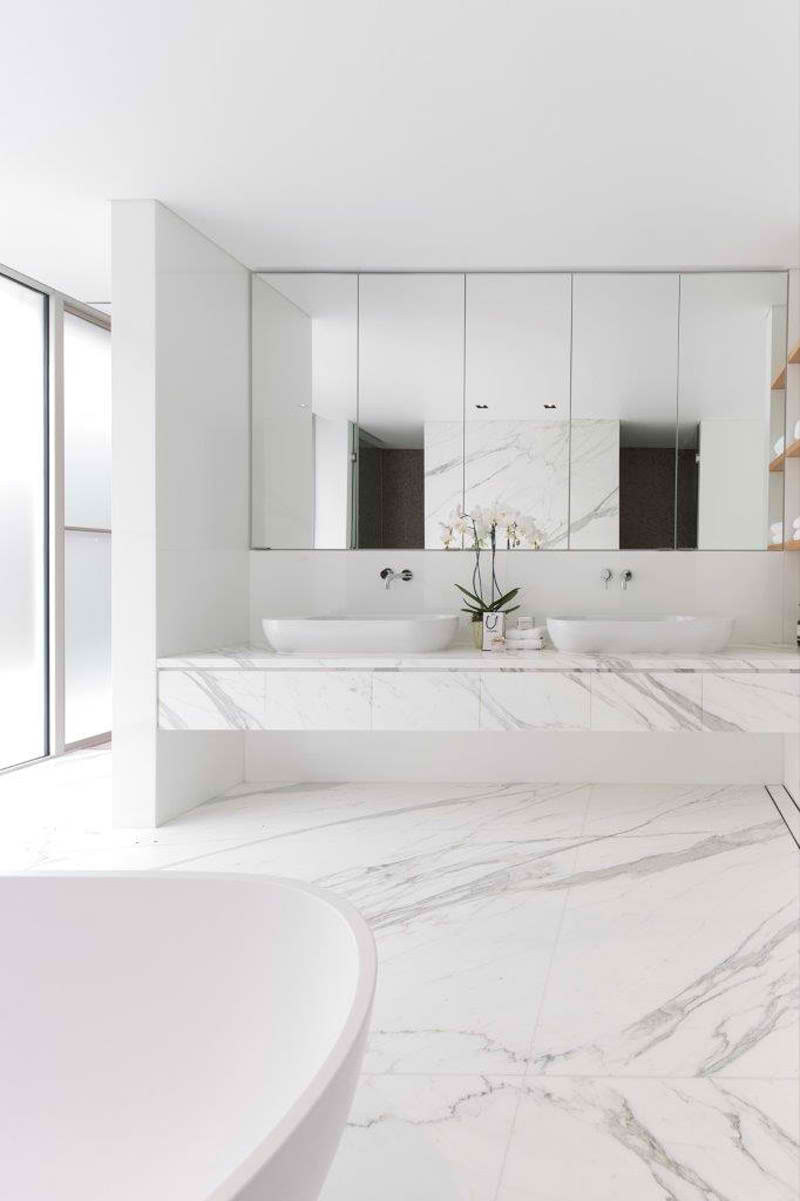 Last on the list is this simple looking powder area where we have white double vanities. The awesome counters where the basins are placed in here look totally awesome and neat. Adding small plants or succulents in the bathroom surely adds life and fresh oxygen to it. I love it!
Whether you are into the idea of sharing a bathroom or not, I guess having a double vanity doesn't hurt one bit. It's the latest trend and I think maybe your sibling can always share them with you! Check out the 20 Worth-it White Single Bathroom Vanity For Your Home and choose what's best for you and your home! More to come, here in Home Design Lover!