20 Beautiful Bathrooms Using Subway Tiles
We can observe that a bathroom make use of different types of tiles. Sometimes, it would use marble and other stones too. This makes the space appear clean and beautiful because who would want to use a filthy bathroom, anyway? From the start of bathroom construction and design, the owner and contractor have to come up with one decision as to type of finish he wants to use for the bathroom. Some would want subway tiles.
I can recall how subway tiles look lovely on the kitchen as a backsplash. But it looks pretty well in the bathroom too. Subway tiles may look classic but it can give your space a timeless look because no matter how classic these are, even modern bathrooms still use it. Allow me to bring you to different bathroom spaces that used subway tiles on the walls and other areas of their bathrooms.
1. Modern Master Bathroom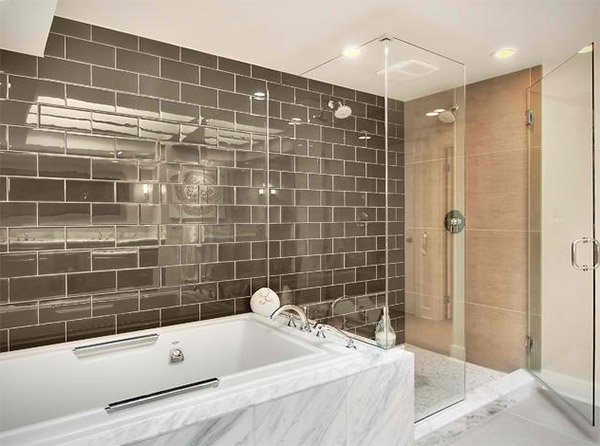 Gray subway tiles were used for this modern bathroom and I know you will agree with me how appealing it is!
2. Globus Builder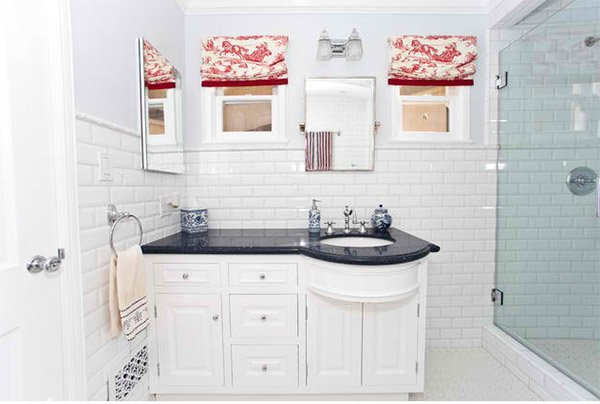 Looking totally classic with white subway tiles and that traditional design of the freestanding vanity with marble countertop. and yes, the curtains add some glam to it too!
3. Interiors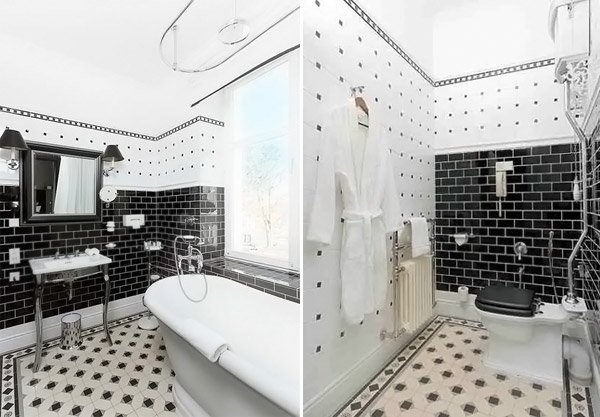 This is one of my favorite bathrooms with black subway tiles. I just like the combination of patterns here from the walls to the flooring. If you are afraid to mix patterns, this one is a proof that doing it can be successful too!
4. Girard Townhouse, Philadelphia, PA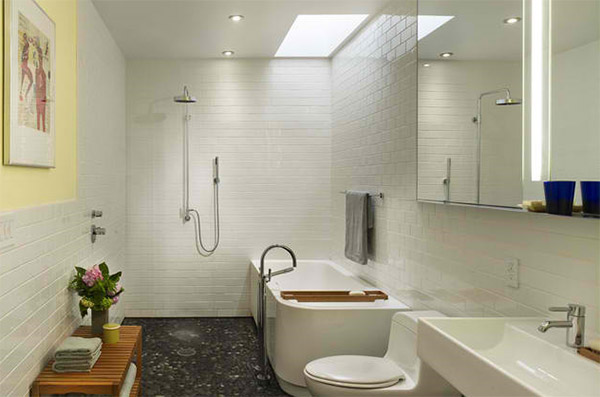 The entire walls of this contemporary bathroom is covered with white subway tiles. Such a pretty small bathroom!
5. Renovated Bath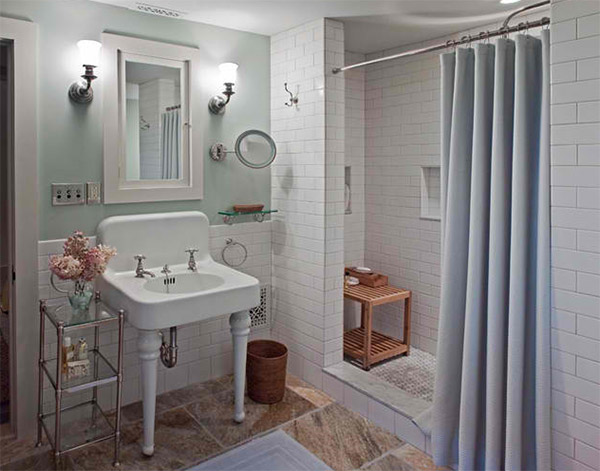 The shower area of this bathroom has subway tiles which are also used on half of the wall outside the shower area. I like the classic look of this one!
6. Colorful Cottage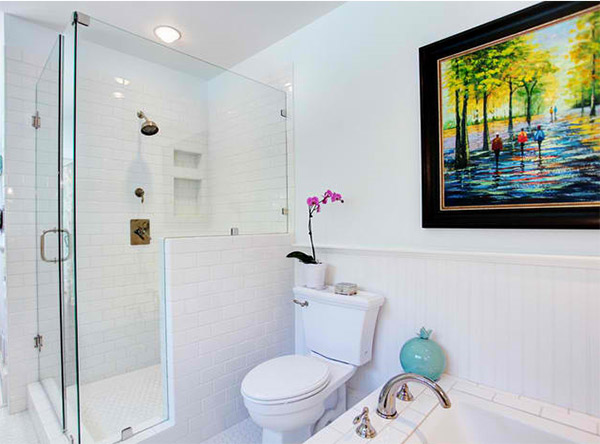 A simple bathroom with a shower enclosed in glass. That painting adding more beauty to the space saying bye to the plain white wall.
7. Beach House- Master Bath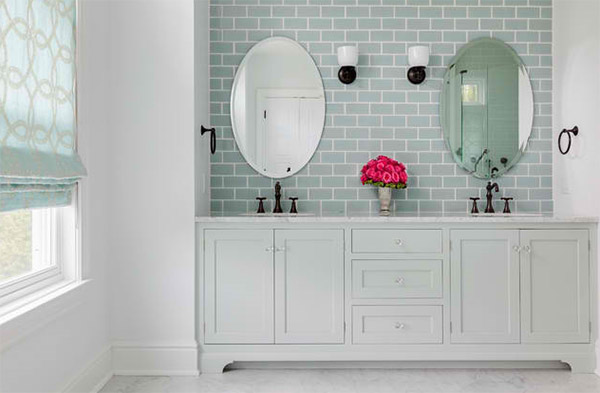 Light gray subway tiles are really pretty especially with the oval mirrors on it!
8. Willow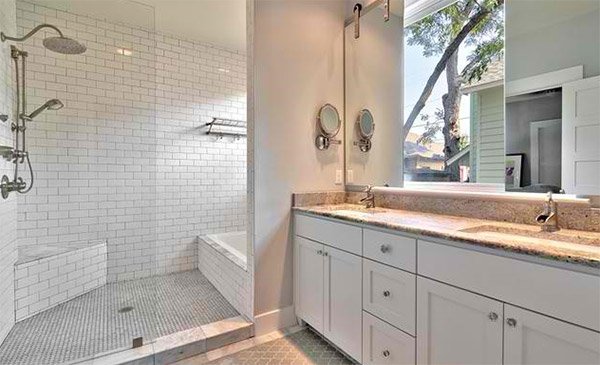 That shower area sure is large with subway tiles all over it. Nice bathroom space, right?
9. North Park Bungalow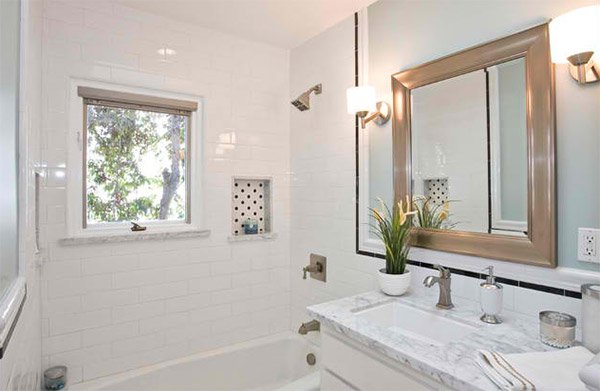 This may be a small bathroom but using subway tiles on the wall make it appear bright with its neat color and sheen.
10. Guest Bathroom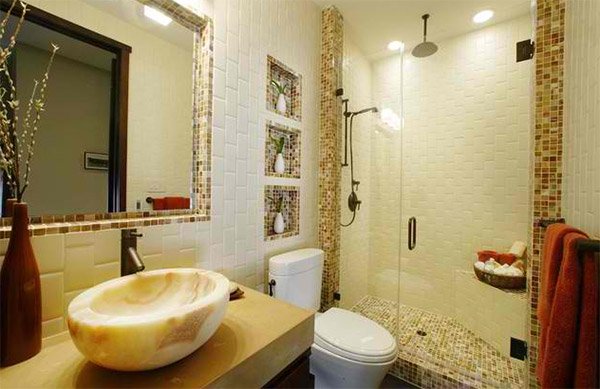 The combination of mosaic tiles and subway tiles in this bathroom is pretty clever!
11. White Marble Bathroom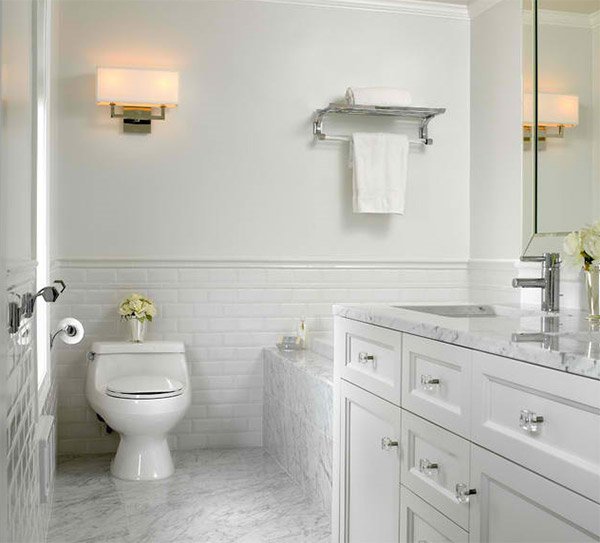 Nothing beats the appeal of a white bathroom like this one. Quite simple yet stunning!
12. 1909 Revisited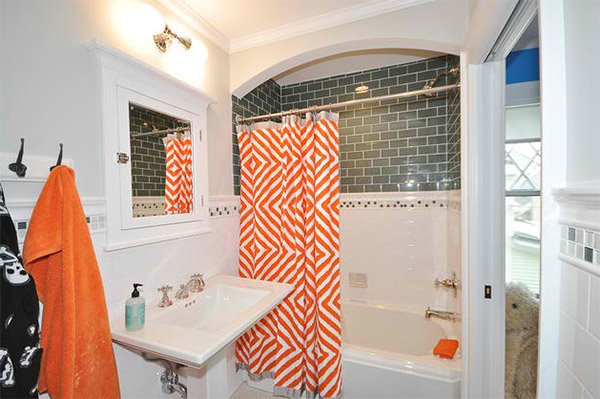 I'd guess orange is the favorite color of the owner! But I like that shower curtain with geometric design that matches well with the gray subway tiles.
13. Eclectic Bathroom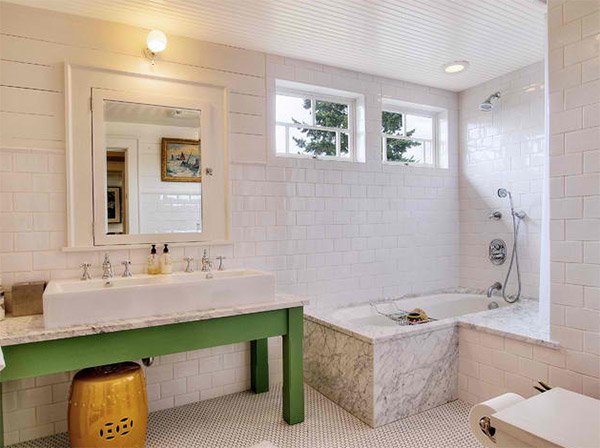 Take a look at the simple patterns from the ceiling, wall and flooring! The green stand of the sink added some pop of color in the space.
14. Old Bathroom, New Style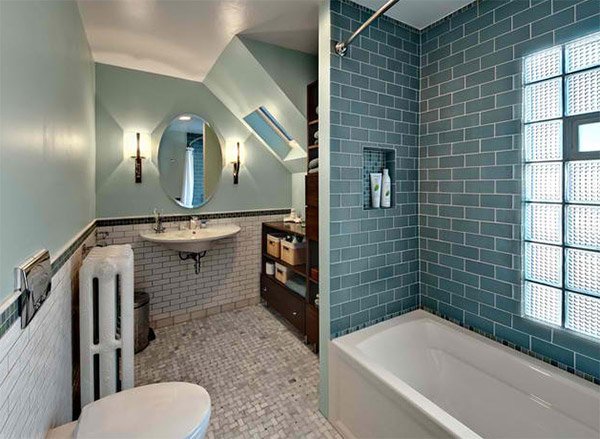 Blue and white subway tiles were used for this space and it sure is a good combination.
15. Laurel Hollow Post and Beam Barn Home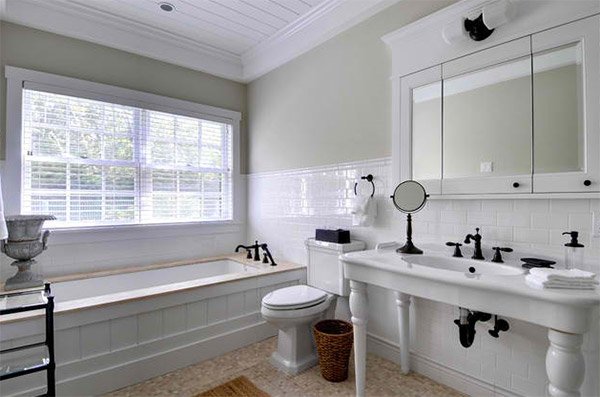 A vintage bathroom looked neat in white and some black fixtures.
16. Shelter Island Beach House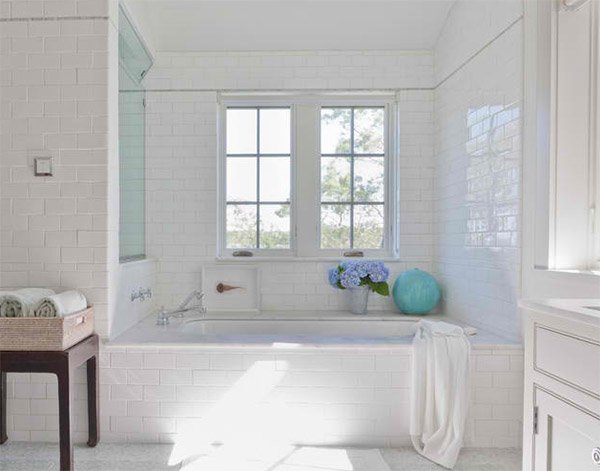 Now this is a white bathroom indeed! Adding some flowers and other decors on it are a good idea to bring in some style to it.
17. Home Remodel – Des Peres, MO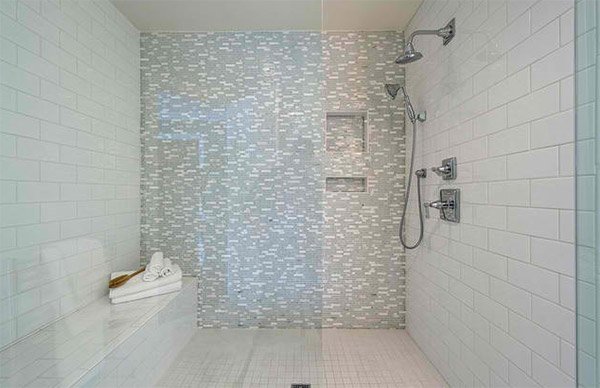 This modern shower area used mosaic tiles on one wall and subway tiles on the rest of the walls. Nice idea, right?
18. Rustic Canyon New Home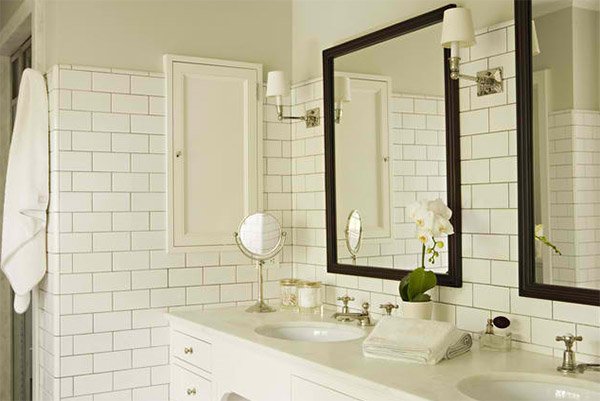 We may not see the entire bathroom here but it sure is a nice space with the subway tiles on the wall. The brown framed mirror added some impact to the area!
19. Little Balboa Island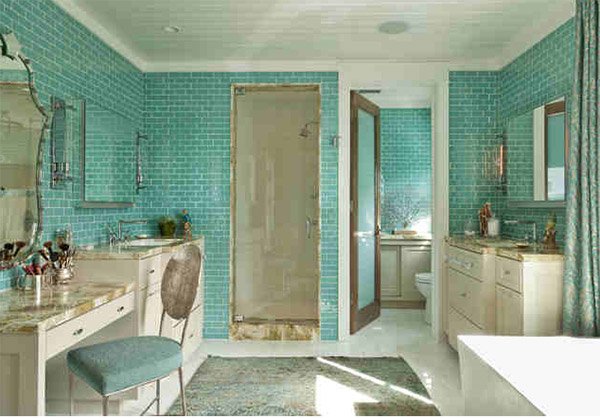 This one has kind of vintage and rustic look but sure looks pretty with the aqua green subway tiles.
20. Ramble House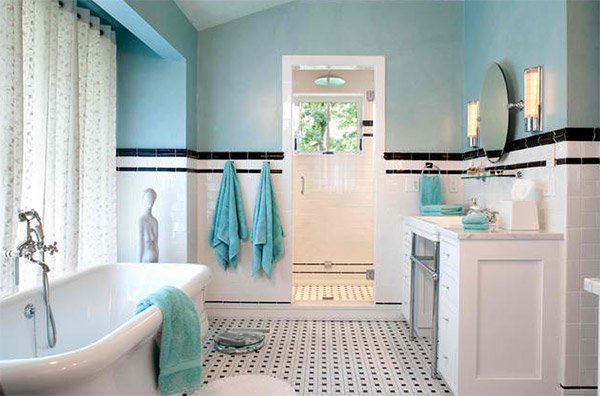 Beautiful bathroom! That black tiles defined the area really well with subway tiles on the bottom half and paint on the other.
Told you so it is pretty! And it sure is neat too. I guess it is the thin lines between each tile that make it appear clean. I like how the overall feel is for a bathroom with subway tiles. I especially love the one with green tiles and the gray ones too. Although, white is also a good option because it makes your bathroom clean and bright. Which one is your favorite?