15 Bathroom Spaces with Glass Shelving
Bathrooms need good storage to keep things in order from toiletries to cleaning materials. Even towels and other bathroom stuffs have to be kept well too. A neat and organized bathroom is a great thing for a house. Just think of it, this area is one place in the house where we clean ourselves, hence, it has to be as clean as possible. To achieve that, you will need not just regular and daily cleaning but also enough drawers, cabinets and shelves.
One good way to keep stuffs in the bathroom is adding glass shelves. Glass shelves add more brightness and lightness to a space. This is good especially to smaller spaces where you decided to add some shelving. Glass shelves also make the space appear more stunning and elegant because light bounces to it giving it some sheen and shine. If you are thinking of using glass, make sure that you get the right type of glass and install it properly to ensure safety. Now let us take a look at some bathroom spaces with glass shelves.
Horse Ranch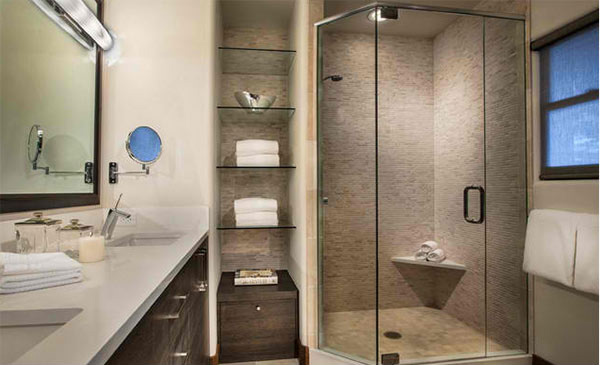 The glass shelves seen here are installed in the tile and wall. They are set back and 18″D.
Willow Glen Bathrooms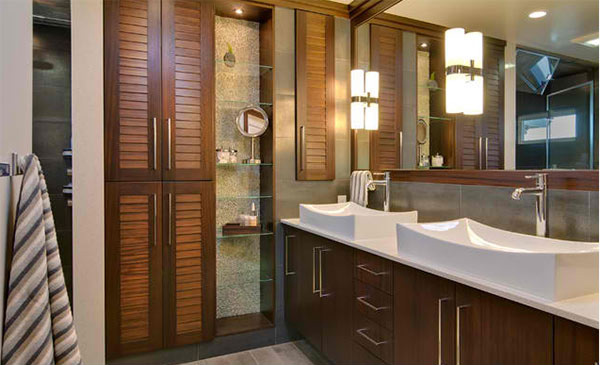 A beautiful contemporary bathroom with cabinets made by DeWils Industries. It has glass shelves on a small area where some decors were displayed.
Metropolitan Condo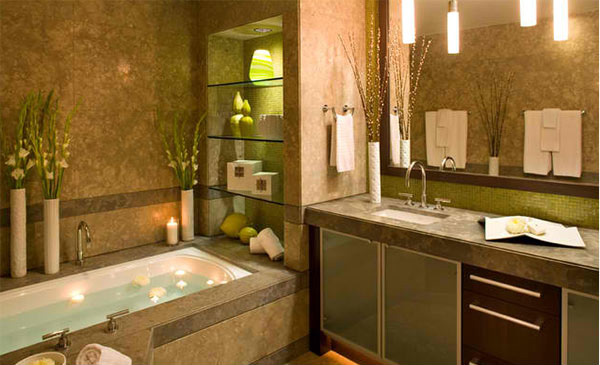 Just above the bath tub are glass shelves filled with lovely decors. The tiles used here are Arizona Tile Seagrass Limestone Slab Honed and Lagos Blue Slab Honed.
UP05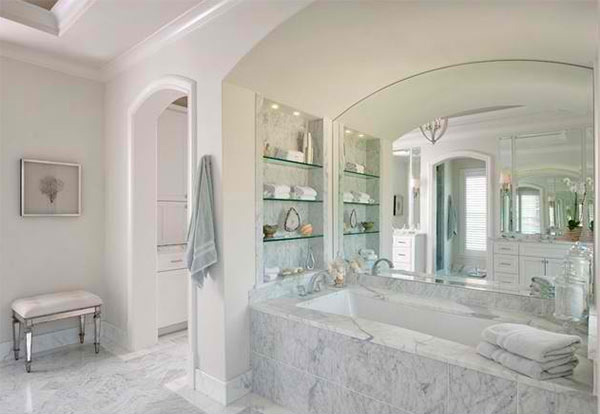 Six inches deep glass shelves are found at the bottom of this hourglass shaped bath tub.
Marble Bath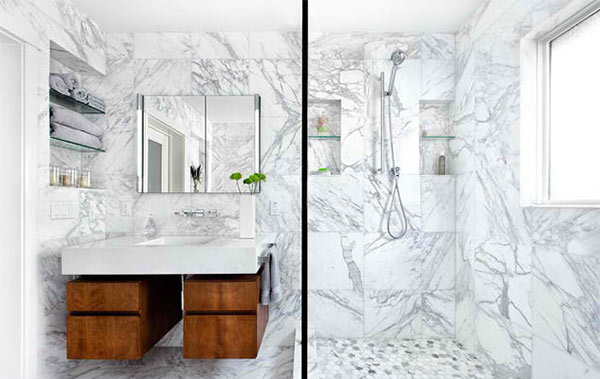 Two areas of this bathroom used glass shelves: at the side of the vanity and the built-in shelf for the shower area. The installation of the bathroom has a marble with a more pronounced vein (most likely Calacatta) for a less uniform look.
Bathroom Storage Idea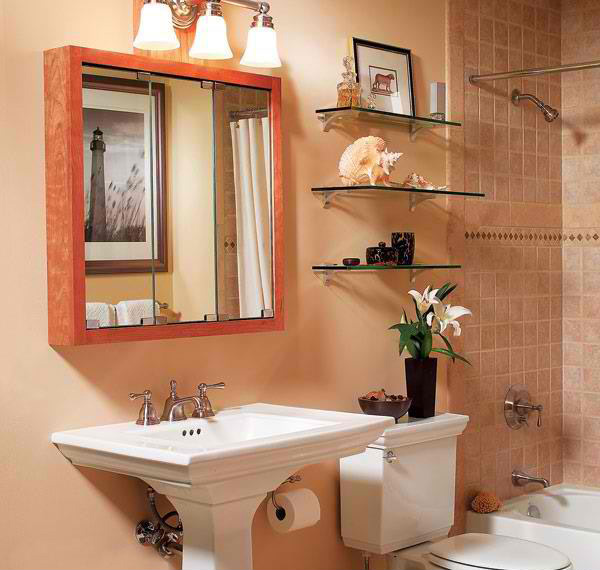 Utilize the space you have by adding glass shelving to the "dead" space over the toilet.
Bathroom 1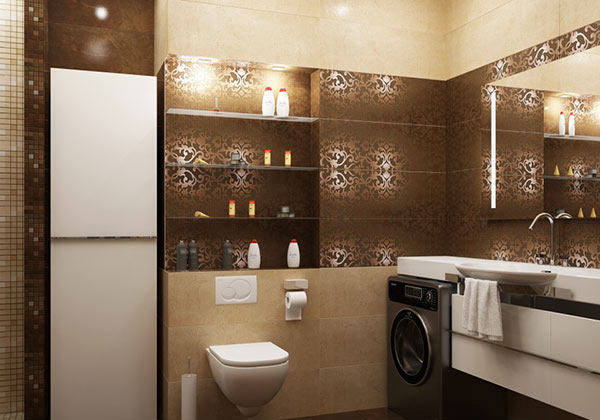 Like the previous one, this also has glass shelves above the toilet but what makes this space beautiful are the wall tiles.
Modern Bathrooms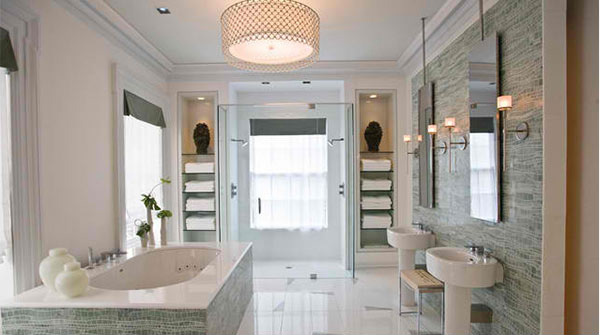 At both sides of the glass shower area are glass shelves that complement with the look of the shower.
Bathroom Design
For a black wall in this bathroom, it was smart to use glass shelves to add some light feature.
Design Ideas Crimea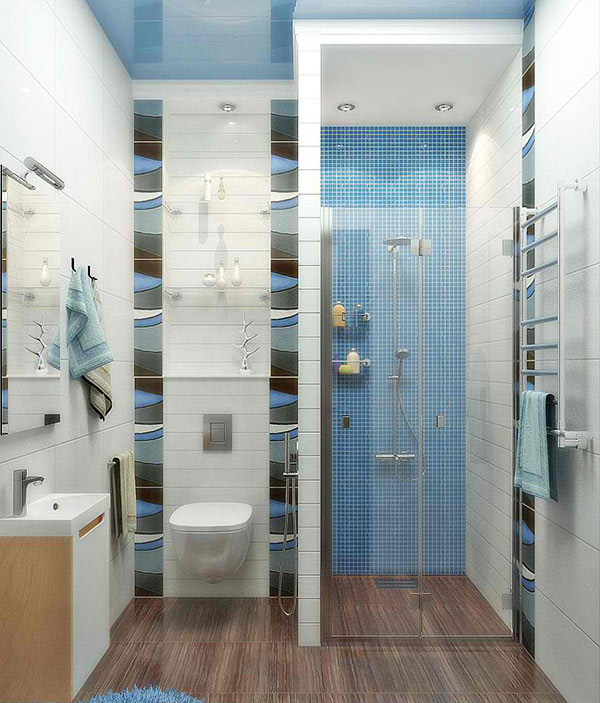 The items above the glass shelves seem to appear floating because of the transparency of the glass- lovely effect!
Captiva House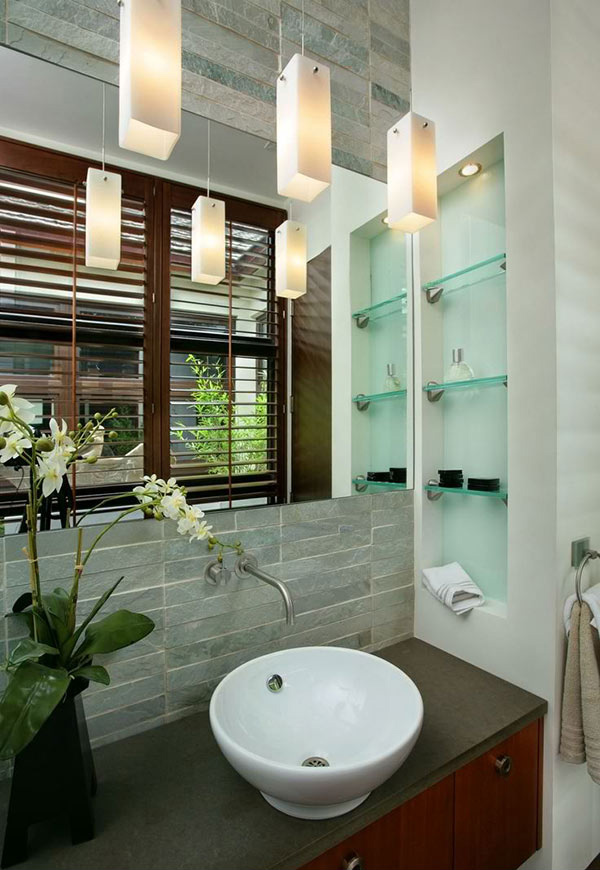 The green backsplash of this bathroom is interesting. It's a type of quartzite imported from China which was cut into strips down from much larger pieces.
Bathrooms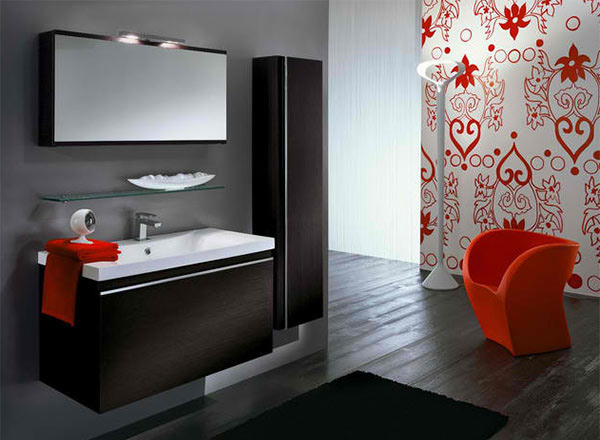 We love the color of this bathroom! But take a look at the glass shelf above the lavatory and you can see how it made the dull space lovely.
Bathroom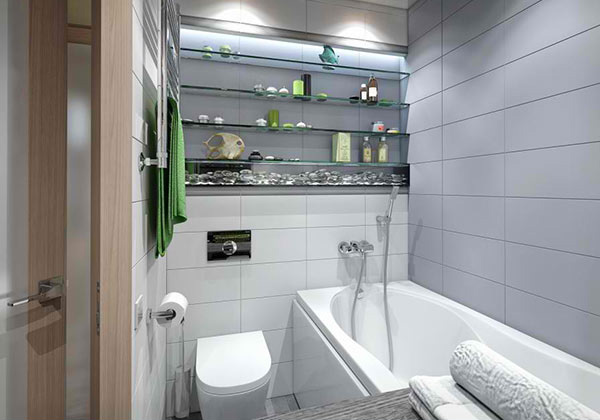 A small bathroom looks just right with glass shelves equipped with lighting.
Bathroom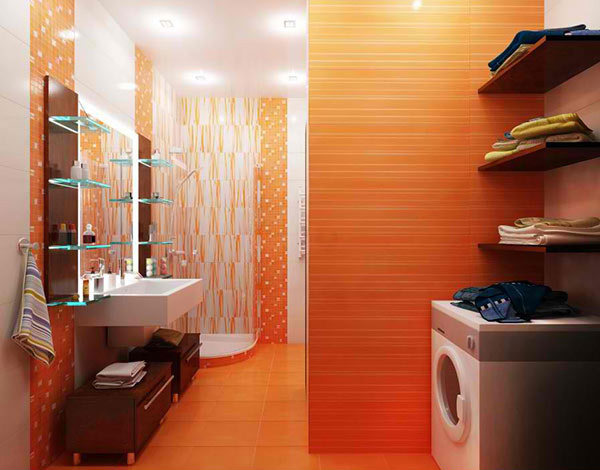 Both sides of the lavatory have glass shelving on it. Looking nice, right?
Apartment, bathroom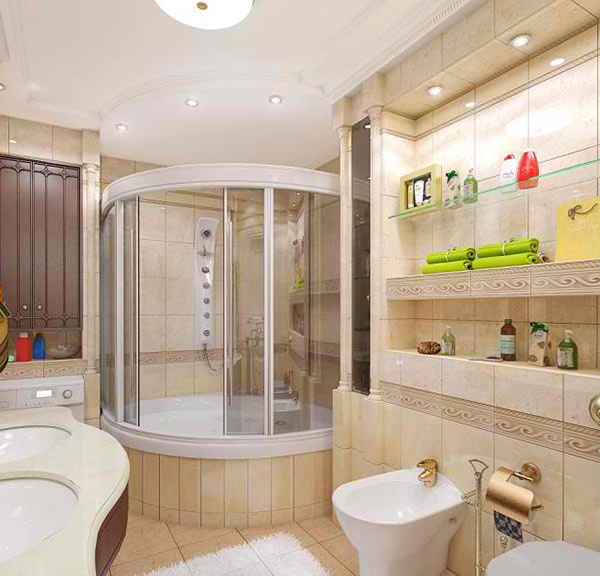 For built-in wall shelving, you can combine that with wall tiles and glass.
Even a little addition to a space can make it look different just like how glass shelves lightened up the bathroom areas above. You can also notice that each bathroom used these shelves in varying ways which can surely give you ideas on what you can do with your own. Aside from this, you can also take a look at other bathroom storage ideas and bathroom shelving designs which you could use.