20 Contemporary Bathroom Design Ideas
There had been confusion on what contemporary and modern design is because the two has some resemblance. Yes, that is true. But the thing about contemporary is that have more splashes of decorative elements in it while modern is simpler. Contemporary designs can even be eclectic sometimes like combining modern fixtures with traditional moldings for the ceiling. Today, we will show you some contemporary bathrooms.
You will be able to observe that most contemporary bathrooms uses neutral colors and that they have some natural touches. But these are all lovely and well-designed. For sure you will love this list. Now, scroll down and take a look at what we have gathered for your inspiration.
Small Contemporary Bathroom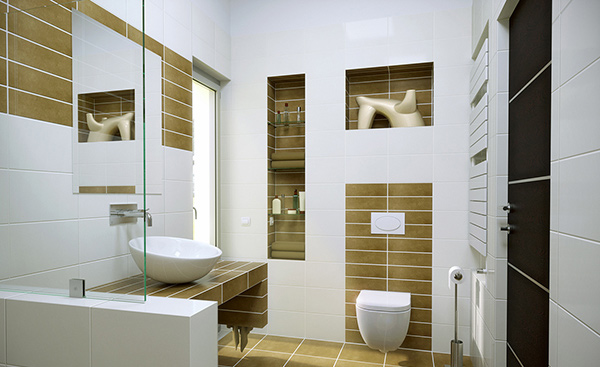 A bathroom with minimal design with subtle natural touches in its choice of color palette.
Just Visas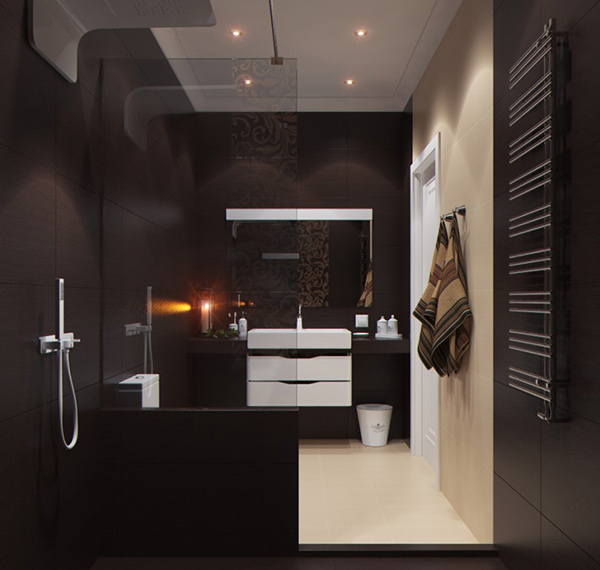 A brown contemporary bathroom with etched glass partitions in damask.
Serie Simi Beige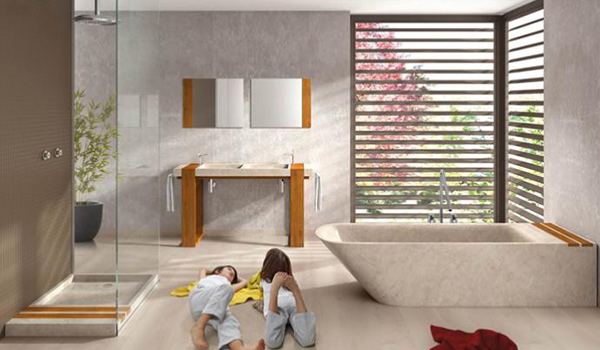 A beautiful bathroom that boasts its sleek lines and lovely neutral colors.
Contemporary Bathroom Design Idea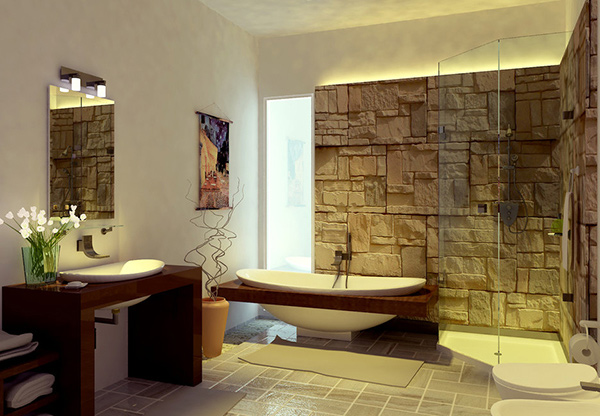 A well-lighted bathroom with the combination of natural light and artificial lighting from the spot lights. A long narrow window floods up natural light into the bathroom.
Modern Bathroom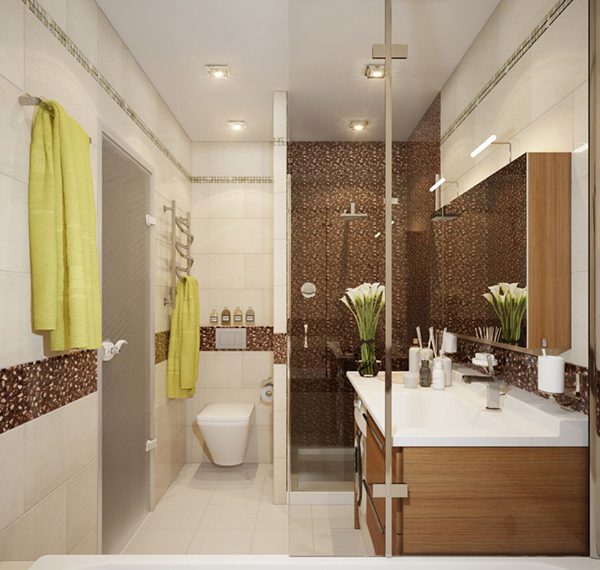 Wooden vanity with decorative wall tiles in brown perfectly suited this white bathroom.
Blue Contemporary Bathroom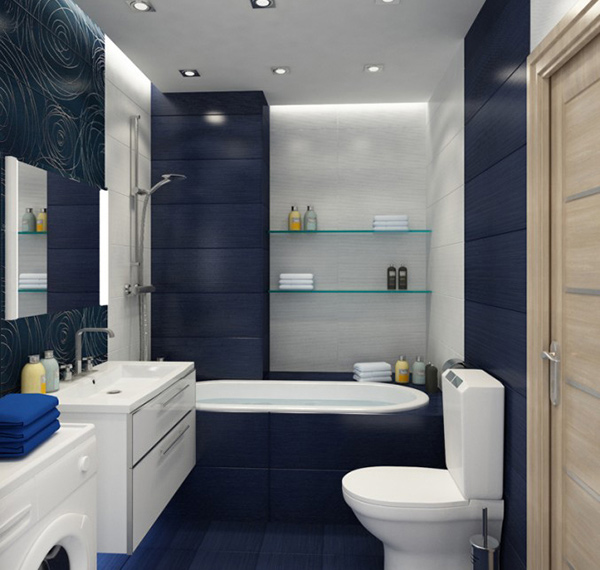 A contemporary bathroom doesn't always need to use neutral colors. It could also be blue like this one as long as it uses wood and other contemporary elements.
Big Bertha Bath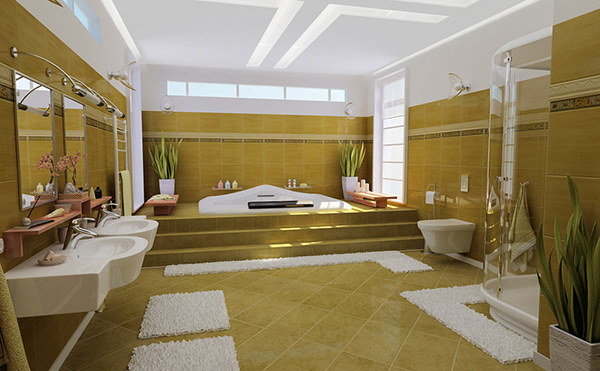 A large bathroom with good layouting and choice of colors. The addition of plants in it and even the white floor rugs enhances the look. Some detailing on the walls also upgrades its aesthetics.
Glamour G4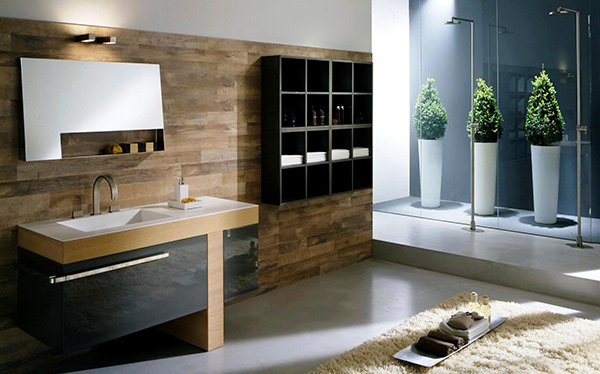 The wall color creates a creative statement for this bathroom. The T-shape design of the vanity is also one good feature.
Bathroom Interior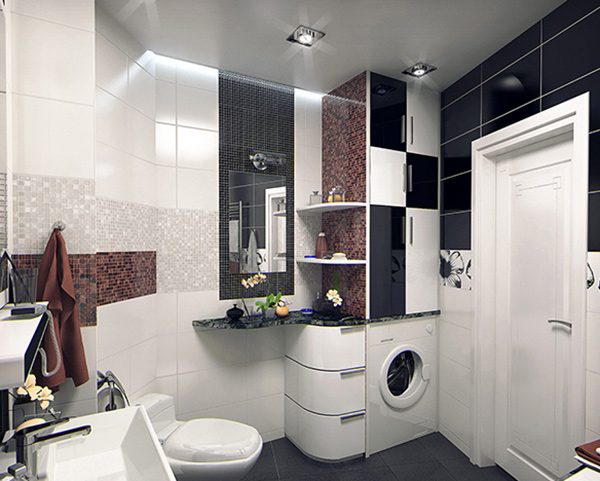 Natural variables were balanced with modern synthetic shapes in this bathroom. The designer also managed to tie in different colors and patterns.
Plan B Modern Bath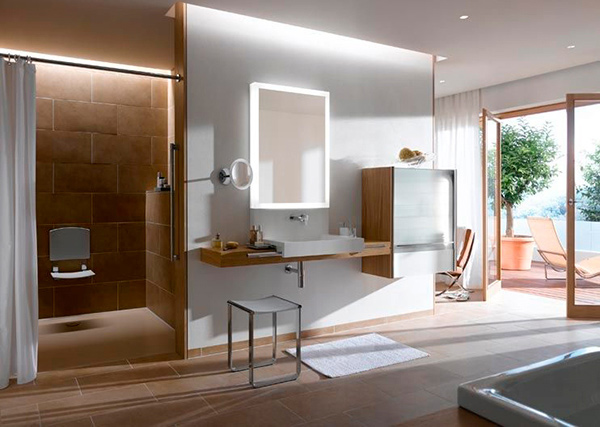 A barrier-free bathroom considering comfort first while still providing aesthetic touches.
Fonte Fashionable Bathroom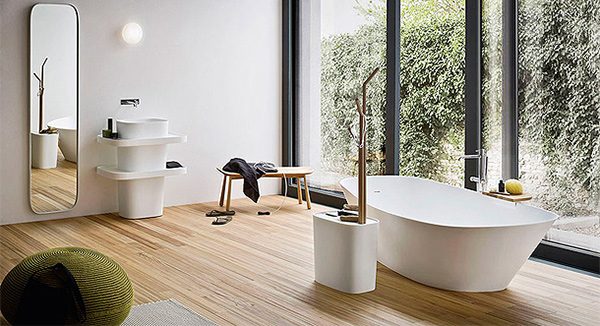 A bathroom design that is a result of the study of self-care from around the world. It linked natural and urban elements in one making it look ultra-contemporary.
Contemporary Spa Bathroom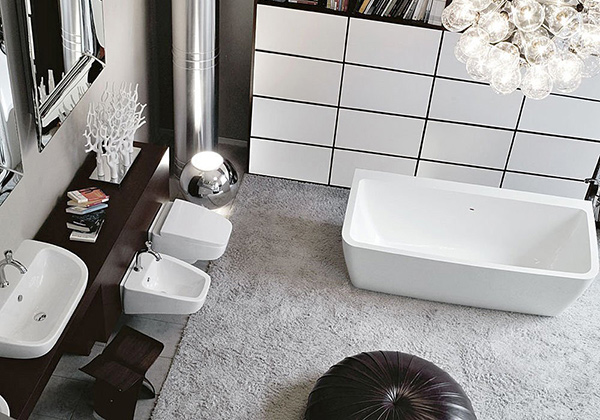 Luxurious touches are seen from its elements but it remains humble and subtle in its palette.
Green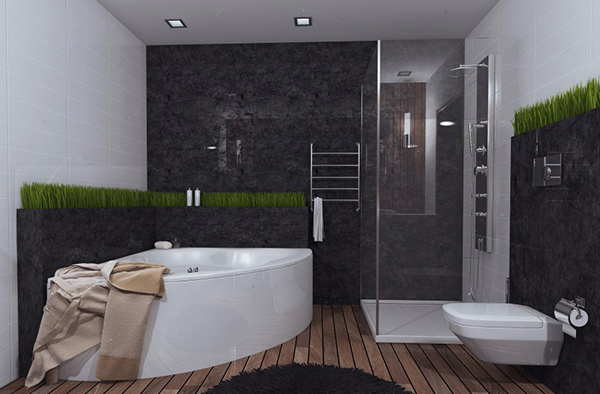 Who would think of growing grasses on top of a concrete wall that served as its planter? Well, this designer did.
Slim Collection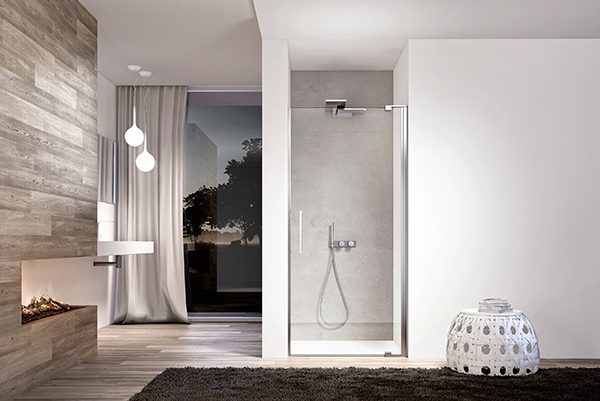 Blending functionality and visual appeal with this bathroom of top-quality features like the glass shower cabin.
Mistral Bathroom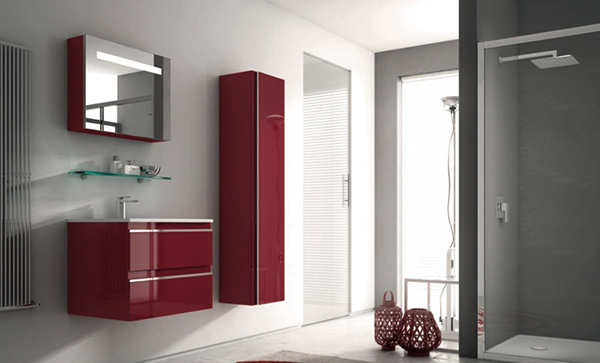 A contemporary high gloss lacquer bathroom with red accent color. Isn't this stunning despite its minimal approach?
Essenze Glam Bath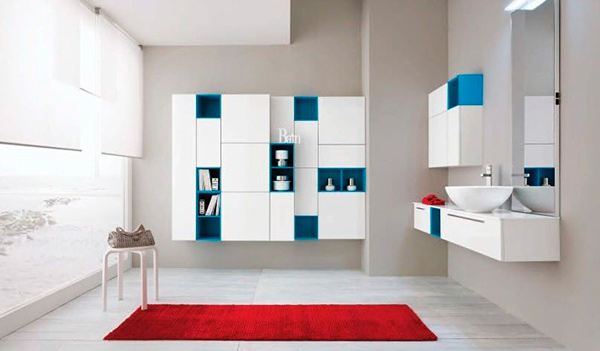 Blue and white combined resulted into this contemporary bathroom that has modern touches in it.
Libera Vanity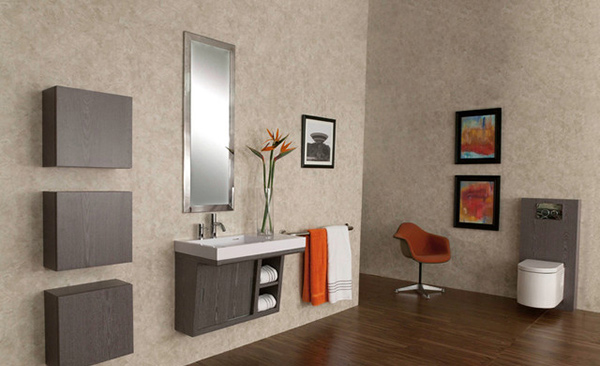 Classy and beautiful- orange as accent color adds a lively aura to this bathroom.
Bathroom Idea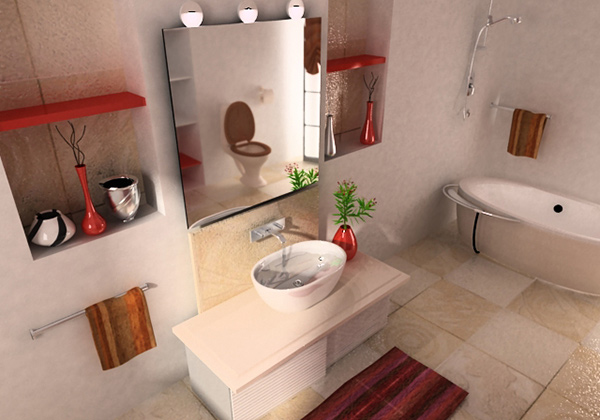 The round wooden table and the chairs are from Noir Furniture. The change pieces ever so frequently, so we are not sure if they still have these designs. Won't you agree they are plain gorgeous?
Fresh Bathroom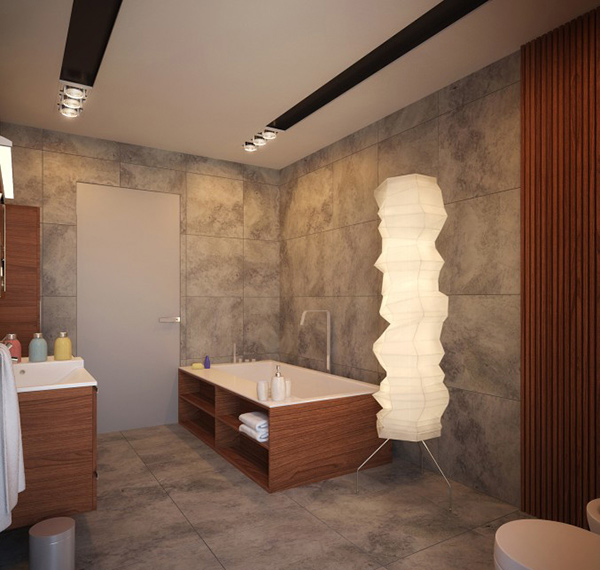 That floor light is indeed an eye catcher but the bathroom itself is already a beauty with its wooden furniture and marble-like tiles.
Contemporary Shower Room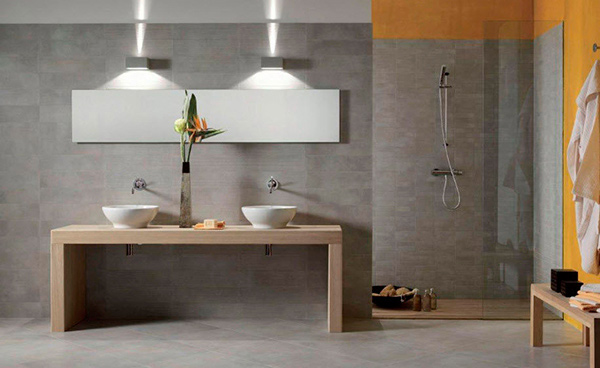 Modern lights and fixtures are used here but the design is totally contemporary.
Most bathrooms in contemporary style have some neutral colors in it and accents of red, blue, orange or green. You have seen bathrooms with those colors above and for sure you have chosen a favorite design. If want to see more bathroom designs, we have compiled some dream bathroom designs where you can find different bathroom ideas ranging from modern to eclectic ones.