20 Stunning Contemporary Dark Wood Bathroom Vanity
A dark wood finish for your vanity will bring in some warmth to your bathroom.
Bathroom vanities are important because it serves a function that is all throughout necessary for bathroom usage. It holds the sink where we wash our hands, brush our teeth and other tasks. It also holds the mirror where we can check ourselves and even put make up on. There are also storage spaces under the vanity where some bathroom supplies or even cleaning materials could be stored. Above the vanity, shelves can also be added to hold important items that are used every day. But bathroom vanities aren't just there for such function. It can also add to the beauty of the space too especially that these days, bathroom vanities offer a wide variety of features that are appealing and functional.
Most spaces these days are either contemporary or modern with sleek bathroom furniture and design. We can see that in some previous round ups we have done before. Today, we collated contemporary bathrooms with dark wood vanity. Dark wood could bring in some warmth to the space and could add some visual appeal to your bathrooms too. Since the bathrooms I gathered have contemporary design, they all look neat yet sophisticated. If you are planning to have a contemporary bathroom with dark wood vanity but isn't certain if it will look appealing for your space, then this is the list you need for reference.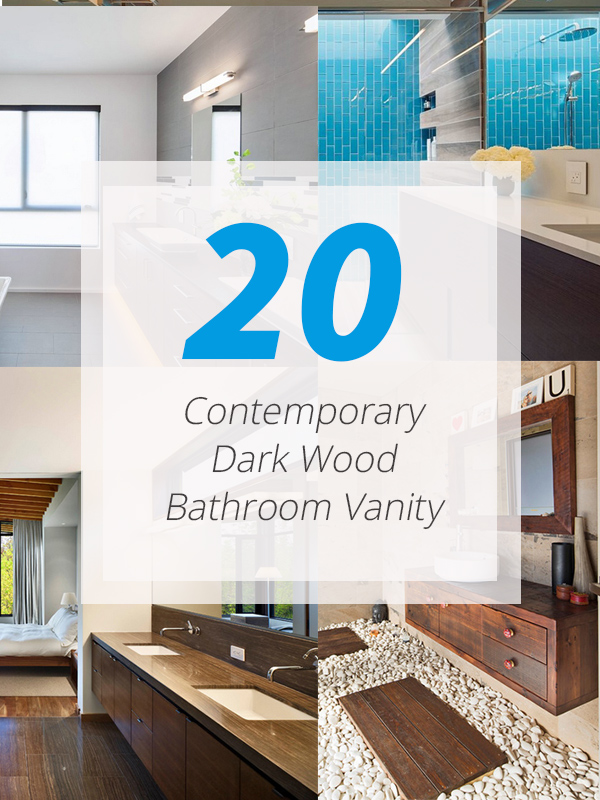 1. Boston Luxury Real Estate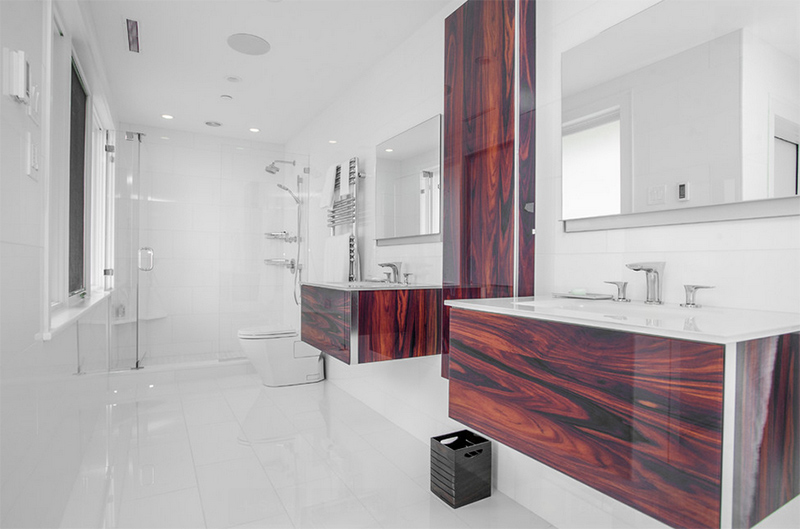 A contemporary bathroom in Boston with flat-panel dark wood cabinets, an alcove shower and white tile. What I love here the most is the finish of the cabinets.
2. Art Collector Los Angeles
Beautiful, right? If your bathroom is spacious and you want two sinks for your vanity, then this design would be a good fit. And it has some textures on the wall tiles too.
3. Espresso and Chrome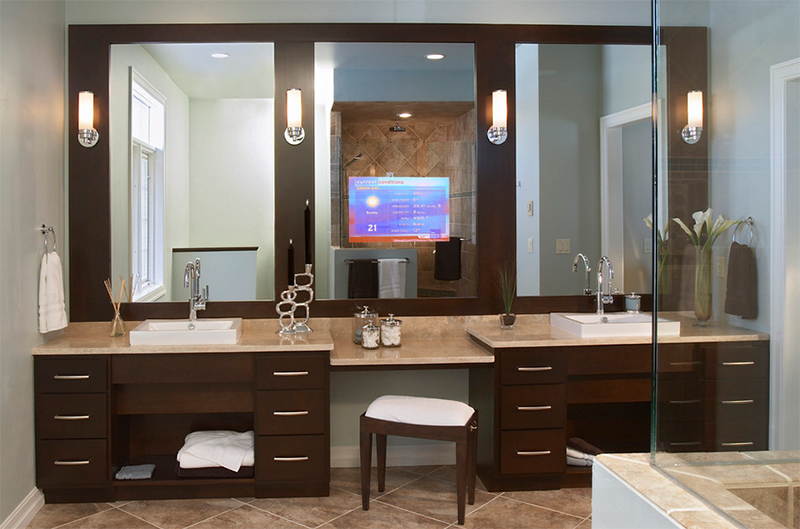 A bathroom vanity that has a makeup table at the center. I am sure every woman would love to have one like this. With the looks of it, it is a luxurious bathroom with mirrors and wall lightings.
4. Feature Homes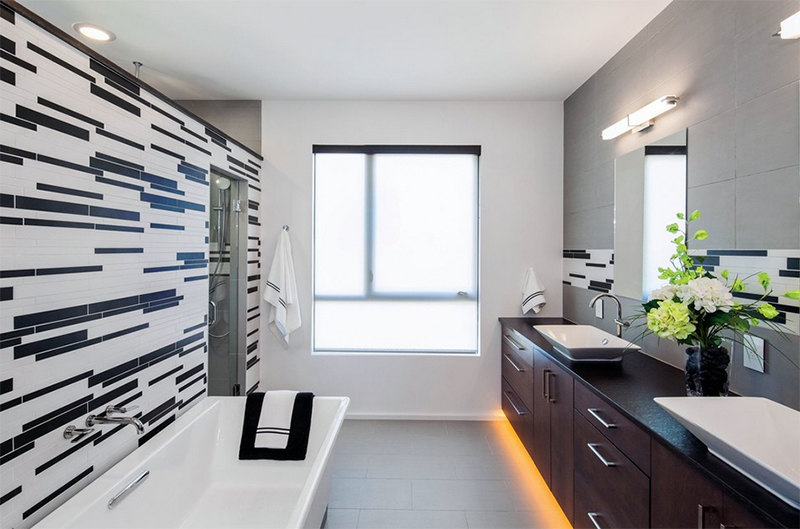 I like what they did to the wall of this bathroom. The vanity is lighted under it making it look more appealing and highlighting the floating effect. Beautiful design, right?
5. Woodlawn House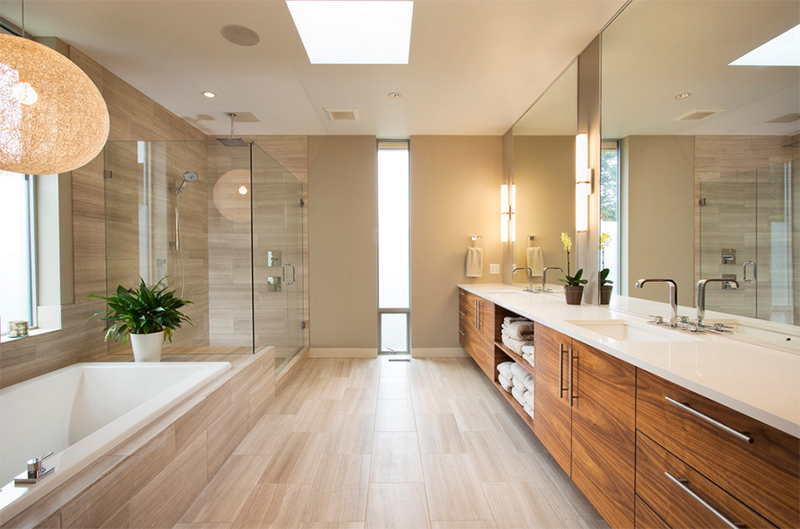 The contrast of the vanity cabinet and the flooring is just gorgeous. I also love the addition of the windows and other glass items as well as the huge mirror since it made the area appear brighter.
6. Yorba Linda Bathroom Re-design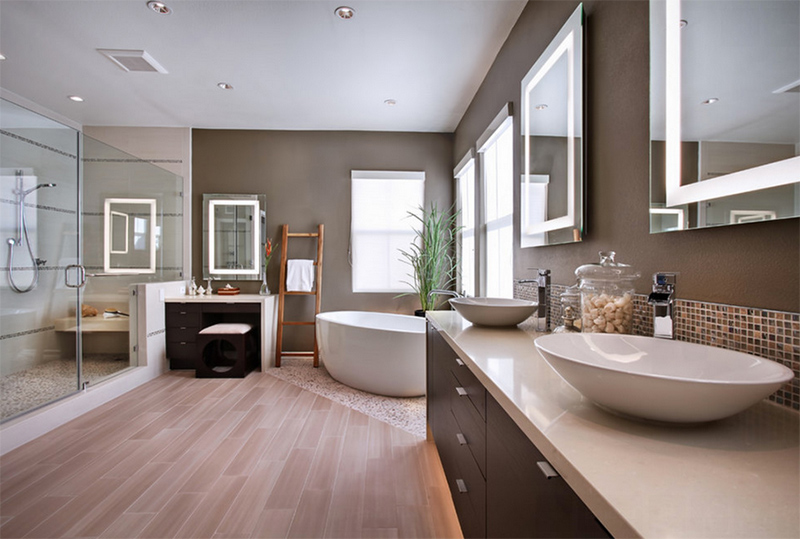 This bathroom has a Zen touch on it. A bamboo ladder and some stones on the floor are used here. The shower area has glass around it with the same flooring as the one under the tub. And yes, it has a dark wood finish for the vanity and makeup table.
7. Bathroom – Floating Vanity Lyptus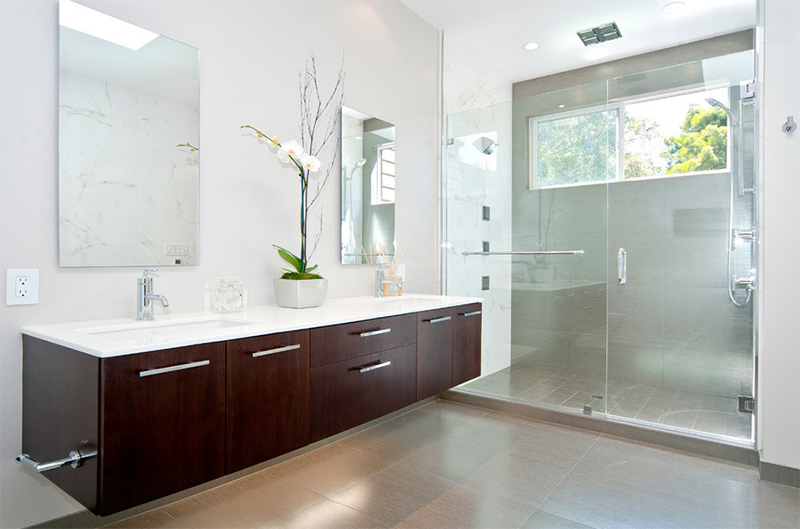 A simpler look for a vanity that is raised from the floor. Note the sleek look of this one but with a similar function as the other bathrooms' vanity. This has a shower area too that is enclosed of glass.
8. Swanbourne Duplex 2012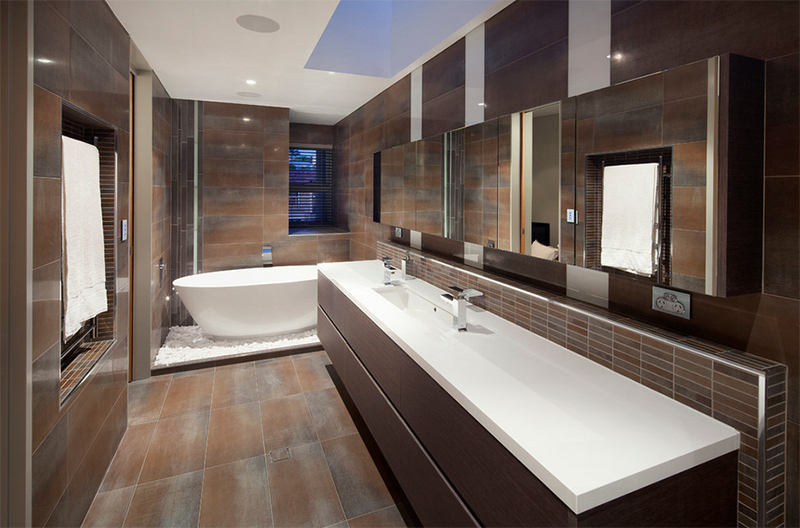 Despite the dark finish of the cabinets, brown wall tiles and dark rustic tiles, this bathroom doesn't appear dark after all. That area with the bath tub breaks all the dark colors with its all white tub and stones.
9. MODERN LUXE BATHROOM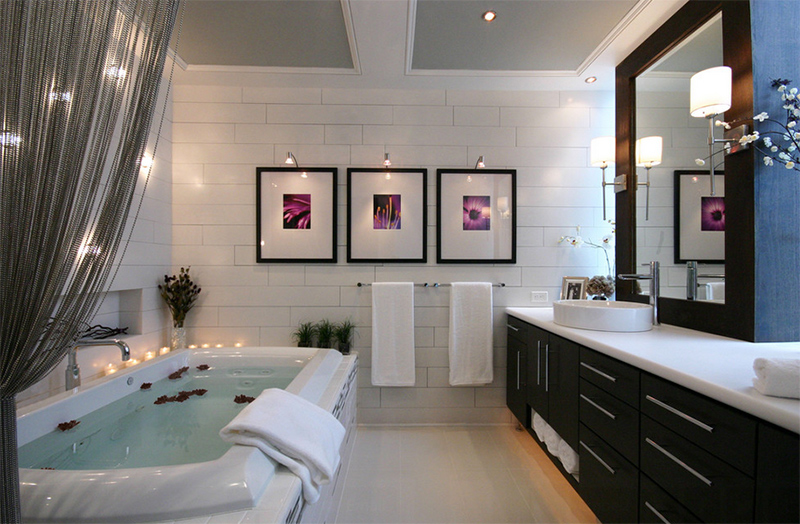 This romantic bathroom is an update and reorganization of a bathroom which is done within the existing footprint for new master bedroom, master bathroom, master closet, linen closet, laundry room & front entry. The owner loves a spa and modern style.
10. My Work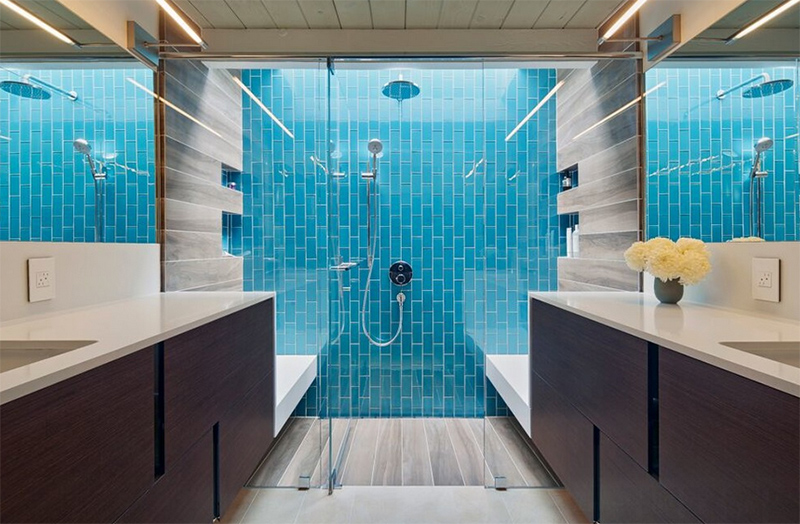 Blue walls on a contemporary bathroom? Why not? It looks pretty amazing with the texture of the wall and floor tiles. And the twin cabinets on both sides in dark wood finish adds more beauty to the area too.
11. MAR VISTA MODERN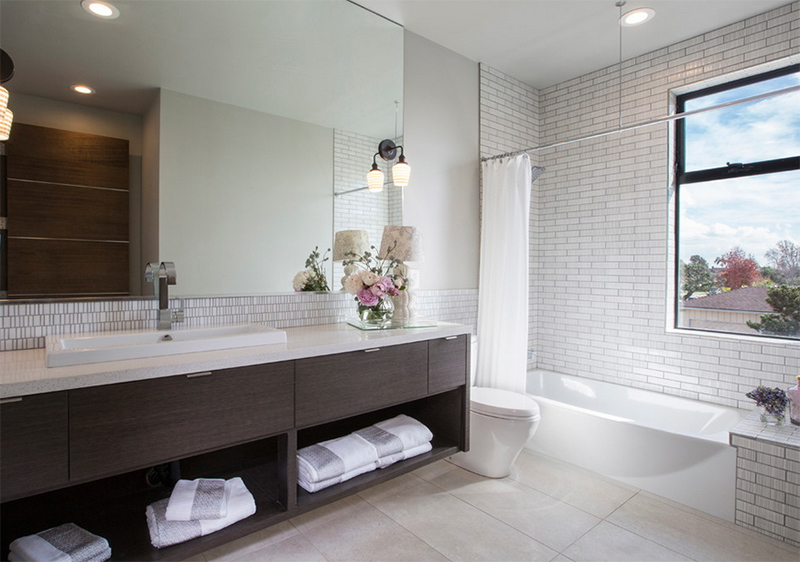 I love the backsplash of the vanity and how it opted for open shelving below the drawers. Lovely, right? It does look good which made it look more spacious. The wall tiles bring some classic touch to it too with a modern twist.
12. Alta Collingwood Chalet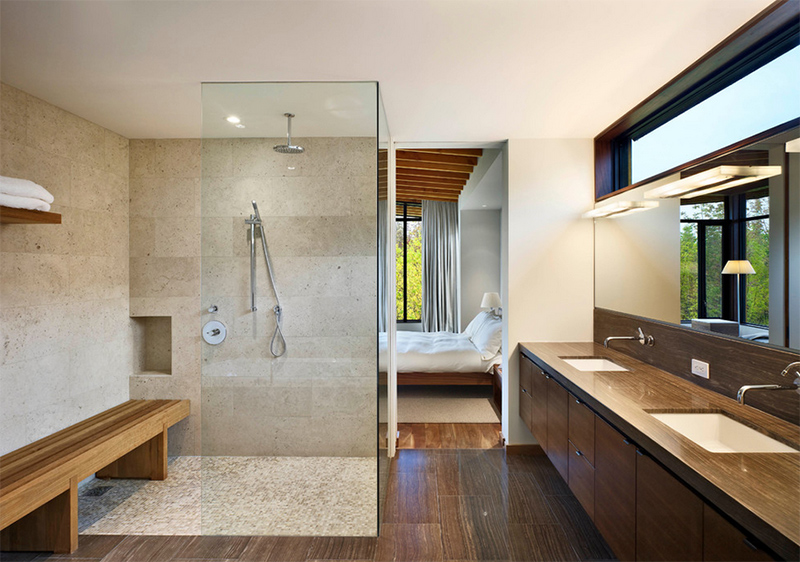 Dark flooring and dark vanity- why not? It looks nice together and the overall look is definitely appealing. Wooden features really look beautiful anywhere you use it especially when matched with natural textured tiles. And yes, this is a bathroom ensuite as you can see the bedroom.
13. Modern Craftsman Master Bathroom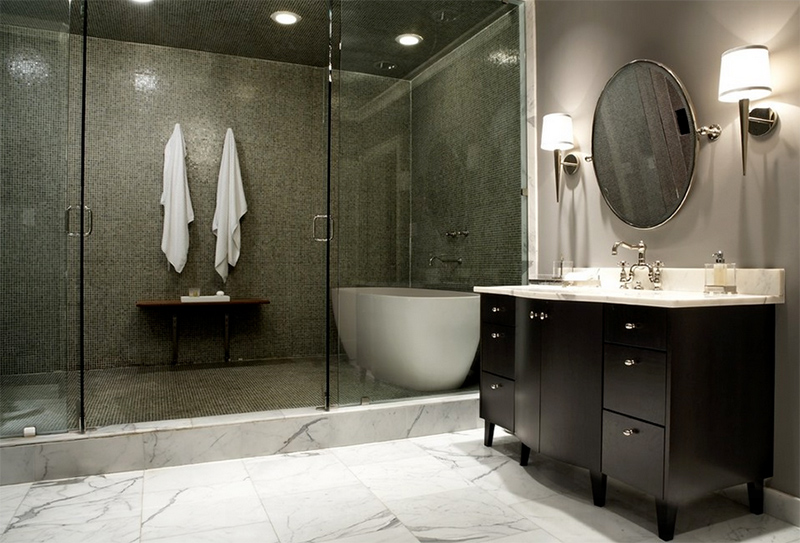 If you think a dark ceiling doesn't work, it does. Mosaic tiles are used for the shower area while marble-like texture is used for the tiling on other areas of the bathroom. A small vanity with legs is used here.
14. Bathroom Remodel- Studio City, CA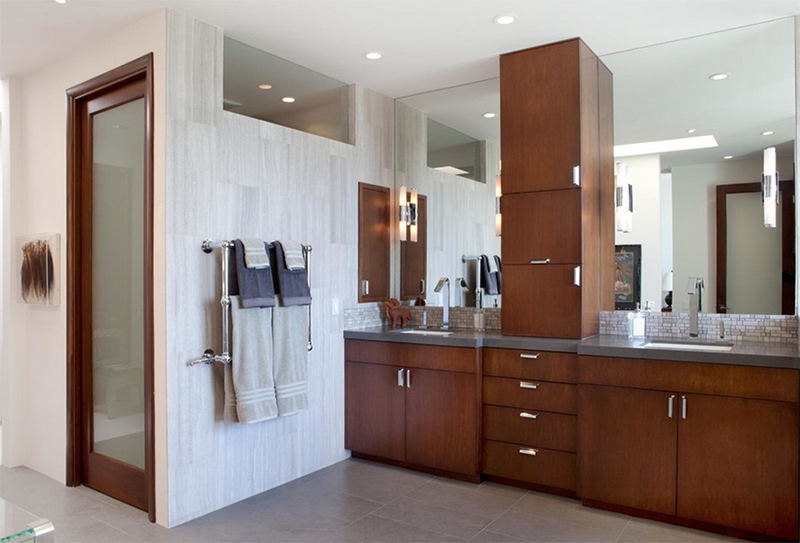 A vanity with dark wood finish and a tall cabinet on the countertop. It has drawers and a cabinet too. If you want plenty of storage spaces, this is the one for you! Notice the beautiful walls too!
15. Treemont Transitional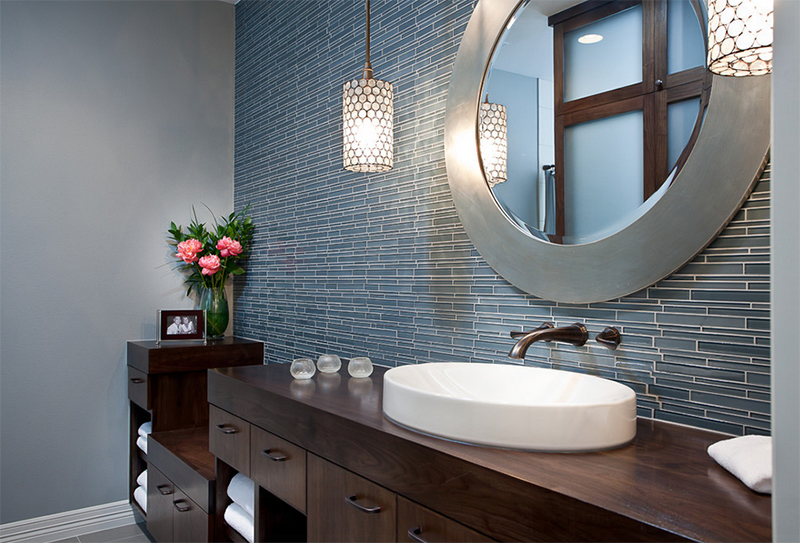 Love that wall tiles! In truth, it is what I first noticed when I saw this bathroom. Take a look at the drawers of this bathroom with rustic appeal, they come in different sizes which will let you choose which one you want to use in storing your items.
16. Bicton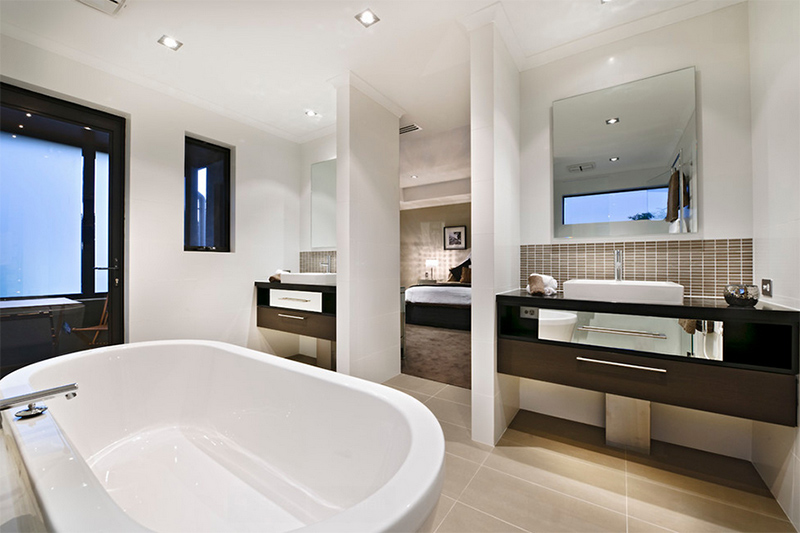 Two dividers lead to the bedroom while two floating vanities were attached to the walls. Beautiful decorative wall tiles are also used for the bathroom too just above the vanity. Notice the design of the drawers. Very sophisticated!
17. St Regis Bal Harbor, Florida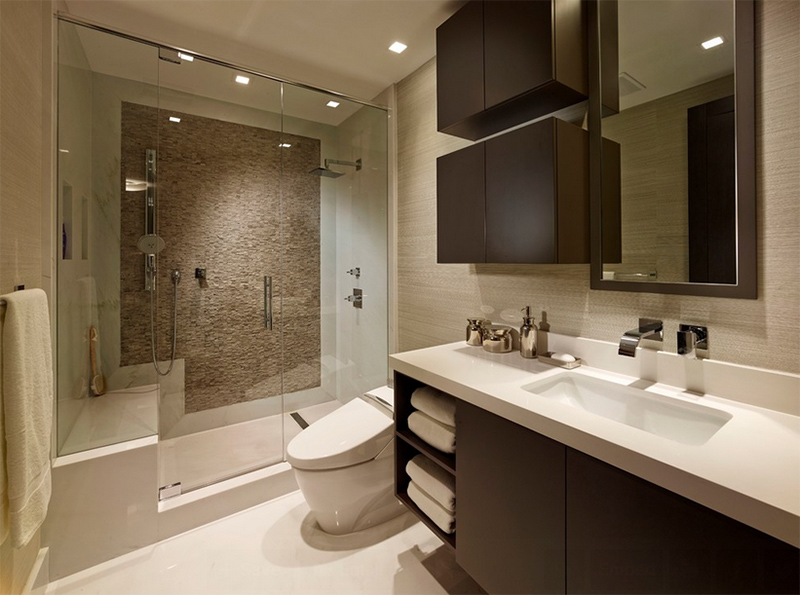 Pair wall shelves with a vanity using the same finish. It does. You can also use the same finish for the frame of the mirror too. This gives them a cohesive appeal!
18. Newtown House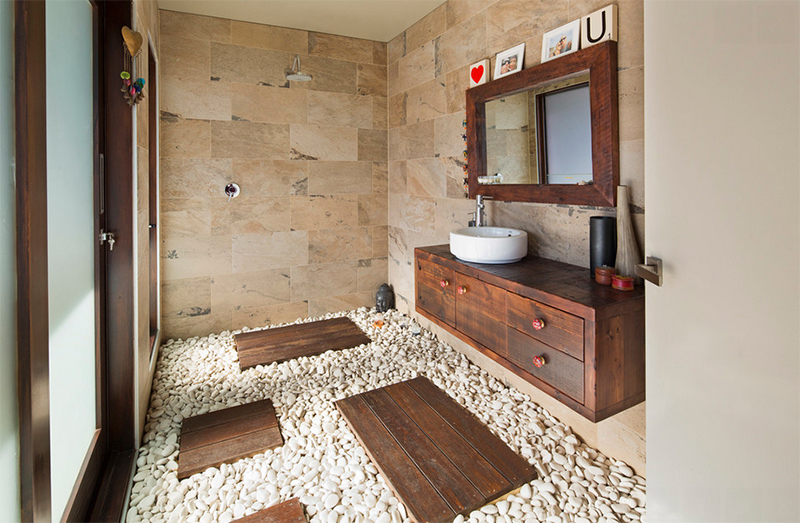 There is some rustic appeal to this contemporary bathroom. I love how it is decorated and its dark wood finish. The shower is installed on the wall on one side which you could barely notice. It would be nice to shower in a bathroom like this.
19. Glamorous Bathrooms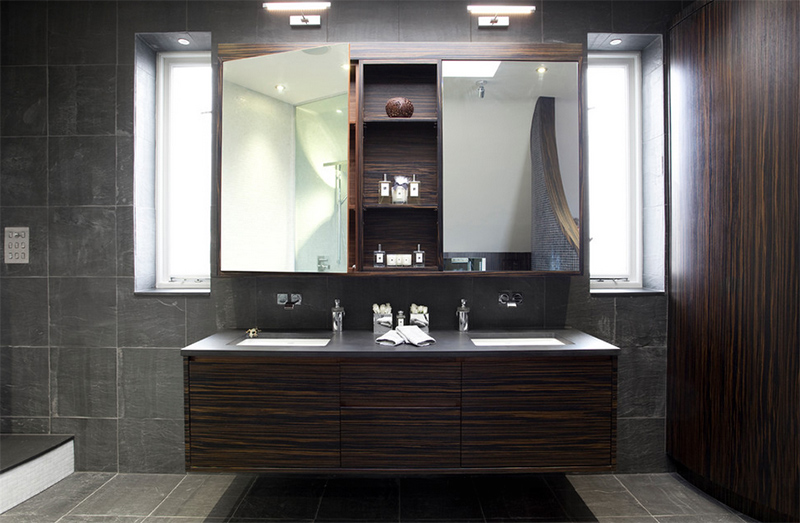 This is beautiful. I like its sleek lines and how a shelf is placed in between two mirrors. And the mirrors? These are actually doors for the cabinet. Now tell me if you won't be impressed.
20. Award Winning Large Bathroom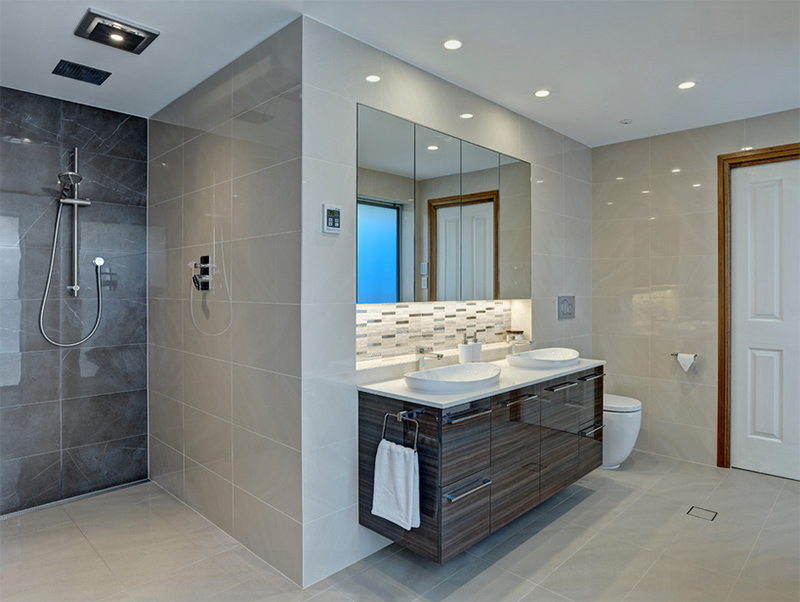 I have seen different angles of this bathroom and it is really a beauty. That vanity with some natural looking lines and it shiny finish sure made it look very eye-catching. It actually broke the monotony of the color gray in the bathroom.
Beautiful, right? The above bathroom designs are indeed stunning and functional! It sure fits the needs of the owners of these spaces and you can see how each one has a distinct function depending on the kind of space of the bathroom. Dark wood finish has a great impact to the spaces as it brings a different level of beauty and style. You have seen that the bathroom vanities featured above have different designs that were especially tailored for the bathroom layouts and to the needs of the owners. Aside from this kind of finish, you can also try various cabinet finishes from light wood to colorful ones. We would feature other vanity finish soon so you can easily compare and decide on which one fits your bathroom.