How to Decorate a Large Bathroom for Better Function and Style
A bathroom is an important part of the house and it is also one of the areas where in cleanness is given emphasis. Aside from that, the design of the bathroom is also vital which varies according to the preference of the homeowner. Every homeowner wants to make sure that his bathroom is relaxing and comfortable to use. To make it more comfortable, some homeowners opt to have a large bathroom space. This gives them more freedom to place certain fixtures and accessories. They are given more freedom to be creative in a large bathroom.
But apart from creativity, it is the bathroom's function that needs to be given more emphasis first. So, if you want to decorate a large bathroom for both style and function, we will help you do that. A large bathroom should be divided into the dry zone and the wet zone. With that, the shape of the bathroom should be considered. After that, other things will follow. Here are 10 tips to help you decorate a large bathroom.
1. Choose a color scheme.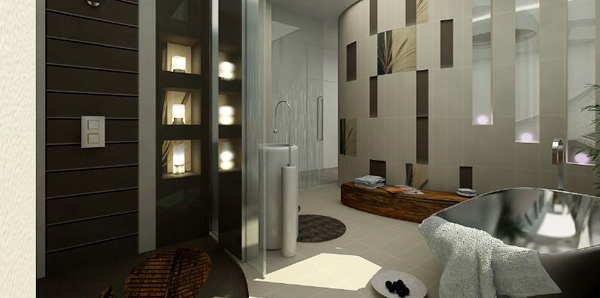 The bathroom's color would depend on your taste. Usually, bathrooms should use basic colors like white and gray, then you can pair it with bolder colors like red or blue. Choose your colors and let it complement with the interior of the entire house.
2. Place functional bathroom accessories.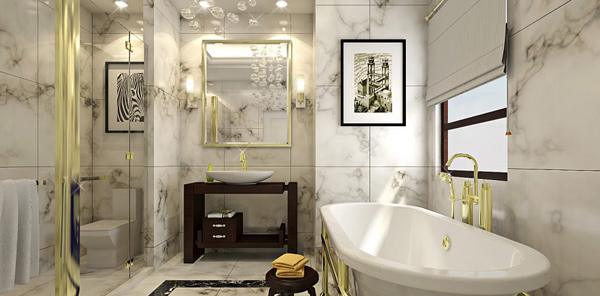 Your bathroom would need some accessories in order for it to be more functional and friendly for the home owners. Place a toilet paper holder, a small closet or cabinet, towel rack, mirror, hand soap holder and others. After placing the basic items, you can then add some other stuff that can add beauty to your bathroom.
3. Add a vanity set.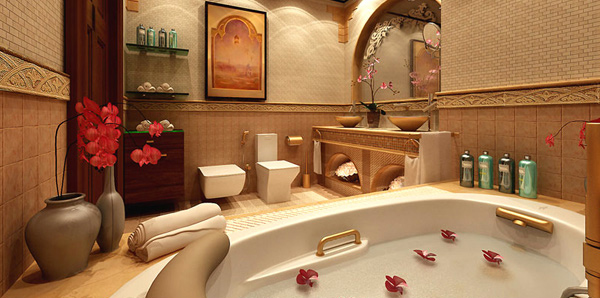 Your bathroom will surely be a nice place if it has a vanity set. You can pair that with an armoire to store some stuff like washcloths or towels. To maintain consistency inside the bathroom, you can purchase your vanity set together with your furniture decors. This way, they will look as one.
4. Have a seating area.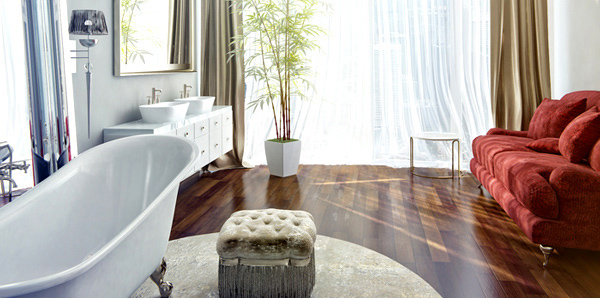 You can add a seating area where you can take a rest. Maybe, If someone is with you, at least, your guest can also stay on the area while waiting for you to finish preparing. It can be a longue or a sofa or small chairs. Match it with a table if you want to.
5. Provide proper lighting.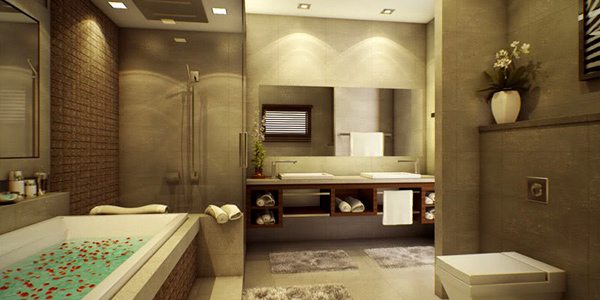 Make your bathroom well lighted. Place ceiling lamps in areas that you want to highlight. You can place one near the shelf, the bathtub, vanity set, toilet, shower and other places. Some bathrooms place a chandelier not just to lighten up the place but also to add a more luxurious look.
6. Choose materials for decorating.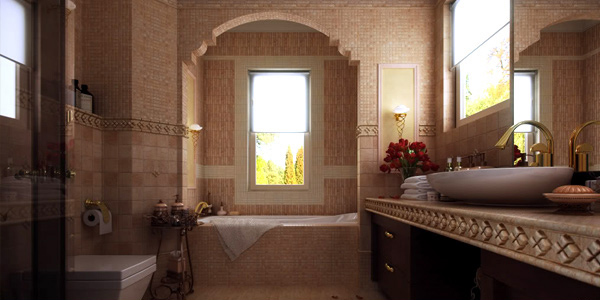 When decorating larger bathroom spaces, one can choose from using glass, tiles and even stones. Just be sure that what you choose to use will complement with the others. See to it that it can blend with the other elements in the bathroom. Choose properly to avoid the bathroom to look crowded and bulky.
7. Install mirrors.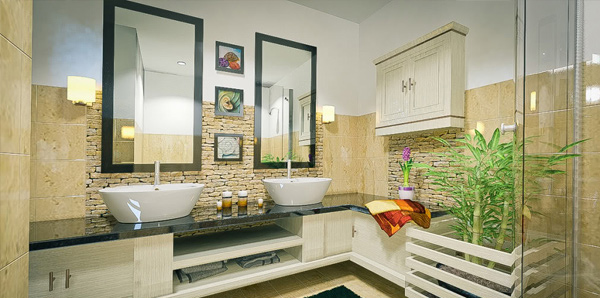 Your bathroom won't be complete without mirrors. Place mirrors beside the sink and the vanity set. Also, place a full-length mirror so you can see your entire look. This is a must have for a bathroom especially if yours is a large one. Mirrors can also make the place look more visually larger.
8. Add flowers and plants.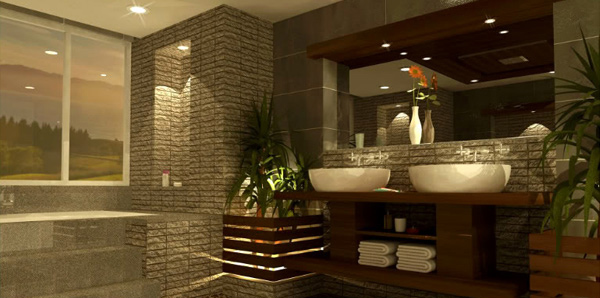 Bring in some green into the bathroom by placing fresh flowers or an ornamental plant. But you have to choose plants that can live on humid areas. If you cannot find one, then you can resort into using artificial plants. This could give a similar effect, although a real plant would be a lot better.
9. Provide enough storage.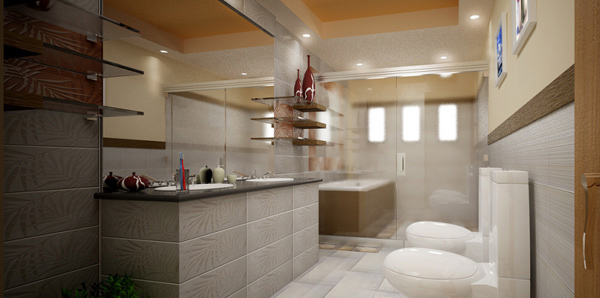 To avoid clutter, place some storage areas in the bathroom. You can keep your toiletries and cosmetics here. Allocate space for bath towels, too. It would also be smart to have an area where to place cleaning materials. This can help you organize stuff inside.
10. Place natural colored cabinets and furniture.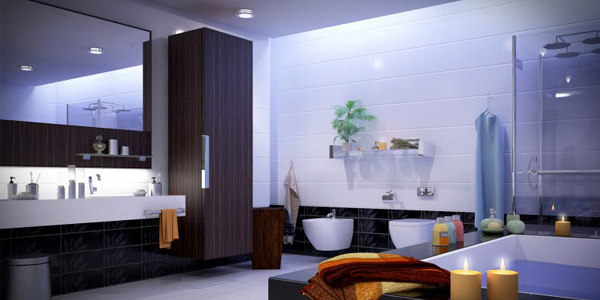 For your cabinets and furniture, you can use natural color like the shade of wood or maybe you can use white or beige. These colors can blend well with your chosen color for the flooring, walls and ceiling. You can opt for either horizontal or vertical storage for your cabinets. Make sure your furniture uses materials of good quality that can stay long.
For sure, you will have a good time taking a shower inside a large bathroom with the decoration and design you love. So, maximize the use of the available space in order for you to have a comfortable bathing time. You could also look into other designs for bathroom and bathroom designing tips for a more comfortable living.