Black and White Wallpaper in 15 Bathrooms and Powder Rooms
Wallpapers are used in different areas of the house even in the bathroom. But of course you have to make sure that you pick the right wallpaper for the bathroom. Pick moisture-resistant wallpaper. You can ask that from the wallpaper seller since they know about what you will need. Others would advise you to put a layer or two of clear acrylic varnish on the walls over the wallpapers to preserve them from moisture.
Today, we will be feature bathrooms and powder rooms that have black and white wallpapers in it. Each space may have a different style in the interior but they are all adorned with beautiful wallpapers in black and white. Take a look at these spaces below:
Portland Mid-Century Modern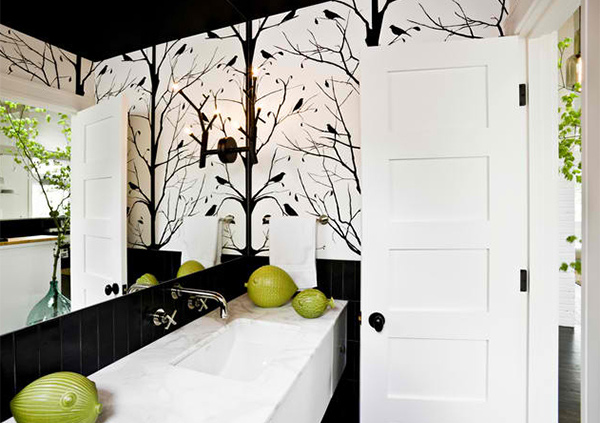 Black ceiling with black and white wallpaper with lovely branch details plus the lime green decors- who would not love this look?
Chic Powder Room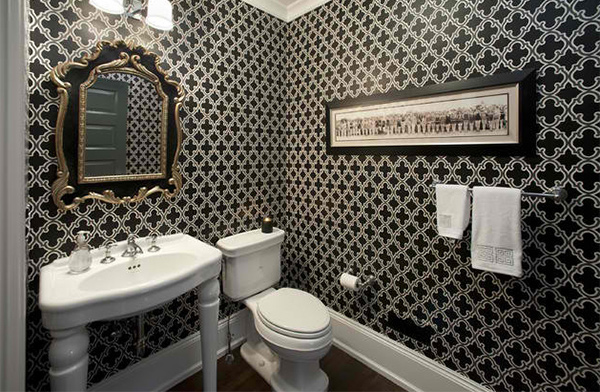 The wallpaper in this chic bathroom is from Brester Wall Covering's Ink Collection called Black Ironwork. Isn't it lovely?
House in Poland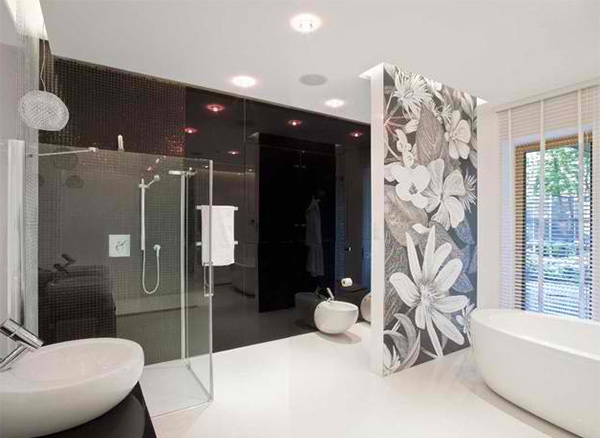 Putting wallpaper on part of the wall even for a partition could be one good way to upgrade the look of a bathroom.
Modern Home In The Middle Of St. John's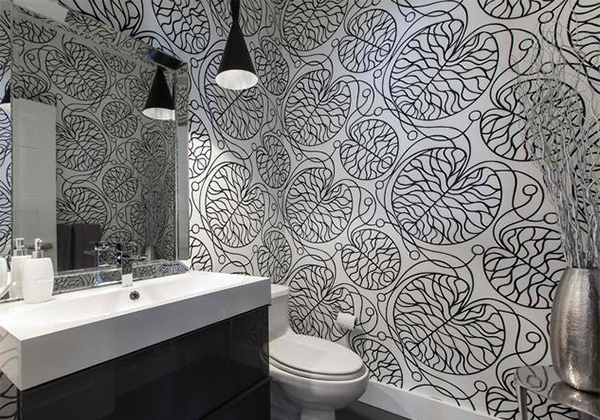 Lovely leaf designs in heart shape covers the wall of this modern bathroom.
Graphic Half Bath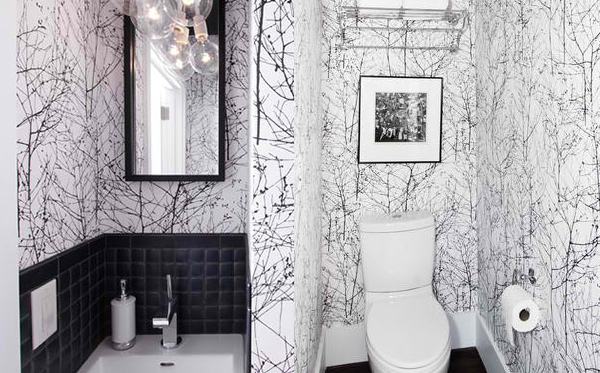 This could be a small bathroom but with the added graphic wallpaper, it is given a bit of texture and classic playfulness.
Black & White Powder Room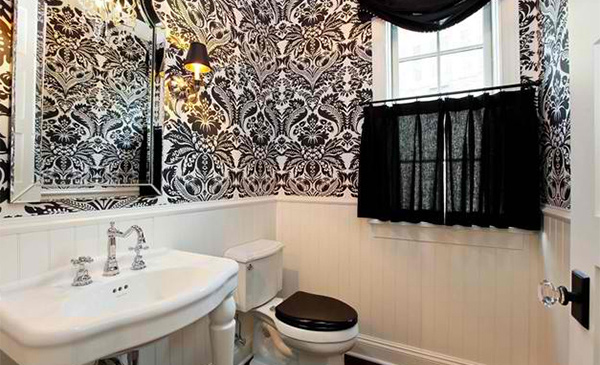 The interior is designed by Martha O'Hara Interiors who provided this stunning damask wallpaper in black and white.
Formal Powder Room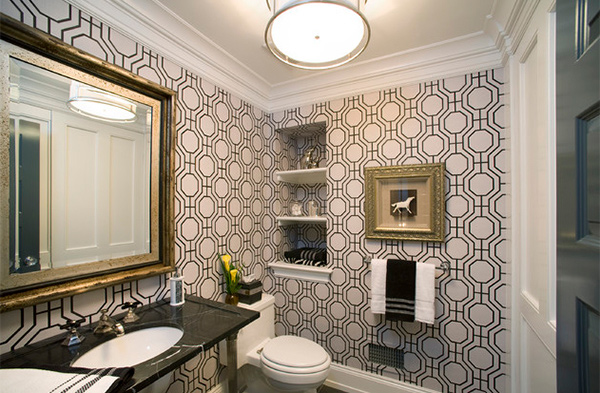 A pretty bathroom with a wallpaper in geometric print from Sherwin Williams.
1644 Residence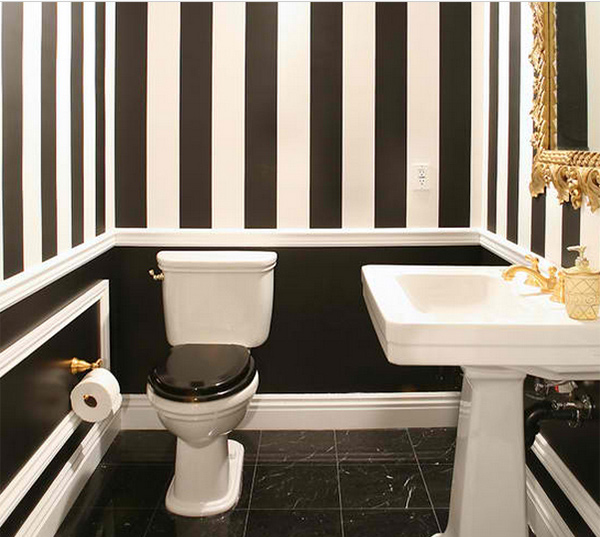 The gold and black accents of this bathroom are very stunning. The wall paper stripes are 5 1/4″ while the bottom part is painted in black.
California Home + Design Showhouse (Bath)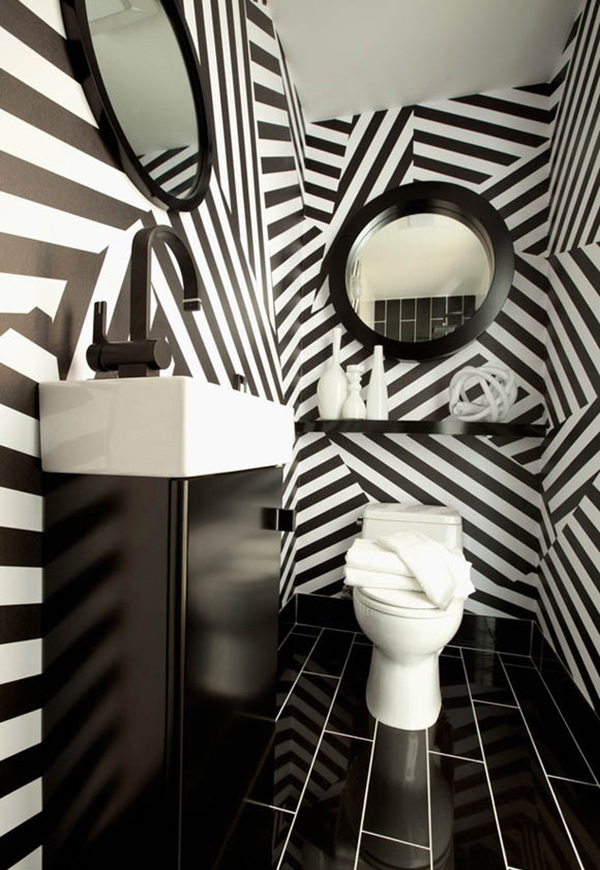 This modern bathroom is very artistically done with this wall paper in varying stripe design.
Classic Black & White Bath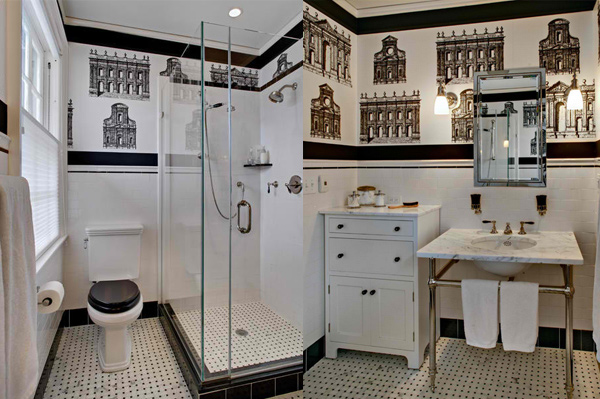 The upper part of the wall is covered with this wallpaper with some classic building designs on it giving the space that vintage appeal.
Back in Black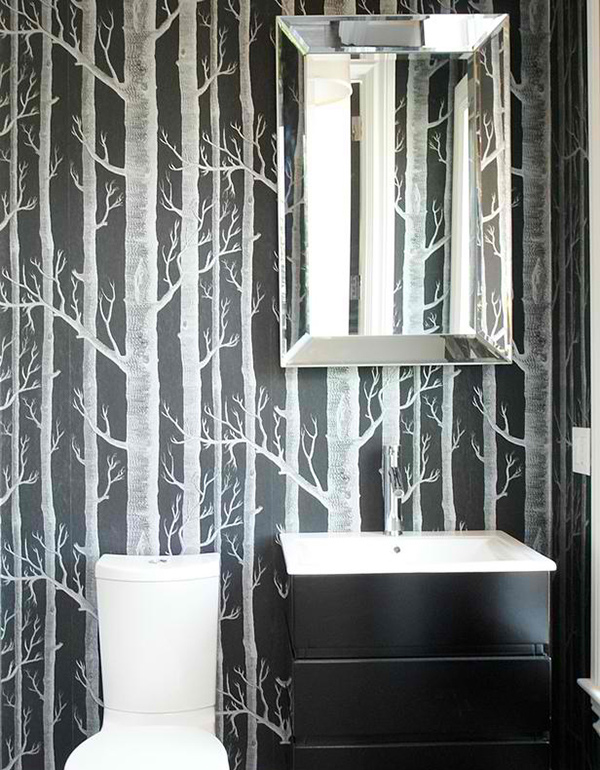 The designer of the bathroom said that there was a lot of natural light in the bathroom which is the reason why she did not hesitate to use a black woods wallpaper.
The Vicarage – Georgian Grade II listed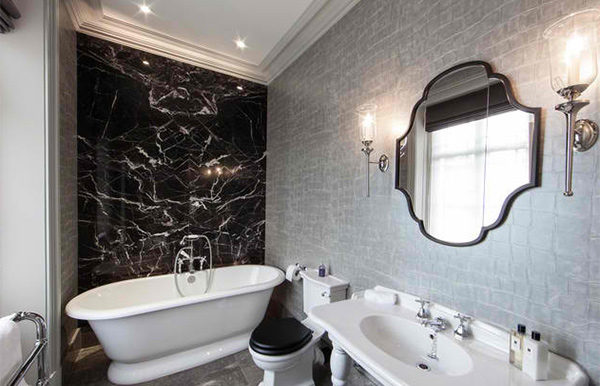 That marble-like design on the wall near the tub adds an instant beauty to this bathroom.
Landsdowne Road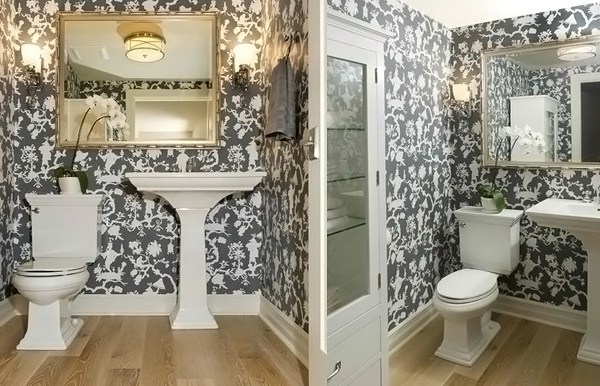 A unique powder room with a warm wood floor.
Black and White Graphic Wallpaper Bathroom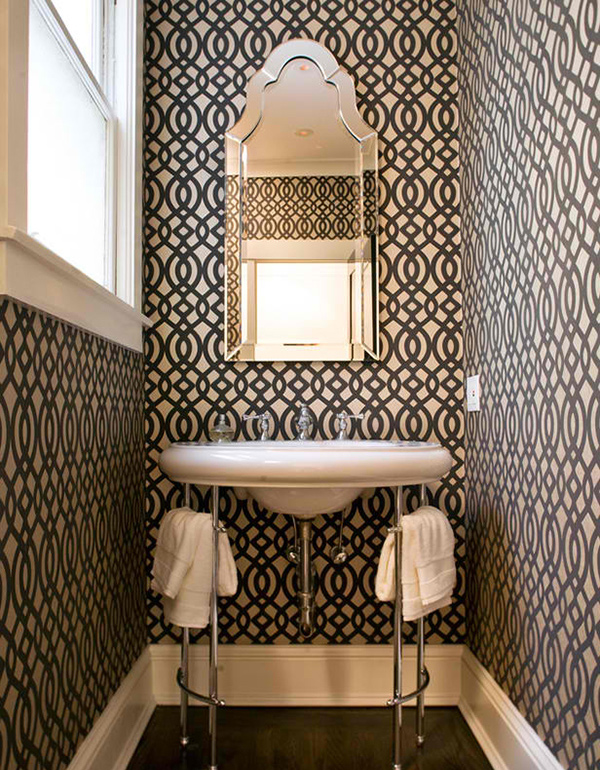 Graphic wallpaper with a plant design adds dimension to a small, black and white powder room.
Cardigan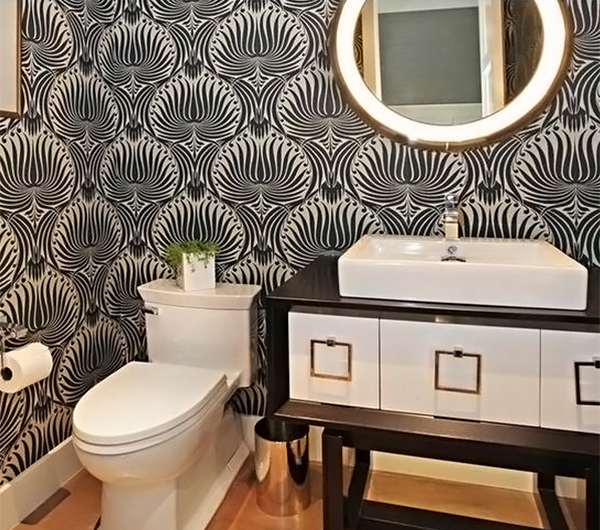 Geometric wallpaper from Farrow & Ball adorned the walls of this small powder room.
Black and white will never fail even for a bathroom or a powder room. You can see how lovely the printed walls look whether it covers a part of it or the entire wall from floor to ceiling. But if you do not want it to be in black and white, you can always pick wallpapers in bold colors too. You can also take a look at bathrooms with creative prints on the wall for more inspiration.