25 Beautiful Farmhouse Style Bathrooms
Whether or not you live in the country, you can enjoy a simpler way of life by decorating your home in farmhouse style. From a Midwest farmhouse filled with early American antiques to a bright and sunny New Hampshire home that embodies good cheer, we would give you great ideas to get that inspiration for your home!
Today, our theme will be applied to the bathrooms! There are a few things you can add to your bathrooms for that more farmhouse feeling – bead boards, open shelves, wooden counters or cabinets, white tiles, counter tops and so much more – but seeing the pictures below will surely get your artistic auras out!
1. Amagansett Modern Farmhouse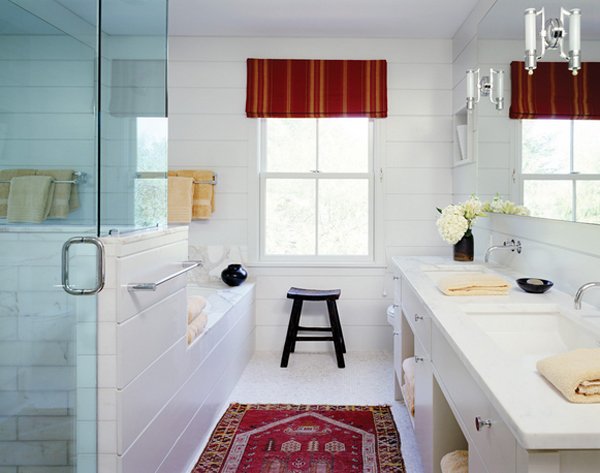 This is one bathroom with a fun shower and bath combo. Accent of reds were used to make this white bathroom more lively.
2. Barrington Farm House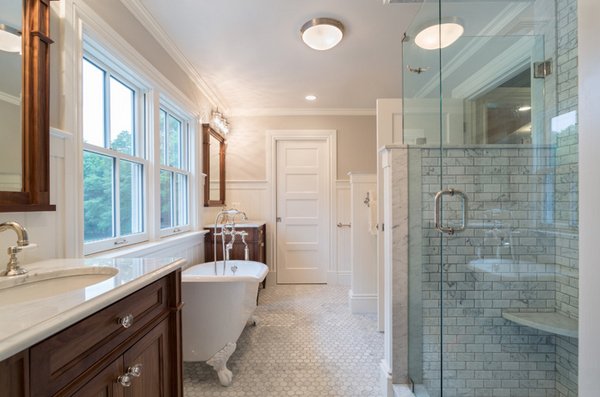 This Master Bath recreates the character of the farmhouse while adding all the modern amenities. The slipper tub, the stone hexagon tiles, the painted wainscot, and the natural wood vanities all add texture and detail.
3. Calistoga Farm House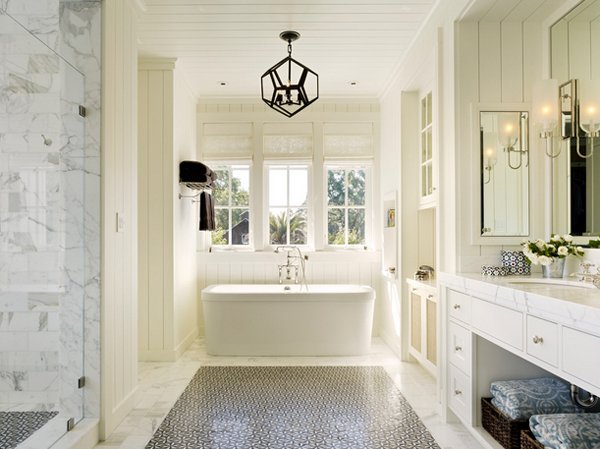 I like the layout and tub of this master bath, would like same tiles for floors and subway-marble around the shower. Also would like a small build in vanity area. White paint with horizontal wood panels in white as accent on some walls.
4. Charlotte Chrys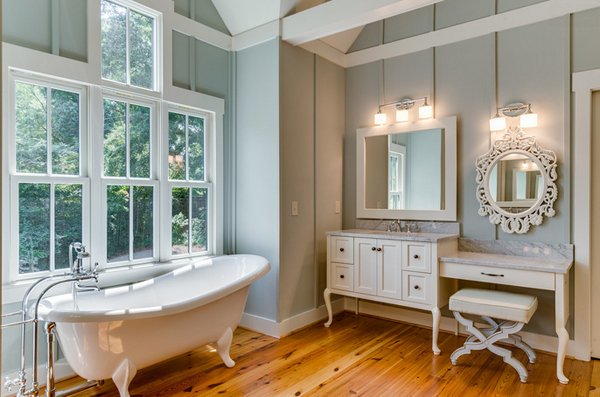 If you like this bathroom – notice that the table used for the vanity was actually ised in the bedroom before; it was just repurposed for the bathroom.
5. Cole Farm Residence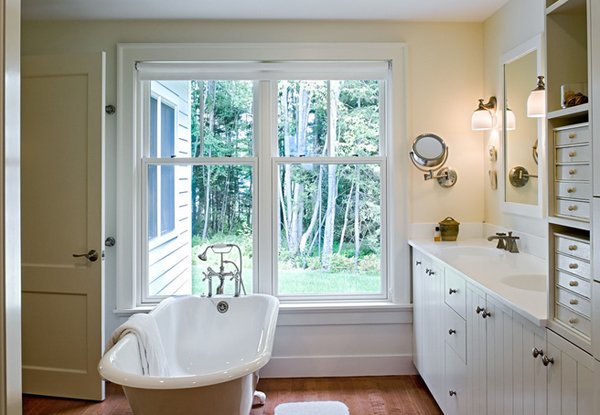 The window style proportion of this bathroom is really charming. But of course this window is suggested for homes that does not really have a close door neighbor!
6. Collier's Barton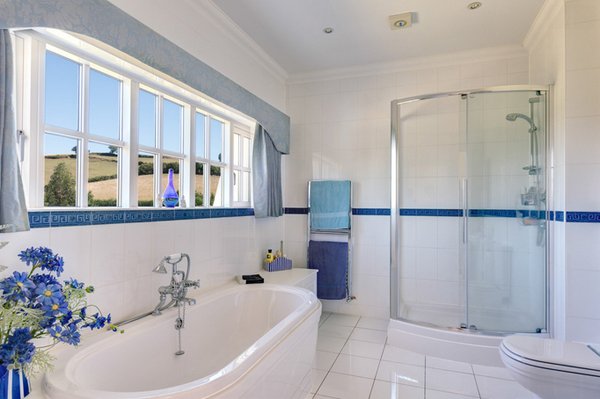 Bathroom with shower cubicle and bath made for two! Oh I like this bath!
7. Connecticut Farmhouse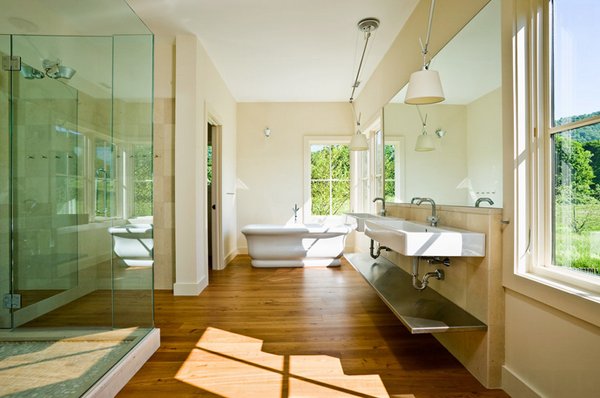 How do you like the style of the bathtub? It makes the space feel more open and somehow really spacious!
8. Equestrian Farmhouse
I do not really fancy the wall paper, but take note of the stunning cabinet and lavatory and tub that this bathroom have!
9. Farmhouse Attic Master Suite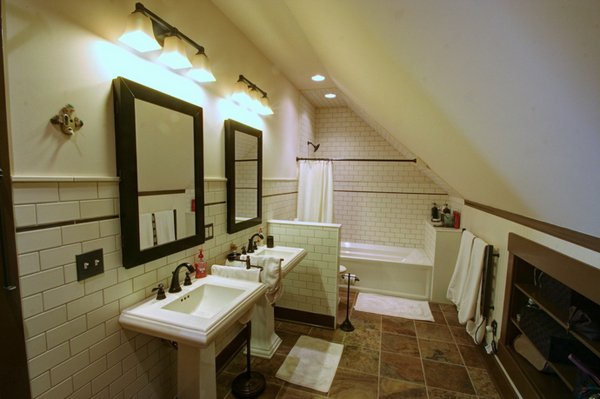 This is s good bathroom design for small spaces – I think this space needs a bit of storage.
10. Hampton Hall – Farnsleigh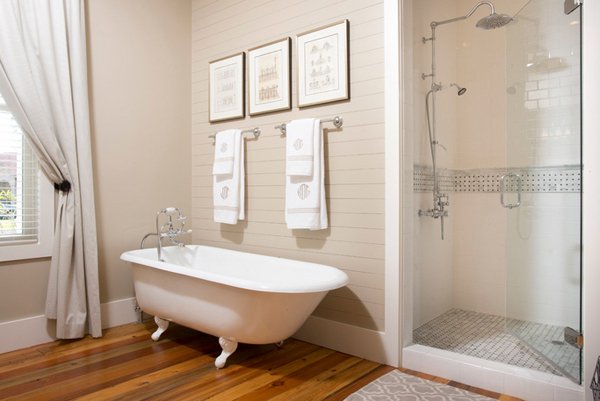 Like the shower concept with the rest of the room. They are so different from each other.
11. Historic Farm House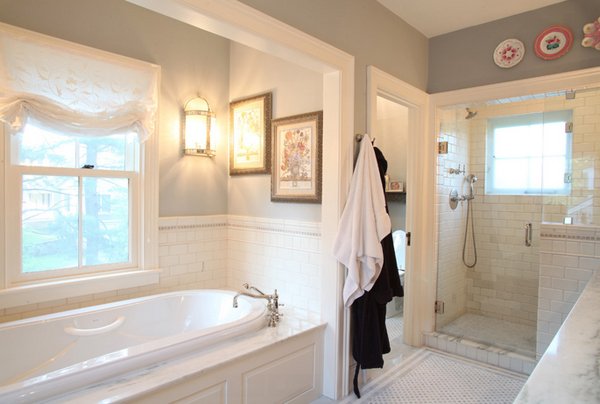 This "drop in" free standing tub a lot more practical and efficient. I love the subway tile with the small floor tiles and the grey walls too.
12. Lake Elmo Greek Revival Farmhouse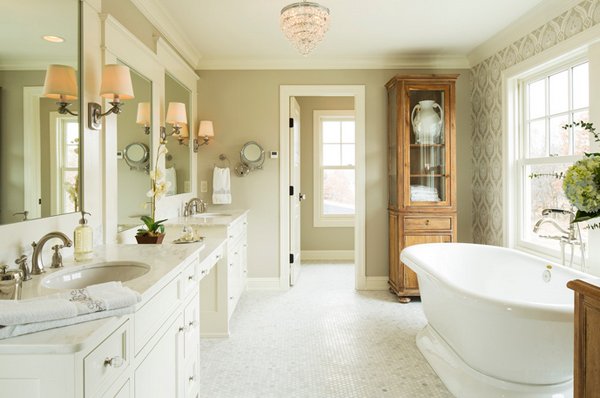 This Greek revival farmhouse bathroom in Minneapolis is the only bathroom on the list. I love the fresh feel, soft colors and big bathtub with what we can only assume is a spectacular view.
13. London Luxurious Bath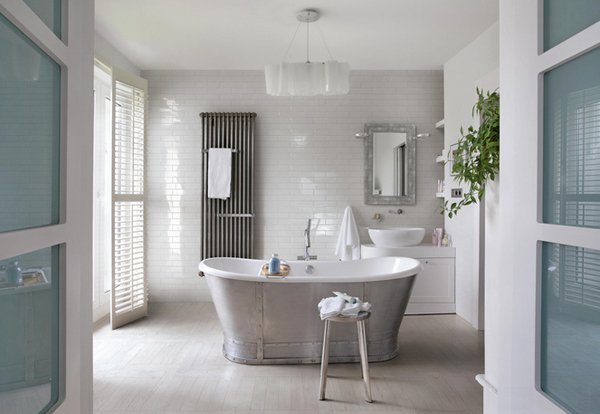 Look at the cute tiles used in the walls and in the floors! Plus I personally love the tub and the mirror! I hope this is my bathroom though!
14. Los Angeles Master Bathroom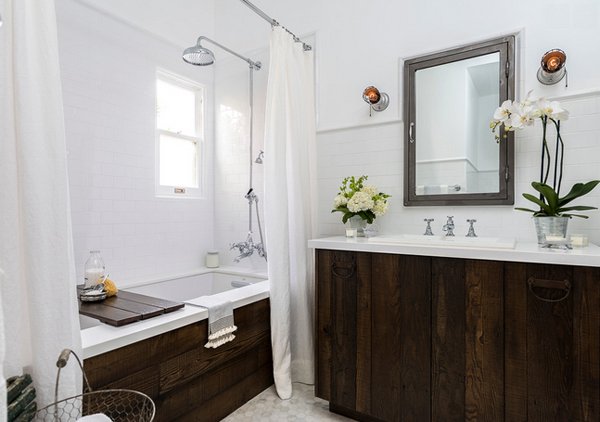 A charming vintage inspired space complete with swap meet finds, new custom pieces, reclaimed wood, and extraordinary fixtures.
15. Milwaukee Bathroom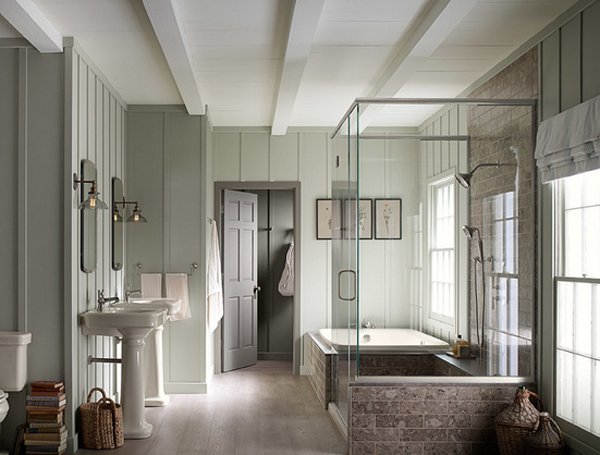 This beautiful bathroom has a good shower to bath transition which anyone would like!
16. New Country House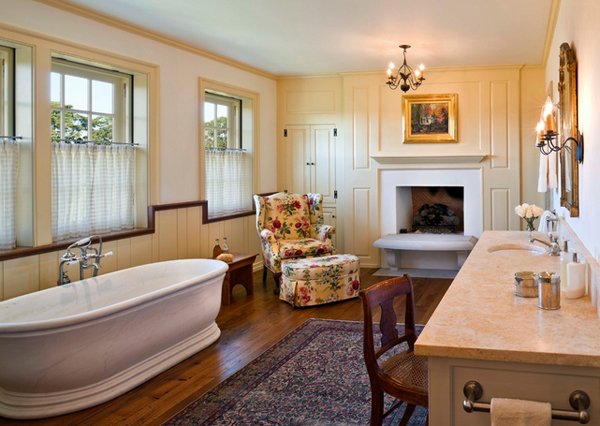 This is one master bathroom that you can really live in! Homey feel added to the space by the floral arm chair and foot rest.
17. New York Cottage Bathroom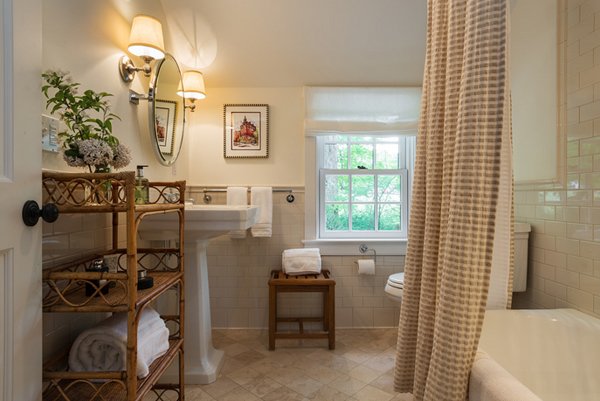 Four things I love about this bathroom – the mirror, vanity, shower curtain texture and color. Stunning space right?
18. New York Farmhouse Bathroom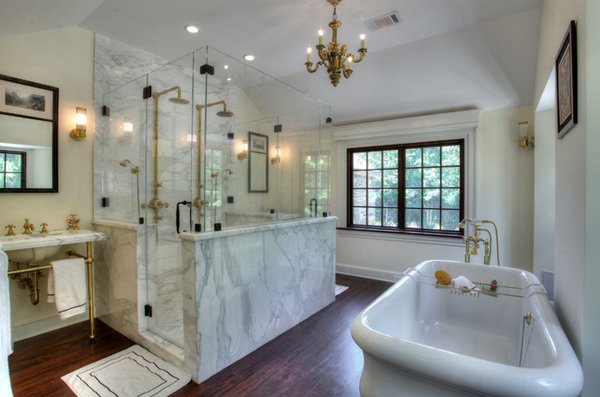 The empire freestanding rectangular bath tub is gorgeous – and even notice the etoile exposed shower! I can live here!
19. Portland Modern Farmhouse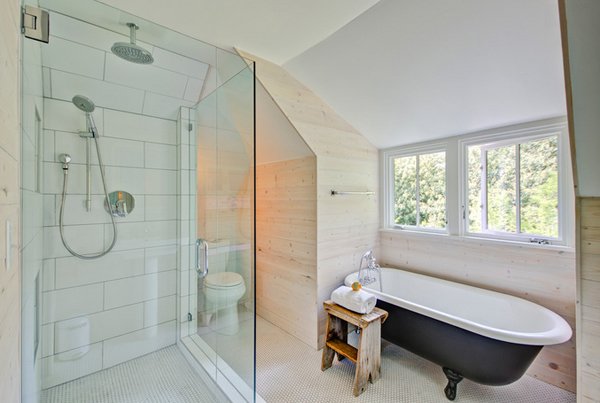 This kitchen and bathroom remodel, designed by Kevin Fischer at Alice Design and Charlotte Cooney of Domestic Arts, realizes the homeowners' vision of a clean, simple and utilitarian space.
20. Providence Bathroom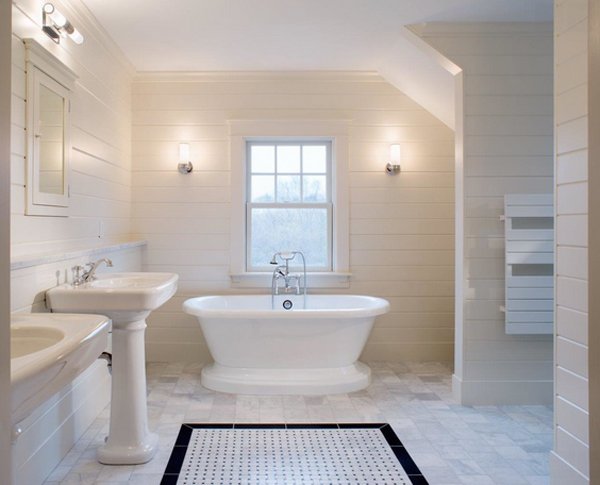 I like the paint colors on the walls and ceiling. Don't you like them too?
21. Romantic Hill Country Dream
This bathroom looks like how Barbie's bathroom would look like.
22. San Francisco Shades of White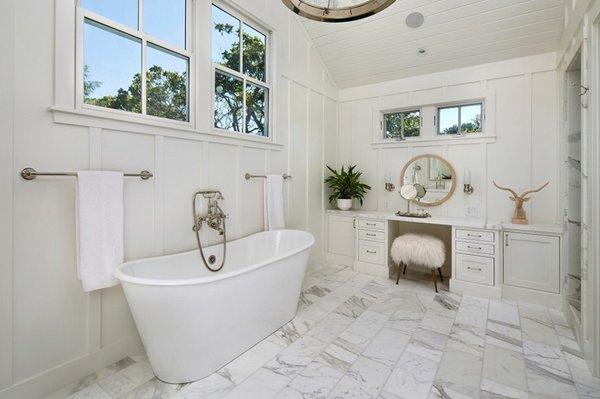 All white but definitely not clinical, the master bath boasts classic fixtures and finishes with some fun modern accents thrown in, like the fluffy Mongolian lamb's wool stool and the carved trophy head.
23. Sonoma County Residence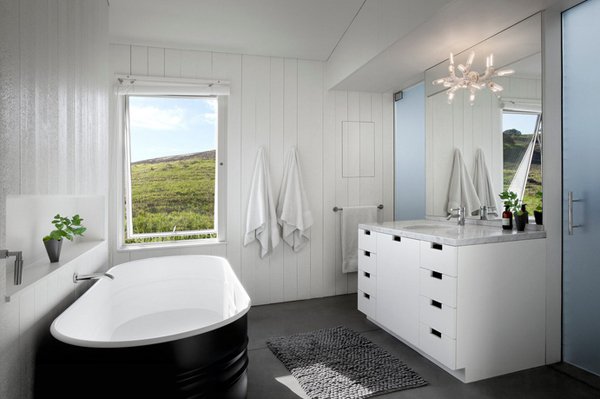 In keeping with the farm-inspired nature of the home, the master bath features the Vieques tub by Patricia Urquiola. According to the architect, the tub was modeled after industrial military equipment, but anyone who is familiar with rural life will read it as a cattle trough.
24. The Secret Barns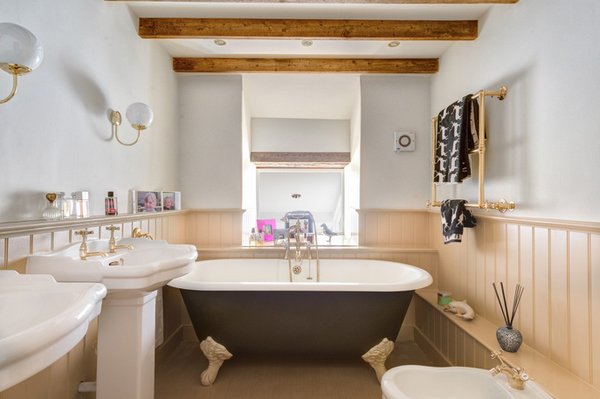 The exposed beams of this bathroom maybe a high light for this space – the tub and the windows looks really stunning!
25. Vermont Farmhouse Remodel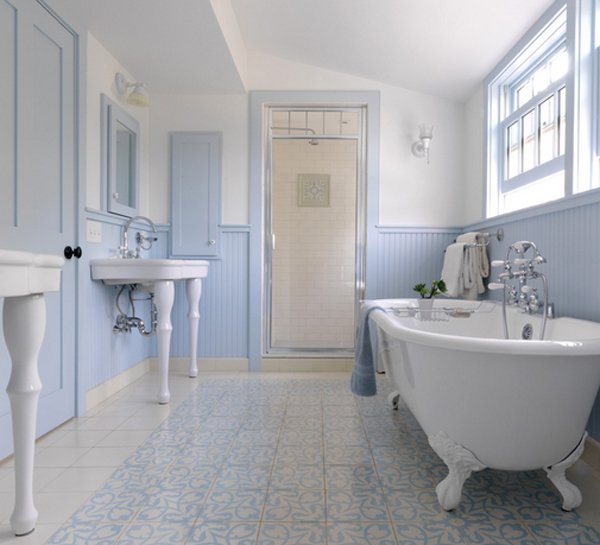 Do you like the wainscoating, traditional fixtures and soft colors of this bathroom?
Farmhouse Decor is broad and expansive. Farmhouse accessories can be found at flea markets and thrift stores, and even larger retail stores offer a variety of goods. Just a few well-placed pieces can invoke Farmhouse Style. Also, check out the 20 Luxurious and Comfortable Classic Bathroom Designs and tell us what you think about them!