20 Fascinating Bathroom Pedestal Sinks
If you are in the mood to remodel your bathroom, changing some items inside the bathroom might do the trick, but one of the best moves one can do for their bathroom is changing their dated bathroom sink for a trendier ceramic or stainless steel sink. We know that there are so many timeless collections that you can choose from, but you always have to consider if they will work well for you.
Below are pictures of twenty bathroom pedestal sinks that will surely interest you – not only because they are pretty and somehow vintage-y, but because they are just not that usually used nowadays. There are tons of designs available in the market – if you prefer the older designs or the contemporary or modern ones! Check out the pictures below so that you can see what I'm talking about.
1. Bathroom Design with Pedestal Sink
The small bathroom corner sink trends change fairly rapidly but if you know how to maintain them, having them for a while is a great way of saving.
2. Bone China

A roomy sink allows for toiletries, beautifully arched backsplash keeps water from damaging walls and hourglass curved pedestal make this sink a winner!
3. Cloakroom Space-saving Pedestal Sink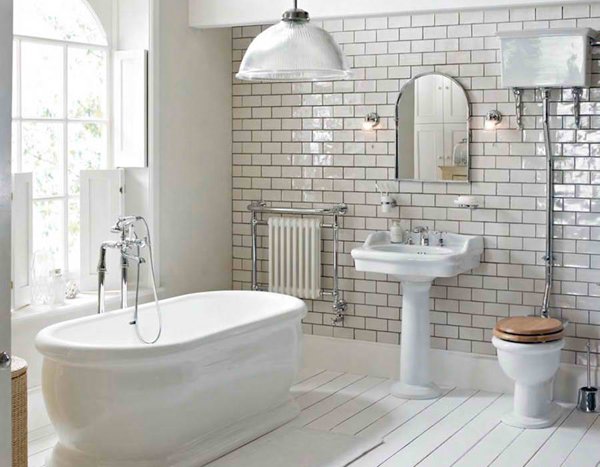 Classic small American sink takes an English turn. Easy to clean Grade A vitreous china. Open backed pedestal for easy installation even with non-standard rough-ins.
4. Almond Cimarron Pedestal Lavatory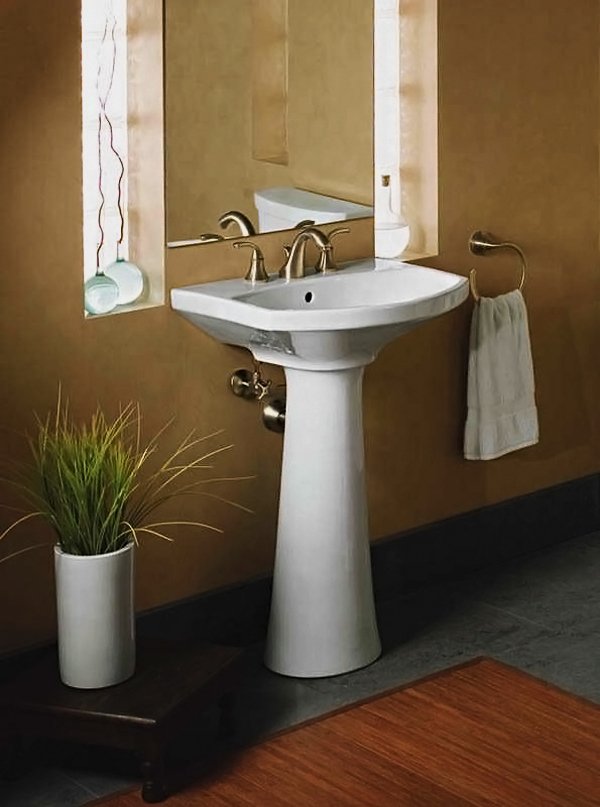 The Almond Cimarron Pedestal Lavatory embodies old-world elegance through detailed lines and subtle curves. Offered with a single-hole faucet mount, or with 8″ faucet centers.
5. Emma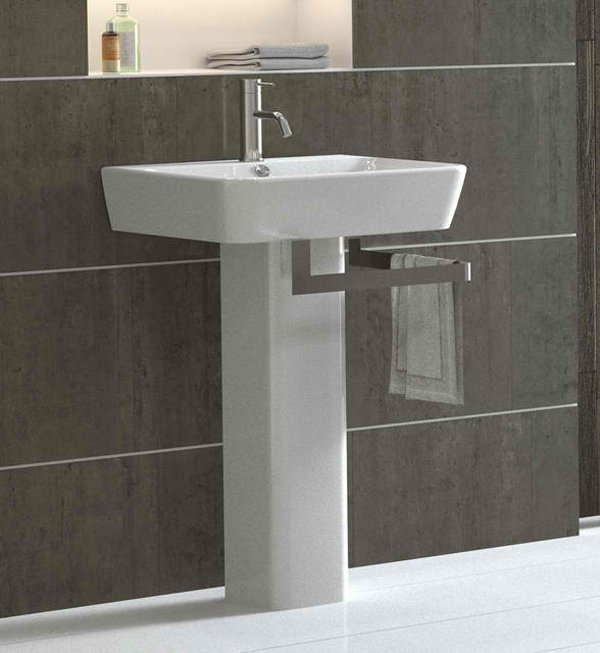 Ceramic pedestal bath sink with overflow and one pre-drilled faucet hole.
6. Gaston Corner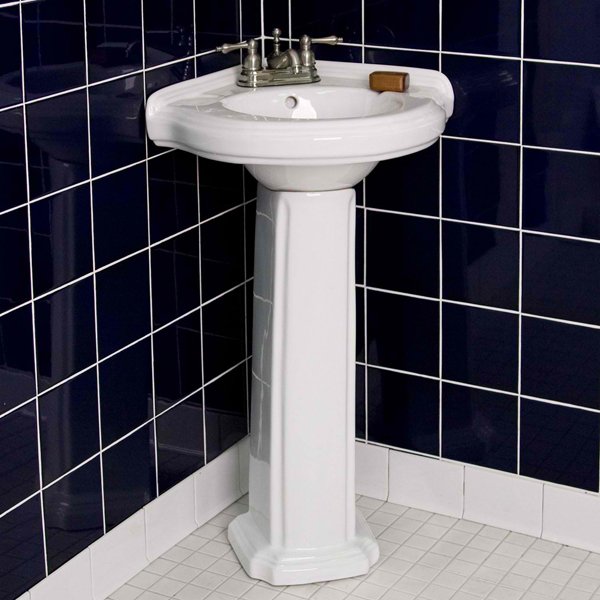 This pedestal bath sink is designed for smaller bathrooms that wanted a statement with their sink. Pairing it with the blue tiles makes the sink prettier.
7. Halden
Signature Hardware says that with its beautifully sculpted backsplash and column this lavatory pedestal is sure to help you create a Victorian-style bathroom. Its smaller size also ensures that those with limited space can enjoy its classic look.
8. Herbeau Charleston Pedestal Sink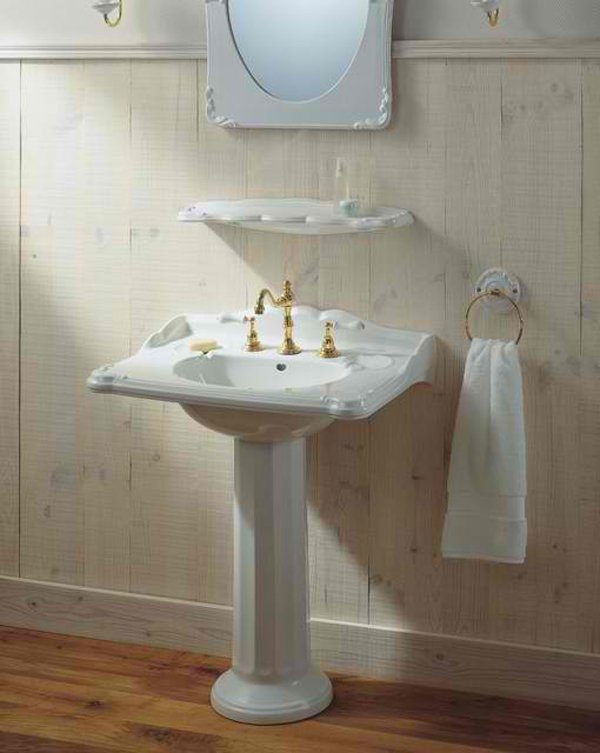 Herbeau Charleston vitreous china lavatory and washbasin features authentic historical detail. Pretty vintage right?
9. Kohler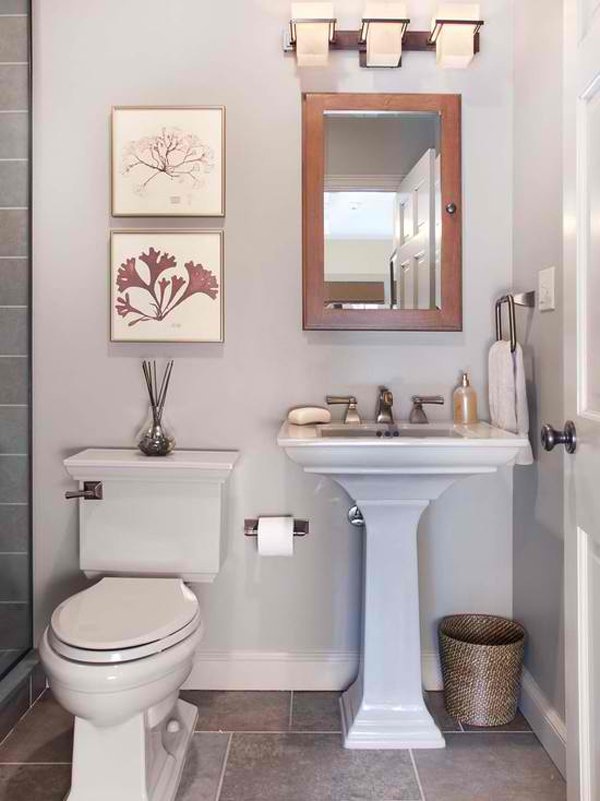 This small bathroom sure is cute and charming. The wooden details like the mirror and the small bin makes this space attractive.
10. Large Dawes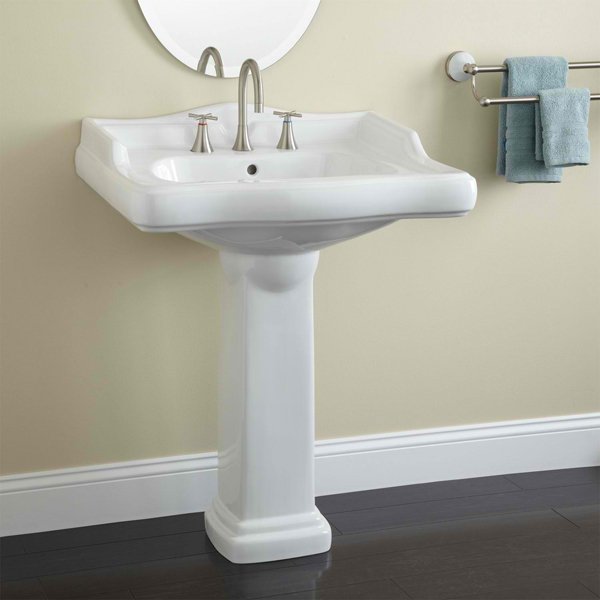 A beautifully designed basin sits atop a classic pedestal to create the unique style of the Large Dawes Pedestal Bathroom Sink. Pair this elegant lavatory with a widespread faucet of your choosing.
11. Melus
This striking sink is made of durable, easy-to maintain vitreous china. An updated take on a classic, the Melus Pedestal bath lavatory features a rectangular basin with softened edges and straight-forward, minimalist lines.
12. Archer Pedestal Lavatory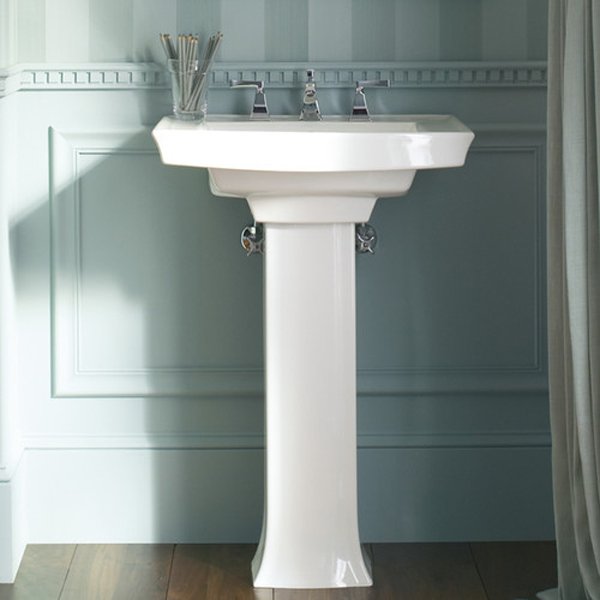 The Archer pedestal lavatory features transitional aesthetic of the Archer suite, blending subtle design elements found in craftsman furniture's chamfering techniques and the intricate facets of jewelry.
13. Park Pedestal Lav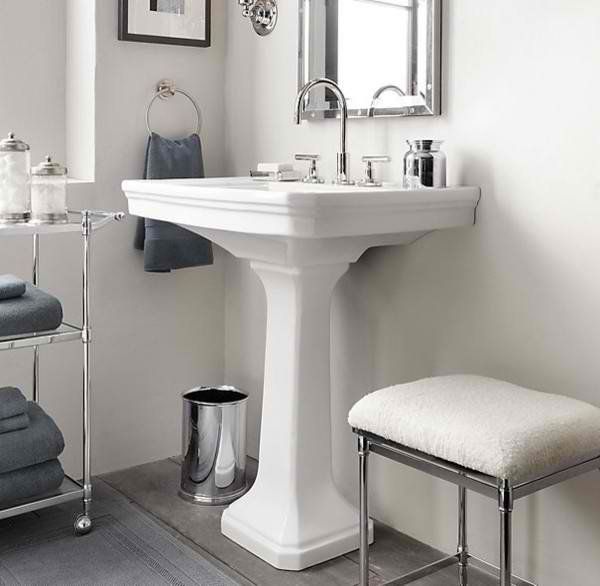 This pedestal and mirror combo is stunning – adding decor and functional items in the bathroom makes it more worthwhile if you actually want staying inside the bathroom!
14. Kerasan Retro Free Standing Bathroom Lavatory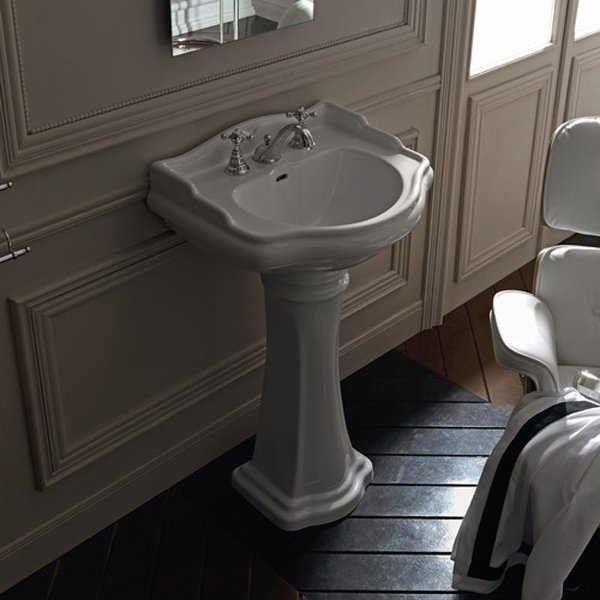 The space in itself is already glamorous and fancy! The loft feel of this space is my favorite with the whole thing.
15. Royal Pedestal Sink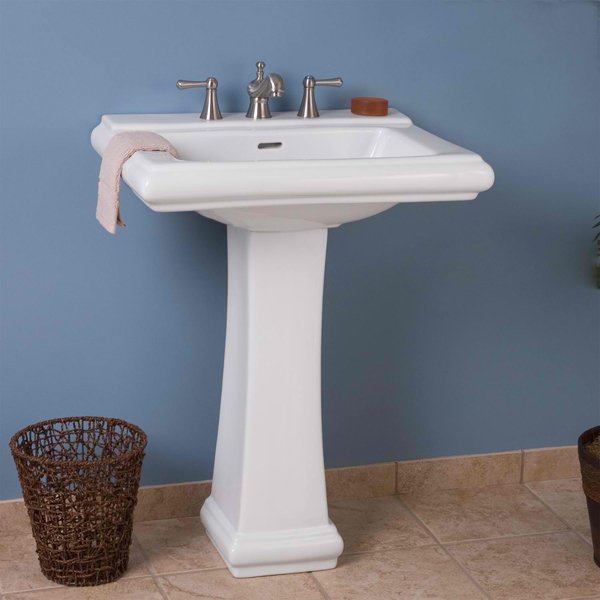 The Royal sink features a squared shape with rounded, stepped design details. This combination of styles works well in bathrooms with a modern design theme.
16. Standford Minik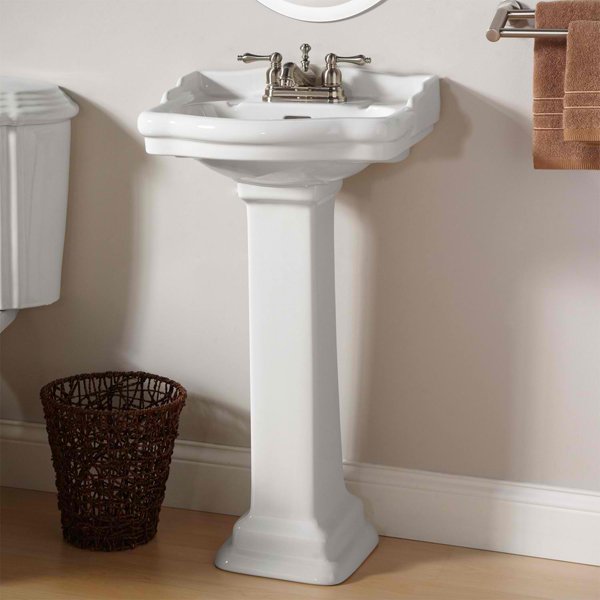 The petite and graceful Stanford Mini Sink for bathroom makes a fantastic addition to smaller bathrooms. An integral backsplash helps keep water away from the wall.
17. Versatile Bathroom with Storage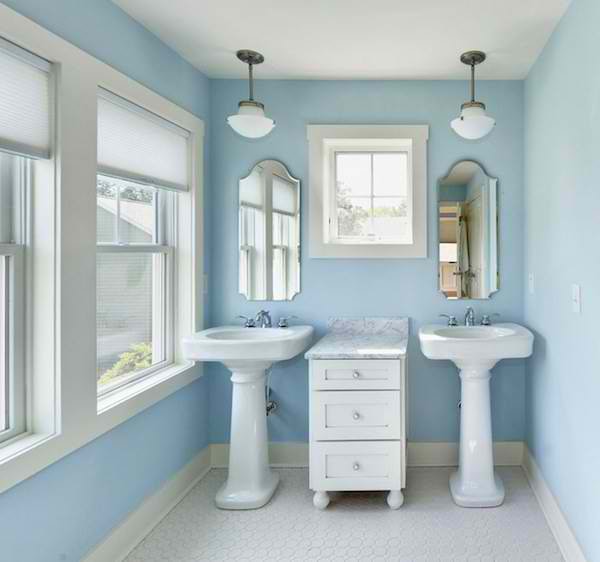 If your bathroom is lacking the physical storage, such as pedestal comfort sinks that don't have cabinetry there are several options to consider. Built-in cabinetry that can be constructed easily by a carpenter or you, if you're handy with wood-working could be a solution.
18. Vintage Sink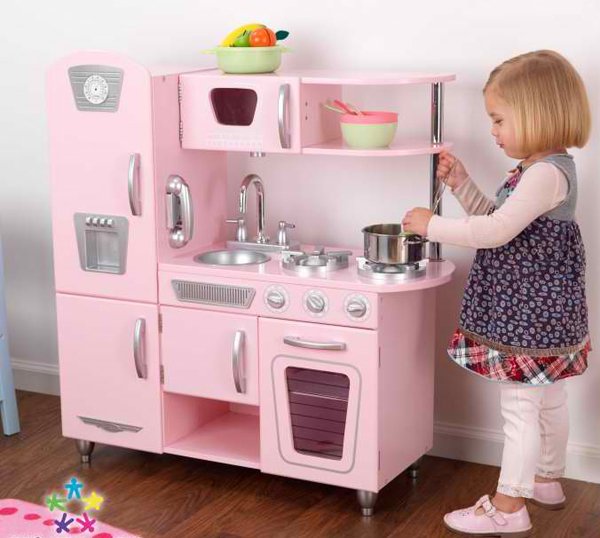 Faithfully replicated from a Victorian antique, our grand pedestal features a broad oval basin with a modified, classical Doric column support.
19. Universal Noble Pedestal Bathroom Sink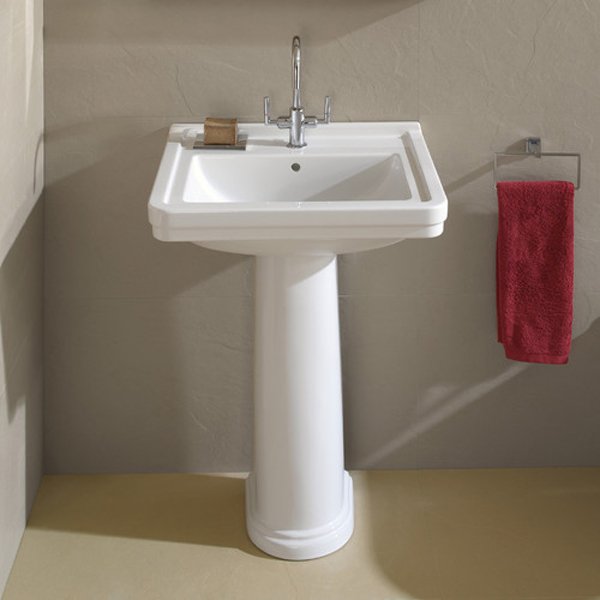 Timeless in style, a pedestal bathroom sink is the perfect fit when you desire a vintage look.
20. Faceplane Modern Pedestal Bathroom Sink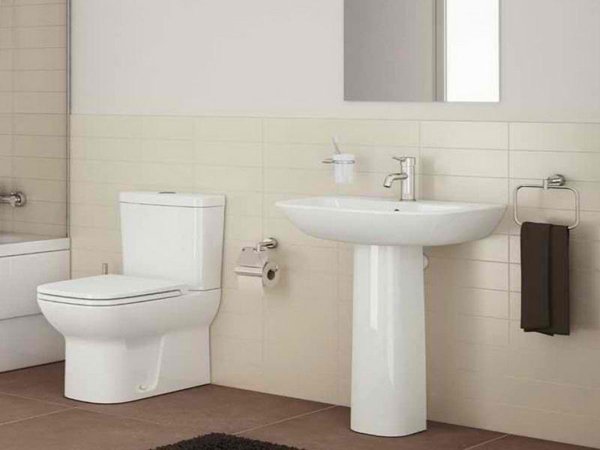 Simple and contemporary lines are used for this bathroom set. Using similar colors for the tile work made it more a classic beauty.
This is another list of bathroom pedestal sinks that are really eye-catching, beautiful and classic designs. Although ceramic fixtures with these designs do not seem so much modern as the basins which are used most of the time, these designs sure will a statement for your bathrooms. Well we can always go for anything classic or modern or traditional, it depends on what you want as long as they are stunning and functional.