20 Samples of Classic Bathroom Sinks
It is proven that everyday of our lives starts inside a special room with lots of specific functions which is inside the bathroom. Bathrooms can be embellished with bathroom accessories such as mirrors, faucets, tubs, cabinets and many more that are also decorations showering it with revitalizing moments every time you walk into. The course of action to tart up your bathrooms is not limited to the major furnishings revolving around wall paint and furniture. In reality, it is going beyond to the least noticeable of all, including minute details that may not catch attention when seen individually and can definitely stand out when seen as a group.
Many owners focuses attention on the most used and functional pieces, like the shower and faucet, bathrooms vanities, but we must admit that bathroom sinks are also much of an important thing inside our bathrooms. Bathroom sinks come in different varieties that you can choose from that would fit depending on your bathroom designs. If your houses are under construction or renovation, it is a perfect timing for you because we will be showing different selections of bathroom sinks that can add beauty to your designed bathrooms. Take a look on these samples below.
1. Old Meets New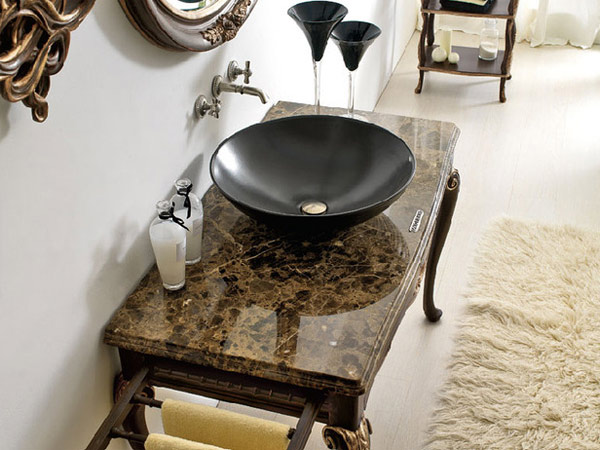 The modern sink contrasts with the rich marble countertop of a vanity designed in true antique style – with a floating mirror match.
2. Playful Powder Room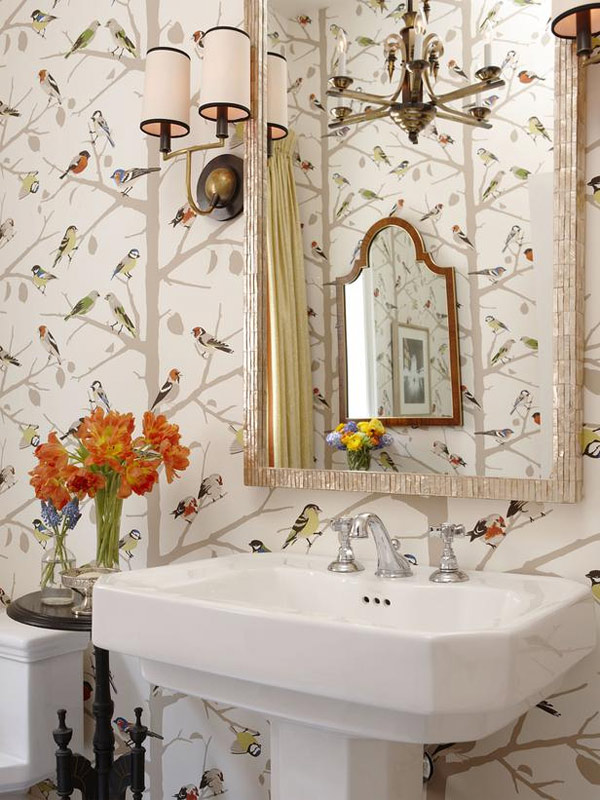 Choose a streamlined pedestal sink instead of a standard cabinet-style to save spaces while keeping it classic.
3. A Flair for Drama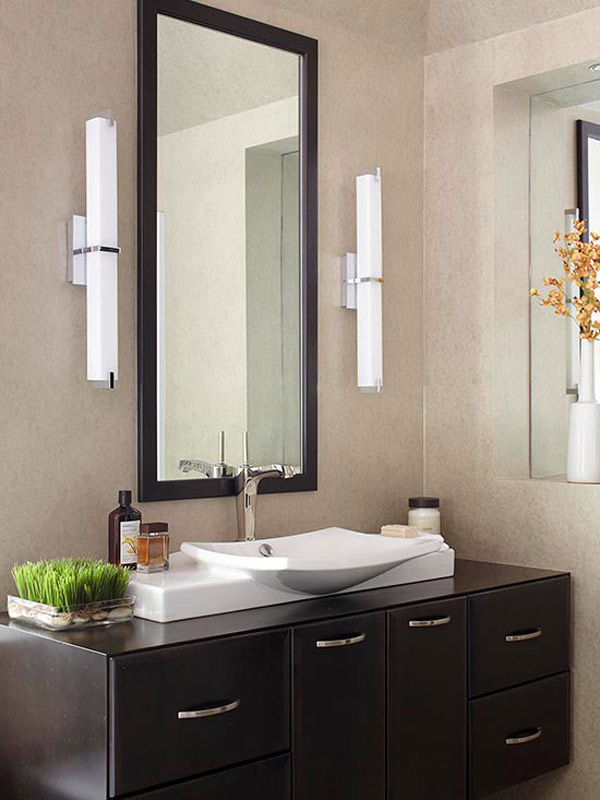 A shapely basin mixed with a clean-lined base gives this vessel sink a distinctive look. The curve line of the basin adds elegance, while the large rectangular vanity below lends modern flair.
4. Terrific Teak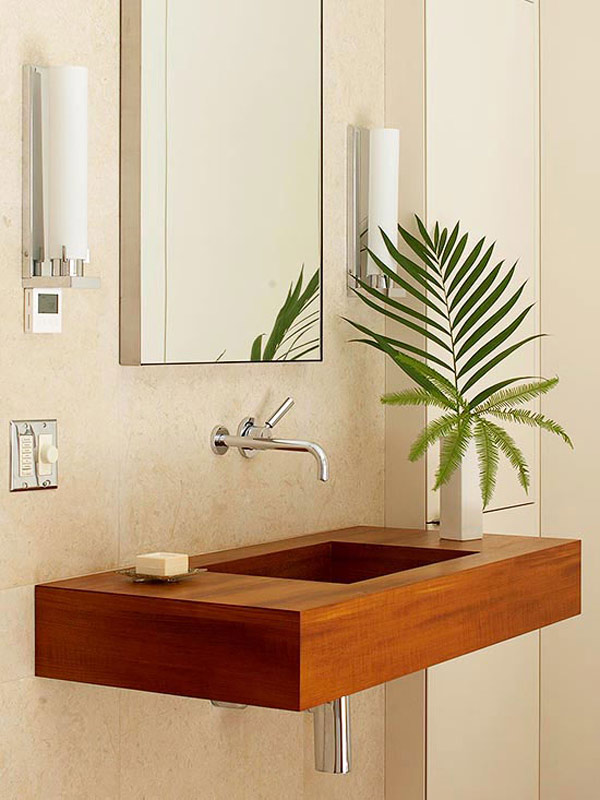 An Asian-inspired floating sink made of teak introduces natural warmth to the bathroom. The wall-mount faucet and handle blended well with the wood sink's sleek look and add a hint of sparkle to the space.
5. Bathroom Ideas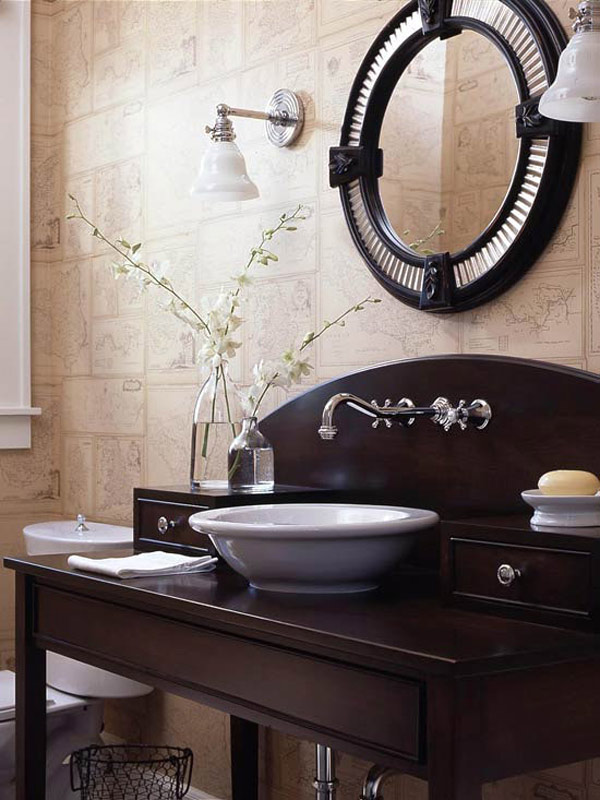 This bathroom vanity composition begins with a writing desk and nestled with a simple porcelain vessel sink. The wall-mount faucets and handles are installed through the backboard of the desk.
6. Vanity with Two Basins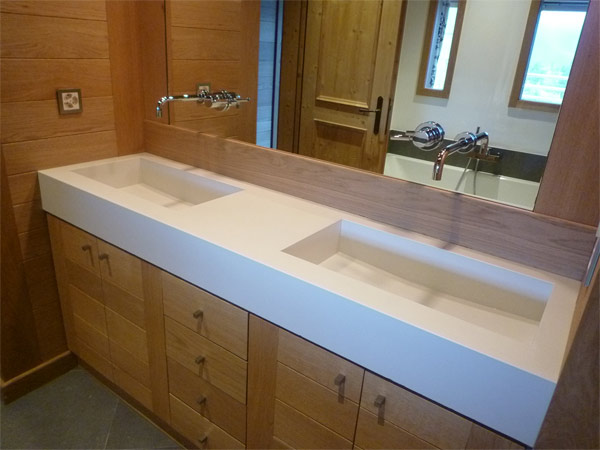 This space features a rectangular sink with water cascading over the center into a moat like perimeter. A simple walnut vanity keeps the focus on the sink and the wide mirror.
7. Oversized Sinks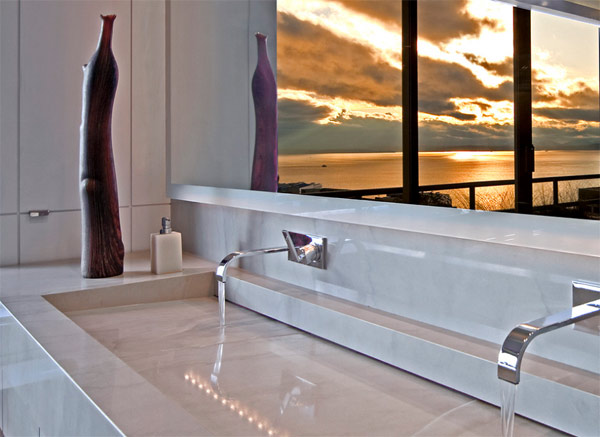 A contemporary design using marble to the sink and added with a wall-mounted-faucets.
8. Rock Steady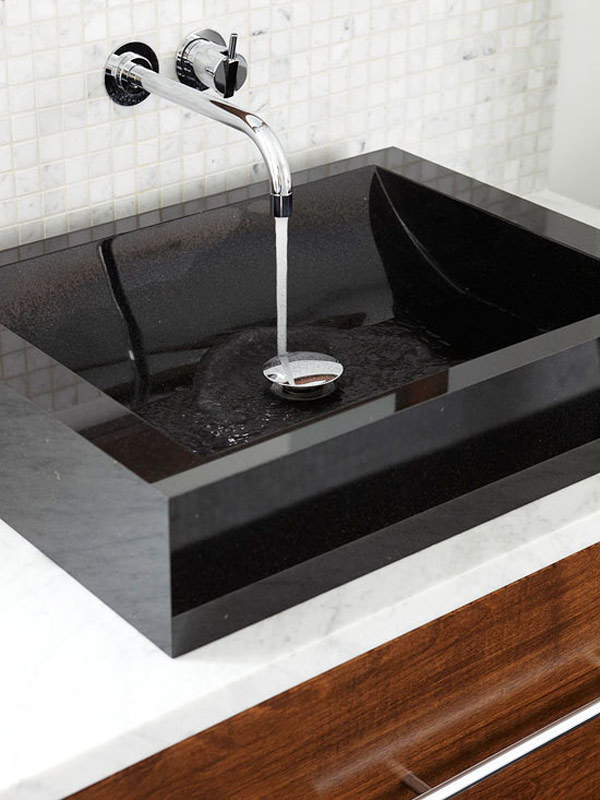 This large sink basin was made from a single slab of black granite. Elevated above the vanity countertop, the sink lends modern sculptural appeal to the bathroom.
9. Calming Effects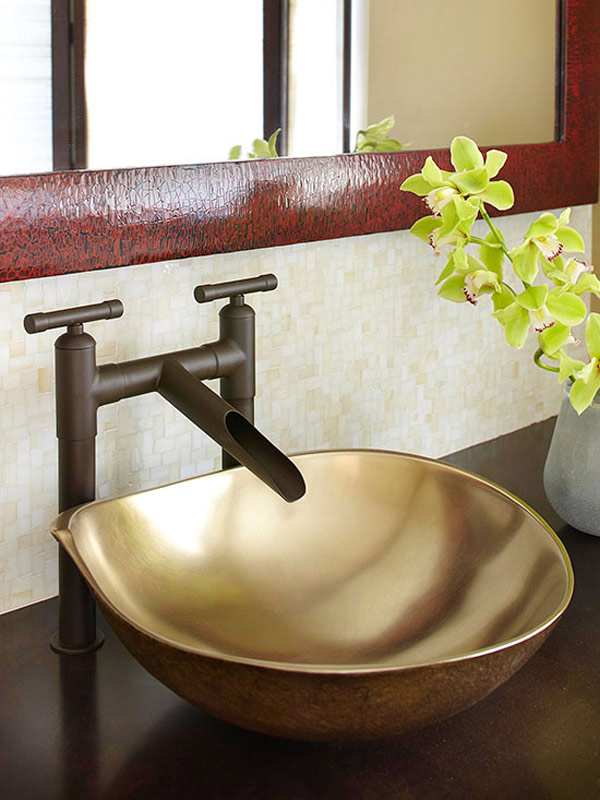 An Asian-inspired sink-and-faucet combo blends effortlessly with the bathroom's serene aesthetic. The interior of the sink bowl was polished to a glowing sheen, while the exterior was left rough.
10. Wall Mounted Bathroom Sink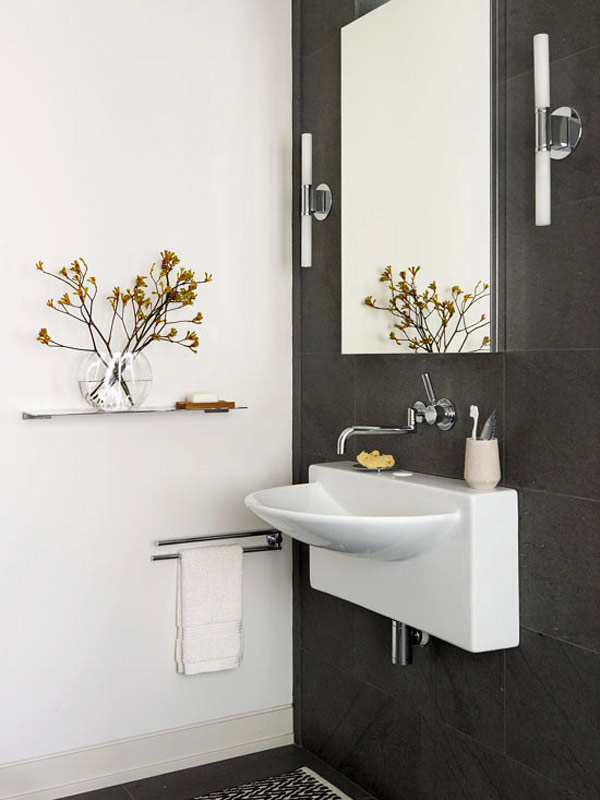 Large slate tiles provide the backdrop for this shapely wall-mount sink, and rectangular mirrors reinforce the sleek, modern look. Wall-mount sinks can be placed to accommodate people of any height.
11. Raised Square Sink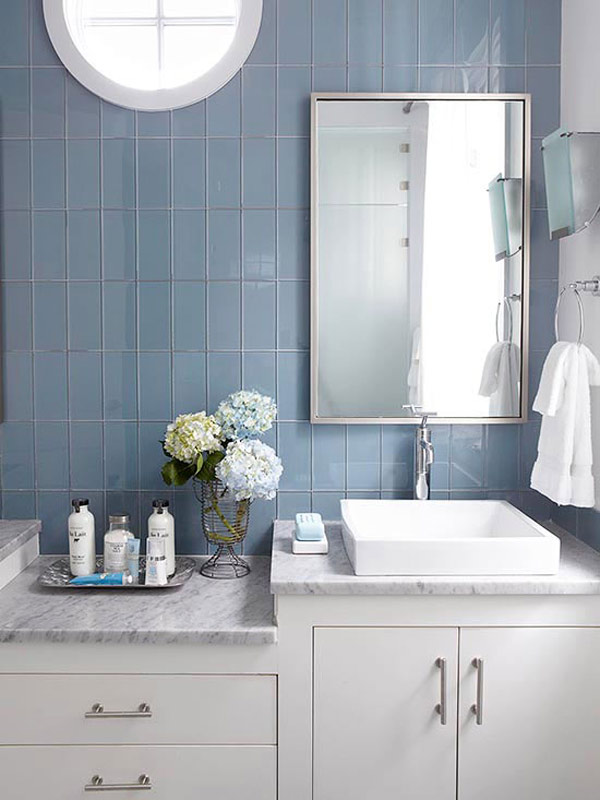 A raised sink also means less bending and greater comfort. The square sink fits right in with the geometric wall tiles and mirrors in this space.
12. Vintage Style Console Sink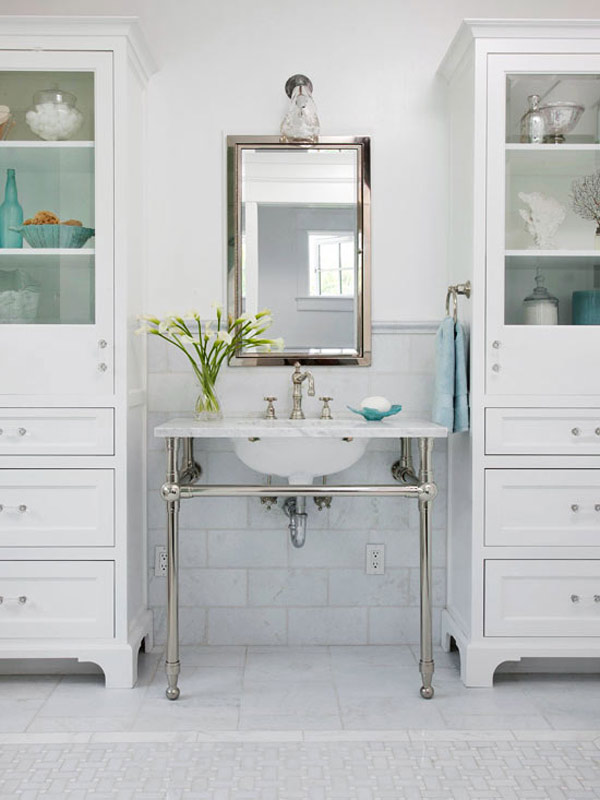 Vintage bathroom sinks are a beautiful way to blend classic appeal and modern amenities. Here, cool gray marble tile continues seamlessly behind the glamorous bathroom sink.
13. Glass Vessel Sink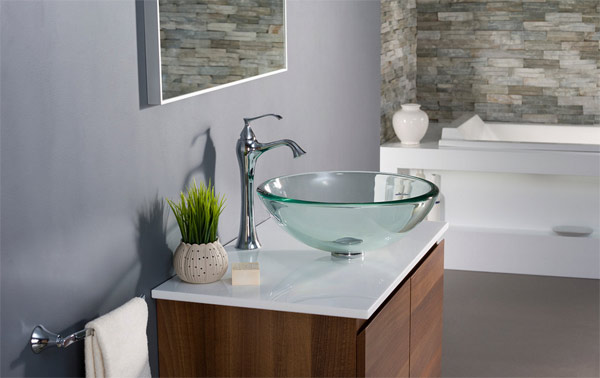 A glass vessel sink lends sculptural appeal. The wide bowl looks graceful and stylish when paired with a sparkling stainless-steel faucet and marble countertop.
14. Shinning Bathroom Sink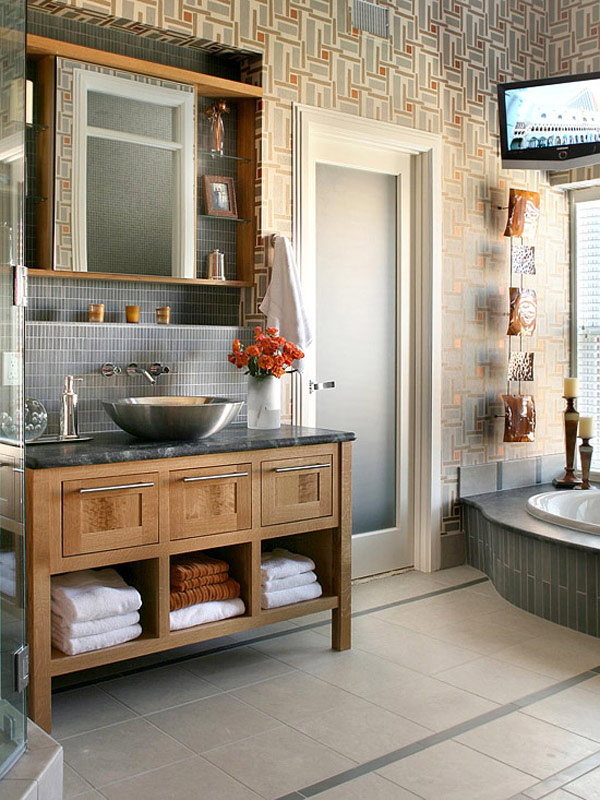 For the same reasons a stainless-steel sink is prized for kitchen – beautiful shine and clean – consider one for your bathroom. Sleek stainless-steel sinks are available in several finishes, from mirror-like shine to satiny lustier.
15. Pacific Palisades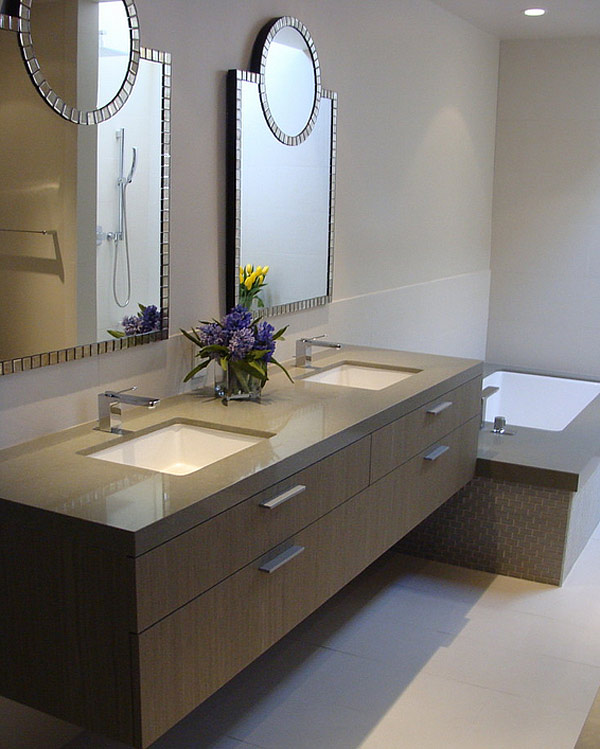 Narrow modern bath with clean lines and open shower.
16. Ceramic Rectangular Bathroom Sink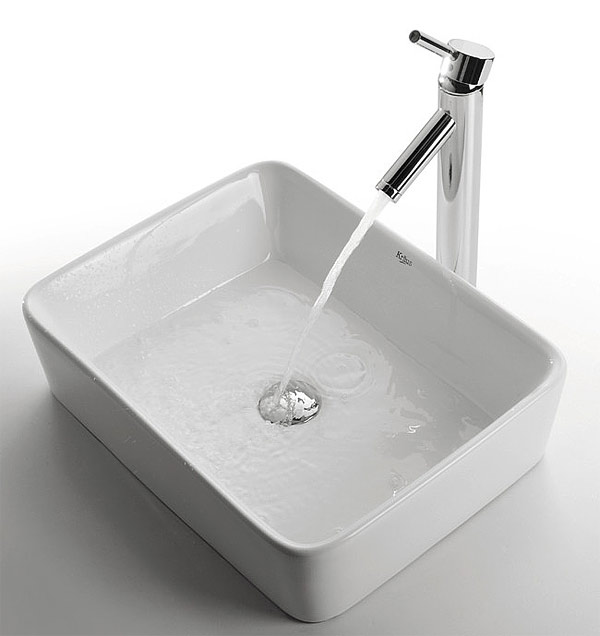 Add touch of elegance to your bathroom with this stylish ceramic sink which is ideal for home improvement project.
17. Crystal Vessel Sink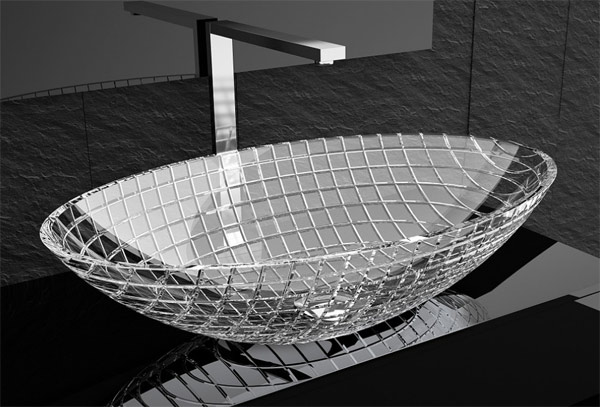 This crystal is cut glass on the outside and smooth in the inside. The semi-transparency of this product mixed with its light or dark color allows to perfectly match with its environment while showing off its beauty.
18. Farm Home in Carlisle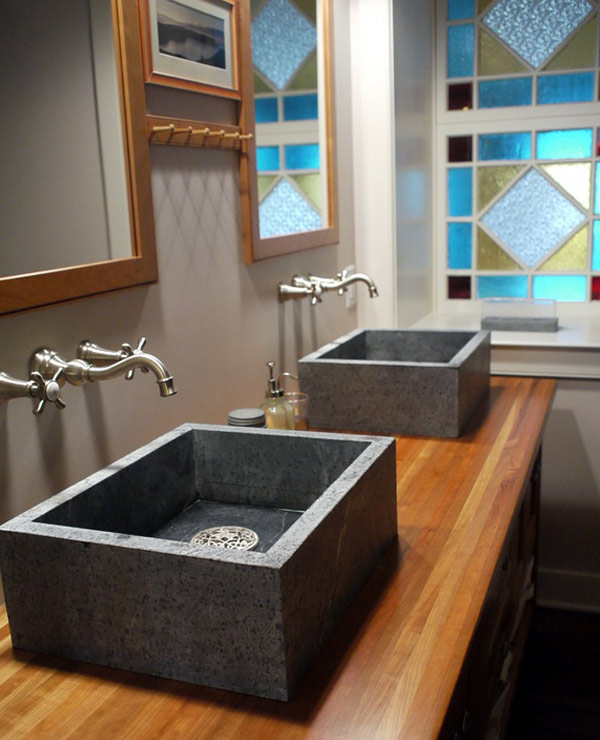 This custom made soapstone sinks are best described as "farm style vessel bowls".
19. Ceramica II Under mounted Bathroom Sink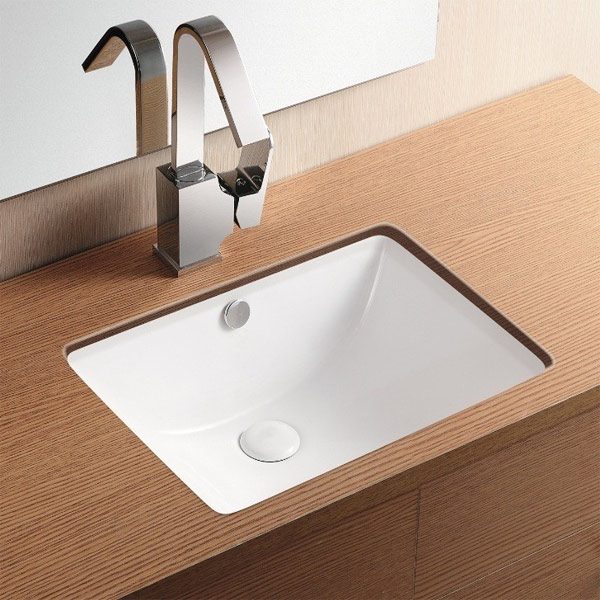 This white ceramic under-mount bathroom sink is sleek and stylish. This is a good combination with woods or palettes.
20. Washington 460 Pedestal Bathroom Sink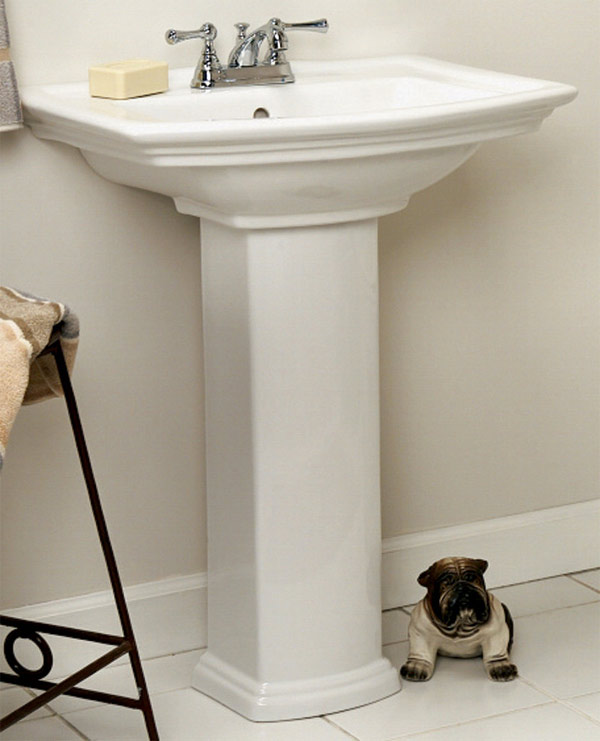 A few well-chosen materials and fixtures go along the way in transforming simple spaces of bathrooms. Rather than a standard-issue bathroom sink, this pedestal sink can save spaces at the same time adds grace to bathrooms.
Reaching a choice might take a while, especially if you really wanted the best among the rest. It's really a tough task to decorate but whatever is your choice of sink, whether it's a console sink, pedestal, vessel or wall mounted it is a lot easier if you have a theme in mind. In such way, you can achieve the appropriate accessory for your bathroom.