20 Fascinating Bamboo Canopy Beds and Daybeds
Bamboo is one of the most sophisticated materials there is in the market. Although we know that there are tons of bamboo types out there, there are the common ones that are usually used for furniture – whether for the living room, the dining room or even in the bedroom. We are sure that this list will enthrall you guys because of the uniqueness in designs that they actually have.
The bamboo beds that we have on this list are all canopy beds that sure are pretty and interesting. Most of bamboo beds that we see online or in magazines are usually in homes close to the sea, but of course, if you wanted a more natural approach to your bedroom, these beds can definitely work for you!
1. Beautiful Patio with Bamboo Daybed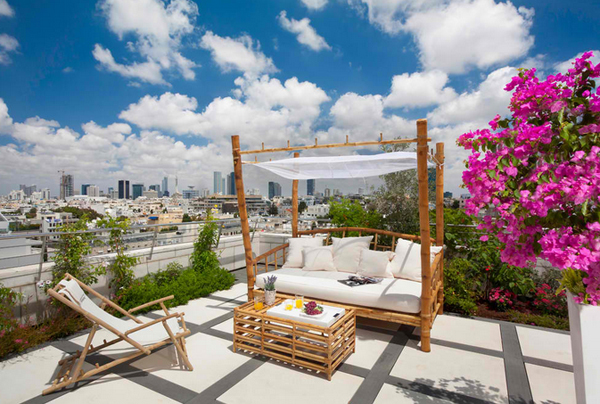 If you like the bamboo daybeds, this might be one of your favorites! We love the table and the folding chair on the side.
2. Bamboo Canopy Daybed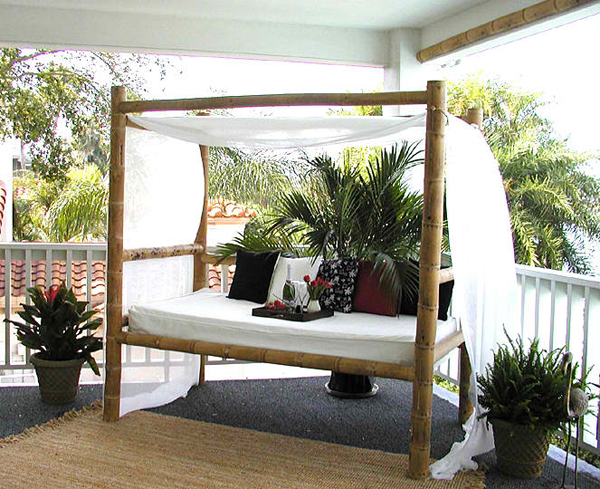 Daybeds are charming alternatives to regular-sized beds because they save space but still making sure that the room they are in is beautiful.
3. Bamboo Romantic Outdoor Canopy Bed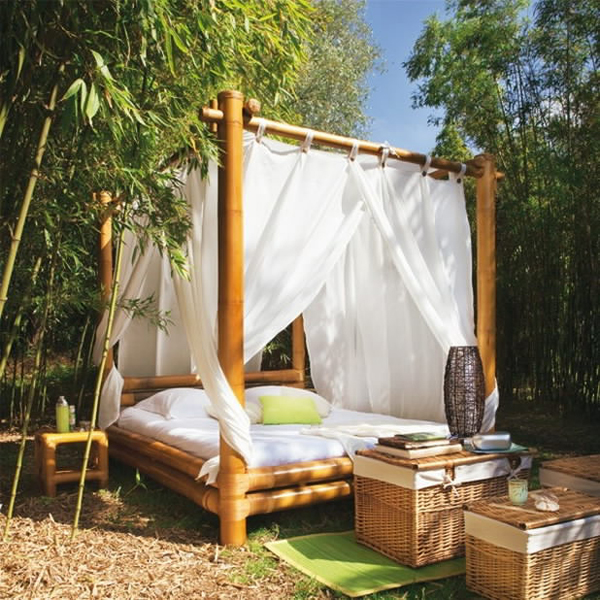 I personally do not mind spending an afternoon in this location. The bamboo canopy bed is indeed romantic and sure soothing too. This is a great place to unwind and relax.
4. Faux Bamboo Canopy Bed
Gray and blue gorgeous bedroom design with silver sunburst mirror, polished chrome faux bamboo canopy bed. Don't you just love it?
5. Green Show House Naples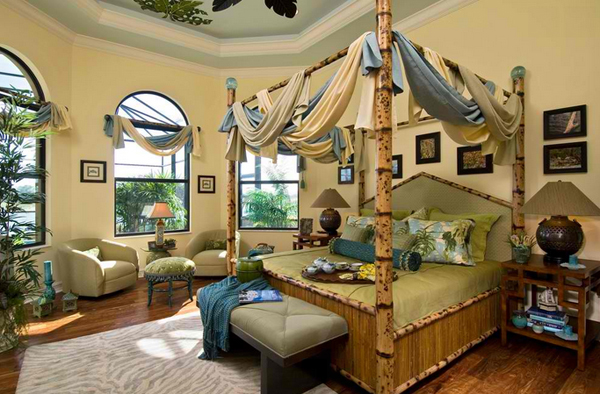 Custom tortoise shell bamboo bed in a room with eco-friendly features. How do you like this design?
6. Hideaway Bamboo Canopy Daybed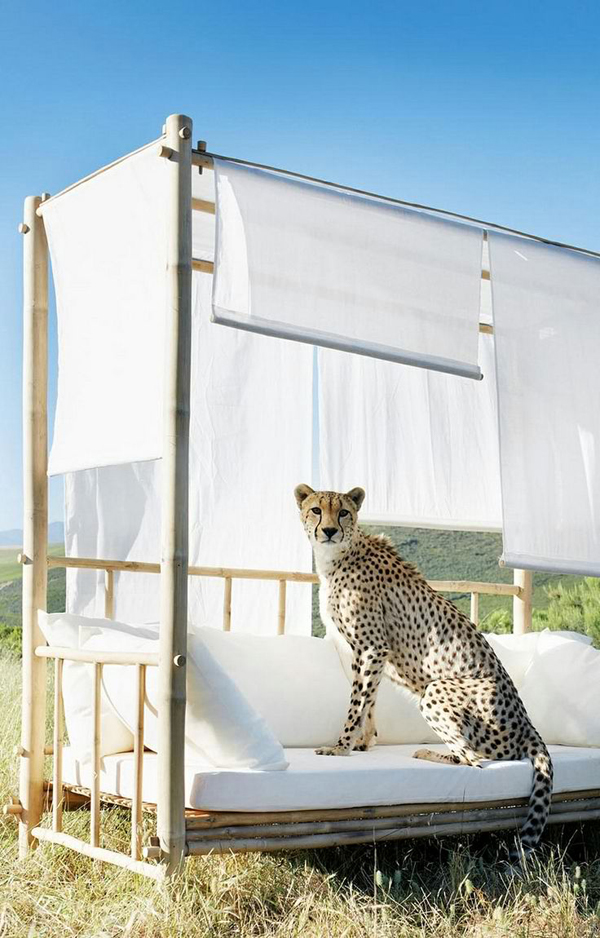 It seems like this animal is enjoying this bed – for sure, anyone would love to have this daybed too; maybe minus the open area!
7. Island Estate West Indies Wood Poster Canopy Bed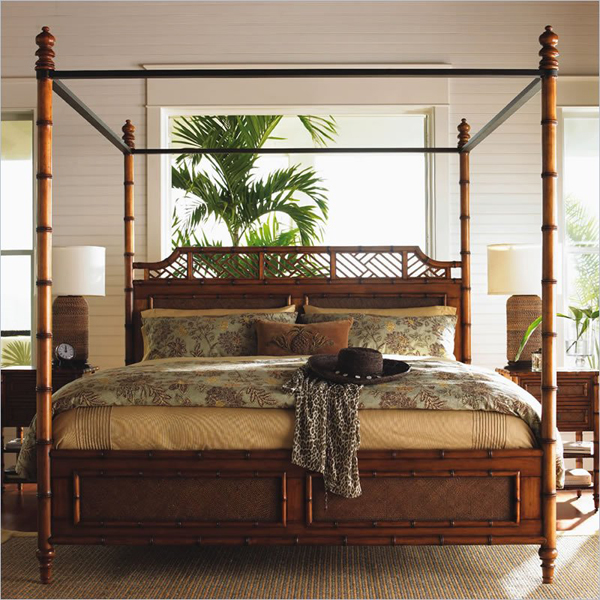 This is one fascinating bed to have to return home to every day, the bed is great for couple and singles alike. The simplicity of the design makes it more beautiful.
8. Key Royale King Cream Bamboo Canopy Bed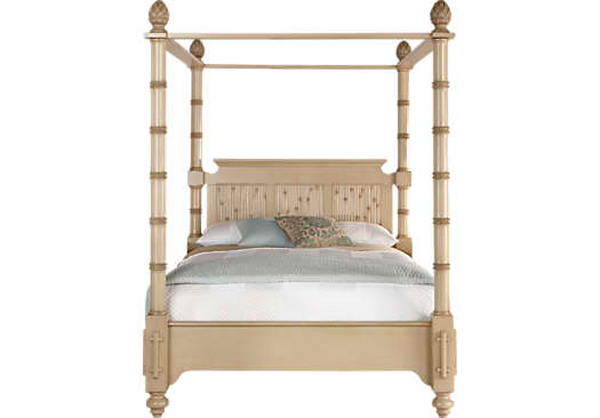 Cream-colored faux bamboo that seems to be really eye-catching. The color would definitely be loved by female teenagers and yuppies alike.
9. Poster Bed in Weathered Black Finish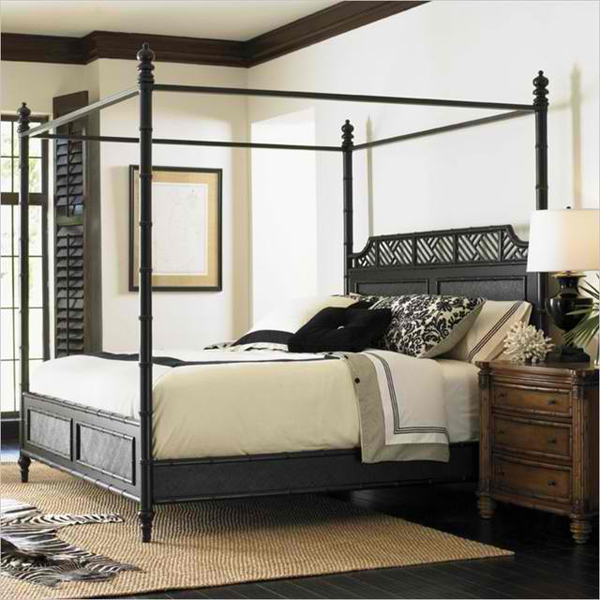 Carved bamboo posts with burnished metal canopy frame. Split rattan x-weave pattern on the headboard, footboard and side rails.
10. Blue Bamboo Canopy Bed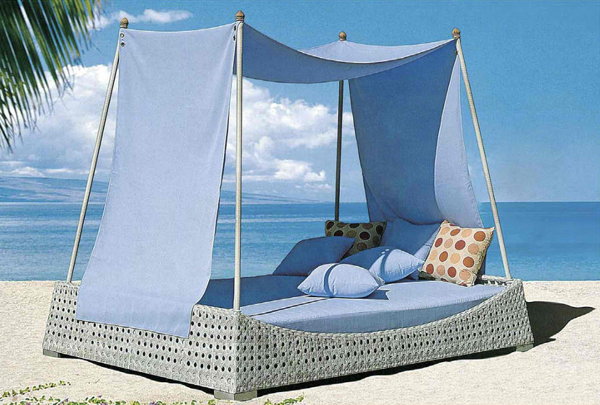 I love this bed that you can easily transfer from one place to another.
11. Mountain Ski Retreat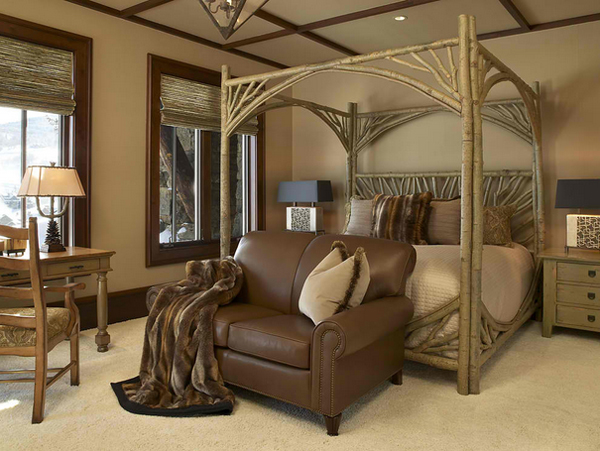 I like the delicate design of this bed is quite fancy and altogether beautiful. It is pretty unique from most of the canopy beds on this list.
12. Ralph Lauren Bamboo Canopy Bed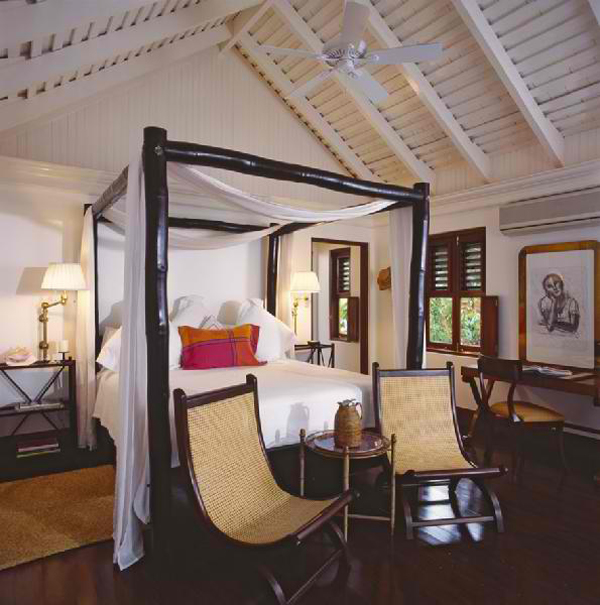 This is a statement bedroom created by Ralph Lauren. The black-painted canopy bed complements well with that color of the bedroom.
13. Romantic Outdoor Bamboo Canopy Bed Furniture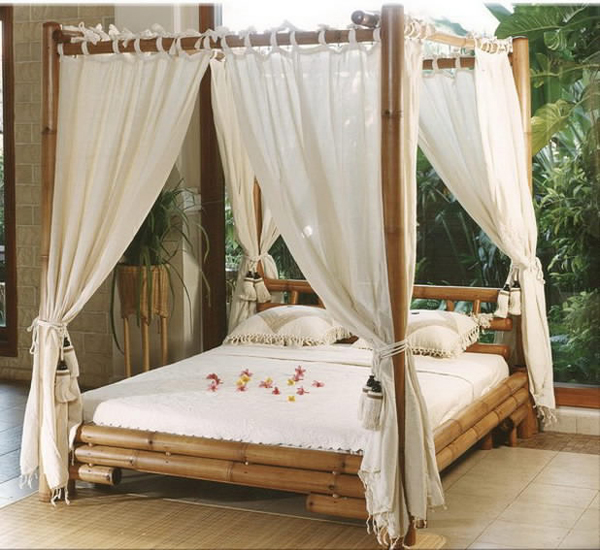 This room will surely pass on the romantic side – not just because of the curtains added to the 4-poster bed, but because of how the entire room looks and feels like – even when you are just looking at it.
14. Soothing Bamboo Canopy Bed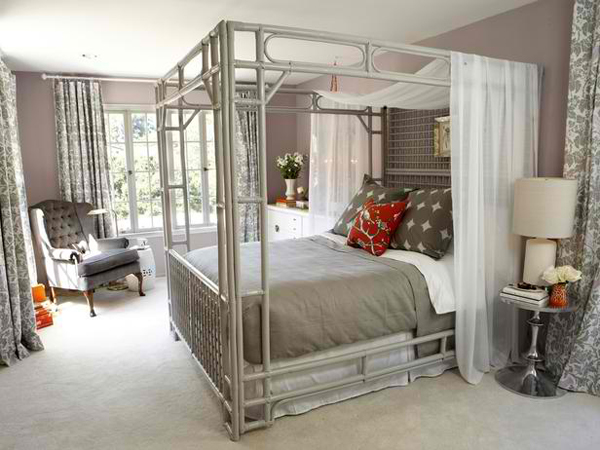 This room is really working – the canopy bed, the regency dresser, that orange chandelier – and I don't like orange; but I love these colors together.
15. The Palm Room
This palm-inspired bedroom sure is something we can commonly see in resorts. Wood in the bedroom brings us back to nature, which is always a good thing.
16. Bamboo Daybed with Canopy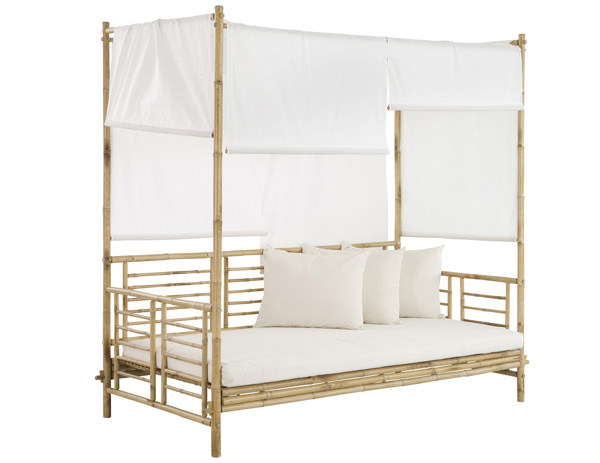 Pretty stunning, don't you agree? Small, functional and cozy.
17. Wild Orchid Cottage
This room sure is as stunning as room #15. Don't you agree?
18. Tropical Bedroom with Bamboo Canopy Bed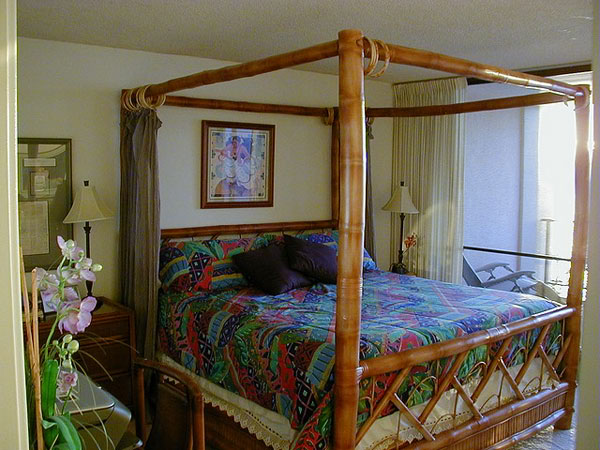 HGTV has a list of cool remodels of bedrooms wherein we see awesome new looks for bedrooms we would wish we had – just like this one. So simple, yet so comfortable.
19. Kauai Residence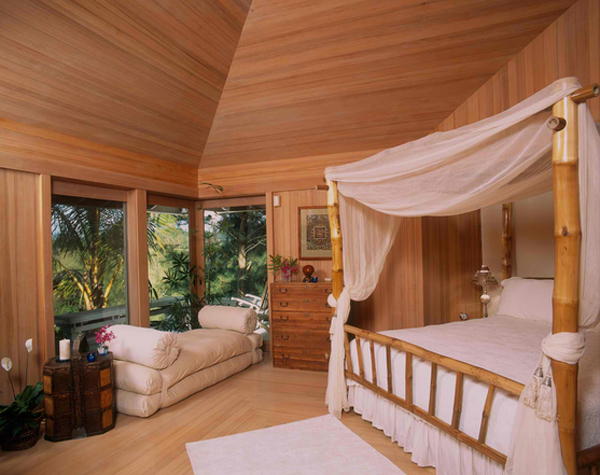 If I could really see palm trees out of my bedrooms' window, I guess, my sleep would be perfect.
20. Joy Outdoor Daydream Bed with Canopy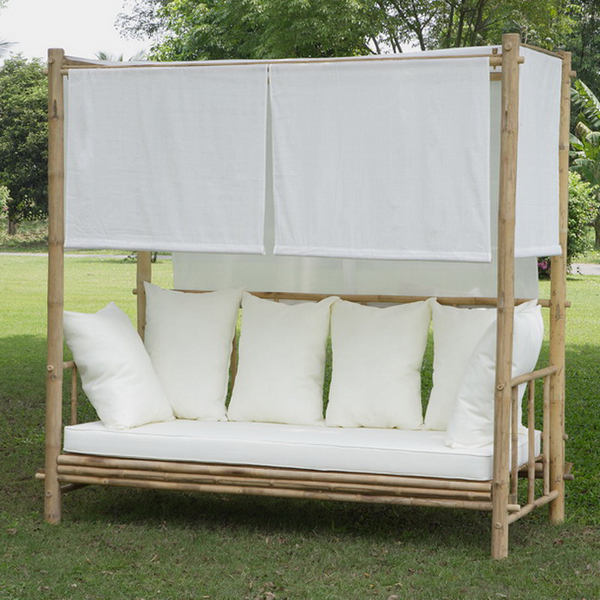 Here is another sample of a daybed that you can add in your living room which will save you a guest room! Love this!
Beds and daybeds made from bamboo will surely make one bedroom or living as lovely and close to nature as the designer allows it to be. We have other features of homes with bamboo items in them. I know you will find them interesting too. More to come!